6 Free Johnny Appleseed Coloring Pages: Inspire Kindness in Kids
These free Johnny Appleseed coloring pages make a great addition to your studies either on apples or for Johnny Appleseed Day.
John Chapman, better known as Johnny Appleseed, was born on September 26th, 1774.
He was an American pioneer nurseryman who introduced apple trees to large parts of Pennsylvania, Ohio, Indiana, Illinois, and Ontario. As well as the northern counties of West Virginia.
On his birthday September 26th, we celebrate Johnny Appleseed Day.
We love creating free kids coloring pages, and we either use them as a supplement for a lesson we are studying or to calm the mood! Coloring is a great way for them to refocus and relax.
Our 6 fun coloring pages are a great way to start the day and the conversation about apples.
I think you will also enjoy our free a is for apple handprint template.
**There may be affiliate links in this post. You can read my full disclosure at the bottom of the page.**
Coloring Pages for Johnny Appleseed Day
There are 6 printable coloring pages included in this set. To get the download scroll to the bottom of the page.
These coloring pages for Johnny Appleseed are free to print but are for personal and classroom use only. Scroll to the bottom of the post and add your email address to get the pdf file.
These storybook coloring pages will look great with coloring pencils, pens, or Crayola crayons.
Johnny Appleseed printable story
As a teacher, you're always looking for ways to inspire your students and teach them important life lessons.
One great way to do this is by telling stories that capture their imagination and engage their hearts and minds.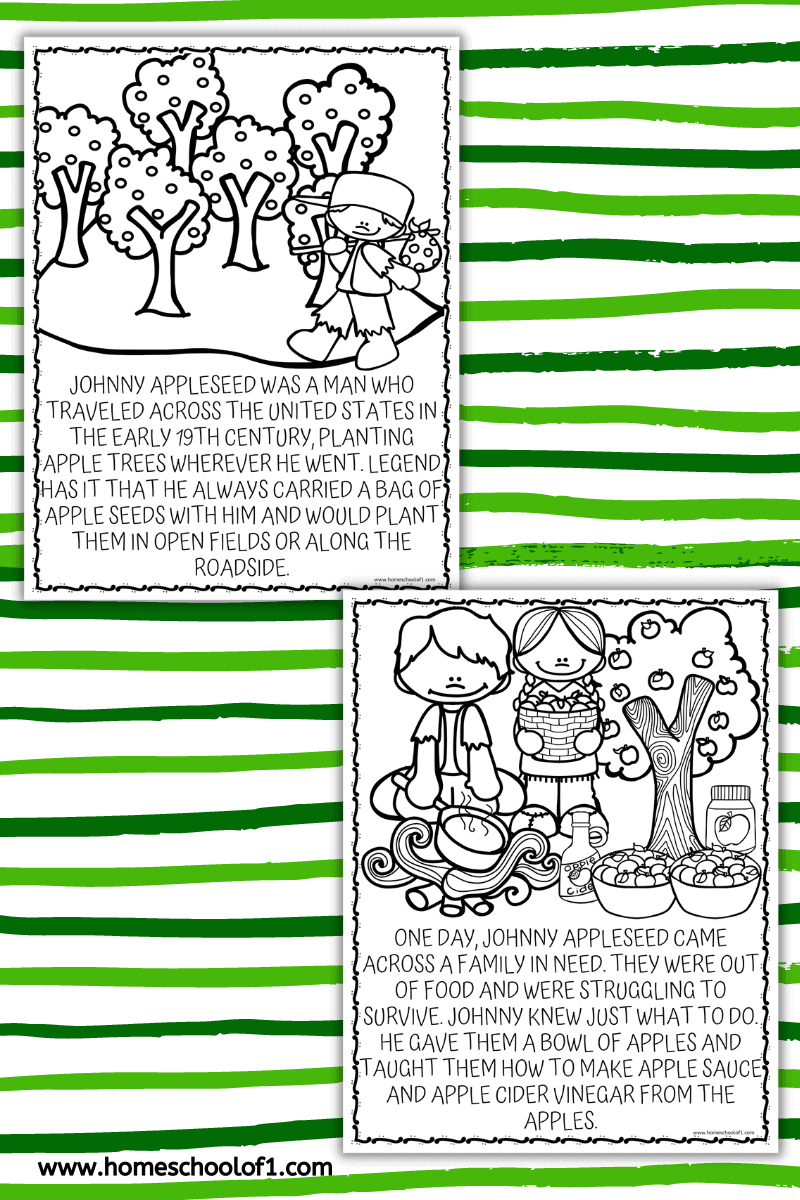 Johnny Appleseed was a man who traveled across the United States in the early 19th century, planting apple trees wherever he went.
He was a lover of nature, a man of faith, and a true friend to animals.
He shared his love of apples, the Bible, and the great outdoors with everyone he met. And his legacy continues to inspire people of all ages today.
The story of Johnny Appleseed is a perfect example of a tale that can do just that.
This story can be a wonderful tool for teaching children about the importance of kindness, generosity, and hard work.
It can also be a great way to introduce them to the wonders of nature and the joy of planting seeds and watching them grow.
By sharing this story with your students, you can encourage them to explore the world around them.
To be curious about the natural world, and to see the beauty and wonder in everything around them.
The story of Johnny Appleseed is a timeless tale that can inspire and educate students of all ages.
It is a perfect example of how a simple story can teach valuable life lessons and spark a sense of wonder and curiosity in the world.
So take some time to share this story with your students. And watch as they become inspired by the man who traveled across the country. Planting seeds and sharing his love of nature, animals, and the great outdoors.
Interesting Facts about Johnny Appleseed
The kids are going to love these 8 interesting facts about Johnny Appleseed:
Johnny Appleseed's real name was John Chapman. He was born on September 26, 1774, in Massachusetts.
He was a vegetarian and did not believe in killing animals. So he often wore a tin pot on his head to protect himself from animals instead of carrying a gun.
Johnny Appleseed was known for his distinctive clothing. Which often consisted of a sackcloth shirt, pants, and a hat made of leaves or a tin pot.
He was a deeply religious man and often carried a Bible with him wherever he went.
Johnny Appleseed was a shrewd businessman and earned his living by selling and trading apple trees and apple seeds.
He was a pacifist and refused to fight in the War of 1812.
Johnny Appleseed died on March 18, 1845, in Fort Wayne, Indiana, but his legacy lives on through the many apple trees he planted across the country.
Johnny Appleseed was known for his kindness and generosity towards others. He would often give away his food, clothes, and even his apple trees to those in need.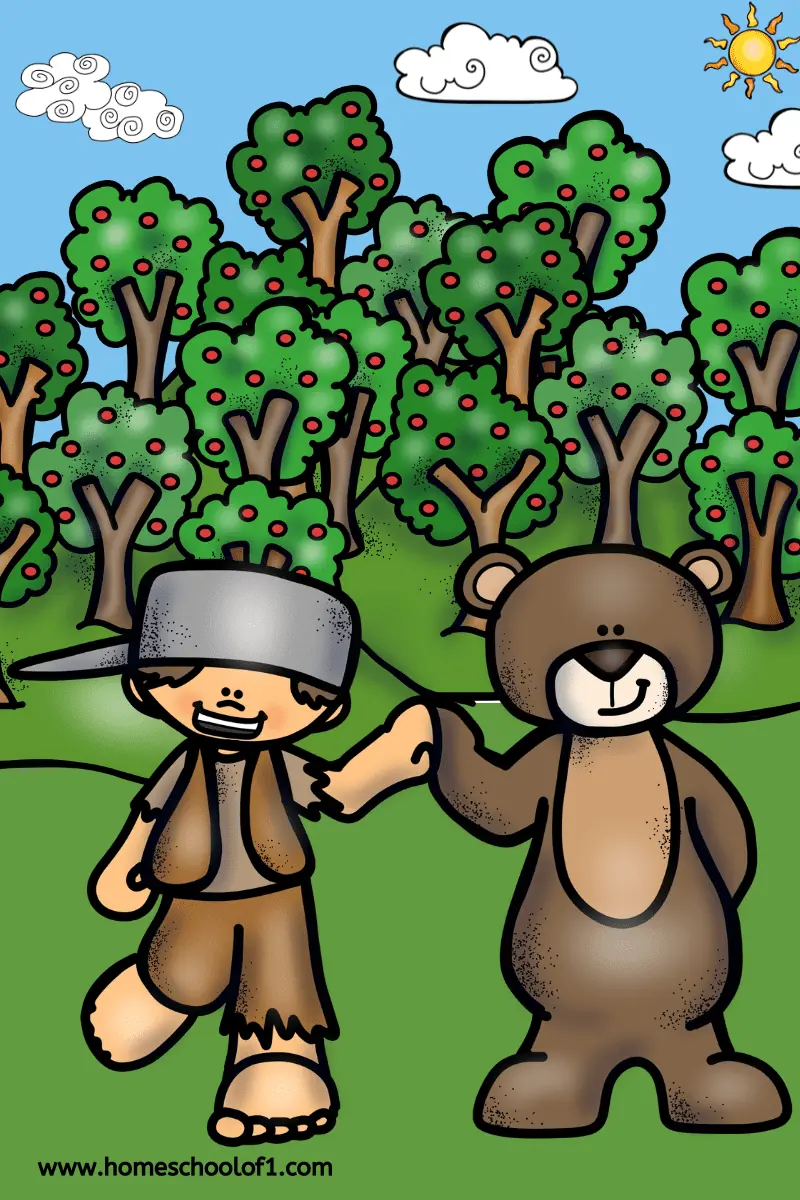 Books about Johnny Appleseed
Johnny Appleseed is a wonderful read aloud book perfect to read to the kids on Johnny Appleseed Day.
My Little Golden Book About Johnny Appleseed learn all about John Chapman (who later became known as Johnny Appleseed.)
Who Was Johnny Appleseed? This is part of the Who Was books, and as I am sure you already know these are wonderful books.
Download the free Johnny Appleseed activities
Make sure you choose the correct paper size and click on the shrink to fit button. All of our free printables work better when printed on cardstock (this is the one we use and love.)
Other fun holidays in September
Last Updated on 21 February 2023 by homeschoolof1