Fun Letter F Coloring Page (free printable)
This free letter F coloring page is aimed at preschoolers and is a great fun way to learn about the alphabet.
Learning the alphabet should be fun, and this letter F coloring page will definitely help.
This is no boring letter coloring page though, not only does it have the uppercase letter F, but it also includes 5 fun images that all begin with F.
I will also share all of our fun letter F activities and printables that you can use.
You will find all of our alphabet coloring pages series here.
**There may be affiliate links in this post. You can read my full disclosure at the bottom of the page.**
Letter F Coloring Sheet
This is such an easy and fun way to learn the letter F.
This free letter F coloring page is free to print but is for personal or classroom use only. Scroll to the bottom of the page to get the pdf file.
Included in the letter F coloring page are pictures that start with the letter f:
How to use the letter F coloring page
Print out the template below, it will print out on one full page. Make sure to check the printer settings.
As there are so many things to color in try and get the kids to use lots and lots of different colors. It will make it stand out so much more.
Why not start with the letter A coloring page and do all of the letters of the alphabet?
The most important thing when you are looking to homeschool preschool though is just to have fun!
Chicka Chicka ABC
AlphaOops!: The Day Z Went First
I Spy Letters
Eating the Alphabet
School Zone – Get Ready Flash Cards Alphabet & Numbers 2 Pack – Ages 4 to 6, Preschool to Kindergarten, ABCs, Uppercase and Lowercase Letters, Numbers 1-100, Counting, and More
Briarpatch |The World of Eric Carle ABC/123 2-Sided Floor Puzzle, Multi
Why use a letter F coloring page with your preschoolers?
Using a letter "F" coloring page with preschoolers can provide several benefits, including:
Coloring pages can be a fun and interactive way for preschoolers to learn the alphabet. By coloring the letter "F" and pictures that start with "F", they can associate the letter with its sound and form. Helping the younger kids to recognize and remember the alphabet better.
Coloring can help to develop fine motor skills in preschoolers. Such as dexterity and hand-eye coordination, which are important skills for writing and other activities.
Coloring allows preschoolers to be creative and use their imagination. The kids can choose their own colors and experiment with different combinations, allowing them to express themselves.
Coloring requires focus and concentration, which can help preschoolers to develop these important skills. It can also provide a calming activity that can help to reduce stress and anxiety.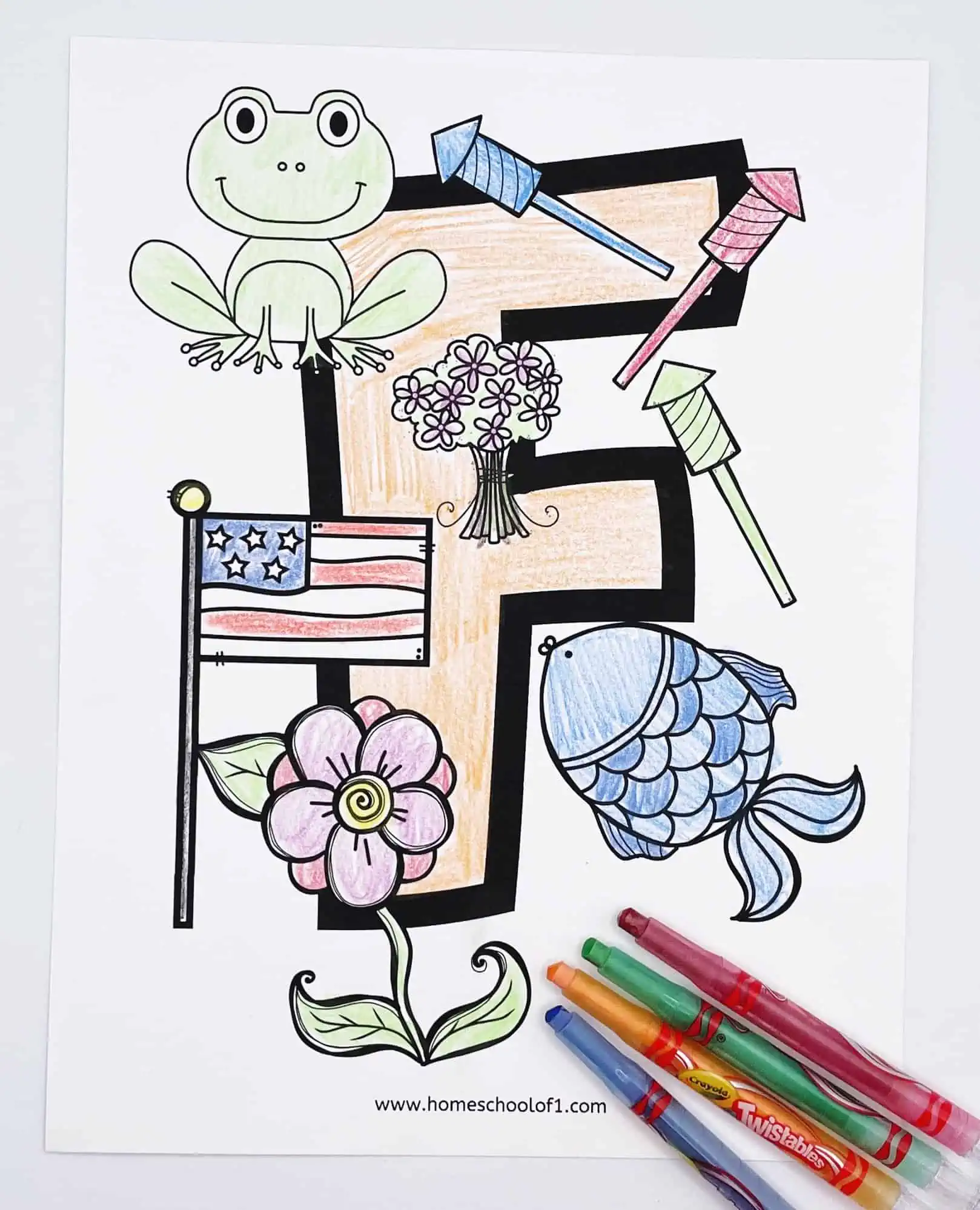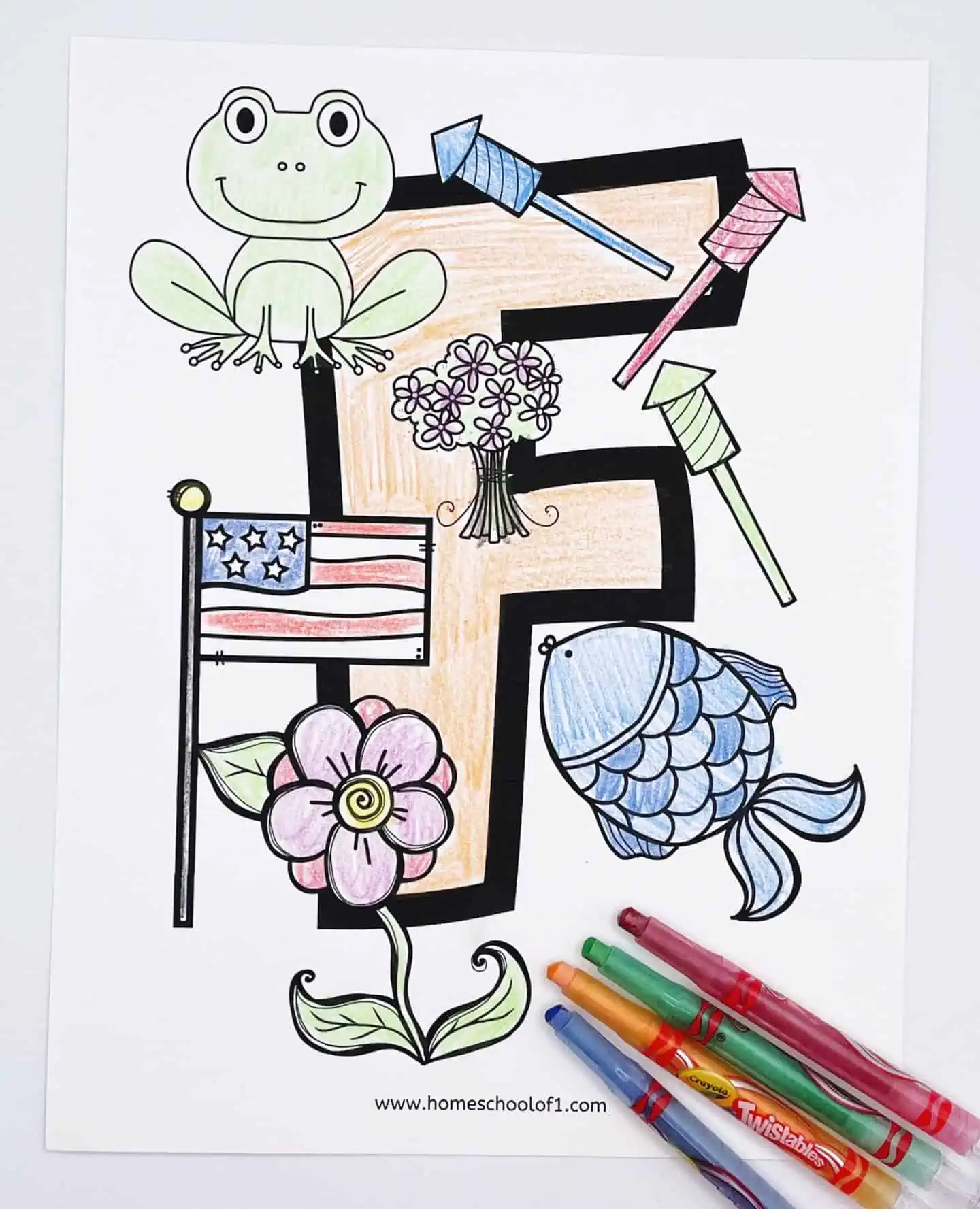 Letter F Activities
For even more letter F activities that I know you are going to love:
Letter f books for preschool
These letter F books provide engaging stories, vibrant illustrations, and interactive elements that make reading an enjoyable and educational experience for preschoolers.
So, grab these books and let the letter F adventure begin!
Fox in Socks: This playful book is filled with tongue twisters and hilarious rhymes that will have preschoolers giggling and practicing their language skills at the same time.
Frog on a Log is an awesome picture book that introduces preschoolers to the playful world of frogs. With its engaging storyline and lively illustrations, it follows a curious frog as it explores different objects that rhyme with "log." This interactive and educational book is sure to captivate young readers and ignite their love for frogs and language play.
Frog and Toad Are Friends: This charming book follows the friendship and adventures of two lovable characters, Frog and Toad. Through their heartwarming stories, children learn about kindness, friendship, and problem-solving.
Download the free Letter F coloring worksheet
If you want to grab all of the letters of the alphabet in one place, you can purchase them here for a small fee. Or for a massively discounted price grab these handprint alphabet printables along with our new alphabet handprints in our 52-page bundle.
Make sure you choose the correct paper size and click on the shrink to fit button. All of our free printables for kids work better when printed on cardstock (this is the one we use and love.)
Last Updated on 23 August 2023 by homeschoolof1