If I Were An Astronaut Worksheet (free printable)
Your budding astronauts are going to love this if I were an astronaut worksheet.
This is a great writing prompt for kids in elementary grades, and when they have finished writing they can color in the astronaut, space rocket, planet, comet, and meteorites.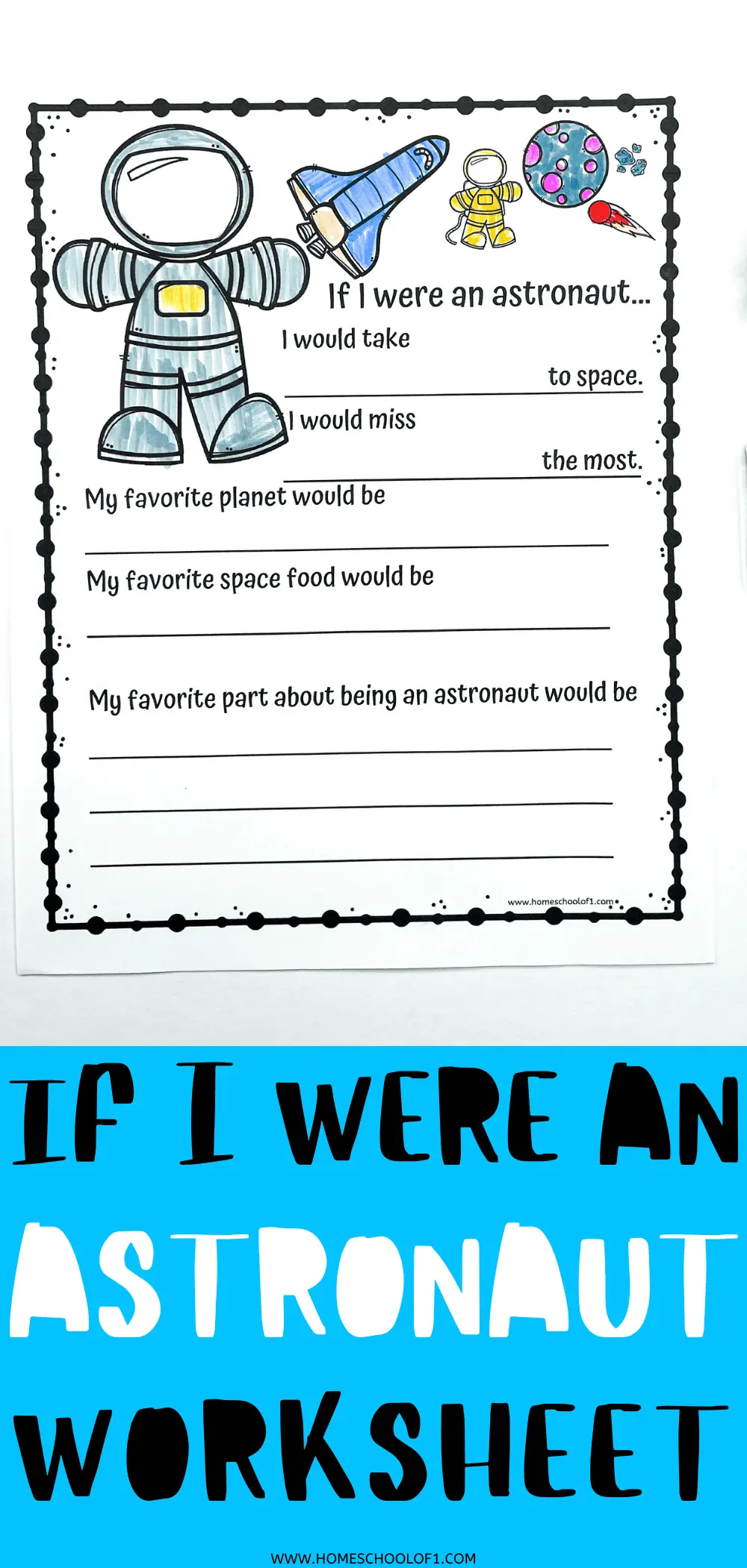 **There may be affiliate links in this post. You can read my full disclosure at the bottom of the page.**
If i were an astronaut writing prompt
Getting kids interested in writing can be challenging at times. However, with this enjoyable astronaut writing worksheet, they will be eager for more.
This worksheet is a perfect activity for both school and homeschool settings as it can be used as a last-minute option without any preparation required.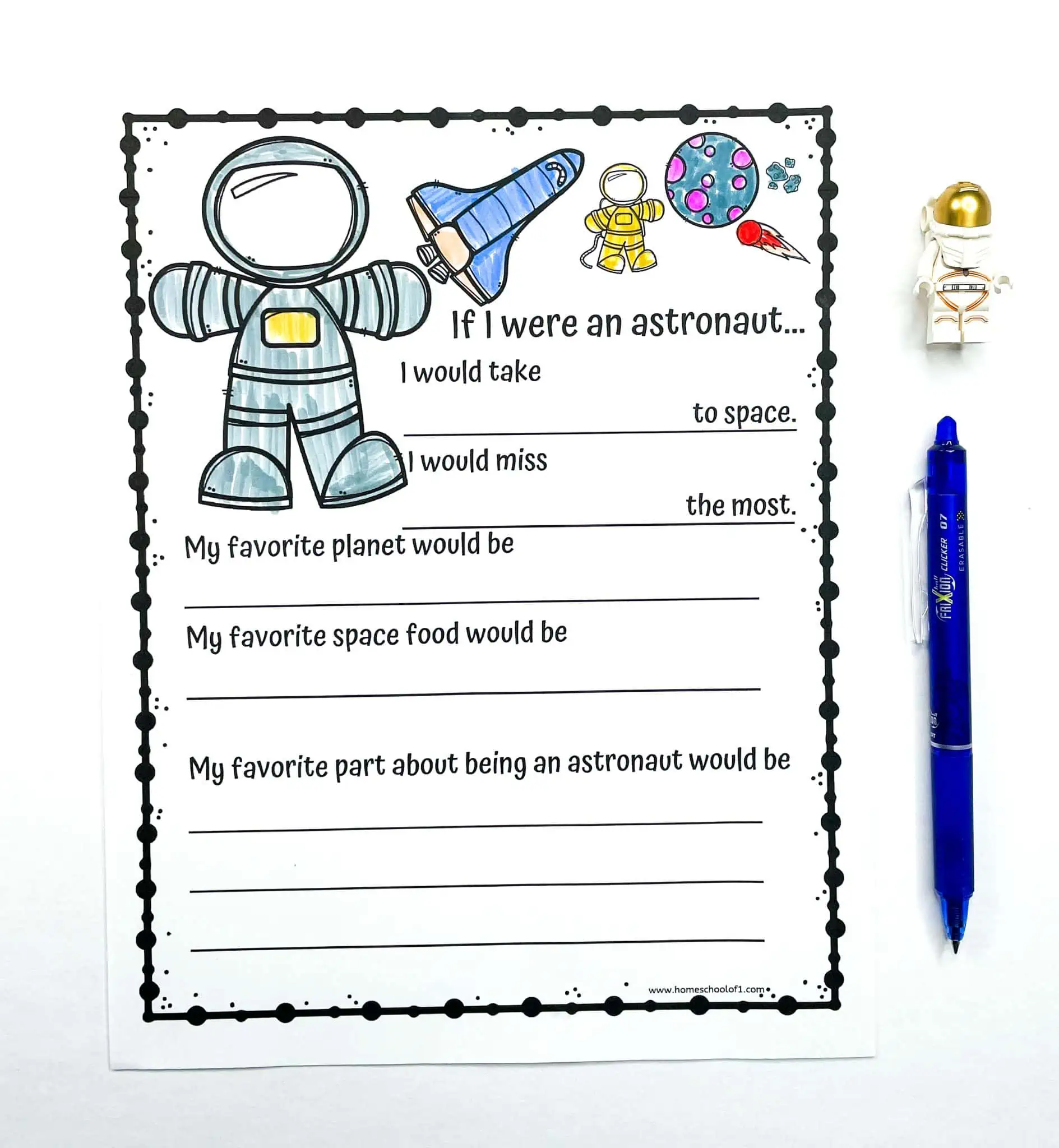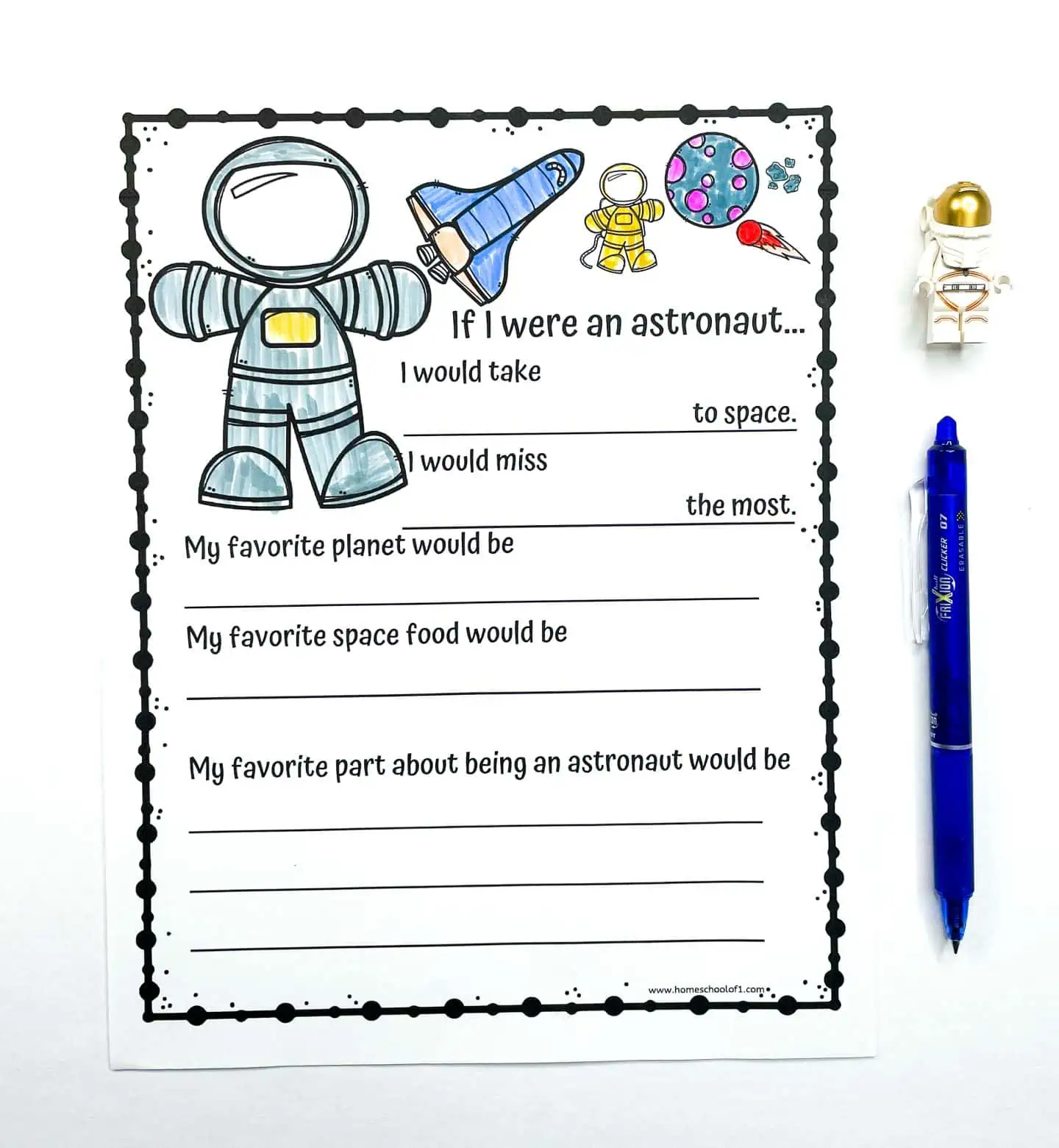 Give the children the worksheet along with a pencil and some coloring pens, or crayons.
If I were an astronaut ….
I would take …………. to space
I would miss …………. the most
My favorite planet would be
My favorite space food would be (they could even try astronaut food for themselves)
My favorite part about being an astronaut would be
Another fun writing activity to do with the kids is to play mad libs from outer space.
If you were an astronaut you might…
If you were an astronaut, you would have the amazing opportunity to explore space and discover new things about our universe. Here are some things you might do as an astronaut:
Travel to the International Space Station (ISS) to conduct experiments and research.
Conduct spacewalks to repair or maintain spacecraft and equipment.
Work with other astronauts from different countries and backgrounds.
Learn how to operate and maintain various types of spacecraft and equipment.
Conduct experiments to learn more about the effects of space travel on the human body.
Observe the Earth from space and collect data on climate change, natural disasters, and other phenomena.
Explore other planets and celestial bodies, such as the moon or Mars.
Test new technologies and equipment for use in space.
Educate people on Earth about the importance of space exploration and the wonders of the universe.
Inspire future generations of scientists and astronauts to continue exploring and discovering.
Books about astronauts
These are our favorite story time books all about young astronauts that you will love for your read-alouds.
If I Were an Astronaut by Eric Braun. If the kids have ever dreamed of exploring space, this is the book for them! This fun and exciting book takes you on a journey through the life of an astronaut, from training to launch day and beyond. But the best part of it is that it encourages kids to dream big and believe in themselves.
Bella the Scientist Goes to Outer Space is an exciting adventure about Bella and her friends. Exploring the mysteries of the universe while learning the importance of teamwork and friendship.
The Astronaut's Guide to Leaving the Planet: Everything You Need to Know, from Training to Re-entry. This book is filled with funny anecdotes and personal stories from real astronauts. The kids will learn about the physical and mental challenges of space travel, the technology that makes it all possible, and the beauty of our universe.
Other free space themed printables
The kids will also enjoy these other free worksheets:
Tips for downloading the free files
Below you will see a large sign-up box where you need to add your name and email address, and press I NEED THIS NOW!
Within minutes you will be sent the free PDF directly to your email address, so you can print it out and start using it immediately.
Sometimes emails get a little wonky, so if you can't see it, please check your spam folder where I am sure it is hiding.
Download the free If I Was an Astronaut Worksheet
Make sure you choose the correct paper size and click on the shrink to fit button. All of our free printables for kids work better when printed on cardstock (this is the one we use and love.)
Last Updated on 21 October 2023 by homeschoolof1