12 Ideas for Celebrating New Year's Eve At Home With the Kids
Since having our son we made the decision that New Year's Eve is a celebration we wanted to have as a family. So for the last 12 years, we have had the BEST fun at home (or at friends' homes) celebrating New Year's Eve with kids.
If you are looking for the best way to bring in the New Year with kids we have you covered.
If you were planning on going out and your babysitter canceled, or money is a bit tight. Don't stress, I am going to share with you the best New Year's Eve activities for kids.
I have put together our favorite kid's New Year's Eve activities that you can all do together as a family.
If the kids are younger you can start the countdown earlier, and either do 30-minute or 15-minute countdowns. That way they can be in bed at the normal time, but they will have had the full experience.
Check out how we have fun at home with the kids on New Year's Eve, and how you will too.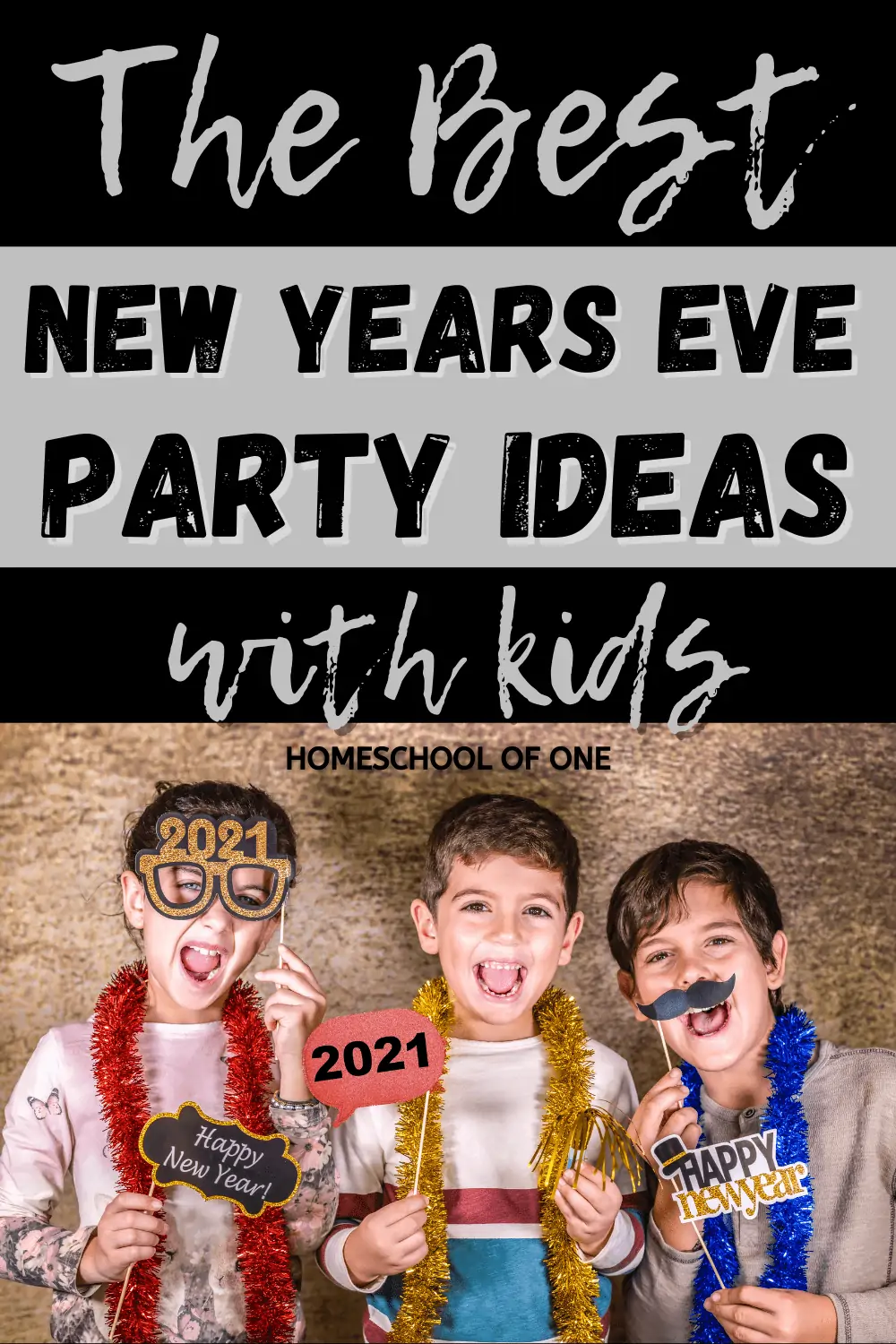 **There may be affiliate links in this post. You can read my full disclosure at the bottom of the page.**
New Year's Eve Countdown Balloons
We have been doing the balloon-popping countdown for a number of years as you can see below! But it is so much fun! The first year we did it was when my son was about 4 years old.
There are a number of ways you can have fun with the balloons. Some years we have just popped the correct timed balloon, but as he has gotten older we have added things inside the balloons!
When he was young he would pop each hour at 15 /20 minute intervals, so the midnight balloon was around his normal bedtime. He absolutely loved it.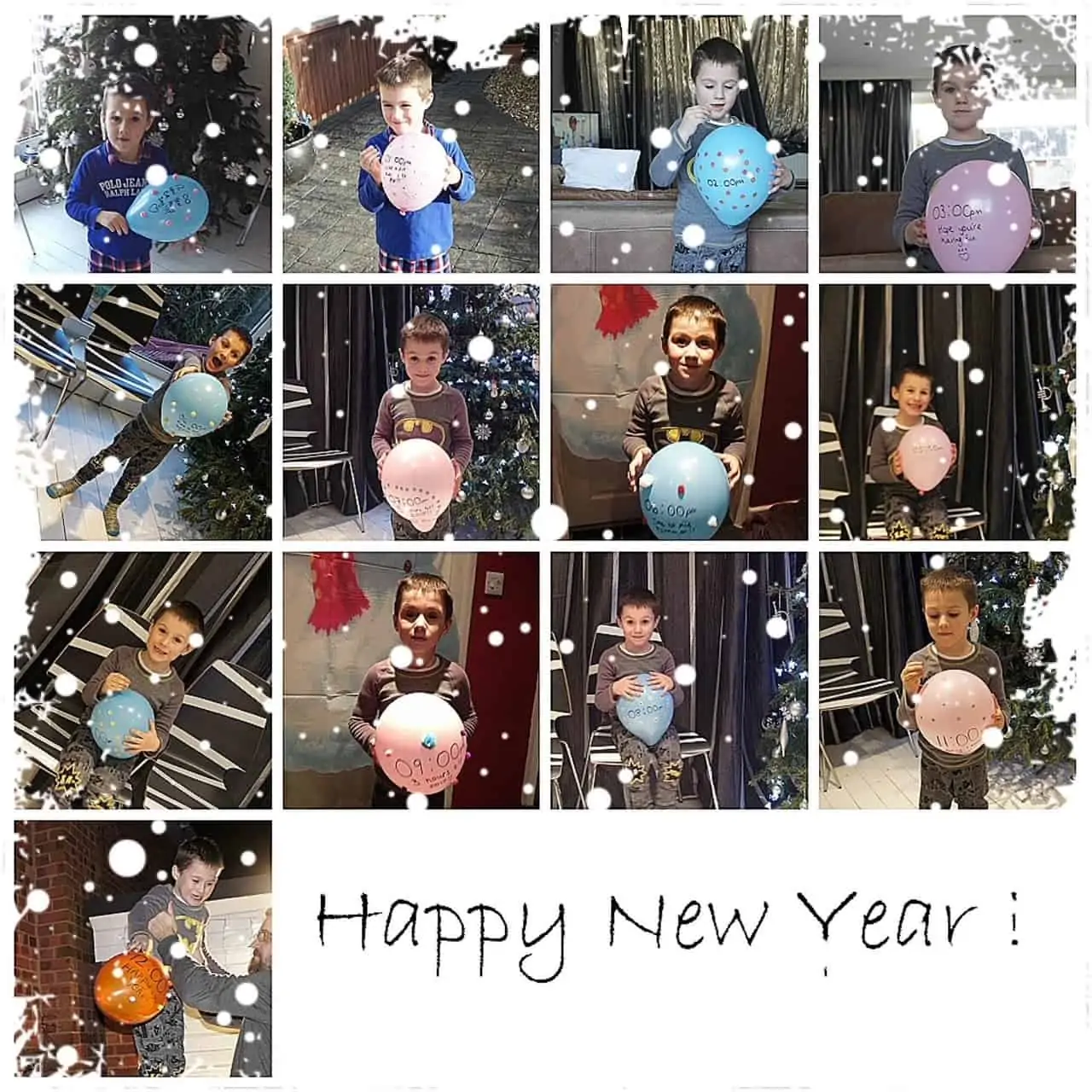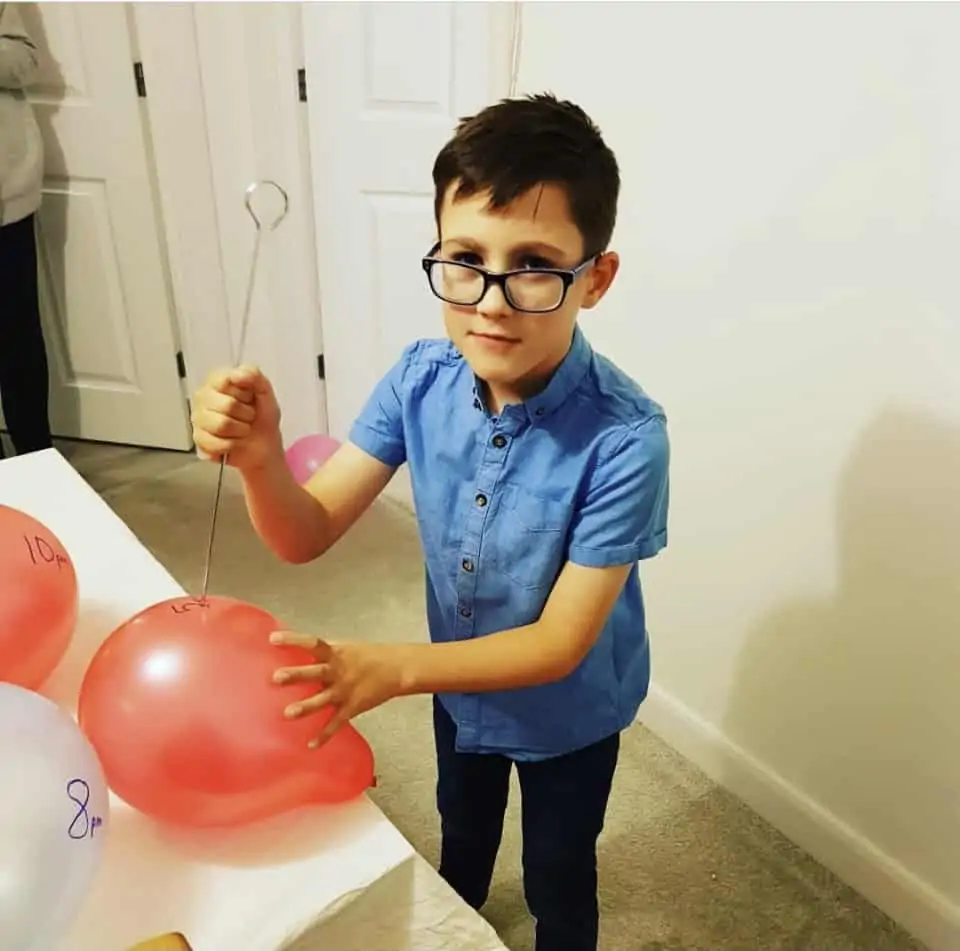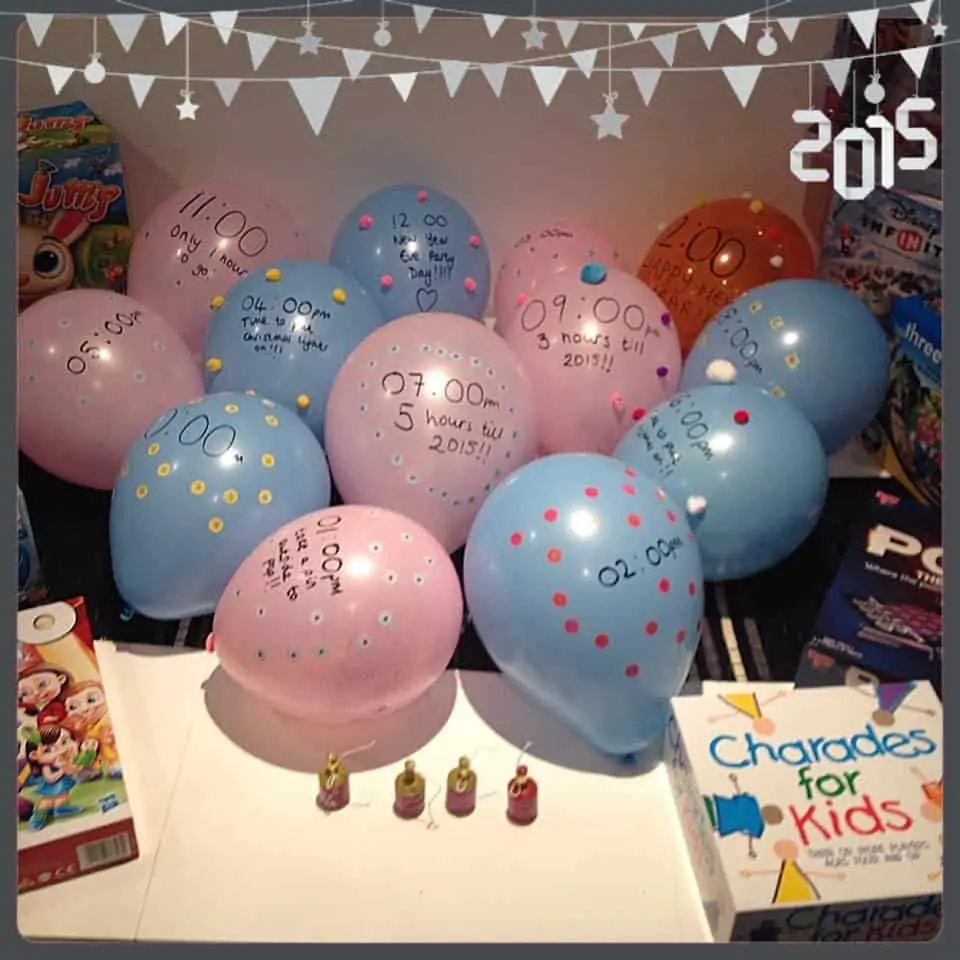 As he got older we added activities inside the balloons. These are some of the kid friendly things we have done:
5 pm – play party games (see our favorites below)
6 pm – get the photo props out and take some pictures
7 pm – do a holiday drawing
8 pm – bake some New Year's Eve cookies
9 pm- watch a holiday movie
10 pm – have some popcorn
11 pm – sing with the karaoke machine
Happy New Year
New Year's Eve Countdown Bags
Last year as my son was 11 years old I opted for New Year's Eve countdown bags instead.
This was a lot to do with the fact we were going to a friend's house and it was easier to carry these than the balloons!
We added:
Candy, popcorn.
Lottery cards
Tie Dye Kit for plain t-shirts (last year the bags were too small, so I added a note saying for the next activity look under the table for example.)
Escape room puzzles (see further down the post to see what we did.)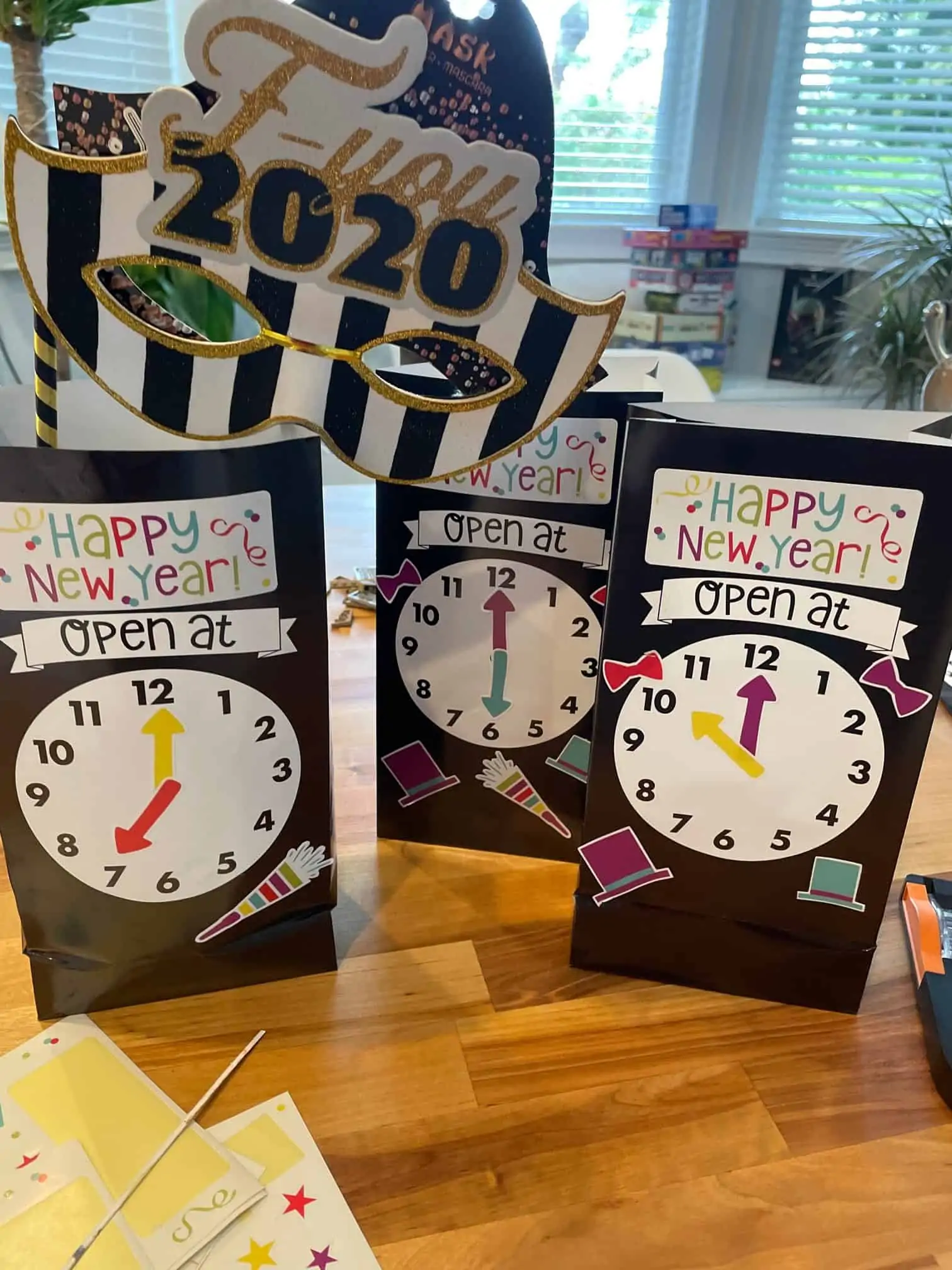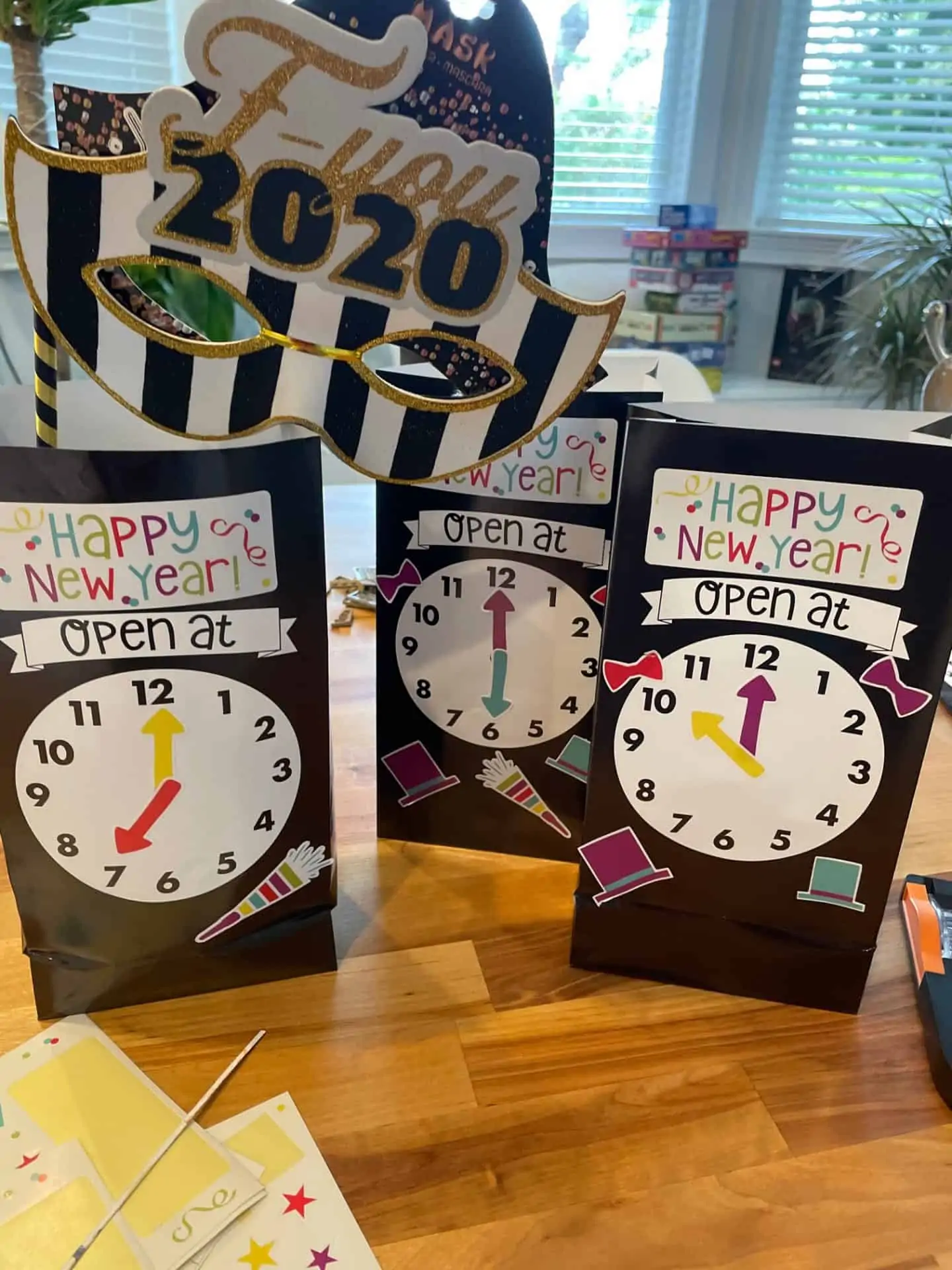 New Year's Eve with Kids Photo Props
Getting photo booth props is an awesome activity for the whole family, and it will also remind you of the fun you had.
These photo props are what we will be getting this year, we also got these tiaras last year for us all to wear.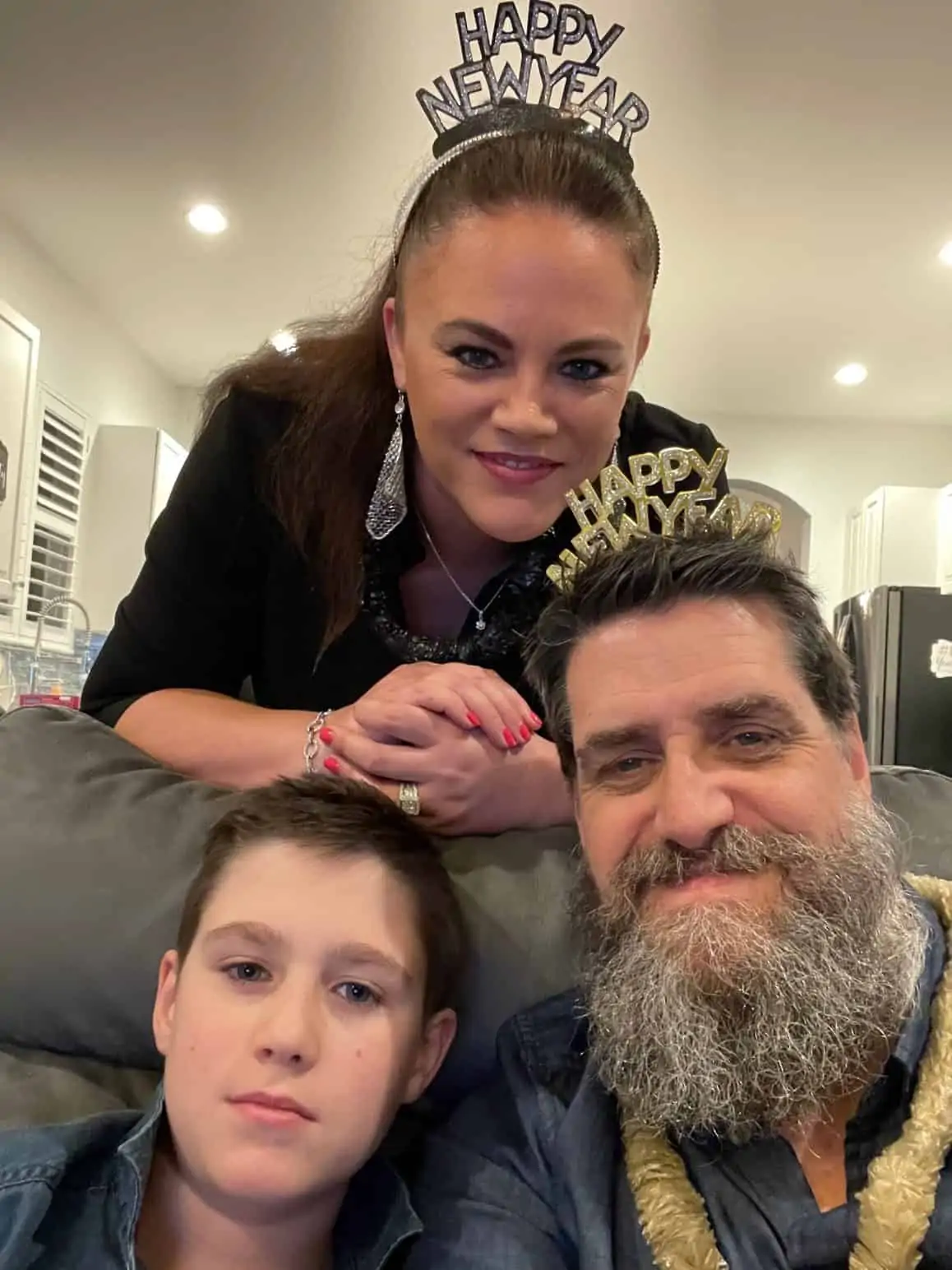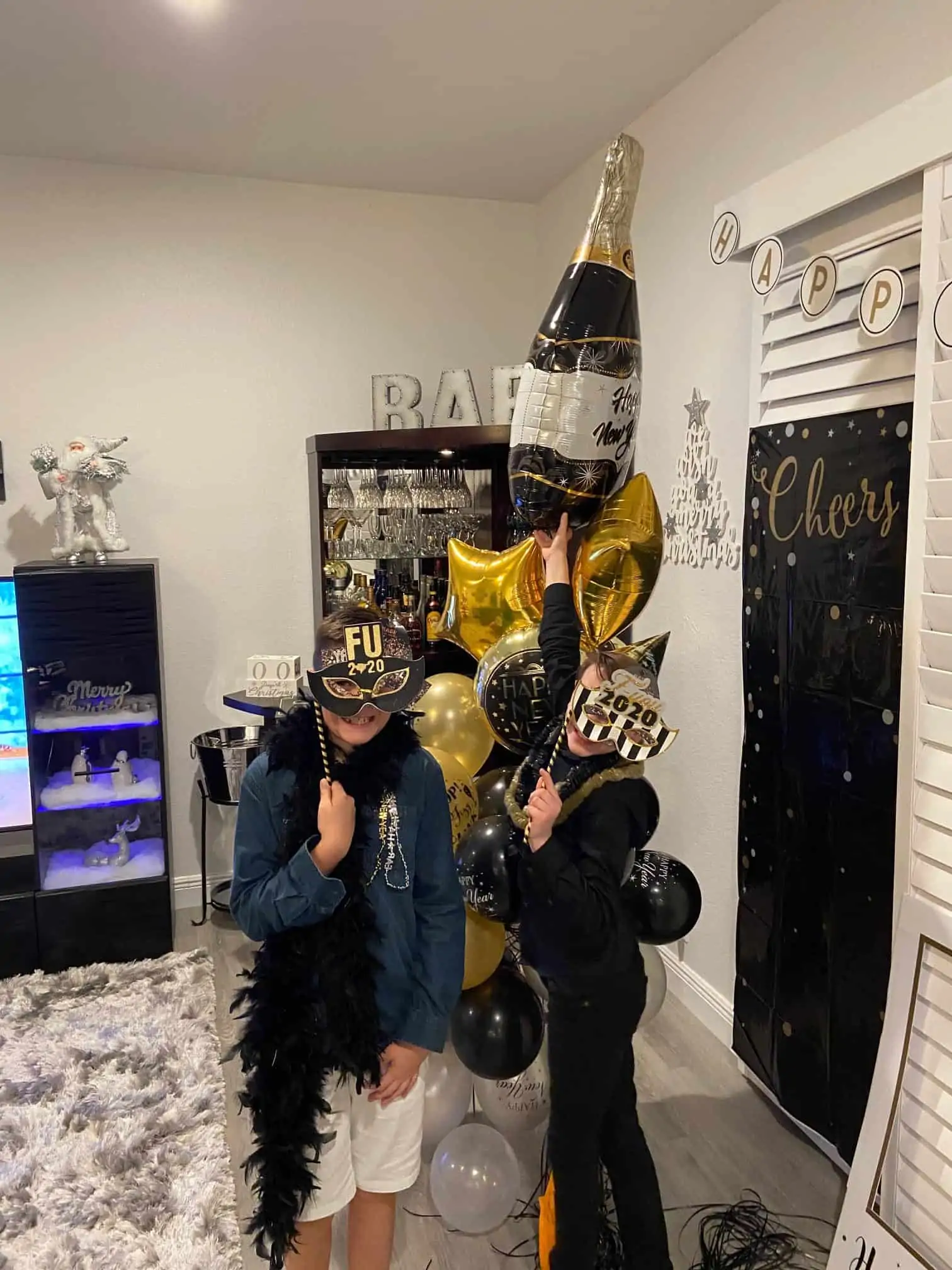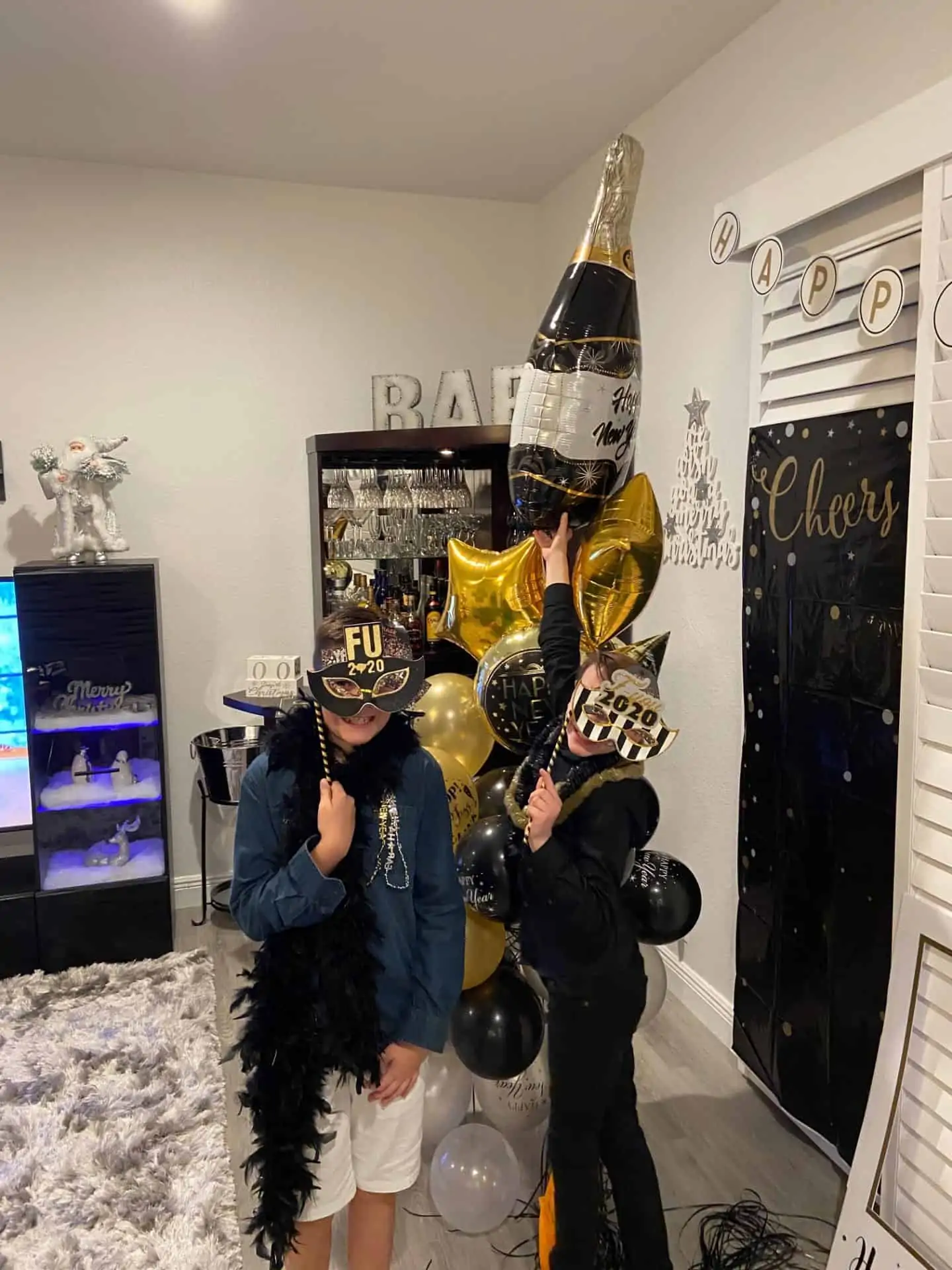 Kid's New Year's Eve Games
We absolutely love playing board games as a family, we even play them in our homeschool day (check out our favorite educational board games here). These are our favorite though for New Year's Eve with kids:
New Year's Eve Reflection Questions
New Year's is always a time for reflection, so print out our free New Year's Eve reflection questions and take turns answering the 24 questions.
If you are looking for even more New Year's Eve printables Etsy has you covered! With scavenger hunts, kids' activity sheets, color-in party hats and so much more.
Have an Escape Room Party
We will be having an escape room party this year at home, with our son and his friends. Check out what escape room puzzles we will be creating.
Or if you are running short on time grab these ready-to-play ones.
Create and bury a family time capsule
Why not create a memory for years to come and bury a time capsule full of special memories?
Print out our free questions for a time capsule and get the whole family to fill one in. Add it to your family time capsule and bury it.
Have a scavenger hunt
Download our free New Year's Eve scavenger hunt and either put the TV on, or my preferred option hide the items around the house.
This is great for both younger and older kids.
Play scattergories
If you are at home celebrating with older kids then download our free New Year's scattergories. There are 4 different boards to have fun with.
Play bingo
Have fun with young and old with our free New Year's Eve bingo printable. There are 5 different bingo boards to play with so you can have up to 5 players.
Get some dot markers and just have fun.
Dress Up for New Year's Eve
Just because you are staying at home doesn't mean you shouldn't dress up.
Either put your best party attire on or dress up in a silly costume. It will just feel more special.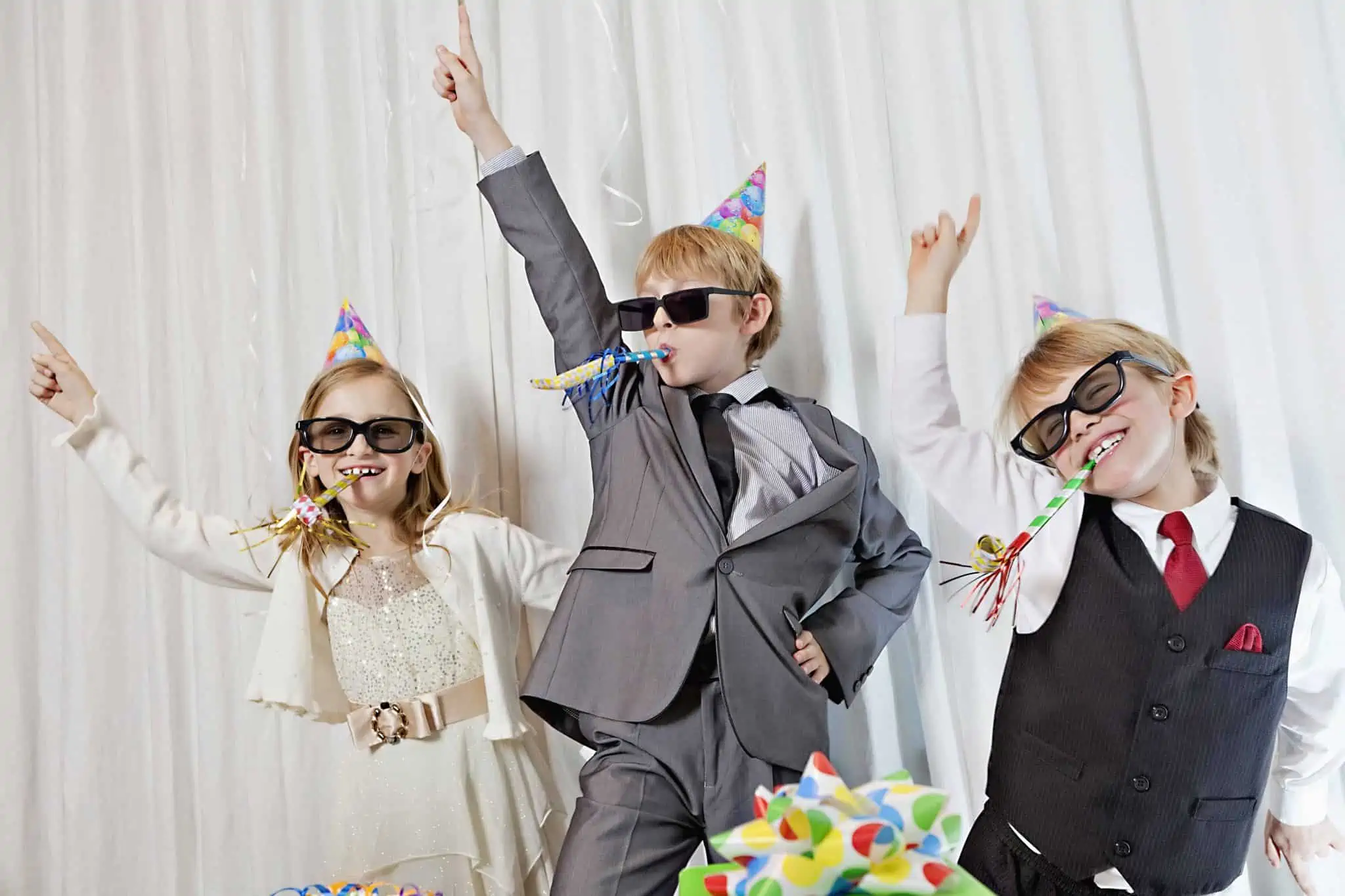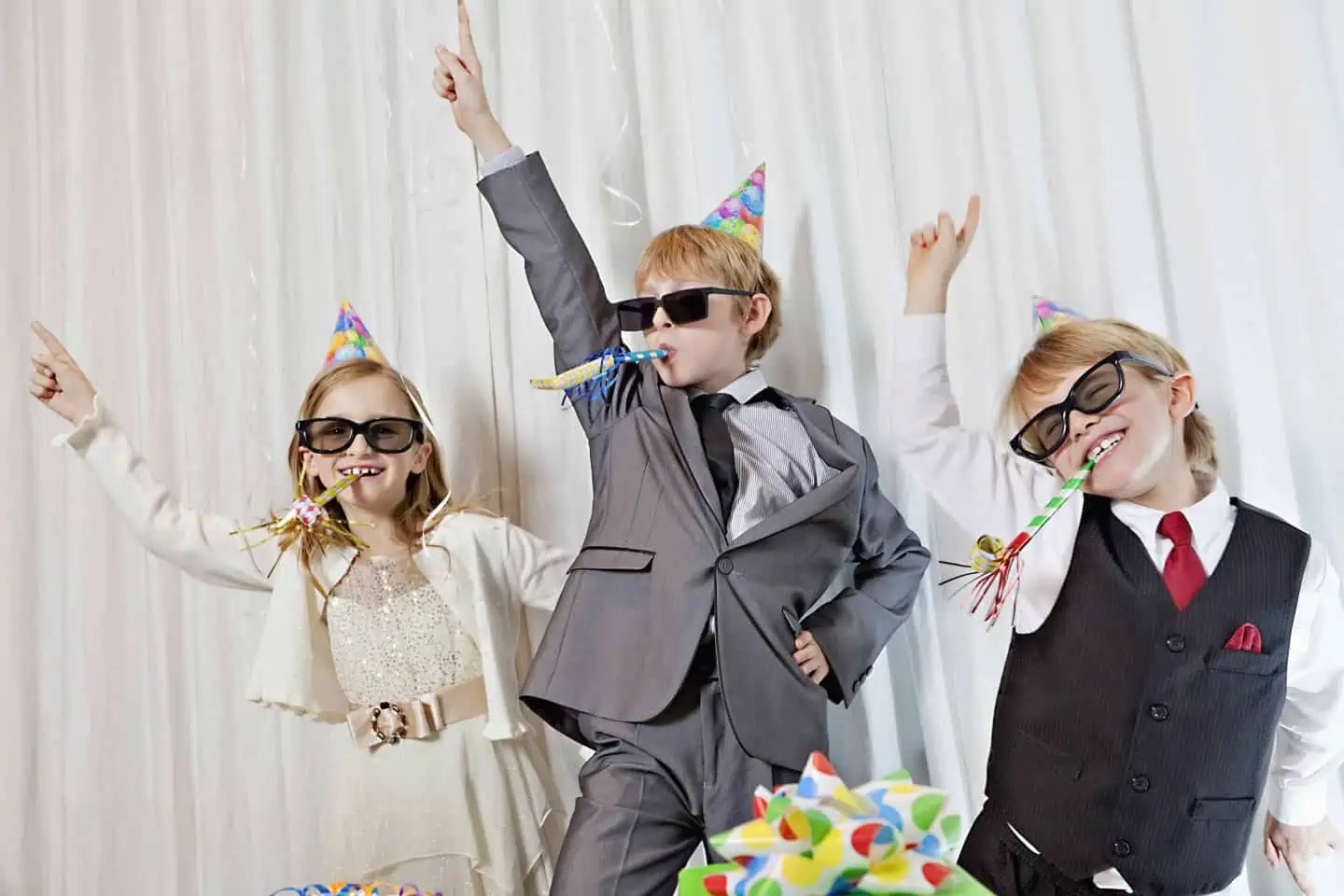 Decorate your house for a party
To create a really cool atmosphere this New Year why not decorate the house with these really cool decorations? The black and gold coloring will look awesome if you want to get matching balloons too these will make it feel even more like a party.
For St Patrick's Day this year, I ordered some balloon stands from Amazon and they were so much better than I expected. I will be bringing these back out for New Year's Eve.
Last Updated on 25 November 2023 by homeschoolof1