15 Best One Player Card Games Both Kids & Adults Will Love
Are you tired of playing solitaire all the time? Spice up your card game collection with these awesome one player card games.
Perfect for both kids and adults, these games will help you relax, have fun, and even learn something new.
From classic solitaire variations to adventurous dungeon crawls, there's something here for everyone. So grab a deck of cards and get ready for some solo gaming excitement!
Discover the best games for kids that offer a fantastic solo gaming experience. Ensuring hours of entertainment and skill-building for young players. These games are not only enjoyable but also promote strategic thinking and problem-solving, making them a great addition to any kid's game repertoire.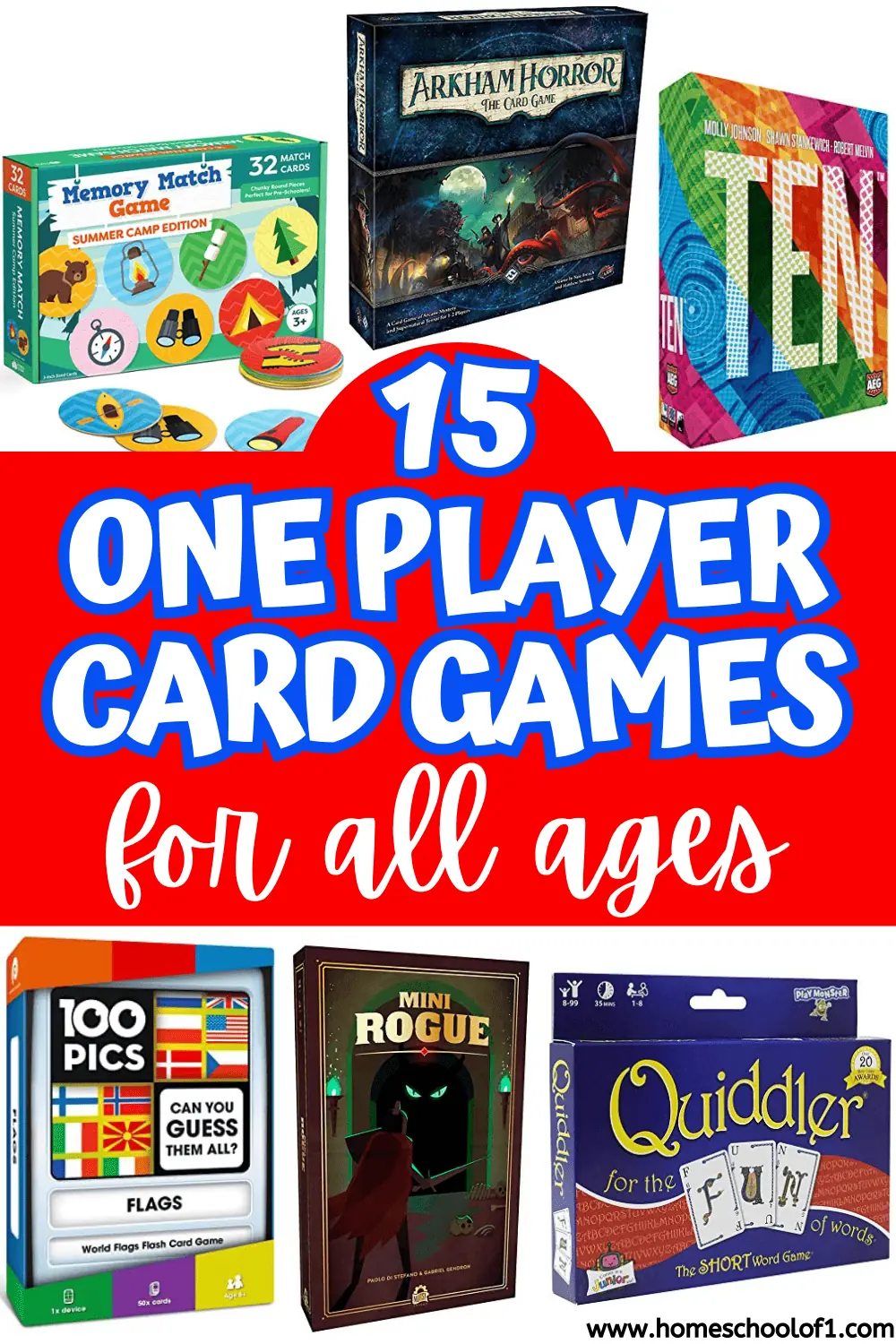 **There may be affiliate links in this post. You can read my full disclosure at the bottom of the page.**
Most popular one player card games
Get a deck of cards and play these top card games:
Regular Solitaire. The classic game where you arrange a deck of cards in specific formations, aiming to clear the entire deck.
Spider Solitaire. A challenging variation of Solitaire where you stack cards of the same suit in descending order to uncover hidden cards.
Pyramid. Match cards that add up to 13 to get rid of them from the pyramid-shaped layout and aim to clear the whole deck.
Four Aces. Try to make four piles starting with an Ace and build them up in order while organizing other cards on the table.
Forty Thieves. Use two decks of cards to build eight piles in ascending order while moving cards around and planning your moves carefully.
Clock Solitaire. Play cards onto a circular layout according to their rank and suit, aiming to complete a full rotation.
These games offer a fantastic solo gaming experience, making them perfect one player games for kids and adults alike.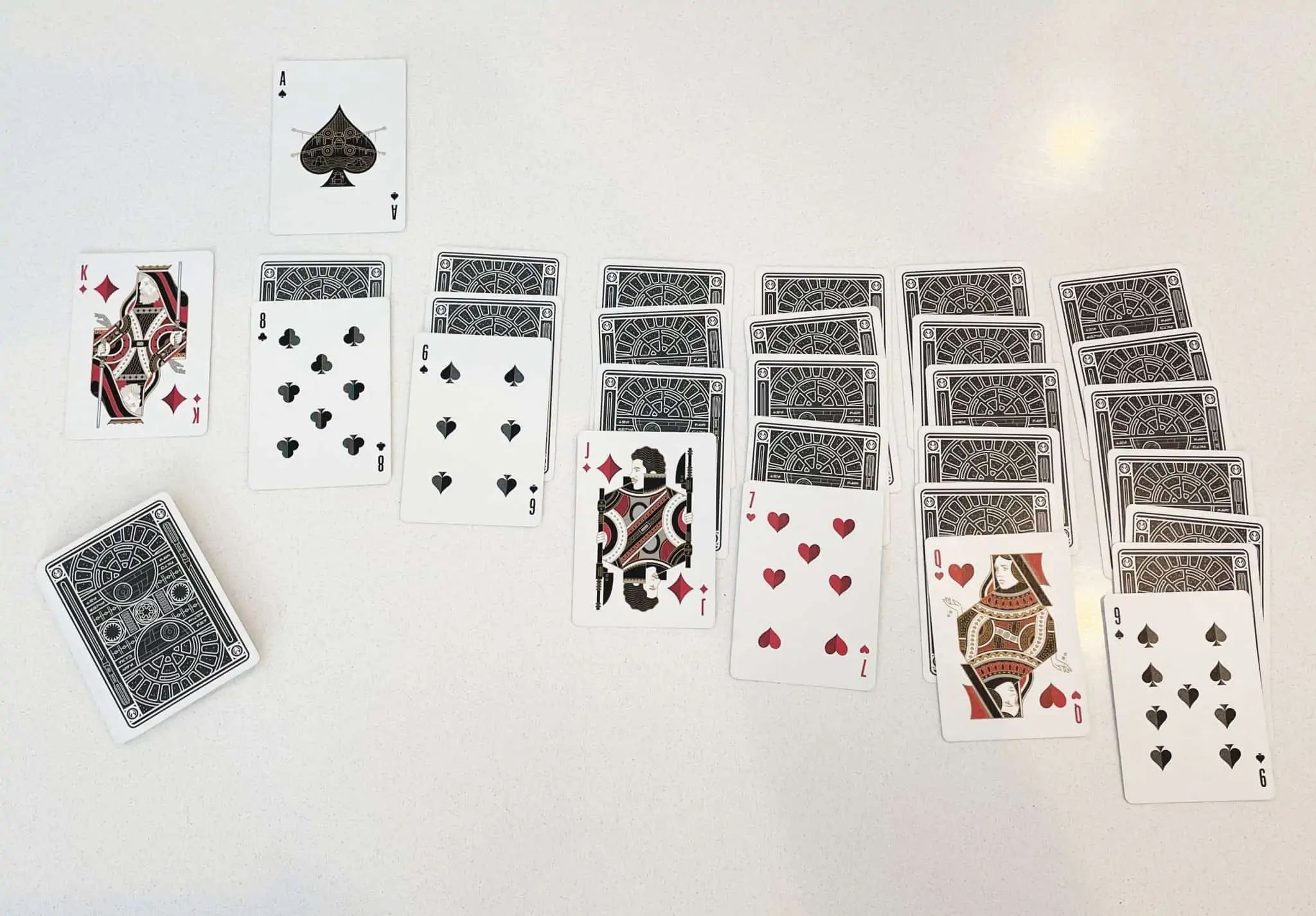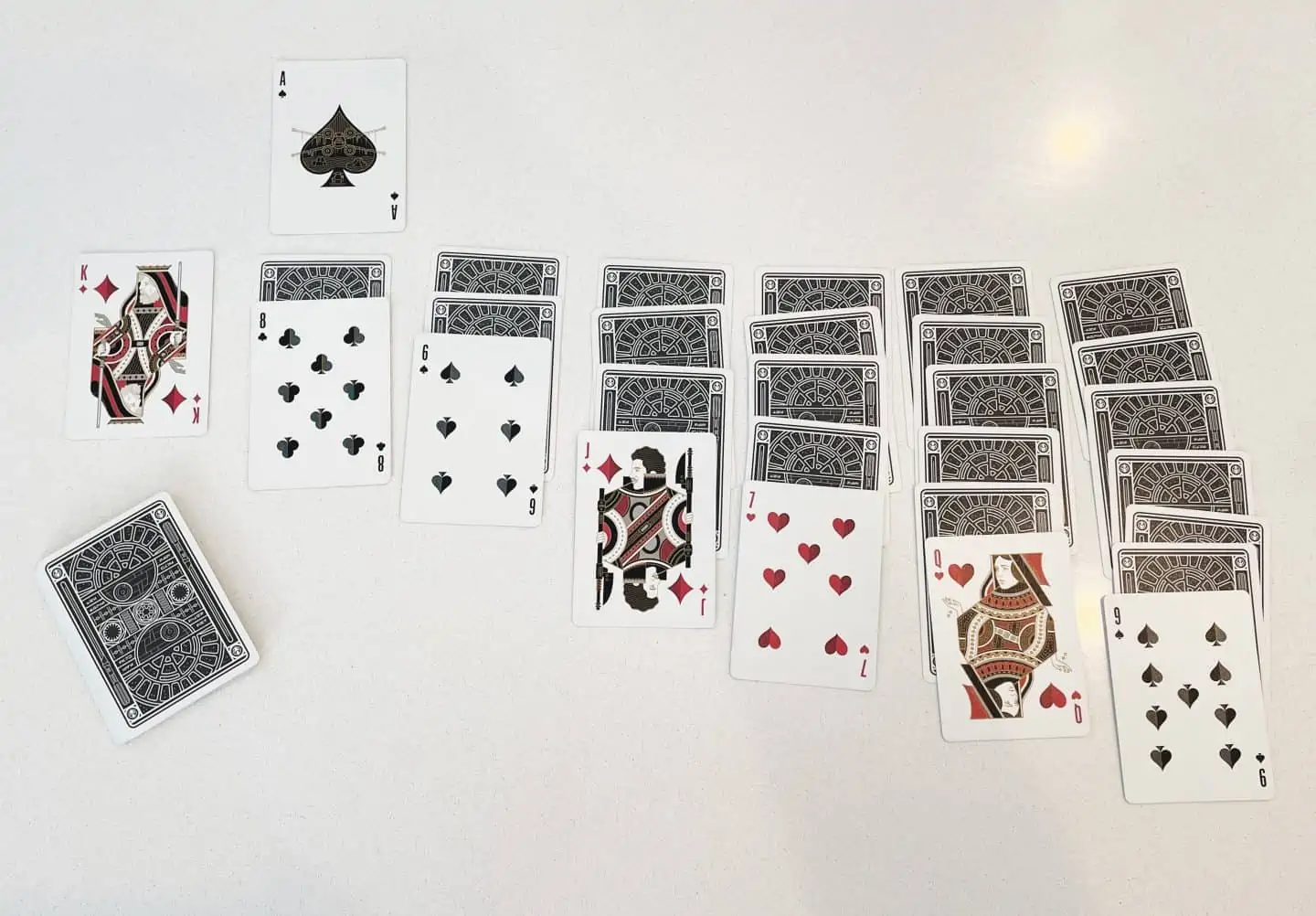 Best single player card games
These one person card games are listed in age order. Starting from preschoolers all the way through to adult one player board games.
Age rating: 3 and up
Type of card game: Memory card matching game
Keep your little ones engaged and entertained with a fun matching card game.
Designed for preschoolers and toddlers, this colorful card game features 32 summer camp-themed cards.
The objective is simple: flip the cards and find matching pairs. It helps improve memory skills while providing endless fun for children aged 3 and up.
Boys and girls alike will enjoy this delightful game, making it a great choice for playdates or quiet afternoons at home.
Age rating: 6+
Type of card game: Geography card game, flash cards
Get ready to expand your knowledge of world flags with the 100 PICS Flags of The World Game.
This educational card game is perfect for kids and adults alike. With slide reveal cases, you can challenge yourself or play with friends to guess the country associated with each flag.
It's a great way to learn while having fun and makes for an ideal gift or stocking stuffer for any geography enthusiast.
Age rating: 7+
Type of card game: Family game, card & dice game
Get ready for a fun-filled adventure with One Two Many Rabbits, a card and dice game that combines entertainment with education.
Suitable for ages 7 and up, this game allows 1-4 players to immerse themselves in a world of bunnies and strategy.
With a playtime of 10-20 minutes, it's an excellent choice for family game nights, offering both entertainment and learning opportunities.
Type of card game: Family fantasy adventure card game
In Bag of Dungeon, you and your fellow players embark on an exciting journey through the dragon's lair.
With a mix of strategy, luck, and bravery, you'll navigate treacherous paths, encounter magical creatures, and gather treasures.
It's a thrilling adventure suitable for the whole family, where each player can test their courage and enjoy a dose of fantasy fun.
Age rating: 8 to adult
Type of card game: Word game
Gather your family or friends for a lively word game with Yammer Classic. Suitable for 1-6 players aged 8 to adult, this game is perfect for game nights too.
Challenge your vocabulary, create words, and strategize your moves.
Age rating: 8 and up
Type of card game: Co-operative mystery game
If you're looking for a fast-paced, brain-teasing experience, 5-Minute Mystery is the game for you.
With only five minutes on the clock, you'll analyze clues, decipher codes, and piece together the puzzle before time runs out.
It's a game that combines strategy, and deduction.
Age rating: 8+
Type of card game: Word game
Quiddler is a fantastic card game that challenges players to make short words using the cards in their hand.
Age rating: 8+
Type of card game: Rummy-style card game
Five Crowns is a thrilling card game that puts a twist on the classic game of Rummy. The goal is to create runs and sets of cards, but what makes it exciting is that the wild card changes with each round.
This keeps the game unpredictable and ensures that the fun continues until the very end.
Age rating: 10+
Type of card game: Push-your-luck game
If you're looking for a fast and fun card game, look no further than Ten.
It's a push-your-luck game where you try to reach a total of 10 without going over. The catch is that if you exceed 10, you lose points.
With its simple rules, it's a great choice for casual gameplay with friends and family. Suitable for ages 10 and older, this game offers 1-5 player action and can be played in just 15-30 minutes.
Age rating: 10+
Type of card game: Cooperative adventure game
Step into the thrilling world of House of Danger and become a detective investigating criminal activity and a dark history in your town.
With your psychic senses and detective skills, you'll explore the mysterious Marsden mansion, encounter ghostly figures, and conquer challenges as you make choices that shape the story.
Collect clues, uncover secrets, and experience different endings in this highly variable adventure game suitable for ages 10 and older. Get ready to unravel the mystery and have a blast!
Age rating: 10+
Type of card game: Solo or cooperative two-player strategy
Join the Oniverse and experience a captivating journey in this solo or two-player card game. As you explore the Dreamworld, you'll need to navigate through a labyrinth, unlock doors, and collect keys to escape.
With its quick and strategic gameplay, Onirim is suitable for ages 10 and up. It offers an average playtime of 15 minutes.
Age rating: 12+
Type of card game: Board game, family game
Mini Rogue is a compact and engaging card game that offers 30+ minutes of strategic gameplay.
Whether played solo or with a partner, you'll navigate through dungeons, face off against monsters, and collect valuable treasures.
Age rating: 14+
Type of card game: Horror, mystery, cooperative
Immerse yourself in the eerie world of Arkham Horror as you and your fellow investigators uncover dark secrets and face unspeakable horrors. With its cooperative gameplay and intriguing storyline, this card game is perfect for adults and teens aged 14 and up.
Dive into the Lovecraftian universe, solve mysteries, and fight against the forces of evil in sessions that typically last 1-2 hours.
Age rating: 14+
Type of card game: Cooperative card game
Embark on an intergalactic journey in One Deck Galaxy, a cooperative card game that captures the vastness of the cosmos in a single deck.
Designed for 1-2 players, ages 14 and up, this game offers a unique gaming experience where you build a galaxy and face challenges together.
With an average playtime of 30-60 minutes, you'll explore the mysteries of space and work as a team to overcome cosmic obstacles.
If you are looking for the best party card games for teenagers check out our favorites.
Last Updated on 1 September 2023 by homeschoolof1