21 Best One Player Games For Kids
We love playing games in our homeschool. But, as we are a homeschool of 1 I thought I would share with you our favorite one player games for kids.
We normally play together either as a family or just the two of us if my husband is working. But sometimes I need to either work or clean. Or one of the other millions of things we have to do as moms.
These are some of the best games for kids you will find, but more importantly, they are fun. To be fair I can find an educational slant to pretty much every game we have come across!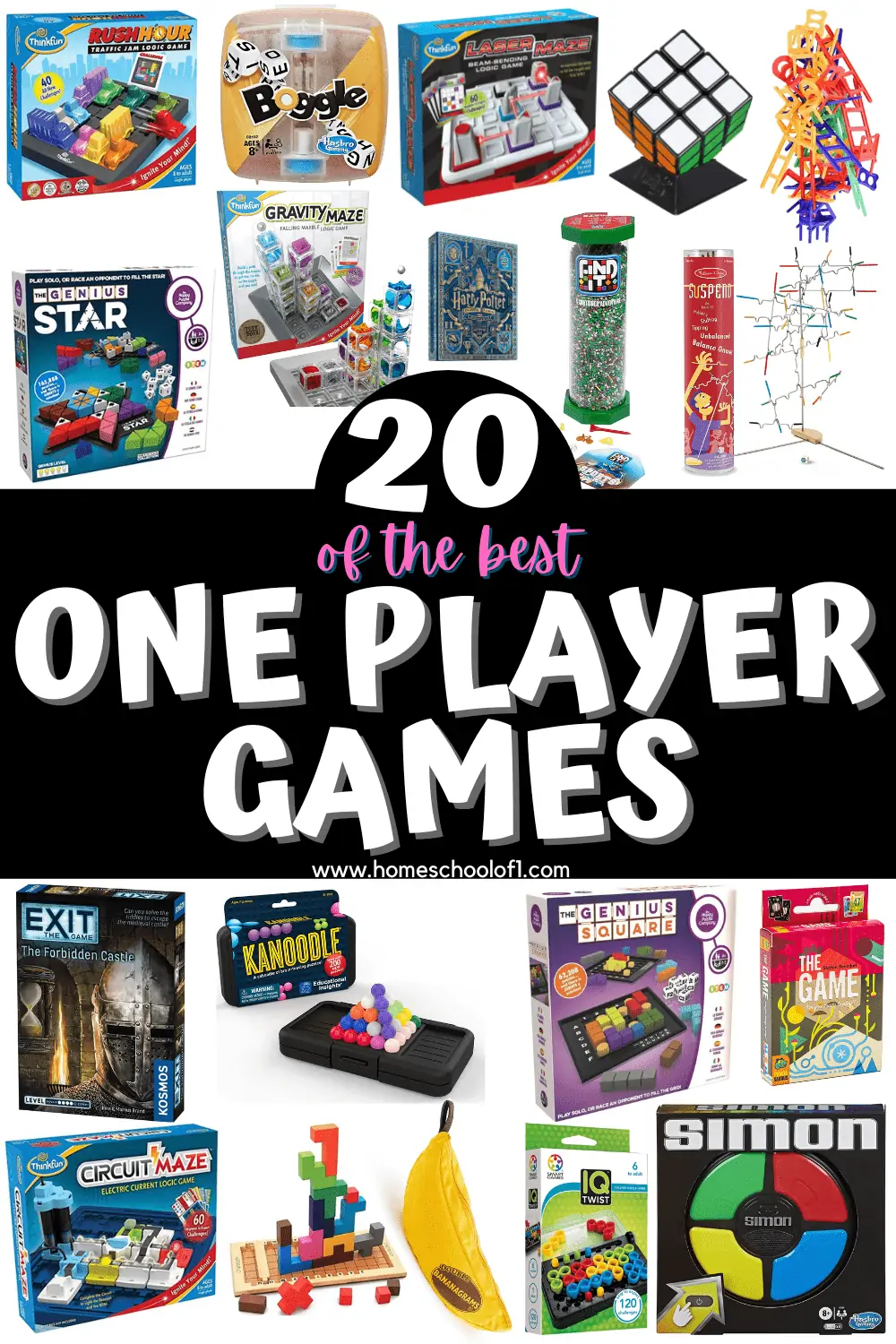 Single Player Games for Kids
These are some of the ways you can make the most out of one player board games:
Quiet times. If he is feeling overwhelmed or a little stressed, playing one of these one player games gives him time to calm down and regroup.
Sick Days – if either one of us is sick (check out our top tips on how to survive homeschool sick days!)
In the car running errands (one of these games actually lives in the car!)
If the weather isn't great. On days when it isn't raining, we try and go on at least four walks during the day, it gives us time to relax and just chat. If it isn't very nice, he will get out one of these solo player games before he starts on the next subject.
If we have an appointment (at the bank, or I am getting my hair done, he will bring one of these games to play.)
Keep reading for over 20 of the best one player games for kids and adults.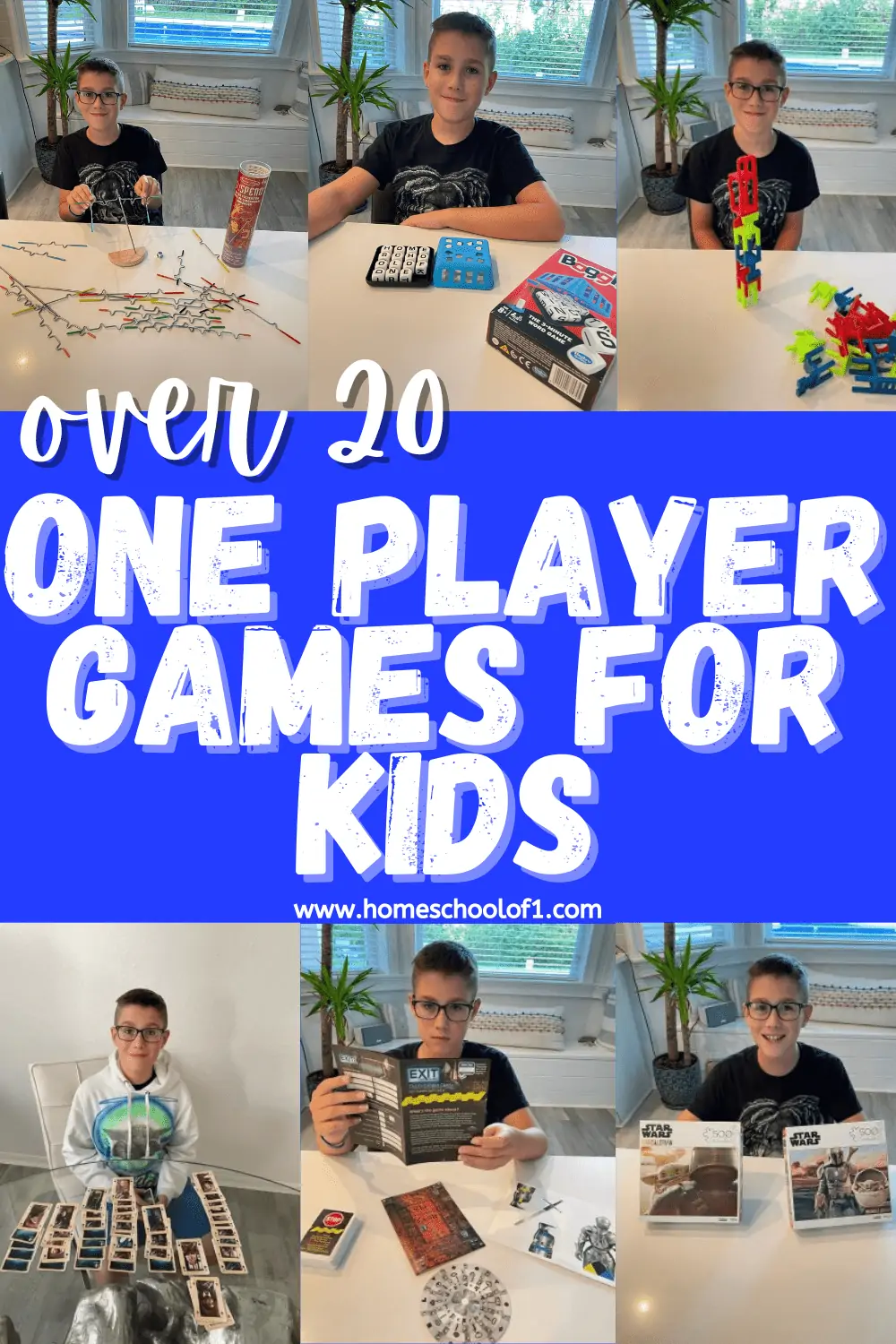 **There may be affiliate links in this post. You can read my full disclosure at the bottom of the page.**
1 Player Games for Kids
From history board games like Trekking Through History to brain teasers like Kanoodle and Gravity Maze, there's something for everyone.
And if you're in the mood for some classic games, don't forget about Rubik's Cube, Boggle, and solitaire with beautiful playing cards.
Check out our list of favorite single-player games that are educational and entertaining.
Trekking Through History
Despite it showing on the box that it is a 2-4 player game, Trekking Through History has a solo player mode. Not only is this history board game educational it is so much fun.
Read our detailed Trekking through History review for more information, but this is one of our favorite board games for kids.
EXIT Escape Room Puzzles
We love escape rooms both in person and at home. Check out how we make our escape room puzzles but my son enjoys playing them on his own too.
Exit: The Forbidden Castle and Exit: The Sunken Treasure are two that he has enjoyed. But there are loads to choose from. If this is something new for your child though I would go for the easiest level first such as the House of Riddles.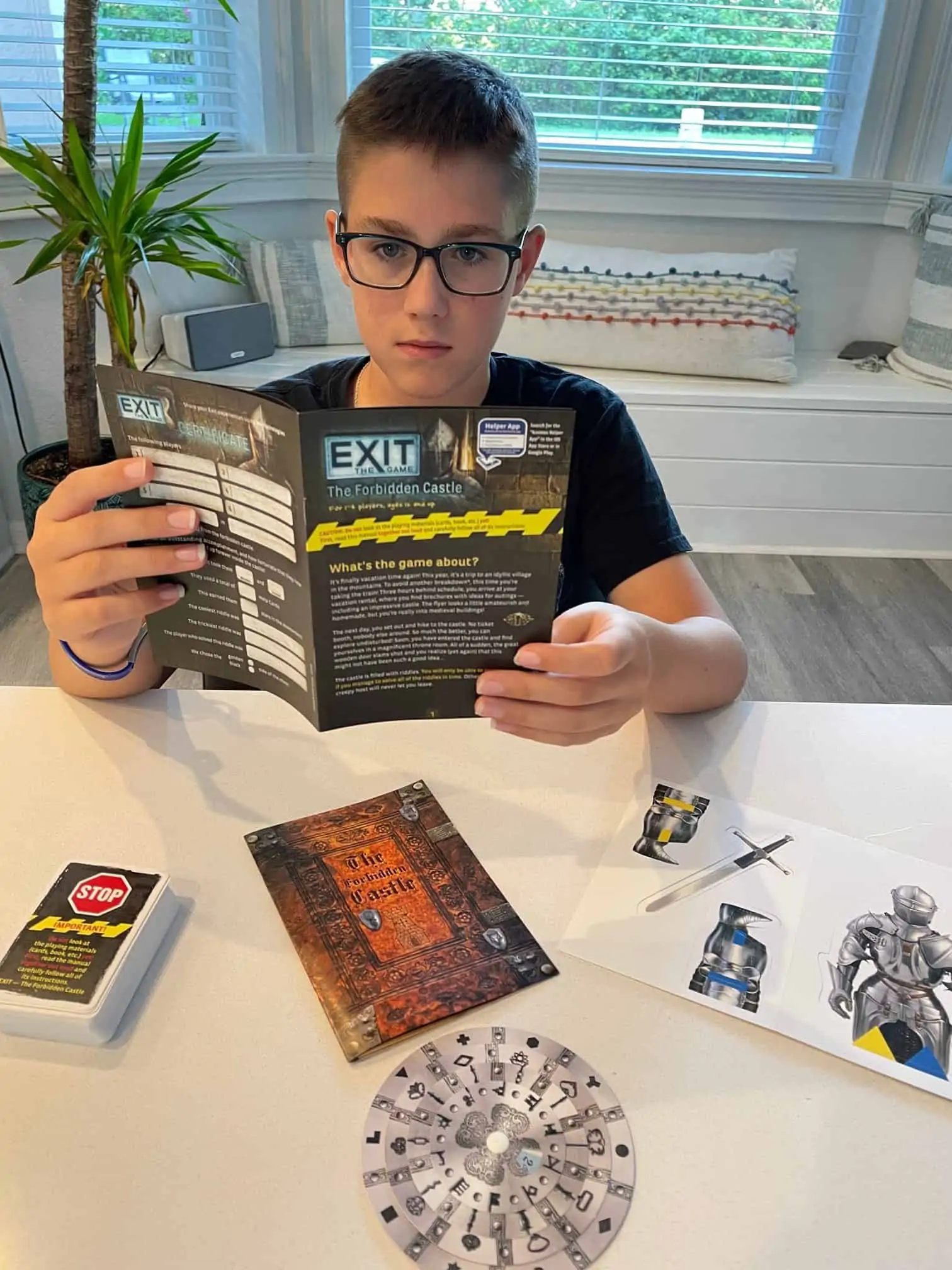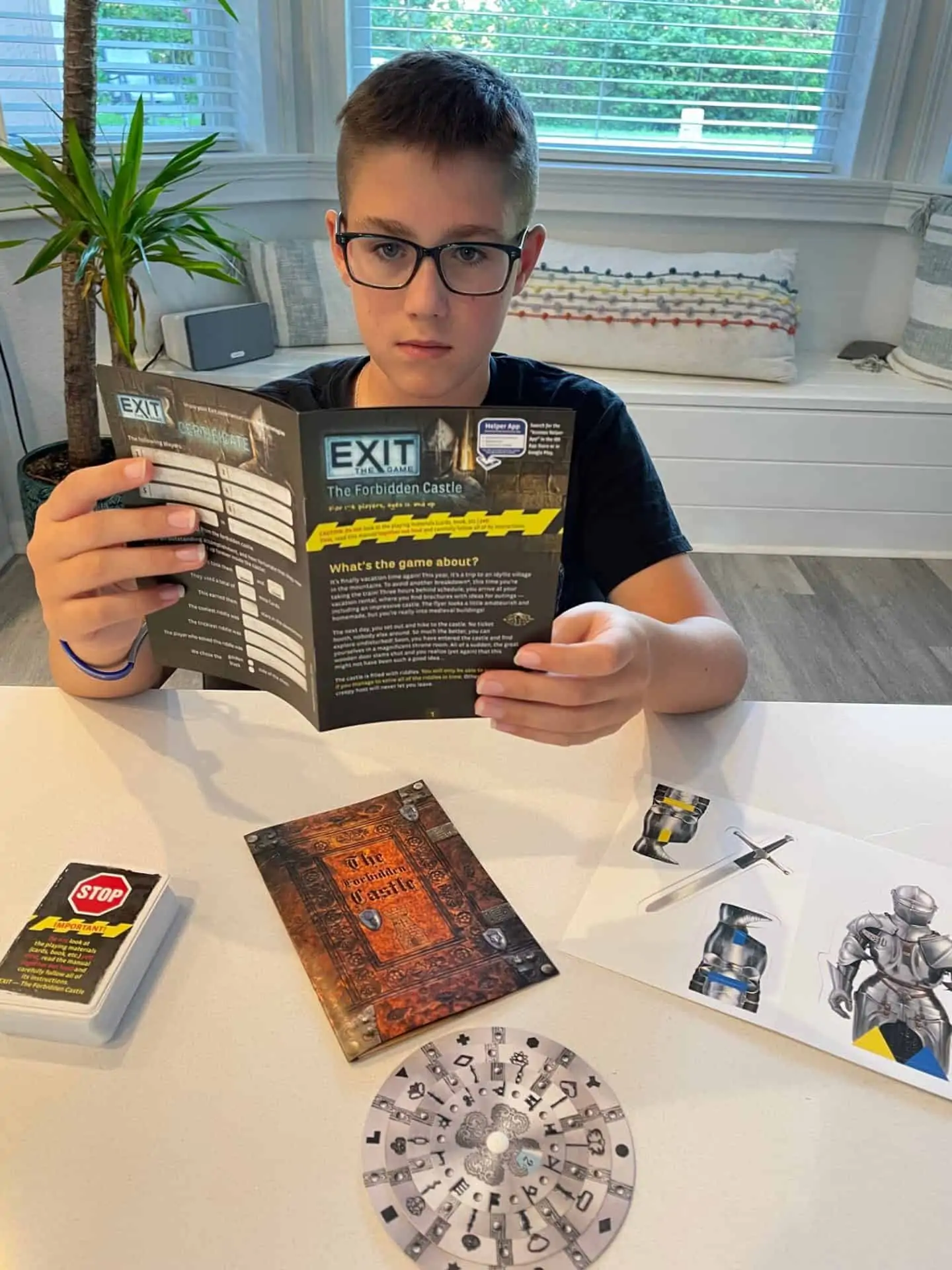 Rush Hour
Rush Hour is a traffic jam logic game great for kids over the age of 8. You don't need to take my word for it, they have sold over 10 million throughout the world and the game is rated 5 stars!
Boggle
Boggle is a great one player game that is really educational too! The original game is to set a 3 minute timer but we never do!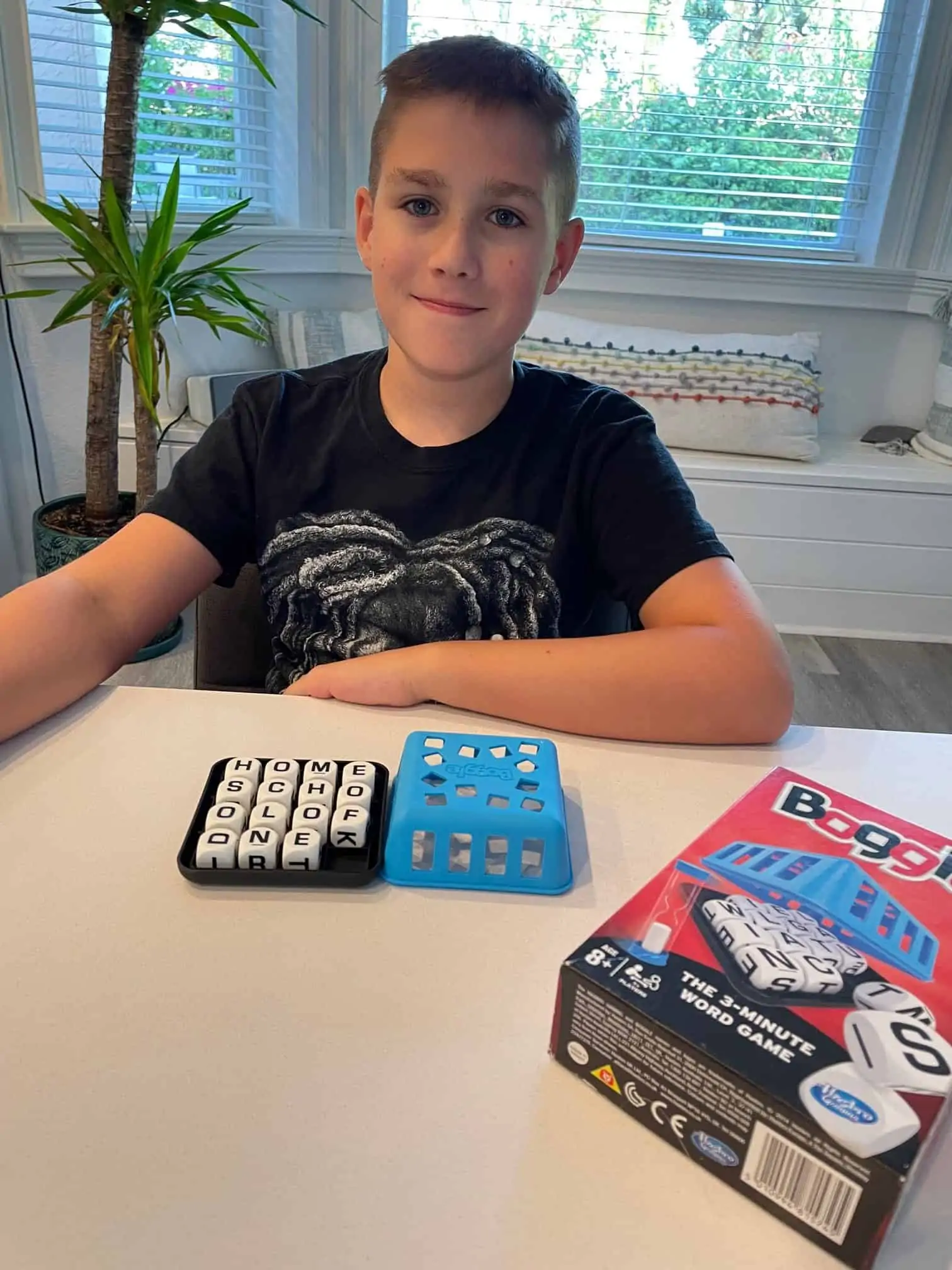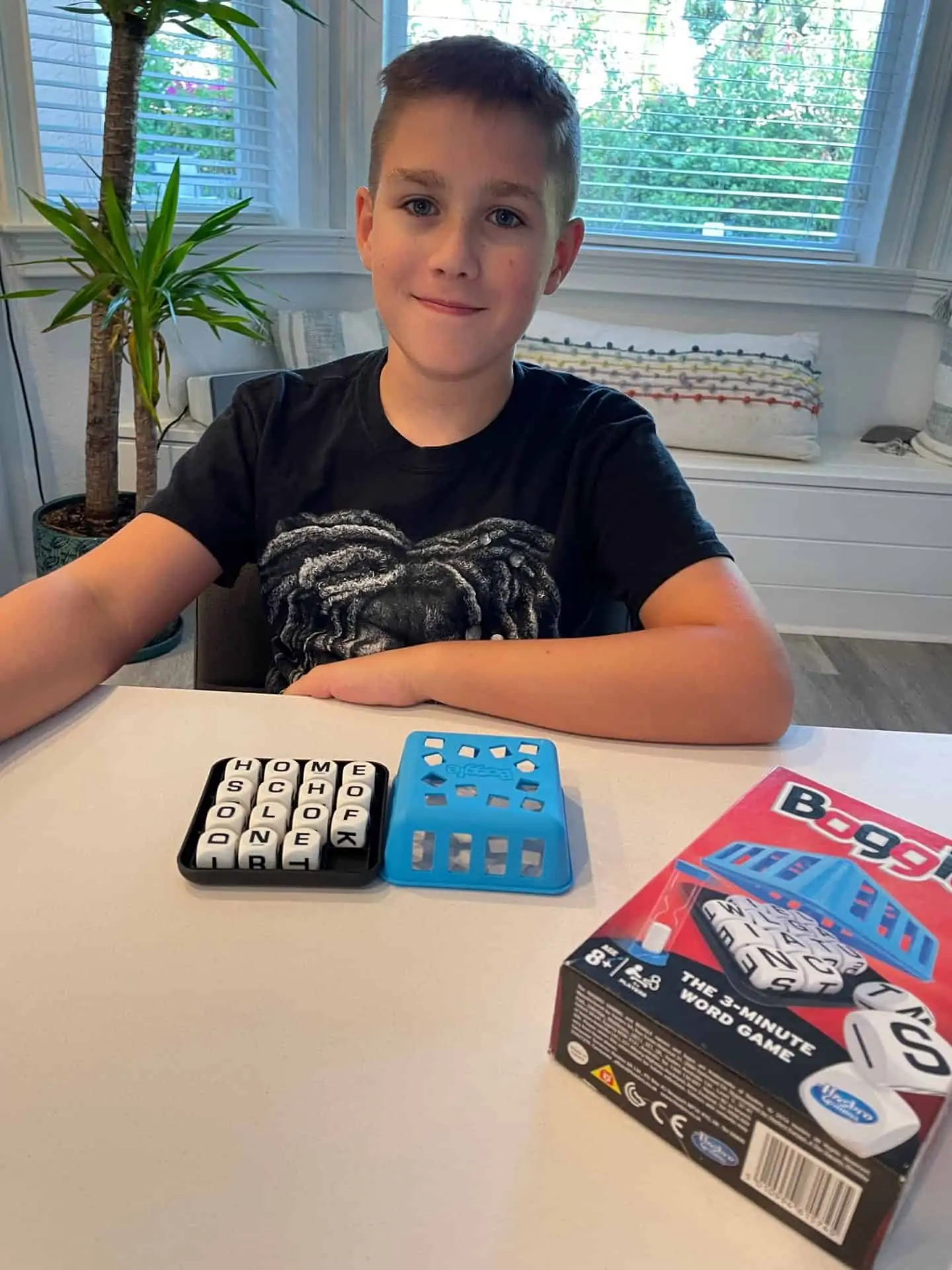 Laser Maze
Laser Maze is made by the same amazing company that brings you Rush Hour, Think Fun clearly knows how to make great one player games for kids! It is like Rush Hour in that you need to use logic to complete the challenge cards.
Rubiks Cube
Well, I didn't know until recently when my son went to science camp that the world was going crazy again for the Rubik's cube.
We are currently doing a challenge to see how quickly he can complete it without the use of Youtube, his best time so far is 13 minutes. Of course, me and his dad are yet to do it, although youtube didn't exist when we were younger!!
The Youtube video he is watching and likes is Noah Richardson.
Kanoodle
Kanoodle is a 3-D brain teaser game that comes with 200 challenges
Gravity Maze
Again from Think Fun, Gravity Maze is another fun and logical one player game that kids and adults will love to play.
Genius Star
There are two games genius star and genius square for younger players. We haven't played the younger game as we have only recently heard about it, but we both absolutely love playing it.
Chairs
The chairs stacking game is another fun single player game.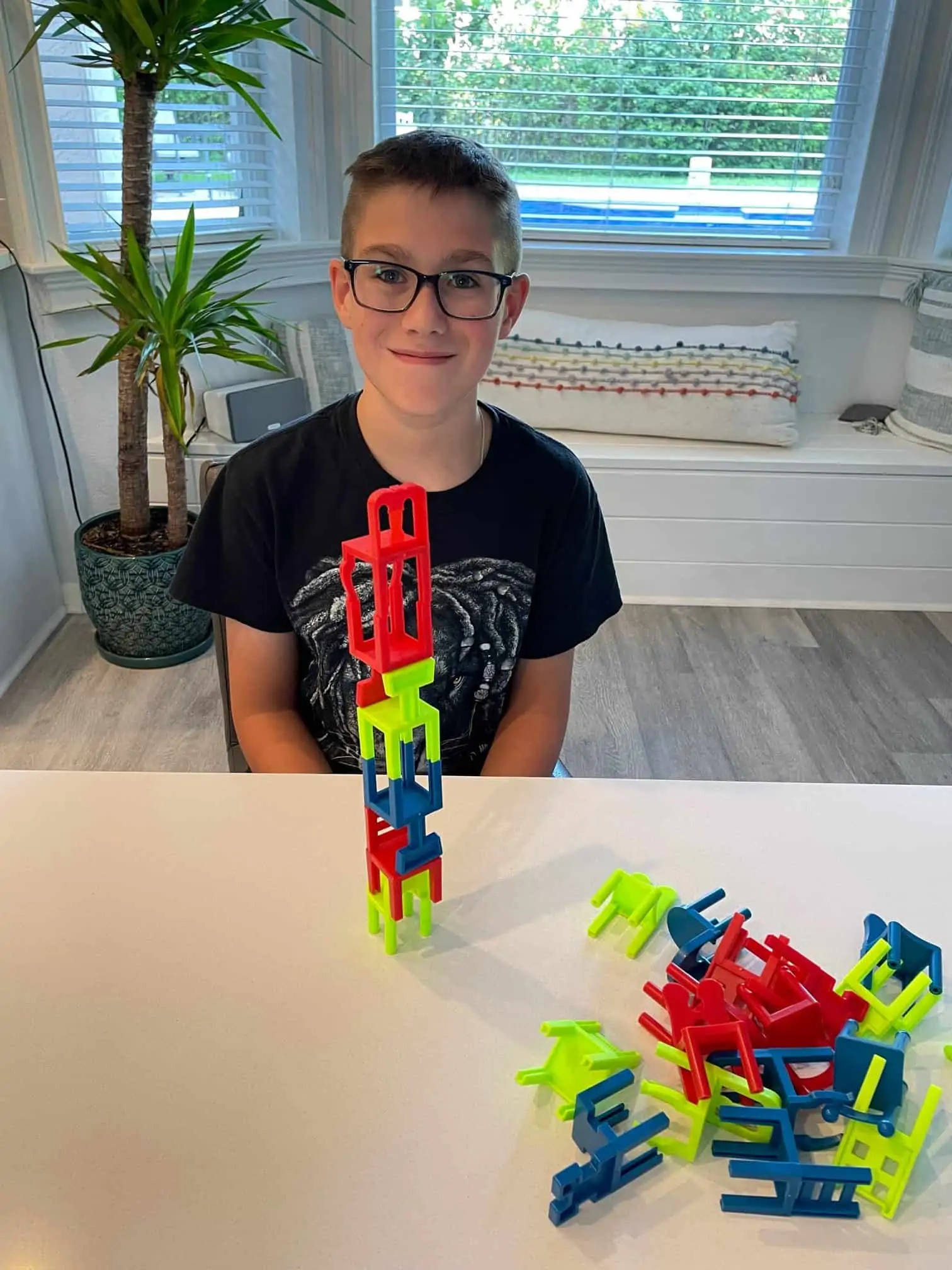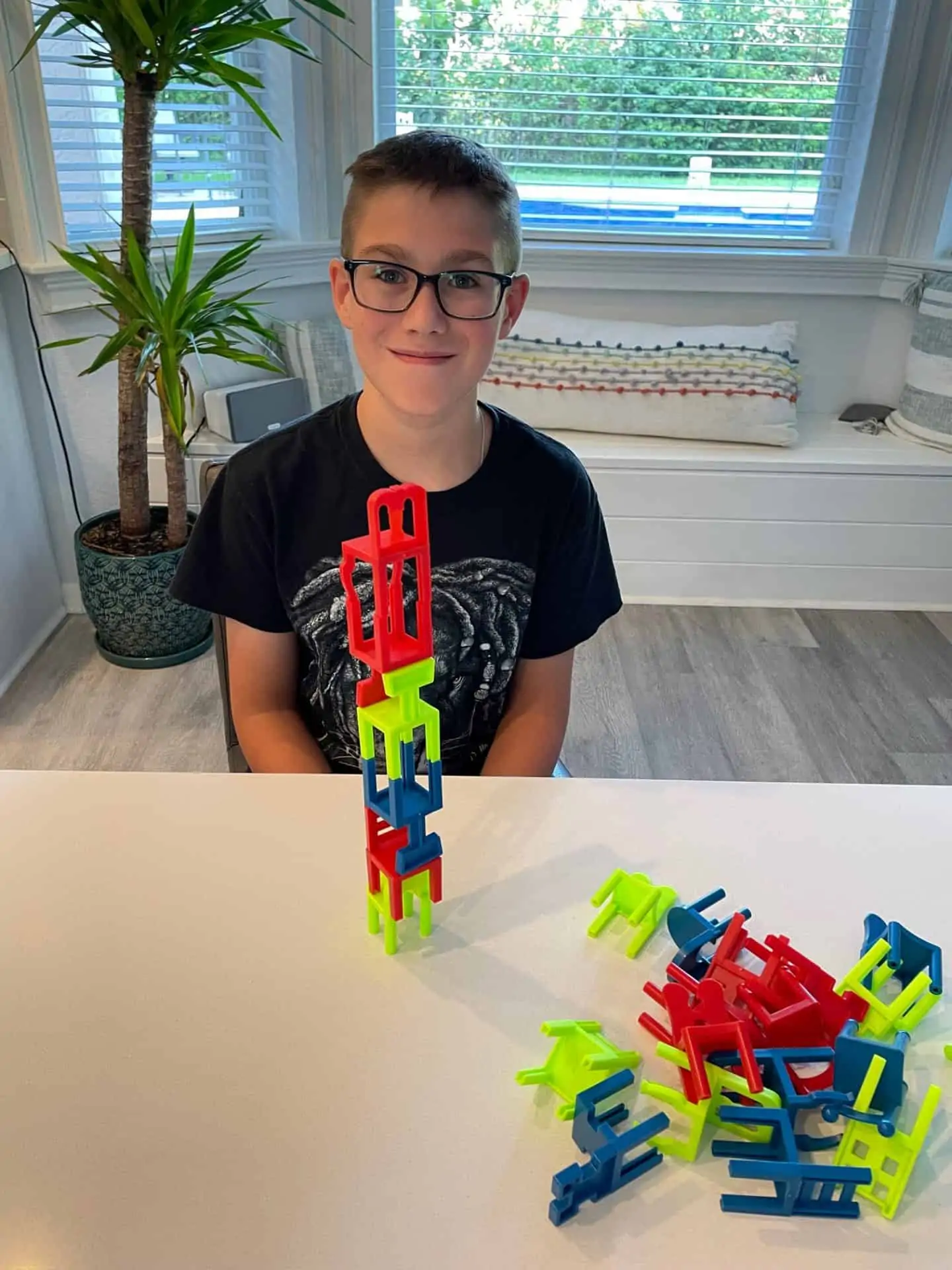 Circuit Maze
Think Fun is featuring yet again. This circuitry fun logic game, Circuit Maze is perfect for kids over the age of 8. You will need 3 AAA batteries that are not included to make the LED light work.
You will learn how series and parallel circuits work, and the aim of the game is to be able to complete the circuit and turn on 1, 2, or 3 LED lights.
The Game
The Game is a highly addictive card game that pits players against The Game itself.
Katamino
Katamino features a wooden playing board. 12 colorful wooden pieces, and a manual with 500 puzzle challenges for you to solve.
This will have you coming back again and again for another challenge!
Playing Cards
Theory 11 makes my new favorite playing cards. You can get the most beautiful playing cards in a Marvel or Star Wars theme that will make a perfect gift.
Our favorite single-player game is classic solitaire. I am not showing these cards though as they have been purchased as a Christmas gift (check out over 100 Christmas gifts tween boys actually want!)
Check out our favorite one player card games that the kids will love.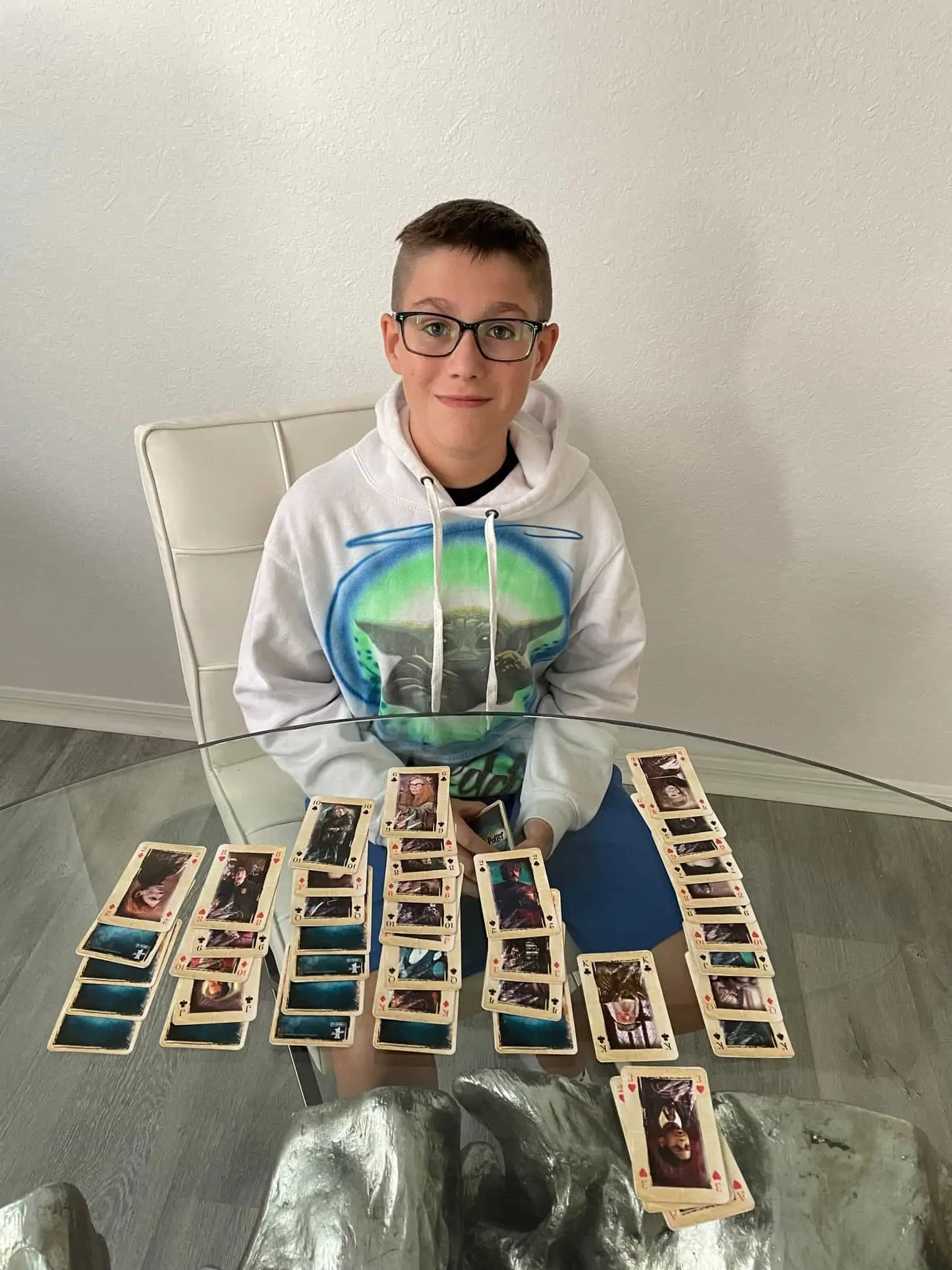 Bananagrams
Bananagrams has featured in every board game post we have written as it is such a classic word game for kids.
Find it Games
Find It Games – "Sports Edition" is a great game and it lives in the car!
It's a perfect way to play hide and seek in peace!!! There are lots of different varieties including at the beach and glitz and glamor.
ColorKu
If you're a fan of Sudoku, you and your family will love this colorful alternative. Instead of using numbers to solve the puzzles, Colorku uses colored wooden balls. Download our free sudoku for kids printable worksheets too.
There are 5 levels of difficulty so perfect for all ages.
Code Master Programming Logic Game
Code Master teaches programming logic through fun gameplay to children over the age of 8.
Suspend
My son received Suspend for Christmas many years ago and it is still a favorite now. It's a game of balance.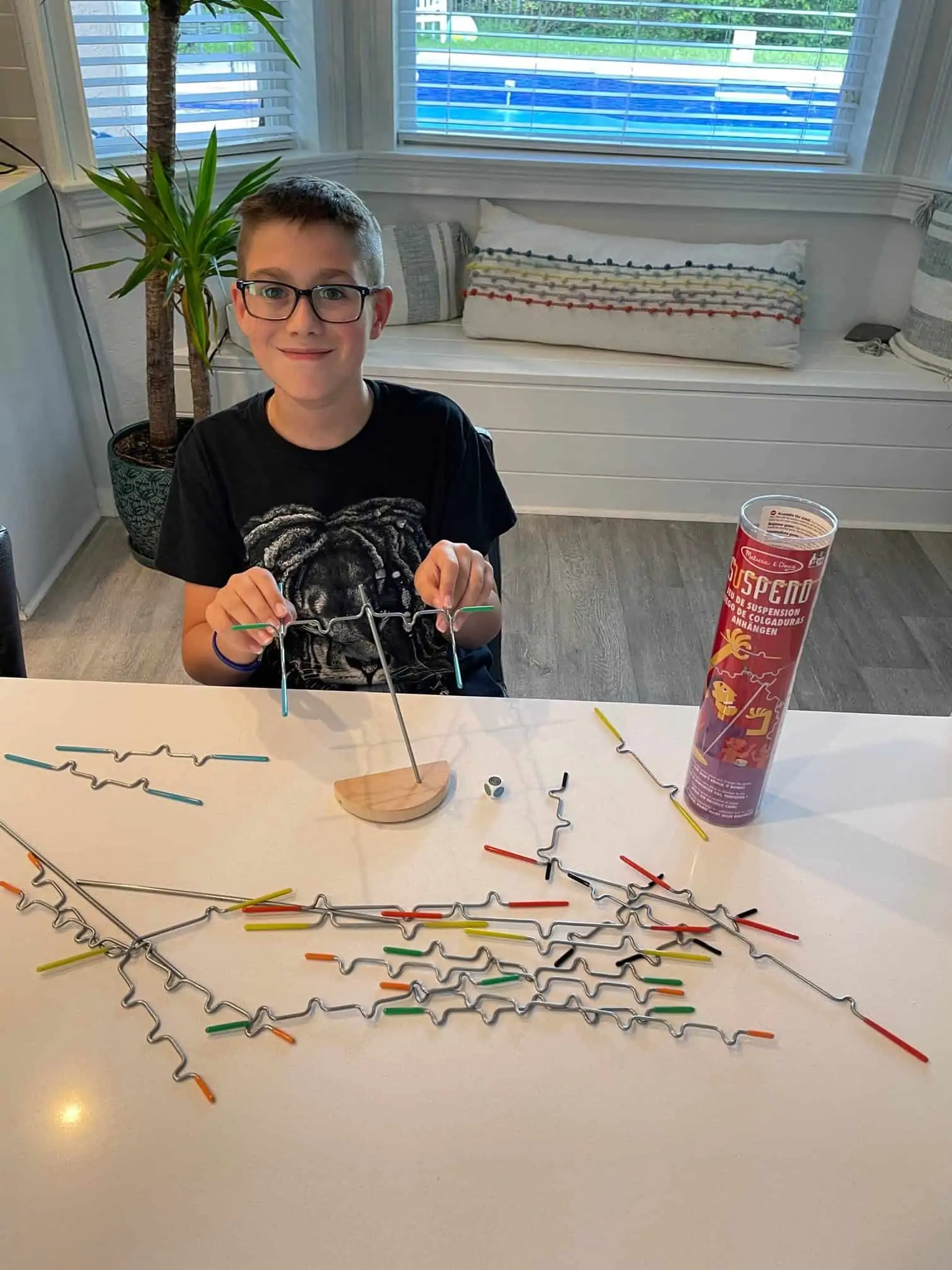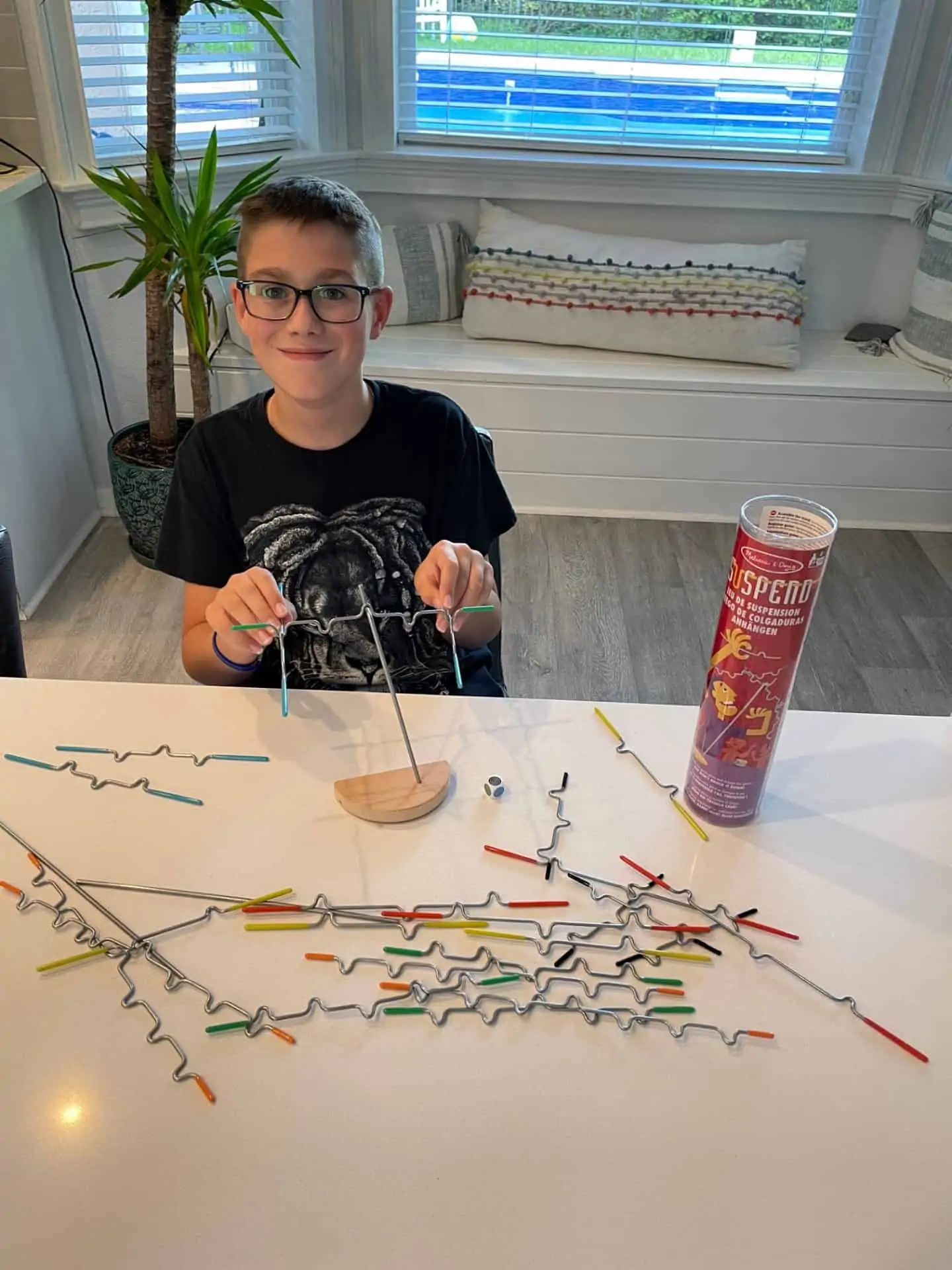 Simon Electronic Memory Game
Simon the classic electronic memory game. It's an exciting electronic game of lights and sounds.
Players repeat random sequences of flashing lights by pressing the colored pads in the correct order. Bop it is a great alternative.
Lego
I know Lego is not really a game, but in our homeschool of one, it is a necessary part of our week! This is his Friends setup he has displayed in his room.
We love to do challenging Lego sets in our homeschool, check out our favorites. If you are looking for even more inspiration check out over 115 of the best gifts for Lego lovers that are not Lego sets!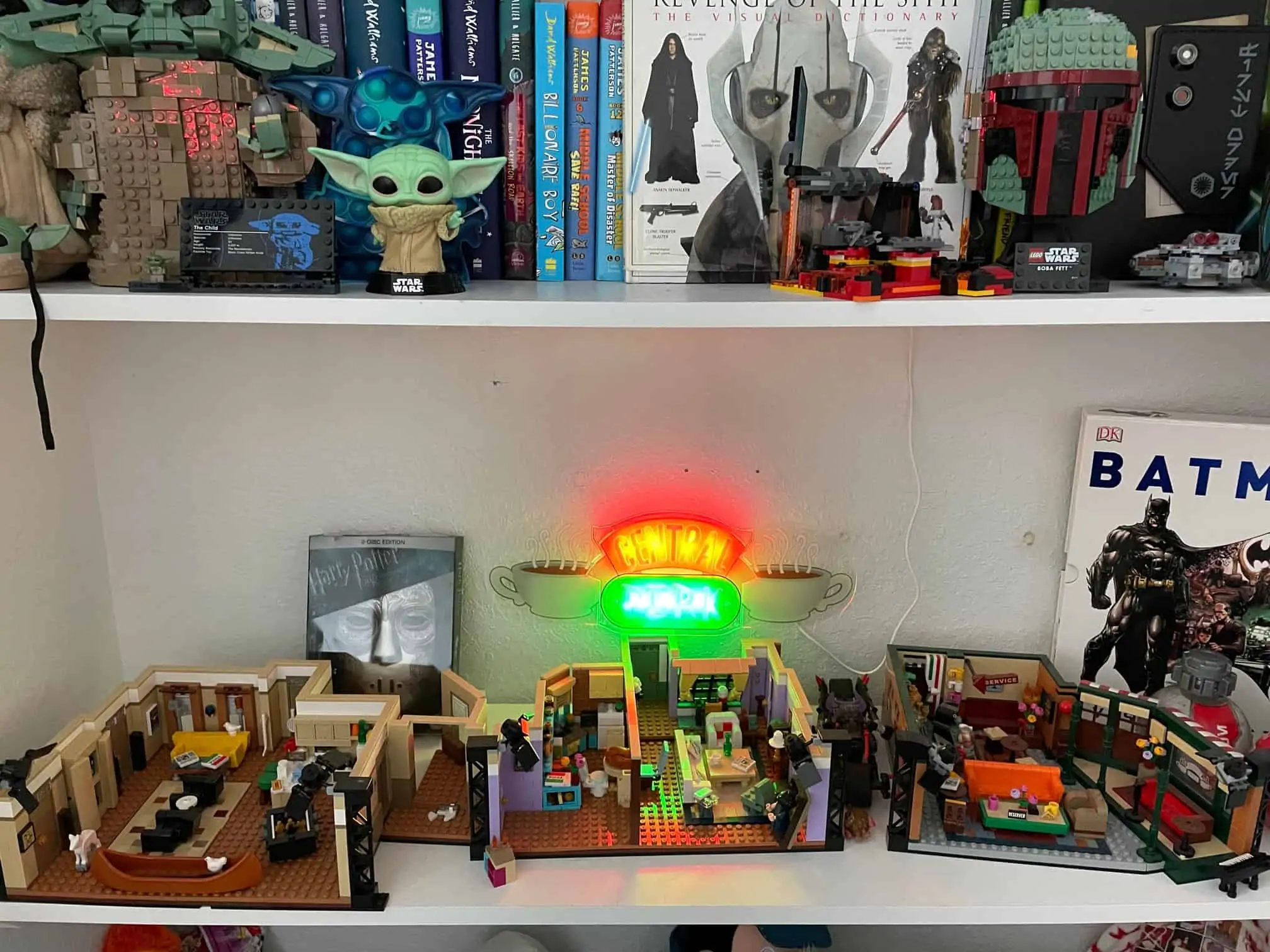 SmartGames IQ Twist
IQ Twist is a great travel game as it will easily fit in your handbag. Perfect for when you have appointments and you need to bring the kids along.
Puzzles
My son plays a lot of puzzles at home too, they are the perfect one player games.
Last Updated on 5 September 2023 by homeschoolof1