Free Parts of a Turkey Worksheet
Get ready for an adventure with our free parts of a turkey worksheet.
We've got you covered with these free homeschool printables that introduce your little explorers to the incredible world of turkeys.
The activity sheet highlights the key components of a turkey. Covering six important parts: foot, wattle, tail feathers, snood, breast feathers, body.
You have the option to select from three engaging worksheets. The first one allows you to label the parts using a word bank, the second challenges you to write the parts without any hints, and the third involves matching the parts to their correct locations.
Plus encourage the kids to use their creativity as they color in the turkey.
Let the learning and coloring adventure begin!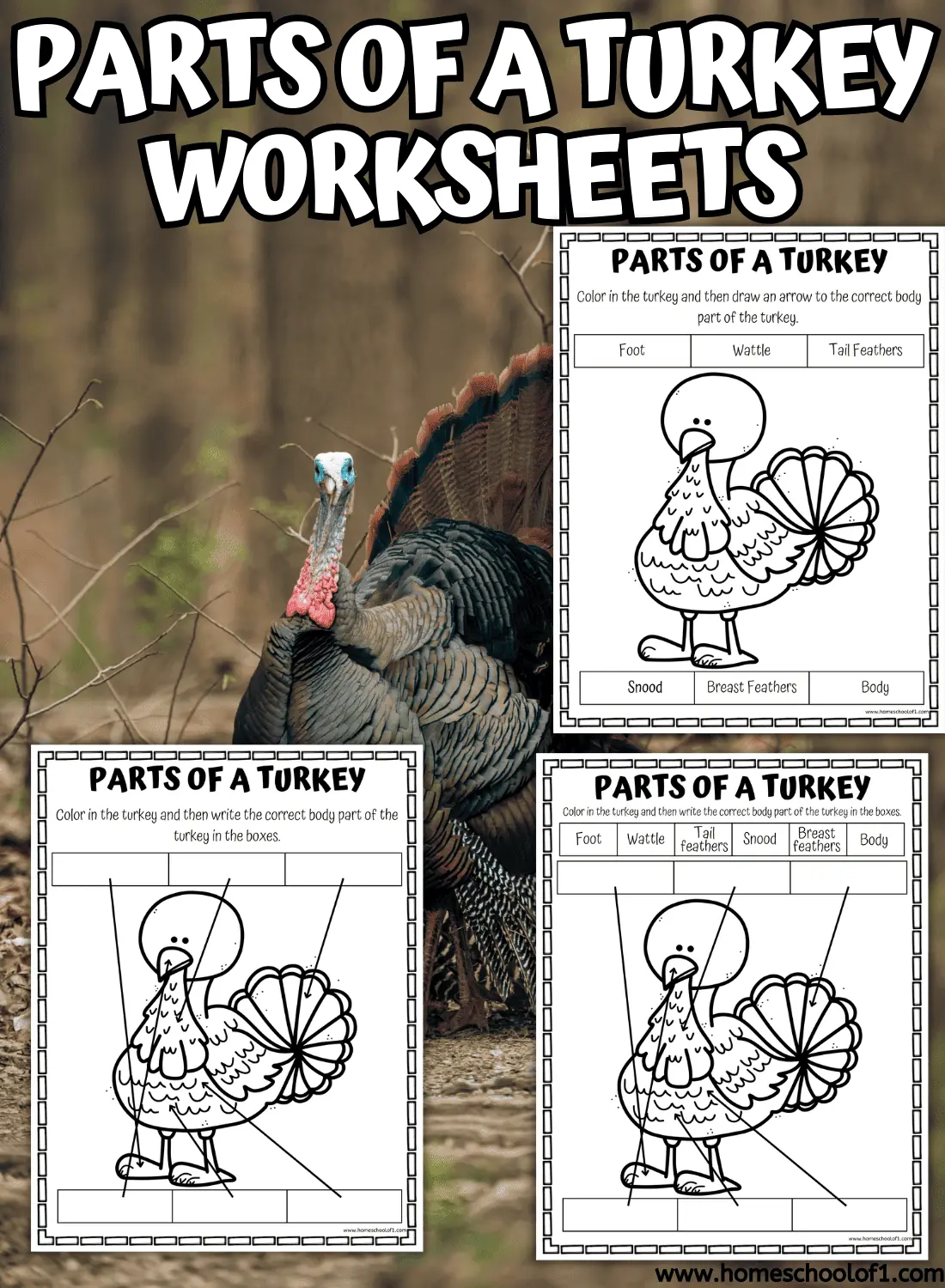 **There may be affiliate links in this post. You can read my full disclosure at the bottom of the page.**
What are the different parts of a turkey?
A turkey's foot is designed for both walking and scratching. It has three toes pointing forward and one toe pointing backward, which helps the turkey maintain balance while moving around. Turkeys use their feet to scratch the ground in search of food, like insects and seeds.
The wattle is the fleshy, wrinkled flap of skin that hangs down from a turkey's throat. It comes in various colors like red, blue, or white. While it might look funny, the wattle helps regulate the turkey's body temperature by cooling it down when it's hot and warming it up when it's cold.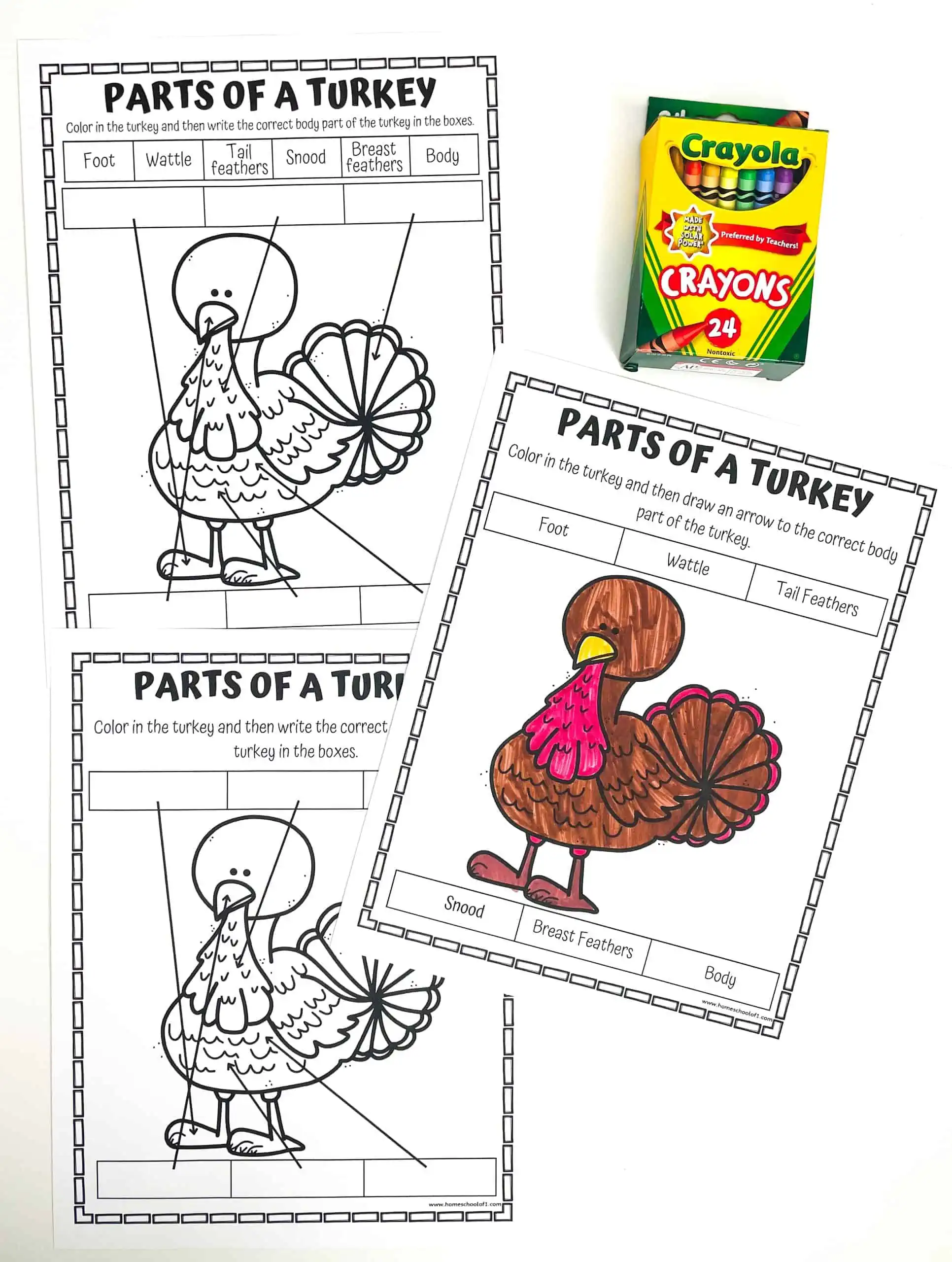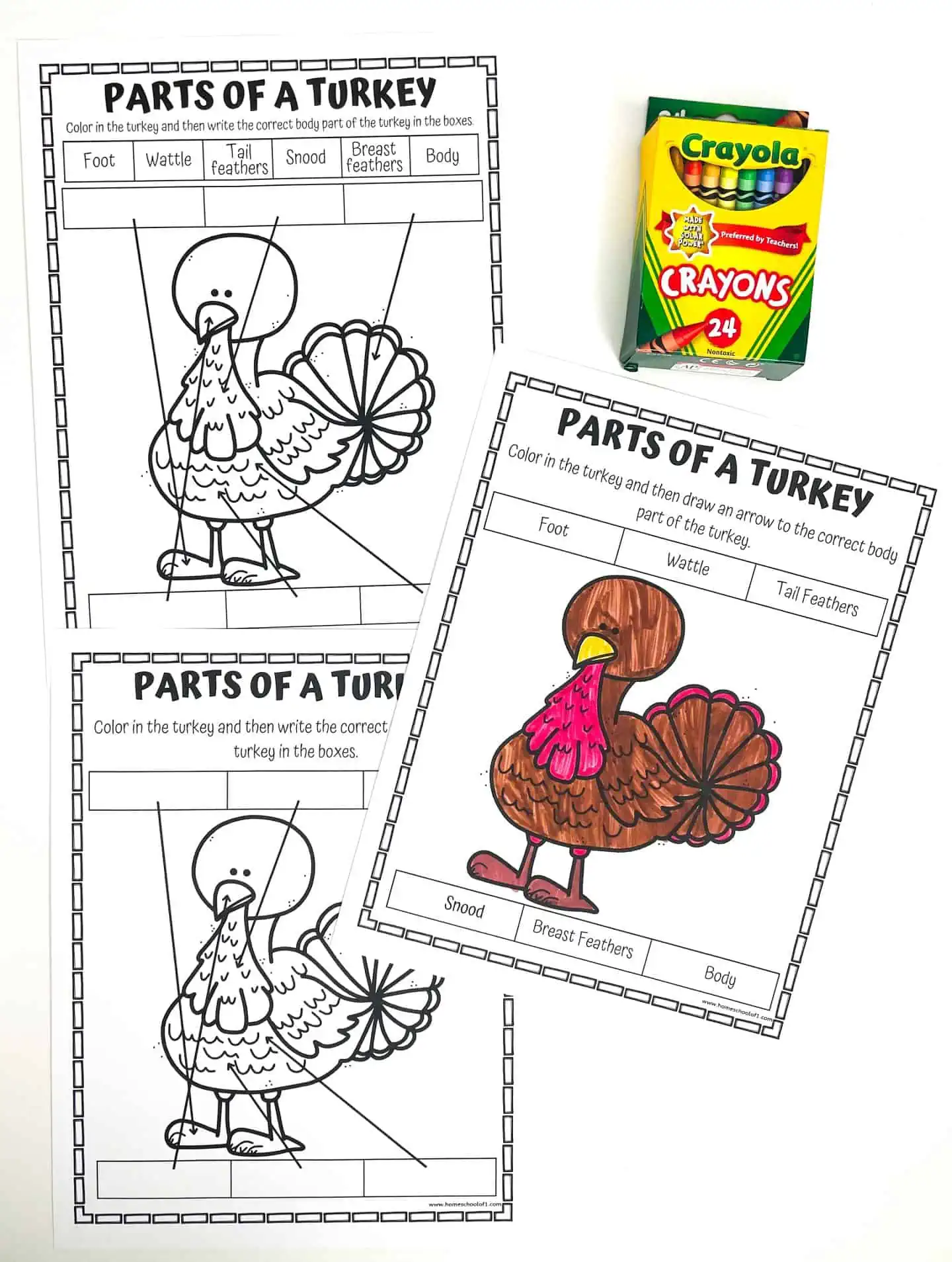 Turkeys have a fan-shaped tail with long, colorful feathers. The tail feathers are important for showing off and communicating. During displays, a turkey can spread its tail to impress other turkeys or to attract a mate.
The snood is the fleshy, wiggly bit that hangs over a turkey's beak. It's more prominent in male turkeys, called toms. The snood is part of the turkey's way of showing emotions and communicating. When a tom gets excited or wants to impress a female turkey (hen), the snood can puff up and become brighter in color.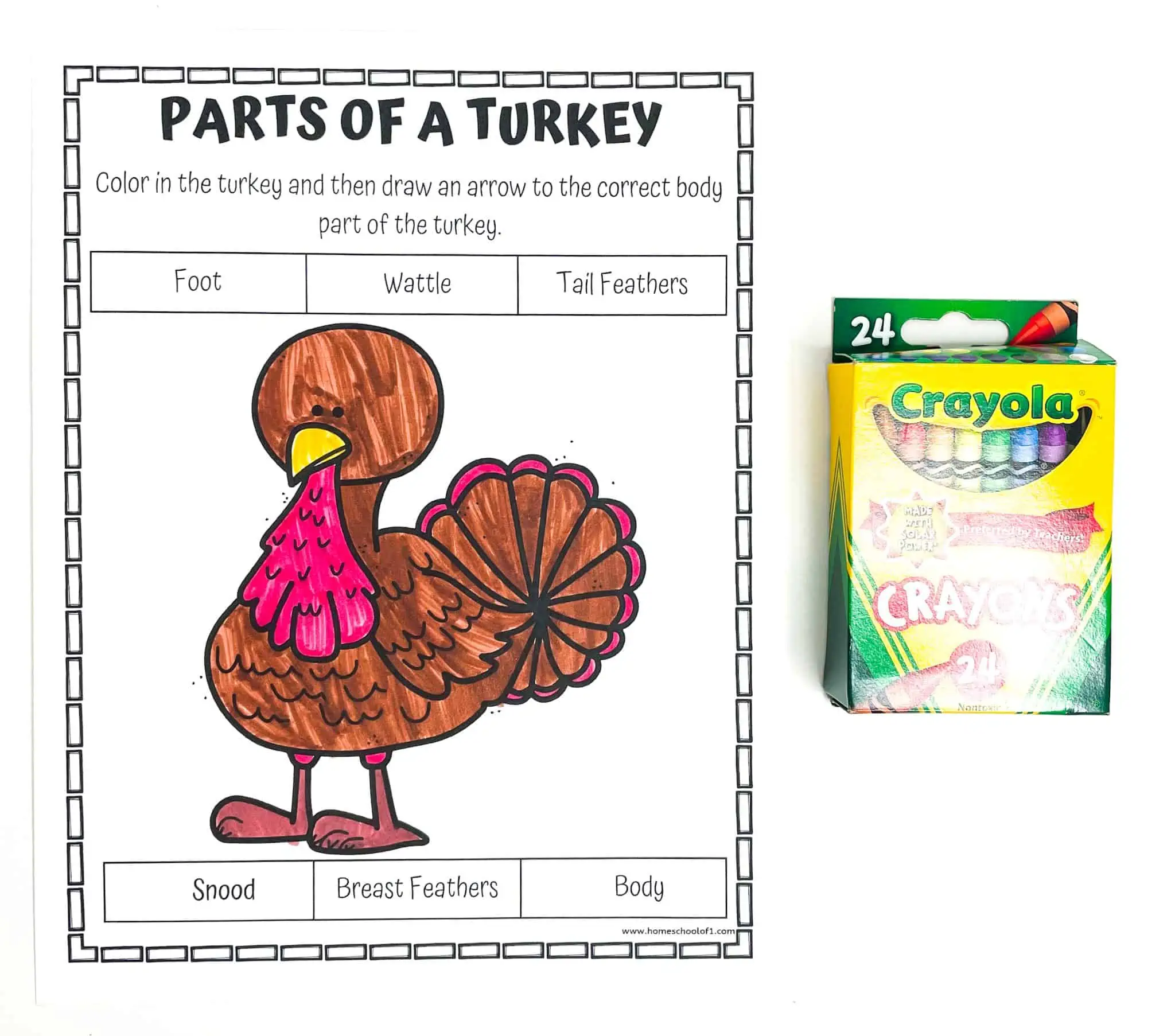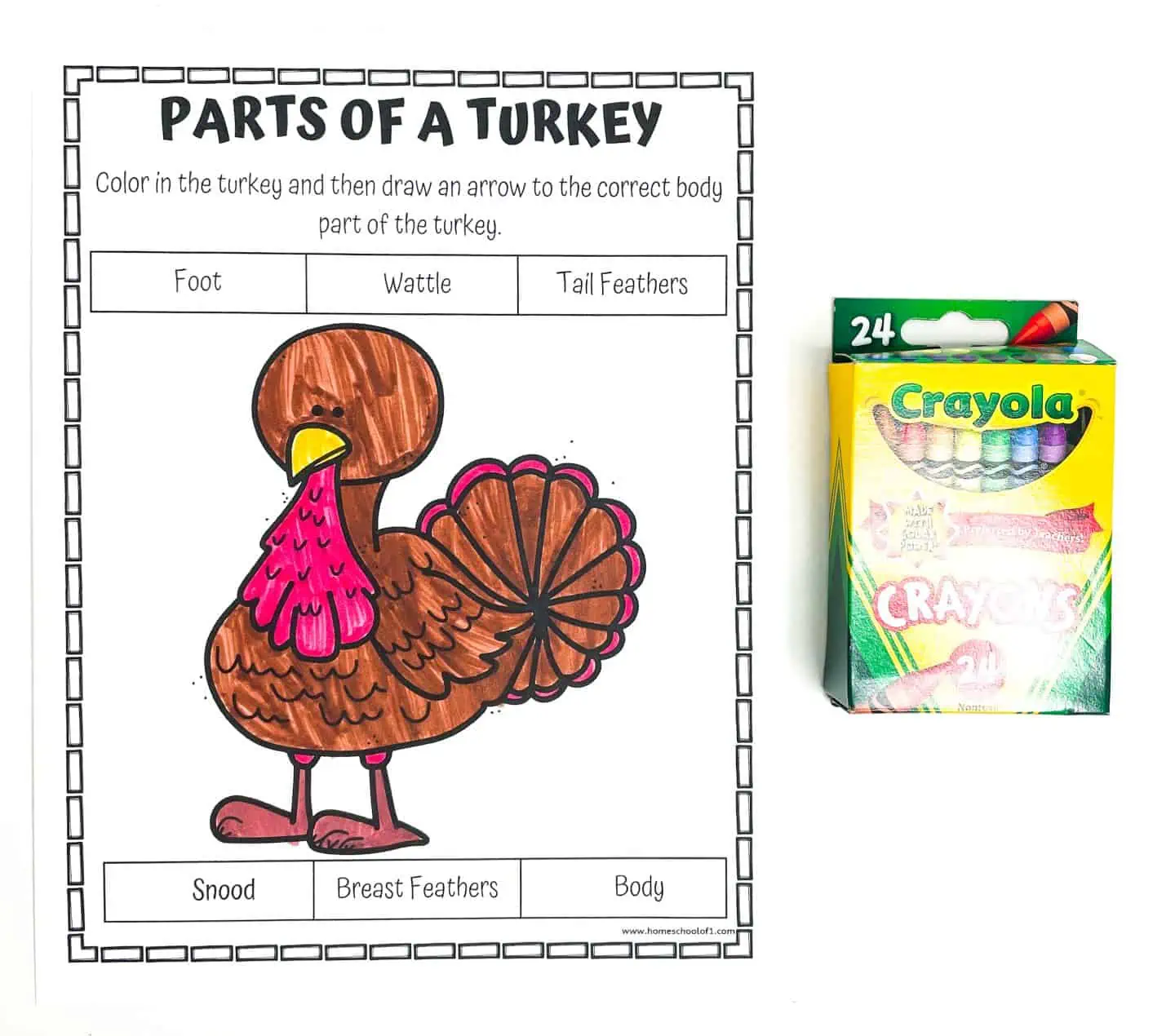 The breast feathers cover the front part of a turkey's body. They are usually lighter in color and can fluff up when the turkey is trying to look bigger to show dominance or attract attention. These feathers help keep the turkey warm by providing insulation.
The body of a turkey is large and round, covered in feathers. The body contains the bird's vital organs, muscles, and bones. Turkeys are relatively heavy birds, and their body shape is designed to help them walk, run, and even fly (for wild turkeys) when needed.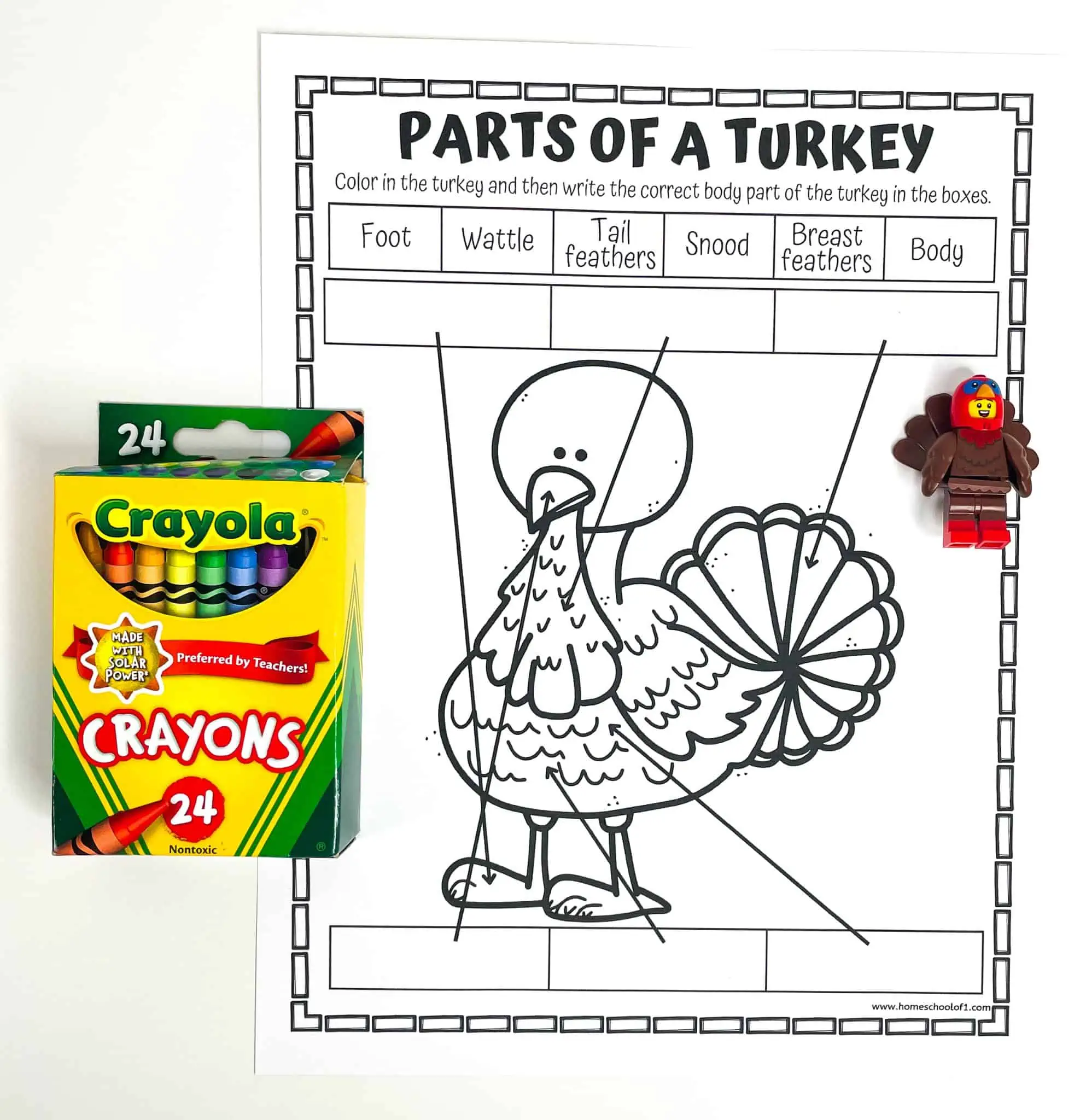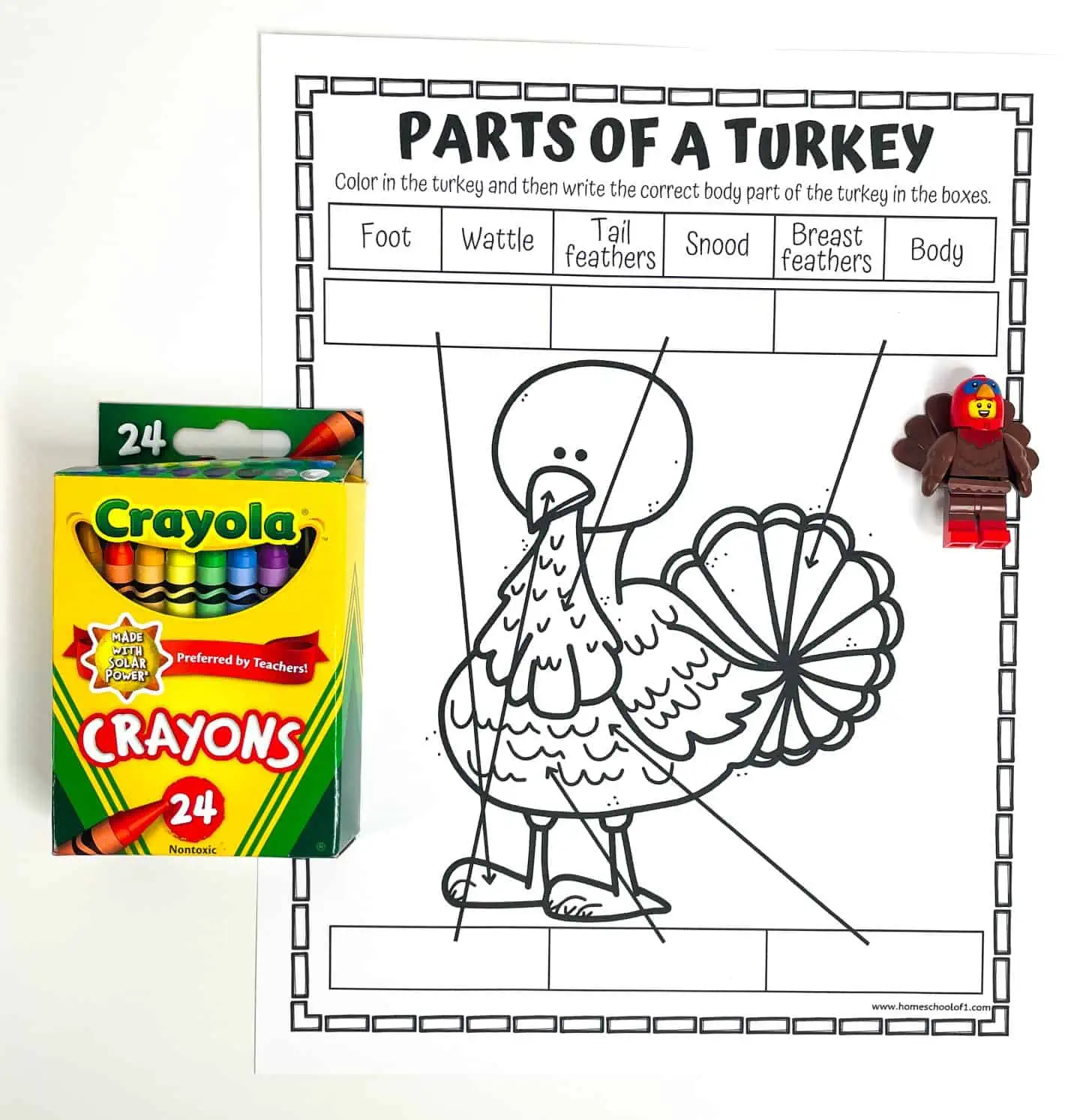 Each part of a turkey serves a unique purpose, whether it's for survival, communication, or attracting a mate. It's fascinating how these different features work together to help turkeys thrive in their environments!
Turkeys (Nature & Science)
Turkey's Escape Plan: A Funny Thanksgiving Bedtime Story with an Unexpected Ending
Taylor the Tooting Turkey: A Story About a Turkey Who Toots (Farts) (Farting Adventures)
Never EVER Tickle a Turkey: A Funny Rhyming, Read Aloud Picture Book
How to Catch a Turkey
Turkeys!: A My Incredible World Picture Book for Children (My Incredible World: Nature and Animal Picture Books for Children)
Books about turkeys for kids
Add some reading to your lessons about turkeys with these fun books:
How to Catch a Turkey. Join a group of determined kids as they come up with creative and wild ideas to catch a turkey for their Thanksgiving feast. From constructing elaborate traps to brainstorming unconventional plans, the kids are in for a wild adventure filled with laugh-out-loud moments. This fun book captures the excitement and humor of the chase. Showing that teamwork and imagination can lead to unexpected outcomes.
Turkey Trouble!. In this hilarious book, Turkey is in a pickle because he doesn't want to be the main course for Thanksgiving dinner! He disguises himself as different farm animals to outsmart the farmer, but his wacky costumes lead to even funnier situations. With clever twists and a heartwarming ending, kids will laugh out loud as Turkey tries to avoid becoming Thanksgiving dinner.
Tips for downloading the free files
Below is a blue cloud with an arrow pointing downward. Underneath that is a large sign-up box where you need to add your name and email address, and press I NEED THIS NOW!
Within minutes you will be sent the free PDF directly to your email address, so you can print it out and start using it immediately.
Sometimes emails get a little wonky, so if you can't see it, please check your spam folder where I am sure it is hiding.
Download the free body parts of a turkey worksheet
Make sure you choose the correct paper size and click on the shrink to fit button. All of our free printables for kids work better when printed on cardstock (this is the one we use and love.)
Last Updated on 2 October 2023 by homeschoolof1