10 Best Phases of the Moon Worksheets (Free)
Star gazing and looking at the moon is spectacular, especially on a cloud-free night. These free phases of the moon worksheets are a great way for kids (and us adults) to learn about the different moon cycles.
As our son received a telescope for Christmas we wanted to understand more about the moon. So we have created these free phases of the moon worksheets for you to print out.
I have to say that although these worksheets are definitely aimed at kids, I learned lots of things too!
Grab our free phases of the moon word search too. This is a great addition to these worksheets.
For more solar system fun download our free planet coloring pages.
You are going to love all of our homeschool printables we have over 200 free worksheets.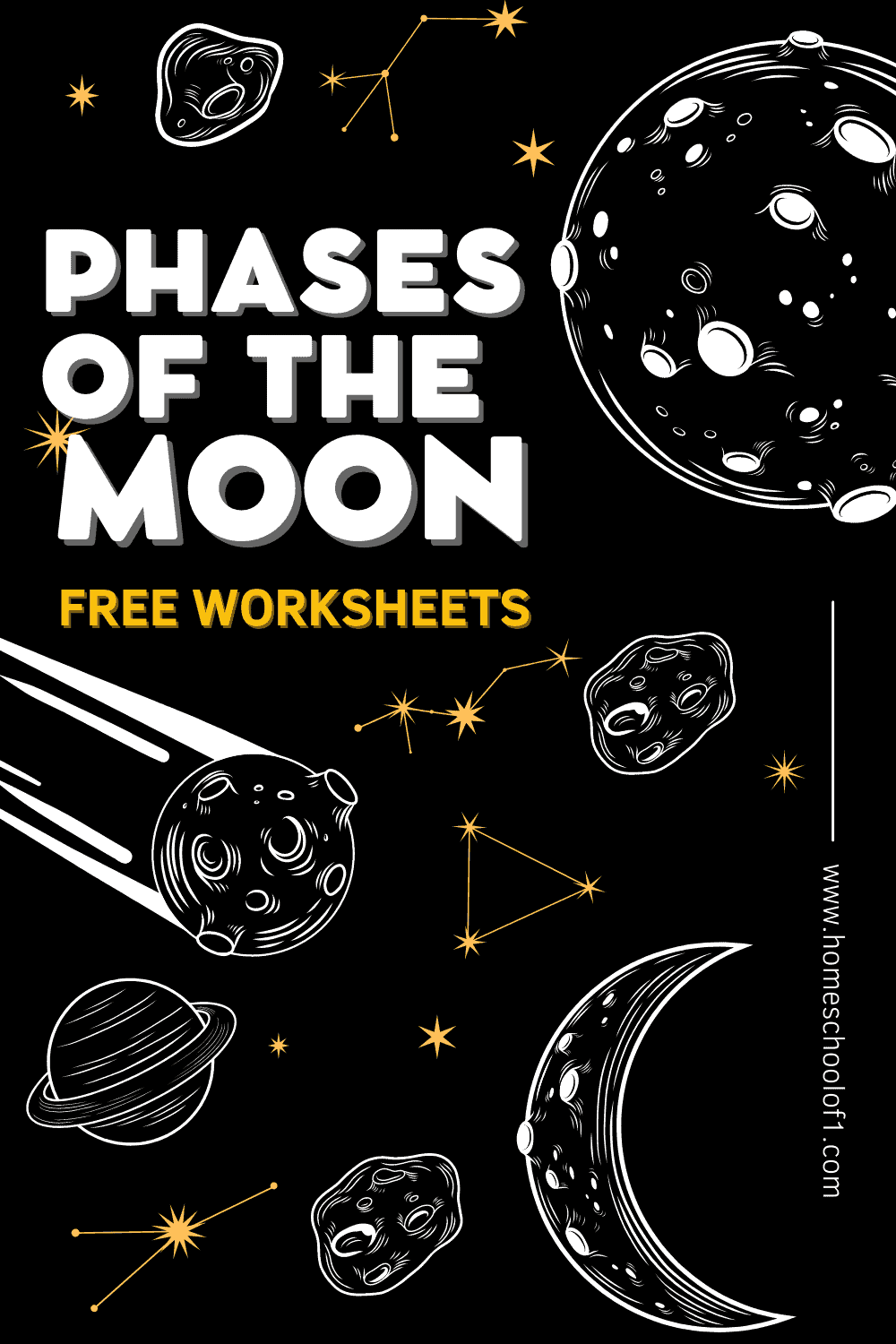 **There may be affiliate links in this post. If you make a purchase (after clicking one of my affiliate links) I'll earn some coffee money, which I promise to drink while supporting your journey. You do not pay a higher price. You can read my full disclosure at the bottom of the page.**
Phases of the Moon Worksheets
Although there are 10 free pages to print out in these phases of the moon worksheets, there are actually only 8 phases of the moon!
Phases of the Moon In Order
New moon
Waxing crescent
First-quarter
Waxing gibbous
Full moon
Waning gibbous
Third-quarter
Waning crescent
The other two worksheets are the phases of the moon and label the moon phases.
If the kids are interested even further in stargazing and finding more about the moon, I highly recommend investing in a good telescope. We have the Celestron Star – Sense one and it is super powerful. It takes a while to set up, but it is so much fun to look out on a clear night.
Additional resources:
Of course, I can't write about the phases of the moon without mentioning the NASA website. They have lots of free and interesting facts and go over things in more detail. So if you want even more resources I would definitely check them out.
For younger children, I am absolutely loving this Montessori phases of the moon puzzle. It lists all 8 phases and it is of excellent quality.
8 Phases of the Moon Printable
Make sure you choose the correct paper size and click on the shrink to fit button. All of our printables work better when printed on cardstock (this is the one we use and love.)
I think you will also enjoy:
Have fun while learning about the planet, with our free planet memory game. See who can match the planets first.
Last Updated on 21 September 2022 by homeschoolof1