16 Free Homeschool Halloween Activities That Are Educational and Fun!
Despite my lack of interest in Halloween, my son LOVES it, and apart from Christmas, it is his favorite holiday. So this year I thought I would try and embrace it too, and try and get together as many homeschool Halloween activities as I could find.
This is one of my favorite things about homeschool, being able to enjoy the holidays and actually learn all about them while having fun, of course!
Halloween evolved from the ancient Celtic holiday of Samhain. Which would now be in Ireland, UK. I have to say I always thought Halloween originated in America. Over the years, Halloween transitioned from a pagan ritual to a day of fun with costumes, jack-o-lanterns, and trick-or-treating.
I have put together some homeschool fun Halloween activities below that we will be using this year.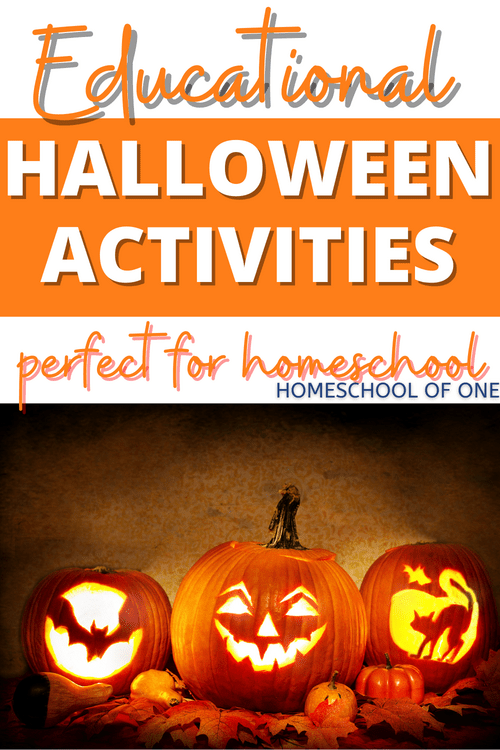 **There may be affiliate links in this post. If you make a purchase (after clicking one of my affiliate links) I'll earn some coffee money, which I promise to drink while supporting your journey. You do not pay a higher price. You can read my full disclosure at the bottom of the page.**
Homeschool Halloween Activities
Halloween Math Activities
I am always on the lookout for FREE math worksheets when we are not using our core curriculum. I mean, I pay so much for that I don't want to pay additional for fun Halloween activities! These Hair-Raising Halloween Word Problems from Math-Drills are fantastic. I was worried at first that they didn't come with answers, but panic over when you go to print them the answers are there too! I am not sure what grade they are, but I would guess they are suitable for upper elementary and middle school. If you have a younger child though they have lots of others.
Kidzone has loads of awesome FREE math printables broken into grades for kids in grades 1-5.
Halloween Reading Activities
These Halloween mad libs are hilarious, we can spend hours comparing silly stories!
Have some FREE "educational" fun with these Halloween word search printables, there are two levels, one for younger children and the other for middle schoolers.
I love this free Halloween word scramble for upper elementary and middle school-aged children. As there is no word bank it will keep them busy for ages!
For even more writing fun, check out our Halloween words within words free printable.
You will also enjoy this Halloween crossword puzzle from ABC Teach.
Get the kids to be creative with our free Halloween Acrostic Poem templates.
Let the kids write a spooky story with our free Halloween writing prompts.
Halloween History and Origins
The best place I could find information on this was from History.Com. Where they cover: Ancient Origins of Halloween; All Saints' Day; Halloween Comes to America; History of Trick-or-Treating; Halloween Parties; Halloween Movies; All Souls Day and Soul Cakes; Black Cats and Ghosts and finally Halloween Matchmaking and Lesser-Known Rituals.
After we have read this I have found an interactive Halloween history quiz here to test our knowledge.
Halloween Stem Activities
Little Bins For Little Hands shares with you 31 days of Halloween stem activities, including, slime, pumpkin explosions, and much more for you to have fun with.
Free Halloween Activities for Homeschool
Education.com has a number of free Halloween worksheets for grades K-8
Twinkl has a number of FREE worksheets for Halloween in all subjects for all ages.
Live Worksheets have lots of interactive Halloween worksheets for all ages and are so much fun.
Halloween Books for Kids
These are our favorite Halloween books, once they have been read Freddie will fill out a book report.
Halloween Activities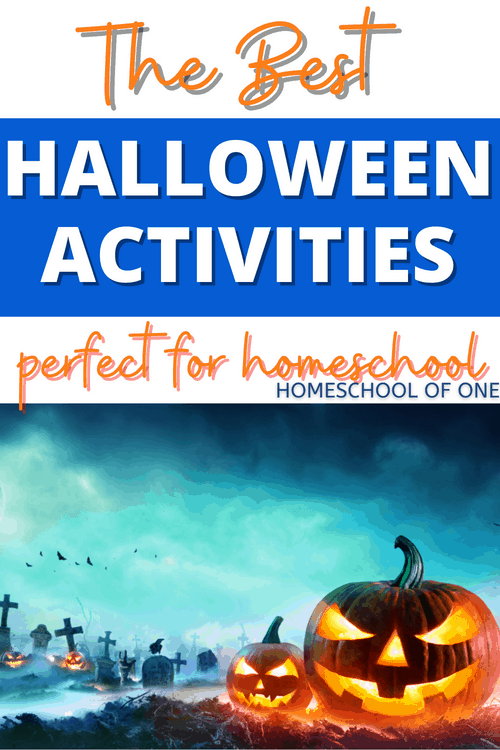 Halloween Coloring Pages
Coloring pages are such a fun and easy way to refocus and calm, we have created 10 FREE spooky (not scary) Halloween coloring pages you can all enjoy as a family.
Halloween Costume
This is the most important outfit of the year for kids, well it is for Freddie anyway. This year he wants to dress up as his favorite Star Wars character, but this was him in his outfit last year with his best friend. That red hair dye was a pain though as it went everywhere. Luckily we spent the entire evening outside! He was having fun despite the picture, I think he was trying a sultry look, haha!
Halloween Treasure Hunt
No treasure hunts are not just for the Easter Bunny!! And no matter how old Freddie is, he still seems to love a good Halloween treasure hunt (he is now 11 and I am sure I will still be doing these for a number of years!). Or why not have a Halloween escape room and download our free party invitations and get the kids around.
Pumpkin Carving
This is something we have done every year, well actually every year in the UK. Since living in Florida with the heat we now just decorate the pumpkin with paint and Halloween stickers. It is still so much fun, and we always have a competition to see who decorates the best pumpkin.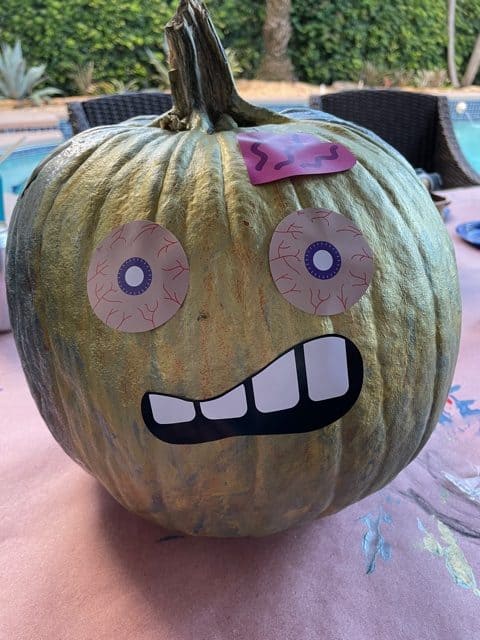 Halloween Street Party
After finding out recently that Freddie has a peanut and tree nut allergy we don't go trick or treating anymore. However, that does not stop our fun. We set out a table on the drive with candy for the neighbors and just enjoy dressing up and having fun with friends. If you are having a party with the neighbors or family check out our favorite Halloween games to play.
If you are looking for more educational fun in November, check out the following posts:
Bonfire Night Activities (5th November)
Remembrance Day Activities (11th November)
Thanksgiving Fun (25th November)
What Halloween activities are you planning in your homeschool this year?
Last Updated on 14 May 2022 by homeschoolof1