15 Best Picture Books About Thanksgiving
Have fun learning this November with our favorite picture books about Thanksgiving.
Add these books to your Thanksgiving activities for kids for a delightful and educational experience that goes beyond the traditional turkey and football.
Thanksgiving is a time to reflect on the history, traditions, and values that have shaped this beloved holiday.
These Thanksgiving picture books serve as valuable tools for parents, and educators. Allowing them to share the importance of gratitude, unity, and understanding with children of all ages.
Whether you're setting up a cozy reading corner, preparing for a school lesson, or simply looking to enrich your Thanksgiving celebration. These books are a wonderful addition to your November bookshelf.
They provide opportunities for children to explore the deeper meaning of Thanksgiving and foster a sense of appreciation for the blessings in their lives. As you turn the pages of our favorite Thanksgiving books, you'll find the perfect companions for joyful learning and quality time together.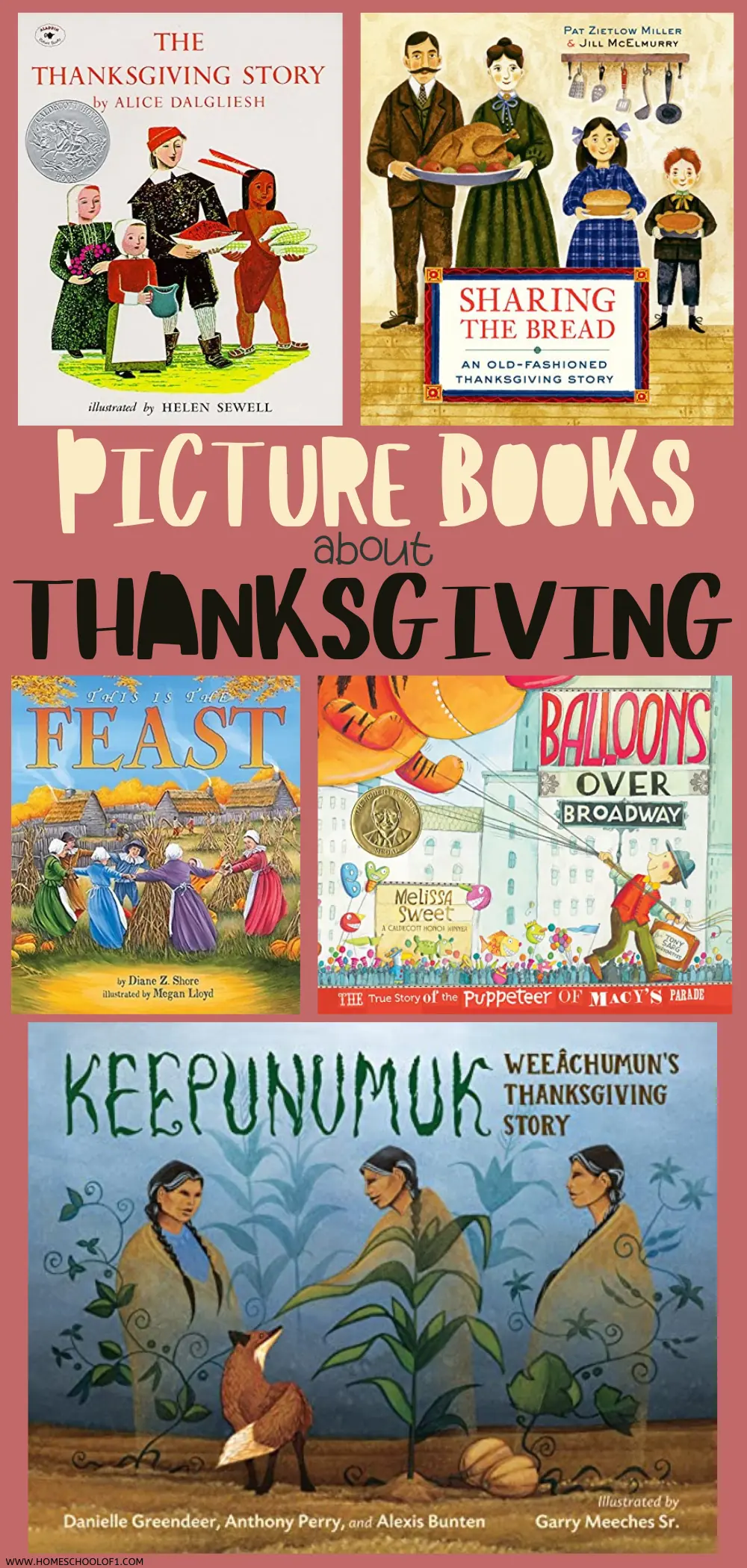 **There may be affiliate links in this post. You can read my full disclosure at the bottom of the page.**
Learn all about Thanksgiving with picture books
These picture books make the best Thanksgiving read alouds for kids of all ages.
Learn all about Thanksgiving with the help of beautifully illustrated and engaging stories that capture the spirit of the holiday.
From the historical origins of Thanksgiving to heartwarming tales of gratitude and togetherness. These books offer a wide range of perspectives on this cherished celebration.
Whether you're looking to teach young readers about the Pilgrims' journey, the significance of Native American contributions, or simply to instill a sense of gratitude.
These picture books are sure to inspire meaningful conversations and create lasting memories during this special time of year.
So, gather your family and friends, cozy up with these wonderful books, and embark on a literary journey that celebrates the true essence of Thanksgiving.
This picture book takes readers on a captivating journey through the history of Macy's Thanksgiving Day Parade.
Celebrating the brilliant puppeteer Tony Sarg who brought iconic character balloons to life.
This captivating picture book combines art and engineering to illustrate how a beloved tradition came to be.
Earning it the Bank Street College of Education Flora Stieglitz Straus Award.
Kids will discover the fascinating story of how Thanksgiving became an official national holiday.
The book beautifully traces the efforts of Sarah Josepha Hale and President Abraham Lincoln to establish this beloved American tradition.
Offering an engaging look at the history behind the holiday.
This book by Pat Zietlow Miller invites young readers into a heartwarming, old-fashioned Thanksgiving celebration.
With charming illustrations and rhythmic text, this picture book shares the story of a loving family working together to prepare a traditional Thanksgiving feast.
Highlighting the importance of togetherness during the holiday season.
This cute book captures the essence of a multigenerational Thanksgiving celebration, where family traditions and memories are honored.
This beautifully illustrated book reflects the heartwarming spirit of Thanksgiving as it showcases the love and history shared around a table built by Grandad.
Making it a delightful read for the holiday season.
Keepunumuk offers a fresh perspective on Thanksgiving. Centering on Weeâchumun, a young Native American girl, as she prepares for her tribe's feast.
The story beautifully weaves Native American traditions and values into the Thanksgiving narrative.
Making it a culturally enriching and educational picture book for young readers.
A delightful and educational exploration of the first Thanksgiving, bringing the Pilgrims and Native Americans together in a celebratory feast.
With vivid illustrations and engaging text, this picture book offers an entertaining and historically accurate depiction of this significant event in American history.
Three Young Pilgrims focuses on the experiences of children on the Mayflower and their journey to the New World.
This picture book offers young readers a relatable perspective on the Pilgrims' hardships and eventual celebration of Thanksgiving.
Making history come alive for a younger audience.
Squanto tells the heartwarming story of Squanto, a Native American who played a vital role in helping the Pilgrims survive and thrive in their new land.
The book highlights the importance of cross-cultural understanding and friendship in the early days of the American colonies.
This book offers a concise and engaging overview of the Pilgrims' voyage to America and their first Thanksgiving celebration.
This picture book provides a simple yet informative introduction to the history of the Pilgrims and their role in the establishment of Thanksgiving.
A classic picture book that tells the tale of the Pilgrims' arrival in America and their first Thanksgiving feast with the Wampanoag people.
With beautifully detailed illustrations and evocative prose, this book provides a timeless and comprehensive look at the origins of Thanksgiving. Making it a staple for holiday reading.
This Thanksgiving book takes young readers on a journey of self-discovery and gratitude as a young boy reflects on his family's Thanksgiving dinner and how it compares to others.
This picture book encourages children to appreciate the uniqueness of their own celebrations while embracing the spirit of gratitude.
A heartwarming and interactive book that encourages children to express their gratitude for the people and things in their lives.
Through charming illustrations and simple prompts, this book helps kids understand the importance of being thankful during the Thanksgiving season.
This wonderful book transports readers to a magical woodland Thanksgiving celebration where families come together to give thanks amid the beauty of nature.
This book offers a fresh and enchanting perspective on the holiday, emphasizing the joy of sharing the occasion with loved ones in a natural setting.
The Berenstain bears prepare for Thanksgiving and reflect on the importance of being grateful for the blessings in their lives.
This heartwarming and faith-based picture book offers a valuable lesson in thankfulness for young readers.
A delightful and educational picture book that captures the essence of Thanksgiving as it explores the many things to be thankful for, from the simple joys of everyday life to the holiday's rich history.
This book is perfect for young readers learning the significance of gratitude during the Thanksgiving season.
Free Thanksgiving activities
Add these to your Thanksgiving holiday too: