KiwiCo Panda Crate Review
If you are looking into a monthly box for your babies and toddlers you need to read our KiwiCo Panda Crate review.
I am totally blown away by how engaging this bimonthly crate is.
My grandbaby came for a 3-week visit last month and I wanted to get some enriching toys that he could enjoy. So as we had had a lot of success with the KiwiCo over the years, I thought I would try the KiwiCo Panda Crate.
My grandson was 17 months and we received the 13-18 month Panda Crate. Whether you are looking for a gift for your grandchildren or your babies I highly recommend KiwiCo. Keep reading for my detailed review.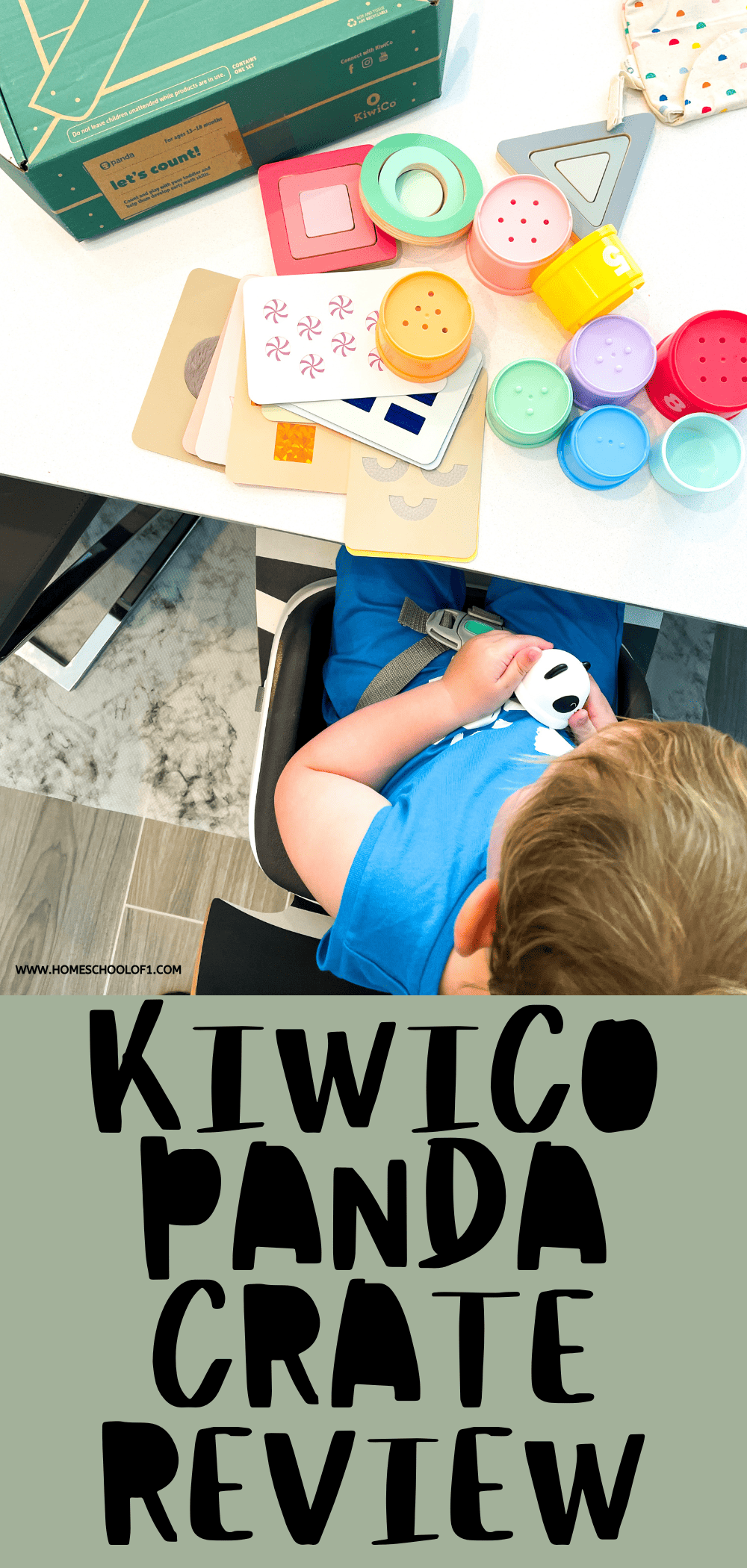 **Disclosure: I was compensated for my time to write this post. As always, all thoughts and opinions are my own. I only share resources that I would use with my own family and those that I believe other homeschool families will enjoy. There may be affiliate links in this post.**
What age is the KiwiCo Panda Crate for?
The Panda Crate is aimed at babies aged between 0 and 36 months. And they are designed by experts and broken down even further depending on your baby's birthday.
0-2 months
3-6 months
7-12 months
13-18 months
19-24 months
25-30 months
31-36 months
What comes in a Kiwi Panda Crate?
Every other month you will receive between three and six products designed perfectly for the baby's age and developmental stage. You can see some sample crates here: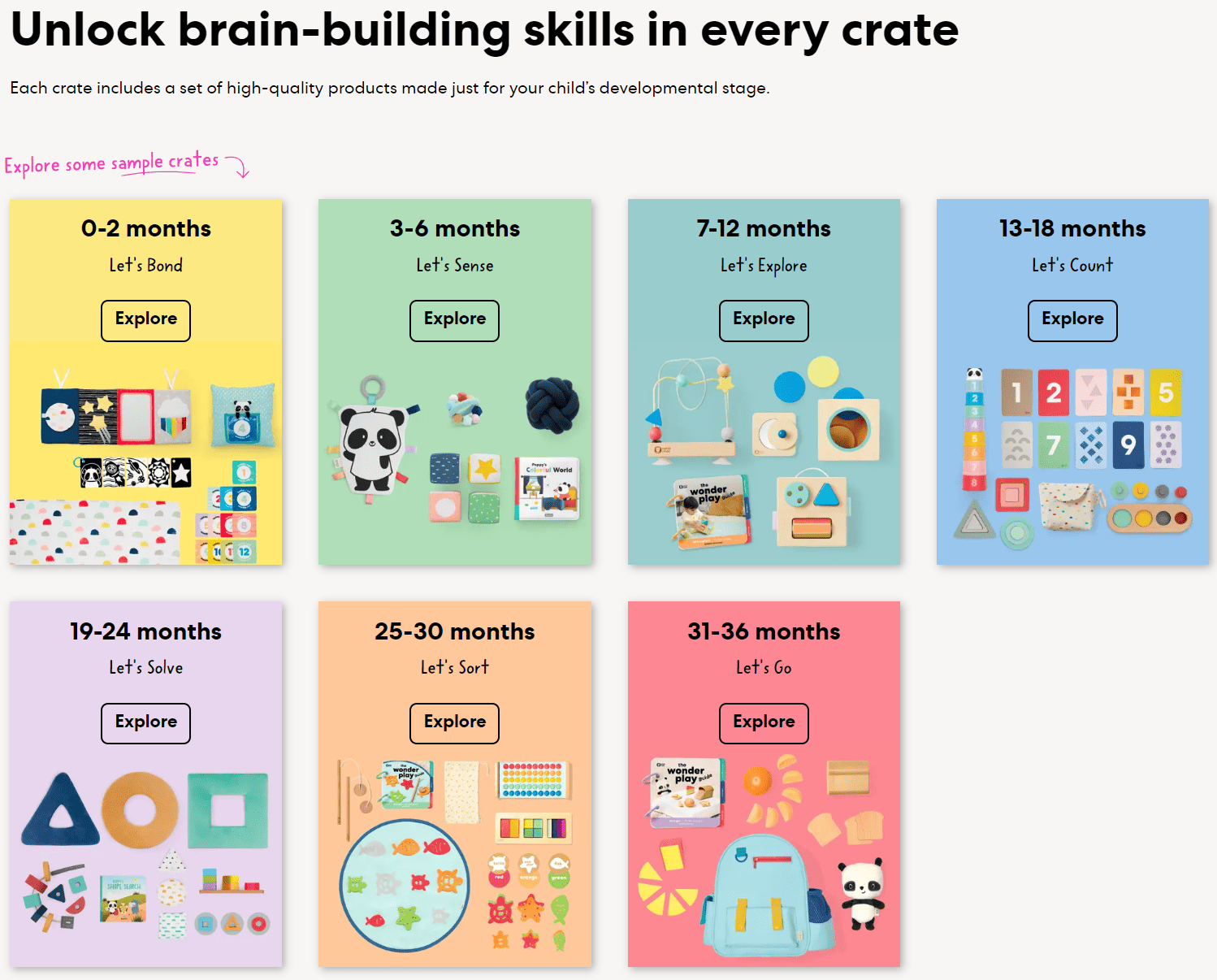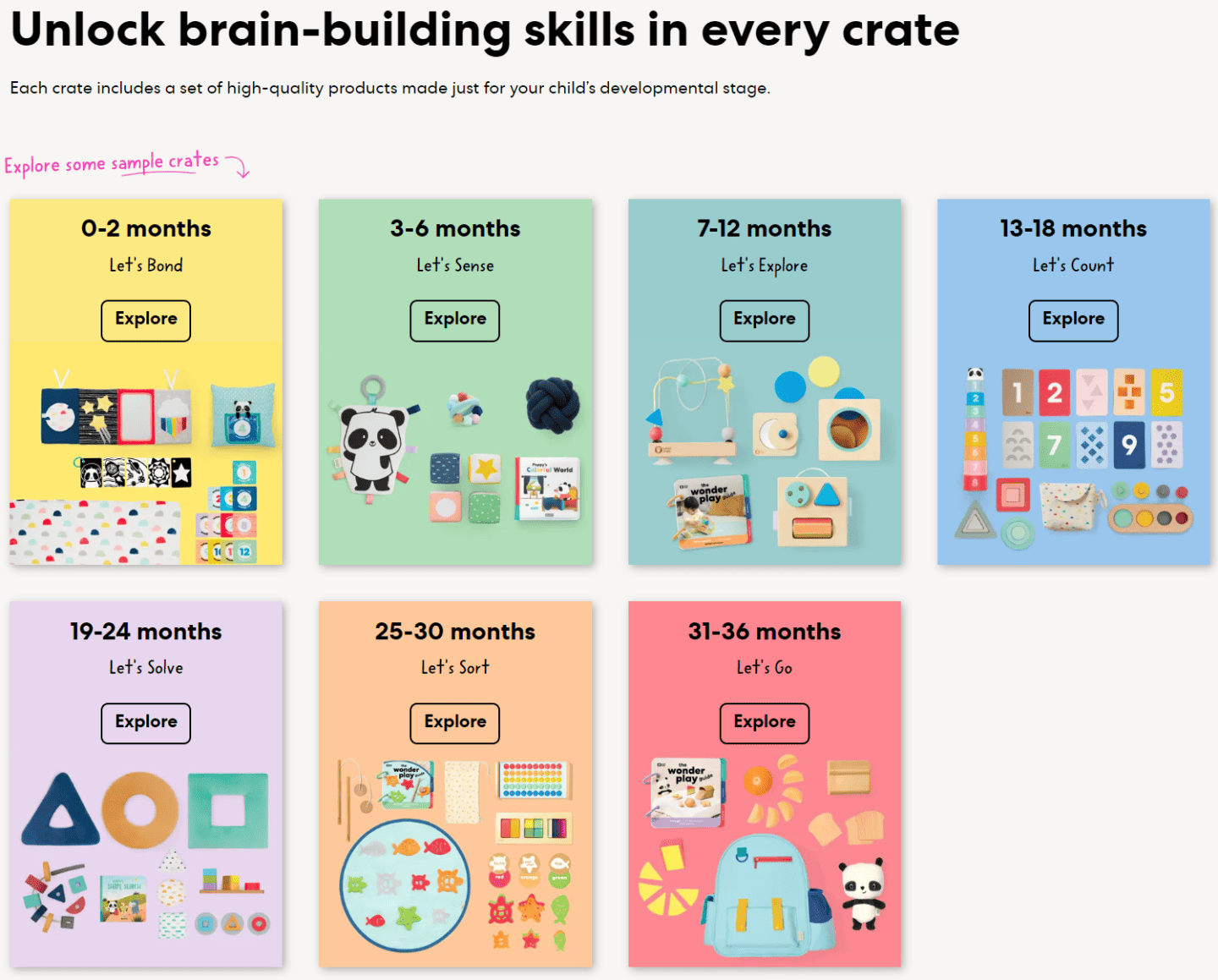 What are the educational benefits of a Panda Crate?
The KiwiCo Panda Crate is designed to offer various educational benefits for infants and toddlers. Aiming to support their early development and learning through play. Here are some of the educational benefits you will find in a KiwiCo Panda Crate:
Sensory Development. Many of the items in the crate are designed to stimulate a child's senses. Including sight, touch, sound, and even taste, fostering sensory exploration and awareness.
Cognitive Skills. Activities and toys included in the crate can promote cognitive development, such as problem-solving, spatial reasoning, and memory skills.
Fine and Gross Motor Skills. The crate often includes toys and activities that encourage the development of fine motor skills (e.g., grasping, hand-eye coordination) and gross motor skills (e.g., crawling or walking).
Language Development. Panda Crates may feature items that introduce early language concepts. Encourage communication, and support vocabulary development through interaction and play.
Social and Emotional Development. The crate can provide opportunities for bonding between parents and their child. Helping with attachment and emotional development.
Creativity and Imagination. Creative play items and activities are included to encourage imaginative thinking, storytelling, and exploration for toddlers.
Early Science and Math Concepts. Certain activities and toys may introduce rudimentary scientific and mathematical concepts in a hands-on, age-appropriate manner.
Problem-Solving and Critical Thinking. The crate can include puzzles and challenges that engage young minds in basic problem-solving and critical thinking tasks.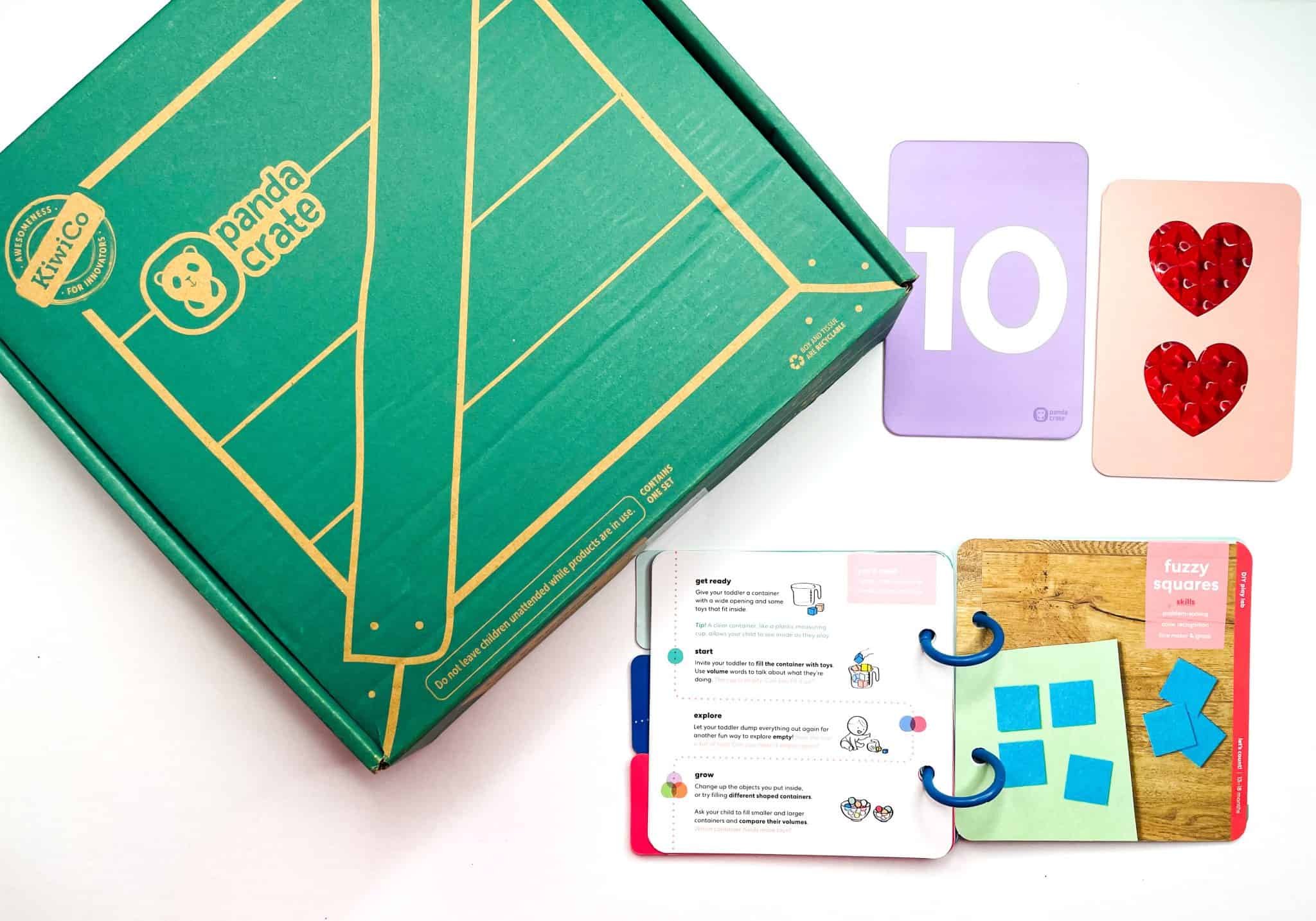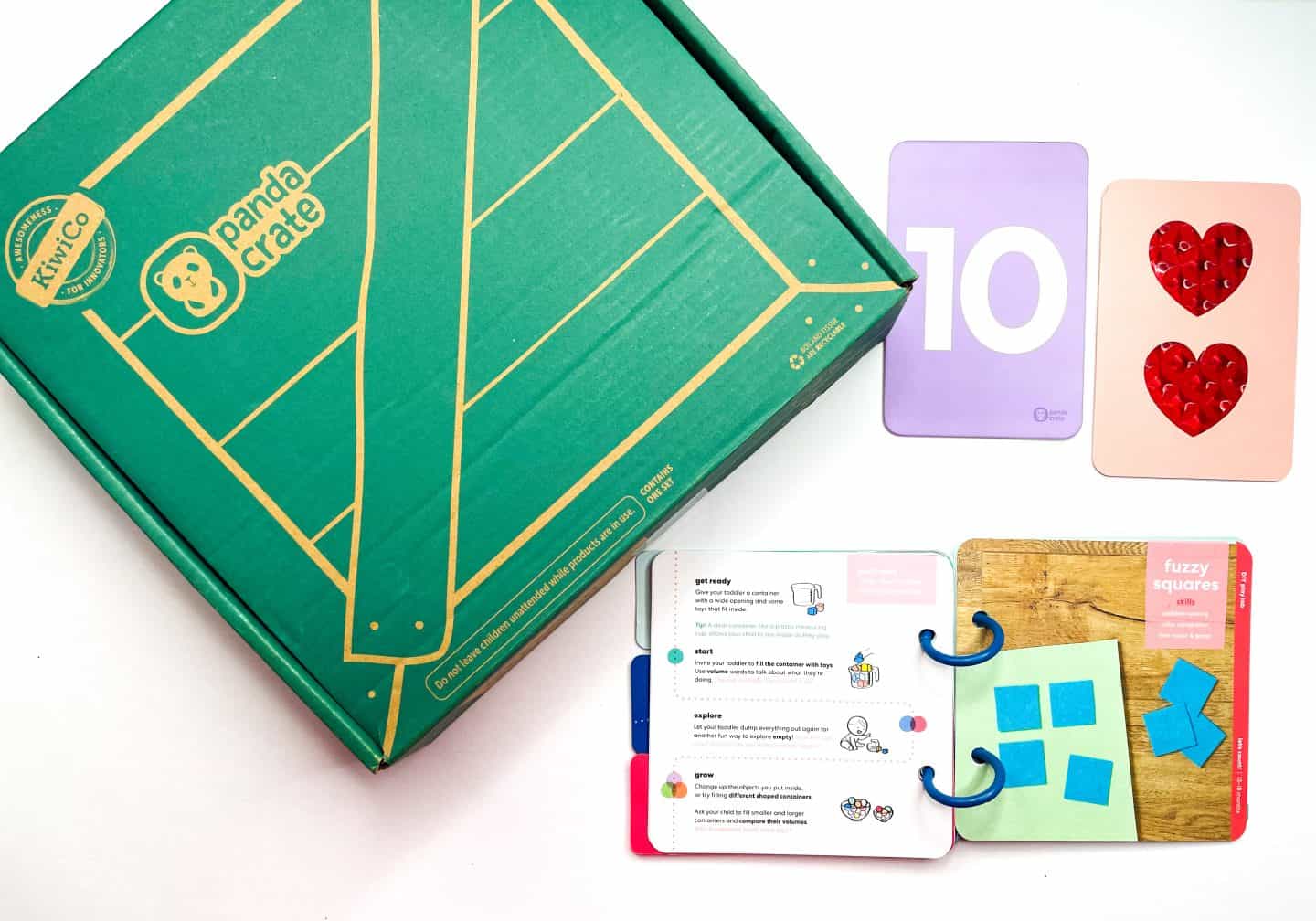 KiwiCo Panda Crate reviews
Ok, so you now know what the KiwiCo Panda Crate is, but what did we all think about it?
I am going to break this down into 2 separate reviews, 1 from me as grandma, and 1 from my stepdaughter as mommy.
Grandmas review
I loved it! Actually loved it.
I have used KiwiCo recently with my teenage son who is homeschooled so I knew they were of excellent quality. But I was a little apprehensive when I heard that they also made crates for babies.
But as my grandson was coming to stay for 3 weeks and we had hardly any baby toys in the house I decided to try the KiwiCo Panda Crate.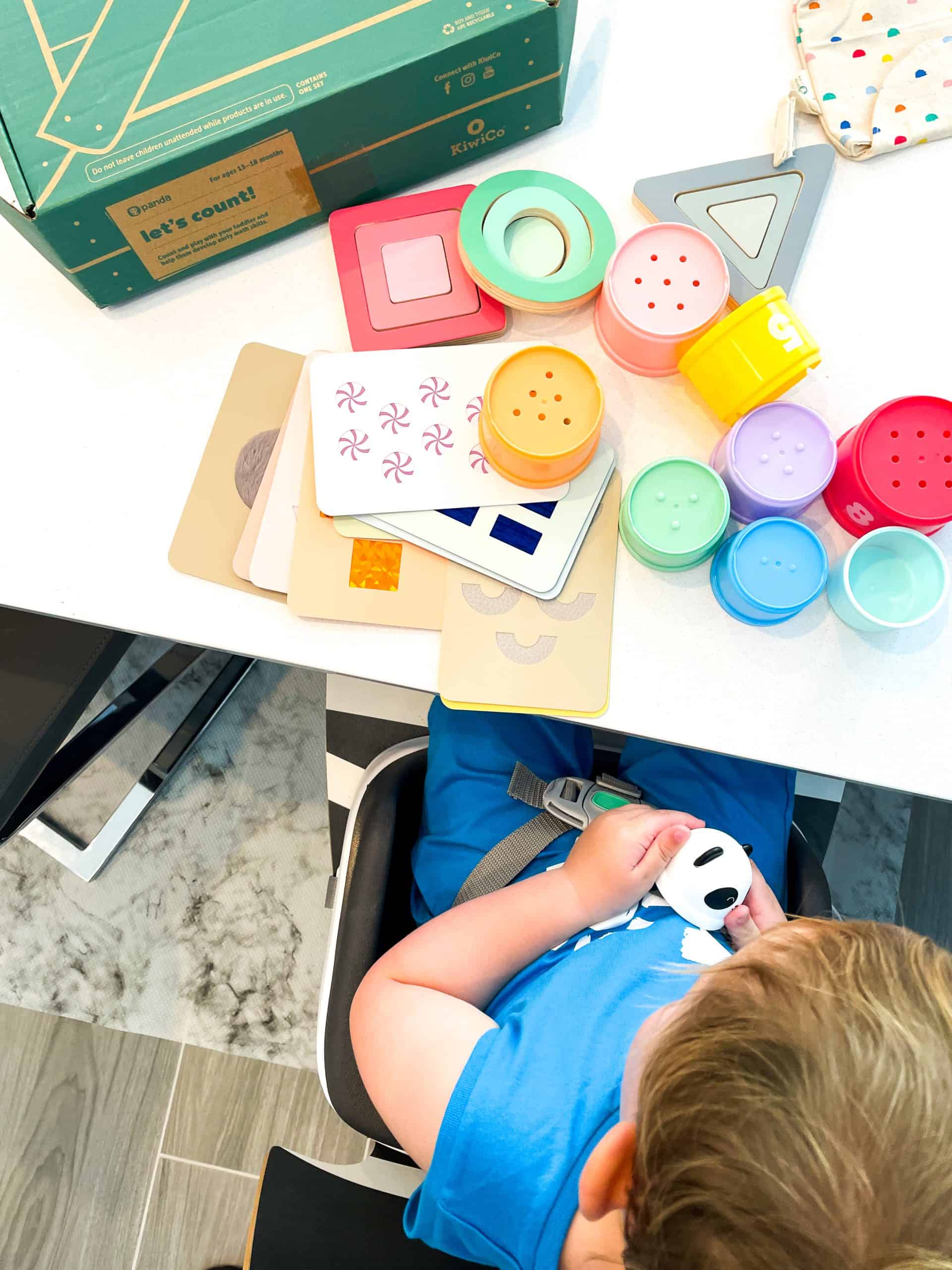 We received the Let's Count box aimed at children aged 13-18 months.
In the crate, we received:
Stacking cups. He could use this to stack and play, but we used them in the swimming pool and bath and he loved flipping the water over himself and watching the water drain out.
Cylinder puzzle game. This was a huge hit too, he loved carrying the pieces and placing them in the puzzle.
Counting cards. These cards were incredibly tactile and all featured different textures, and he loved just sorting them.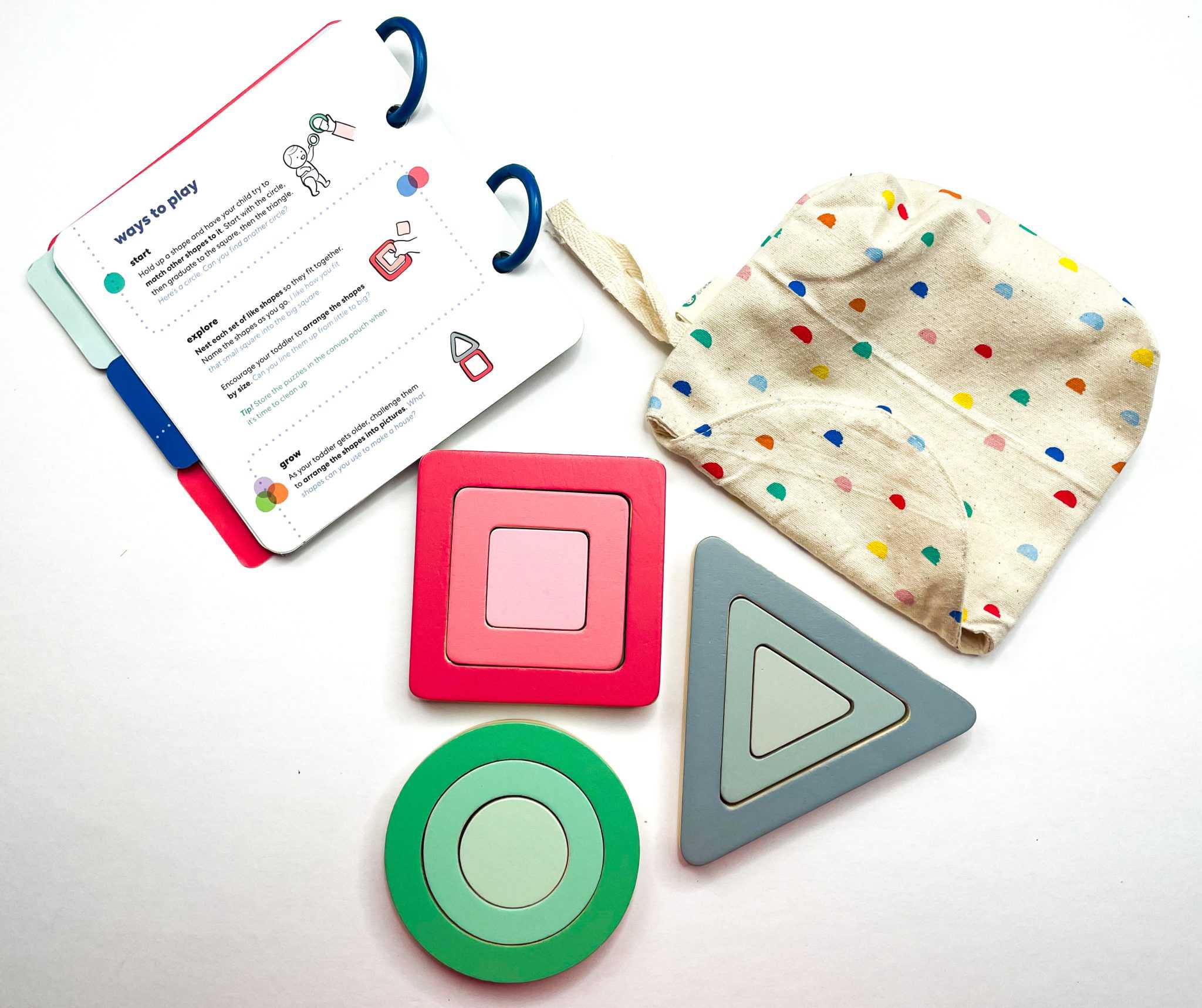 Shape puzzles. This was the only part of the crate he wasn't that interested in. But he took them home with him and his mom has told me he now plays with these the most!
The Wonder Play Guide. This is excellent, the kids can play around with it as it is super sturdy. And more importantly, it gives excellent guidance from experts on how you can play with these toys with the kids and how it aids in development. Plus some everyday play hacks, which we had not considered before.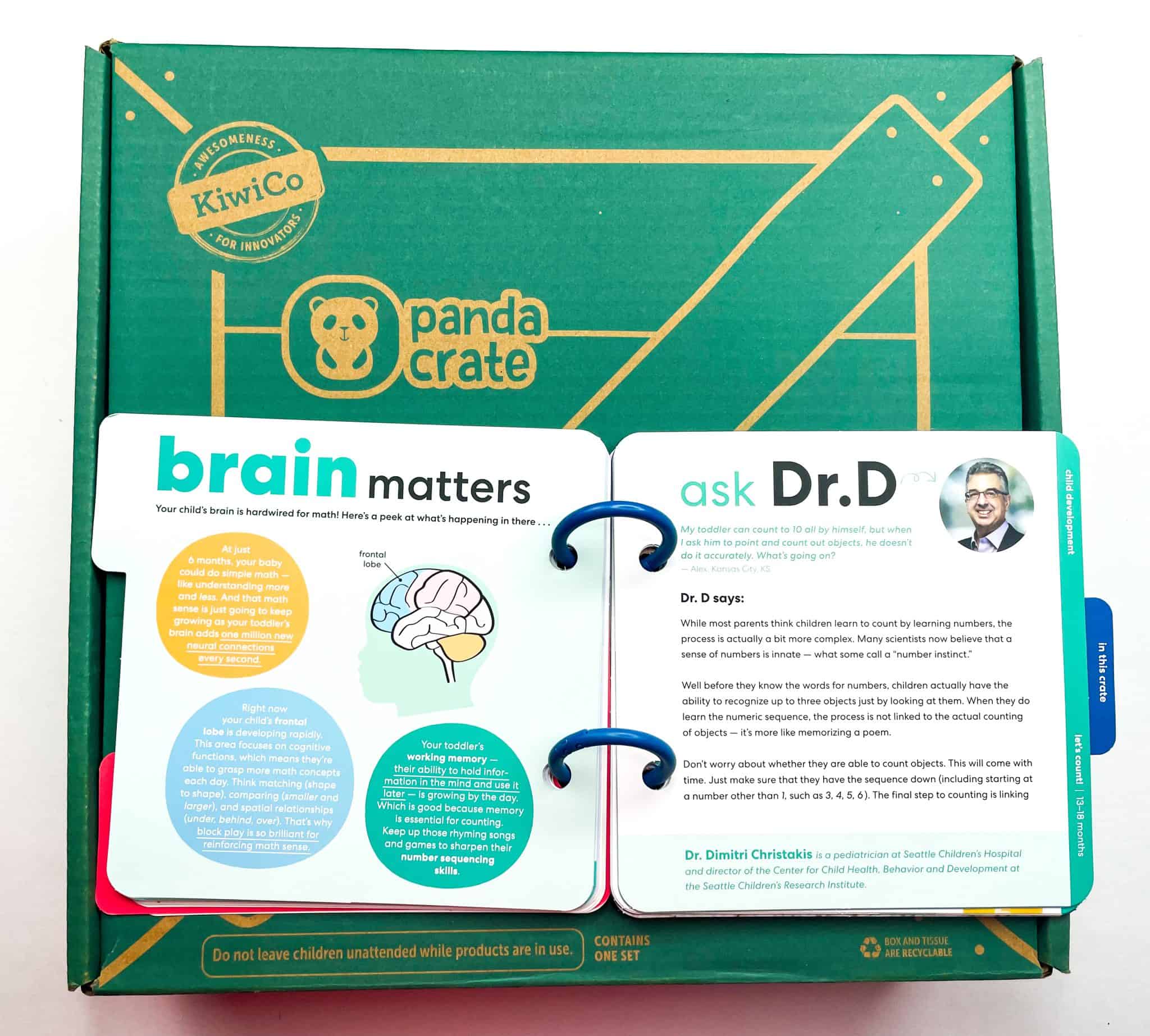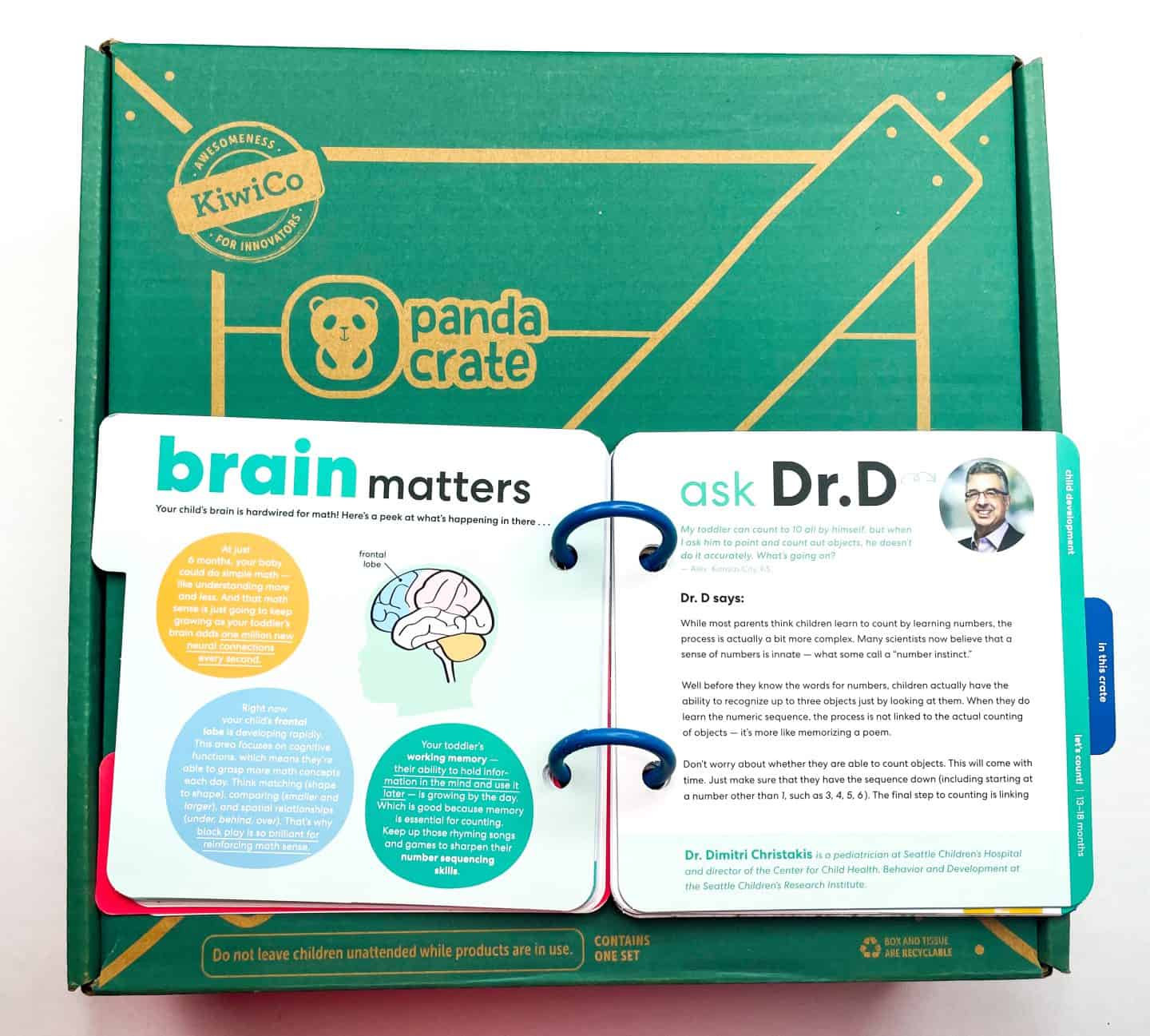 Moms review
The very first thing mom said was that she could see that this would be a great gift for a girl! As a boy mom, I knew what she meant. But, she was very open to seeing what her 17 month old baby boy would think.
To start with he looked super interested, but then (as kids do) just threw it all on the floor and walked off.
But we left it there. We moved it to the newly made toy box and left it.
At bath time we took the stacking cups and he laughed and laughed so much. And this continued every night (it was a grandma's dream!)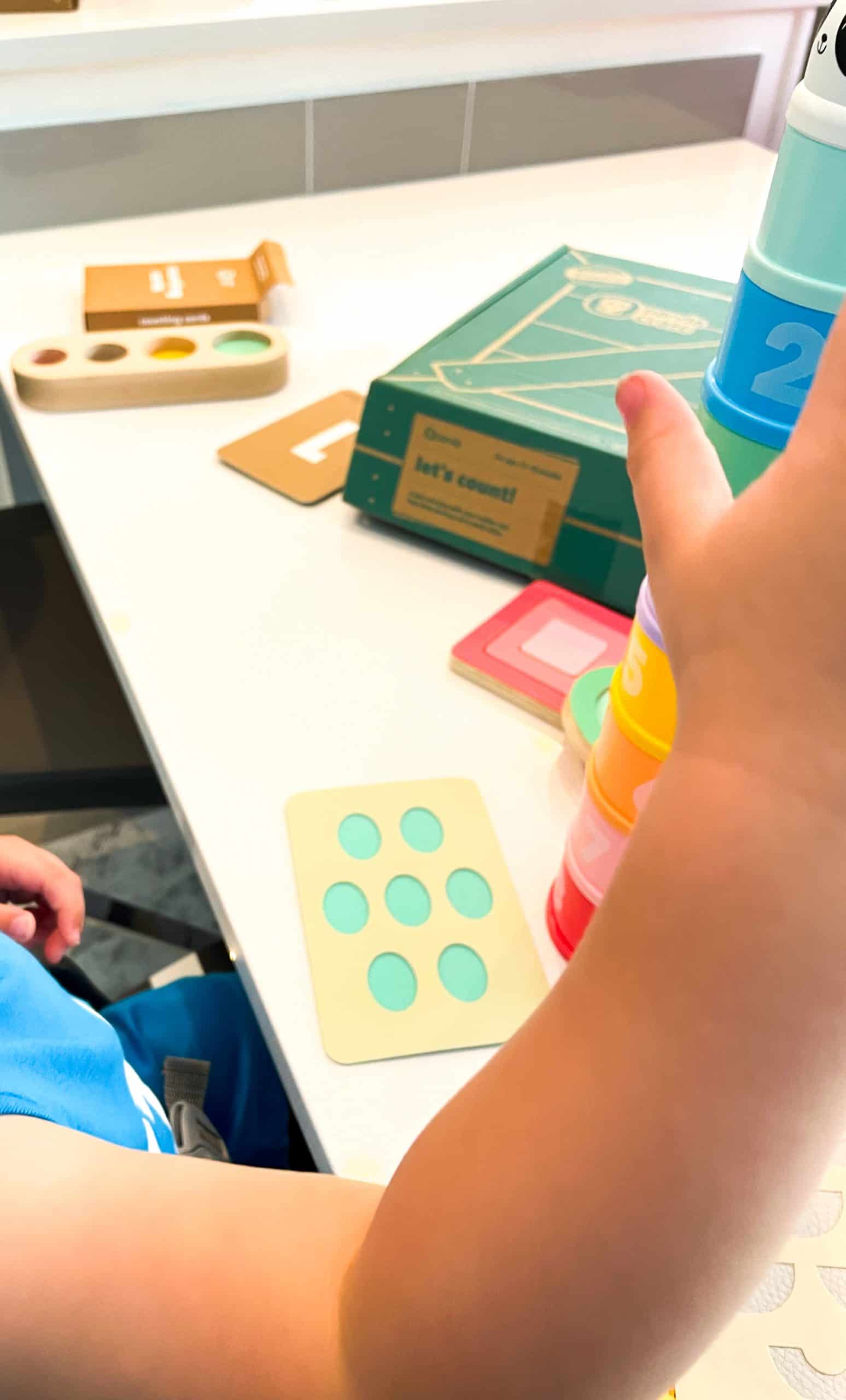 The next day, and for the rest of the time they were with us. He played with these toys more than anything else we had.
The reason I can confidently say that mom loved it too……….. She took it all home with her, and has asked for a subscription for Christmas!
& get 50% off your first crate with code HOMESCHOOL!
Can I add KiwiCo to a baby registry?
Absolutely you can add it to your baby registry. In just a few clicks you can add it to your Amazon, Target, Babylist, and MyRegistry.com.
If you are having a baby and struggling to know what to put on your baby registry, I highly recommend adding the Panda Crate subscription from KiwiCo.
Add in your due date and your baby's first subscription box will arrive at the same time as your bundle of joy.
It also makes a wonderful birthday or Christmas gift for any baby or toddler.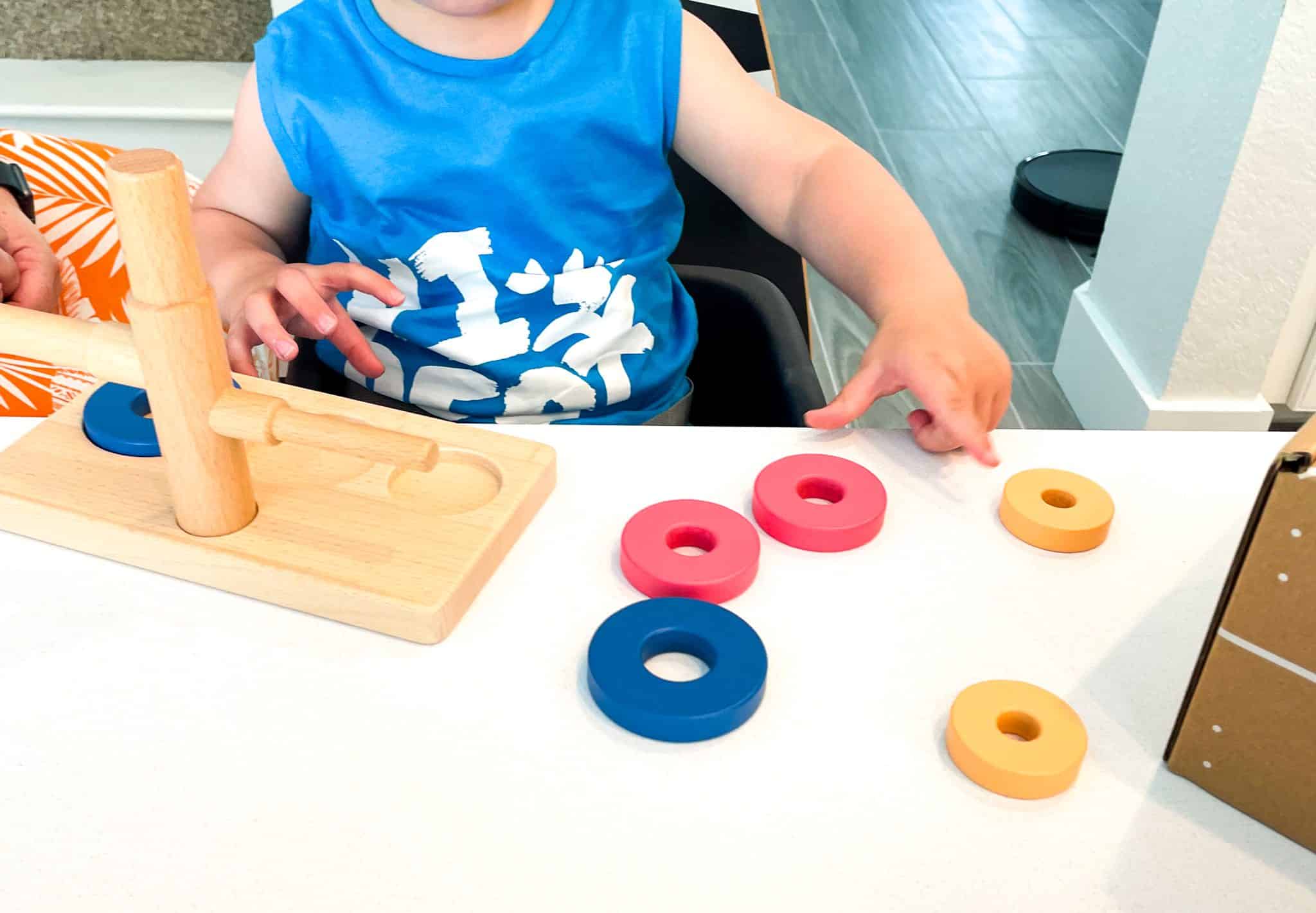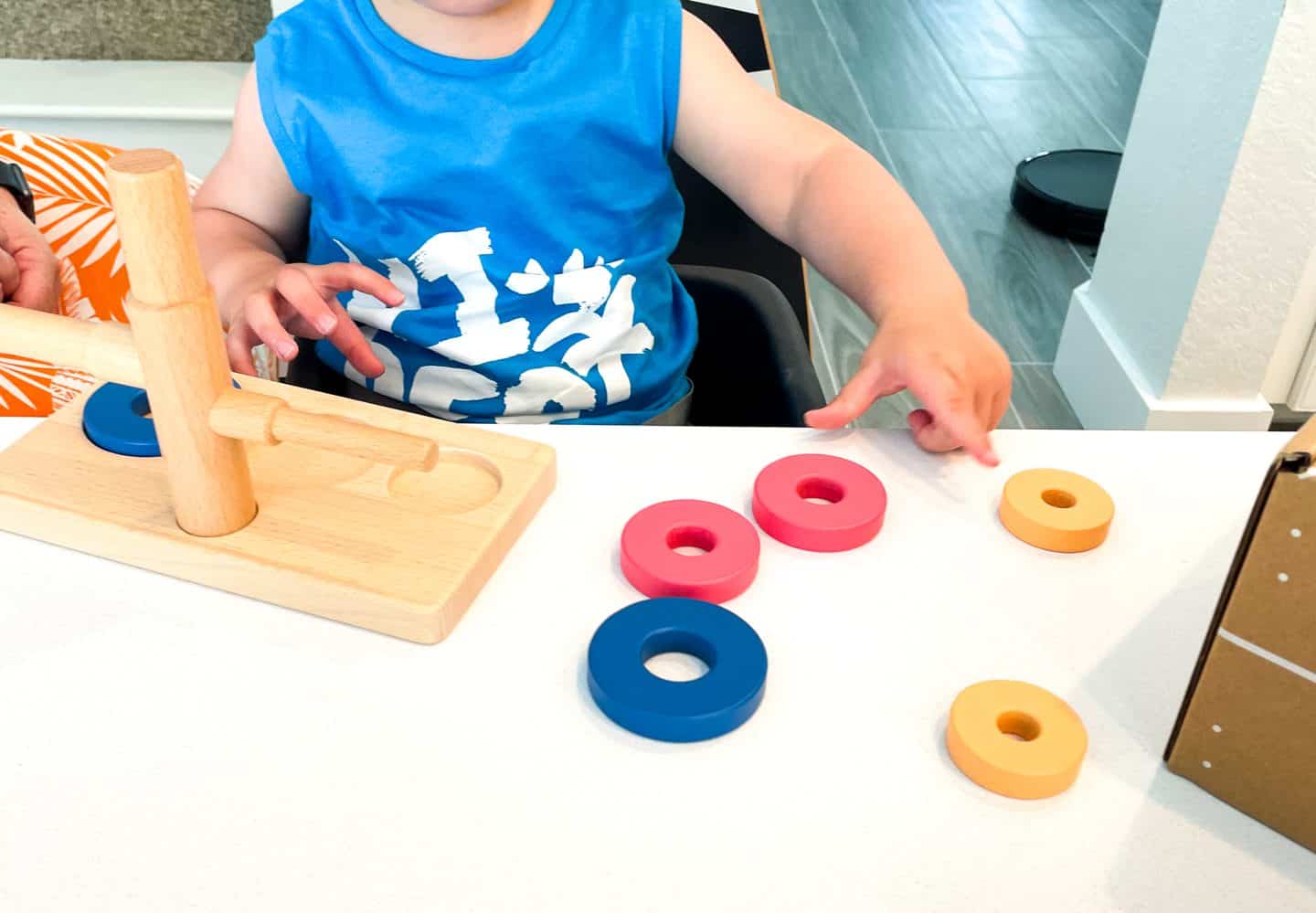 How much does the KiwiCo Panda Crate cost?
There are two options for the Panda Crate:
The Panda Crate starts at $33.90 per month and it features:
3-6 stage-specific products
1 in depth grown up guide
6-10 developmental skills per crate
The Panda Crate + starts at $68 /crate and it features:
3-6 stage-specific products
1 in depth grown-up guide
6-10 developmental skills per crate
1-2 grow with me plus products
1-2 additional play guides
$150 worth of products and content
Try it for yourself today, and new customers can get 50% off their first crate with code HOMESCHOOL.
Additional KiwiCo Reviews
As I said earlier, we have been using KiwiCo subscription boxes for years. Check out the reviews of all of their other boxes for older children:
The Koala Crate is designed for preschool-aged children. It offers hands-on activities, crafts, and projects tailored to their developmental stage.
The Atlas Crate is suitable for kids aged 6 to 11 years old. It explores the world through geography, culture, and hands-on projects, making it an excellent choice for elementary-aged children.
The Maker Crate is geared towards older children and teenagers, typically aged 14 and up. It focuses on more complex DIY projects and crafts, encouraging creativity and innovation.
The Doodle Crate is designed for children aged 9 to 16. It emphasizes art and design, offering creative projects and materials to inspire artistic expression.
The Eureka Crate is intended for teenagers and young adults, typically aged 14 and older. It delves into science, technology, engineering, and math (STEM) concepts through hands-on experiments and engineering projects.
We have loved every single subscription box we have received, and I truly recommend you order one for your little ones (or bigger ones!) today.