Thanksgiving Mad Libs (free printable)
Get ready to celebrate Thanksgiving with our Thanksgiving mad libs printable! This fun activity is great for kids and adults alike. Get creative as you add adjectives, nouns, and verbs to craft hilarious and heartwarming Thanksgiving stories.
Whether you're having fun at home or in the classroom, our Thanksgiving mad libs are a wonderful addition to your Thanksgiving activities for kids.
Enjoy the laughter and creativity as you fill in the blanks and create memorable Thanksgiving tales that everyone will cherish. Thanksgiving has never been so entertaining!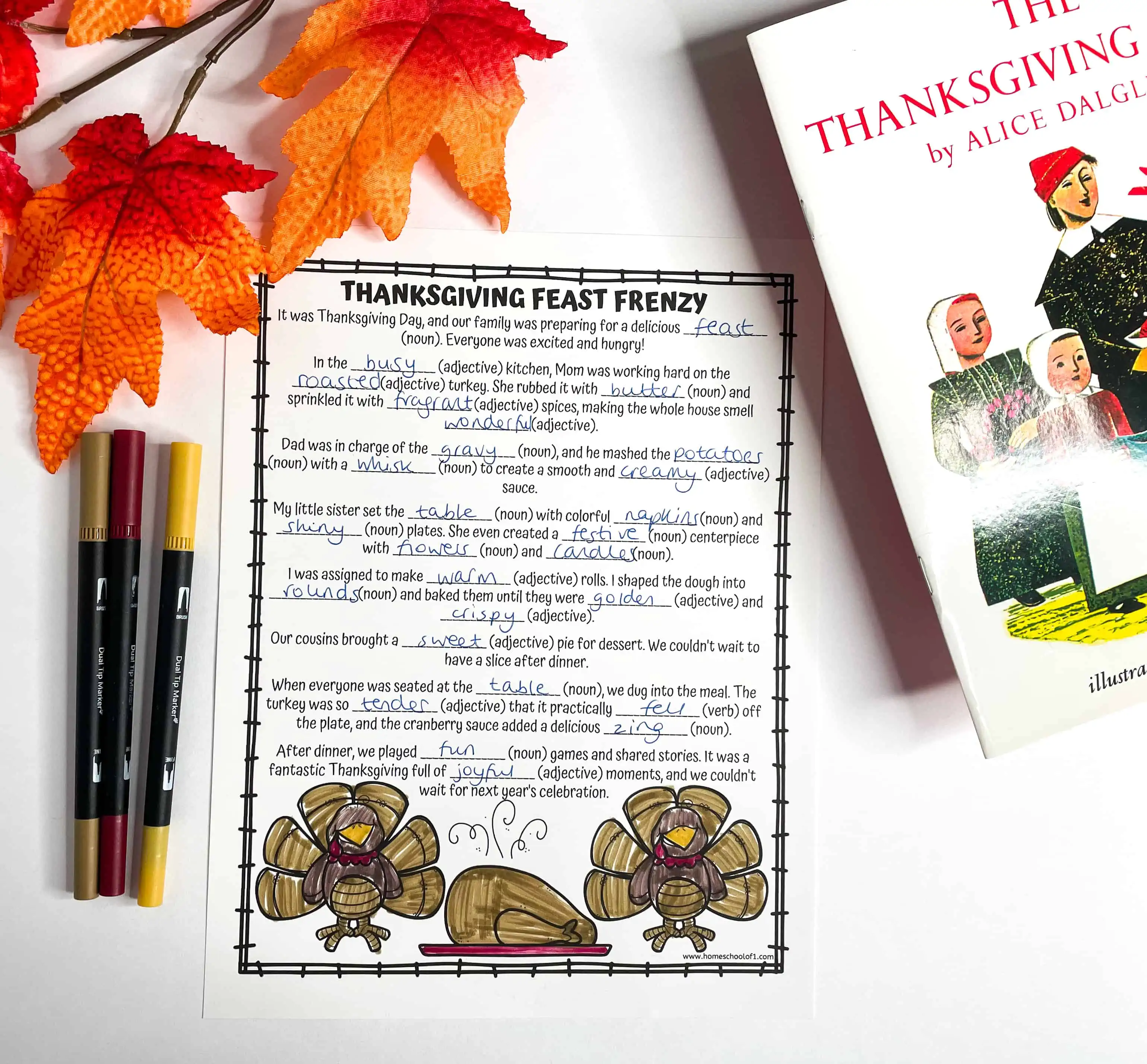 **There may be affiliate links in this post. You can read my full disclosure at the bottom of the page.**
Thanksgiving story mad libs
Introducing our Thanksgiving Feast Frenzy Mad Libs printable! A delightful twist on word games for the holiday season. Kids can have a blast adding adjectives, nouns, and verbs to create a silly story about Thanksgiving.
Once they've completed the story, they can also enjoy coloring pictures of turkeys, making the activity even more enjoyable.
Thanksgiving printable mad libs are an excellent way for kids to have fun, expand their vocabulary, and unleash their creativity during this special time of year.
It's the perfect activity for some festive and laughter-filled Thanksgiving fun!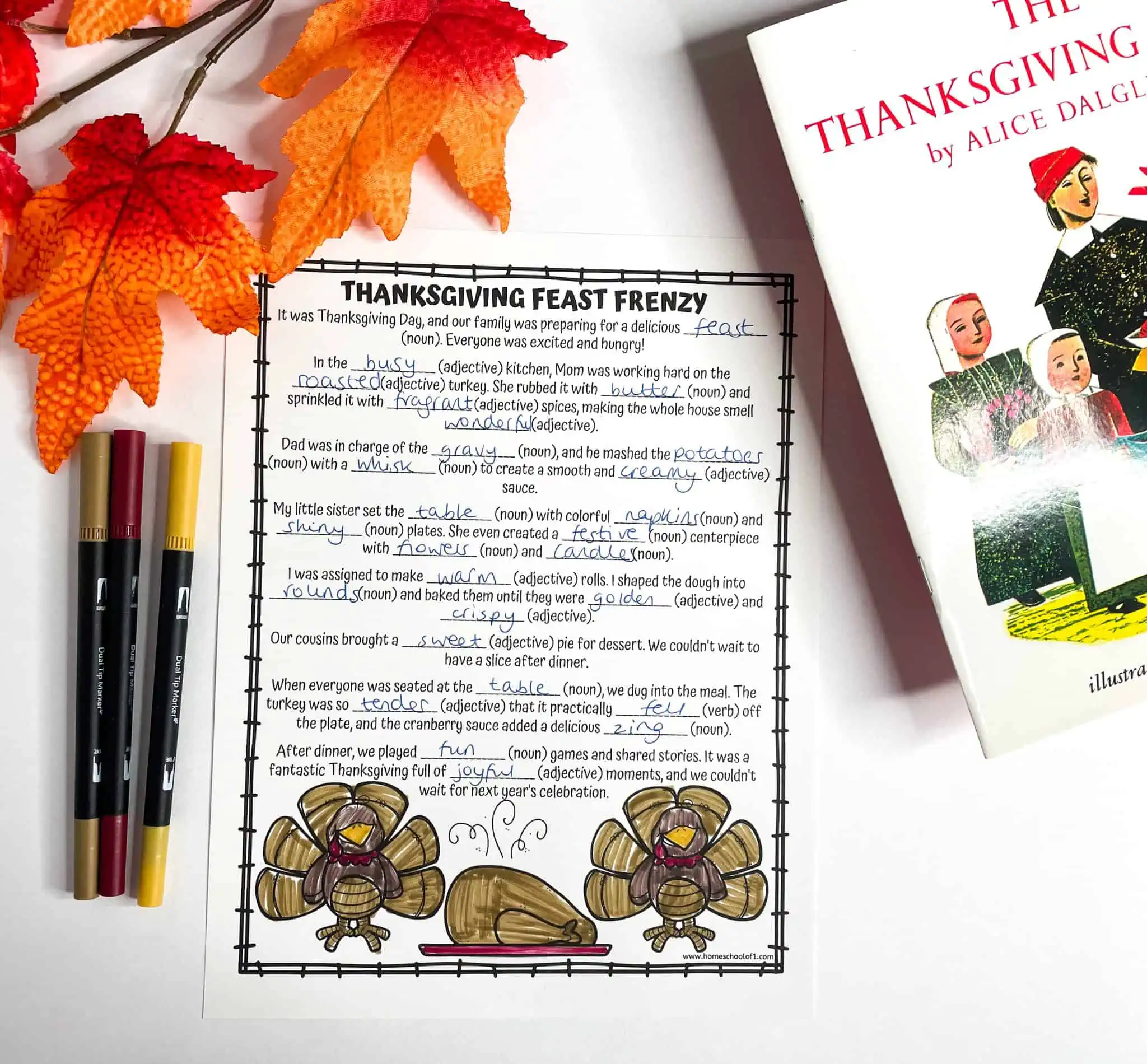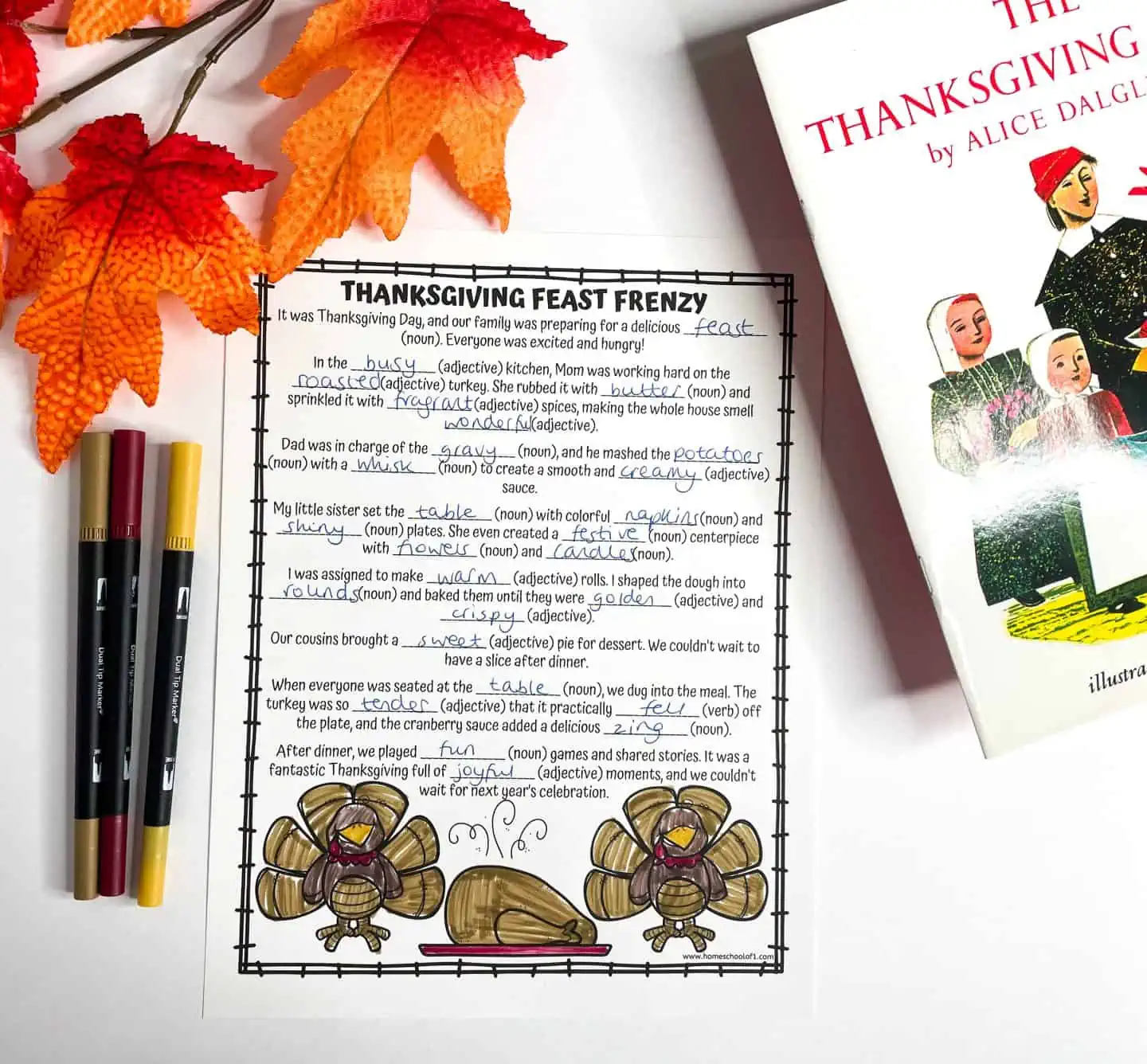 Thanksgiving Mad Libs books
You can also treat the kids to a new Mad Libs activity book. These are our favorite fall Mad Libs books:
Undead Mad Libs: World's Greatest Word Game
Halloween Mad Libs Junior: World's Greatest Word Game
Trick or Treat Mad Libs: World's Greatest Word Game
Gobble Gobble Mad Libs: World's Greatest Word Game
Family Tree Mad Libs: World's Greatest Word Game
It's Laugh O'Clock: Would You Rather? Thanksgiving Edition: A Hilarious and Interactive Question Game Book for Boys and Girls – Thanksgiving Gift for Kids
Additional fun Thanksgiving activities
Have even more fun this November with these worksheets and activities:
Get creative and make coffee filter turkeys.
How can you play Mad Libs at Thanksgiving?
Playing Mad Libs at Thanksgiving is a fantastic way to add some fun and laughter to your holiday celebration. Here's how you can play Mad Libs with a Thanksgiving twist:
Download our free Thanksgiving feast frenzy printable at the bottom of this page.
Decide whether you want to play individually or as a group. Mad Libs can be enjoyed by individuals, families, or groups of friends.
Briefly explain the rules of Mad Libs to everyone playing. Remind them that they'll be asked to provide specific types of words (e.g., nouns, adjectives, verbs) without knowing the context of the story.
For each blank space in the story, ask participants to provide a word that fits the requested type (e.g., noun, adjective, adverb). Keep these words secret from one another.
As a group or individually, insert the chosen words into the blank spaces in the story. Make sure to keep the words in the correct order.
Once all the blanks are filled in, read the Thanksgiving-themed Mad Libs story aloud. Prepare for lots of laughter as the unexpected and often funny combinations of words are revealed.
Have fun with Pumpkin mad libs too!
Tips for downloading the free files
Below is a blue cloud with an arrow pointing downward. Underneath that is a large sign-up box where you need to add your name and email address, and press I NEED THIS NOW!
Within minutes you will be sent the free PDF directly to your email address, so you can print it out and start using it immediately.
Sometimes emails get a little wonky, so if you can't see it, please check your spam folder where I am sure it is hiding.
Download the free Thanksgiving mad libs printable
These worksheets are free to print but are for personal or classroom use only.
Make sure you choose the correct paper size and click on the shrink to fit button. All of our free printables for kids work better when printed on cardstock (this is the one we use and love.)
Last Updated on 3 October 2023 by homeschoolof1