15 Best Philosophy Books For Kids in 2023
Introduce young minds to the fascinating world of philosophy with books designed especially for kids aged 8 to 13. These best philosophy books for kids are like magical portals that whisk children away on thought-provoking adventures.
They encourage young readers to explore big questions about the universe, ethics, and the meaning of life in a way that's engaging and accessible.
With colorful illustrations and age-appropriate language, these books make philosophy come alive for young readers.
Whether your child is pondering the mysteries of existence or curious about the nature of reality, these philosophy kid's book lists offer an exciting journey into the world of ideas.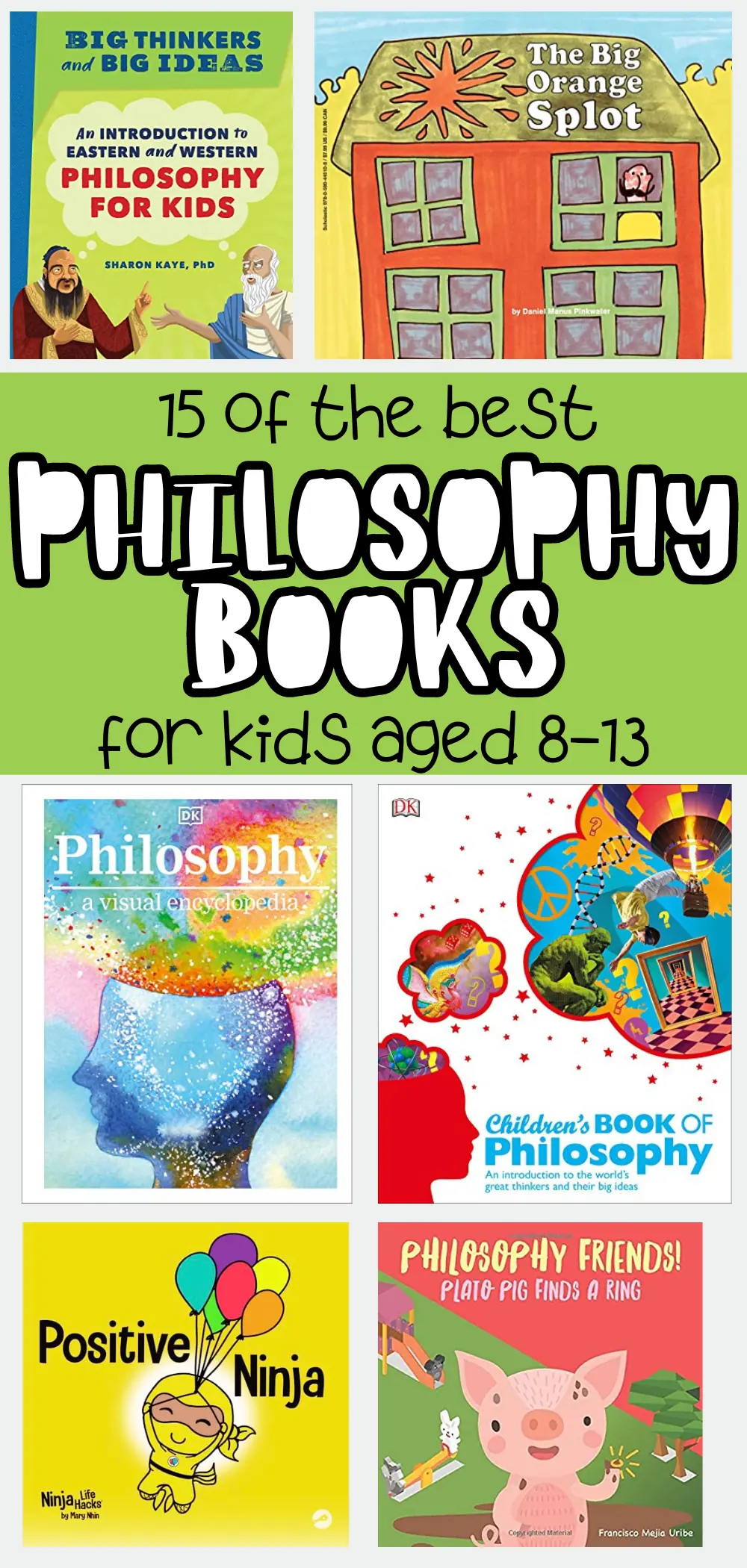 **There may be affiliate links in this post. You can read my full disclosure at the bottom of the page.**
Best philosophy books for children
Every child aged 8 to 13 years old should explore at least one of these books.
They serve as valuable tools for understanding profound concepts in a straightforward and engaging manner.
These children's philosophy books not only foster intellectual growth but also nurture empathy and a deeper comprehension of the world.
Reading these books is akin to embarking on a journey of self-discovery and equipping young minds with the ability to navigate life's complexities.
They lay the groundwork for developing resilient intellects that can grapple with profound questions and contribute to a more considerate and thoughtful society.
Therefore, I highly recommend every child should read at least one of these books before the age of 18.
This book offers a captivating introduction to philosophy for kids.
Exploring fundamental concepts through relatable examples and engaging narratives.
From ethics and logic to the meaning of life, this book encourages young minds to think critically and ponder life's big questions.
Takes children on a global journey through the realms of both Eastern and Western philosophy.
Through enlightening stories and thought-provoking activities, it introduces young readers to the wisdom of philosophers from around the world.
Fostering a broader understanding of different philosophical traditions.
In this book kids can explore the intriguing lives and profound ideas of history's greatest philosophers.
With colorful illustrations and accessible language, this book provides a delightful and educational journey through the world of philosophy, making it accessible and engaging for young readers.
A kid-friendly philosophy book that introduces mindfulness and emotional management through the adventures of a ninja.
With relatable characters and practical advice, it empowers children to understand and control their emotions. Fostering a positive and resilient mindset.
An accessible and visually engaging resource that introduces kids to the world of philosophy through stunning images, clear explanations, and insightful profiles of famous philosophers.
Covering a wide range of philosophical topics, this book sparks curiosity and encourages young readers to contemplate the profound questions that have shaped human thought for centuries.
A delightful children's book by Daniel Manus Pinkwater that subtly introduces philosophical themes about individuality and the freedom to be oneself.
Through the story of Mr. Plumbean and his colorful house, young readers learn the importance of following one's own path in a world that often expects conformity.
An engaging story that helps children grasp fundamental philosophical concepts through Plato Pig's adventure in a world of ideas.
With humor and relatable scenarios, it makes philosophy accessible to young minds, encouraging them to ponder important questions in a fun and imaginative way.
A kid friendly introduction to philosophy that explores its practical applications and relevance in everyday life.
Through relatable examples and clear explanations, it shows young readers how philosophy can help them think critically, solve problems, and navigate the complexities of the world.
This book presents philosophy in a highly accessible and engaging format through the use of cartoons and witty dialogue.
It covers a wide range of philosophical topics, making complex ideas easy to understand, and is an excellent resource for children interested in exploring philosophy in a fun and approachable way.
A comprehensive introduction to both Eastern and Western philosophers, offering young readers a global perspective on philosophy.
Through stories and activities, it fosters an appreciation for the wisdom of philosophers from different cultures, encouraging kids to think critically about diverse ideas and perspectives.
A comprehensive resource that simplifies complex philosophical concepts and ideas for young readers, making philosophy accessible and engaging.
Through clear explanations and stunning visuals, it covers the key theories, philosophers, and themes, allowing children to explore the world of philosophy with ease.
This book uses the beloved characters Frog and Toad to introduce young readers to philosophical ideas in a charming and relatable way.
It offers simple yet profound insights into friendship, ethics, and the human experience, making it an excellent introduction to philosophical concepts for kids.
An interactive and thought-provoking book that encourages children to ask philosophical questions about the world around them.
With engaging scenarios and activities, it stimulates critical thinking and wonder in young minds, inspiring them to explore the depth of their own curiosity.
A collection of books designed specifically for children, introducing them to fundamental philosophical concepts. With titles like "Truth with Socrates" and "Happiness with Aristotle," this box set offers young readers an accessible way to explore philosophical ideas from a young age.
This book presents philosophical questions in a way that children can relate to, inviting them to ponder the mysteries of life and the universe.
Through a series of thought-provoking questions, it encourages young thinkers to engage with profound ideas and consider their own perspectives on the world.
If you are looking for a social emotional homeschool curriculum (SEL) check out HeyKiddo.
Last Updated on 1 November 2023 by homeschoolof1