Reindeer Scavenger Hunt Clues (free printable)
Get ready for a delightful holiday adventure with our reindeer scavenger hunt clues.
These fun clues will lead your little ones on a cheerful quest to find Santa's reindeer.
As they follow these clue cards, the excitement and joy will grow, creating wonderful holiday memories this festive season.
You'll see their eyes light up with joy as they solve each clue, bringing them closer to finding all of Santa Claus's reindeer.
This engaging activity is a perfect addition to your list of Christmas activities for kids. Let the hunt begin and make this Christmas season extra magical for your children!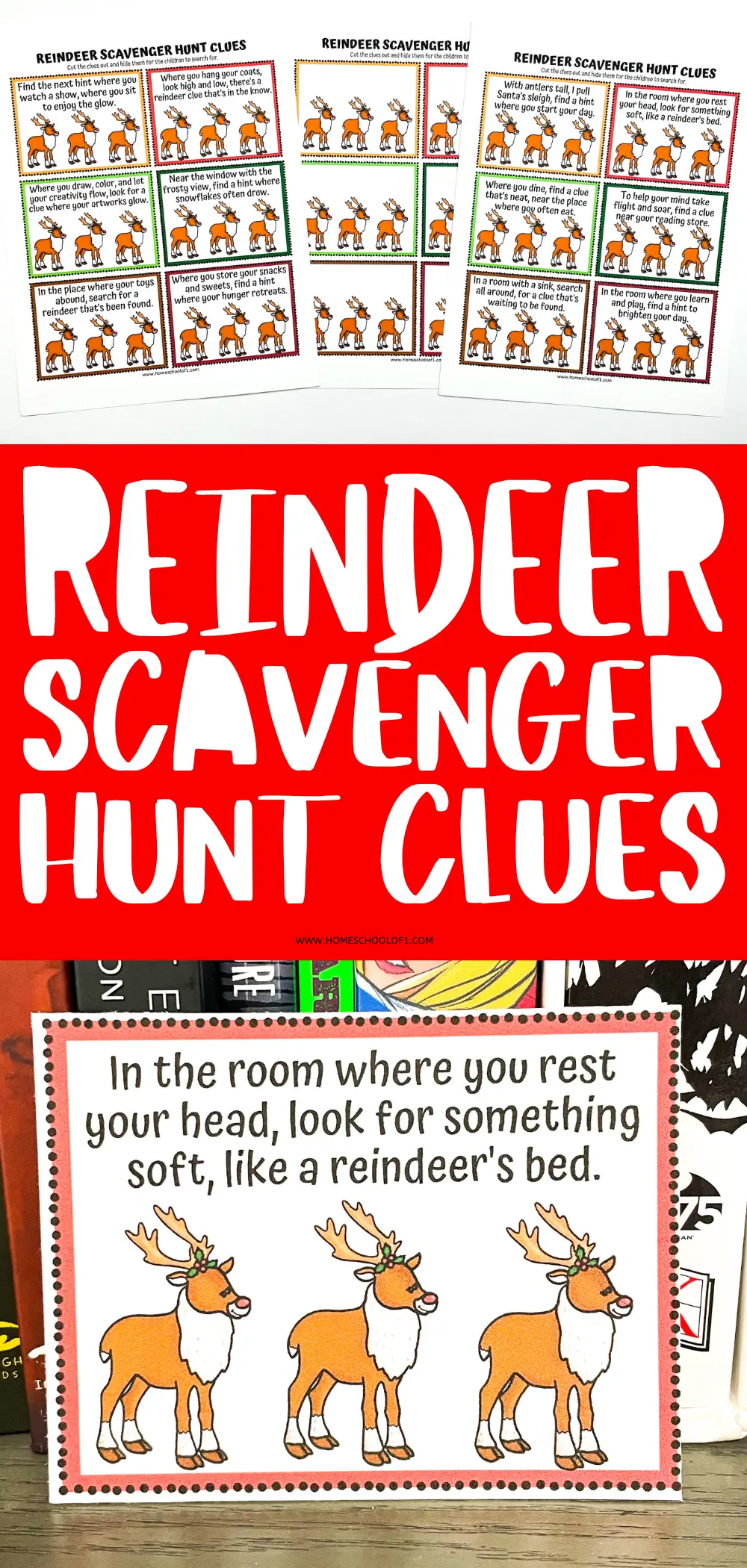 **There may be affiliate links in this post. You can read my full disclosure at the bottom of the page.**
How to use the holiday scavenger hunt clues
These Christmas scavenger hunt clues are free for personal use and classroom use only. Scroll to the bottom of the page to get the free pdf file.
There are 12 rhyming clues to print out, plus 6 blanks where you can add your own. All of these clues lead to somewhere in either your home, or in the classroom.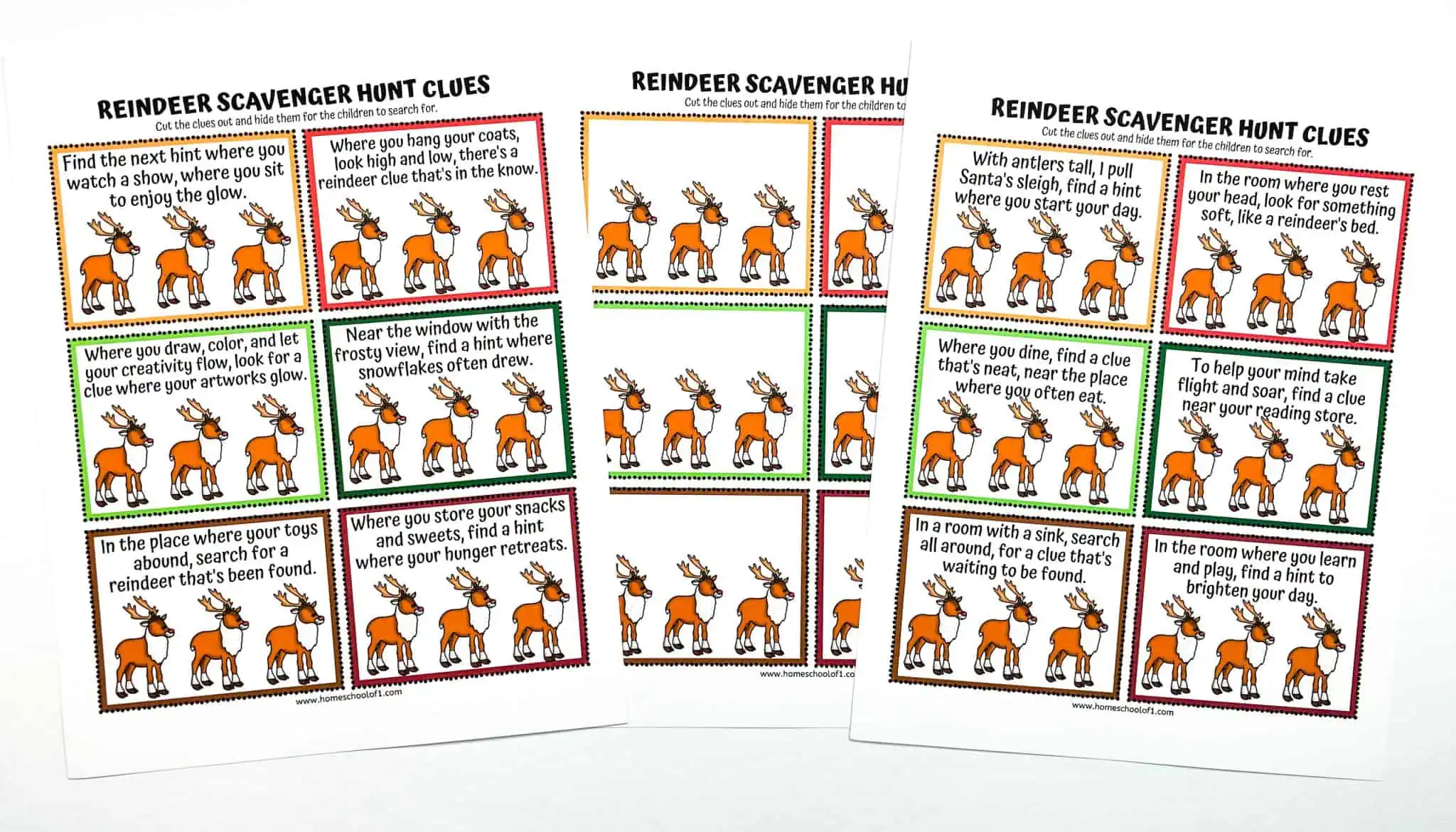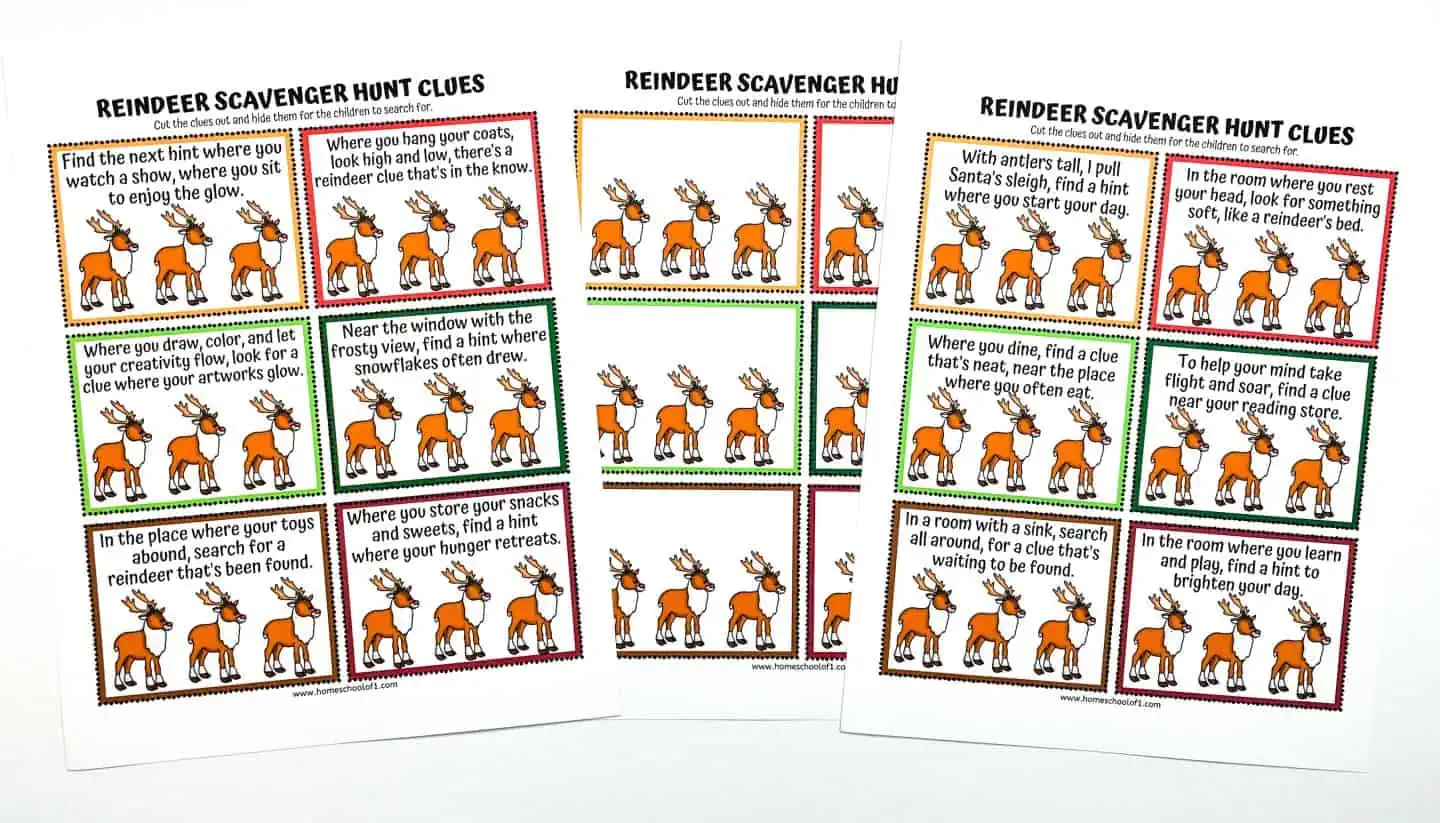 Print them out on white card stock, if you are using them in the classroom I highly recommend laminating the clues.
Cut out all 12 clues and hide them in different locations for the kids to find.
If you are playing with a big group of children split them up into teams of older kids and younger kids. That way the older children can read the clues.
Give the children the first clue to start the adventure. This will lead them to the next clue, all the way until they have found all of the clues and got their treat.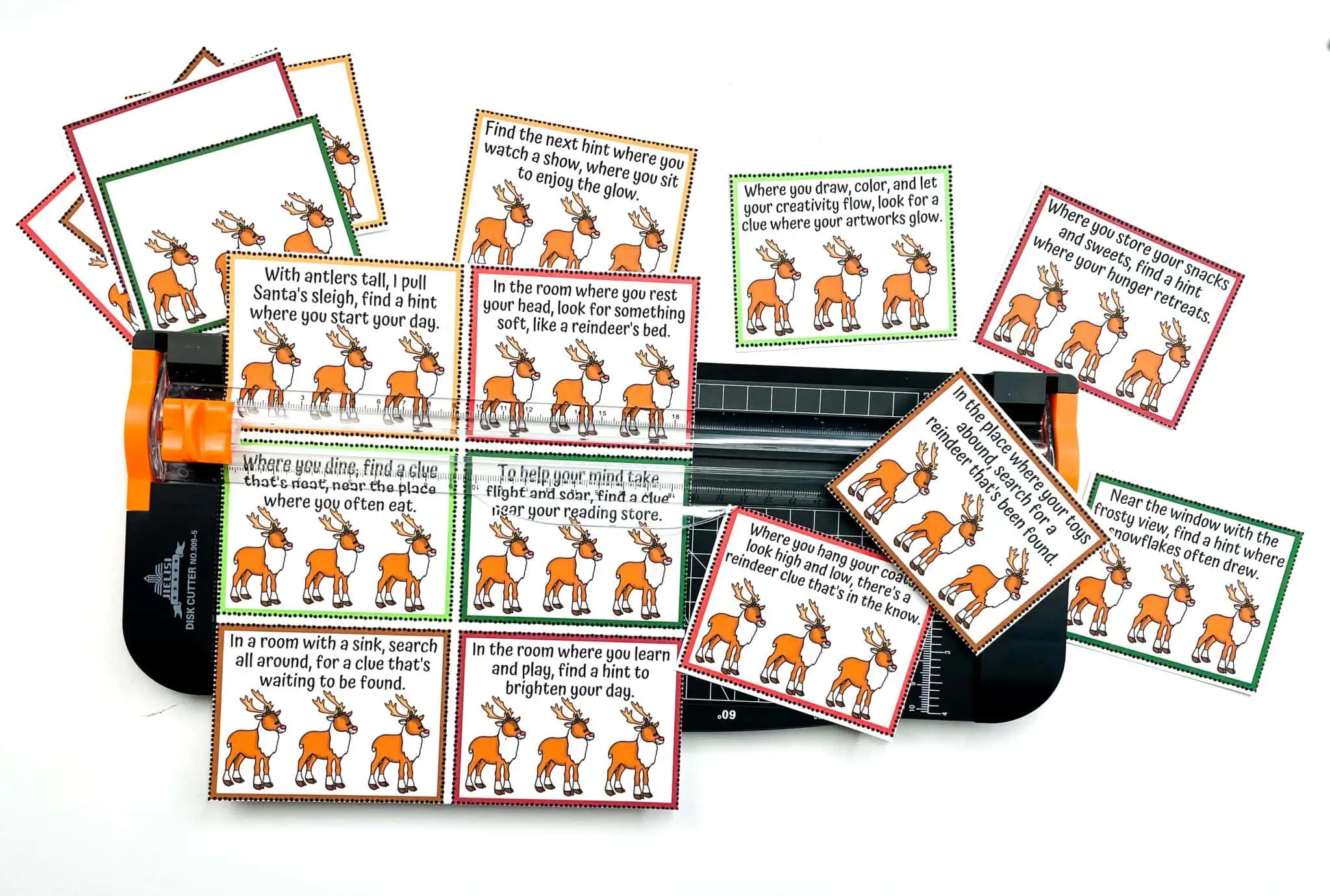 You will also enjoy our Christmas treasure hunt clues.
Reindeer rhyming clues for the reindeer hunt
These are the list of riddles, but you can always add your own too. I have added some ideas on hiding places for each clue in parentheses:
With antlers tall, I pull Santa's sleigh, find a hint where you start your day. (Home: Near the front door where you put on your shoes. Classroom: Near the entrance where you hang your coats.)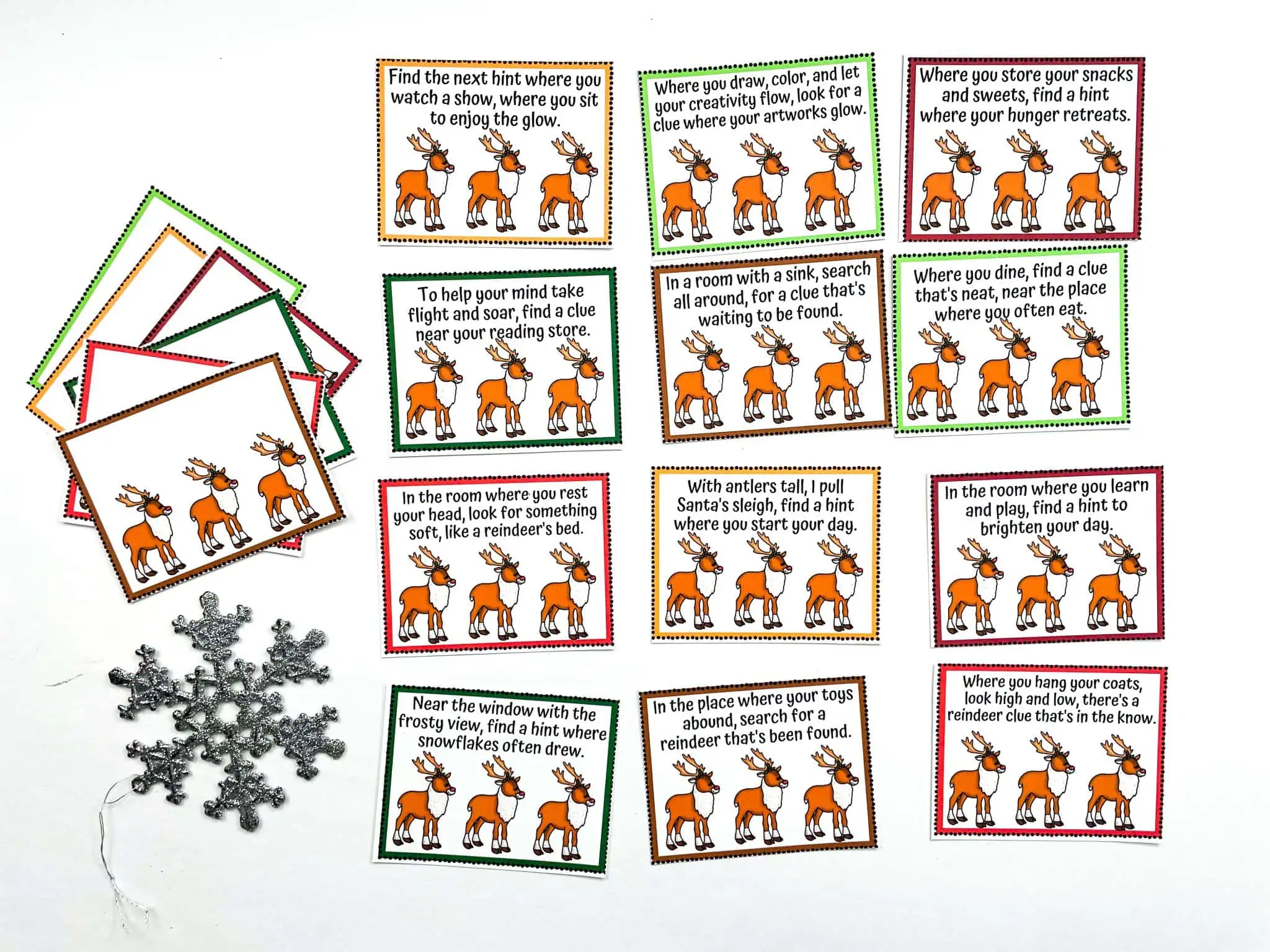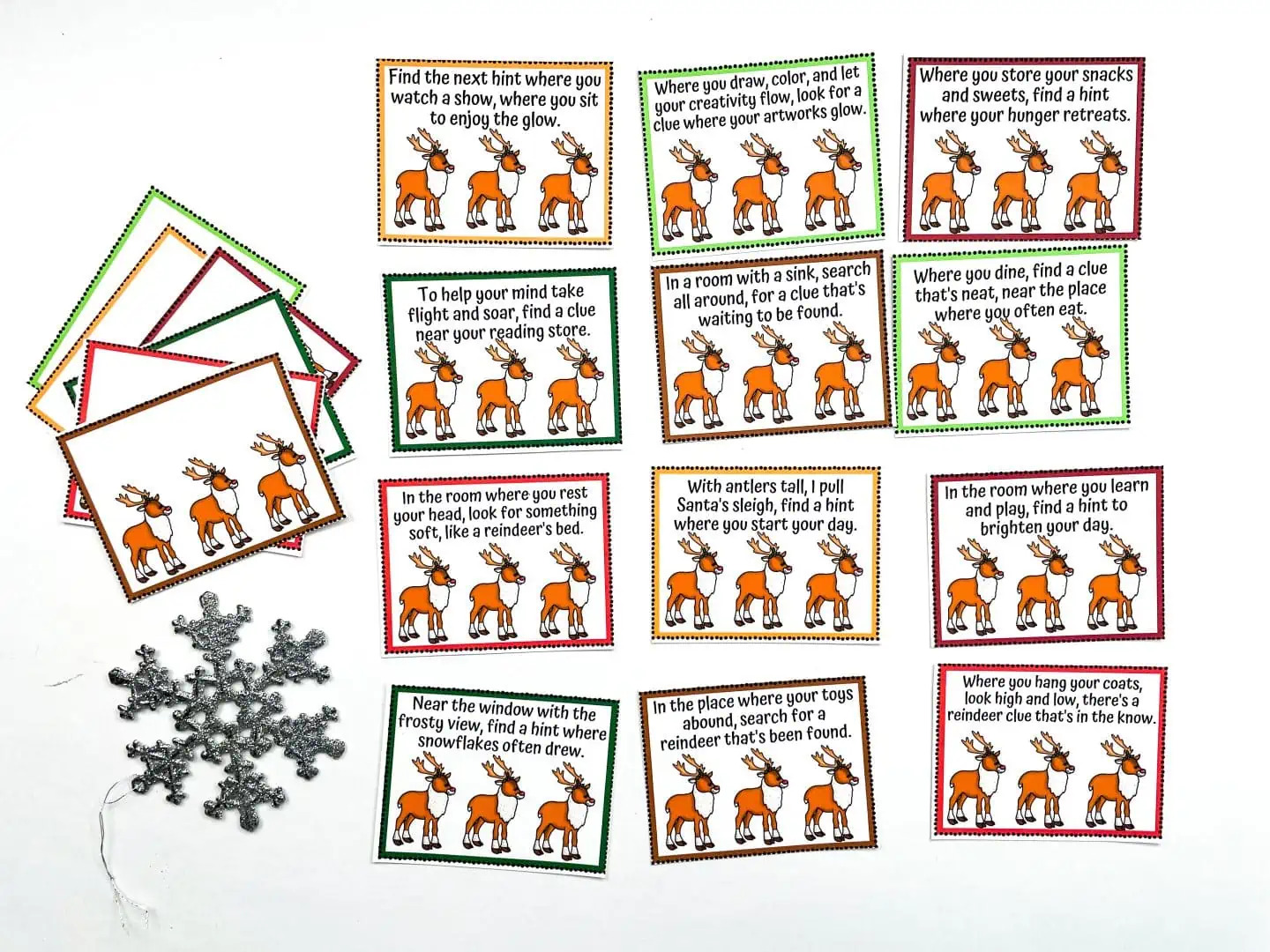 In the room where you rest your head, look for something soft, like a reindeer's bed. (Home: Under the pillows on the bed. Classroom: In the cozy reading nook with cushions and blankets.)
Where you dine, find a clue that's neat, near the place where you often eat. (Home: By the dining table or on a dining chair. Classroom: Near the lunch tables or snack area.)
To help your mind take flight and soar, find a clue near your reading store. (Home: By the bookshelf. Classroom: By the classroom bookshelf or reading corner.)
In a room with a sink, search all around, for a clue that's waiting to be found. (Home: In the bathroom near the sink. Classroom: By the classroom sink or water fountain.)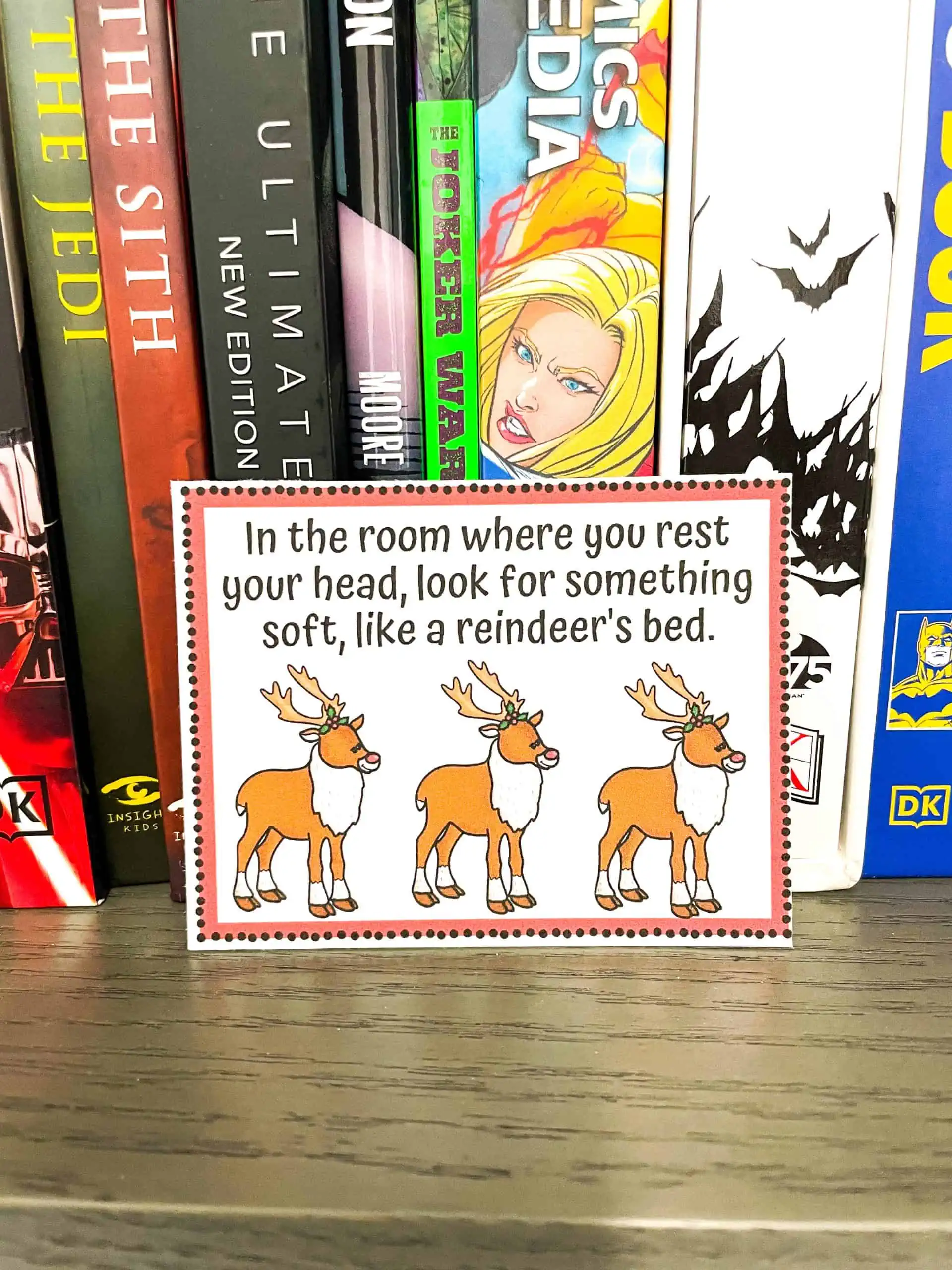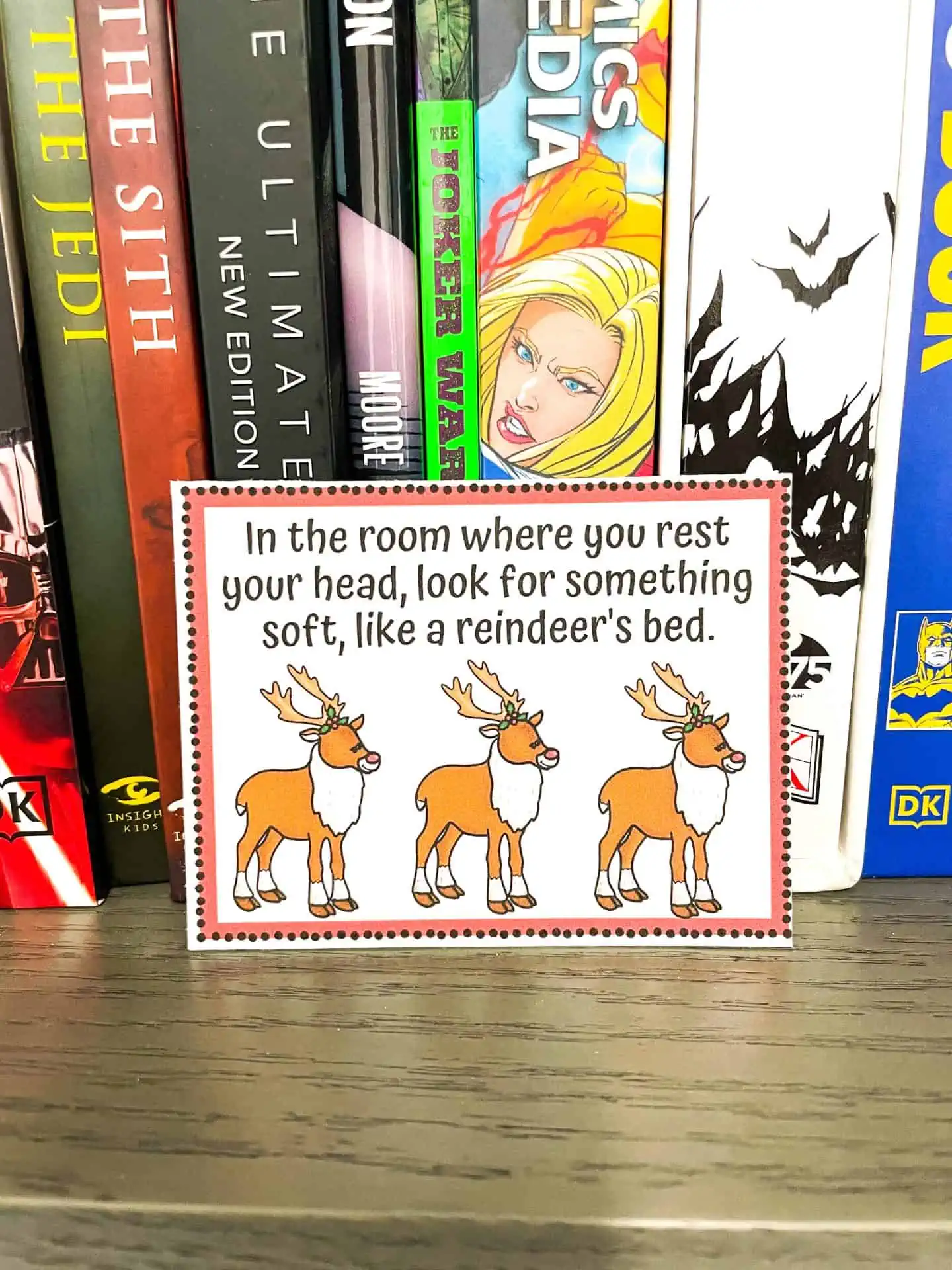 In the room where you learn and play, find a hint to brighten your day. (Home: In the children's playroom or study area. Classroom: In the classroom play and learning area.)
Find the next hint where you watch a show, where you sit to enjoy the glow. (Home: Near the TV or entertainment center. Classroom: In the area where students gather for group activities or presentations.)
Where you hang your coats, look high and low, there's a reindeer clue that's in the know. (Home: Near the coat hooks or rack. Classroom: Near the coat hooks or cubbies for backpacks.)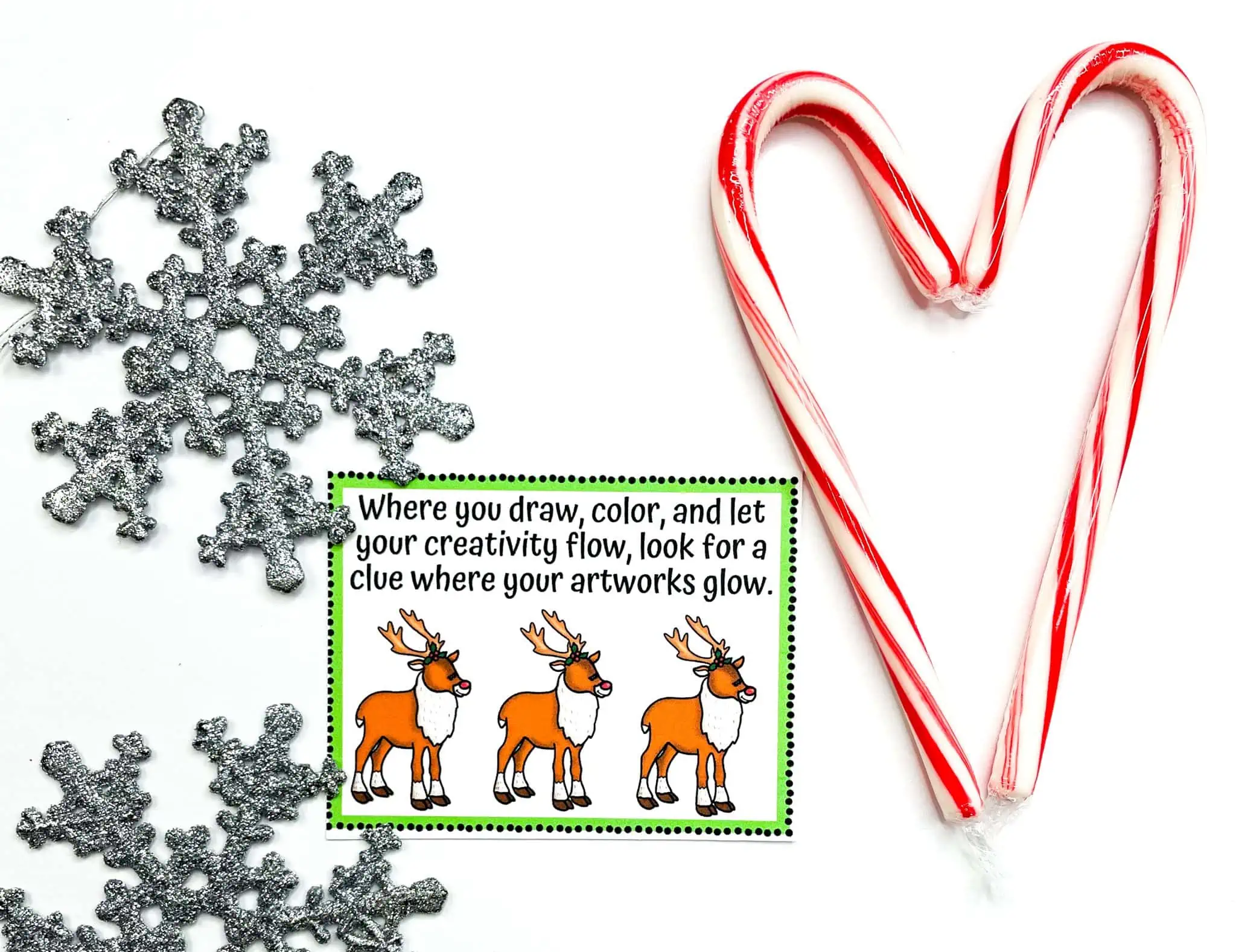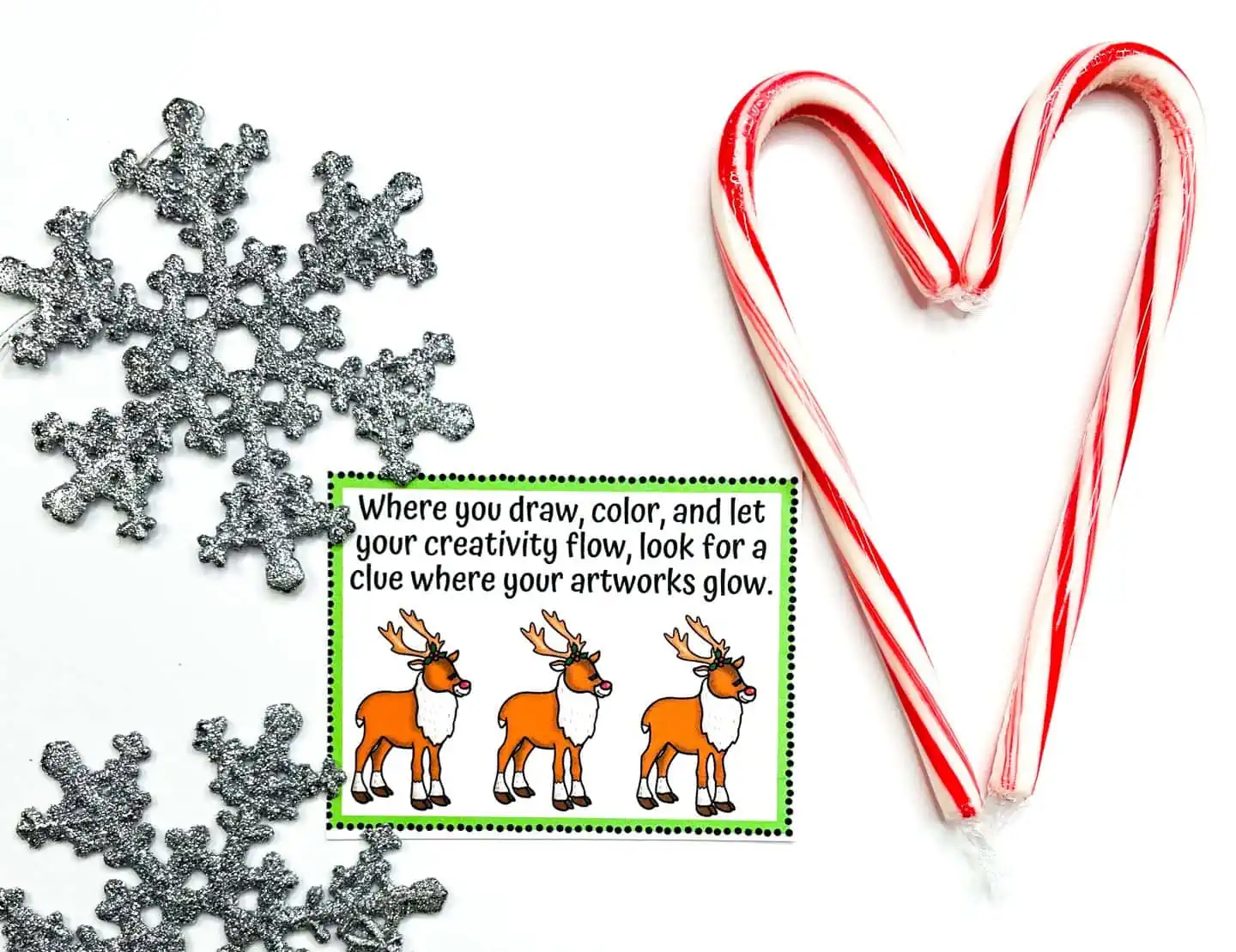 Where you draw, color, and let your creativity flow, look for a clue where your artworks glow. (Home: By the art supplies or the kids' art corner. Classroom: Near the art supplies and student artwork display.)
Near the window with the frosty view, find a hint where snowflakes often drew. (Home: By a window where you can see outside. Classroom: Near a window with a winter-themed display.)
In the place where your toys abound, search for a reindeer that's been found. (Home: In the playroom or near the toy chest. Classroom: In the play area with toys and games.)
Where you store your snacks and sweets, find a hint where your hunger retreats. (Home: In the kitchen near the pantry or snack drawer. Classroom: Near the classroom snack area or storage for treats.)
You will also enjoy our Elf on the Shelf scavenger hunt.
Prizes for the winner
At the end of the hunt make sure to leave some Christmas treats. Here are some fantastic ideas to bring extra joy to the lucky winner:
a candy cane
Consider wrapping small holiday gifts like mini ornaments, holiday-themed stickers, or festive trinkets to make the prize even more special.
These prizes will not only make the winner's day but also add a little extra magic to your holiday party.
Reindeer books for kids
Why not finish the hunt with a fun family read aloud with some of our favorite reindeer books:
You will also enjoy our Christmas photo scavenger hunt.
Tips for downloading the free files
Below you will see a large sign-up box where you need to add your name and email address, and press I NEED THIS NOW!
Within minutes you will be sent the free PDF directly to your email address, so you can print it out and start using it immediately.
Sometimes emails get a little wonky, so if you can't see it, please check your spam folder where I am sure it is hiding.
Download the free Christmas scavenger hunt riddles
Make sure you choose the correct paper size and click on the shrink to fit button. All of our free printables for kids work better when printed on cardstock (this is the one we use and love.)
Last Updated on 25 November 2023 by homeschoolof1