39 Best Free Homeschool Science Curriculum Resources
Explore a range of the best free homeschool science curriculum options that make learning science an exciting and budget-friendly adventure.
These resources provide engaging lesson plans, hands-on experiments, interactive worksheets, and online materials that span various scientific fields like earth science, life science, environmental science, and general science.
They are perfectly designed for learners of all ages, helping you provide a comprehensive science education to your kids.
The best part?
These resources are free, allowing you to make science education accessible and enjoyable right from your homeschool. Carry on reading to discover the best homeschool science curriculum resources that won't cost you a penny.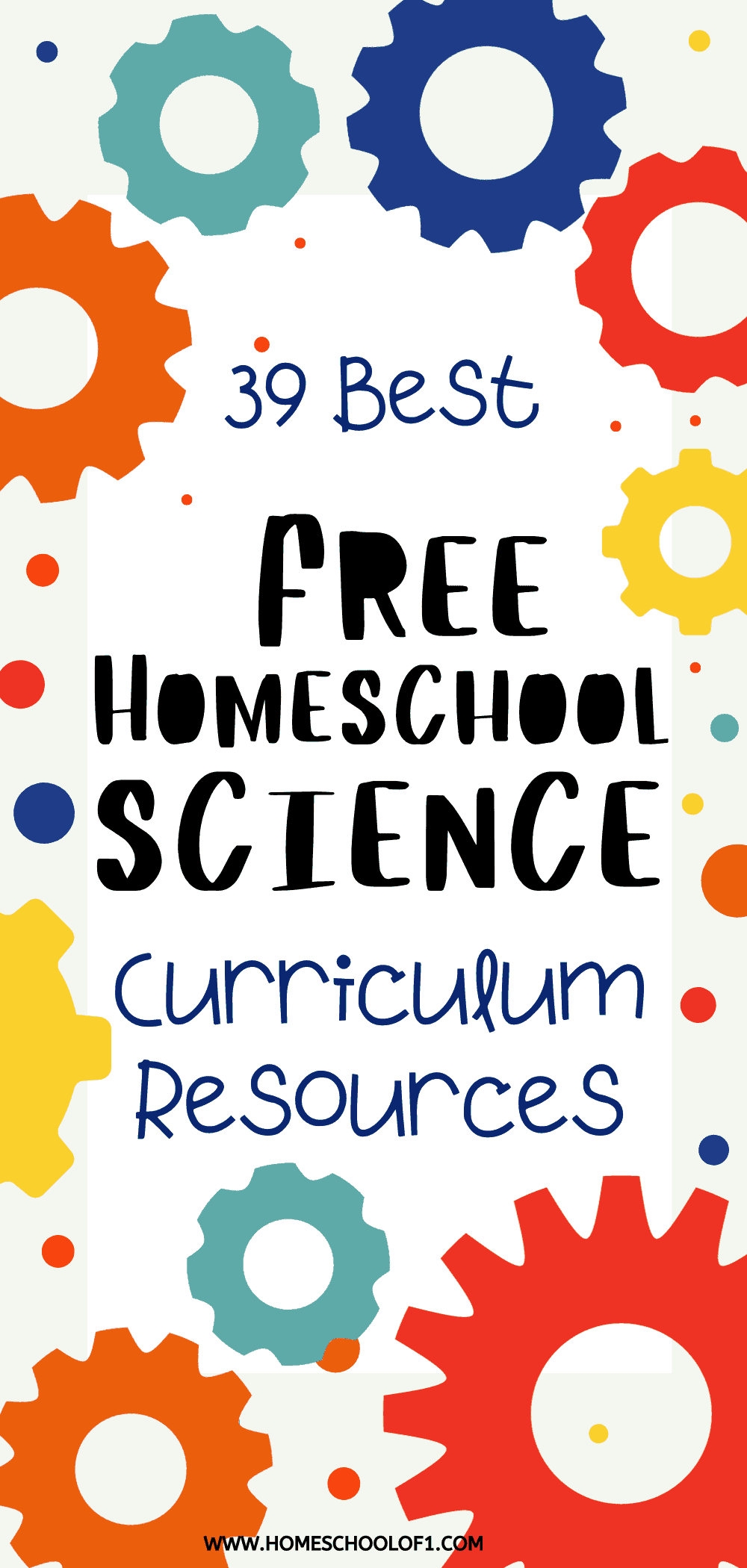 **There may be affiliate links in this post. You can read my full disclosure at the bottom of the page.**
Free science curriculum
Get ready to dive into a world of free homeschool science curriculum options that are both exciting and budget-friendly.
These resources are filled with engaging lesson plans, hands-on experiments, interactive worksheets, and online courses to make your science learning journey a real adventure.
Get ready to discover a wide range of the best free homeschool curriculum choices that won't cost you a penny!
Whether you're a parent looking to supplement your child's education or a homeschooling family on a tight budget, these free science curriculum options offer a fantastic opportunity to spark curiosity and foster a love for science in learners of all ages.
Spectrum 4th Grade Science Workbooks, Ages 9 to 10, 4th Grade Science, Physical, Space, Earth, and Life Science, the History and Nature of Science With Research Activities – 144 Pages (Volume 64)
Skill Sharpeners Science, Grade 1
Steck-Vaughn Core Skills Science: Workbook Grade 5
Daily Science, Grade 3 Teacher Edition
Carson Dellosa The 100 Series: Biology Workbook—Grades 6-12 Science, Matter, Atoms, Cells, Genetics, Elements, Bonds, Classroom or Homeschool Curriculum (128 pgs) (Volume 3)
Mark Twain Earth & Space Science Interactive Books, Grades 5-8, Geology, Oceanography, Meteorology, and Astronomy Books, 5th Grade Workbooks and Up, … Homeschool Curriculum (Interactive Notebook)
Free printable science curriculum
Here at Homeschool of 1, we have put together lots of free printable science worksheets for you to use. These are our top 5 most downloaded:
Free online science curriculum
Dive into the world of science education without spending a dime. Explore a wide array of free online resources, each offering a diverse range of options to cater to learners of all ages.
Mark Twain General Science Activity Book, Science for Kids Grades 5-8, Physical, Life, and Earth Science Books, 5th Grade Workbooks and Up, Classroom … Curriculum (Volume 3) (Daily Skill Builders)
School Zone – Big Science Workbook – 320 Pages, Ages 7 to 9, 2nd Grade, 3rd Grade, Weather, Seeds, Plants, Insects, Mammals, Ocean Life, Birds, and More (School Zone Big Workbook Series)
DK Workbooks: Science, Third Grade: Learn and Explore
How to Be Good at Science, Technology and Engineering Workbook, Grades 2-5 (DK How to Be Good at)
180 Days of Science: Grade 6 – Daily Science Workbook for Classroom and Home, Cool and Fun Interactive Practice, Elementary School Level Activities … Challenging Concepts (180 Days of Practice)
Everything You Need to Ace Science in One Big Fat Notebook: The Complete Middle School Study Guide (Big Fat Notebooks)
Free science curriculum elementary
Explore the wonders of elementary-level science with these free, engaging resources. These materials offer an exciting journey into the natural world, fostering curiosity and understanding.
From interactive games to hands-on experiments, the adventure of learning begins here.
YAPA Kids: Offers engaging elementary-level science curriculum to foster scientific curiosity in younger children.
National Geographic Kids: Immerse young learners in captivating science content tailored for grades K-6, courtesy of the renowned National Geographic. These resources combine fun and education to create a memorable learning experience.
24/7 Science: Elevate elementary school science education through interactive games suitable for grades K-6. These games turn learning into a thrilling adventure, making science both enjoyable and educational.
American Chemical Society: Perfect for hands-on chemistry exploration, designed for 3rd grade – 6th grade. It promotes inquiry-based learning, allowing students to actively explore and understand the fascinating world of chemistry.
National Wildlife Federation: Immerse young learners in animal science adventures tailored for grades K-6. This curriculum fosters a deep connection with the natural world, making science an engaging and memorable experience.
Sublime Science: Dive into the world of 101 free science experiments. This resource is perfect for sparking curiosity and creativity in elementary students, providing hands-on learning opportunities.
BBC Terrific Science: These resources are designed to foster a sense of wonder and encourage exploration in young minds.
Teach Engineering: Where you can explore lessons that revolve around engineering design, sparking creativity and problem-solving skills.
School Science: Access a comprehensive array of science-related content suitable for various subjects and grade levels.
Periodic Table Videos: Discover the world of chemistry through engaging videos centered around the periodic table of elements. Making chemistry accessible and enjoyable.
Free science curriculum middle school
Unlock the world of middle school science with these exceptional free resources. Tailored for grades 4-8, these materials encourage critical thinking and exploration, providing a unique approach to scientific topics.
From anatomy to geography, these resources make learning engaging and accessible for middle school students.
See all of the best middle school homeschool curriculum top picks.
Free science curriculum high school
Get ready for high school science like never before with these fantastic free resources. Whether you're a homeschooling parent or a high schooler. These materials provide a world-class science education from the comfort of your home.
Dive into the exciting world of high school courses and prepare for exams with confidence.
These are the best homeschool curriculum for high school science, and they are free:
MIT Open Course: Unleash the power of high school science education with free resources from the prestigious MIT. Offering an array of high school level science materials for grades 9-12. This resource is designed to expand your knowledge and provide a world-class education right from your home.
Modern States: Provides a comprehensive high school science curriculum and resources, helping students prepare for advanced education and examinations.
The Physics Classroom: A high school program designed to make physics concepts accessible and understandable for students at this level.