Winter Word Scramble Free Printable (with answer key)
Get ready to embrace the chilly charm of the season with our winter word scramble free printable!
With 13 delightful winter themed words waiting to be unscrambled. It's a fun way to warm up your mind on cold days, and a great way to spend winter break.
And just in case you find yourself stumped, fear not, because we've included the answers in the download.
We have created an easier and harder version of this winter word scramble. Perfect for upper elementary and middle school kids.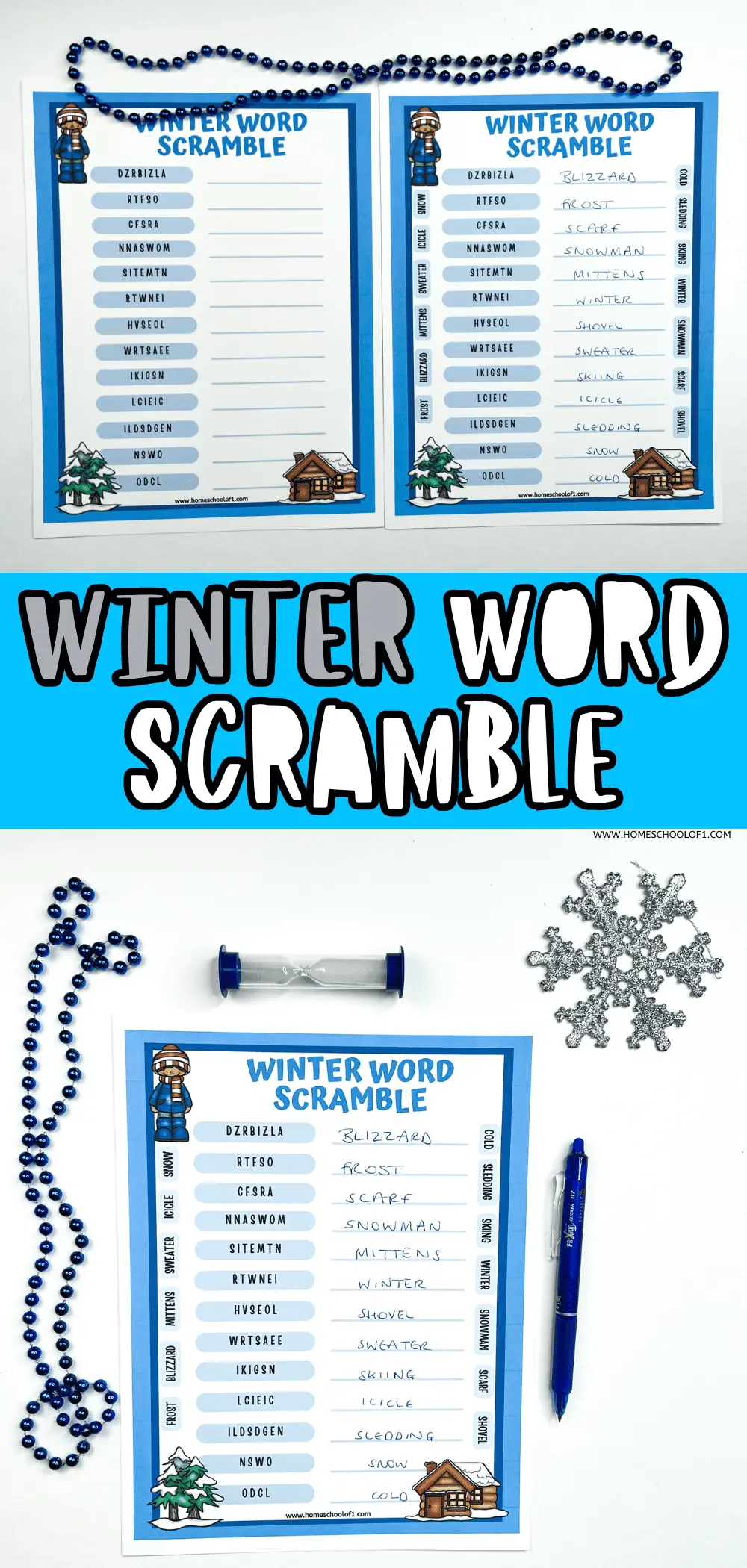 **There may be affiliate links in this post. You can read my full disclosure at the bottom of the page.**
These free word scramble printables are great either for the classroom, or homeschooling.
Unscramble the winter-themed words
This free printable winter word scramble game is free to print but is for personal use or classroom use only. Scroll to the bottom of the post to get the printable pdf file.
These free word scramble printables are perfect for both classroom and homeschooling settings, offering an engaging and educational activity.
This free printable winter word scramble game is available for personal or classroom use, and you can easily access the printable PDF file at the bottom of this post.
Designed to entertain elementary and middle school-aged kids, we've included two versions of the word game to cater to different skill levels. One version contains no hints, providing a challenging twist. While the other displays the actual words around the puzzle's sides, making it more accessible for younger kids.
Feel free to print as many copies as needed and have a blast unscrambling the words. Share your experiences and tell us which word gave you the most trouble in the comments below.
The first worksheet offers the easiest word scramble, with 13 words to uncover. In this version, you'll find the answer key written in blue around the sides, providing extra help for younger children.
For those seeking a more challenging experience, the second word scramble awaits. This version offers no answers at all, so kids must rely on their skills to unscramble the words. Here's a hint – all the words are related to the winter season! Enjoy the frosty word-solving adventure!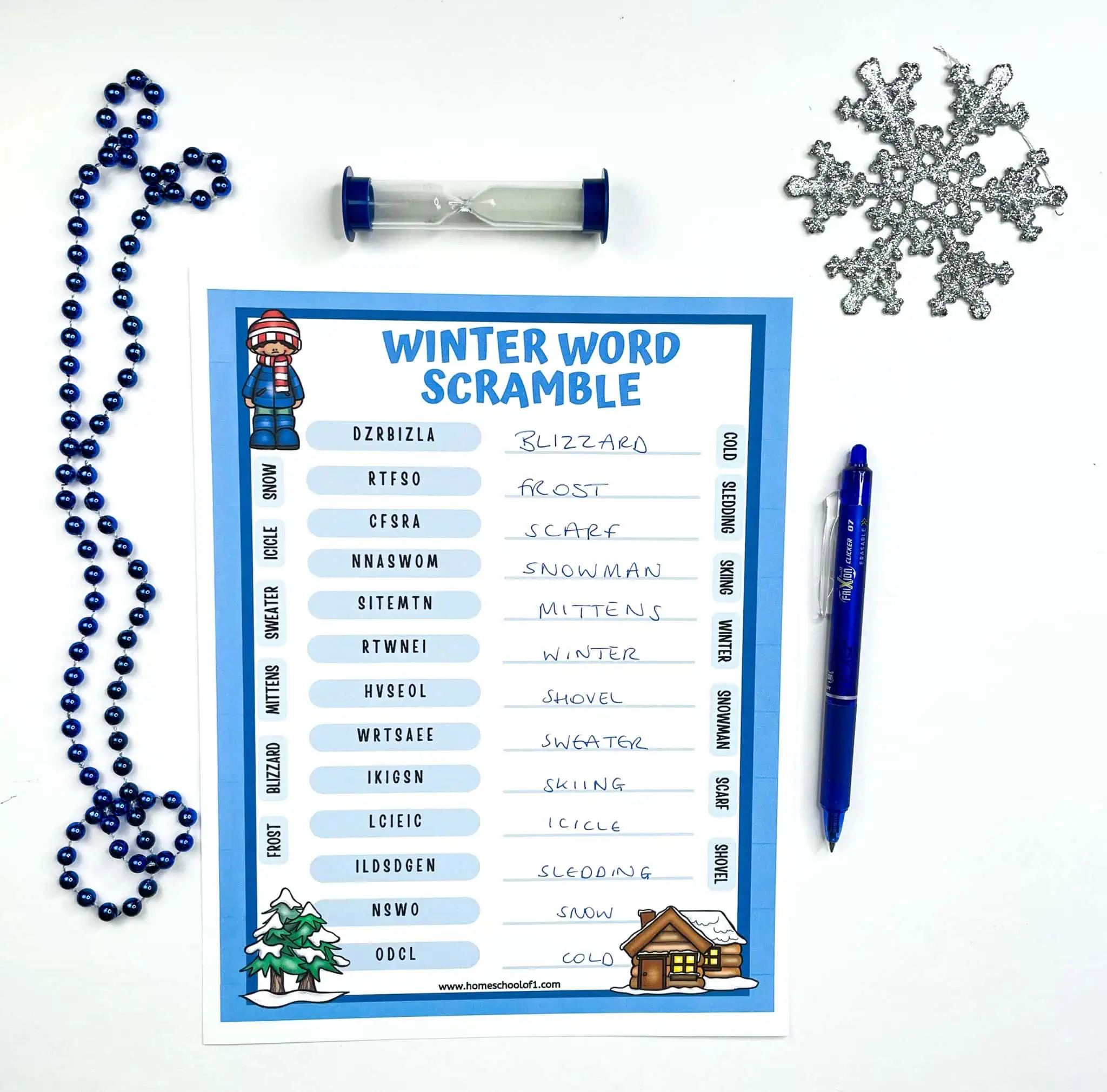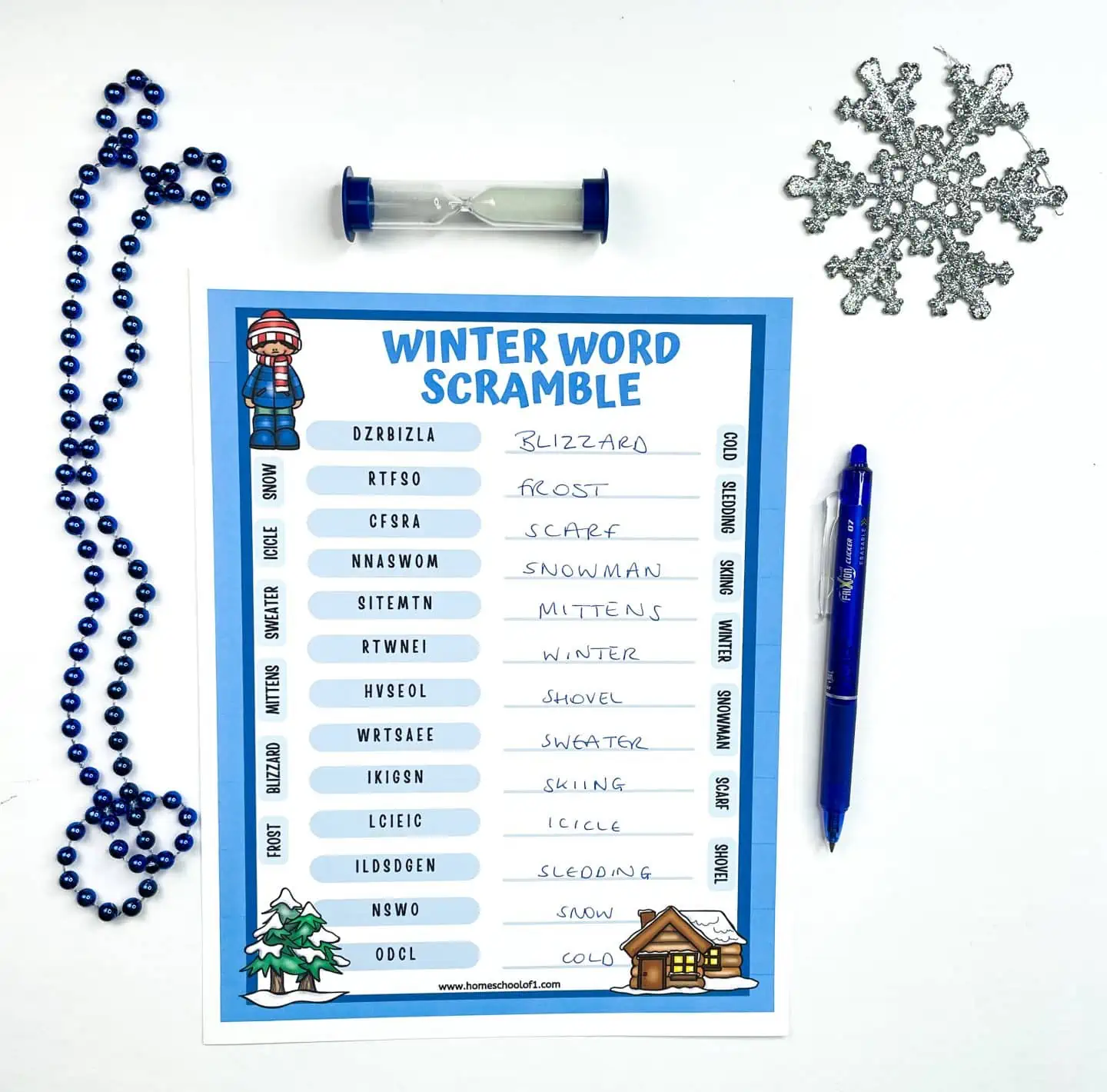 Winter word scramble word list
The 13 winter-related hidden words to find are:
Blizzard
Frost
Scarf
Snowman
Mittens
Winter
Shovel
Sweater
Skiing
Icicle
Sledding
Snow
Cold
This is such a fun indoor activity for kids of all ages. The kids will learn new vocabulary words, and improve their spelling skills. Plus it will make a great addition to your lesson plans this winter.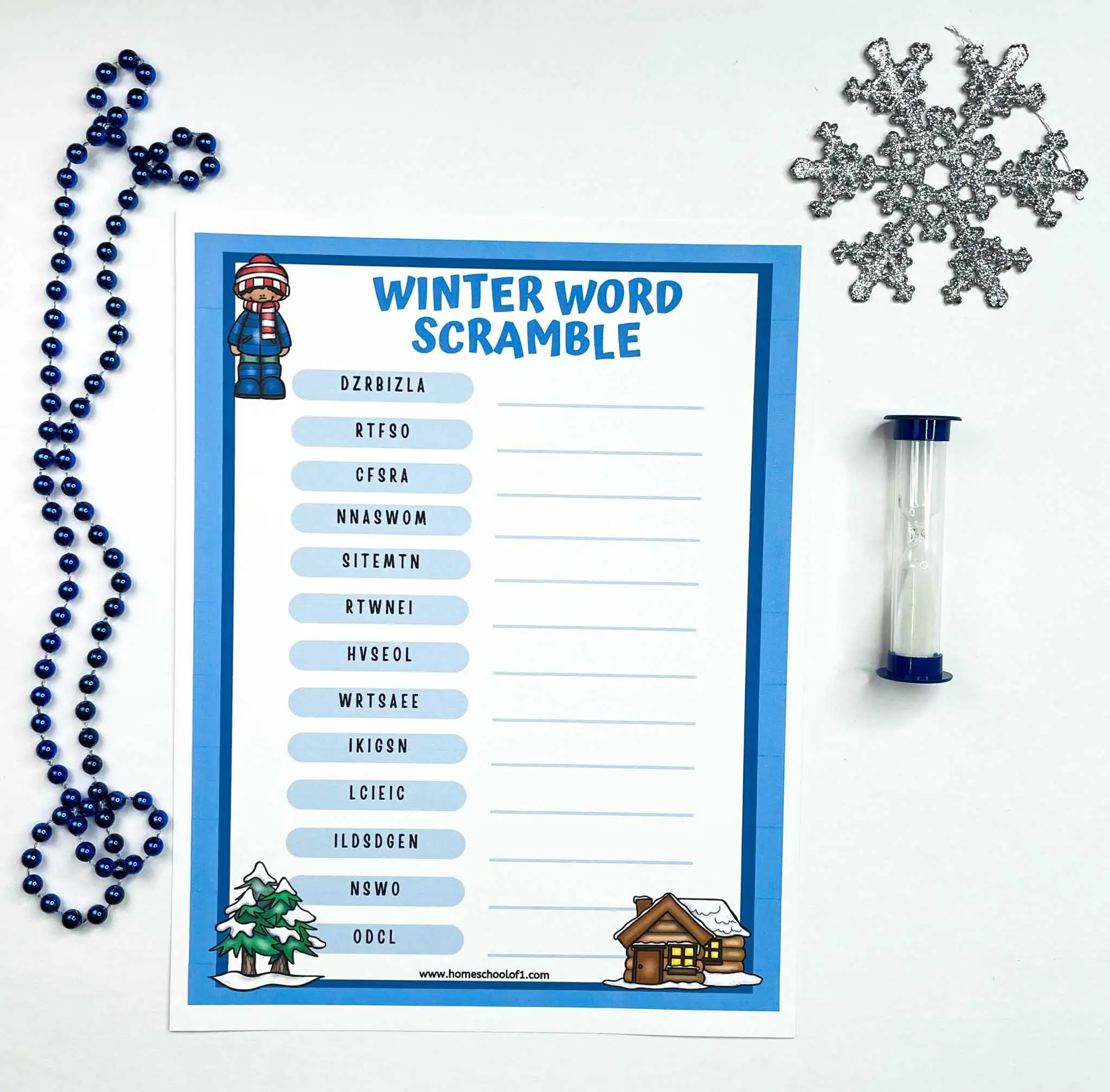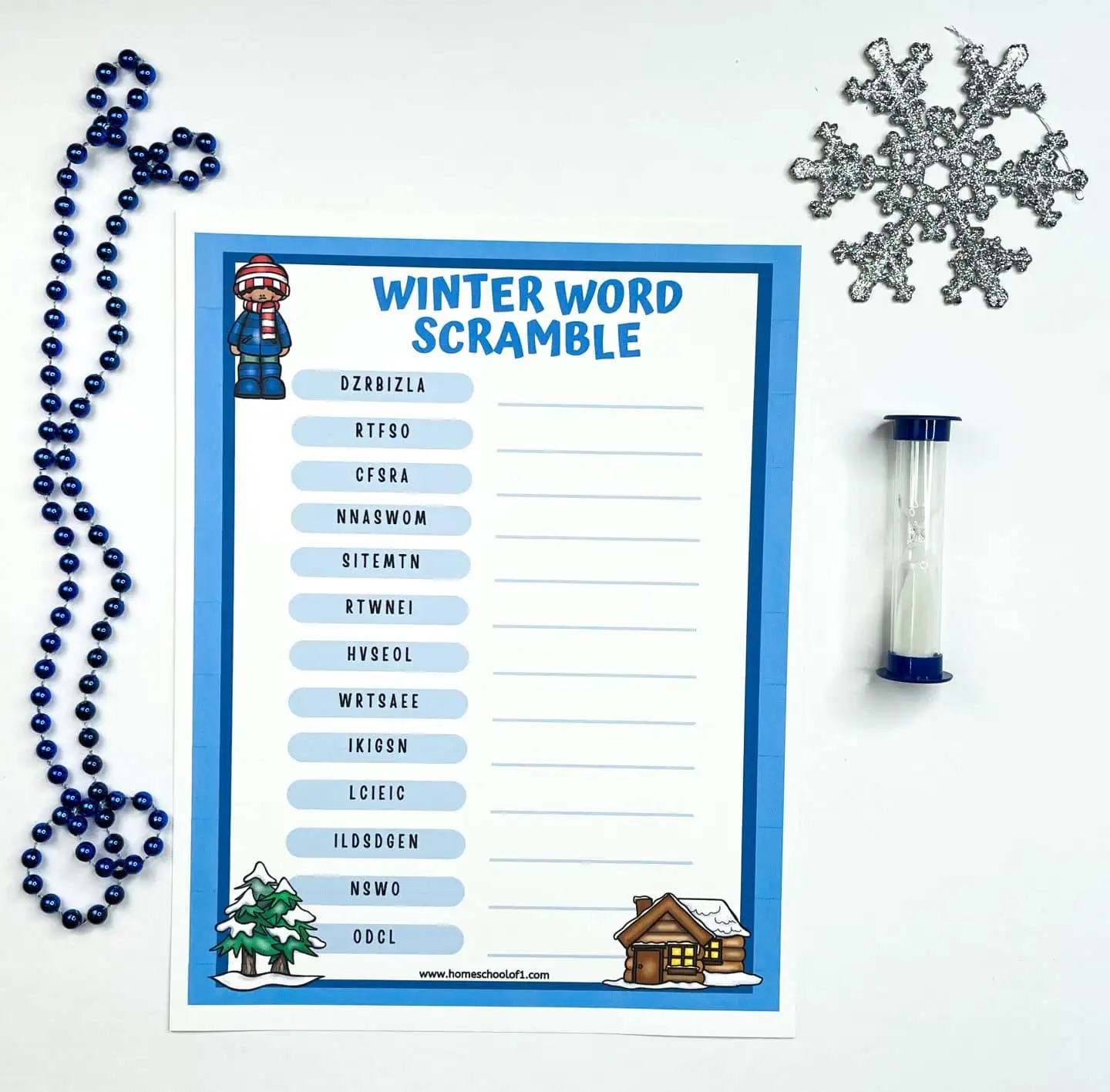 Tips for Solving Word Scramble Puzzles Quickly
Unscrambling word scramble games can be a fun and rewarding activity. Here are some tips to help you solve them more quickly:
Many words have common prefixes (e.g., un-, re-, pre-) and suffixes (e.g., -ing, -ed, -ly). Identify these first, and it can help you unlock other parts of the word.
Look for vowels (a, e, i, o, u) in the scrambled words. Vowels are often the core of a word, so finding them can be a significant step towards solving the puzzle.
Some letter combinations appear frequently in the English language, like "th," "ch," "sh," and "qu." If you see these combinations in the jumble, rearrange them accordingly.
Begin by trying to unscramble shorter words. Once you've solved them, move on to the longer words.
If the puzzle is themed (like this winter word scramble), use the theme to your advantage. Think of related words, and it might help you unscramble some letters.
Pen and paper can be your best friends. Write down the scrambled letters and play around with different combinations. This can help you visualize the possibilities.
If you're stuck on a challenging word, take a short break. Sometimes, stepping away and returning with fresh eyes can make the solution more apparent.
Like any skill, unscrambling words becomes easier with practice. The more word scramble puzzles you solve. The better you'll become at spotting patterns and unscrambling words quickly.
You will also love these winter themed board games.
Additional winter fun activities
In addition to our exciting winter word scramble, we've got even more chilly-season adventures waiting for you!
Explore your creative side with our winter mad libs printable, where you can fill in the blanks with wacky words to create hilarious and unique stories.
And if you're up for a challenge, take on winter scattergories, a fast-paced word game that will test your winter knowledge and quick thinking. It's all about having a blast in the winter wonderland of words!
For even more winter wordplay check out the free printable winter word search.
Tips for downloading the free files
Below you will see a large sign-up box where you need to add your name and email address, and press I NEED THIS NOW!
Within minutes you will be sent the free PDF directly to your email address, so you can print it out and start using it immediately.
Sometimes emails get a little wonky, so if you can't see it, please check your spam folder where I am sure it is hiding.
Download the free winter word scramble worksheet
Make sure you choose the correct paper size and click on the shrink to fit button. All of our free printables for kids work better when printed on cardstock (this is the one we use and love.)
Last Updated on 27 November 2023 by homeschoolof1