Free Santa Scavenger Hunt Printable
Have fun this Christmas season with our free Santa scavenger hunt printable.
Looking for a festive and fun activity to keep the little ones entertained this holiday season? We've got just the thing!
Our Santa scavenger hunt printable is a delightful adventure that will add a sprinkle of Christmas magic to your home or classroom.
Can the children find the 12 missing Santas?
Add this game to your fun Christmas activities for kids this December.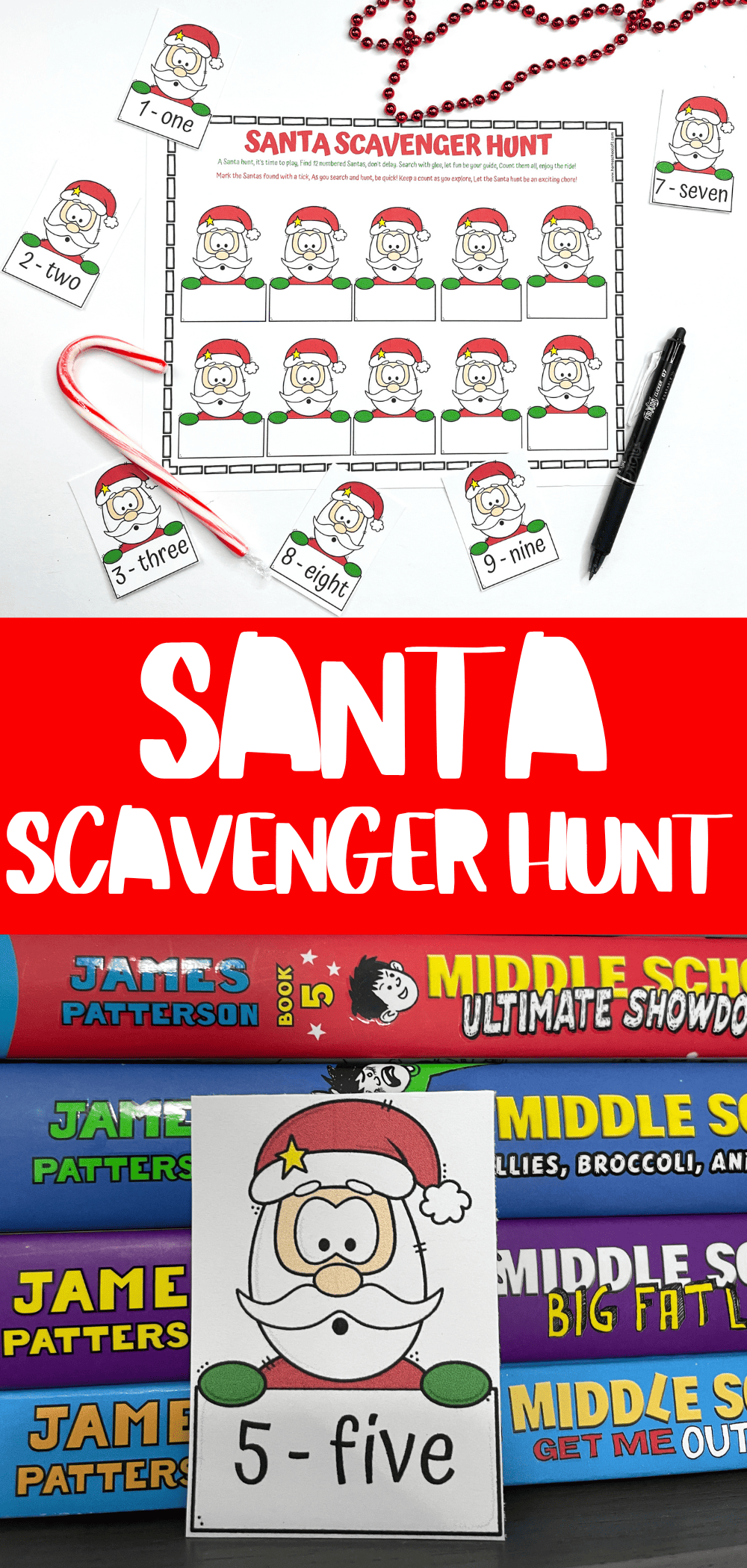 **There may be affiliate links in this post. You can read my full disclosure at the bottom of the page.**
Setting up the Santa's scavenger hunt
Our free Father Christmas scavenger hunt printable is the perfect addition to your festive toolkit, offering a wonderful activity for kids at home or in the classroom.
On the first page, you'll find a set of 12 numbered Santas, each accompanied by the corresponding written numerals (1-one, 2-two, and so on).
These can be easily cut out and strategically hidden around your chosen location. This clever twist on a traditional scavenger hunt is sure to captivate the children's imagination and engage them in a delightful challenge.
The second page introduces the heart of the activity, complete with a charming rhyme at the top to set the holiday mood. As children embark on their Santa-seeking adventure, they will mark each discovered Santa with a checkmark.
It's more than just fun; it's an opportunity to enhance their counting skills, encourage cooperation, and infuse the holiday atmosphere with a sense of wonder.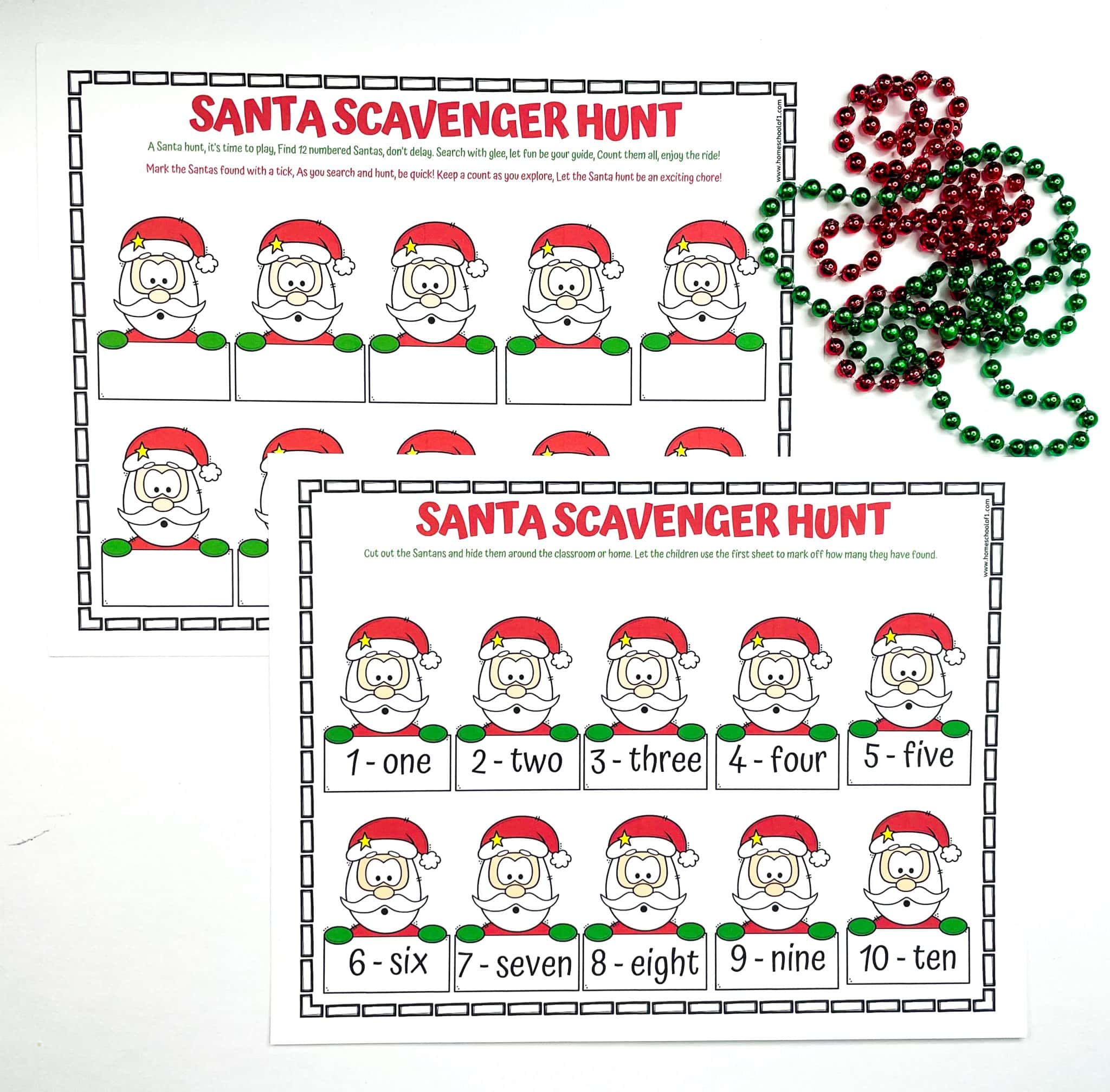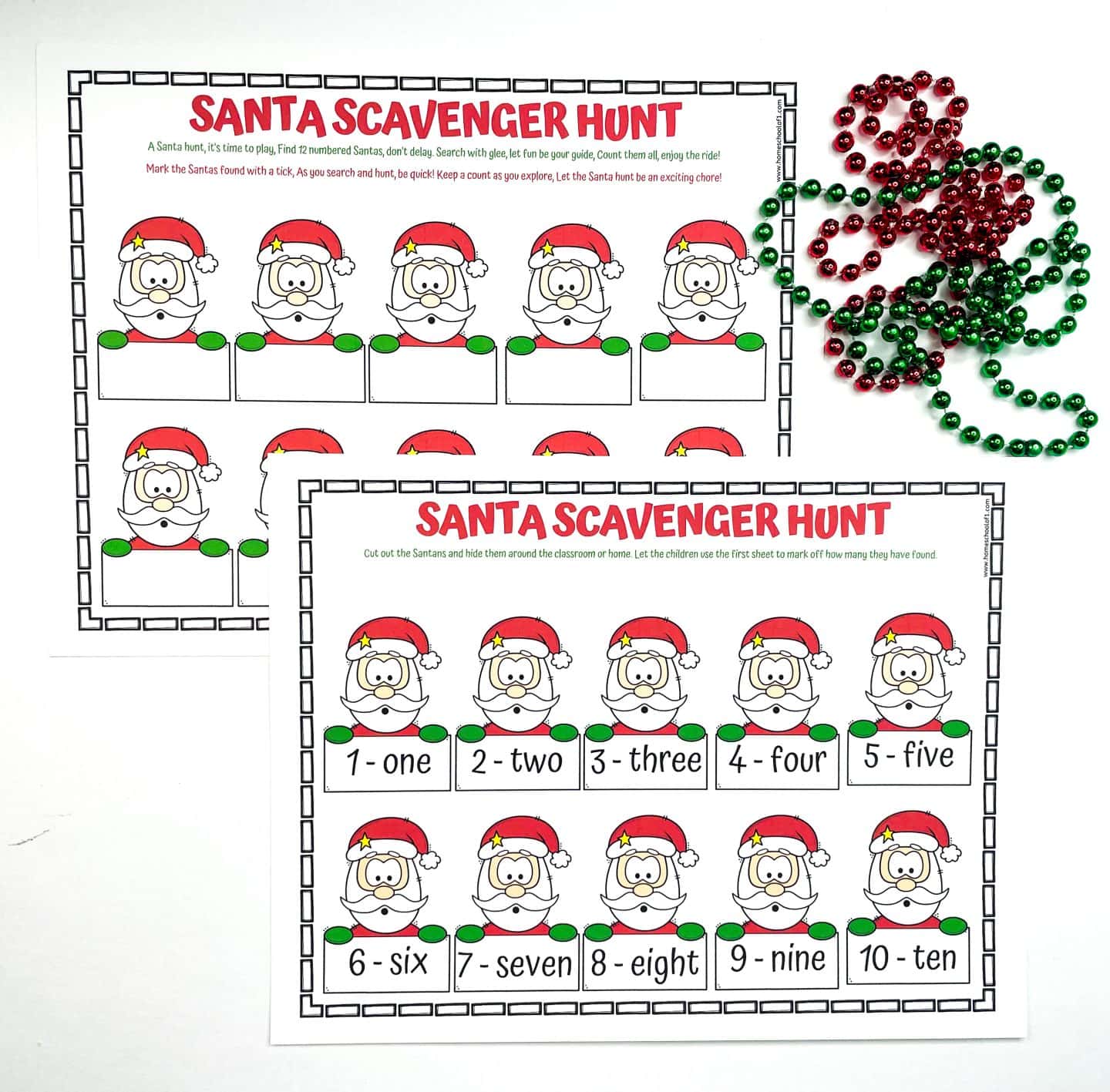 Sale
Outset Media Christmas Scavenger Hunt Game – Includes 220 Cards with Holiday Themed Objects Found Both Inside and Outside The Home (Ages 6+)
PLAY INDOOR OR OUTDOOR: Game includes an indoor deck and an outdoor deck of hunting cards.
EASY TO PLAY: Game includes 220 cards featuring items that players actively seek. Simply deal out some cards to each player and get hunting. It's that simple!
TEAM OR INDIVIDUAL PLAYERS: Play individually or you can divide up into teams for more a collaborative atmosphere.
GREAT FAMILY FUN: Fill your holiday celebrations with action and laughter! For 2 or more players ages 6 and up.
DEVELOPS GROSS MOTOR SKILLS: Kids will run around the entire house or neighborhood searching for festive objects.
How to play the Santa treasure hunt
This scavenger hunt is free for personal use and classroom use only. Scroll to the bottom of the page for the free pdf file.
Our Free Santa Scavenger Hunt Printable is a fantastic way to infuse the holiday season with excitement and learning for children. Here's a step-by-step guide on how to make the most of this delightful activity:
Begin by downloading the Santa hunt from the provided link. Save it to your device or print it out for immediate use.
Ensure you have all the necessary materials ready, including scissors, and a pen or marker.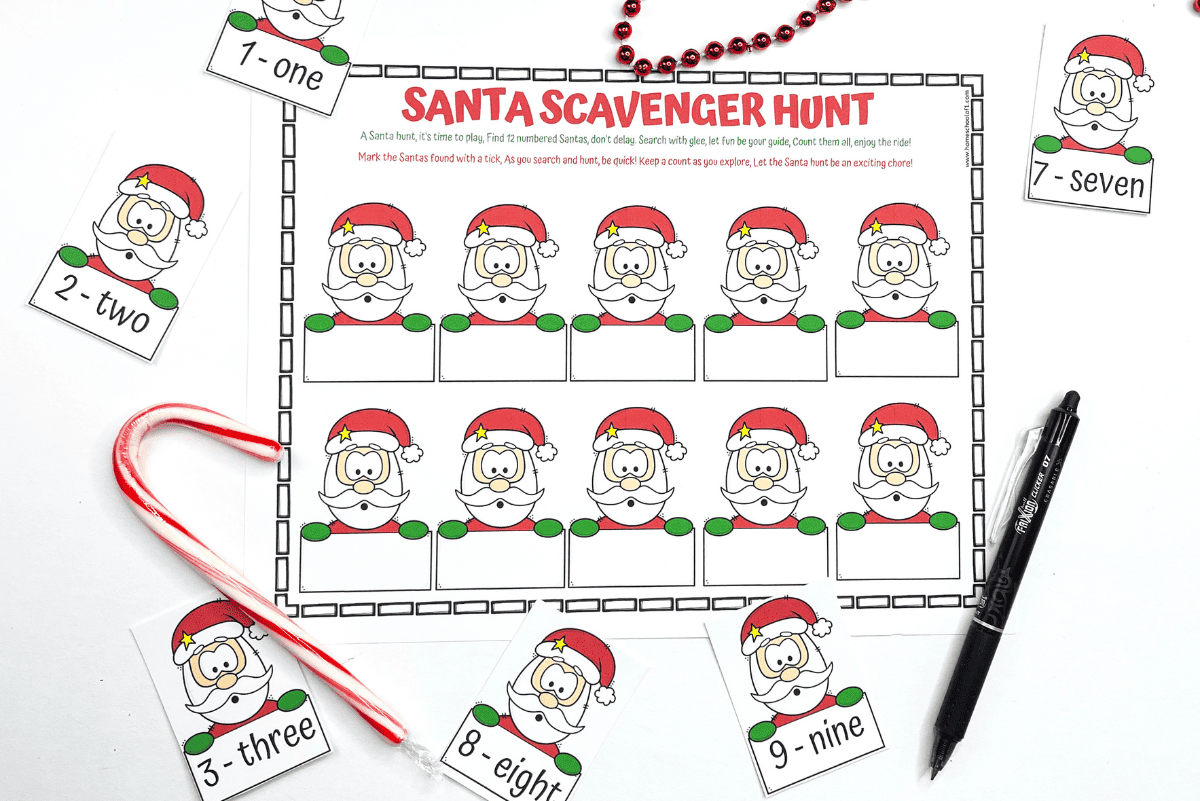 If you've downloaded the printable, print it out on standard-sized paper. You can use regular printer paper, cardstock for added durability, or even adhesive paper for a more convenient solution.
On the first page of the printable, you'll find 12 numbered Santas, each paired with the written numerals (1-one, 2-two, and so on). Use scissors to carefully cut out each Santa. These are the items that will be hidden for the scavenger hunt.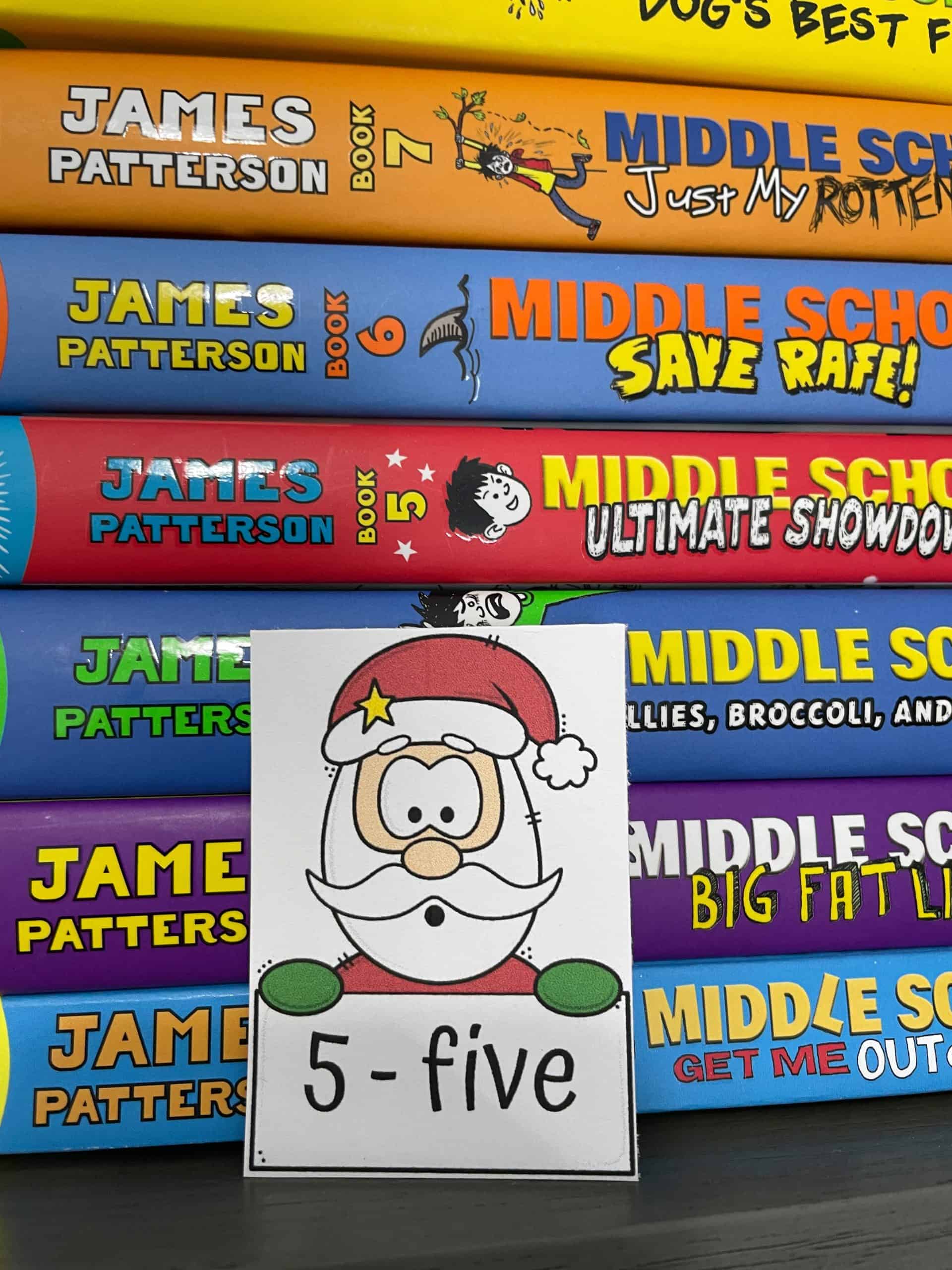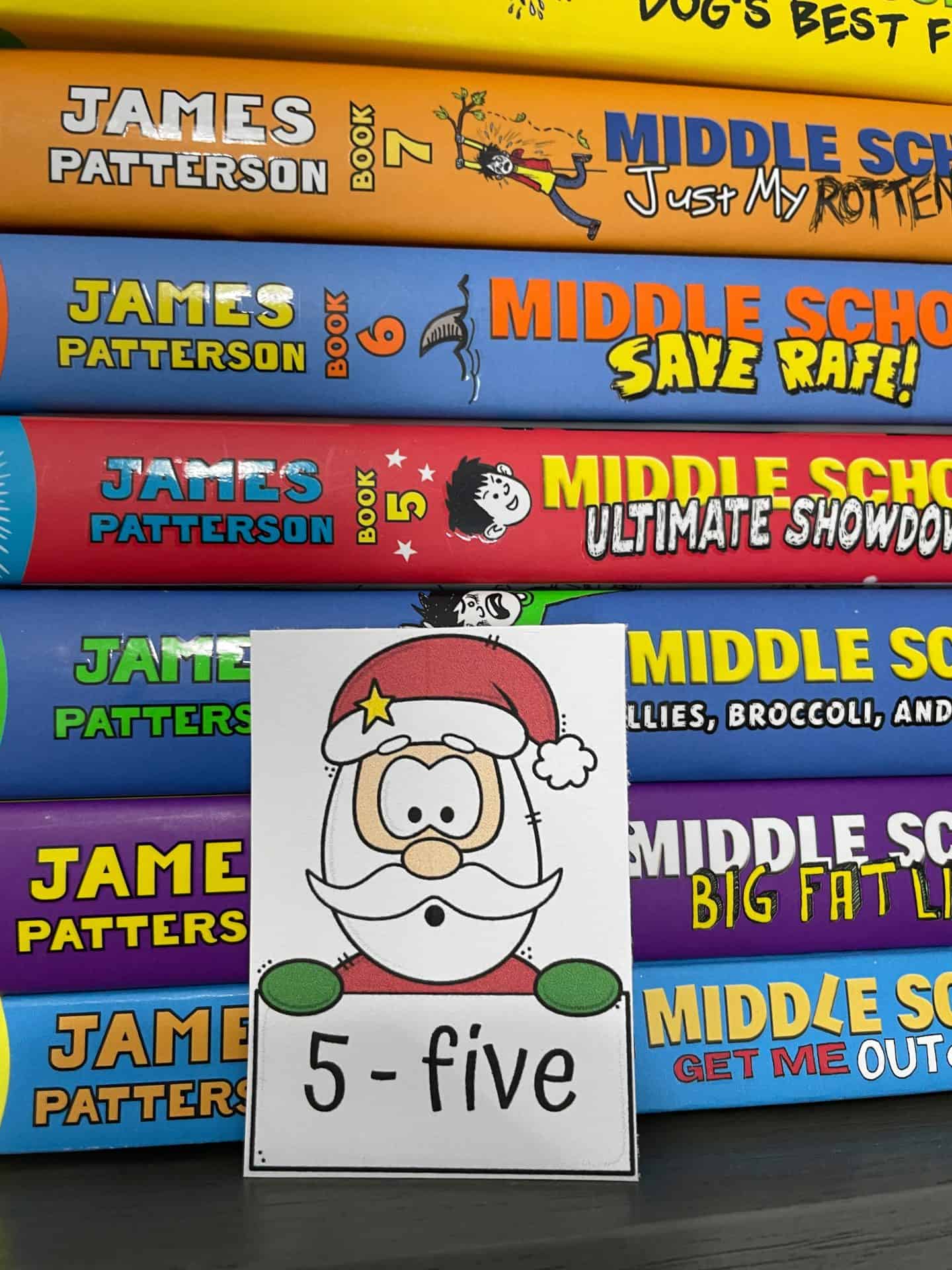 Now, it's time to create the scavenger hunt experience. Hide the cut-out Santas around your chosen location. Be creative and place them in various spots, ensuring they're not too difficult to find but still challenging enough to keep the children engaged.
Gather the kids and introduce them to the scavenger hunt. Read out the rhyme provided on the second page to set the mood and explain the rules. Let the children know that their goal is to find all 12 Santas.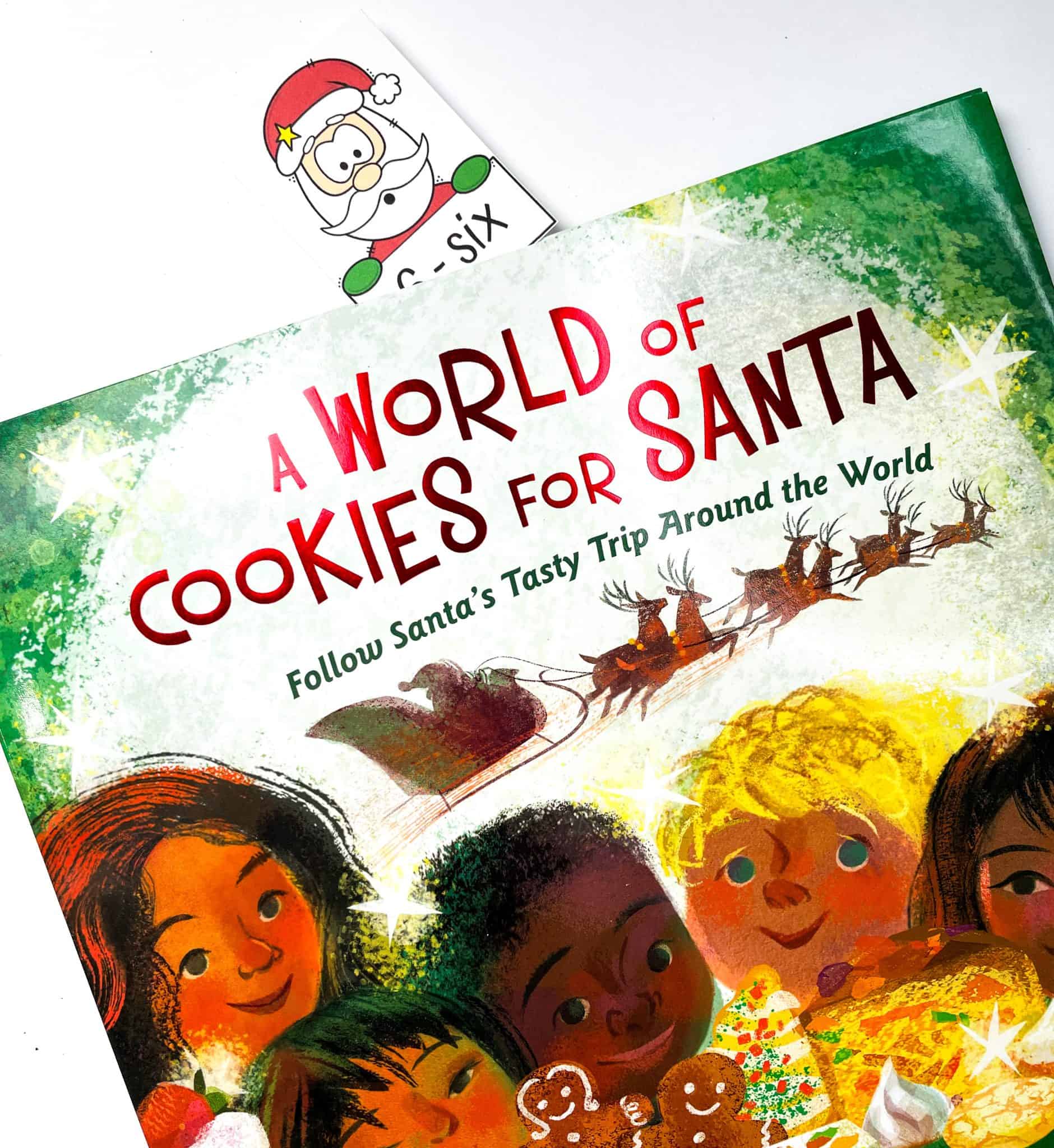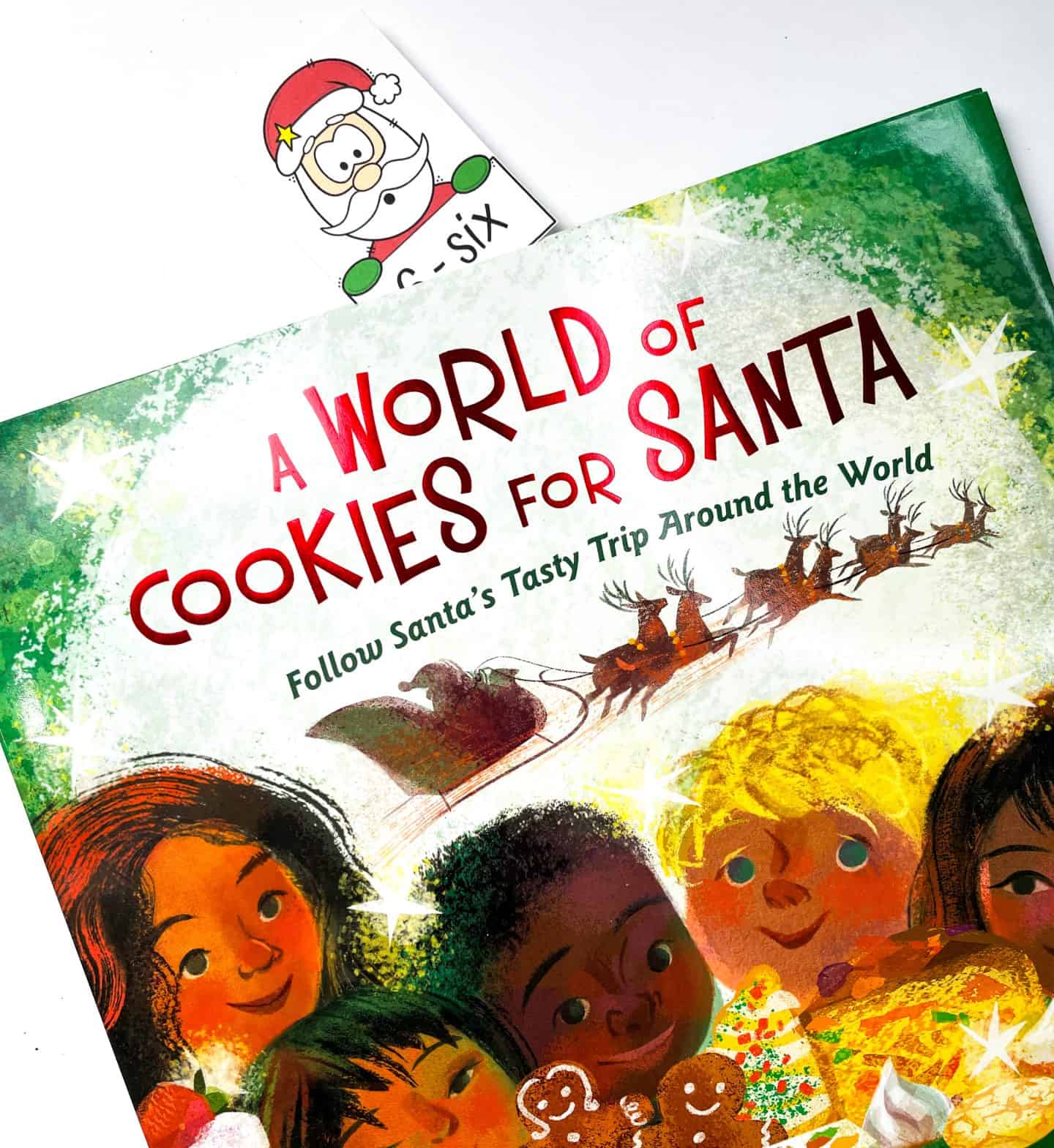 As the children discover the hidden Santas, they should mark them off on the second page using a pen or marker. Encourage them to work together and count the Santas they've found.
Have fun with Christmas scavenger hunt clues too!
Benefits of playing the festive hunt
Our free Santa hunt isn't just about fun and games. It's a valuable activity that comes with a range of benefits for children during the holiday season:
The hunt provides an entertaining way for children to practice counting. As they search for the numbered Santas, they naturally engage in counting and numeral recognition. It's a playful approach to reinforce early math skills.
This activity encourages teamwork and cooperation among children. They work together to search for and tally the hidden Santas, promoting collaboration and shared problem-solving experiences. It's an excellent opportunity for kids to learn the value of working together.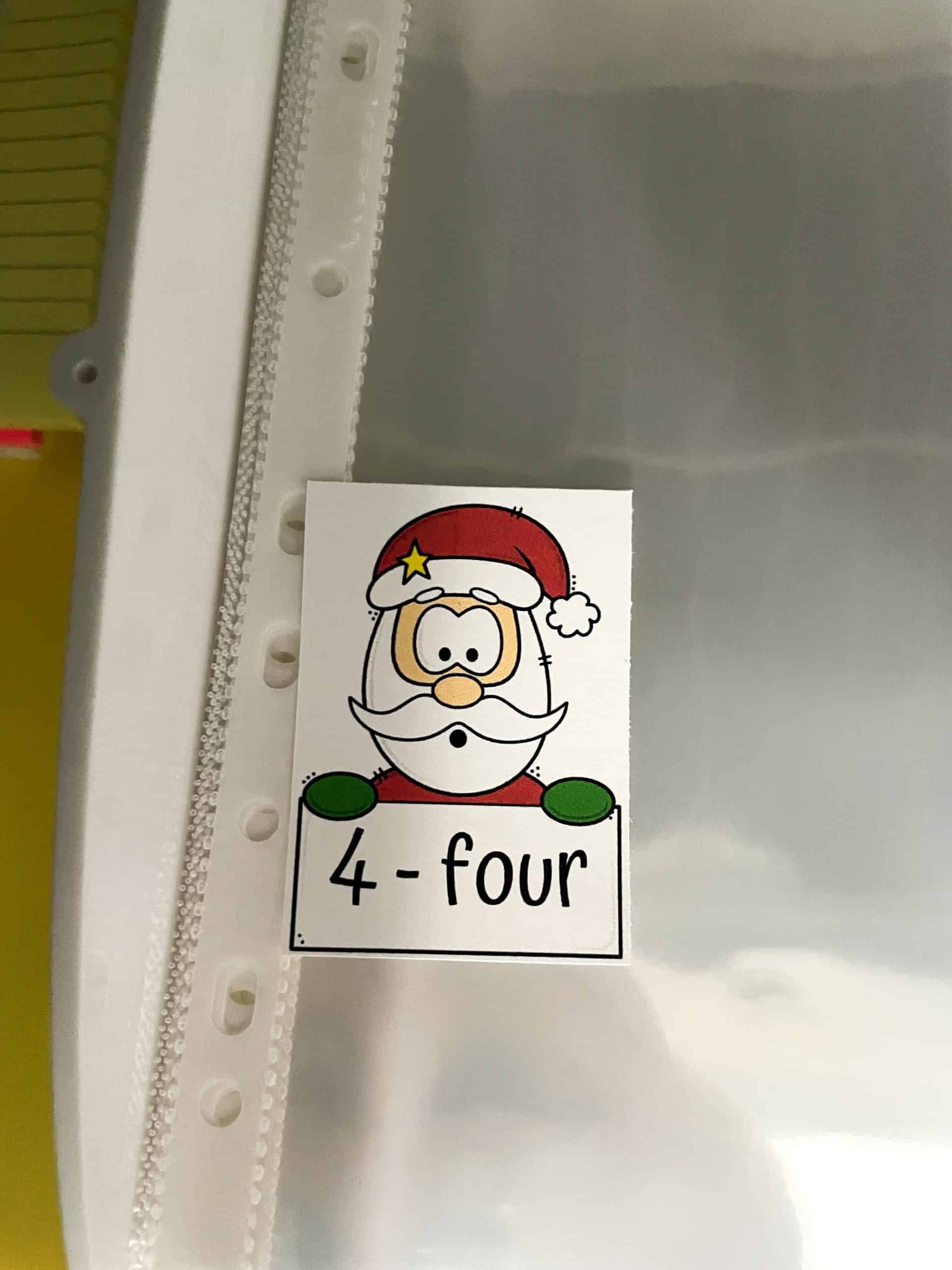 Searching for hidden Santas sharpens children's observational skills. They become more attentive to their surroundings, noticing details they might have overlooked otherwise. This skill can be applied beyond the scavenger hunt to other areas of their lives.
Creating traditions during the holidays is a heartwarming aspect of childhood. The Santa scavenger hunt can become a beloved annual tradition, eagerly anticipated by children and helping to create lasting memories.
The Santa Claus treasure hunt is an excellent way to boost the festive spirit and bring joy to the holiday season. It provides a special, magical experience that's sure to create wonderful memories for children and those who participate with them.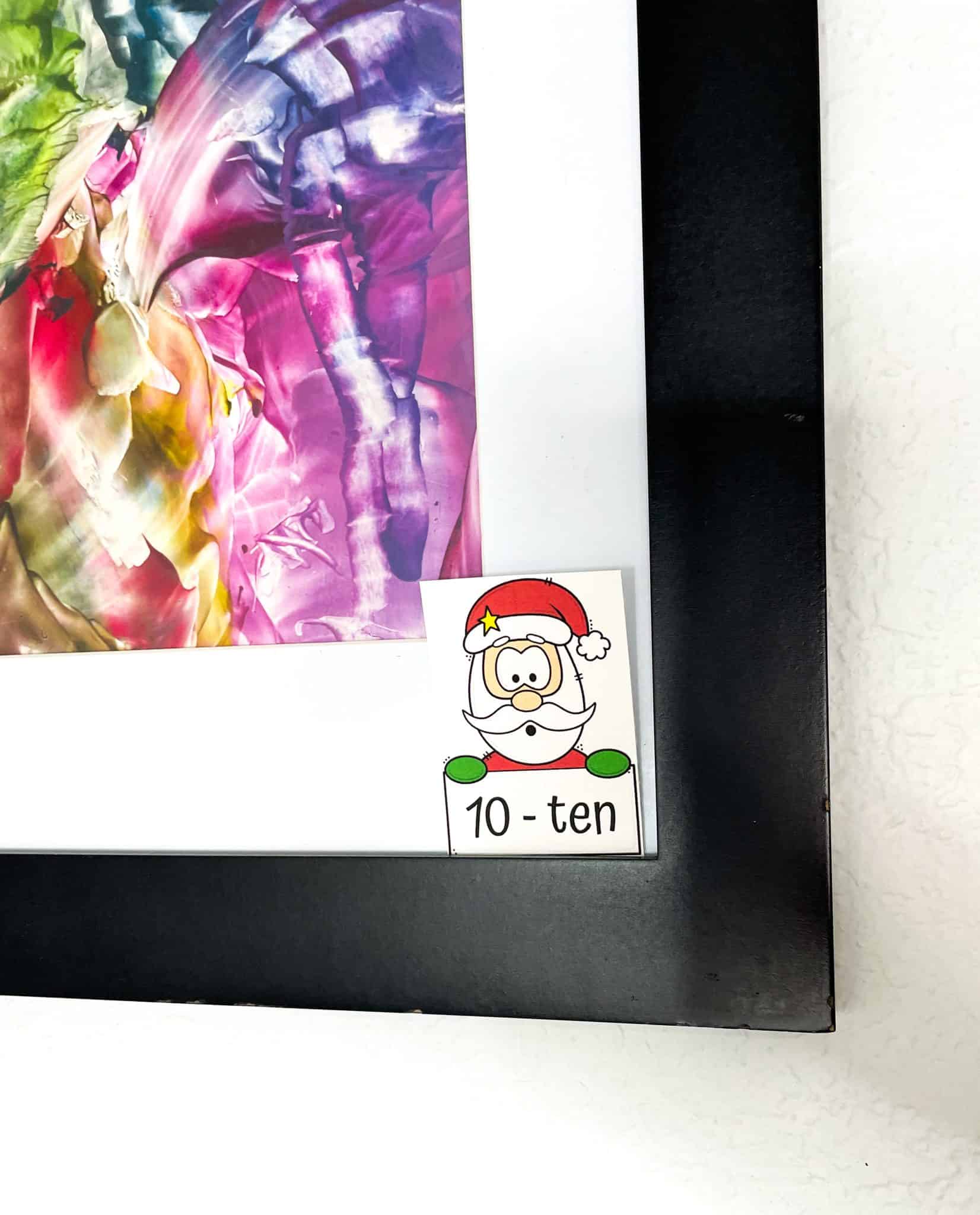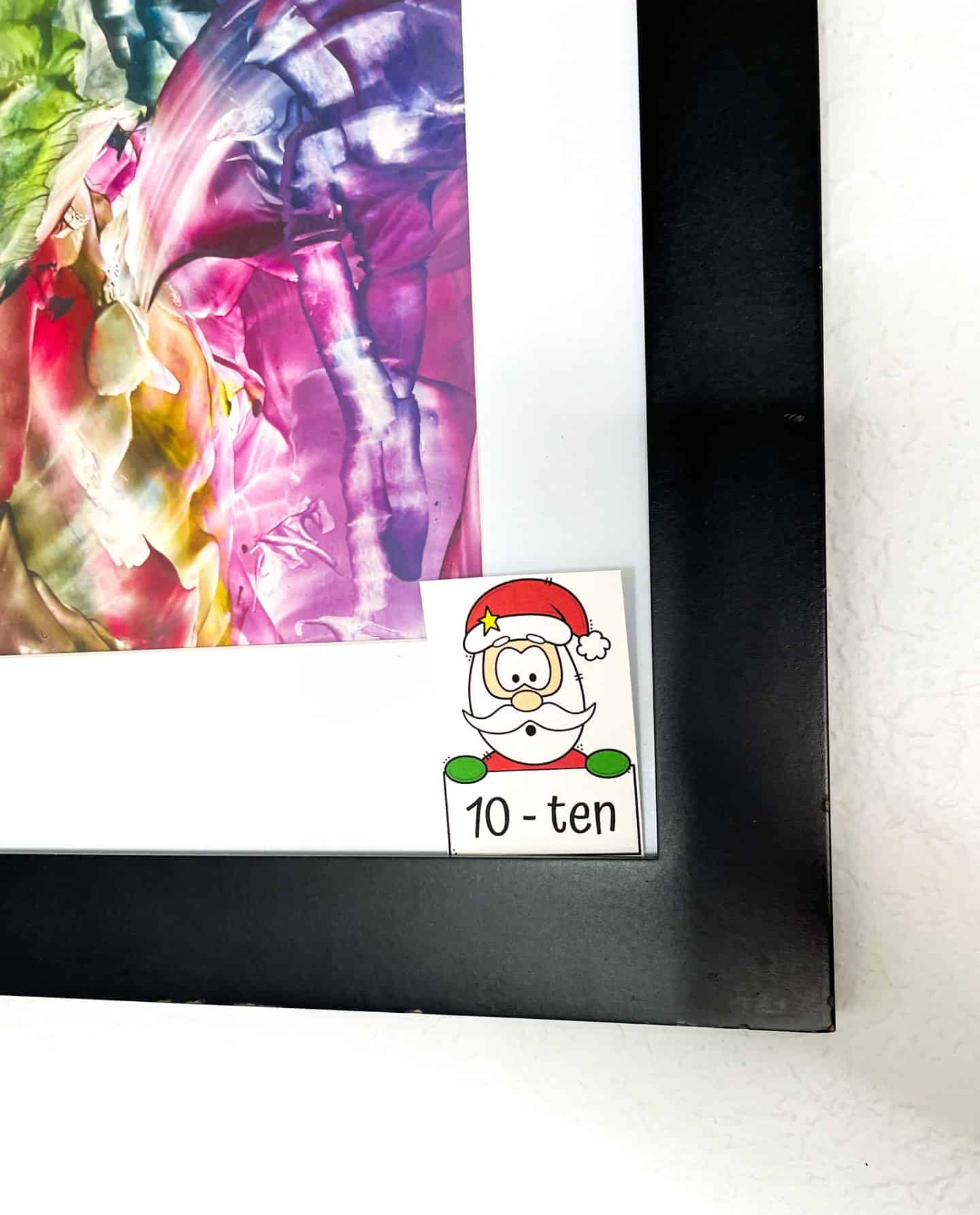 Beyond the educational and entertainment aspects, the festive scavenger hunt brings families and classrooms together. It's a chance for quality time spent in a fun and meaningful way, reinforcing bonds and relationships.
Have fun with an Elf on the Shelf scavenger hunt too!
Books about Santa
Step into the enchanting world of Santa Claus with these heartwarming Christmas read alouds about the jolly old man in red. From adventures with his lost reindeer to the tales of how he came to be, these stories capture the magic of Santa in delightful ways.
Santa's Lost Reindeer: Follow Santa on a heart-pounding adventure as he searches for his missing reindeer just before Christmas Eve. Will he find them in time to make his annual gift-giving journey around the world? A charming tale of teamwork and perseverance, perfect for children and adults alike.
How Santa Got His Job. Ever wondered how Santa Claus became the world's most beloved gift-giver? This whimsical story explores Santa's journey to discover the job he was meant for, complete with humorous trials and tribulations. A delightful, imaginative tale that reveals the origins of Santa's iconic role.
How to Catch Santa Claus. Join in the excitement as children share their ingenious ideas and plans to catch Santa Claus in the act on Christmas Eve. With witty and playful illustrations, this book offers a joyful, interactive experience that sparks the magic of the holiday season. A perfect read to keep the spirit of Christmas alive in the hearts of young readers.
Additional Santa fun
Have even more with these Santa printables:
Encourage children to create their personalized Santa wish lists, fostering excitement and imagination as they dream of the perfect gifts.
Make memories that last with a hands-on craft activity. Kids can craft Santa using their own handprints, a wonderful keepsake for parents and teachers. Download the free Santa handprint craft template.
Spark creativity with an easy and fun coffee filter Santa craft. It's a fantastic DIY project that brings Santa's magic to life, making the holiday season even more special.
Tips for downloading the free files
Below you will see a large sign-up box where you need to add your name and email address, and press I NEED THIS NOW!
Within minutes you will be sent the free PDF directly to your email address, so you can print it out and start using it immediately.
Sometimes emails get a little wonky, so if you can't see it, please check your spam folder where I am sure it is hiding.
Download the free Santa Claus scavenger hunt printable
Make sure you choose the correct paper size and click on the shrink to fit button. All of our free printables for kids work better when printed on cardstock (this is the one we use and love.)
More Santa Crafts & Recipes
Santa hat cupcake recipe from Mommy Evolution
How to make DIY rustic Santa logs from Charleston Crafted
Santa suit Christmas treats from Oh My Creative
No bake Santa cookies from Crystal and Comp
Last Updated on 25 November 2023 by homeschoolof1