FREE Remembrance Day Activities For Kids of All Ages
Are you wanting to commemorate Remembrance Day (Veterans Day) in your homeschool this year? If so keep reading for Remembrance Day activities you can do for free with kids of all ages.
Remembrance Day is November 11th and Remembrance Sunday this year is November 13th (the closest Sunday to the 11th).
Learning about our history is so important. If you are looking for a homeschool history curriculum check out our latest post.
If you are reading this post before 5th November, check out our educational bonfire night activities too!
We are very proud to own one of the 888,246 poppies that were part of the art installation "Blood Swept Lands and Seas of Red". At the Tower of London between August 5th and 11th November 2014. It is proudly displayed in our home, and last year our son when studying Remembrance Day asked all about our poppy. This in turn inspired me to write this post.
We homeschool year round but on special holidays, we always try and learn all about the history of the holiday.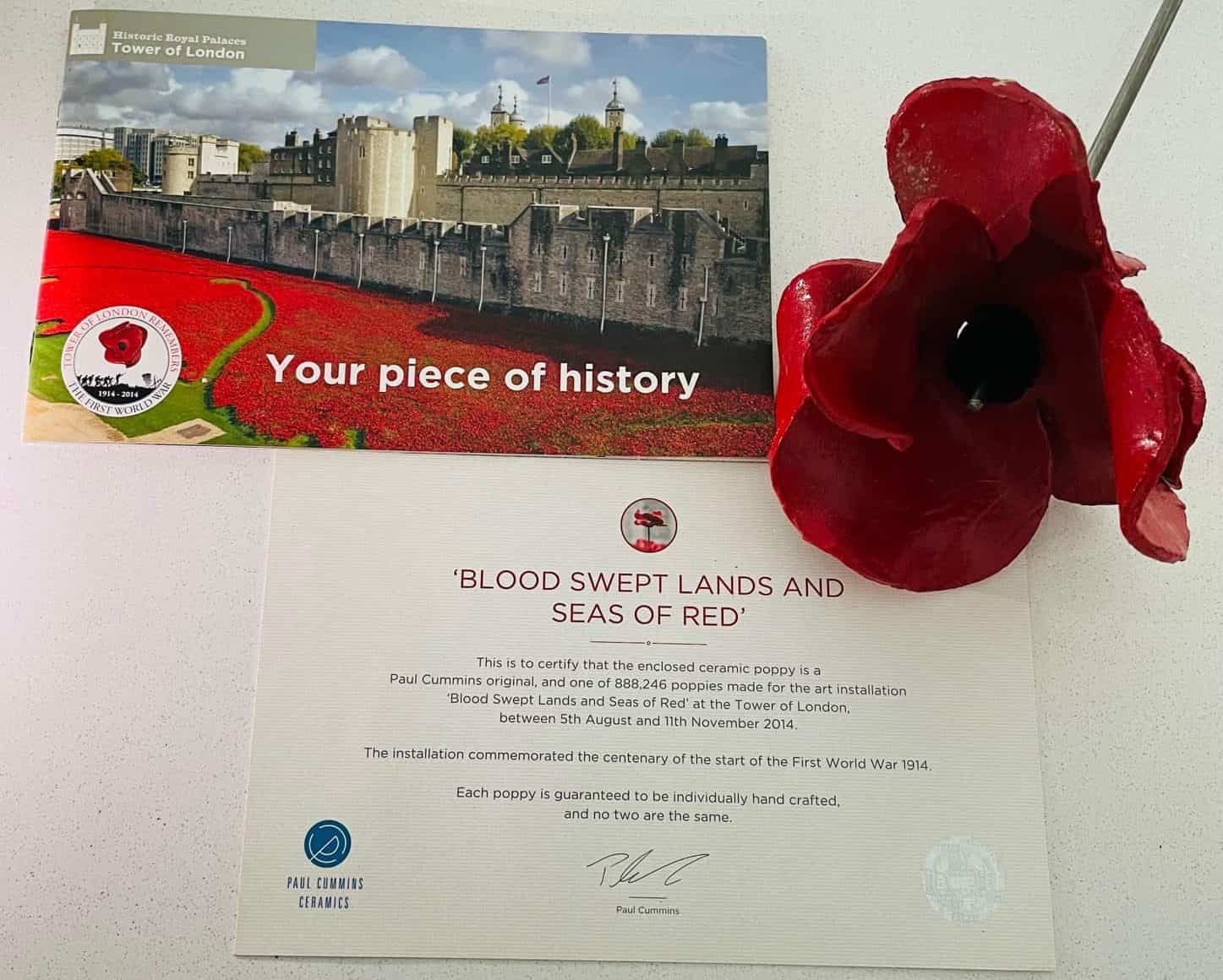 Check out our educational holiday activities post to see what other days we celebrate and learn about.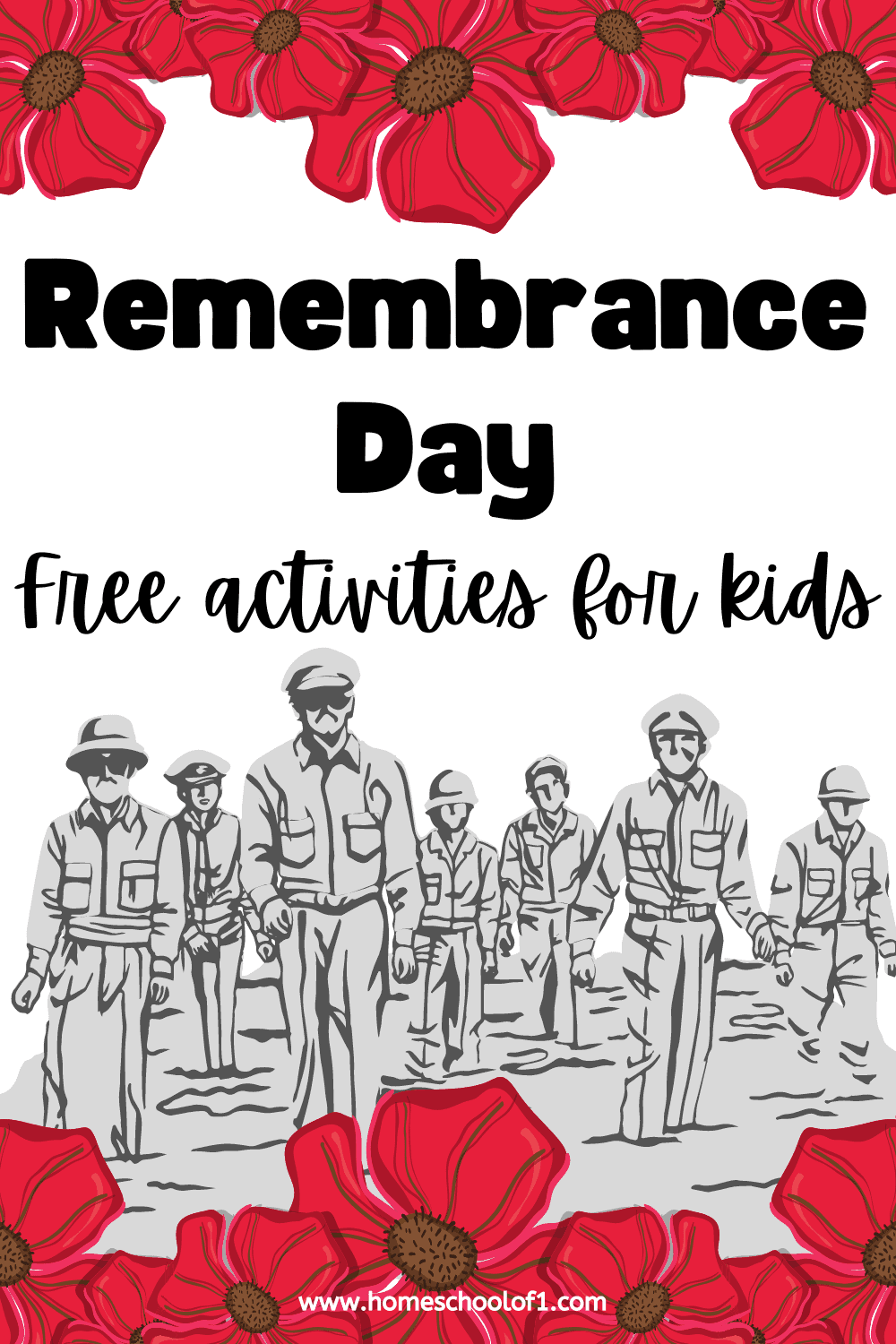 **There may be affiliate links in this post. You can read my full disclosure at the bottom of the page.**
Remembrance Day For Children
Download our 4 free Remembrance Day coloring pages that the kids will love to do. For our American friends, I have also added a Veterans Day coloring page too.
Photo Credit: www.hrp.org.uk
Learn all about the poppies planted at the Tower of London in 2014 marking 100 years since the end of the war.
Photo Credit: www.britishlegion.org.uk
The British Legion has lots of FREE teaching activities for kids of all ages that can be used in either school or in homeschool, and are all linked to the UK National Curriculum.
Photo Credit: www.theworldwar.org
Uncovering stories of those who served in the Great War.
Lest the Ages Forget provides teachers with a unique opportunity to educate K-12 students using primary sources and to enhance their historical thinking.
Photo Credit: www.redtedart.com
This handprint poppy wreath is perfect for younger children, but older kids can enjoy it too.
Photo Credit: www.theworldwar.org
The National WWI museum and memorial have put together an amazing interactive timeline that the kids will love.
How long did World War I last? Who fought whom? Journey through the story of the Great War with our Interactive WWI Timeline, covering the world events of 1914 ‑ 1920.
Photo Credit: www.youtube.com
Learn all about the history of the Remembrance Day poppy with this youtube video.
Photo Credit: www.twinkl.com
Twinkl has over 3,000 FREE worksheets for Remembrance Day for kids in KS1 – KS3
Photo Credit: www.veterans.gc.ca
Take Time to Remember is an activity booklet for young children that introduces concepts of remembrance in an accessible and fun manner. Brightly illustrated, it contains six activities:
Remembrance maze
Connect the dots
Let's colour
Spot the differences
Word search
Remembrance puzzle
Remembrance Day Books
These are the best 3 Remembrance Day books for kids to add to your studies on WWI.
We absolutely love National Geographic books as the images and photos are excellent. There are over 100 images in this book.
Learn all about the leaders of the war, the tactics used to win, and much more.
This is a wonderful rhyming story about two friends.
The book takes readers on a journey of friendship set against a changing landscape of innocence, war, and then finally, peace. 
This is a great book to use as a read aloud in the classroom or at home.
Another wonderful book on WWI that both children and adults will enjoy.
The images are excellent, and the facts are very detailed, a perfect book when studying WWI.
Remembrance Day Facts For Kids
Remembrance Day was first observed in 1919 throughout the British Commonwealth. It was originally called "Armistice Day" to commemorate the armistice agreement that ended the First World War. On Monday, November 11, 1918, at 11 a.m. On the eleventh hour of the eleventh day of the eleventh month.
From 1921 to 1930, Armistice Day was held on the Monday of the week in which November 11 fell. The first Remembrance Day was observed on November 11, 1931.
Every year on November 11 at 11 am, there is a minute of silence to honor and remember the men and women who have served. And continue to serve during times of war, conflict, and peace.
The poppy is the symbol of Remembrance Day.
Most of the Commonwealth member states, such as Canada, the United Kingdom, and Australia, observe the tradition of Remembrance Day on the eleventh hour of the eleventh day of the eleventh month.
Many nations that are not members of the Commonwealth also observe Remembrance Day on November 11. Including France, Belgium, and Poland.
The United States used to commemorate Armistice Day on November 11. However, in 1954 they changed the name to Veterans Day (it is still celebrated on November 11th).
The word 'armistice' means a truce or peace arrangement. It comes from the Latin word 'arma'. Meaning arms and 'stitium', meaning 'a stopping', giving us the meaning: to put down your arms (weapons).
World War I was the first armed conflict where aircraft were used.
The conditions in WWI trenches were so horrifying that they gave their name to numerous ailments that occurred there. These include: 'Trench Foot' (a fungal foot infection). 'Trench Nephritis' (inflammation of the kidneys), and 'Trench Fever' (a painful infection caused by lice).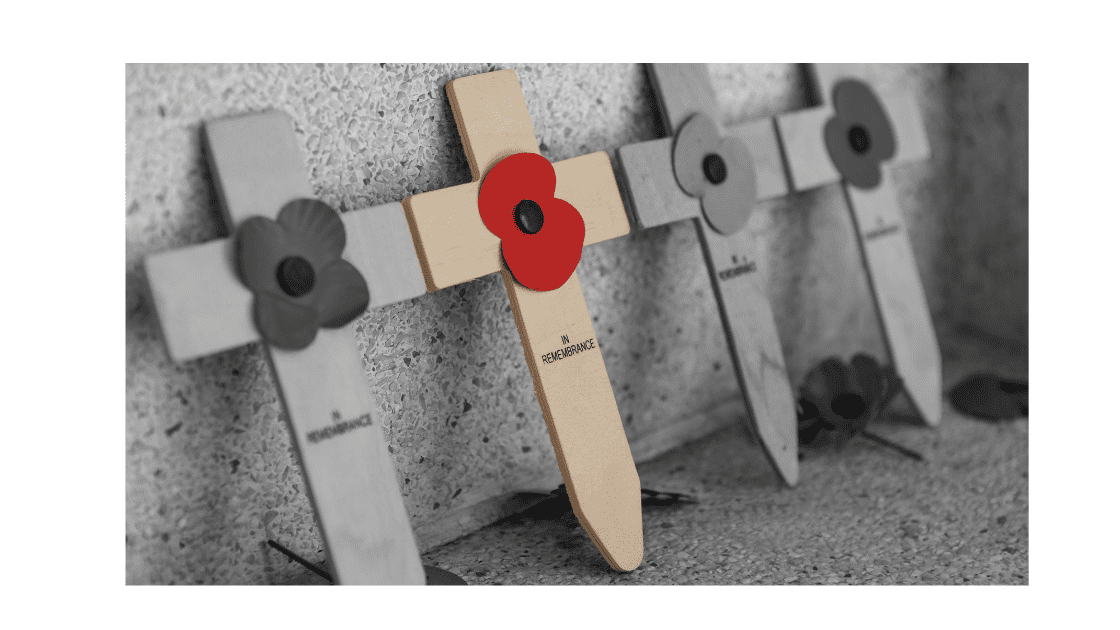 Remembrance Day Poems for Kids
Encourage your children to either write out one of these two Remembrance Day poems. Or older children may rewrite the poem in their own words. Or write an article about what it must have been like for the soldiers in World War I.
In Flanders Fields
In Flanders fields the poppies blow
Between the crosses, row on row,
That mark our place; and in the sky
The larks, still bravely singing, fly
Scarce heard amid the guns below.

We are the Dead. Short days ago
We lived, felt dawn, saw sunset glow,
Loved and were loved, and now we lie,
In Flanders fields.

Take up our quarrel with the foe:
To you from failing hands we throw
The torch; be yours to hold it high.
If ye break faith with us who die
We shall not sleep, though poppies grow
In Flanders fields.

In Flanders Fields
BY JOHN MCCRAE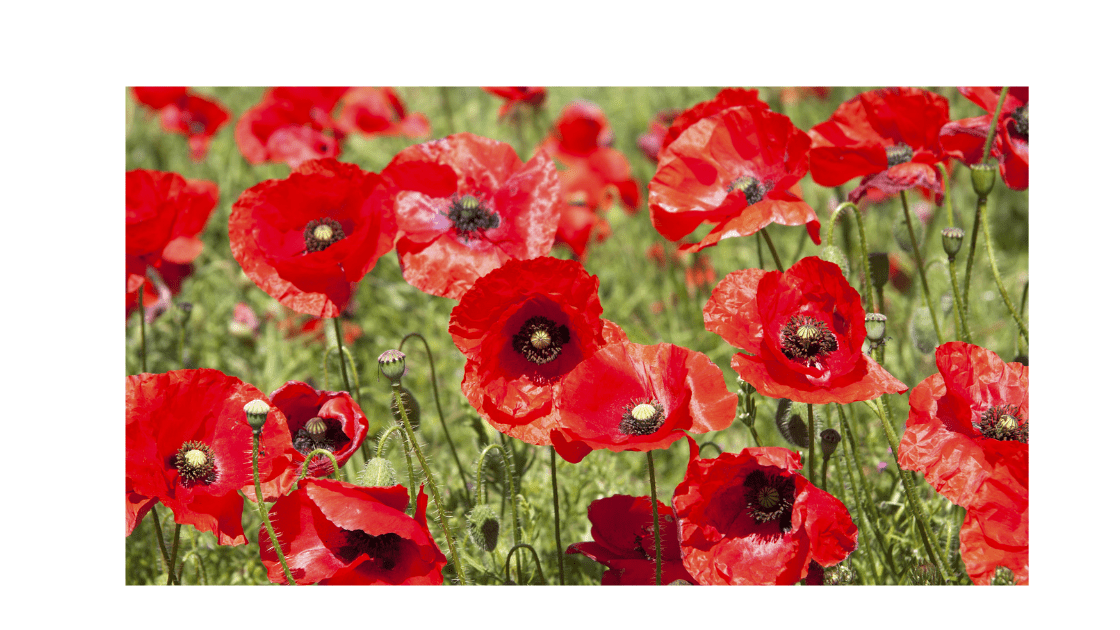 For the Fallen
With proud thanksgiving, a mother for her children,
England mourns for her dead across the sea.
Flesh of her flesh they were, spirit of her spirit,
Fallen in the cause of the free.

Solemn the drums thrill; Death august and royal
Sings sorrow up into immortal spheres,
There is music in the midst of desolation
And a glory that shines upon our tears.

They went with songs to the battle, they were young,
Straight of limb, true of eye, steady and aglow.
They were staunch to the end against odds uncounted;
They fell with their faces to the foe.

They shall grow not old, as we that are left grow old:
Age shall not weary them, nor the years condemn.
At the going down of the sun and in the morning
We will remember them.

They mingle not with their laughing comrades again;
They sit no more at familiar tables of home;
They have no lot in our labour of the day-time;
They sleep beyond England's foam.

But where our desires are and our hopes profound,
Felt as a well-spring that is hidden from sight,
To the innermost heart of their own land they are known
As the stars are known to the Night;

For the Fallen
BY LAURENCE BINYON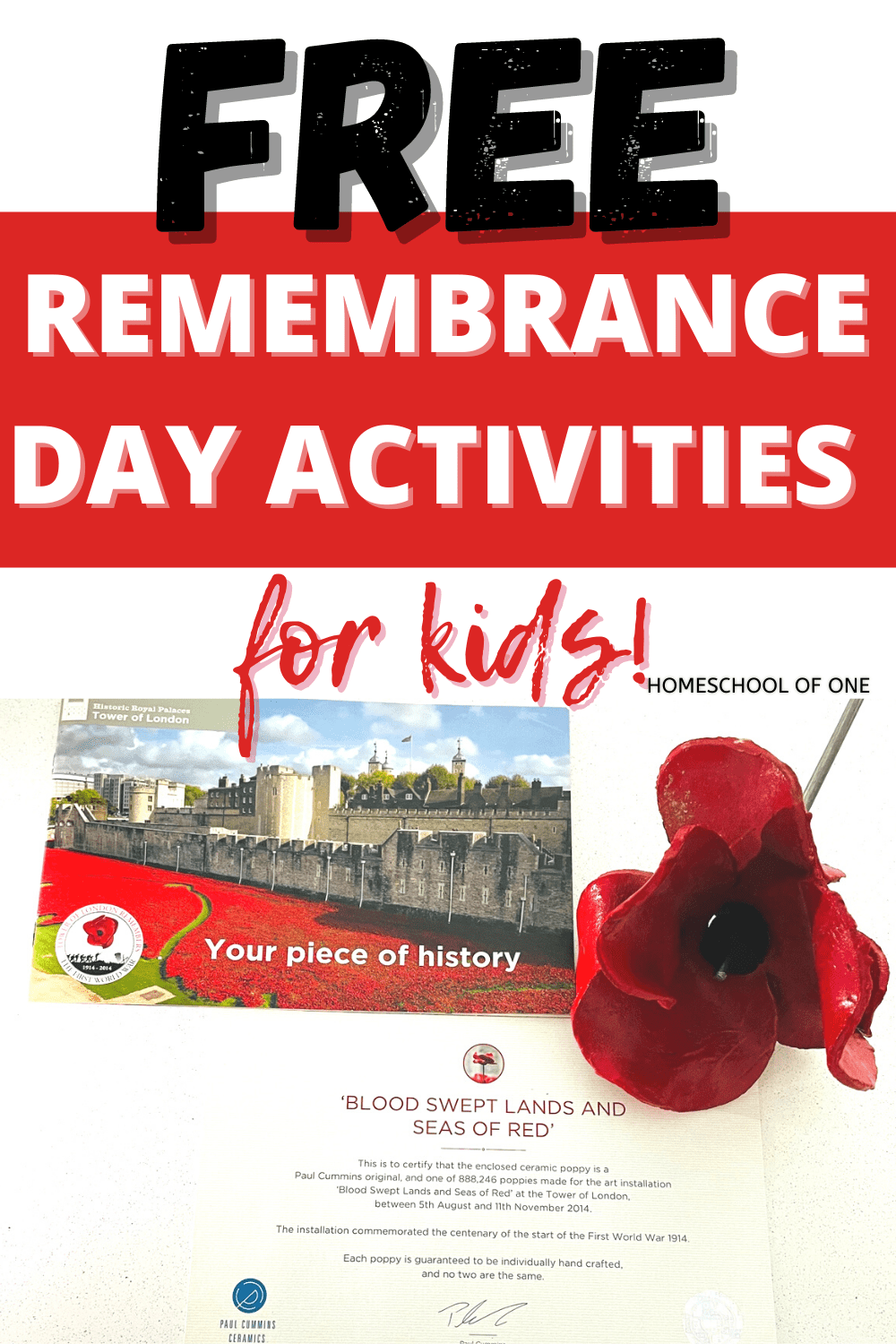 What Remembrance Day activities have you got planned, let me know in the comments below.
Last Updated on 24 January 2023 by homeschoolof1