Thomas Jefferson Worksheets (free printables)
Whether you are studying the Founding Fathers or the Presidents of America, you are going to love our free Thomas Jefferson worksheets.
There are 12 different images that need to be matched to the words describing them.
We love celebrating fun holidays in our homeschool.
There are 5 coloring pages to print out, and a timeline to print out and match with the pictures and order. This is perfect for kindergarten, first, and second-grade students.
Thomas Jefferson was born on April 13th, 1743, and was one of the founding Fathers of the United States. He is also included in our free Founding Fathers coloring pages.
We love creating free kids coloring pages, and we either use them as a supplement for a lesson we are studying or to calm the mood! Coloring is a great way for them to refocus and relax.
When you have finished learning about Thomas Jefferson why not have a look at our free Benjamin Franklin coloring pages too?
In this free printable the kids will be able to color in the history timeline of the 3rd American President.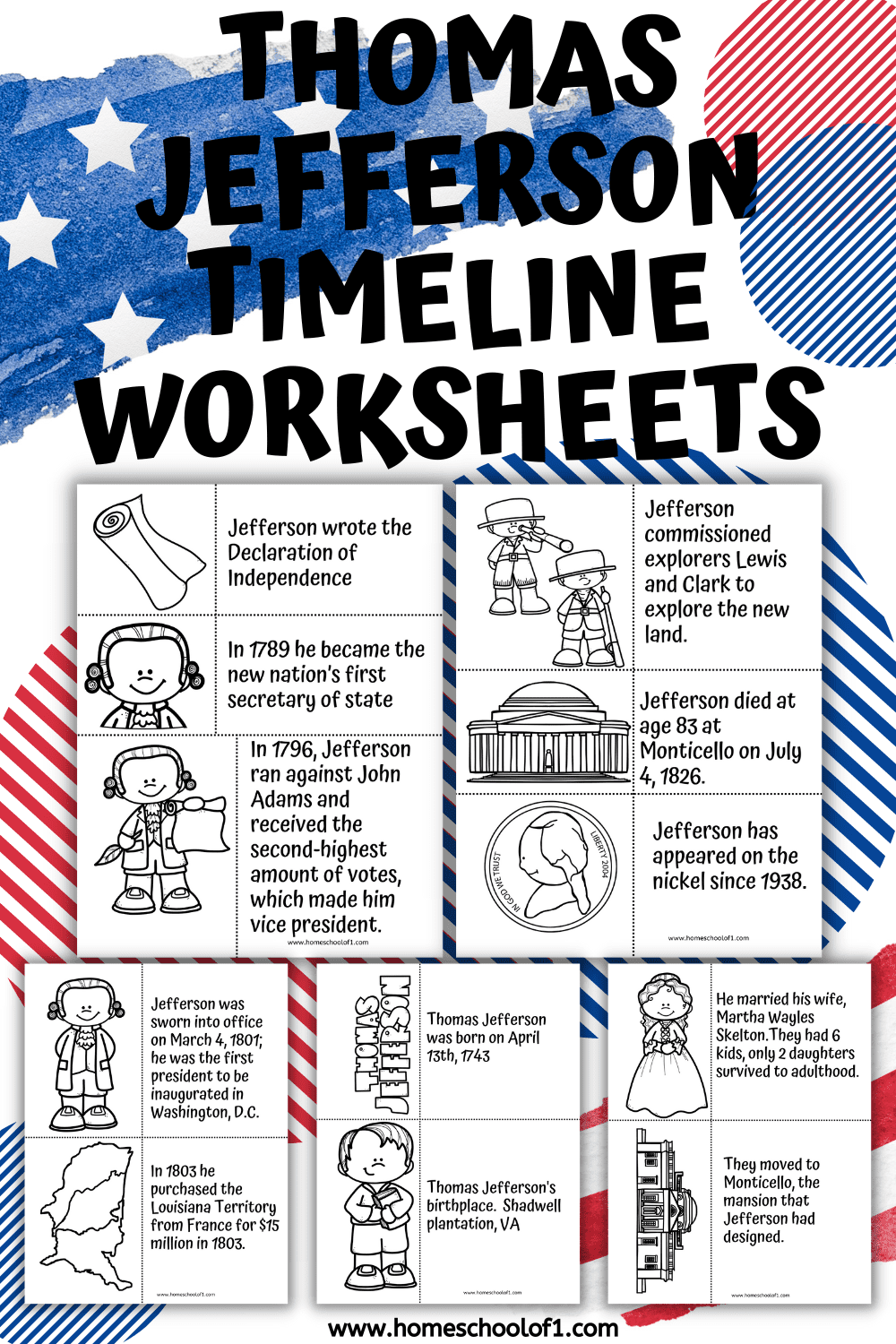 **There may be affiliate links in this post. You can read my full disclosure at the bottom of the page.**
Thomas Jefferson Timeline
The kids are going to enjoy coloring in these Thomas Jefferson coloring pages and trying to match the timeline with the pictures.
Supplies Needed:
Instructions:
Print out the coloring pages below, it will print out on five full pages. Make sure to check the printer settings.
You can of course print this on normal printer paper, but with all of our crafts, they always look better on cardstock.
Cut out all of the words and the pictures, I like to use a paper cutter as it is more accurate. However, scissors will work too.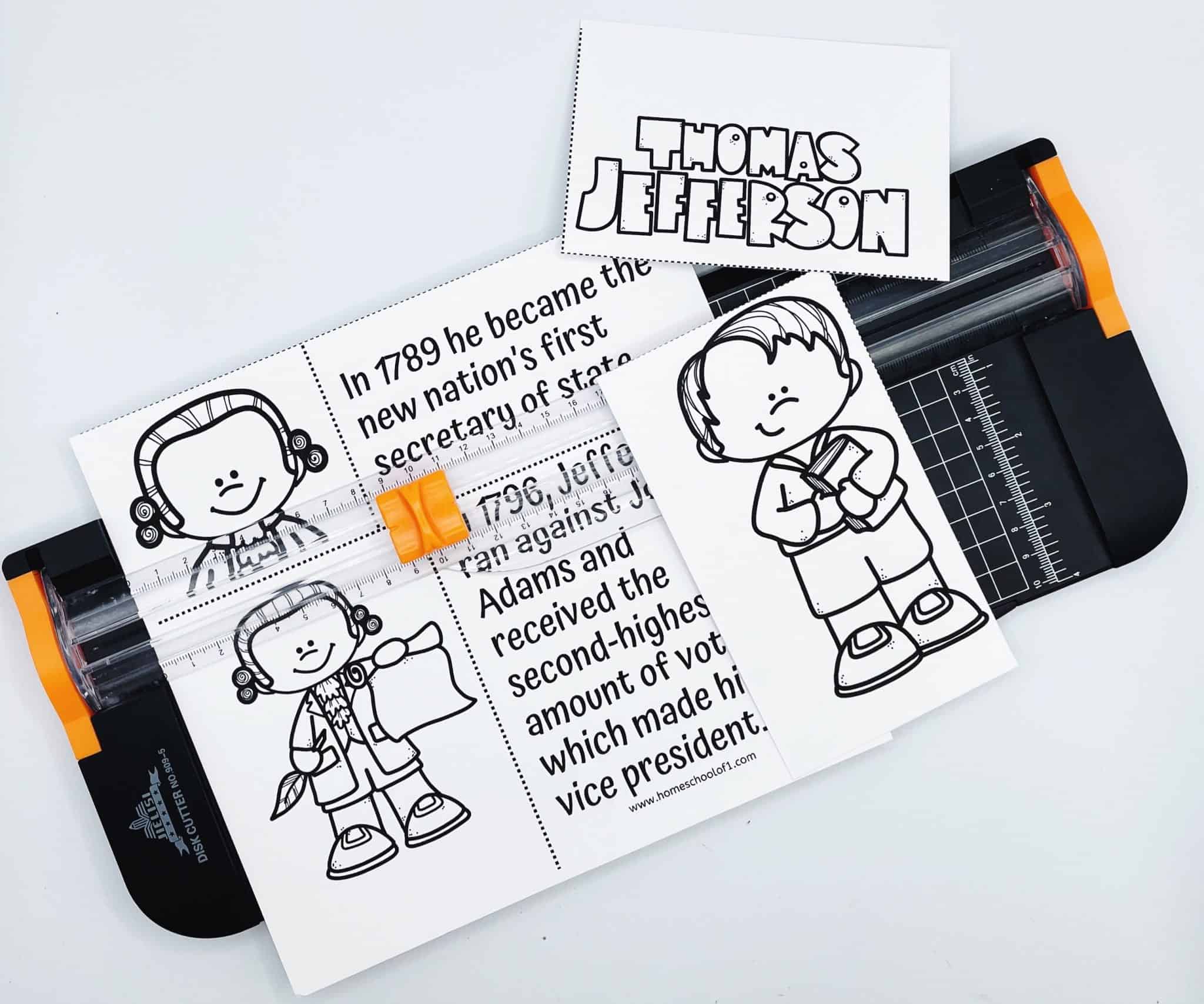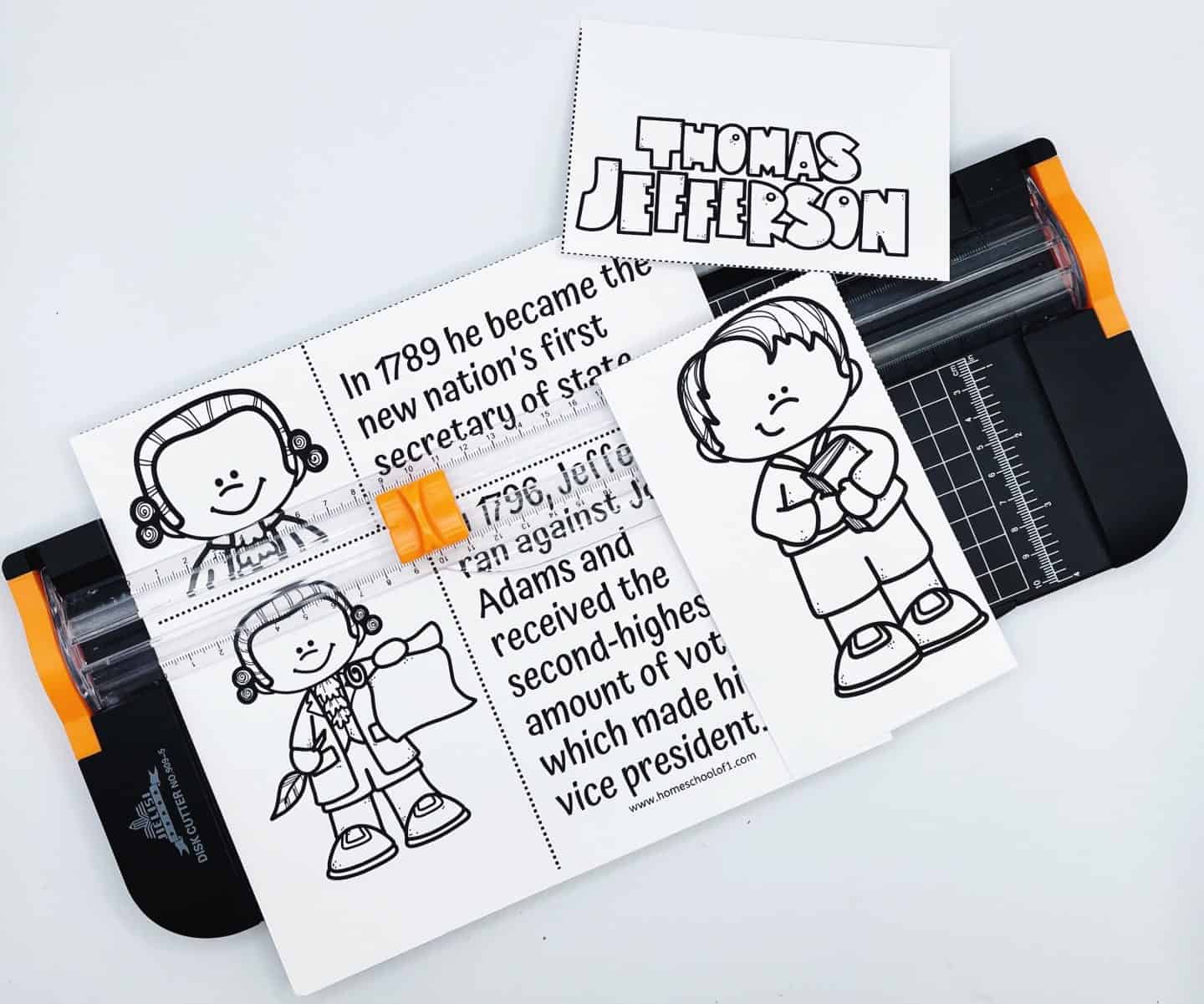 Ask the children to color in all of the images first, there are 12 different pictures to color in.
Thomas Jefferson
Monticello
The nickel
Lewis & Clark
Louisiana
Declaration of Independence
Martha Wayles Skelton
Thomas Jefferson Memorial (for more on this check out our American landmarks worksheets.)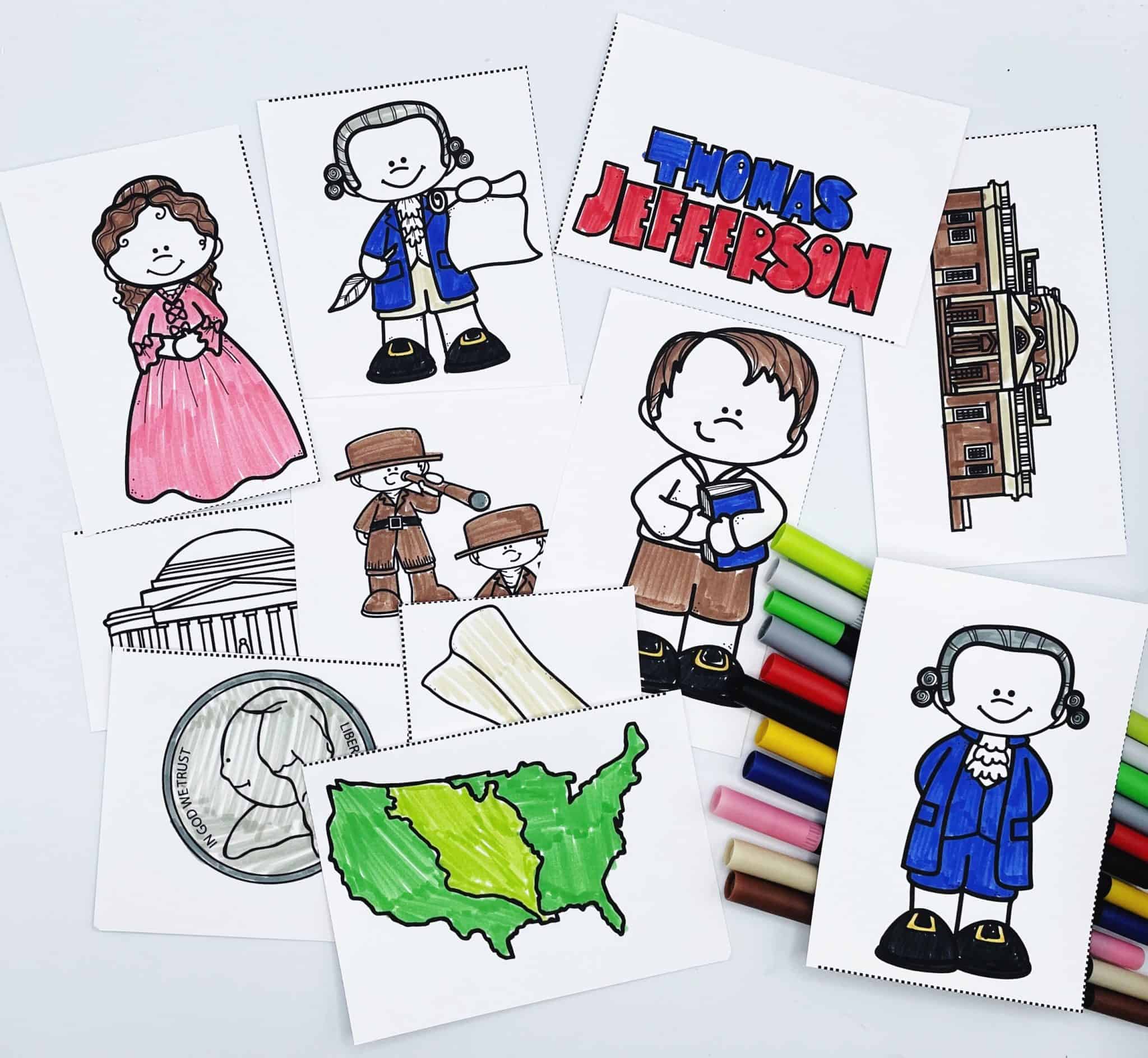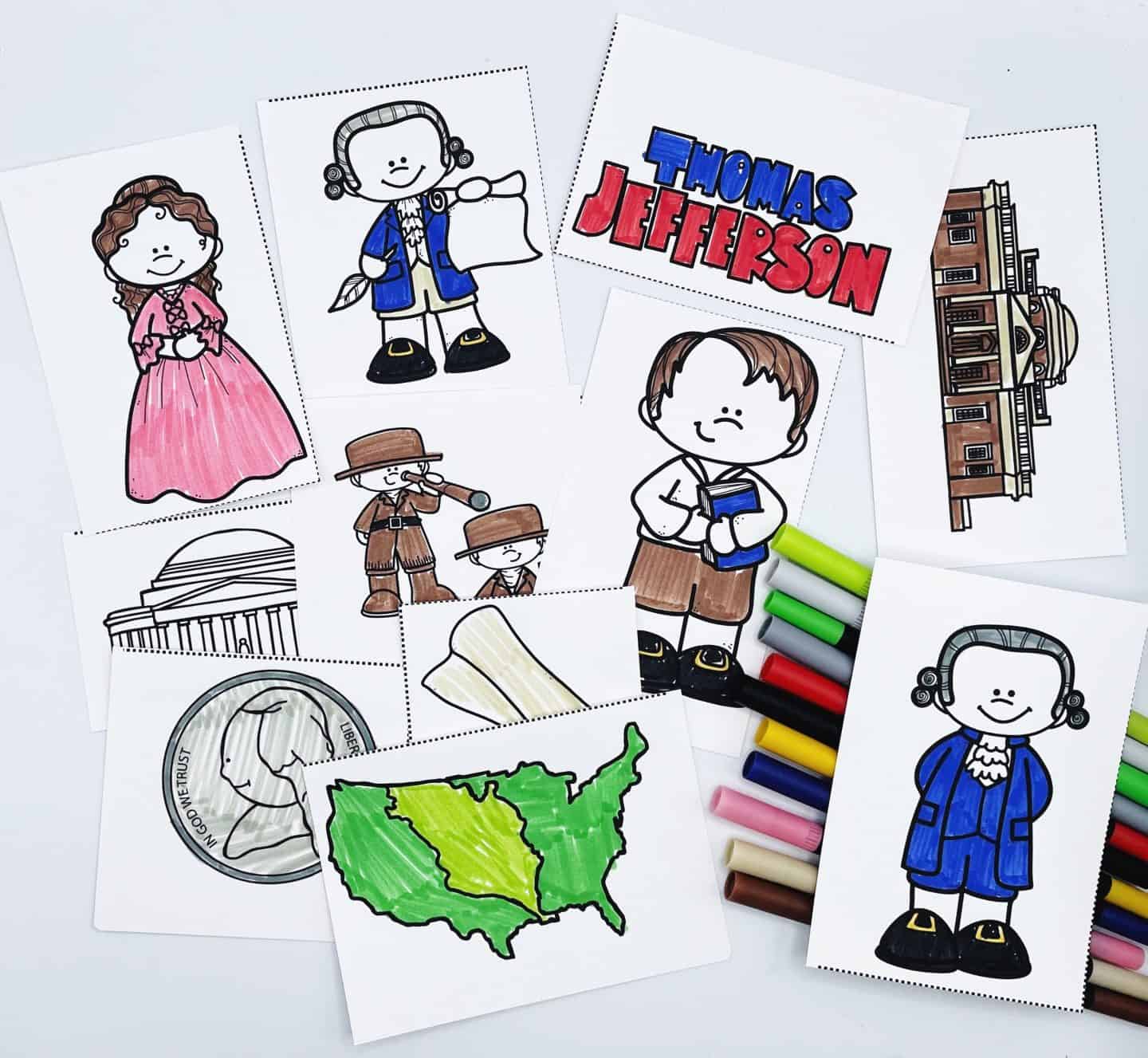 When the pictures are colored in, give the children the timeline words.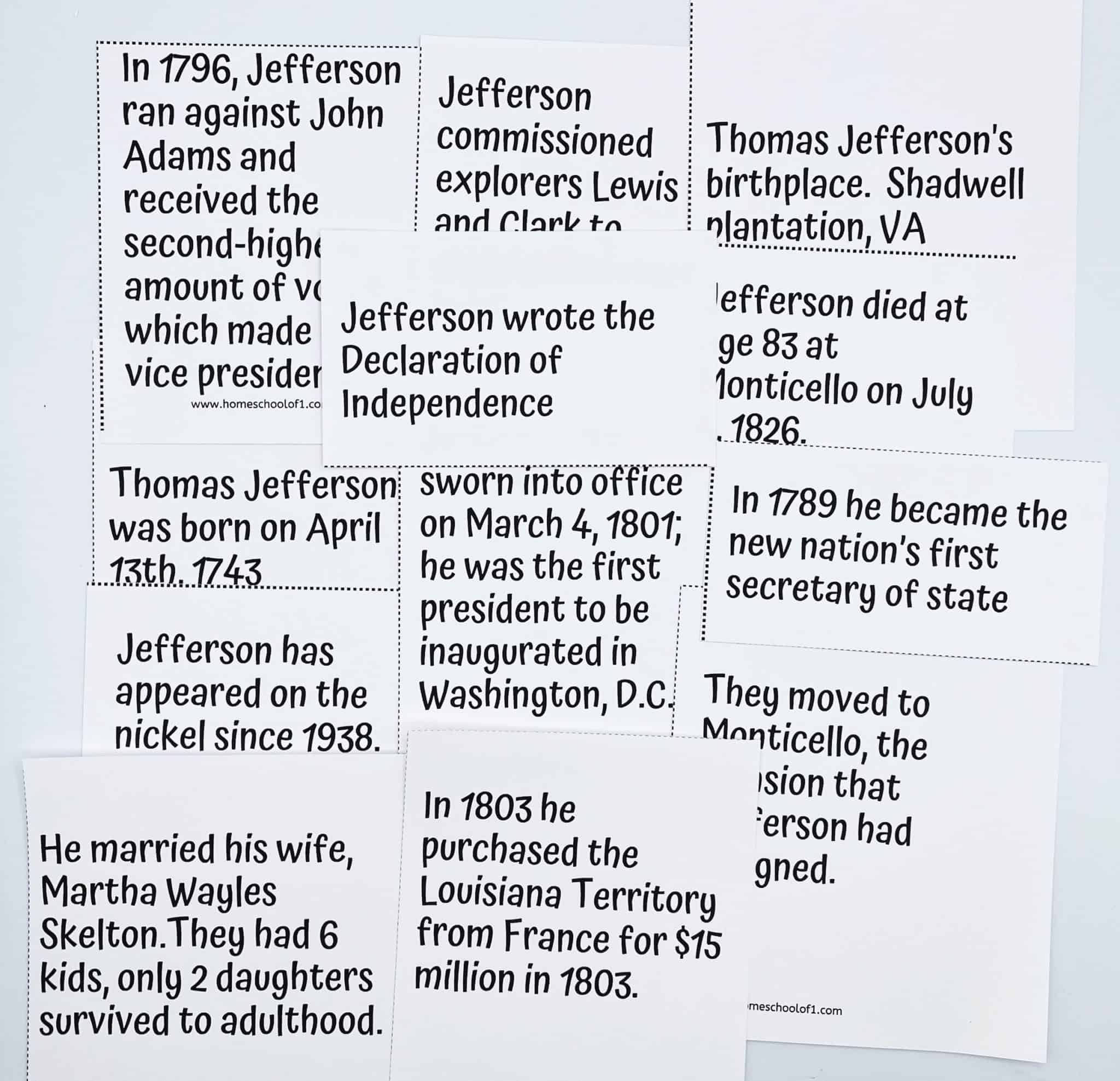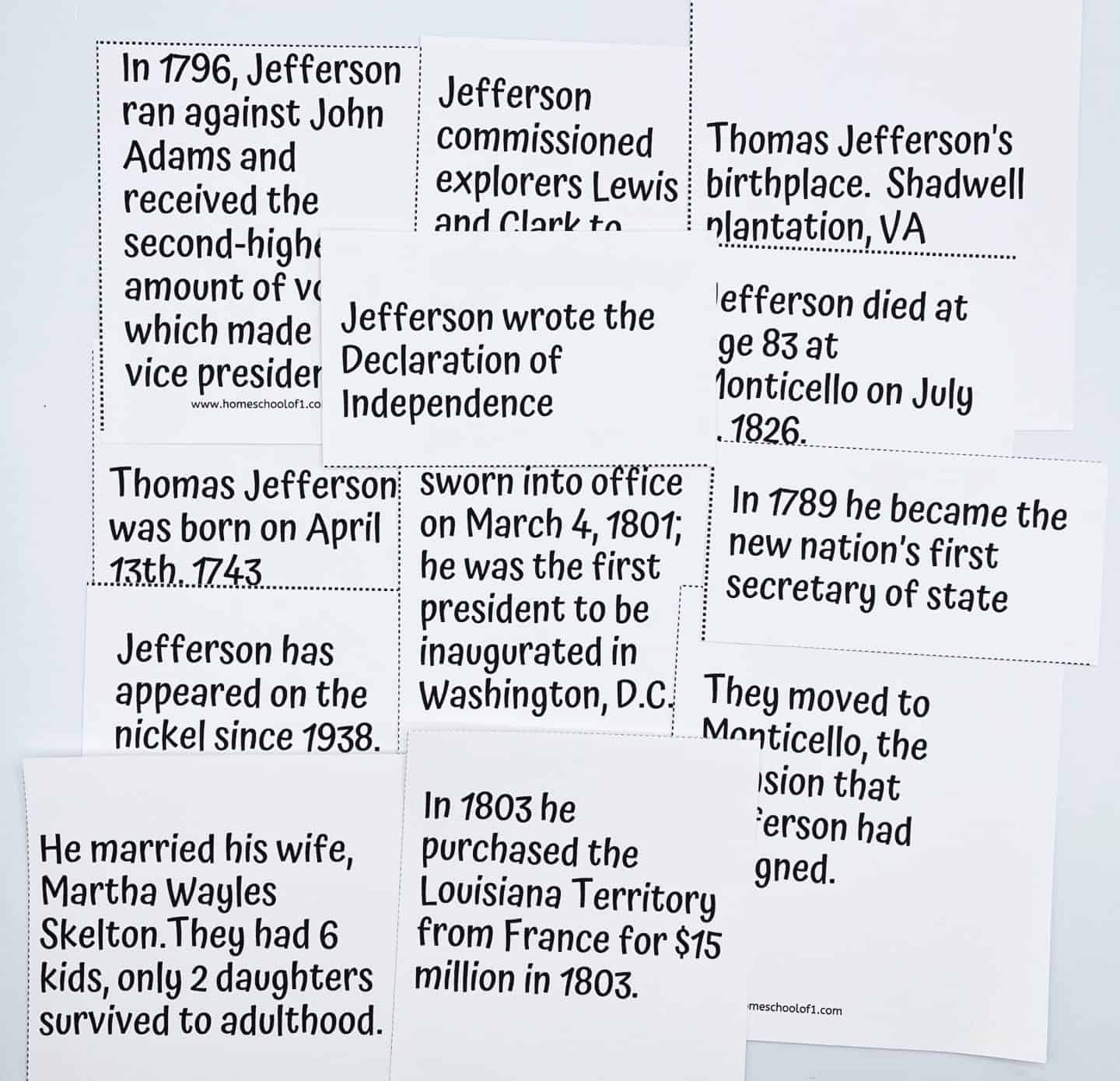 The children then need to match the words with the picture they have colored in.
Thomas Jefferson was born on April 13th, 1743.
Thomas Jefferson's birthplace. Shadwell plantation, VA.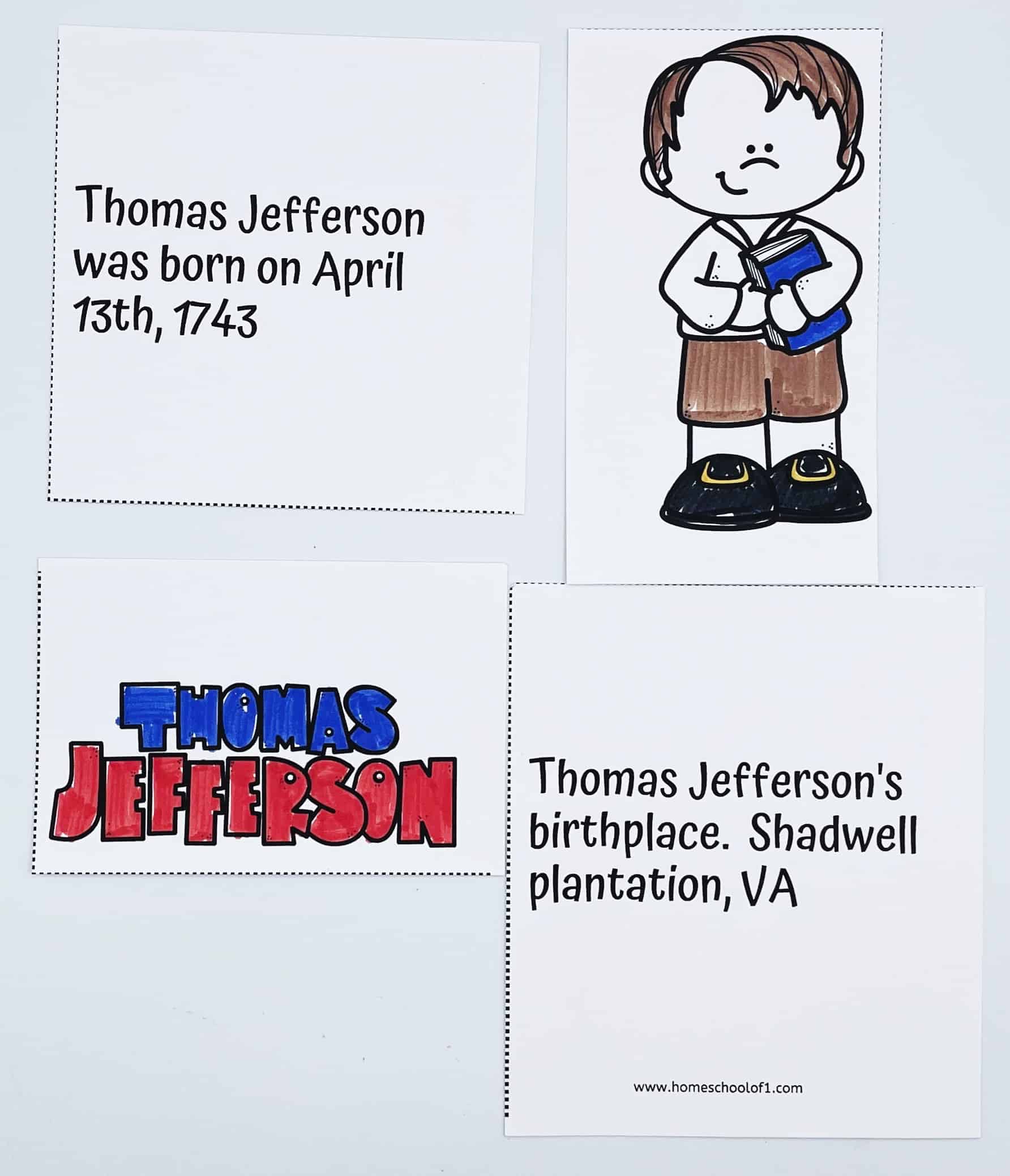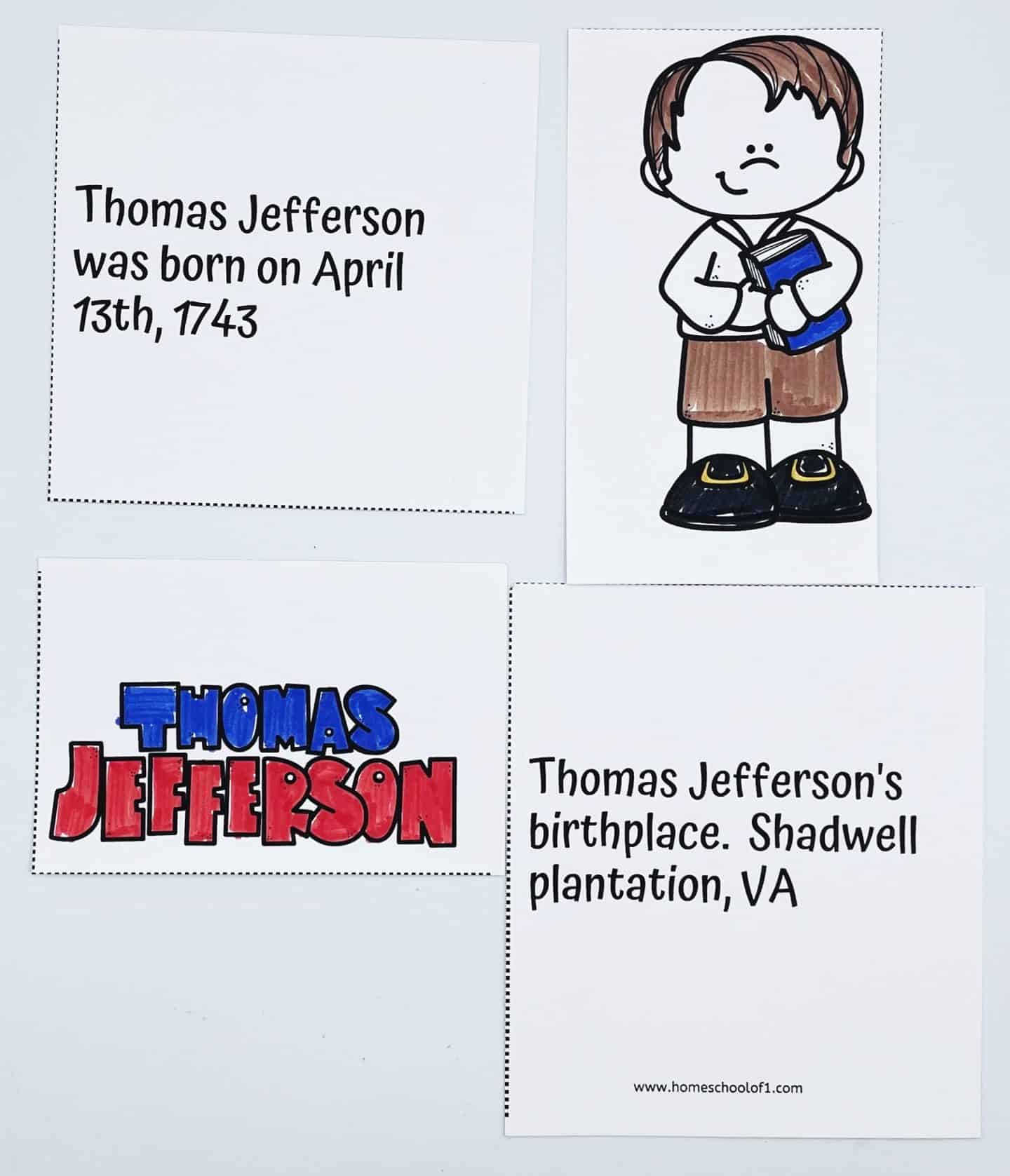 He married his wife, Martha Wayles Skelton. They had 6 kids, but only 2 daughters survived to adulthood.
They moved to Monticello, the mansion that Jefferson had designed.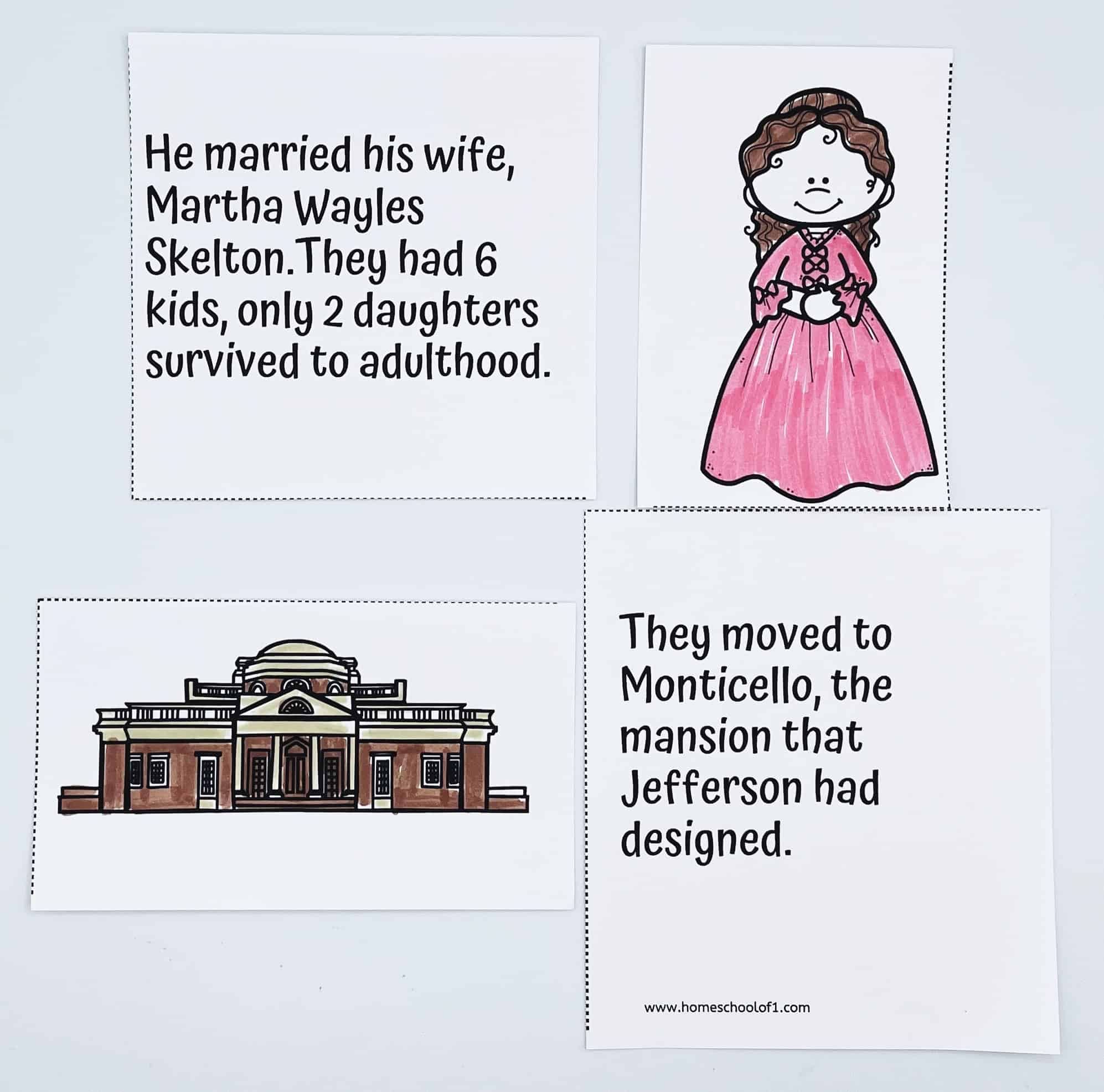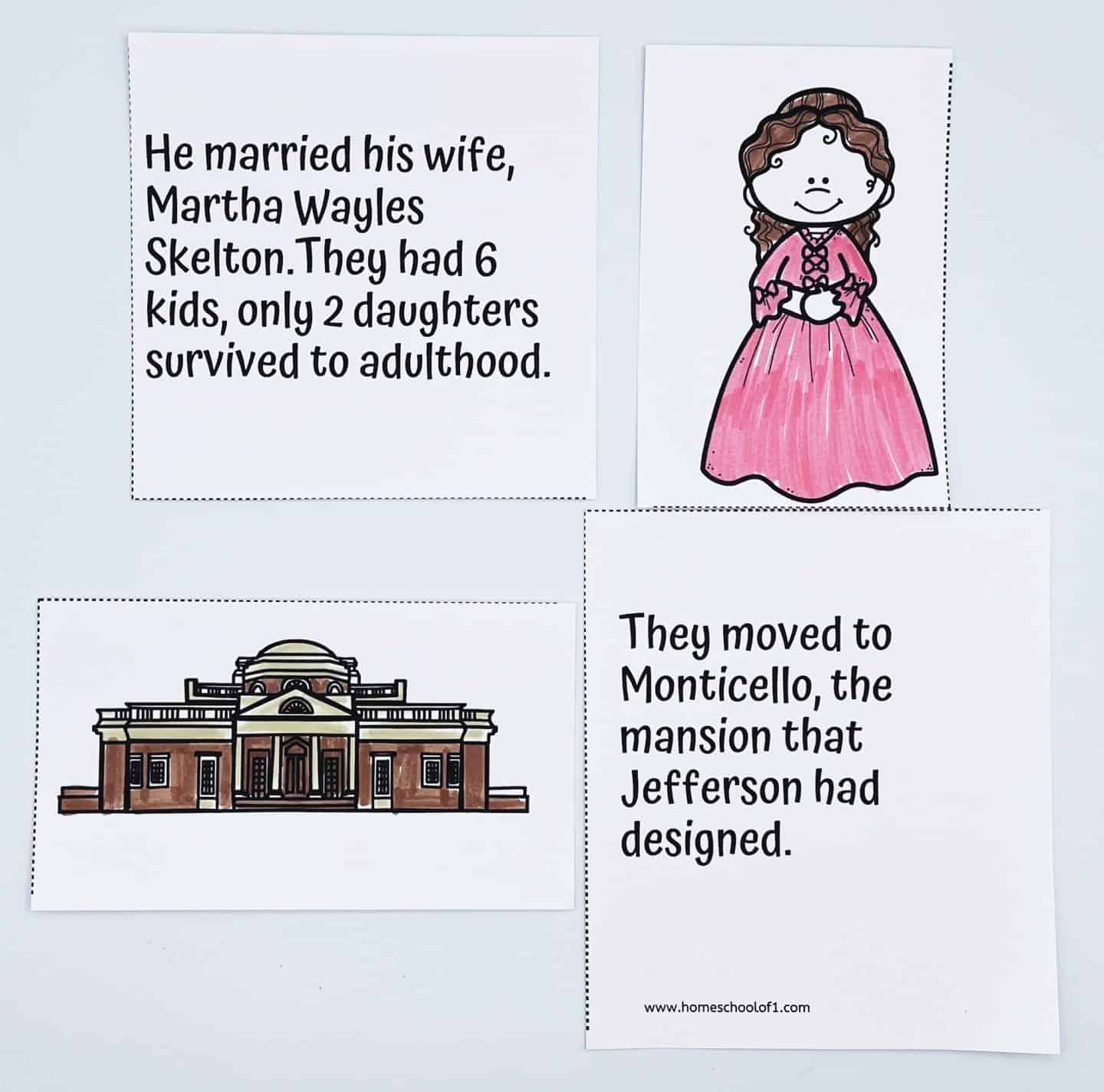 In 1789 he became the new nation's first secretary of state.
Jefferson wrote the Declaration of Independence.
In 1796, Jefferson ran against John Adams and received the second-highest amount of votes, which made him vice president.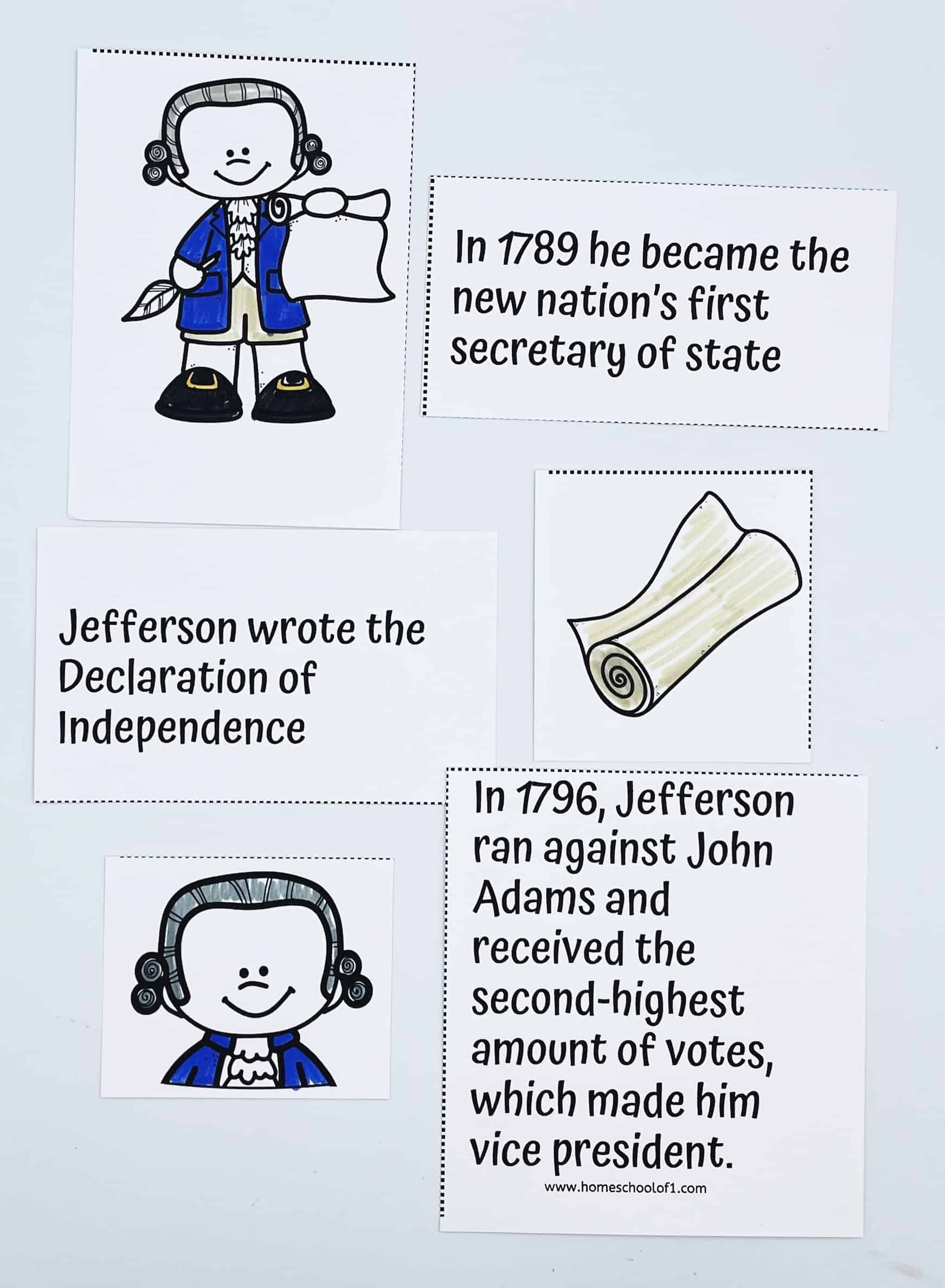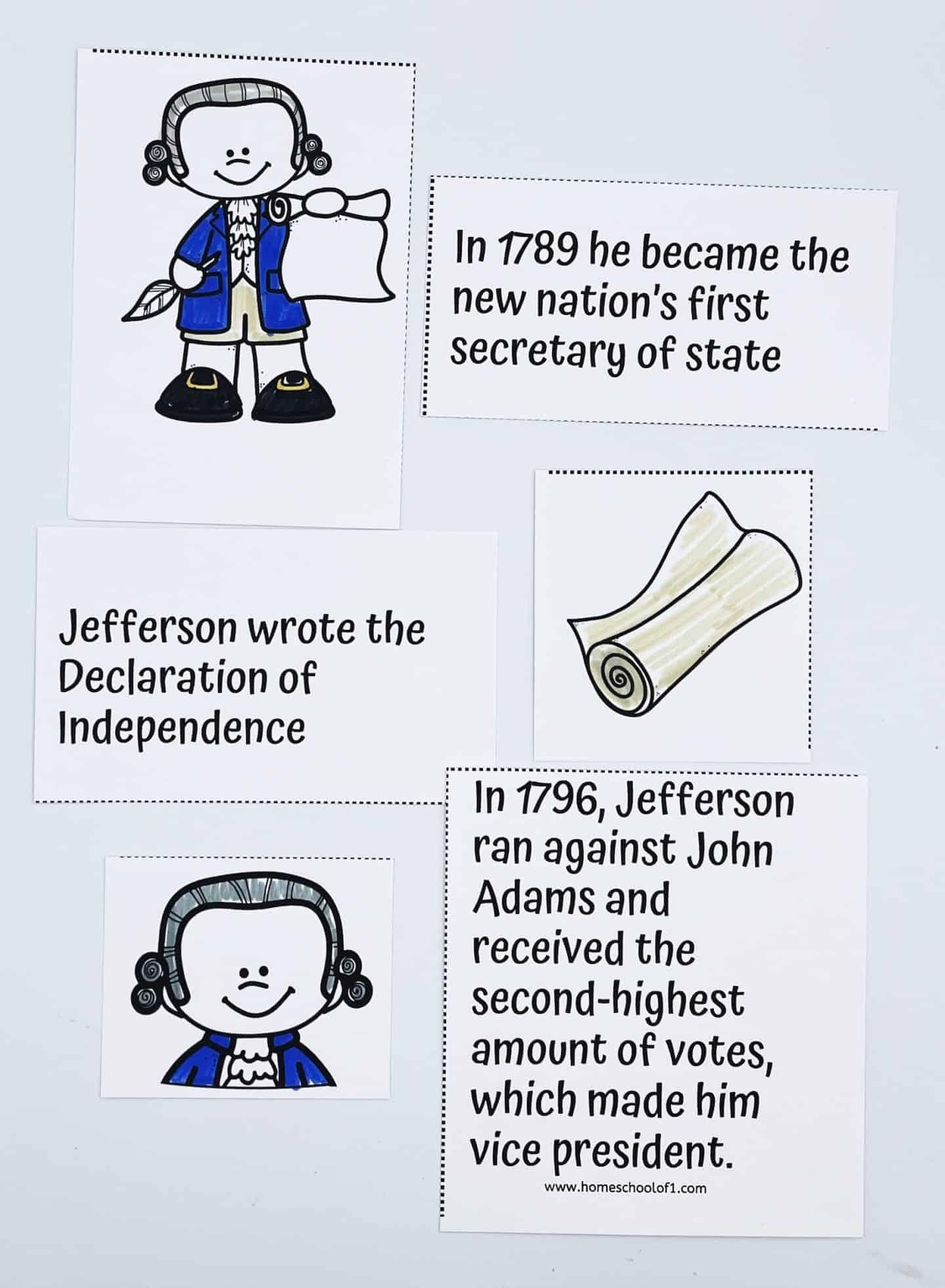 Jefferson was sworn into office on March 4, 1801; he was the first president to be inaugurated in Washington, D.C.
In 1803 he purchased the Louisiana Territory from France for $15 million in 1803.
Jefferson commissioned explorers Lewis and Clark to explore the new land.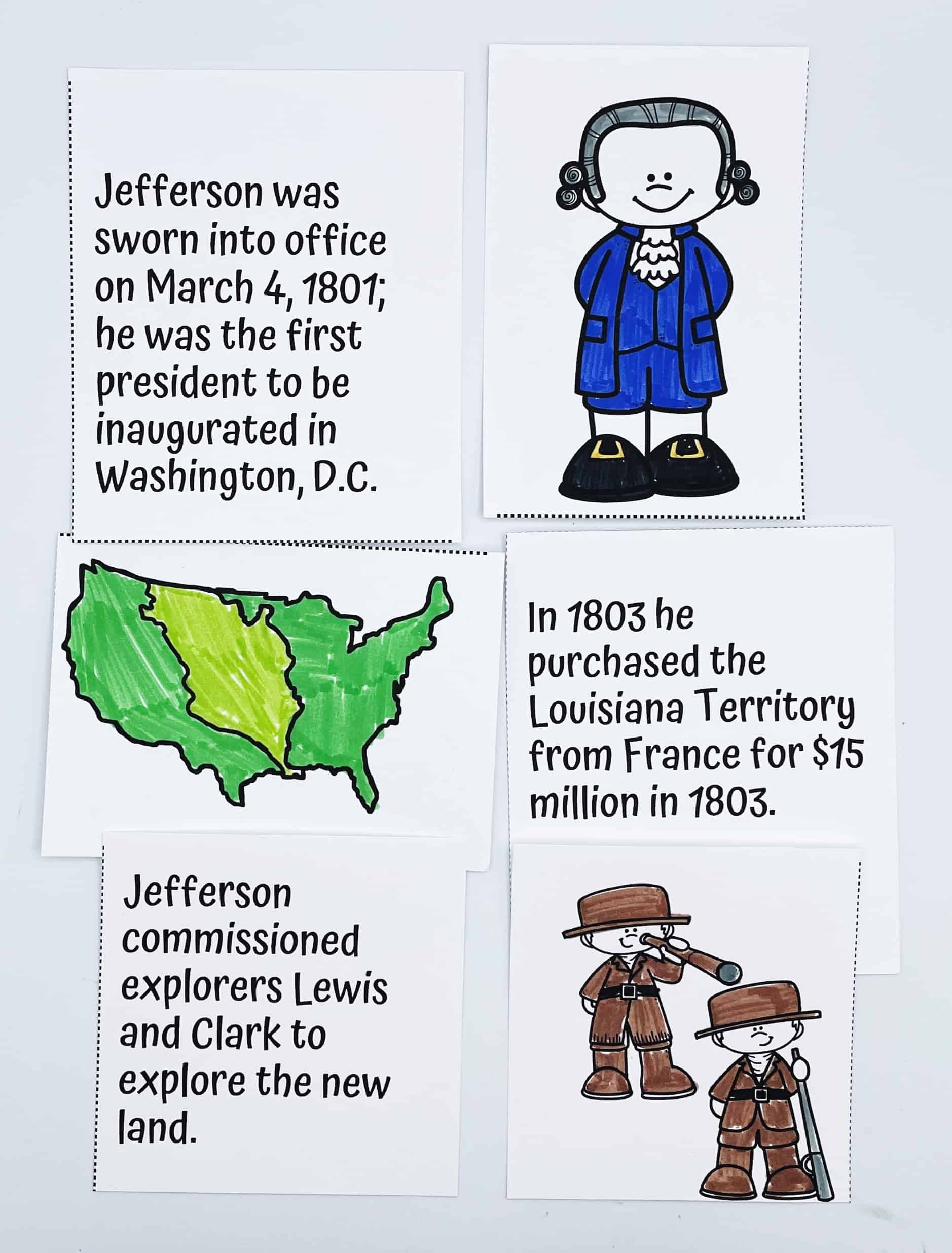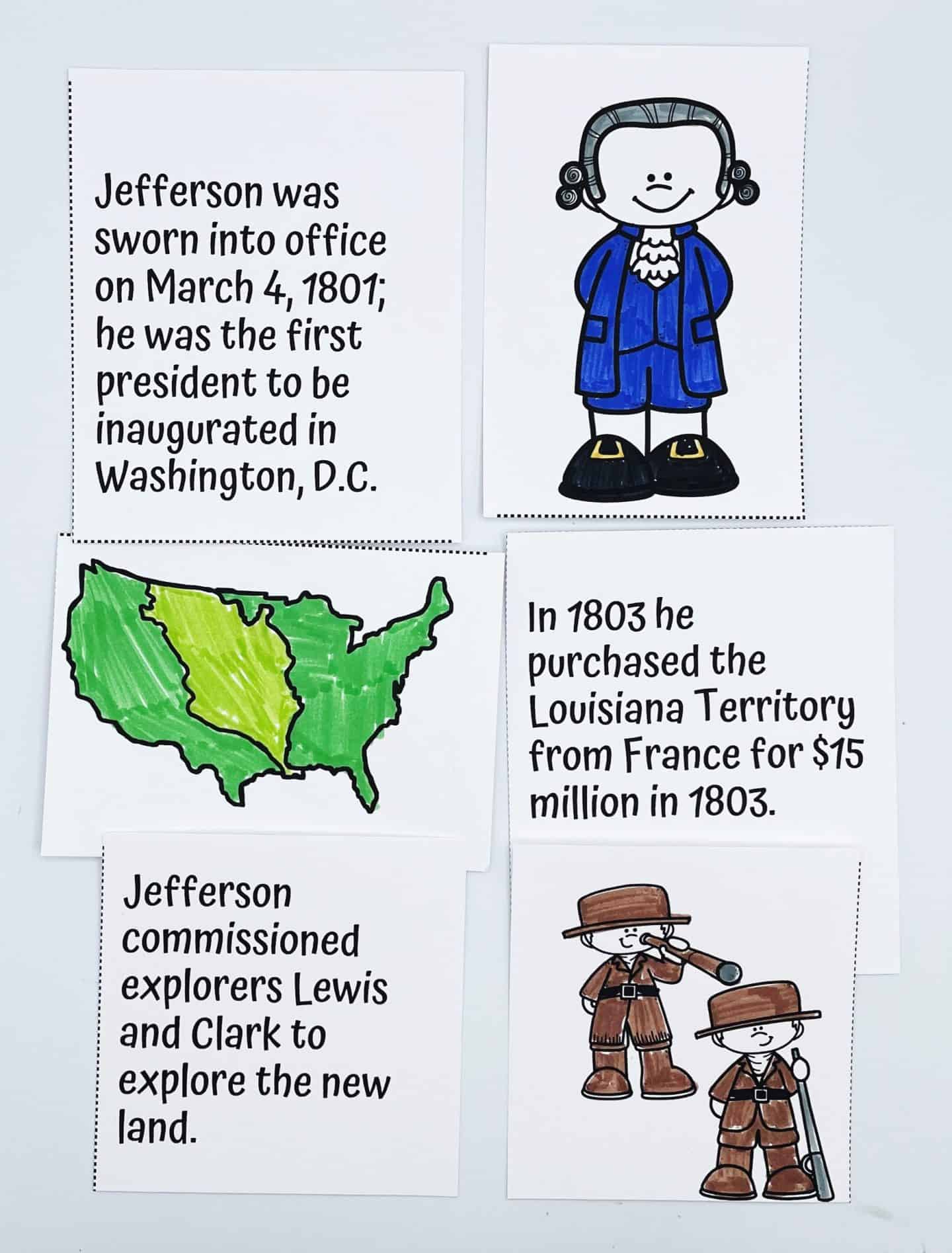 Thomas Jefferson died at age 83 at Monticello on July 4, 1826.
Jefferson has appeared on the nickel since 1938.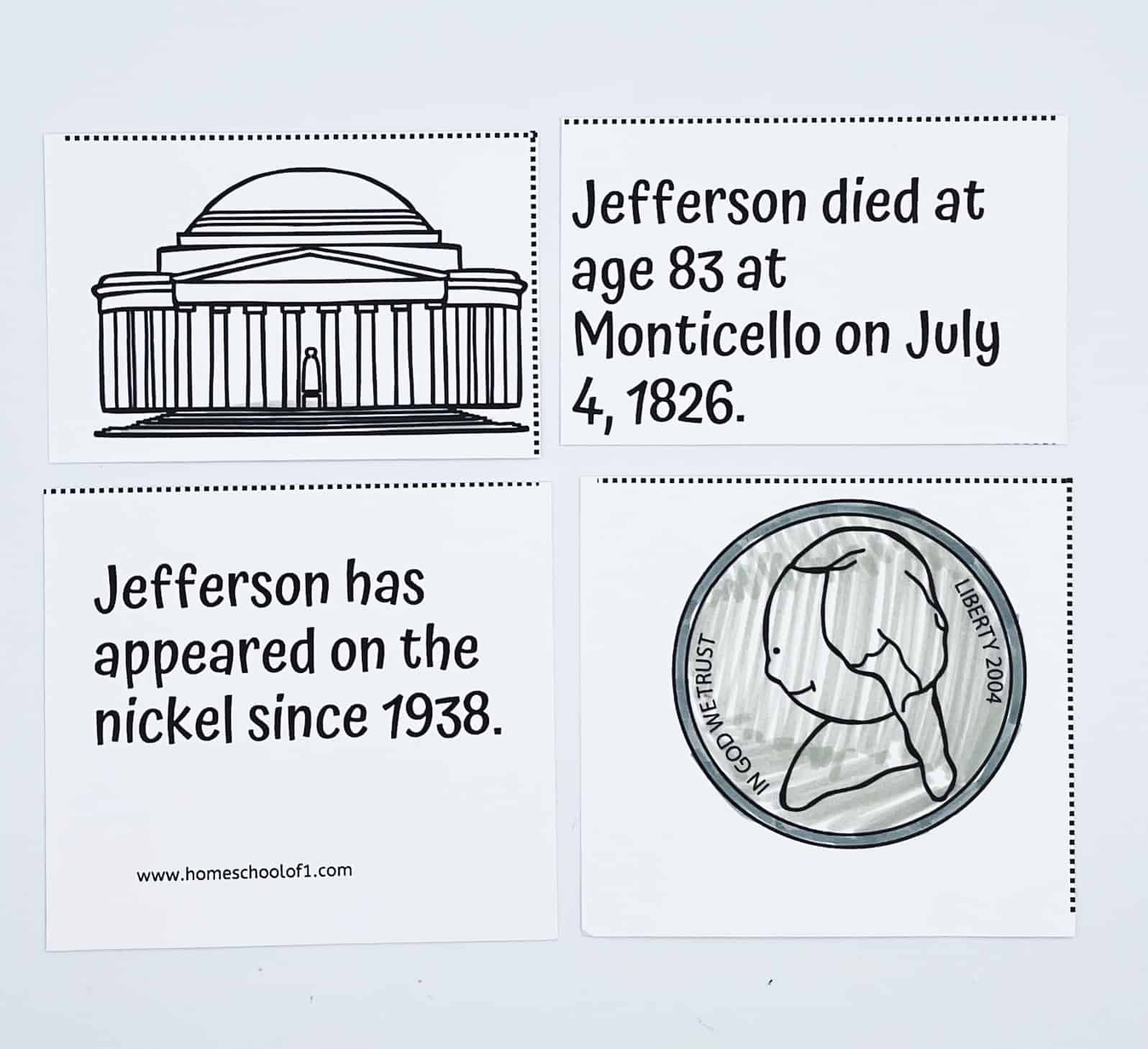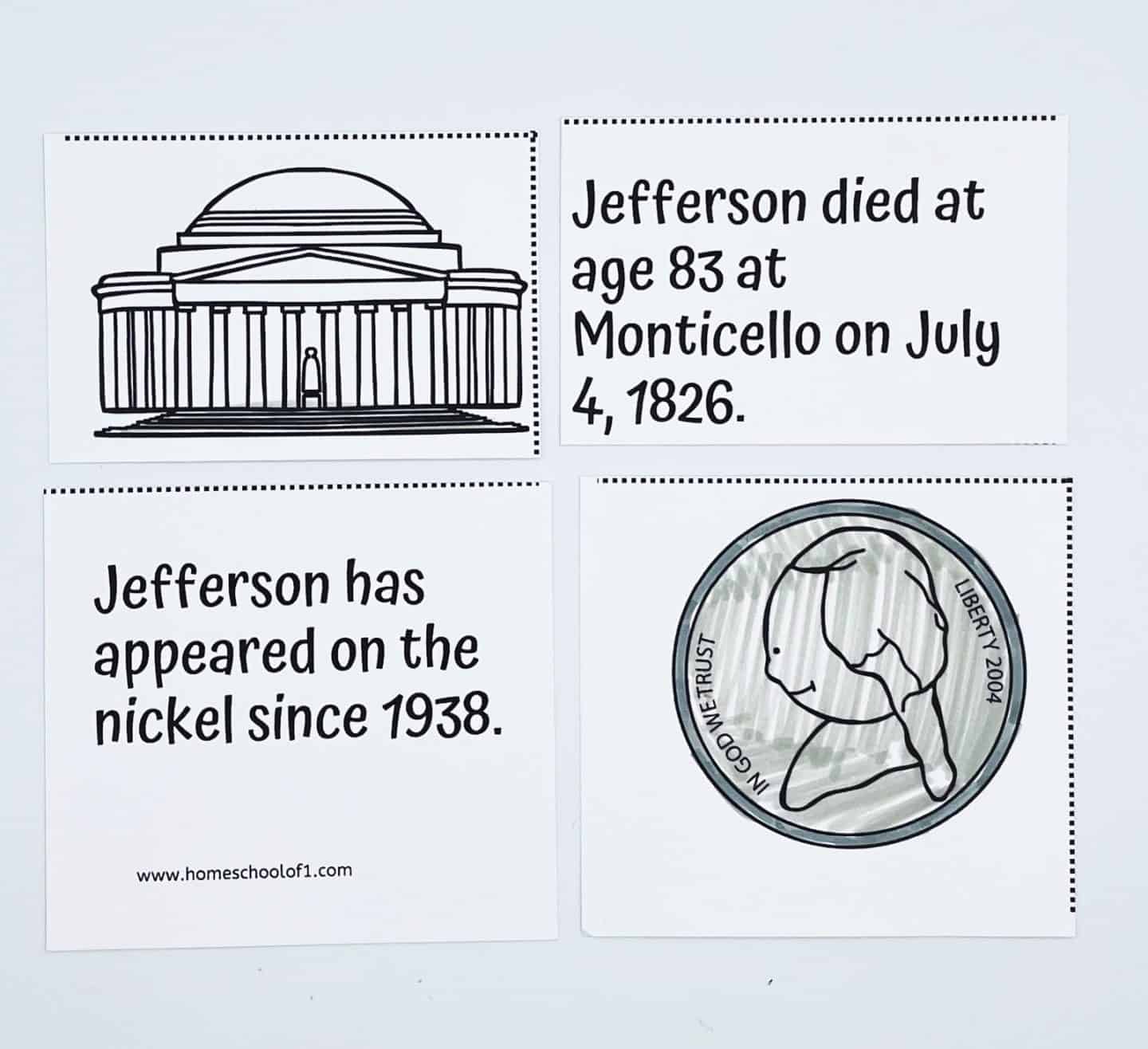 When the kids have finished this why not spend another few weeks learning all about Lewis and Clark with this fun unit study?
Thomas Jefferson Books for Kids
If you are looking for more information on the third President of the United States I highly recommend these Thomas Jefferson books for kids.
The Story of Thomas Jefferson: A biography book for new readers
A picture book of Thomas Jefferson
You will also enjoy our favorite President books for kids.
Government Worksheets
For a small fee, you can download all of our government worksheets. There are 136 pages included in this download including:
The Constitution (10 pages)
History of the Flag (12 pages)
Supreme Court (15 pages)
Statue of Liberty (8 pages)
Franklin D. Roosevelt (10 pages)
Abraham Lincoln (11 pages)
Pledge of Allegiance (6 pages)
Founding Fathers (9 pages)
Thomas Jefferson (5 pages)
Government Worksheets (13 pages)
Bill of Rights (10 pages)
George Washington (13 pages)
Benjamin Franklin (4 pages)
Declaration of Independence (10 pages)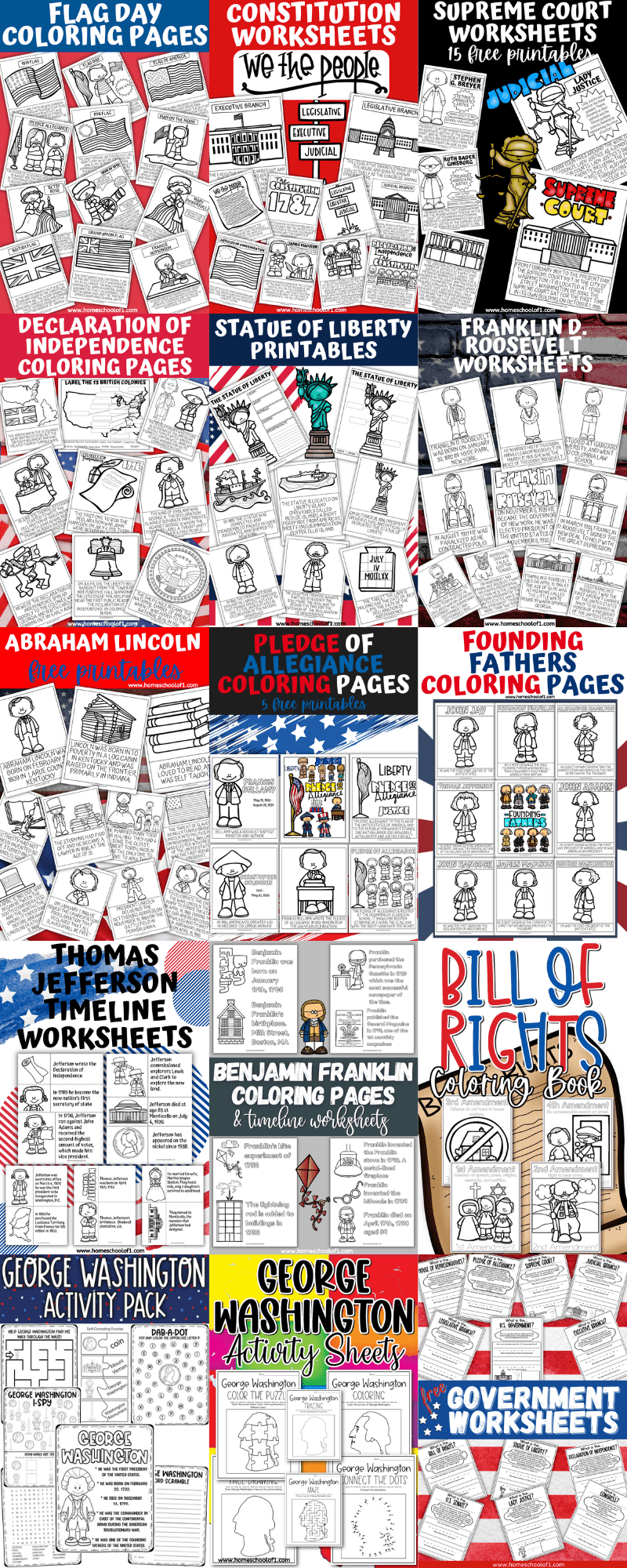 Download the free Thomas Jefferson coloring pages
Make sure you choose the correct paper size and click on the shrink to fit button. All of our free printables work better when printed on cardstock (this is the one we use and love.)
I think you will also enjoy:
Last Updated on 17 January 2023 by homeschoolof1