15 Best President Books For Kids
Presidents Day is nearly upon us, so I wanted to share with you our top 15 favorite President Books For Kids.
Not only have I included our favorite encyclopedia and research books, but I have also added reading books, and biographies. All of these kids books are aimed at children aged 8-14.
If you are getting these from your local library make sure you reserve these books soon as by Presidents Day (Monday 20th February 2023) they will all be taken.
If you are looking for more fun activities on Presidents Day, I highly recommend this If I were President for the day worksheet that you can download for free. For younger children download our free George Washington Worksheets.
I also love our new free Presidents Day coloring pages, they are awesome (even if I do say so myself, check out the video below to see!)
My son absolutely loves reading, check out our favorite book lists for kids there are over 20 book lists included for kids of all ages, for school, for reading, and for every season. Plus lots of free book printables. Carry on reading to see our favorite President books for kids.
See what other patriotic activities we have on the blog, there are lots of free printables.
**There may be affiliate links in this post. You can read my full disclosure at the bottom of the page.**
Children's Books about Presidents
The President's Visual Encyclopedia. An updated book that includes all 46 presidents including the current Joe Biden. The pages of this book are filled with visual timelines that take children on a journey through the achievements of all 46 US Presidents.
There are also 150+ pages for kids to learn about each President's contribution and the historic context surrounding their term in office!
Our Country's Presidents: A Complete Encyclopedia of the U.S. Presidency. The people who have led the United States in modern times are revealed through this authoritative and lavishly illustrated family, school, or library reference book.
Weird But True Know-It-All: U.S. Presidents. If you are looking for a funny book about the US Presidents this is the one for you. With interesting facts that you won't find in the history books, this is an excellent choice.
The Everything Kids' Presidents Book: Puzzles, Games, and Trivia – for Hours of Presidential Fun. You can learn all about the men who have held this country's highest office. From George Washington to George W. Bush, there are plenty of facts and fun activities in store for your children!
Ben Franklin's in My Bathroom! A great funny book for elementary-aged kids, that they won't want to put down. This would also make a great read-aloud book either in the classroom or in homeschool. Benjamin Franklin was surprisingly not a US President despite being one of the Founding Fathers.
I have included him in this list, as I think he should be in it! Celebrate the life and achievements of one of America's founding fathers with our free Benjamin Franklin coloring pages.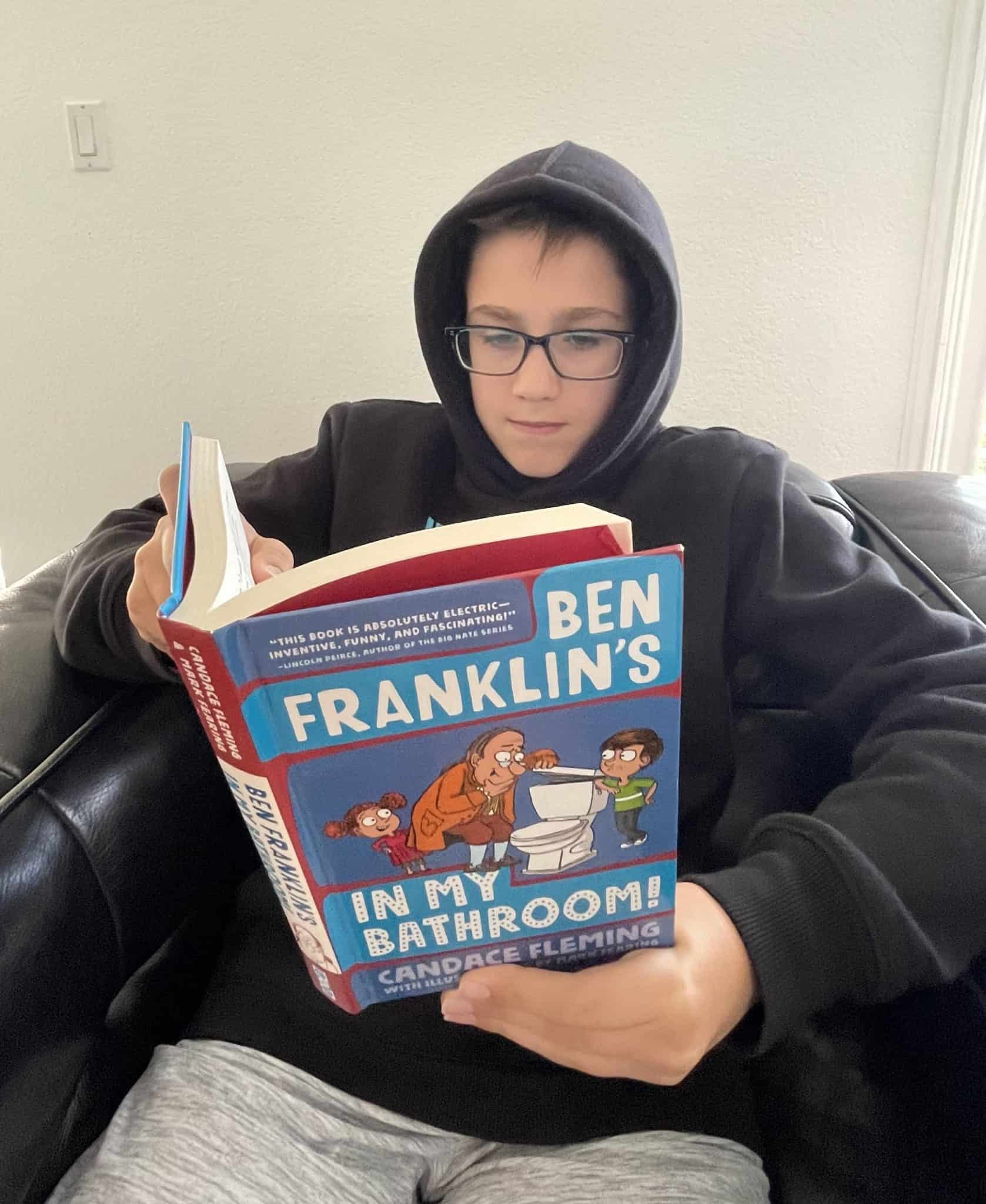 Thomas Jefferson Builds a Library. You will also enjoy our free Thomas Jefferson worksheets.
Worst of Friends: Thomas Jefferson, John Adams and the True Story of an American Feud
Grover Cleveland, Again!: A Treasury of American Presidents. With two pages for each of the first 44 US Presidents
The Camping Trip that Changed America. Theodore Roosevelt and John Muir went on a camping trip to Yosemite National Park.
Kid Presidents: True Tales of Childhood from America's Presidents. Hilarious childhood biographies and full-color illustrations. Show how our favorite presidents faced kid-sized problems as children.
If I Ran For President. A book about Presidents for younger children. This is an informative yet interesting and colorful story for kids.
Best Presidential Biographies for Kids
I am Abraham Lincoln. The 16th president of America and a hero to many. With his famous speeches on fairness, he led us through The Civil War in which we abolished slavery forever!
This book follows him from childhood all throughout life including when he became our greatest leader. It also covers his famous Gettysburg speech of 1863. You will also enjoy our free Abraham Lincoln worksheets.
Who Was Franklin Roosevelt? This is just one of the 46 presidents who have a Who Was title. They are excellently written for kids, and a must-have when wanting to learn about the Presidents. Download our free Franklin D. Roosevelt worksheets.
Andrew Jackson: The Making of America. He was born into poverty but rose to be America's seventh president and founder of the Democratic Party.
Thomas Jefferson: President and Philosopher. Is a great book for middle schoolers. There are timelines, pictures, and a story of the third President.
Last Updated on 18 January 2023 by homeschoolof1