Free Abraham Lincoln Worksheets for Kids
Today we are learning all about the sixteenth President of America with our free Abraham Lincoln worksheets.
These are great patriotic printables for President's Day or any time you are learning about the Presidents.
There are 11 coloring pages to print out and learn all about Abe Lincoln. This is perfect for kindergarten, first, and second-grade students.
Abraham Lincoln was born on February 12th, 1809, and was the 16th President of the United States of America.
In this free printable the kids will be able to color in the history timeline of the 16th American President.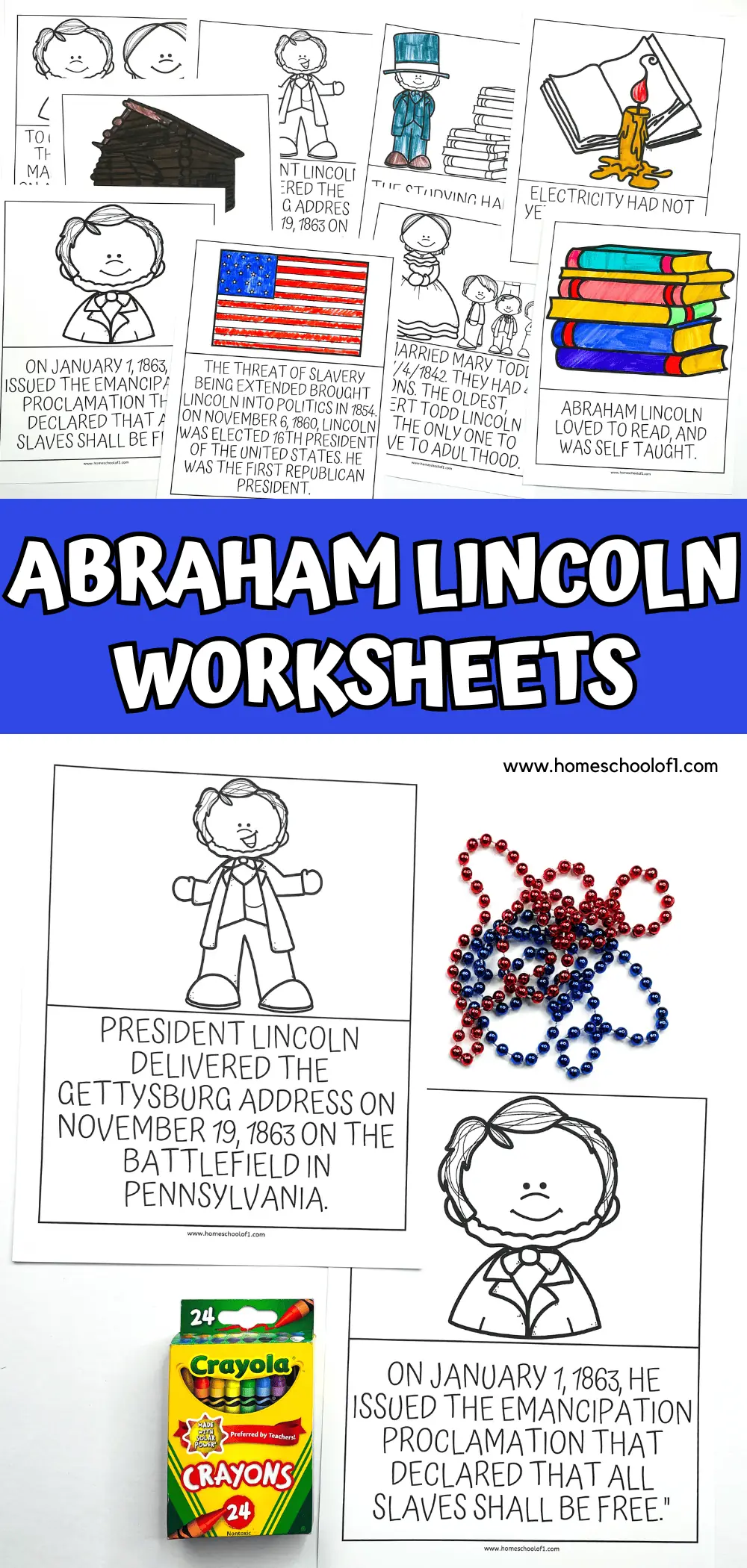 **There may be affiliate links in this post. You can read my full disclosure at the bottom of the page.**
Abraham Lincoln Timeline Printables
The kids are going to enjoy coloring in these Abraham Lincoln coloring pages as they learn all about his life.
What is included in the download?
Print out the coloring pages below, it will print out on 11 pages. Make sure to check the printer settings.
You can of course print this on normal printer paper, but with all of our printables, they always look better on cardstock.
The first coloring page is of course Abraham Lincoln's birth. He was born on February 12, 1809 in Larue County, Kentucky.
Lincoln was born into poverty in a log cabin in Kentucky and was raised on the frontier, primarily in Indiana.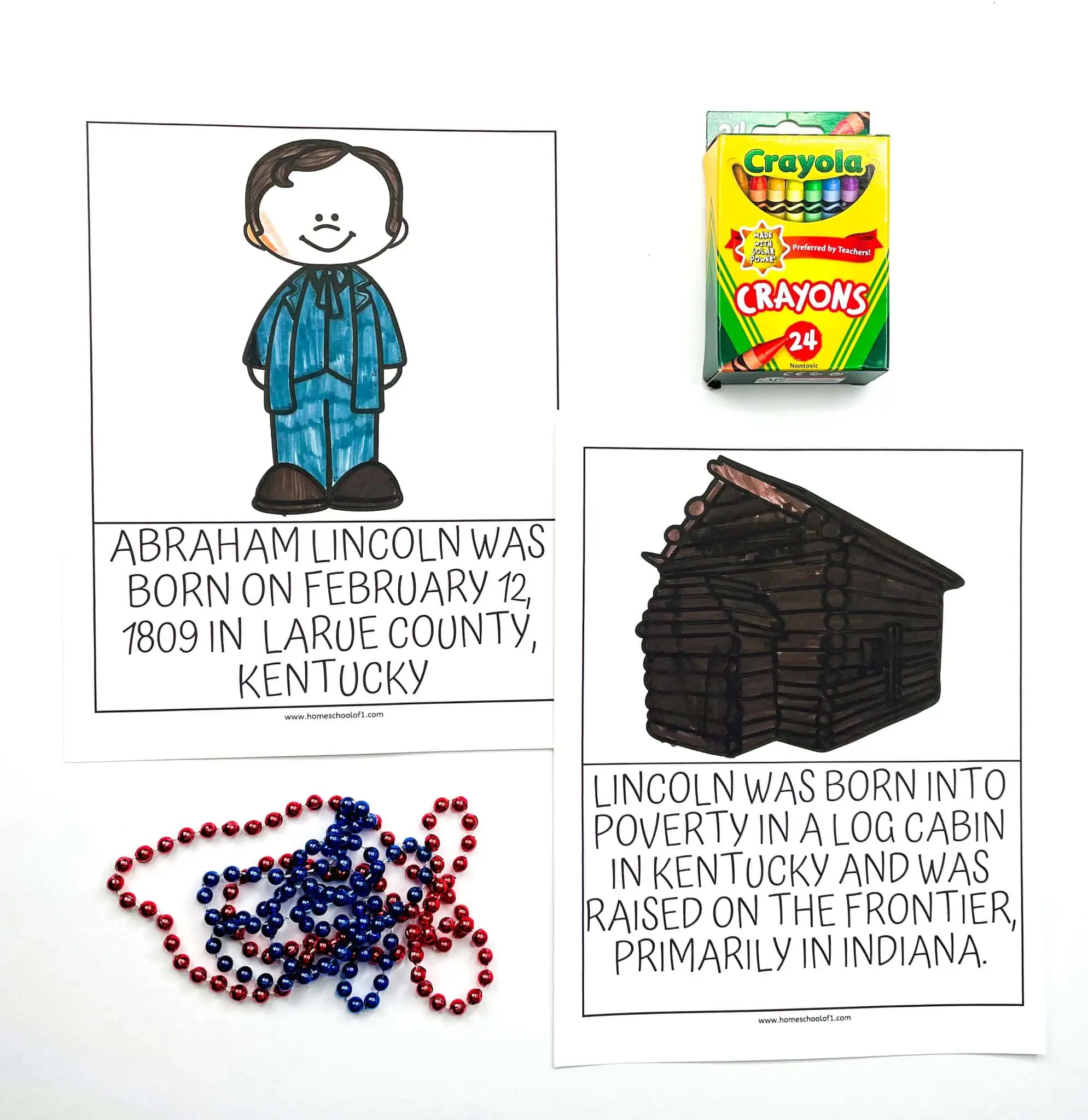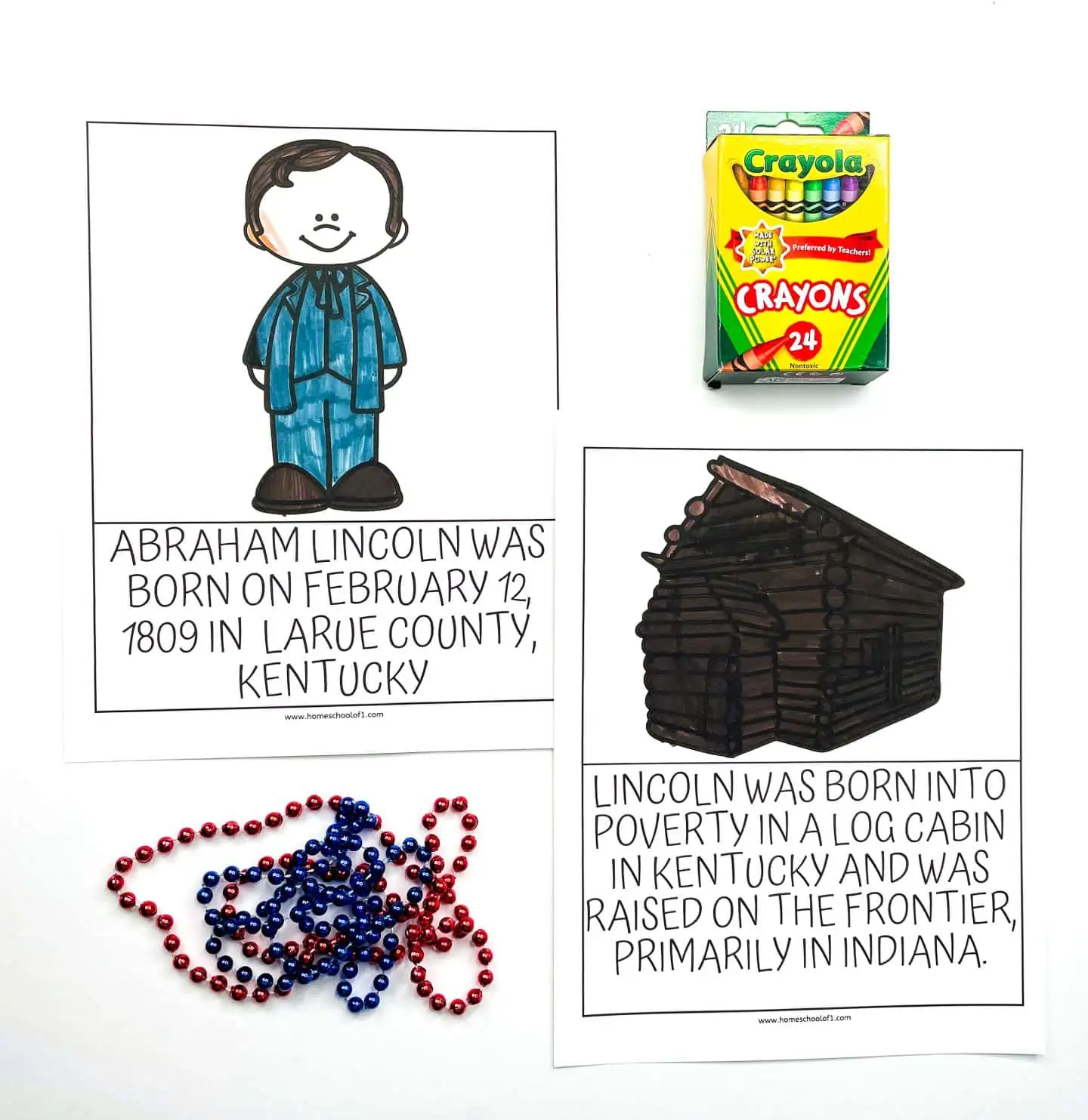 Who Was Abraham Lincoln?
The Story of Abraham Lincoln: A Biography Book
National Geographic Readers: Abraham Lincoln (Readers Bios)
Abe Lincoln: The Boy Who Loved Books
Abraham Lincoln loved to read and was self-taught. This story of Abraham Lincoln is a great book for kids to learn even more about him.
Electricity had not yet been invented so he studied by candlelight. Benjamin Franklin is one of the first people to discover electricity with his kite experiment. Learn more about him with our free Benjamin Franklin coloring pages and timeline activities.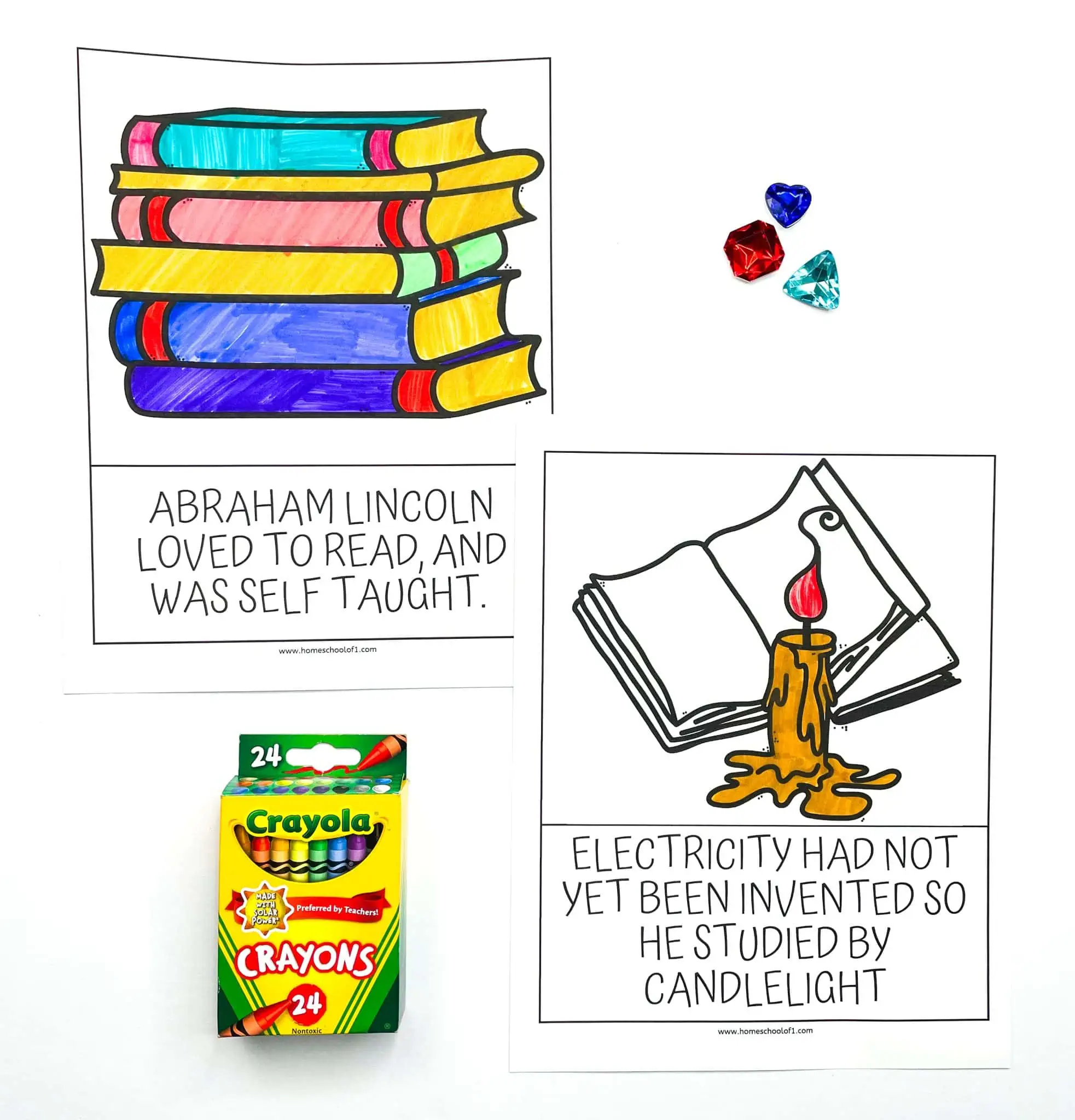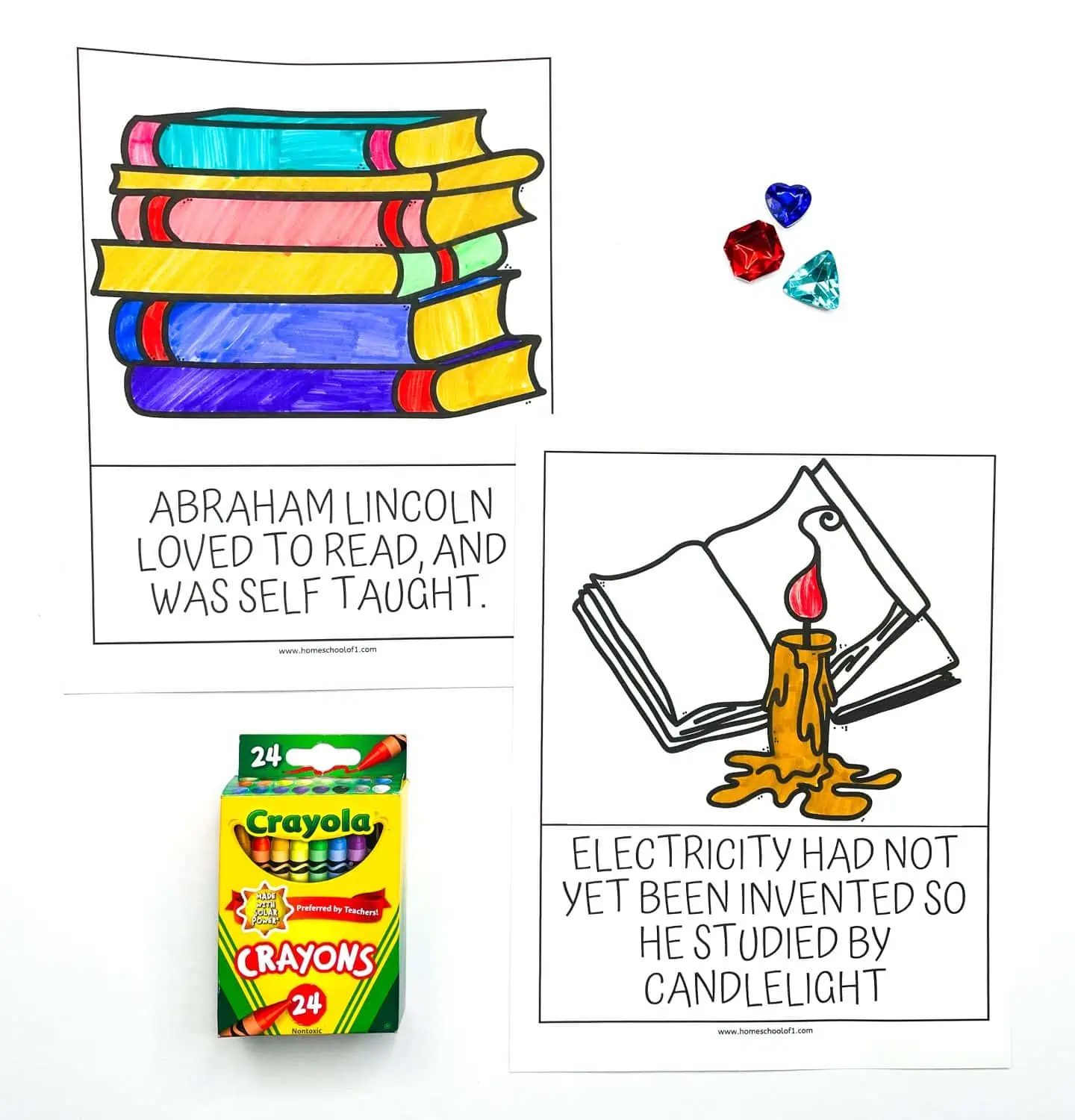 The studying had paid off and he became a lawyer in 1836 at the age of 25.
He married Mary Todd on 11/04/1842. They had 4 sons, the oldest Robert Todd Lincoln was the only one to survive to adulthood.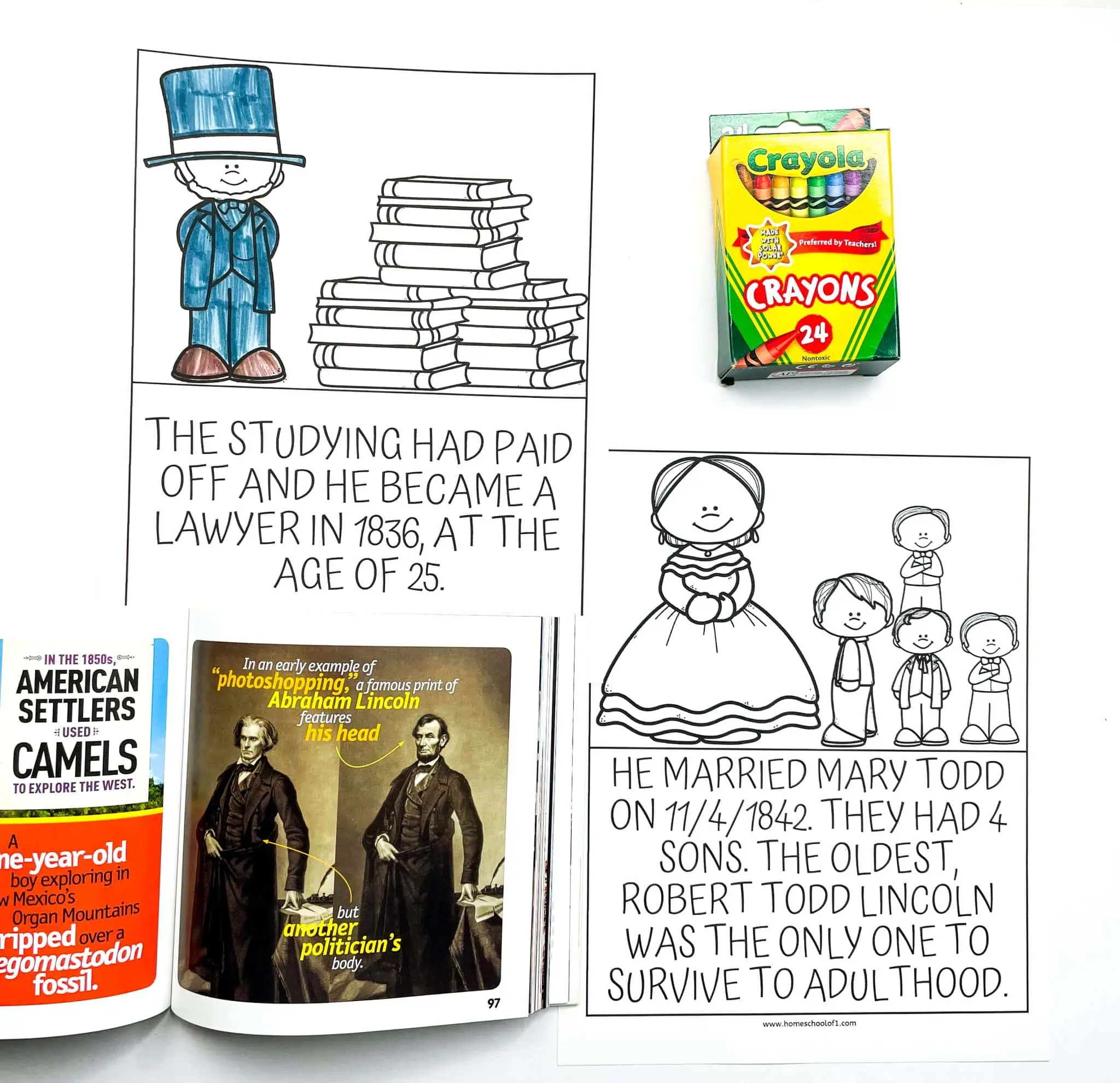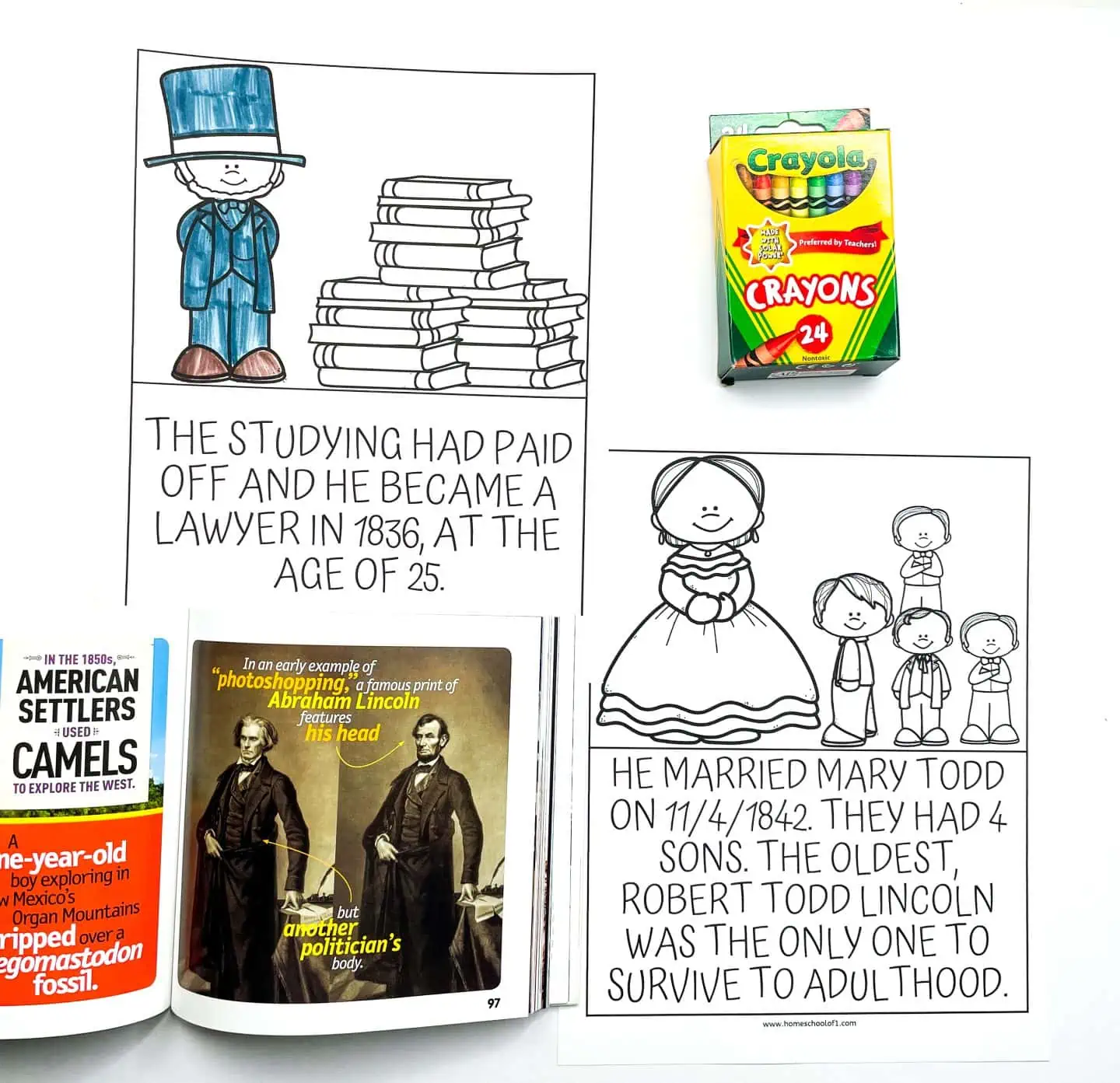 The threat of slavery being extended brought Lincoln into politics in 1854. On November 6, 1860, Lincoln was elected the 16th president of the United States. He was the first Republican President.
On April 12, 1861, Civil War began between the South (Confederates) and the North (the Union). It ended days before Abraham Lincoln's death on April 9, 1865. Learn more about it with this kid's book Guts & Glory: The American Civil War.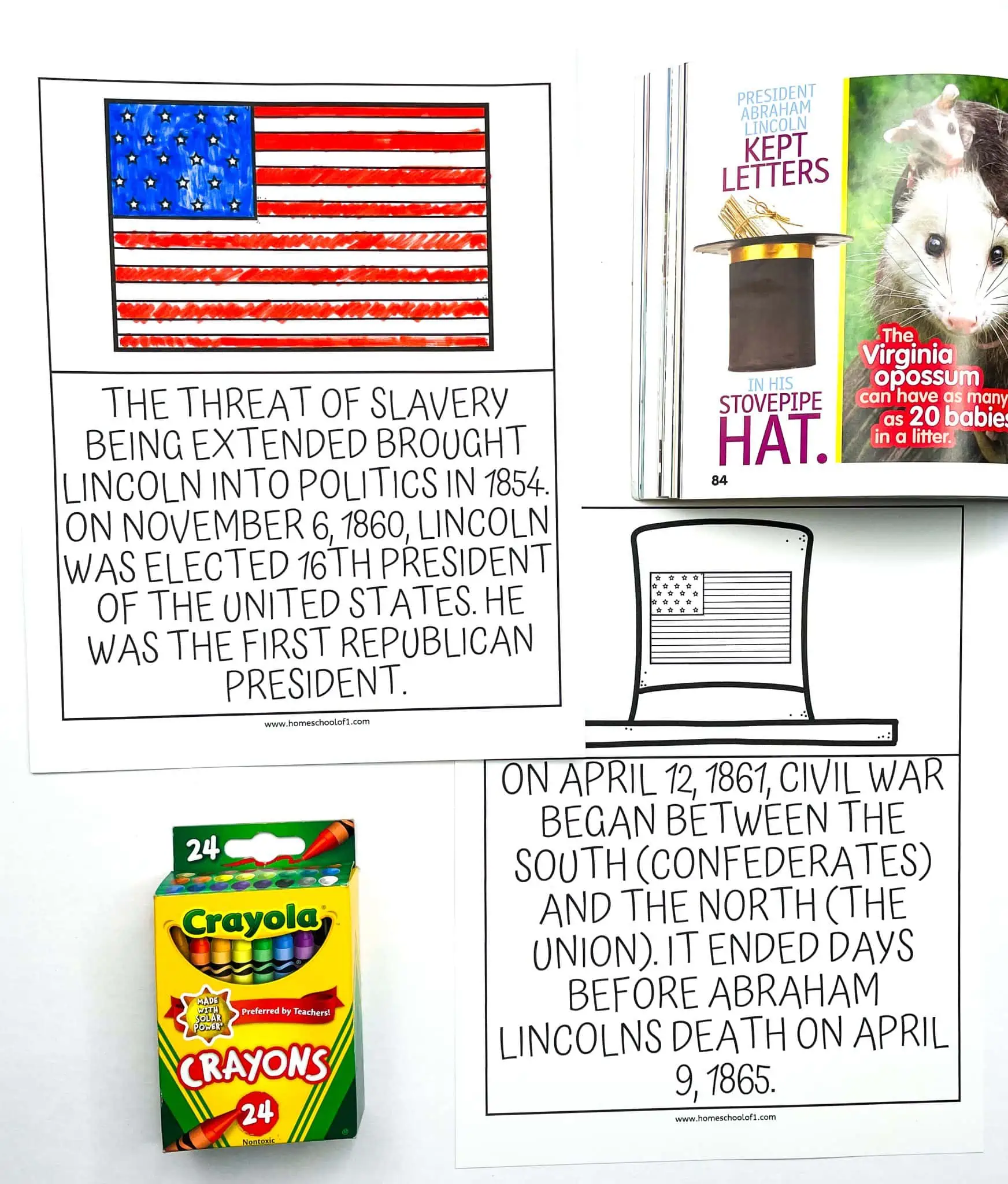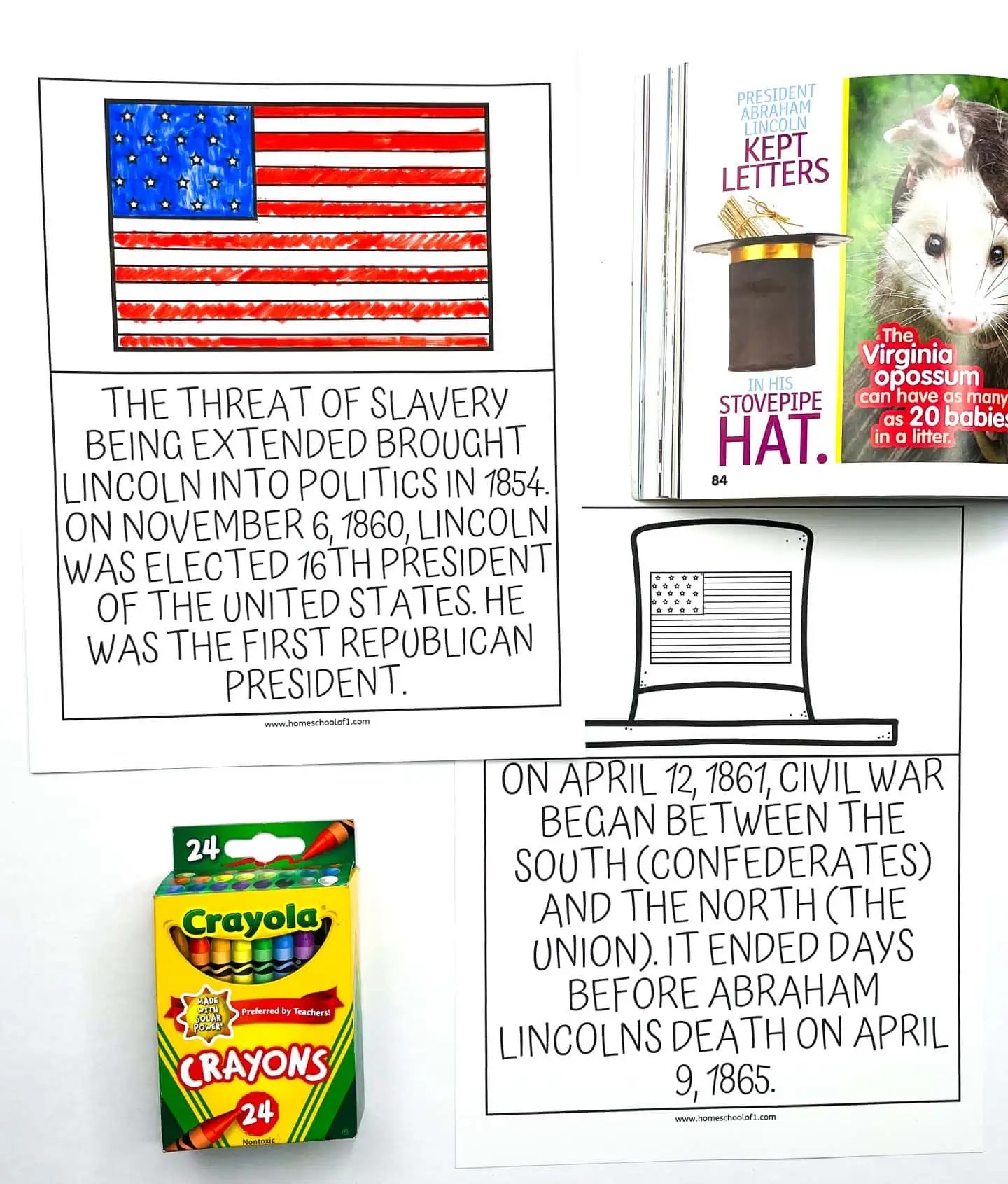 Add the Weird But True USA book to learn things about Licnoln you probably wouldn't find in a textbook!
On January 1, 1863, he issued the Emancipation Proclamation that declared that all slaves shall be free."
President Lincoln delivered the Gettysburg Address on November 19, 1863, on the battlefield in Pennsylvania. Help the kids understand what the speech at Gettysburg was with the book, Just a Few Words, Mr. Lincoln: The Story of the Gettysburg Address.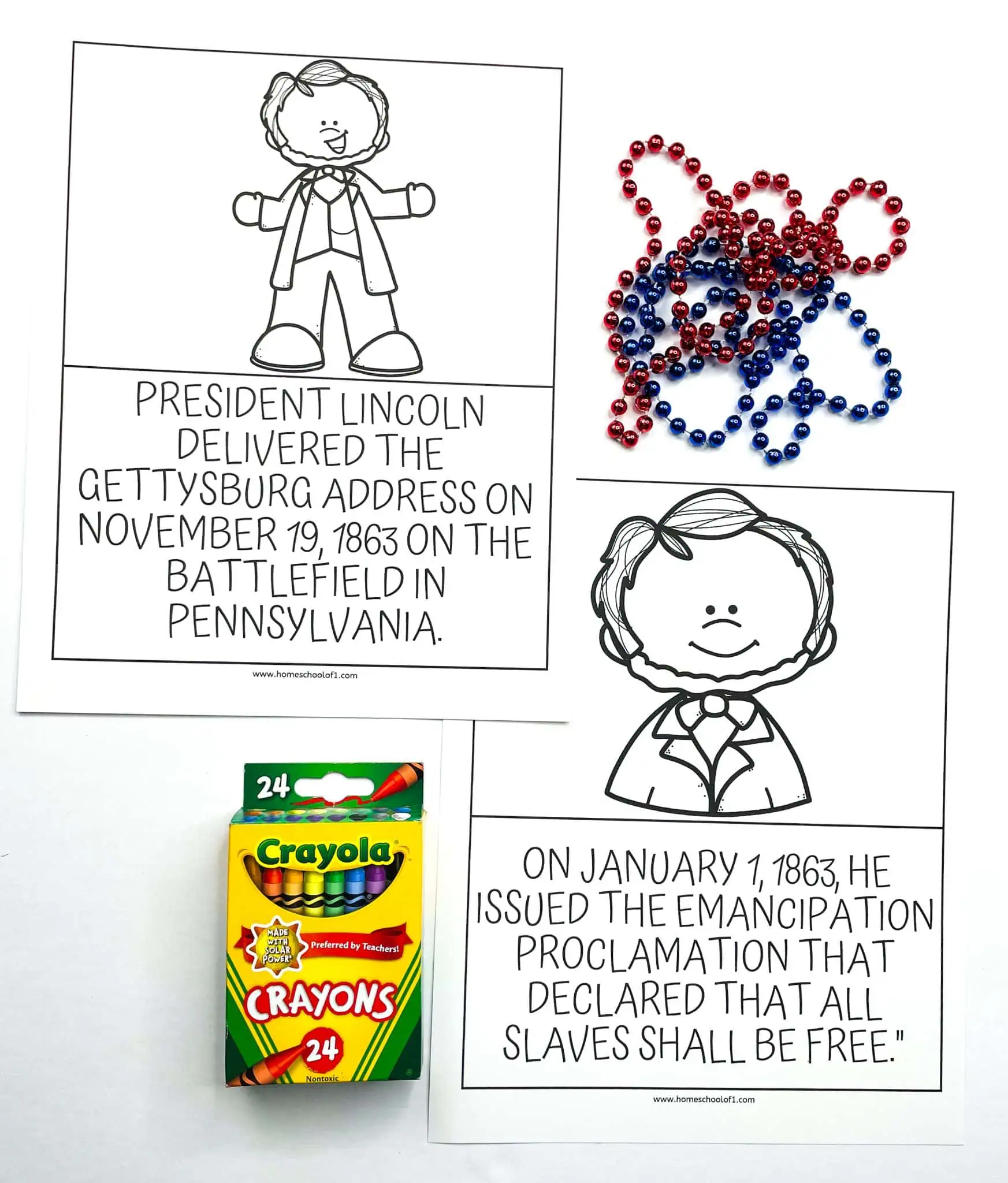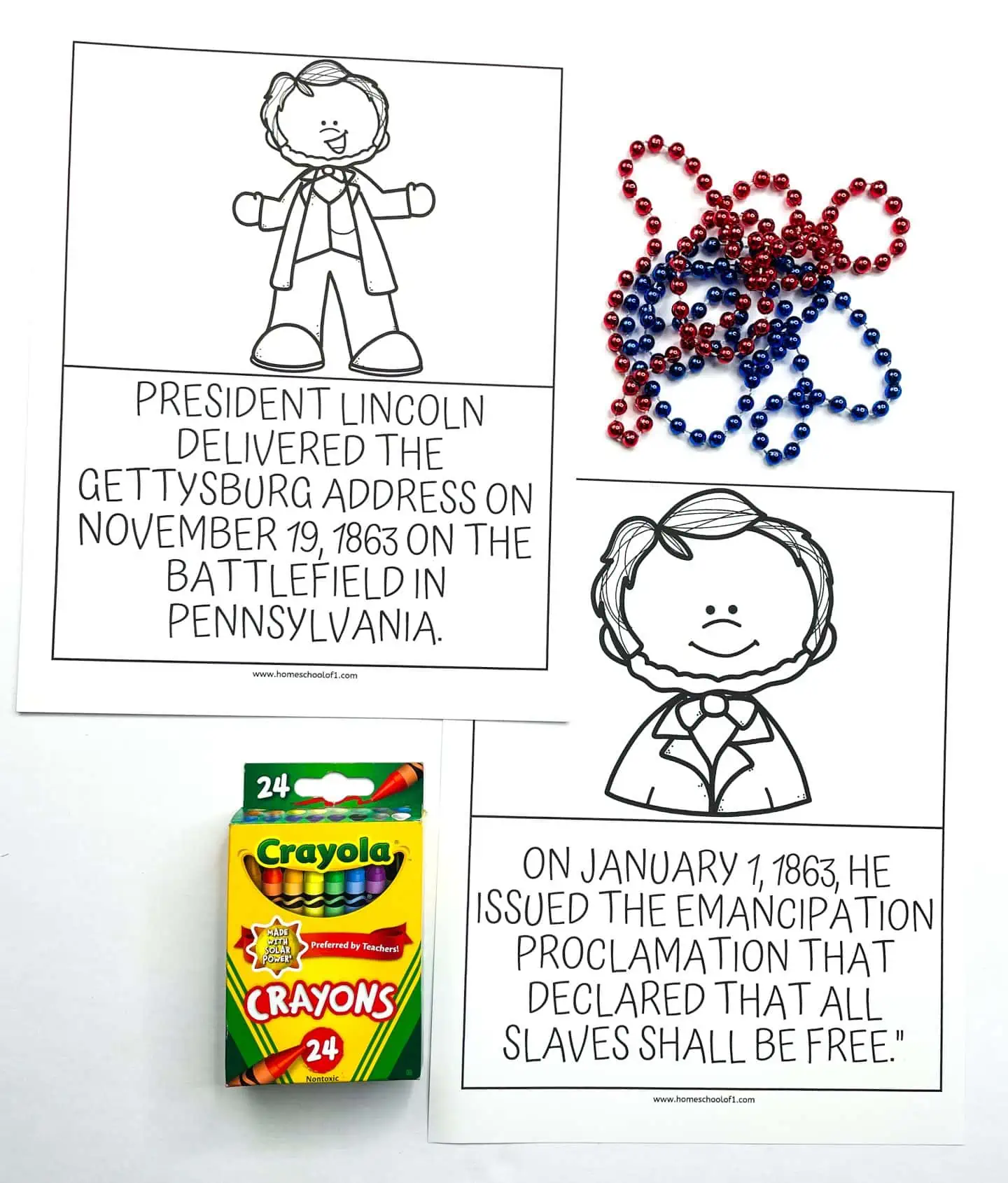 To celebrate the end of the war, Lincoln took Mary to Ford's Theatre on April 14, 1865. During the play, Our American Cousin, John Wilkes Booth shot Lincoln. Abraham Lincoln died on April 15, 1865.
We also used the Abraham Lincoln World Book.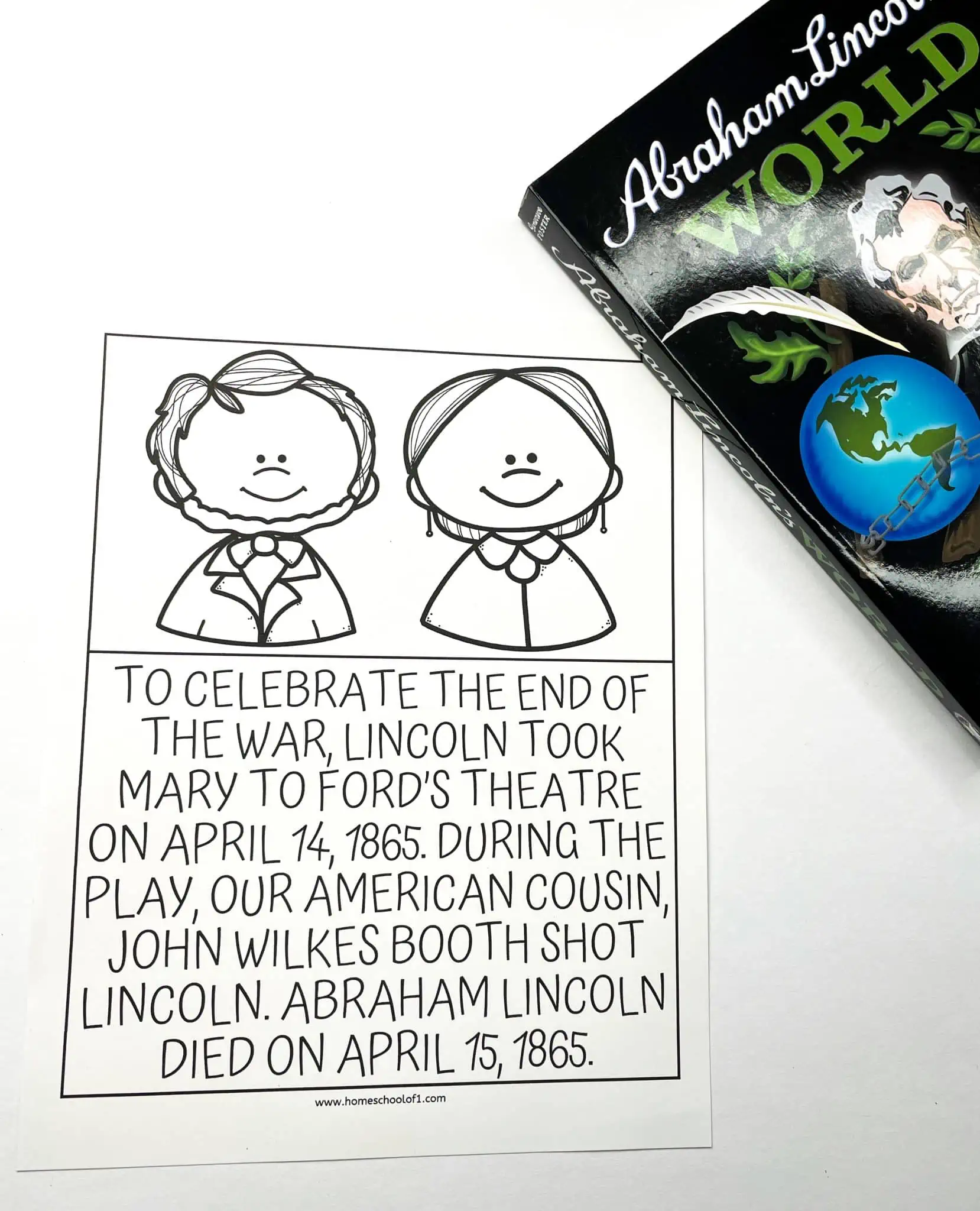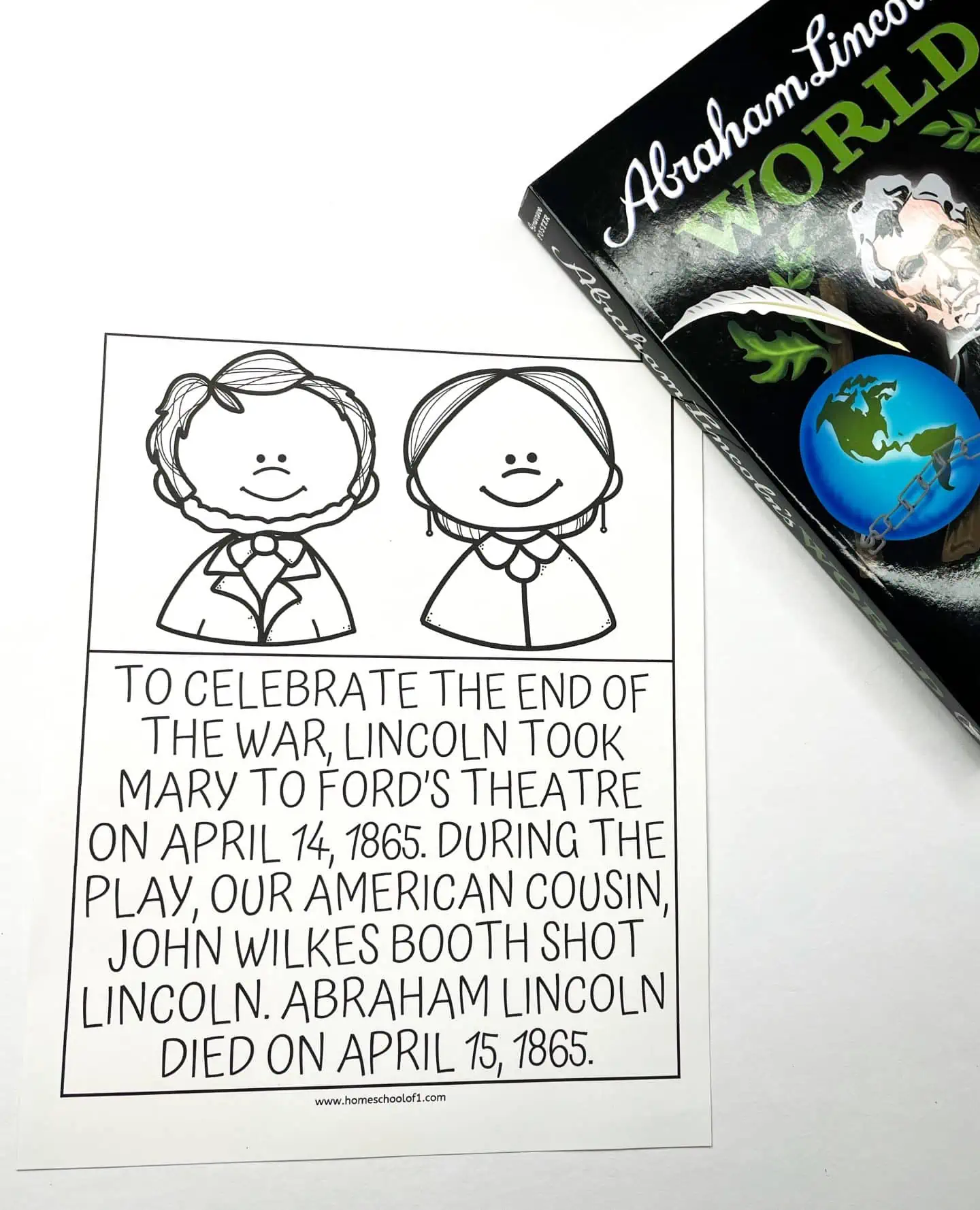 Older students can use the Abraham Lincoln unit study.
Abraham Lincoln Books for Kids
If you are looking for more information on the sixteenth President of the United States I highly recommend these Abraham Lincoln books for kids.
You will also enjoy our favorite President books for kids.
The Story of Abraham Lincoln presents a captivating biography tailor-made for new readers. Delving into the life and legacy of one of America's greatest presidents. Exploring his humble beginnings, leadership during the Civil War, and enduring impact on the nation's history.
My little golden book about Abraham Lincoln offers a delightful and age-appropriate introduction to the life of Abraham Lincoln. Captivating young minds with its engaging illustrations and simplified narrative. Showcasing the journey of the beloved president from log cabin to the White House.
I am Abraham Lincoln is a part of the popular children's book series, "Ordinary People Change the World." Depicting the inspiring life of Abraham Lincoln in an accessible and engaging manner. Inspiring young readers with his determination, integrity, and crucial role in ending slavery and preserving the Union.
Who Was Abraham Lincoln? is an informative and captivating biography aimed at young readers. Shedding light on the life of Abraham Lincoln, from his early years in a Kentucky log cabin to becoming the 16th President of the United States. Leading the nation through a turbulent time and eventually securing his place as an enduring symbol of freedom and equality.
Other Kid's Presidential Resources
Tips for downloading the free files
Below you will see a large sign-up box where you need to add your name and email address, and press I NEED THIS NOW!
Within minutes you will be sent the free PDF directly to your email address, so you can print it out and start using it immediately.
Sometimes emails get a little wonky, so if you can't see it, please check your spam folder where I am sure it is hiding.
Download the free Abraham Lincoln coloring pages
Make sure you choose the correct paper size and click on the shrink to fit button. All of our free printables for kids work better when printed on cardstock (this is the one we use and love.)
Government Worksheets
For a small fee, you can download all of our government worksheets. There are 136 pages included in this download including:
The Constitution (10 pages)
History of the Flag (12 pages)
Supreme Court (15 pages)
Statue of Liberty (8 pages)
Franklin D. Roosevelt (10 pages)
Abraham Lincoln (11 pages)
Pledge of Allegiance (6 pages)
Founding Fathers (9 pages)
Thomas Jefferson (5 pages)
Government Worksheets (13 pages)
Bill of Rights (10 pages)
George Washington (13 pages)
Benjamin Franklin (4 pages)
Declaration of Independence (10 pages)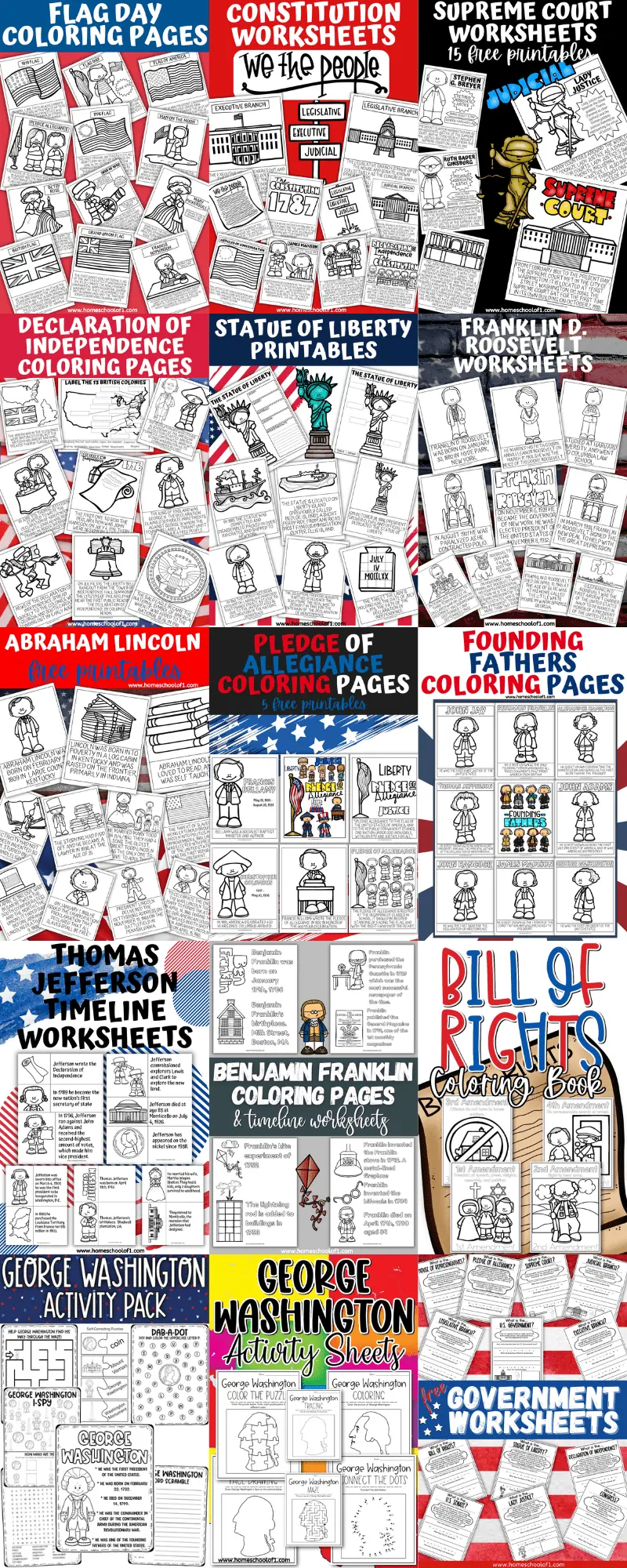 Last Updated on 21 October 2023 by homeschoolof1