27 FREE Presidents Day Coloring Pages (all 46 Presidents)
Presidents Day is celebrated on the third Monday in February and in 2022 is on February 21st. Print out these 27 free Presidents Day coloring pages and learn all about them.
There are all 45 Presidents included 2 per page, plus two pages of all of their headshots.
President Biden is the 46th President of the United States, but there have only actually been 45 different Presidents. Grover Cleveland was elected to two non-consecutive terms, and as such is considered the 22nd and 24th.
For a bit more presidential fun why not download our free President's Day word scramble?
We love creating free kids coloring pages, and we either use them as a supplement for a lesson we are studying or to calm the mood! Coloring is a great way for them to refocus and relax, and great for improving fine motor skills.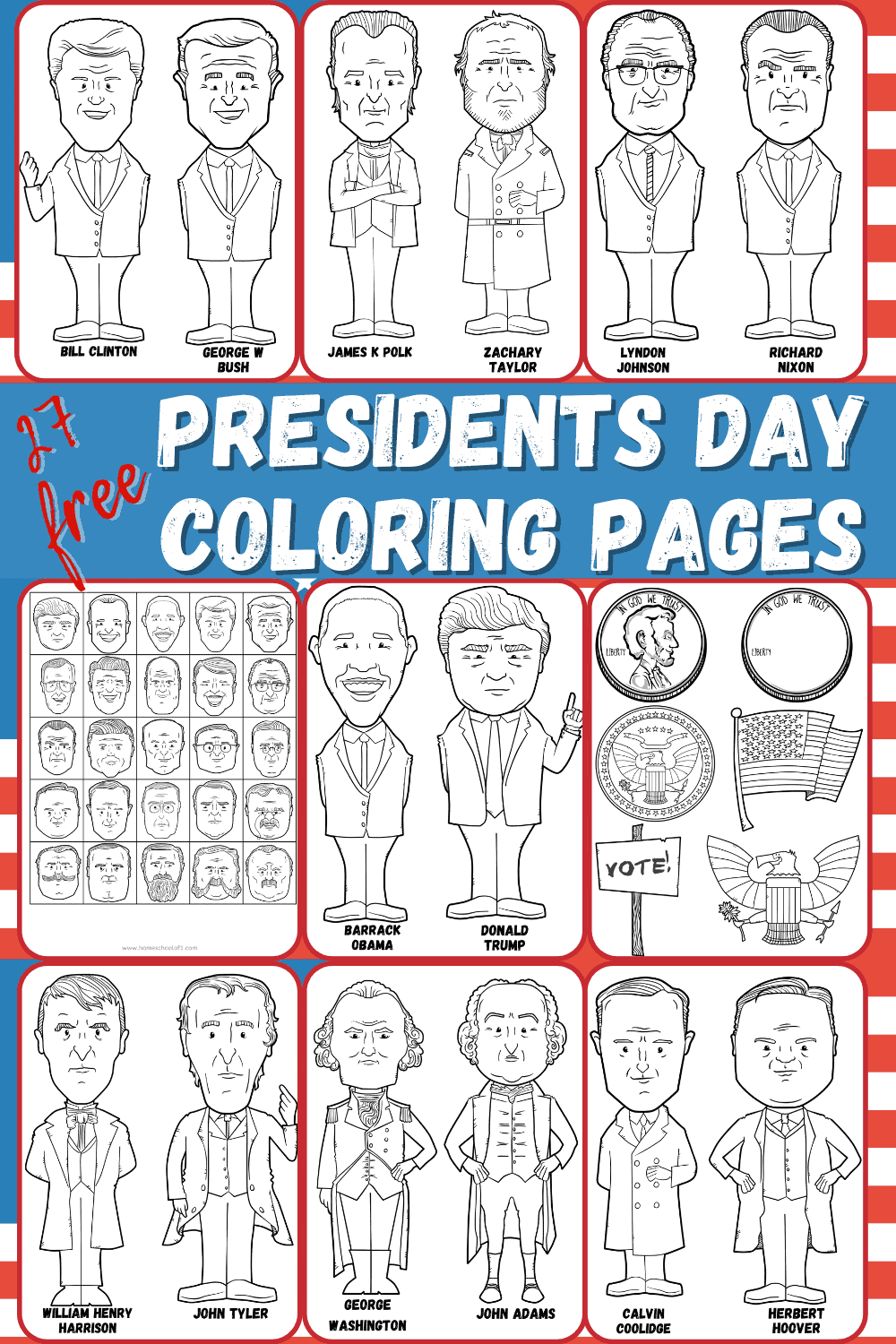 **There may be affiliate links in this post. You can read my full disclosure at the bottom of the page.**
Free Printable Pictures of Presidents
Download the printable President's images below. There are 27 pages to download. Make sure to check the printer settings.
These President's coloring pages are free to print but are for personal and classroom use only. Scroll to the bottom of the post and add your email address to get the pdf file.
There are 2 Presidents per page, with their names underneath, plus 2 pages full of headshots!
The presidents featured in the Presidents Day coloring pages include: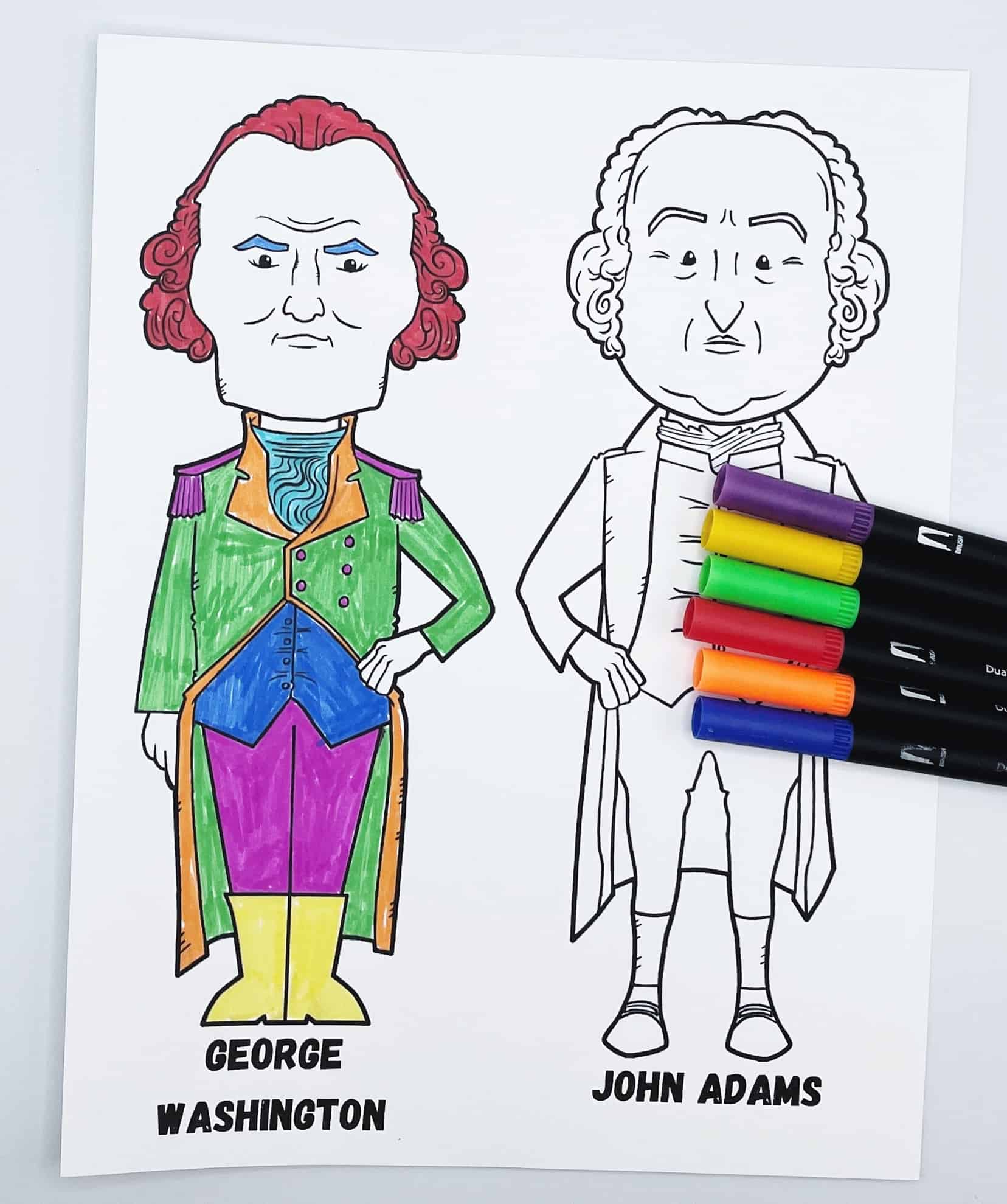 Thomas Jefferson (you will also enjoy our free Thomas Jefferson worksheets.)
James Madison
James Monroe
John Quincy Adams
Andrew Jackson
Martin Van Buren
William Henry Harrison
John Tyler
James K. Polk
Zachary Taylor
Millard Fillmore
Franklin Pierce
James Buchanan
Abraham Lincoln (you will also enjoy our free Abraham Lincoln worksheets)
Andrew Johnson
Ulysses S. Grant
Rutherford B. Hayes
James A. Garfield
Chester A. Arthur
Grover Cleveland
Benjamin Harrison
William McKinley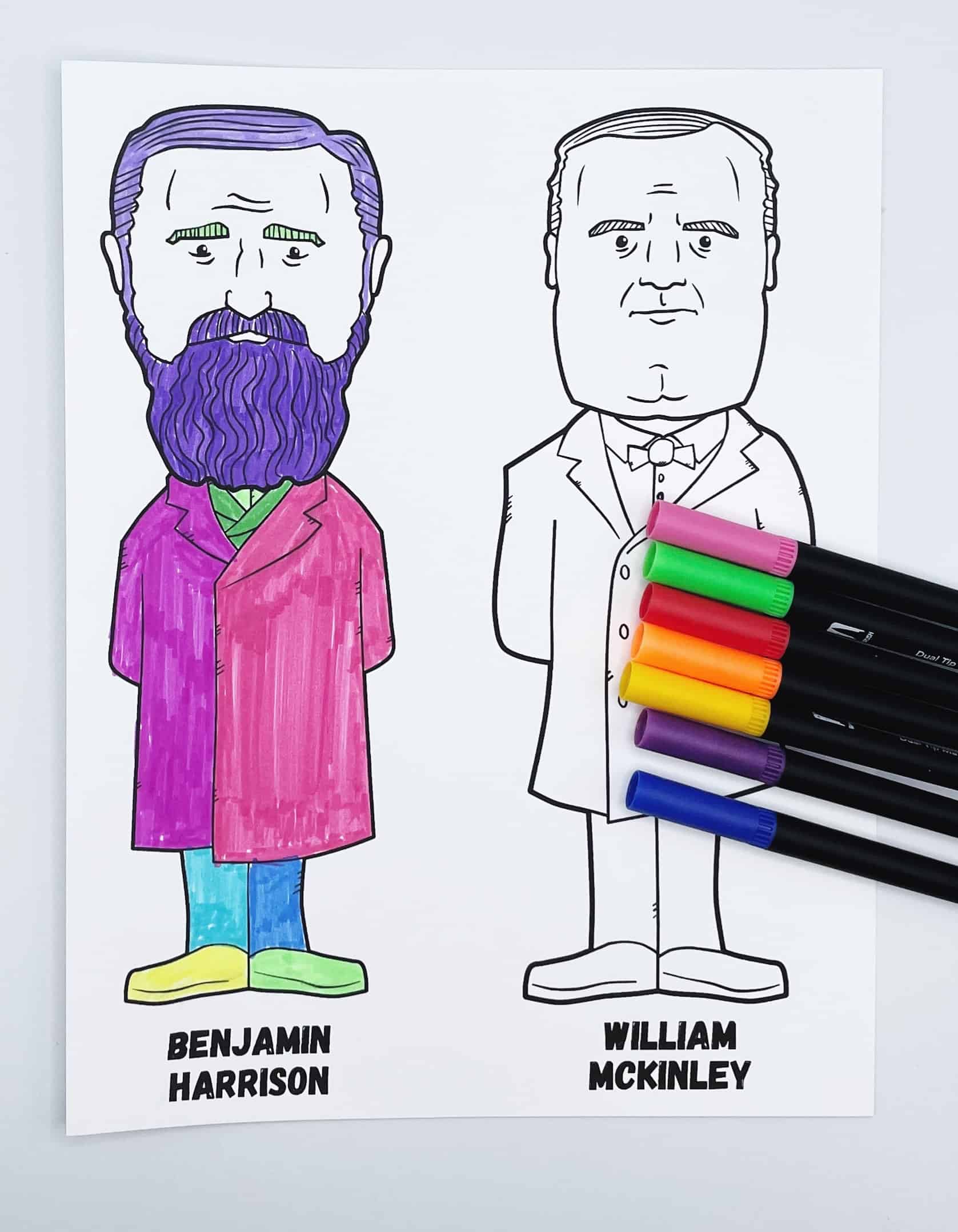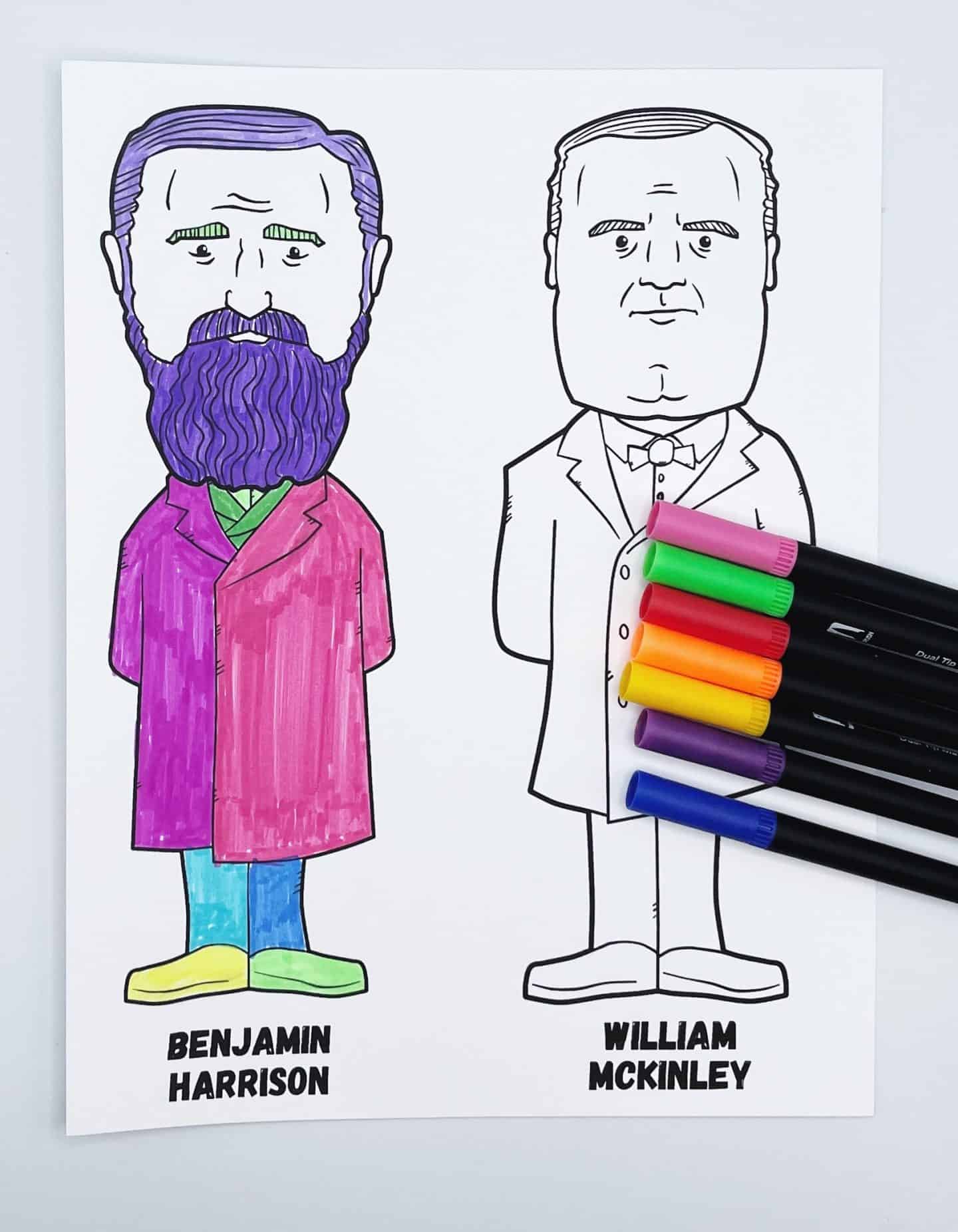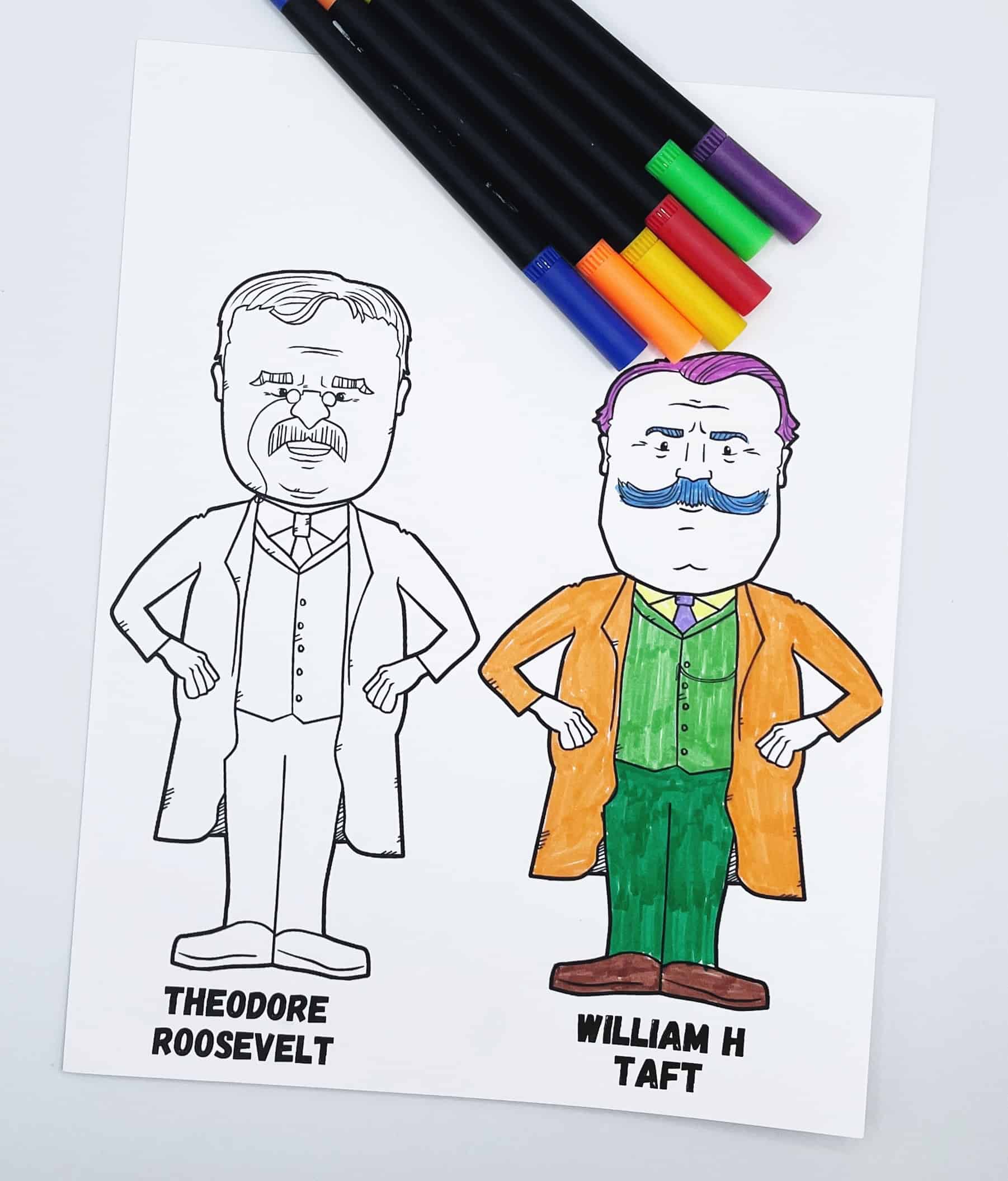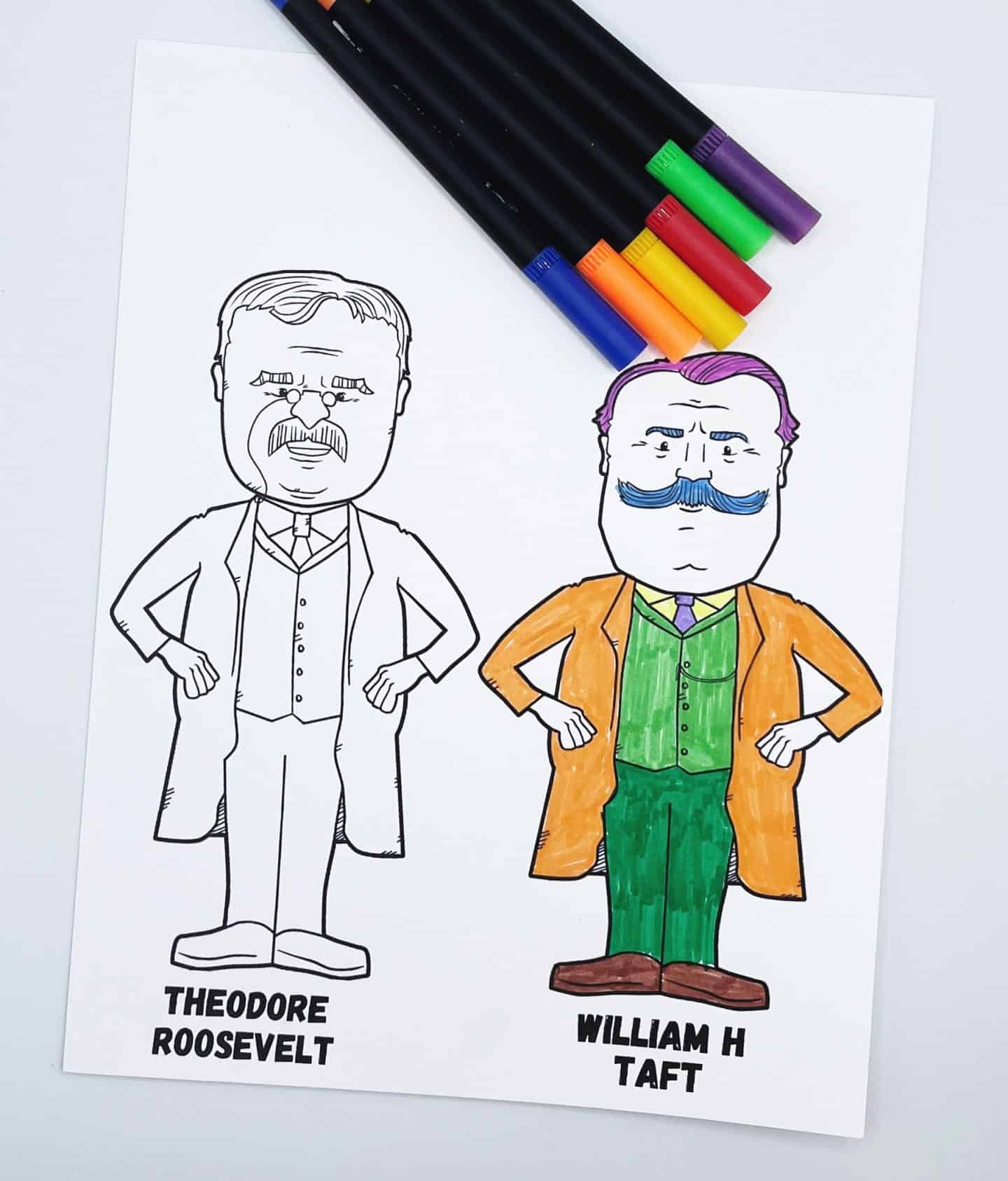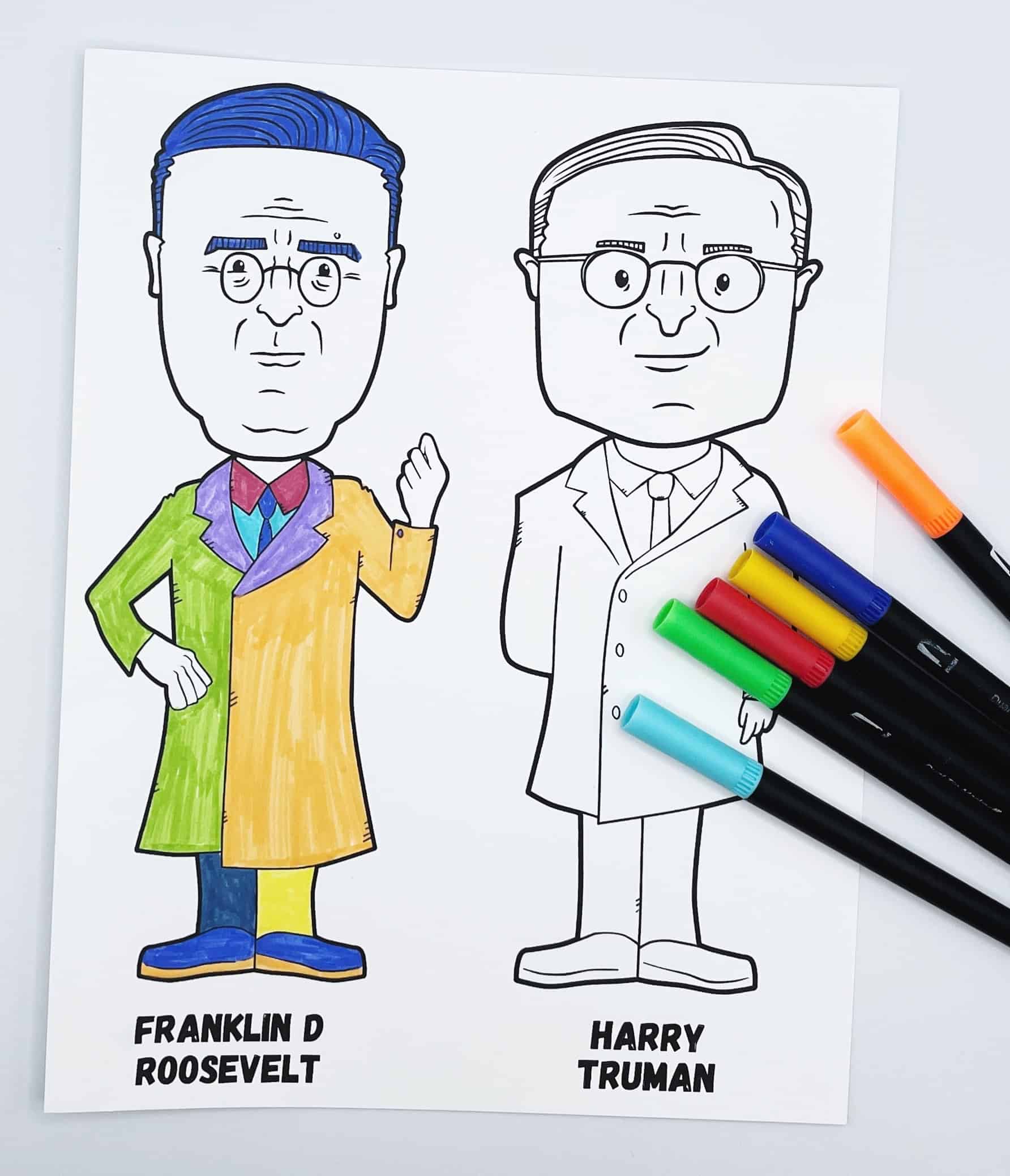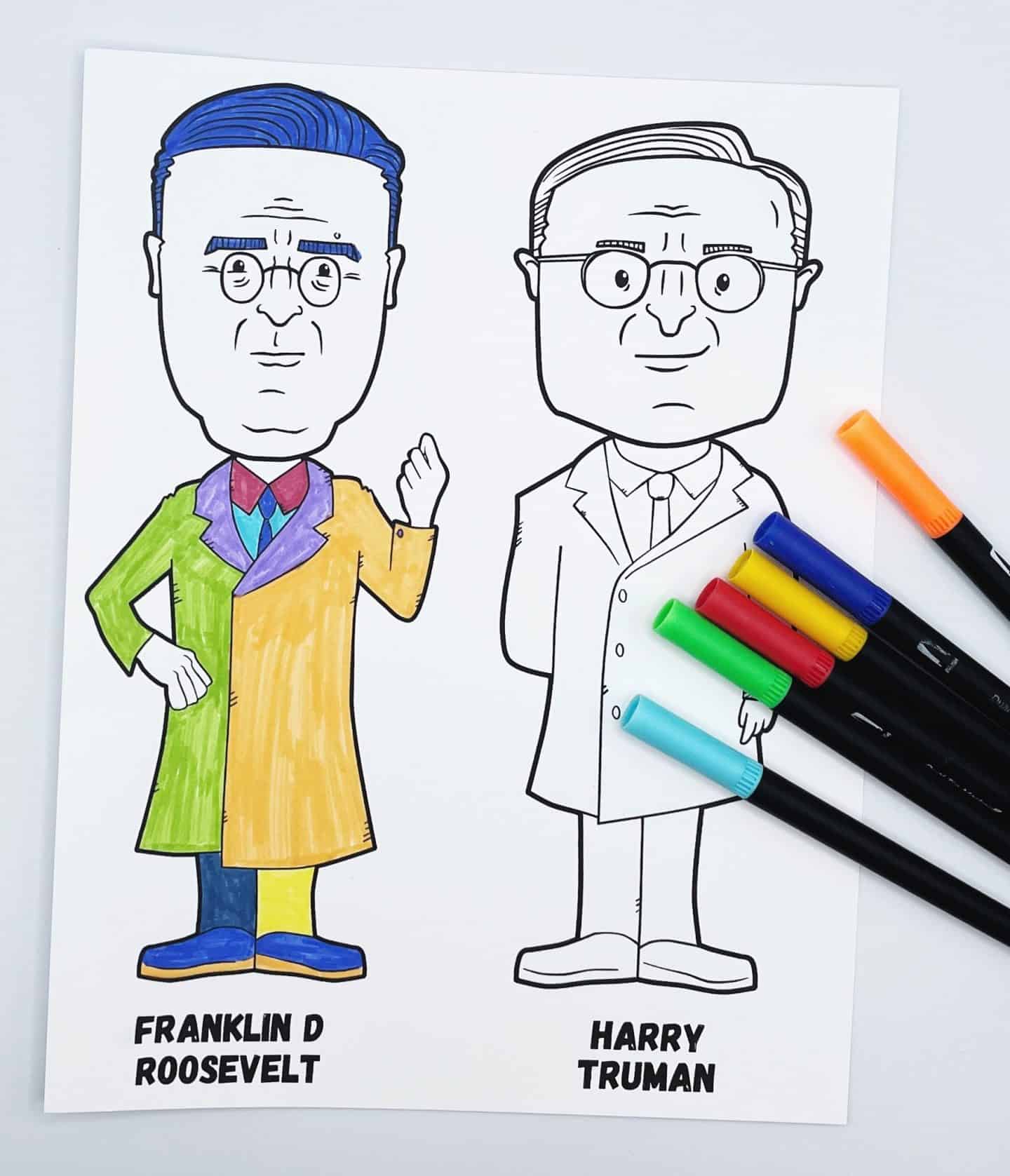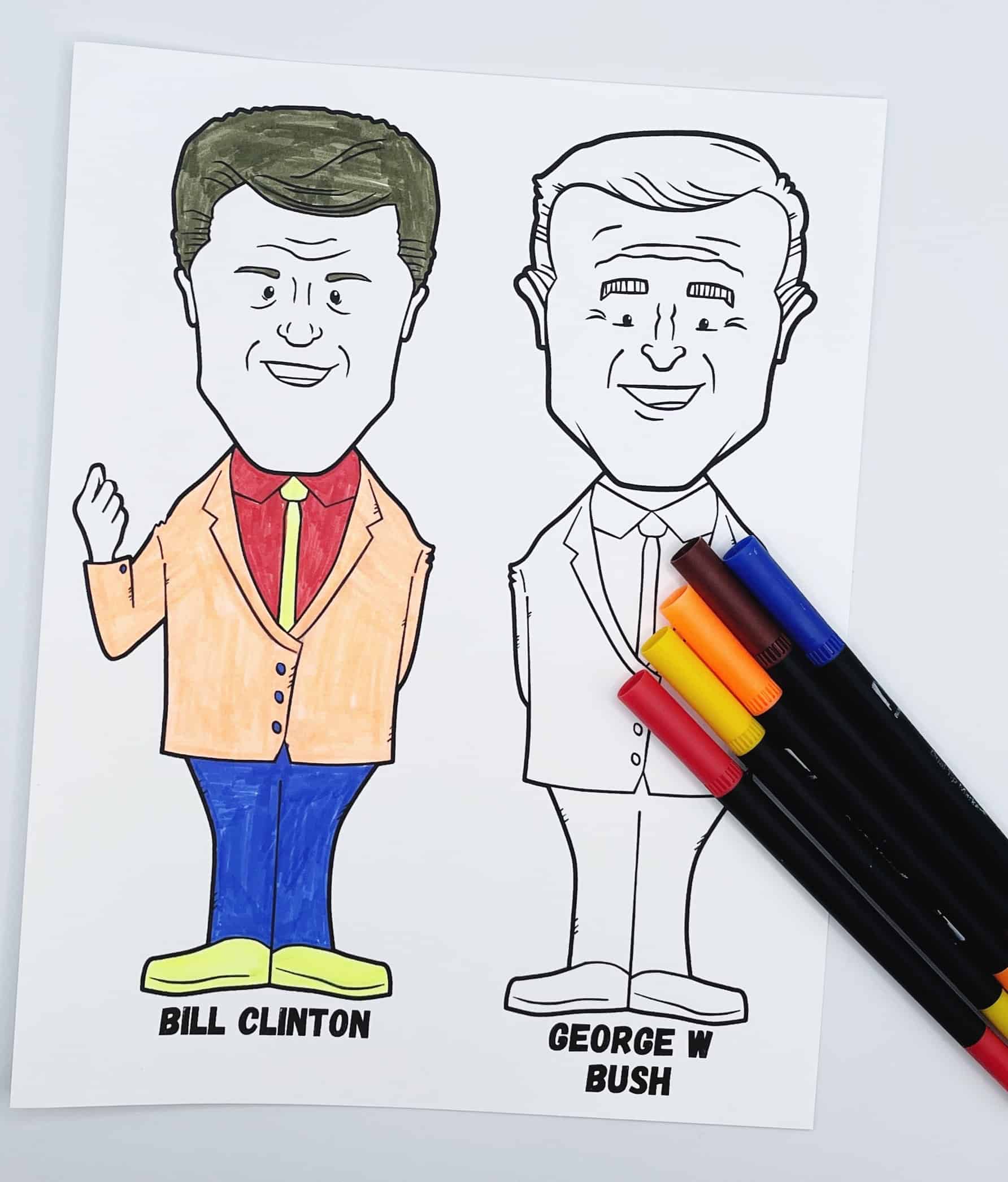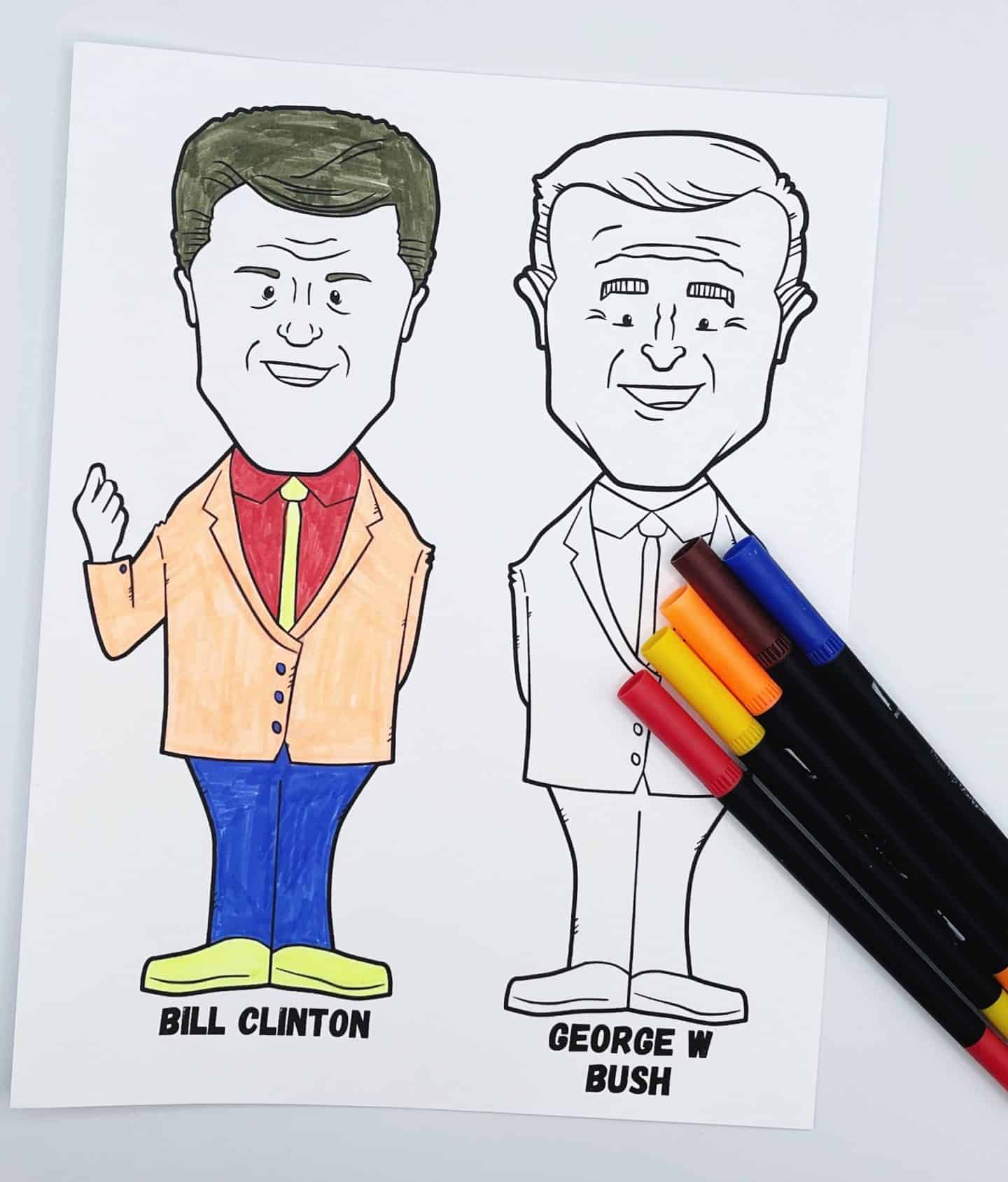 Presidents Game
The kids can enjoy coloring the Presidents, either in the clothes, they think they would be wearing, or why not have some fun.
I can definitely see Abraham Lincoln with a rainbow jacket on, and Donald Trump with pink hair!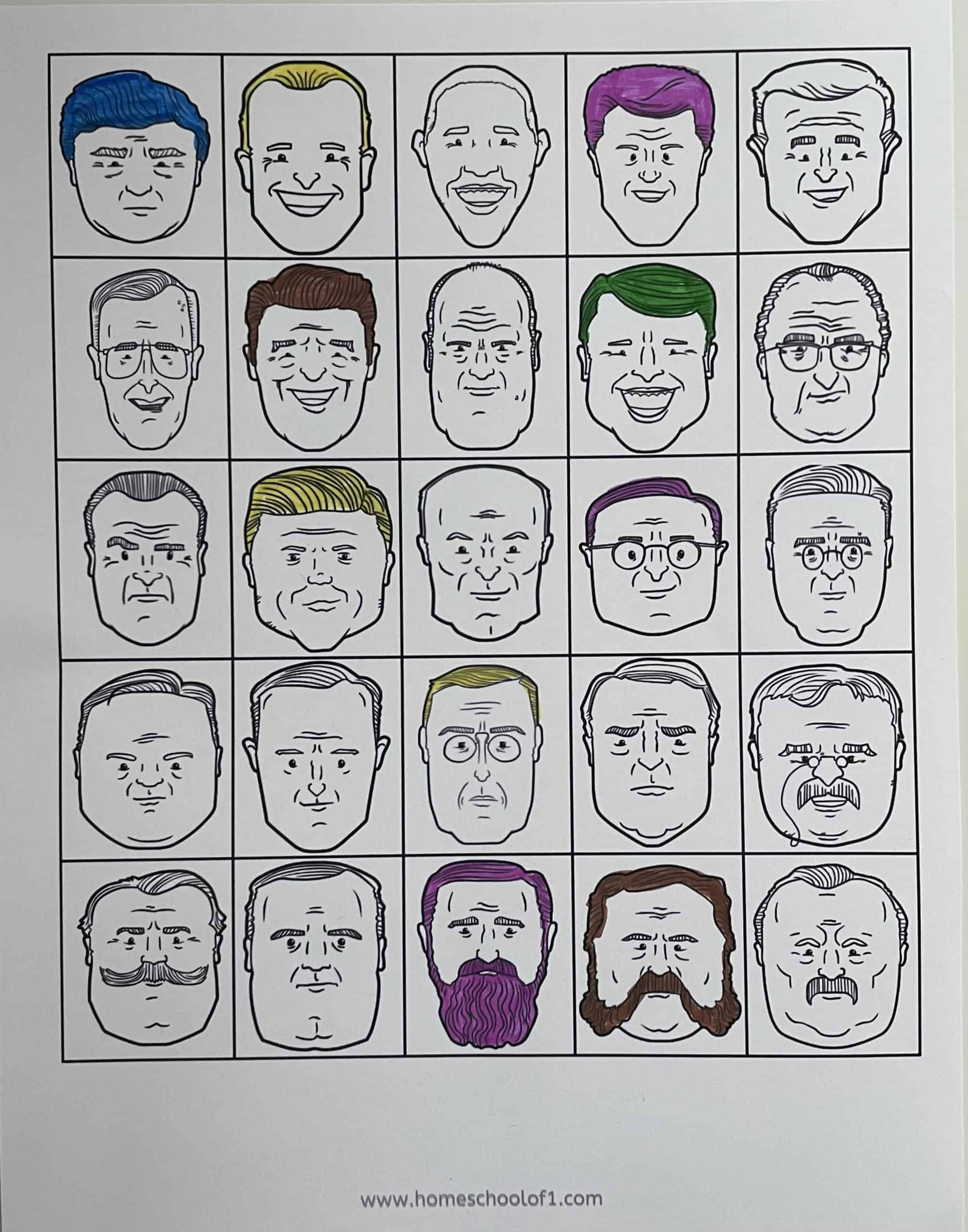 You can use the President's headshots in all sorts of ways, but here are some suggestions.
Print out 2 copies and play a memory matching game. Cut out each of the Presidents and turn them upside down, and take it in turns to discover two of the same. Or try our picture of Presidents game and get the names of the Presidents as well.
Color them in with crazy hair,
Try and remember whose face belongs to who,
Put them in date order on the table.
Patriotic Images
Other images you can color in include:
Presidential Seal
Eagle
American Flag
Penny
Coin
"Vote" Sign
See what other patriotic activities we have for free that the kids will enjoy.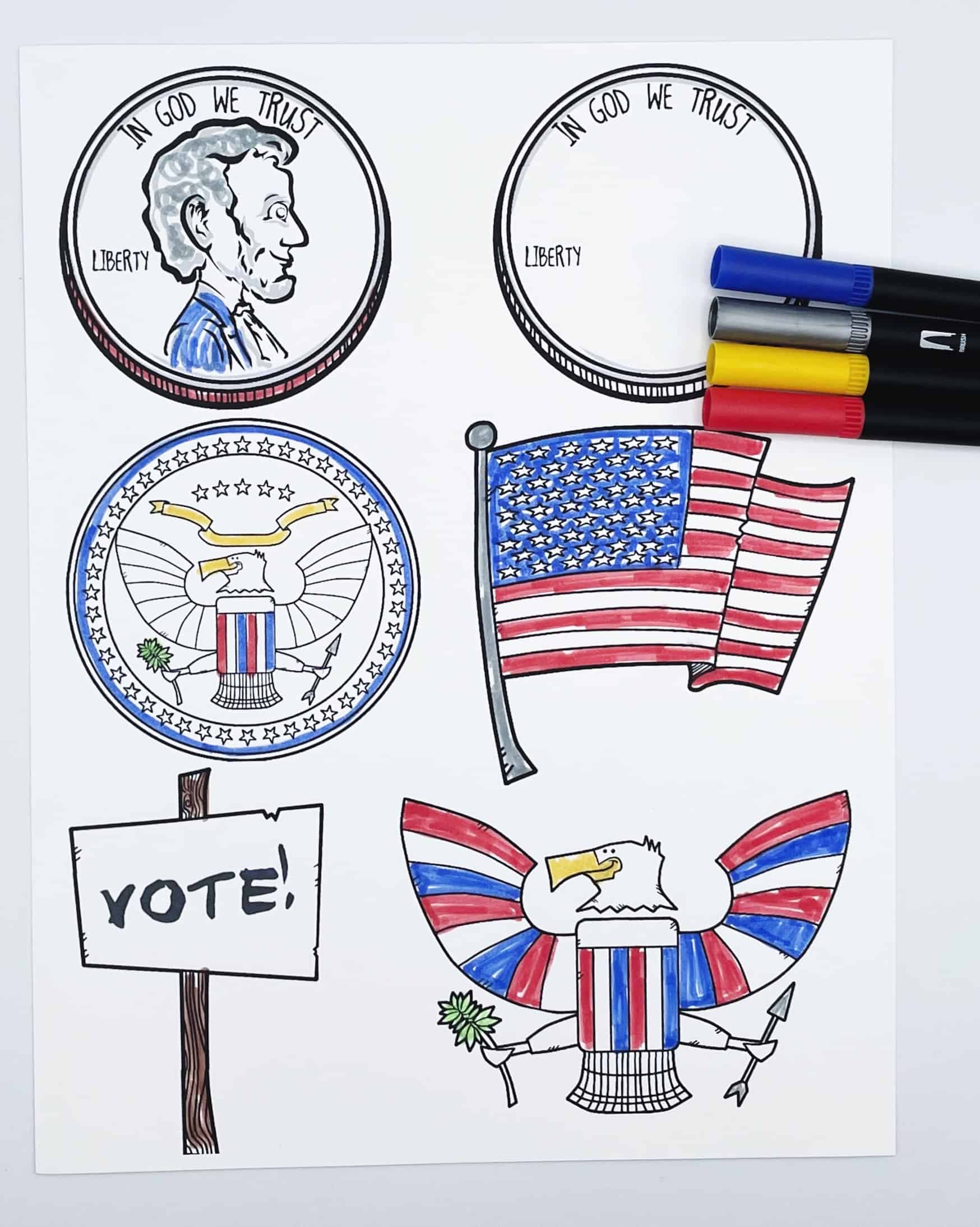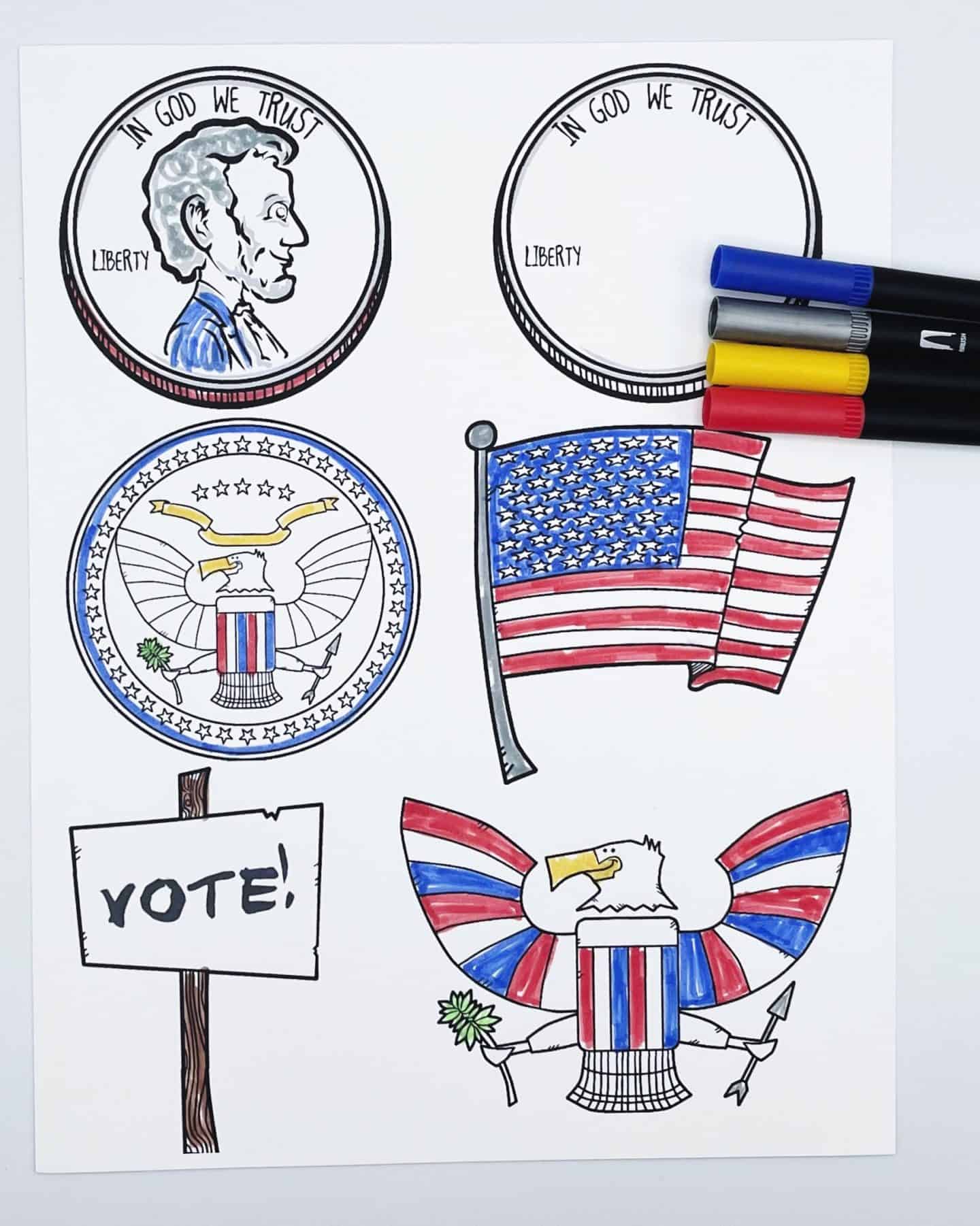 United States map. See how many colors you need to color in each of the States that don't touch each other. I used 6, but I know it can be done in less.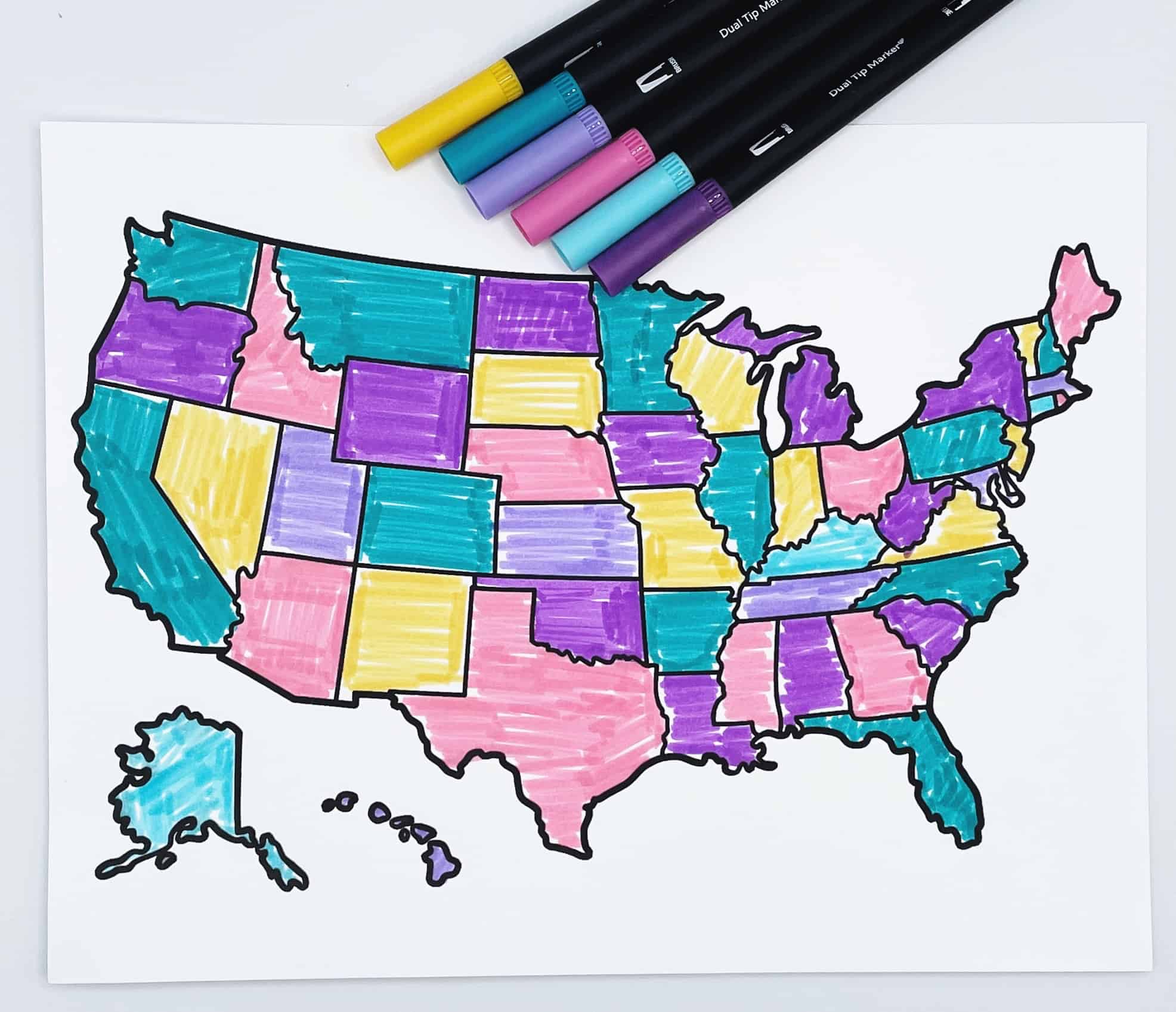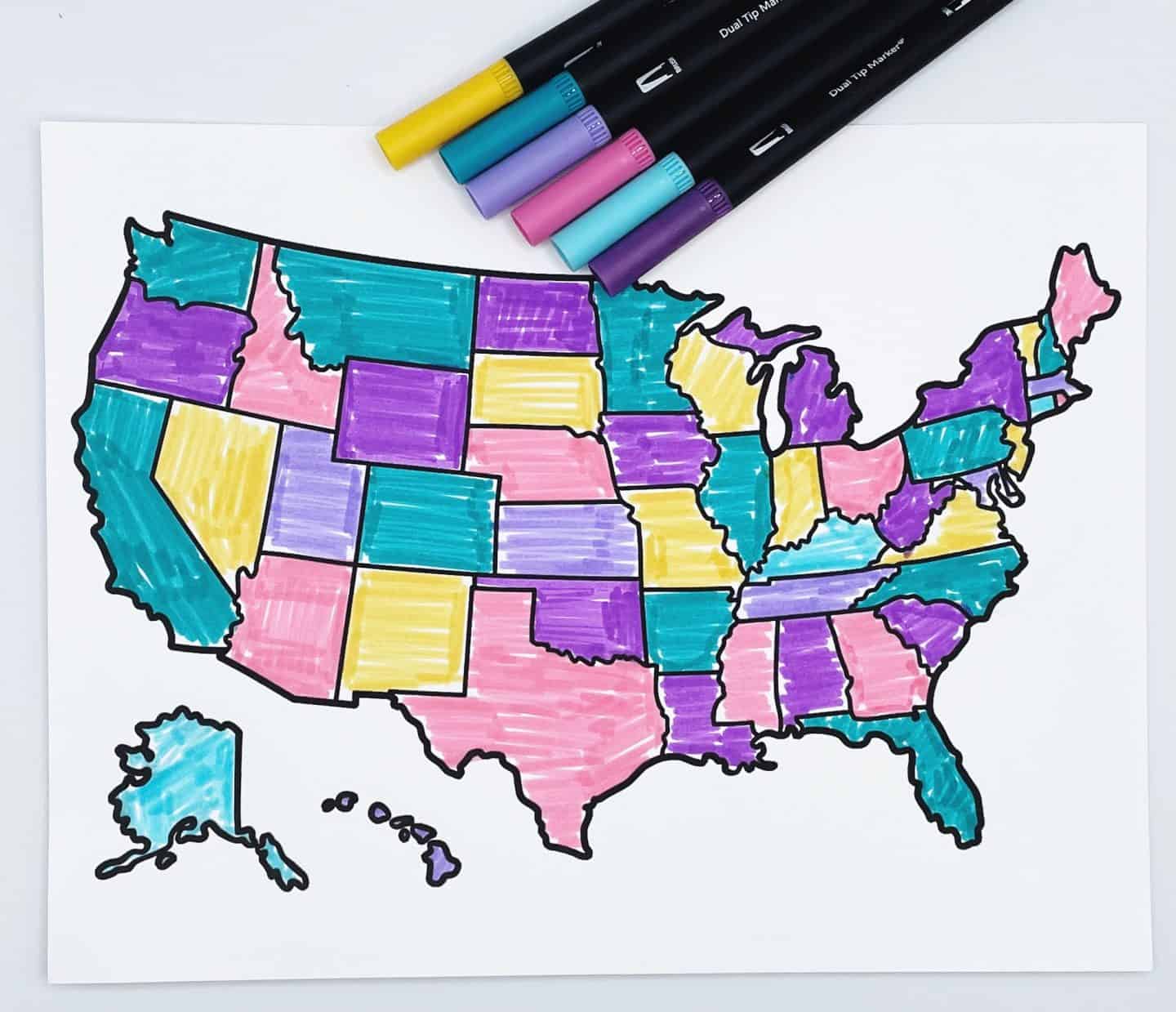 Presidents Day Activities
If like us you are wanting to do even more learning on Presidents Day why not check out our favorite activities?
If I were President worksheet is a really fun and free printable to do with the kids.
Check out the best 15 President books for kids and learn even more.
Presidents Worksheets
Continue learning all about the United States Presidents with our President worksheets.
There are 45 pages in this download including all 45 United States Presidents from George Washington to Joe Biden.
Each worksheet has the following information:
Picture of the President to color
Date of birth
Date served
Age when elected
Date of death
What number President?
Home State
Vice President
First Lady
Political Party
Interesting facts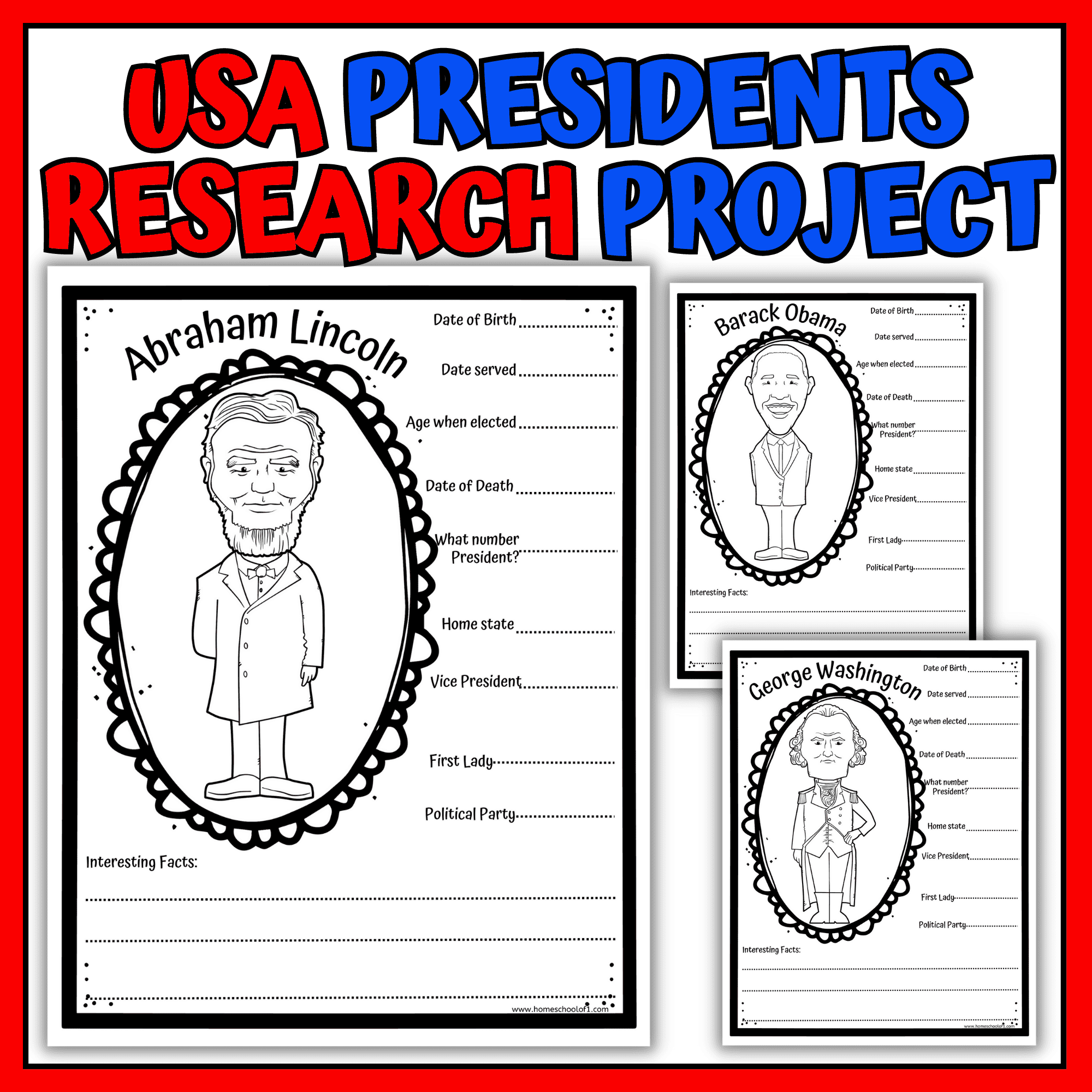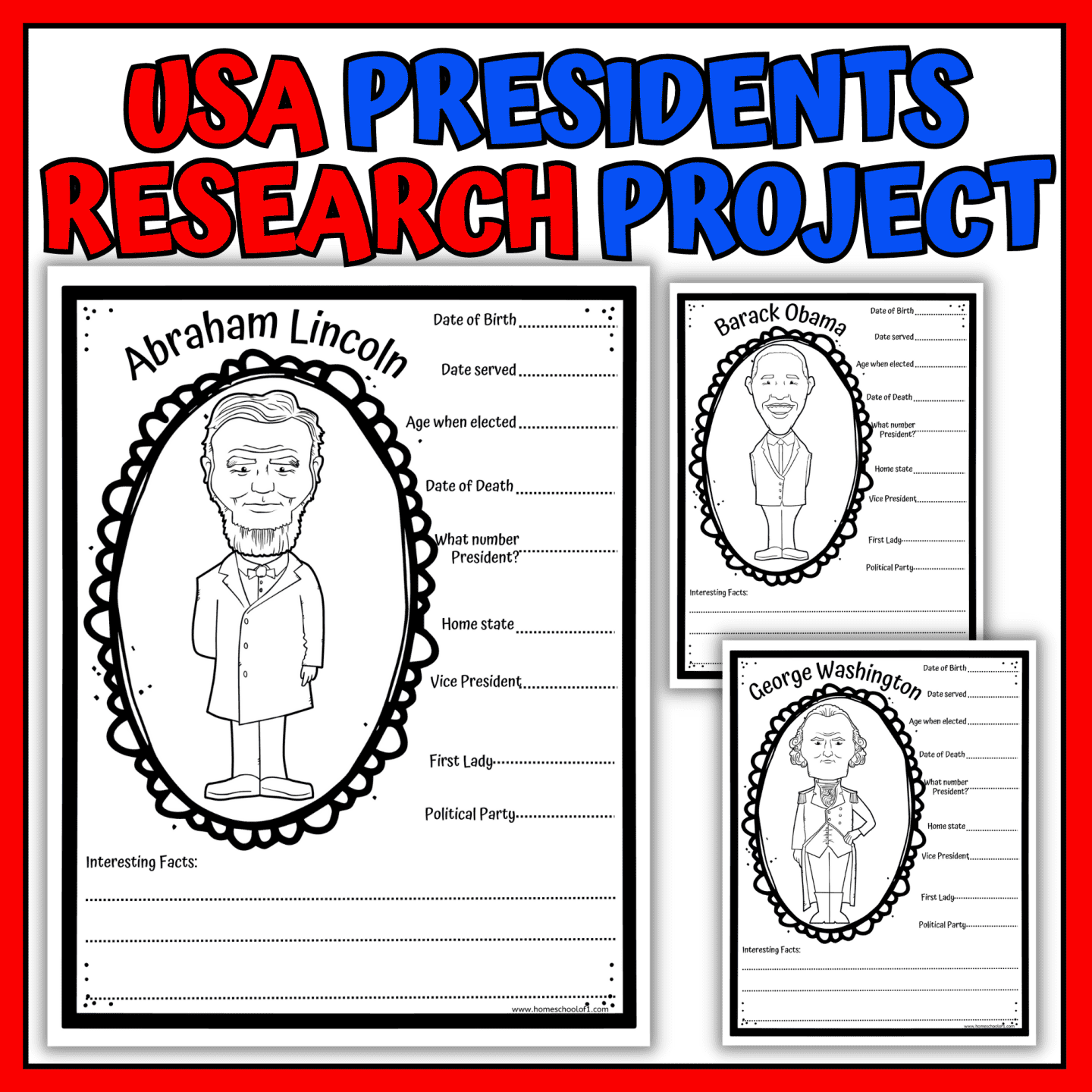 Download the free Presidents Day coloring pages
Make sure you choose the correct paper size and click on the shrink to fit button. All of our free printables for kids work better when printed on cardstock (this is the one we use and love.)
Last Updated on 9 June 2023 by homeschoolof1