WriteShop Review: The Best Homeschool Writing Curriculum
As we are now heading into homeschooling middle school, we were on the lookout for a homeschool writing curriculum, that isn't boring!
Although my son loves reading, he absolutely hates writing! This is until we started using WriteShop.
Carry on reading for my detailed Writeshop Review.
I know having a dread of writing is fairly common, certainly with boys. So we spent a lot of time researching a great homeschool curriculum for writing that would help.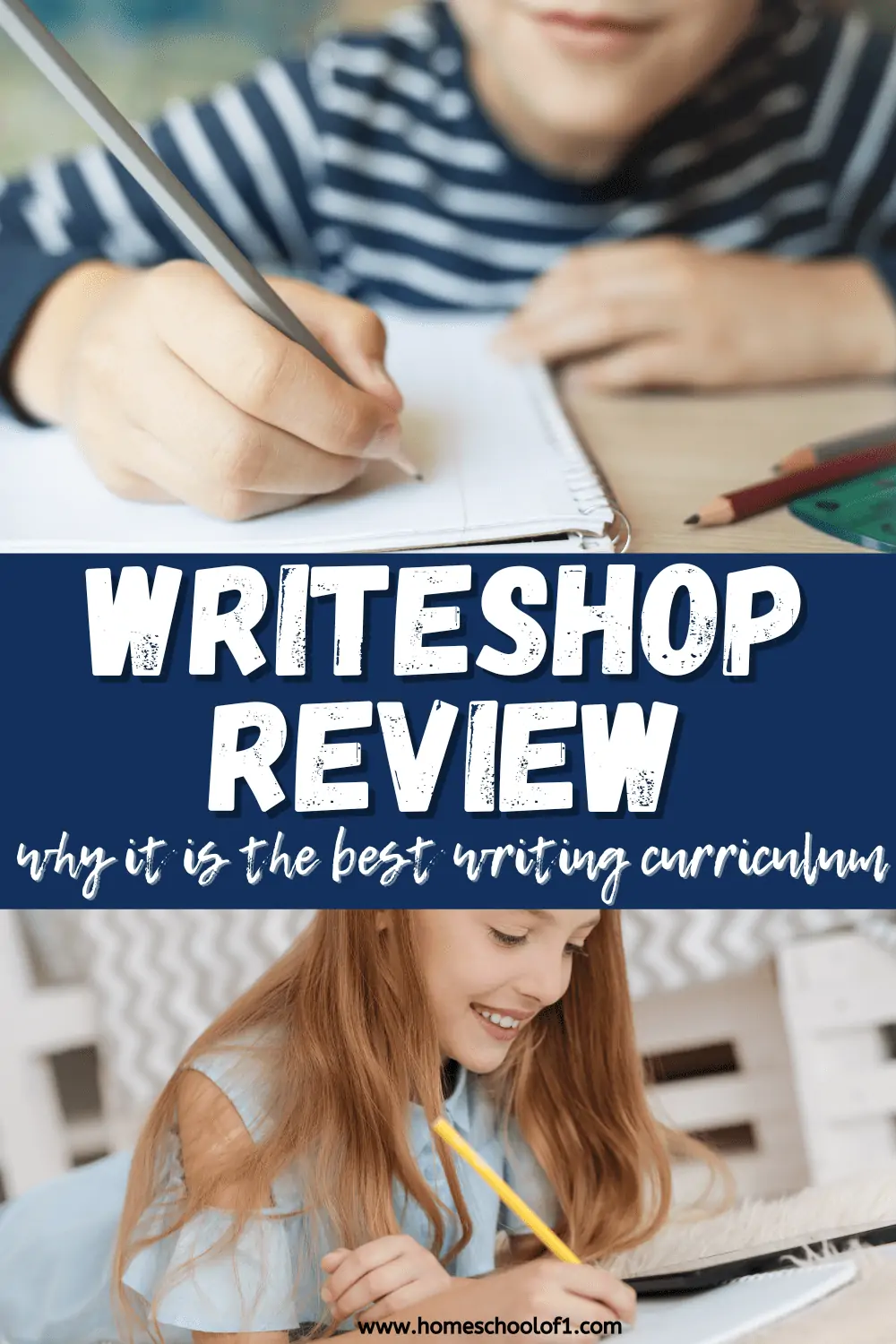 **There may be affiliate links in this post. You can read my full disclosure at the bottom of the page.**
We are working with WriteShop 1 which is aimed at grades 6-10. But they have a homeschool writing curriculum for all age groups from K-12.
If you are not sure what curriculum they have a Placement test for you to use.
Writing Curriculum for Homeschool
It had to be a full curriculum, as what we had done in elementary just wasn't working. We kind of winged it! (We did that a lot in elementary grades!). To see what other curriculum we are using this year check out our 6th grade homeschool curriculum post.
Before I start the review, I have to start by saying on day 2 of using this homeschool writing curriculum, my son actually got excited about doing WriteShop.
Now trust me when I say, he absolutely hates writing, so for him to look forward to it amazes me.
This excitement for writing is fantastic, we are now in the second week of using it, and he still looks forward to it.
WriteShop Curriculum
With our bundle, we received the teacher's manual for WriteShop I/II and the student workbook. The student workbook comes in loose-leaf pages with 3 holes punched. So it is perfect to fit in a ring binder.
The teacher's manual comes in tab-divided sections for easy use and has plastic coiled binding.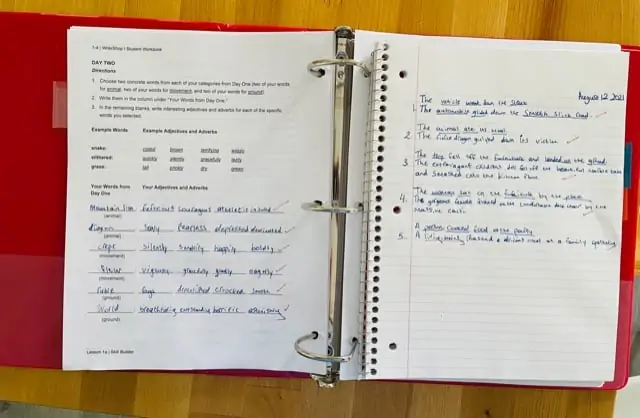 The first lesson of WriteShop I is all about following directions. I won't spoil it for you, but after the 20 questions, we laughed a lot!! It was a fantastic starting position and something we have been trying to instill in Freddie for all subjects.
As teaching a writing curriculum does not come easily to me, I was incredibly happy to see in the teacher's manual it tells you what to say!
Say "Each WriteShop assignment has a specific purpose, which is why it is necessary that you always follow instructions carefully."
WriteShop Teacher's Manual
The WriteShop teacher's manual is fantastic. It is divided into easy-to-find tabbed sections including:
Introduction
Lesson Plans
Editing and Evaluating
Positive & Encouraging Comments
Addressing Errors Lesson by Lesson
Common Problems of Mechanics
Student Writing Samples
Skill Builder Keys
Pre-Writing and Lesson Activity Keys
Appendix A: Handy References
Appendix B: Supplemental Activities
I absolutely love it, especially the student writing samples. I am not a teacher and don't pretend to be; I'm a homeschool mom. So this teacher's manual has everything already prepared for me, so I know what to do if he gets something wrong, and I know how to mark his work.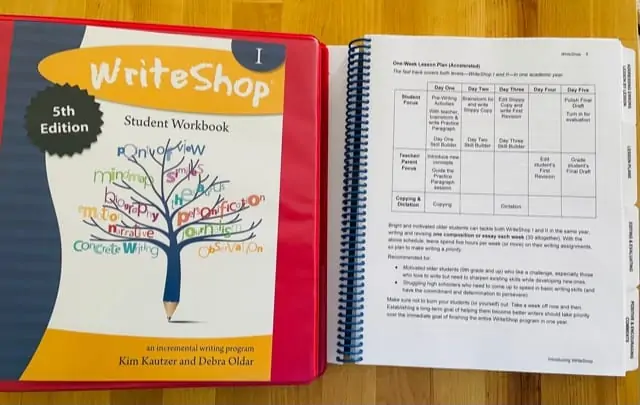 The other great thing is the teacher's manual is for both WriteShop I and II, so when we have finished the student textbook, we will only need to buy WriteShop II student book and not the teacher's manual again.
There is a schedule included for standard and accelerated. We are loosely following the accelerated schedule, but with all things homeschool, we will take breaks if needed. Check out Workshop I & II here.
WriteShop Student Workbook I
As it comes in loose-leaf, we added it to a lever arch folder with tabs. We also have added a college-ruled notebook in the folder for the writing work.
There are spaces to answer some of the questions in the workbook, but for the actual writing assignments, you will need lined paper.
The student workbook has easy to work through sections too:
Introduction & Reference Pages
Unit 1 – Descriptive Writing
Unit 2 – Informative Writing
Word Lists
Unit 3 – Narrative Writing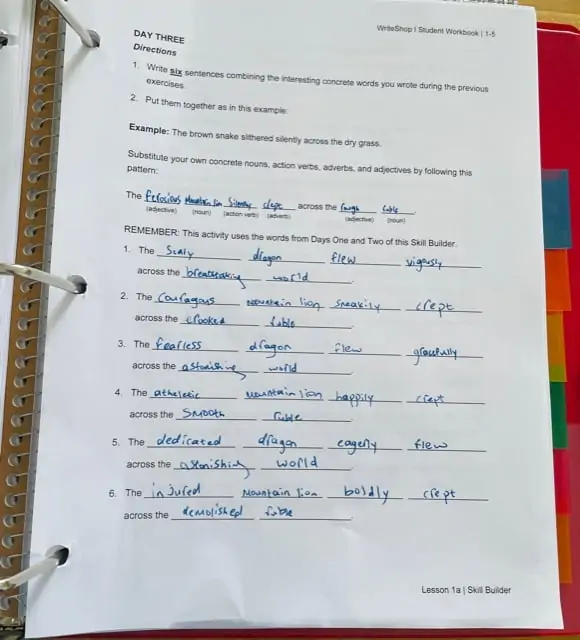 The reason my son is enjoying it so much is that it is broken down into really small interesting chunks.
After each writing skill there is:
Student Writing Skills Checklist
Teacher Writing Skills Checklist
Composition Evaluation to be able to grade the work.
There are lots of tips and advice in the teacher's manual to assist with all of this though.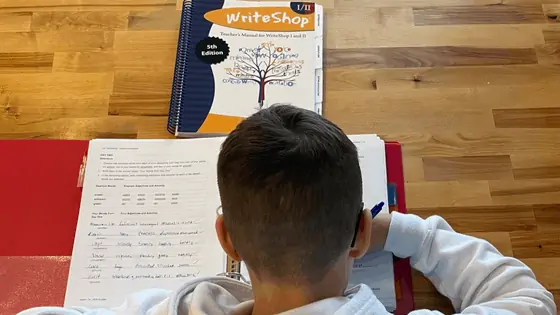 Writeshop is literally the best writing curriculum available.
WriteShop Review
WriteShop is the BEST homeschool writing curriculum and we are sure you will feel the same.
We have gone in a very short timeframe from my son hating (almost fearing) writing to now looking forward to his daily lesson.
SHOP all products – with a writing curriculum for all ages you will definitely find the grade you need.
Additional Language Arts Resources
If you are wanting a homeschool spelling curriculum check out our favorite resources for upper elementary and middle school grade kids.
If you are looking to start handwriting practice check out our favorite homeschool cursive curriculum.
If you are looking for help with essay writing check out our Heron books review.
If you are looking for even more homeschool curriculum reviews check out all of the others we have reviewed over the years.
Last Updated on 11 August 2023 by homeschoolof1