Best 6th Grade Homeschool Curriculum For All Subjects
We are just about to finalize our 6th grade homeschool curriculum so I wanted to share what we will be using this year.
My son is now 11 years old and would be going to middle school if he were in public school.
First I want to just cover the subjects we will be doing in sixth grade.
Math
Science
Reading
Writing
Spelling
Grammar
Vocabulary
Handwriting
History
Geography
Spanish
Coding
Typing
Cooking
Music
PE
This list looks like a lot, but remember this is for a full year! I need to keep reminding myself of this, and that all of this doesn't need to be done in a month!
Carry on reading to find out what 6th grade homeschool curriculum we are using in all of the subjects above, and find out what a normal day is like.
If you are looking for 7th grade homeschool curriculum check out what we are doing in our recent post.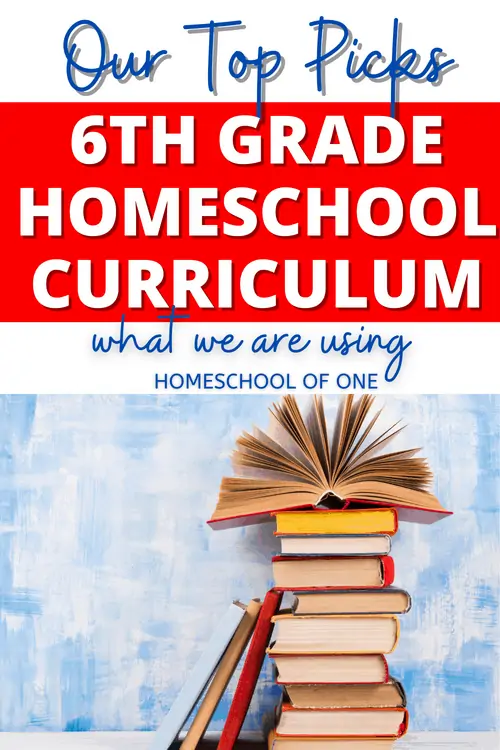 **There may be affiliate links in this post. You can read my full disclosure at the bottom of the page.**
6th Grade Curriculum for Homeschool
I have broken this post down even further and discussed what curriculum we are using for each subject.
This is an ever-changing post as we keep finding a better curriculum, or the one we thought would work didn't!
The only curriculum we have not changed throughout the year is Beast Academy for math!
6th Grade Math Curriculum
Although my son excels in math, we have decided to continue with Beast Academy Level 5.
We actually only came across it in April this year, so I want to complete this level before we start pre-algebra. Although we love it and love the comic style guidebook, it really is advanced. Even for my son who is definitely gifted in math.
I think if we had started using these when we first started he would have finished a year ago. But I wanted to go back to basics and make sure he had a greater depth of knowledge before we went on to the next thing.
If your child struggles with math, in any way, I do not recommend Beast Academy.
Please only use it if your child really enjoys it and is already good at math.
Each of the books has a placement test to determine what level your child is ready for. My son placed at the final book, but we decided to start at the beginning and ordered all four books in grade 5. I am really glad we did too.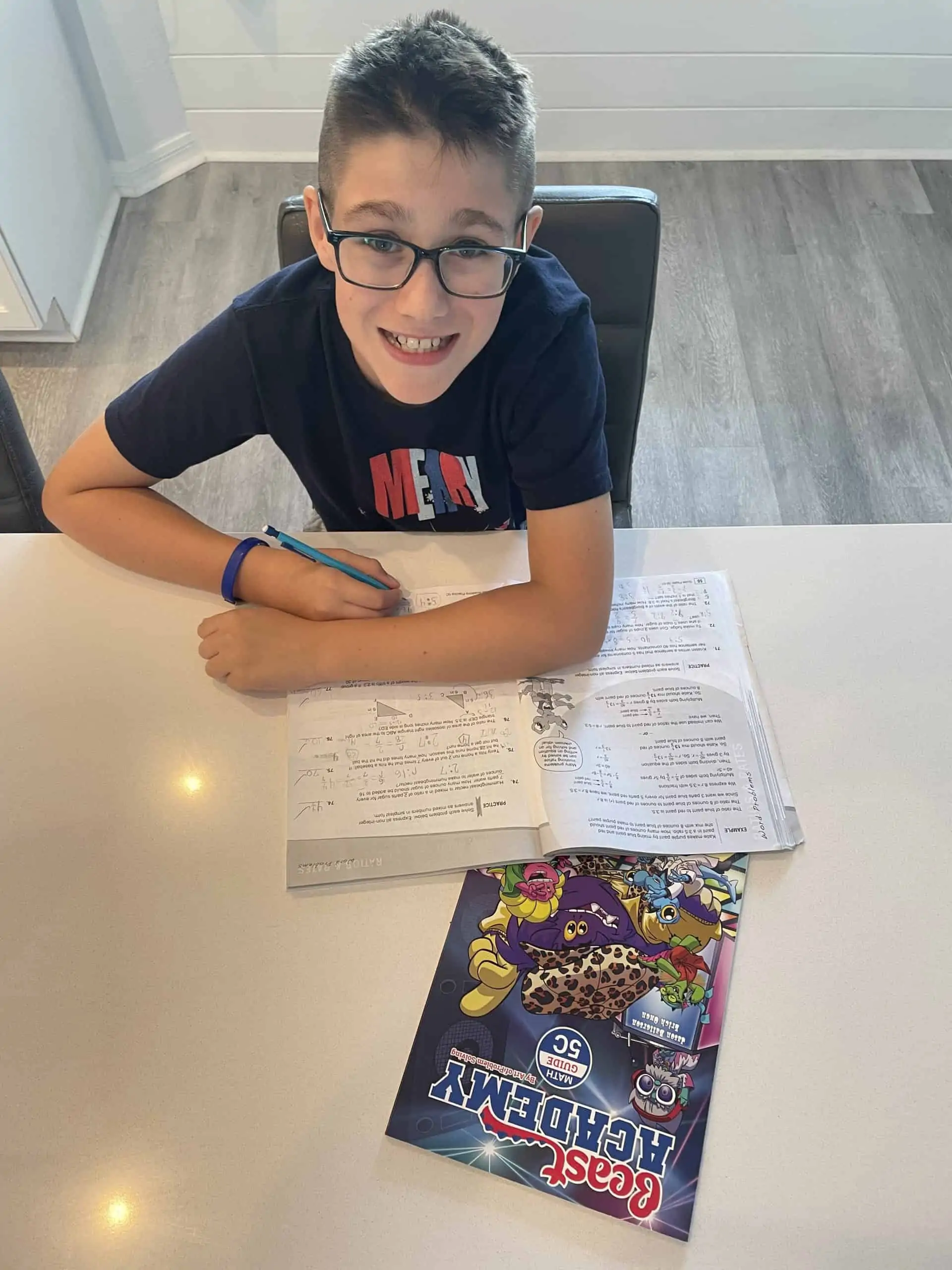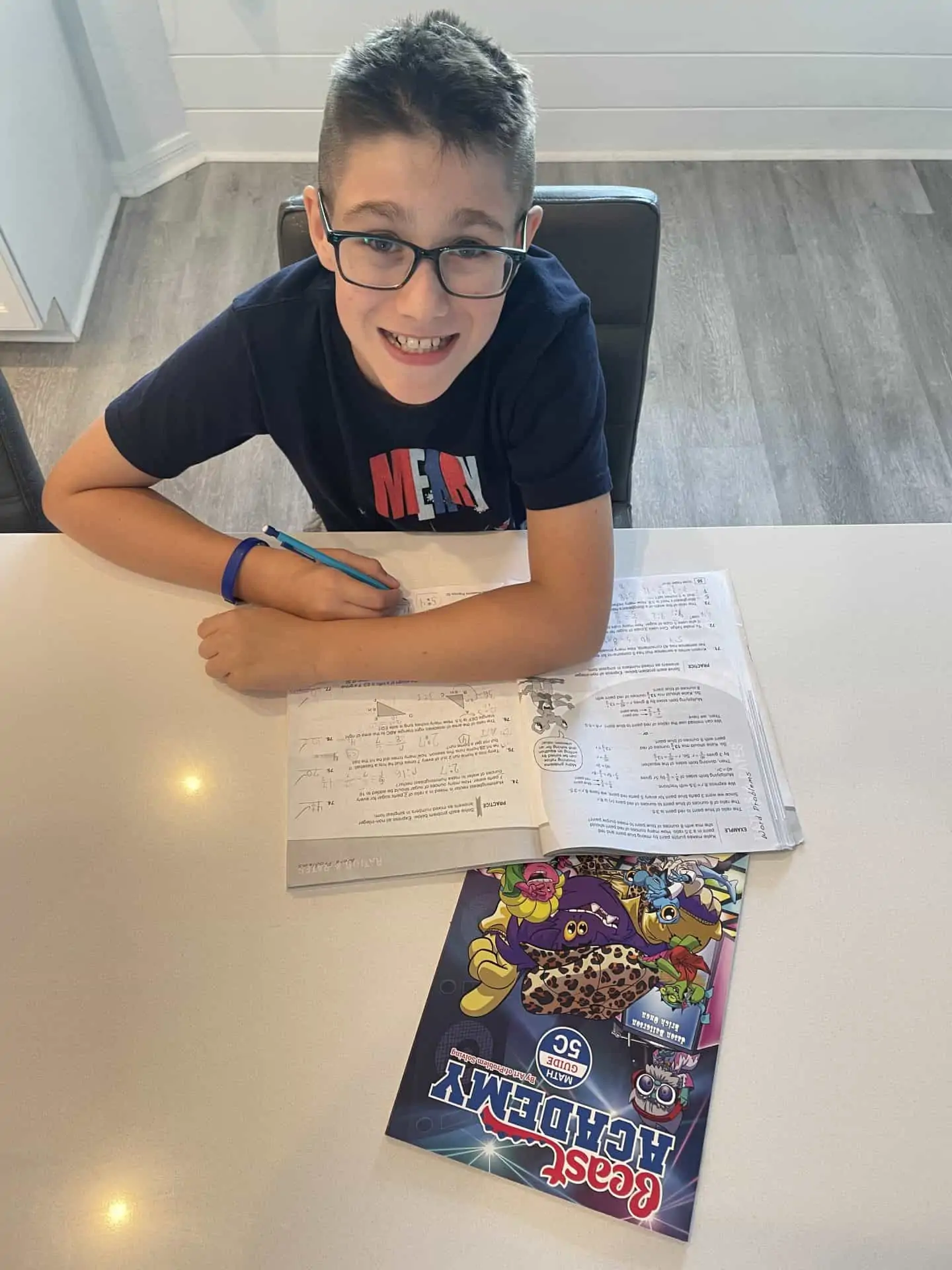 Prodigy Game we use as a fun math activity. This is aimed at children up to 8th grade, but it is fairly easy, and the kids will actually want to play it! We have the premier membership, which was totally worth it for us. But you can play it for FREE.
We also ordered the big fat notebook just as a general recap at the end of each week. We will check out one chapter every week just to make sure we are staying on track.
If you are looking for help with having fun with middle school math check out our top tips.
6th Grade Language Arts Curriculum
Reading
My son luckily loves reading, and for his free reading, he is currently loving James Patterson's I Funny. He also loved Gordon Korman Ungifted so he will read at least one more of his books this year.
I don't like to plan his "fun" books too much in advance as his requests change so often. So these are all very much child-led.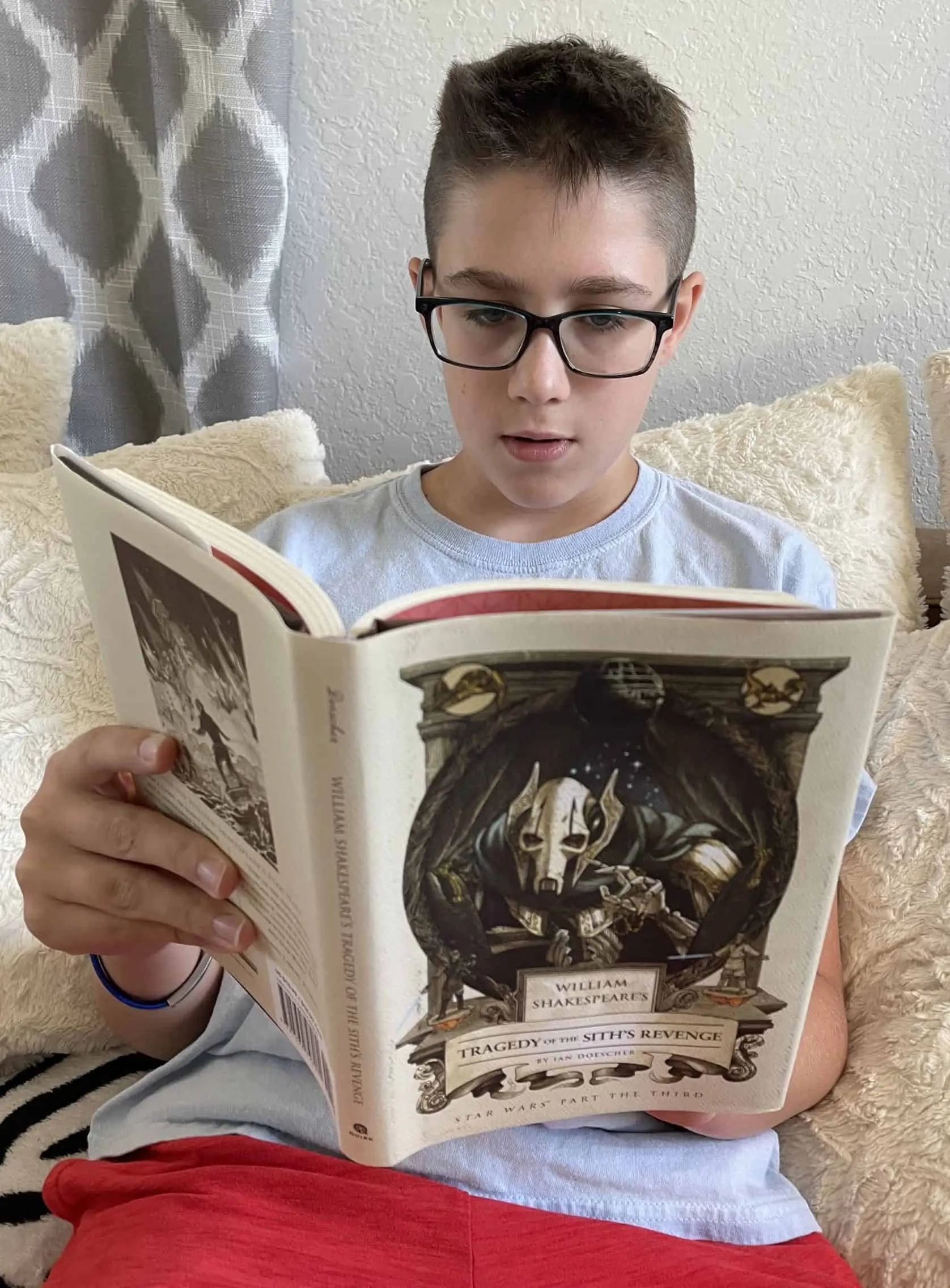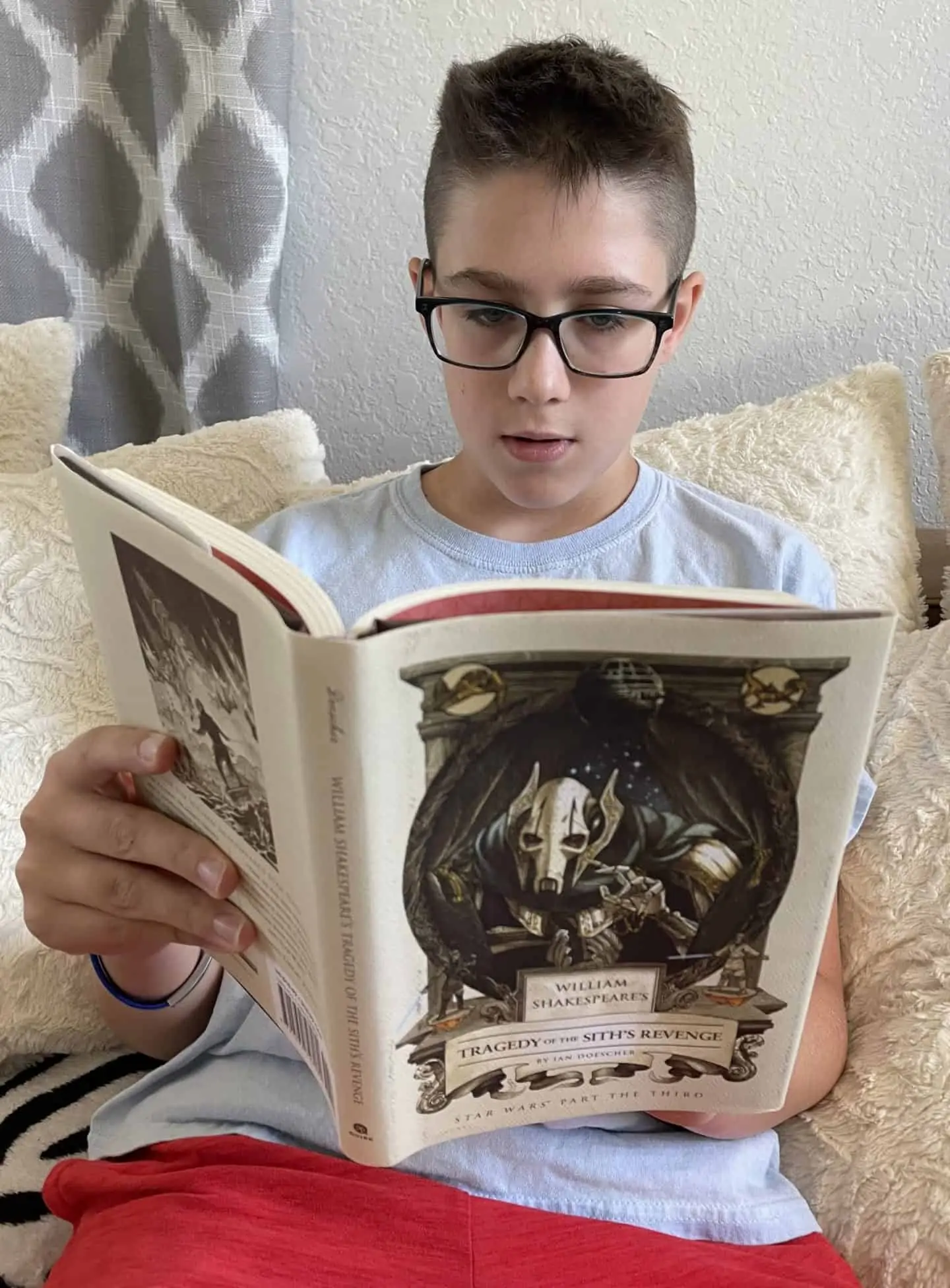 Other reading is also very much dictated by how organized I am! Which if I am honest is not very! I do know, however, that for the next 3 months we will introduce Shakespeare into our homeschool.
See how to teach your child Shakespeare the fun way. Check out the post to find what books we are choosing for this.
We will also continue to play book bingo, it works well for us as when he completes it he gets a prize!!
Spelling
We are using the Spectrum Spelling book for grade 6 along with the Spelling Bee Words.
If you want to check alternatives for middle school check out our spelling curriculum for homeschool post where there are plenty to choose from.
We used Spectrum books a lot in previous years, and for the low cost, we think they are great.
Vocabulary & Grammar
Again, I will be relying on Spectrum to guide us here too, but we also use the big fat notebook for English (we actually have it for every subject!!)
Writing
This year we are trying something new, we have just ordered WriteShop.
We haven't got it yet, it will be here next week. So once we have time to use it, I will update this and include a link to the review.
Update – Wow we absolutely love it, my son has gone from the World's most reluctant writer to now actually wanting to write, all in the space of 2 weeks!
Check out our Writeshop review here, but it is FANTASTIC.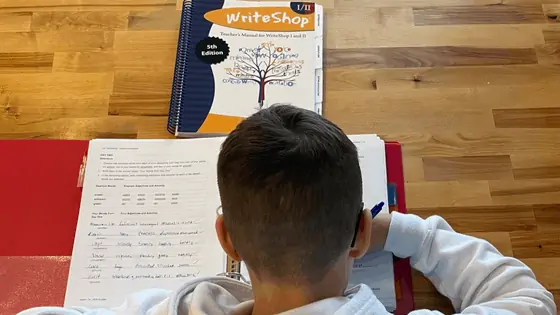 6th Grade Science Homeschool Curriculum
Science is a subject we are just going to make it up as we go along!
We have written a post on the best homeschool science curriculum and we will use most of these.
We especially love Curiosity Stream and Generation Genius videos (check out our Generation Genius review for more details)
Homeschool science kits are something else we use regularly to make it a bit more fun.
** UPDATE 2 weeks later, we purchased Real Science Odyssey, our casual make-it-up as-we-go-along didn't work!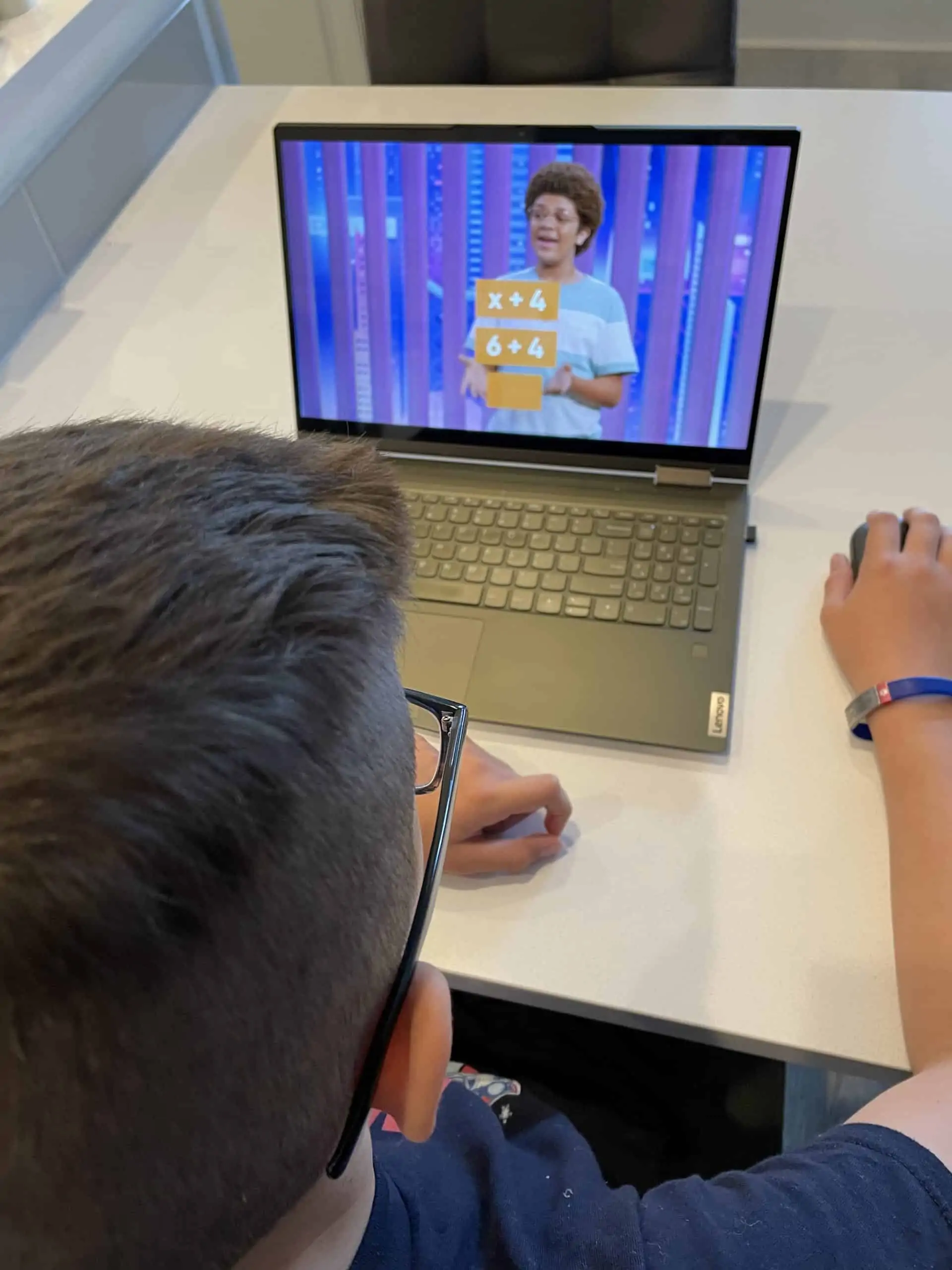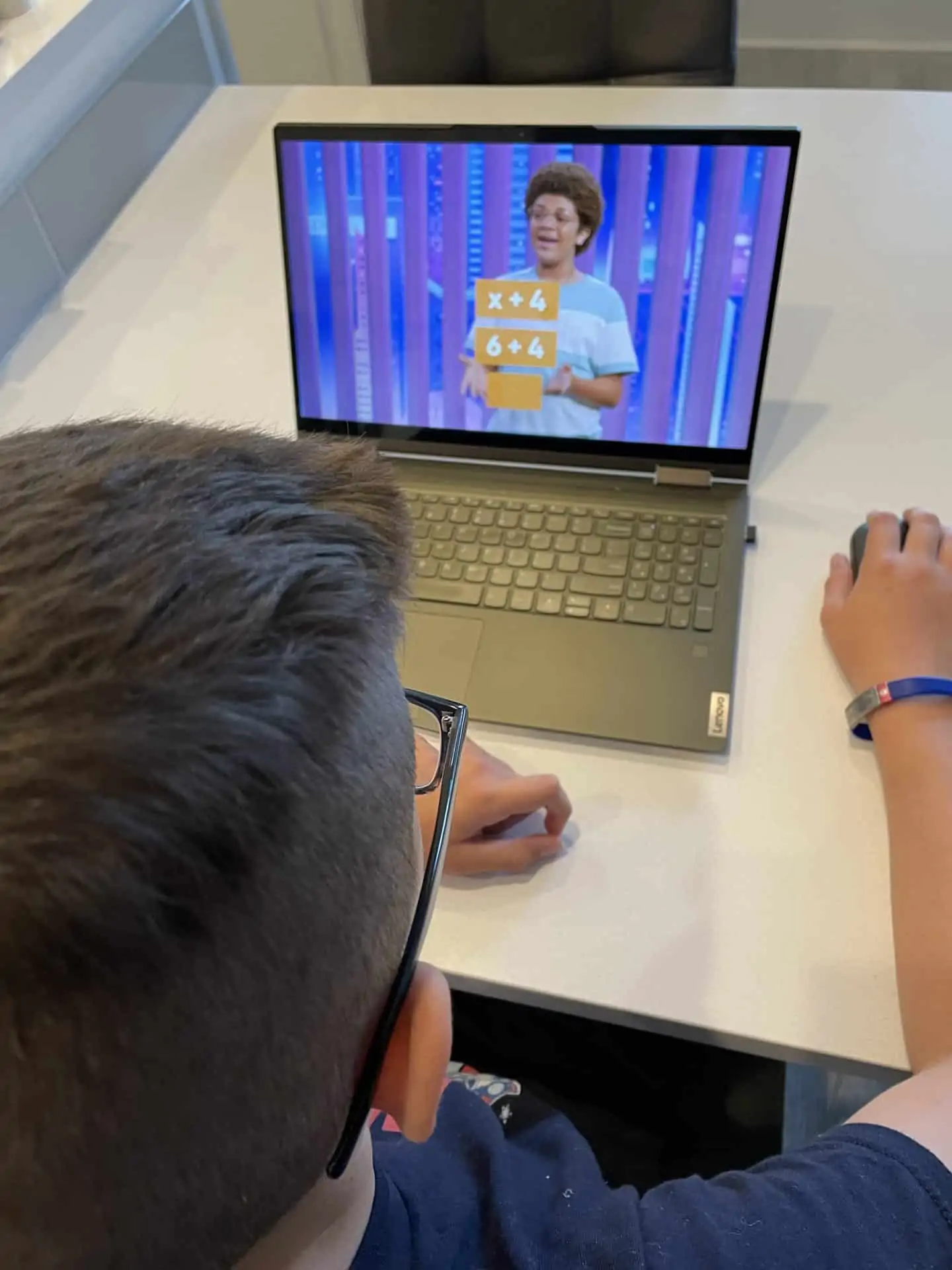 Our backup plan for this is REAL science odyssey from Pandia Press. I like to have a backup plan just in case it doesn't work for us and we need more direction.
We also receive the Mel Science subscription box each month too, mainly because it is a lot of fun.
Check out our Mel Science review for more information.
Sixth Grade Homeschool History Curriculum
For history we use a mix of different things, we have purchased lots of books.
The two books we use as the history curriculum are The Big Fat Notebook For History and the Kingfisher History Encyclopedia.
We go through each chapter with these two books and then supplement it with other books and videos. If this rather made-up curriculum doesn't work for us this year, my backup plan is to use History Odyssey with Pandia Press.
Check out our history odyssey review here.
If you want further ideas for how to homeschool history curriculum check out my recent post.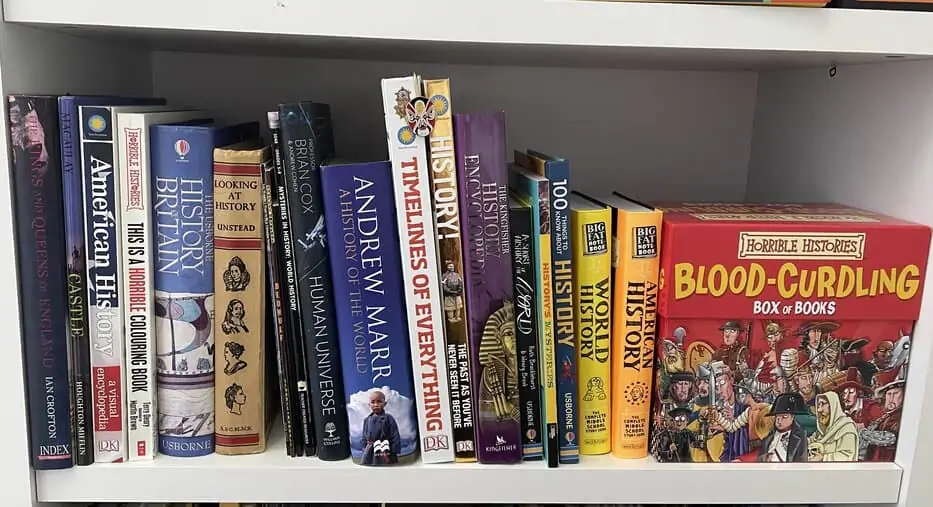 Homeschooling 6th Grade Geography
We are not doing too much geography this year, we will of course learn the 50 states and we have already started using the 180 days of geography workbook.
Check out how to remember the States the fun way. If you are looking for a homeschool geography curriculum check out the best resources.
Spanish 6th Grade
As we live in Florida, learning Spanish is a must.
This year we are going to continue with Duo Lingo (it's free, and he actually enjoys the lessons!), take Outschool classes, and use these workbooks.
If you are looking for other homeschool foreign language resources, check out our latest post.
Homeschool Coding Curriculum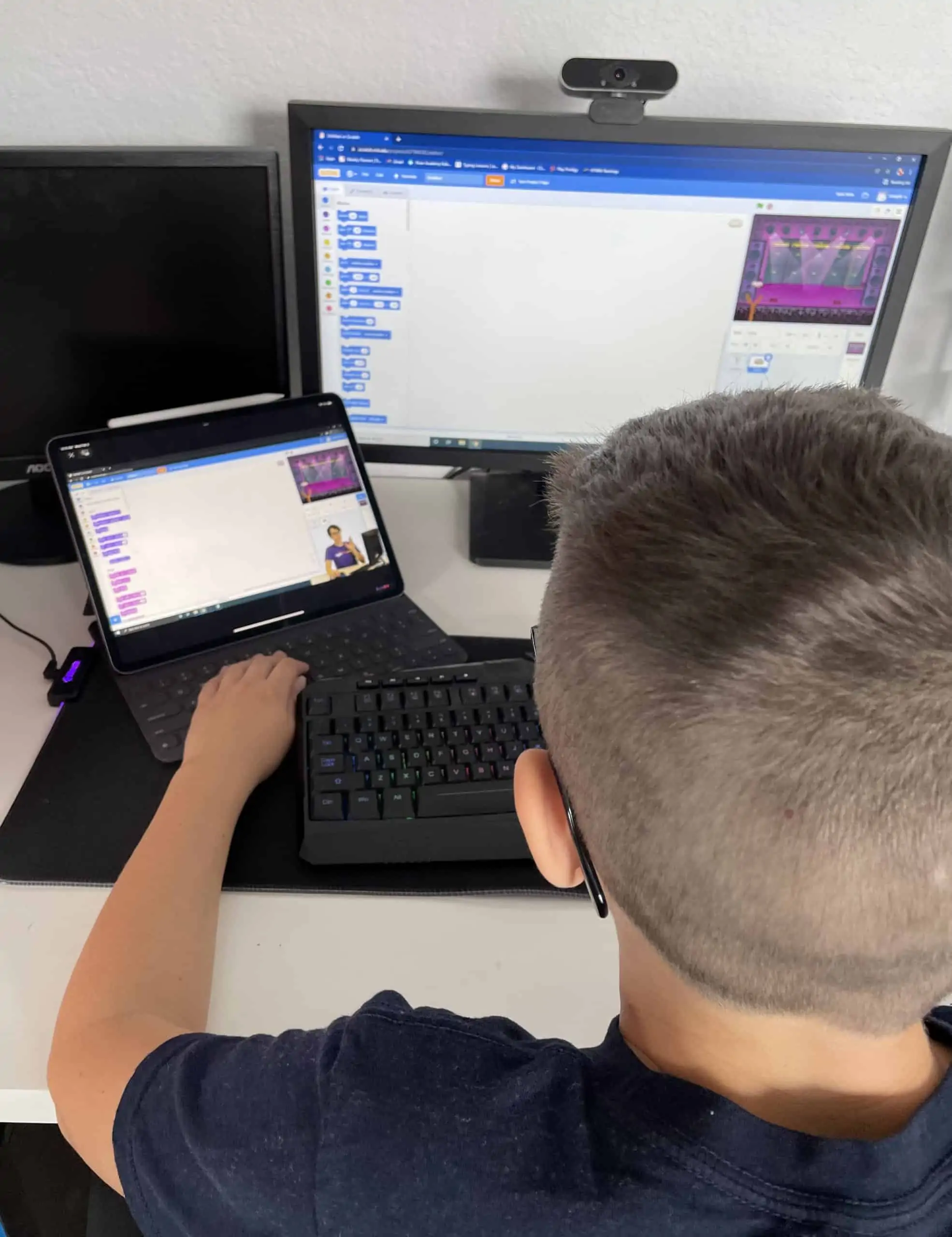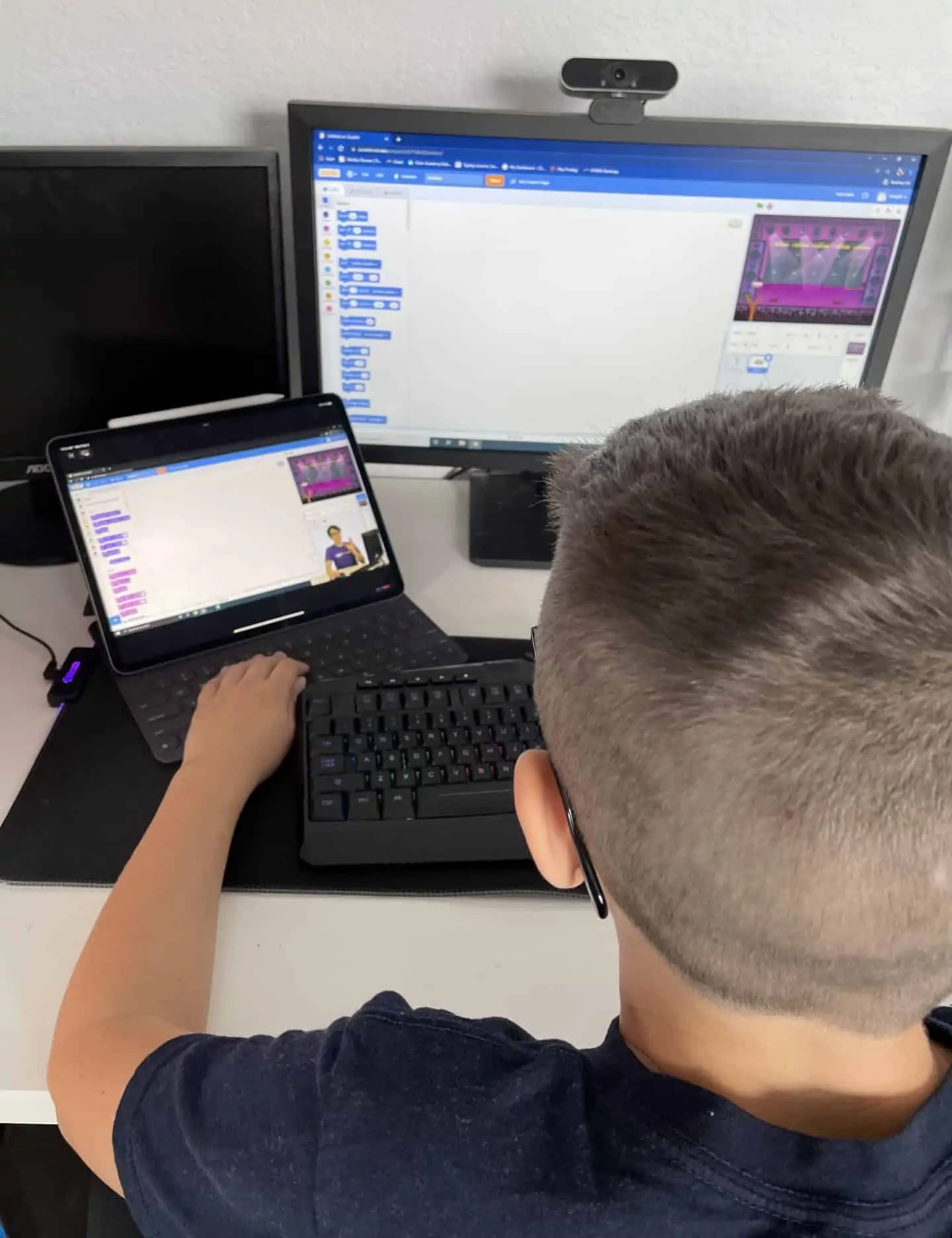 See why coding for homeschoolers is so important to us and why we are using Codakid this year.
We also have the big fat notebook on computer science and coding to help guide us along.
Check out alternatives here in our post on homeschool programming.
Financial Literacy Middle School Curriculum
We will be using MoneyTime to learn all about financial literacy this year.
We absolutely love this and highly recommend it, check out our MoneyTime review here.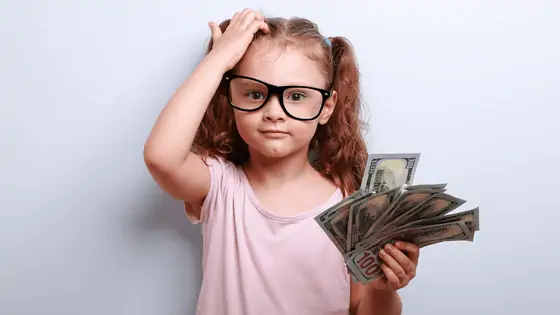 If you want some alternative ideas check out our recent post on financial literacy for kids.
Typing
My son currently plays Nitro Type which is a car-racing typing game.
But he also really enjoys Kidztype another FREE typing game. He has to spend 15 minutes every day practicing.
Update – We have started to take typing a little more seriously now so have moved to a homeschool typing curriculum from Typesy.
Cooking
This is something that is important to us, that our son can cook.
We try and make him cook a meal weekly, however, in all honesty, it is probably once every 2 weeks! BUT we have the BEST KIDS COOKBOOK EVER!
We purchased this book back in May 2020, and I can't say enough good things about it. In fact, I love it so much that I use it as my primary go-to cookbook.
Music
My son has piano lessons weekly and has to practice his piano at least for 15 minutes every day. We try and keep it fun so he enjoys it.
Check out our favorite online piano lessons for kids.
He is currently playing Star Wars and Lewis Capaldi from these two amazing easy piano books. If you are looking for a full homeschool music curriculum check out our post.
Physical Education
My son's favorite sport currently is basketball, and we have a hoop in our backyard, along with a basketball court in the neighborhood.
(Check out our favorite basketball gifts for boys here)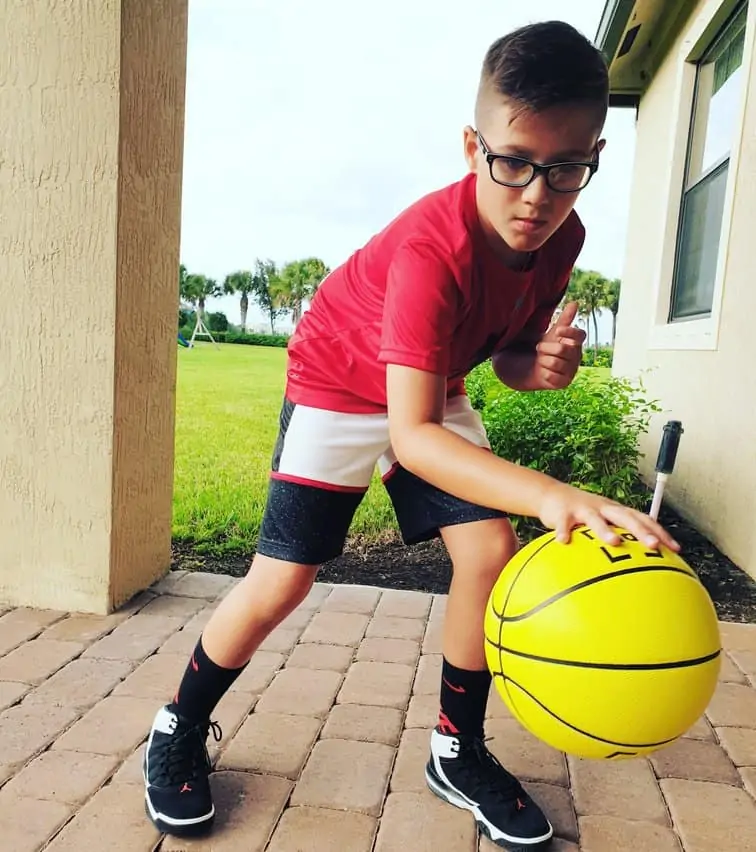 He also enjoys swimming, so these are the main ways he gets "formal" exercise.
If you are looking for other PE ideas for homeschool on youtube check out our post.
Homeschool Testing
At the end of the year, we have now started taking map testing for homeschoolers from Homeschool Boss to check that he has retained all of the information and to make me feel comfortable about moving to the next grade.
6th Grade Homeschool Schedule
I also get asked a lot about what his schedule will look like this year.
8am – Breakfast while watching CNN10 and Tour The States
8.30am – Math – Beast Academy
9.30am – Prodigy Math
9.45am English – writing, spelling, vocabulary, and grammar
11am Science – Experiments, workbooks, and subscription box
12pm – Lunch – Free Choices – Curiosity Stream, Drawing, Lego, Basketball, Piano
1pm – Shakespeare
2pm – History
3pm – Typing
3.15pm Coding
3.45pm Spanish
4pm – Finish
Bedtime – Read book of choice for 30 minutes
We are only doing the Shakespeare curriculum for about 3 months so this will change to homeschool economics curriculum. But we will decide nearer the time.
Last Updated on 1 June 2023 by homeschoolof1