4 Free Printable Thanksgiving Scattergories Fun For All
If you are looking for fun Thanksgiving games you are going to love our FREE Thanksgiving scattergories printables. There are 4 boards to print, Fall, Corn, Give, and Leaf. A great game for all the family to enjoy.
Thanksgiving is a new holiday for us, that we have only been celebrating for the last 4 years. It always falls near my husband's birthday, so we get to have DOUBLE celebrations. Any excuse for a party!!
After playing the waiting game last year while the Thanksgiving dinner was cooking, I decided this year to make a fun game we can play while we wait. So I have made these FREE holiday scattergories that we can play.
You can find the digital download link at the bottom of the page, and you will be emailed the pdf file.
As a side note. As it is nearly Thanksgiving make sure you keep checking our Black Friday Deals for Kids post. This will be updated as soon as we spot any new deals! 
**There may be affiliate links in this post. You can read my full disclosure at the bottom of the page.**
I have also just found these awesome Thanksgiving family games that you will love to play:
Scattergories to Play on Thanksgiving
We don't tend to follow the rules when we play any games, so we don't set a timer for this. We just print them out and play! But if you were doing it properly you would set a 2-minute timer.
Print out the same game sheet for as many people as you have got at the table. Make sure everyone has a pen and you are ready to play.
These will print out on one sheet of paper for each word, so there is enough room for the kids to write on. They print best on white cardstock.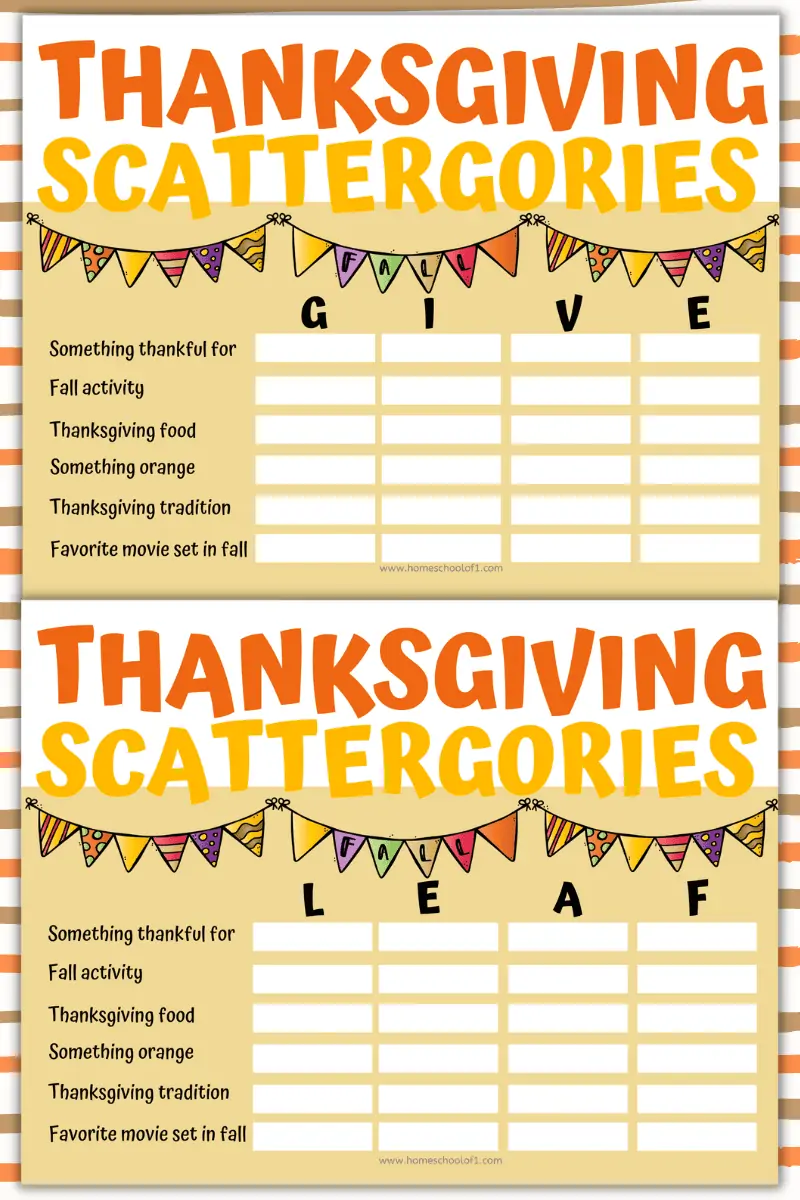 The category list for this free printable game are:
Something thankful for
Fall Activity
Thanksgiving food
Something orange
Thanksgiving tradition
Favorite movies set in fall.
The letters of the alphabet you will use are:
The aim of the game is to find unique Thanksgiving words to add to the scattergories game card. The reason they have to be unique is that if someone else has the word neither of you gets any points.
So for the letter F, I wouldn't use the word Fall or Football, as they are the most common words. If you are playing with younger children though, let them find the easy words!
If you add a word that isn't a Thanksgiving word such as V for varnish, you need to be able to convince people it is linked to Thanksgiving Day. Are your powers of persuasion any good? If so you will win a point!
This is a great way to play Scattergories if you don't have the classic scattergories game. But I highly recommend getting the original as it's awesome!
Download Free Thanksgiving Scattergories Printable
Make sure you choose the correct paper size and click on the shrink to fit button. All of our free printables work better when printed on cardstock (this is the one we use and love.)
If you love FREE printable Thanksgiving games you will also enjoy:
Last Updated on 24 January 2023 by homeschoolof1