Our Favorite Anatomy Books For Kids To Learn About the Body
Children start learning about their bodies from a very young age. However, it shouldn't stop there. What bones are in the foot, why does your blood flow, are questions that should be answered. These anatomy books for kids are the perfect tool to help you discuss this with your kids.
I have a confession to make, we have never officially studied human anatomy in our homeschool. I don't know why, I think we just focussed more on math (I know we are mad, but we love it!) As he is now in middle school I have probably left it a little late! But with the help of these awesome kids books, we are going to get right on track.
Know Yourself has created these brilliant anatomy books for kids aged 8 years old and above. Carry on reading to see what we think, and why they are still perfect for middle school.
I think you are going to love our free body systems worksheets and the free body systems word search which will work really well with these anatomy books.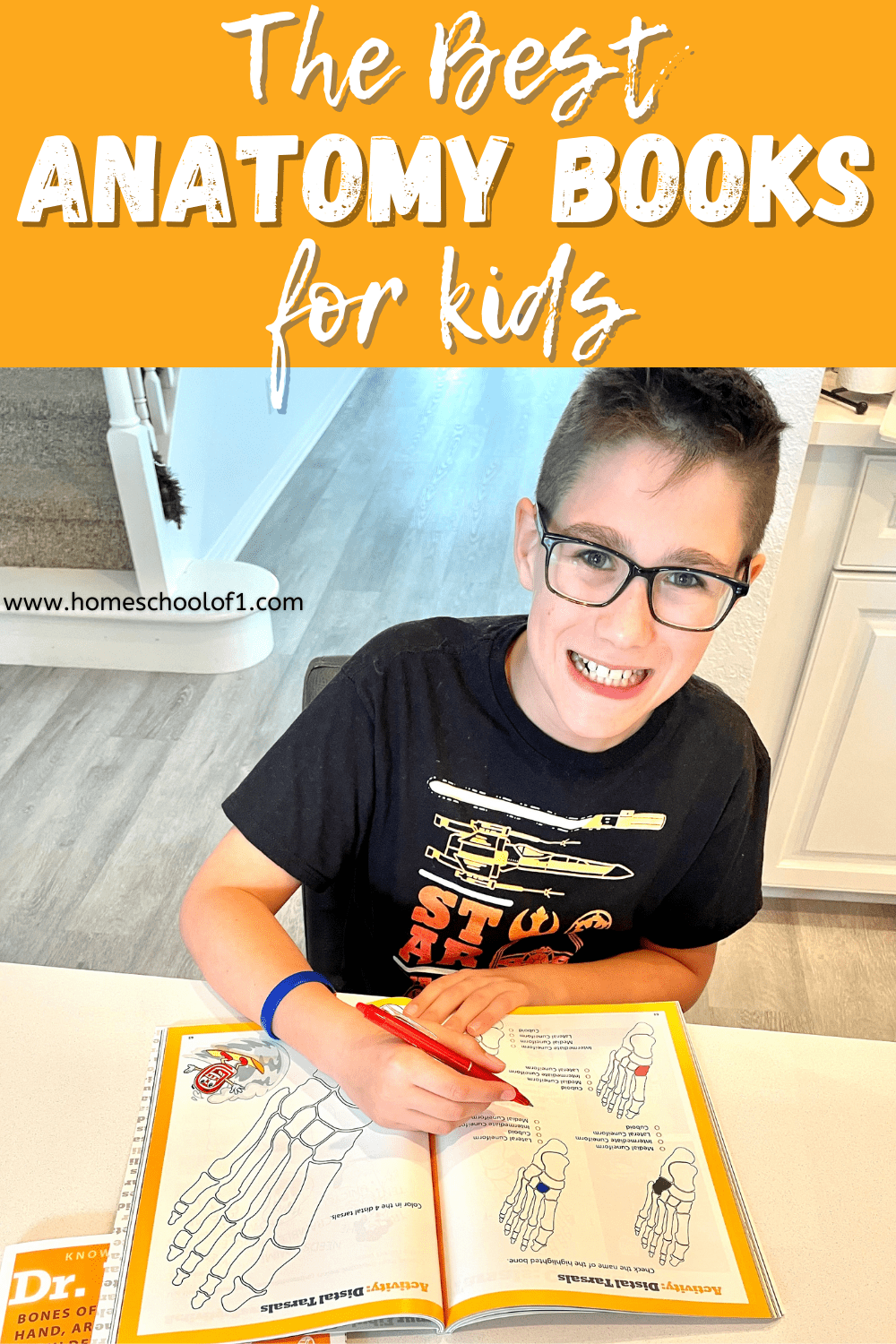 **Disclosure: I was compensated for my time to write this post. As always, all thoughts and opinions are my own. I only share resources that I would use with my own family and those that I believe other homeschool families will enjoy. There may be affiliate links in this post. If you make a purchase (after clicking one of my affiliate links) I may earn some coffee money, which I promise to drink while supporting your journey. You do not pay a higher price.**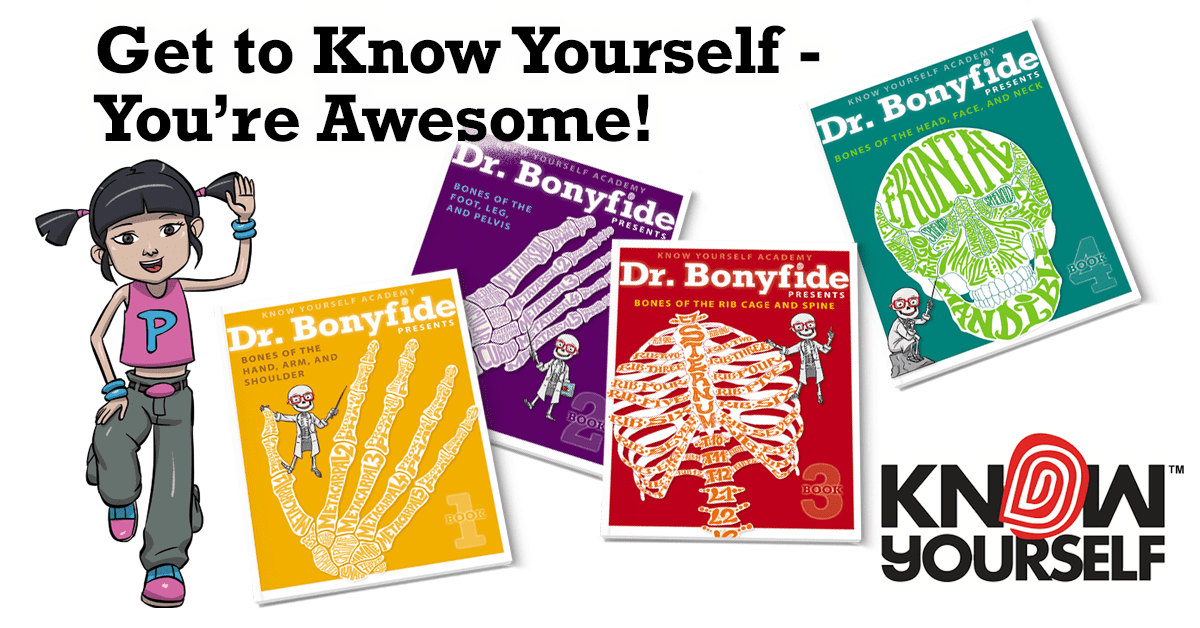 Best Anatomy Books For Kids
Know Yourself has created a total of 16 anatomy books for kids in 2 different series.
Dr. Bonyfide Bones of the Body Series
There are a total of 4 books in the bones of the body series:
Hand, Arm, and Shoulder
Bones of the Foot, Leg, and Pelvis
Rib Cage and Spine
Bones of the Head, Face, and Neck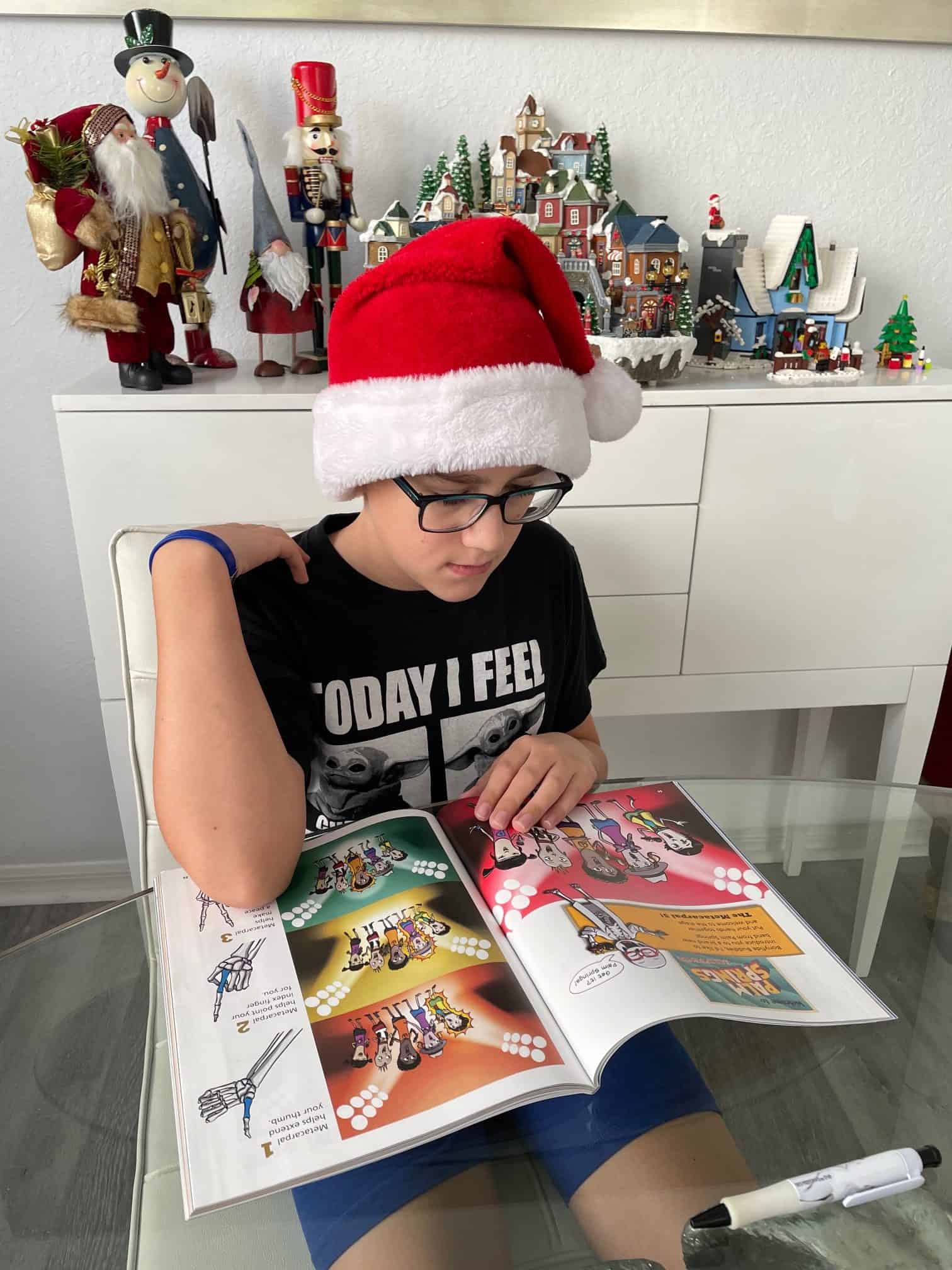 Knowing yourself is the beginning of all wisdom

Aristotle
Inside each of the books, you will find word searches, x-ray vision glasses, puzzles, games and so much more. Watch this youtube video to see what is included in each of the books. Check out Know Yourself today with code CLARE10 for 10% off.
Systems of the Body – Adventure Series
Within each of these books, there are about 15 hours of study. If you were to only do 30 minutes a day each book will take approximately 6 weeks to complete each book.
There are 12 books in this adventure series:
The Five Senses
The Skeletal System
Circulatory System
The Renal System
Digestive System
Immune System
Muscular System
The Endocrine System
The Respiratory System
The Lymphatic System
The Nervous System
The Integumentary System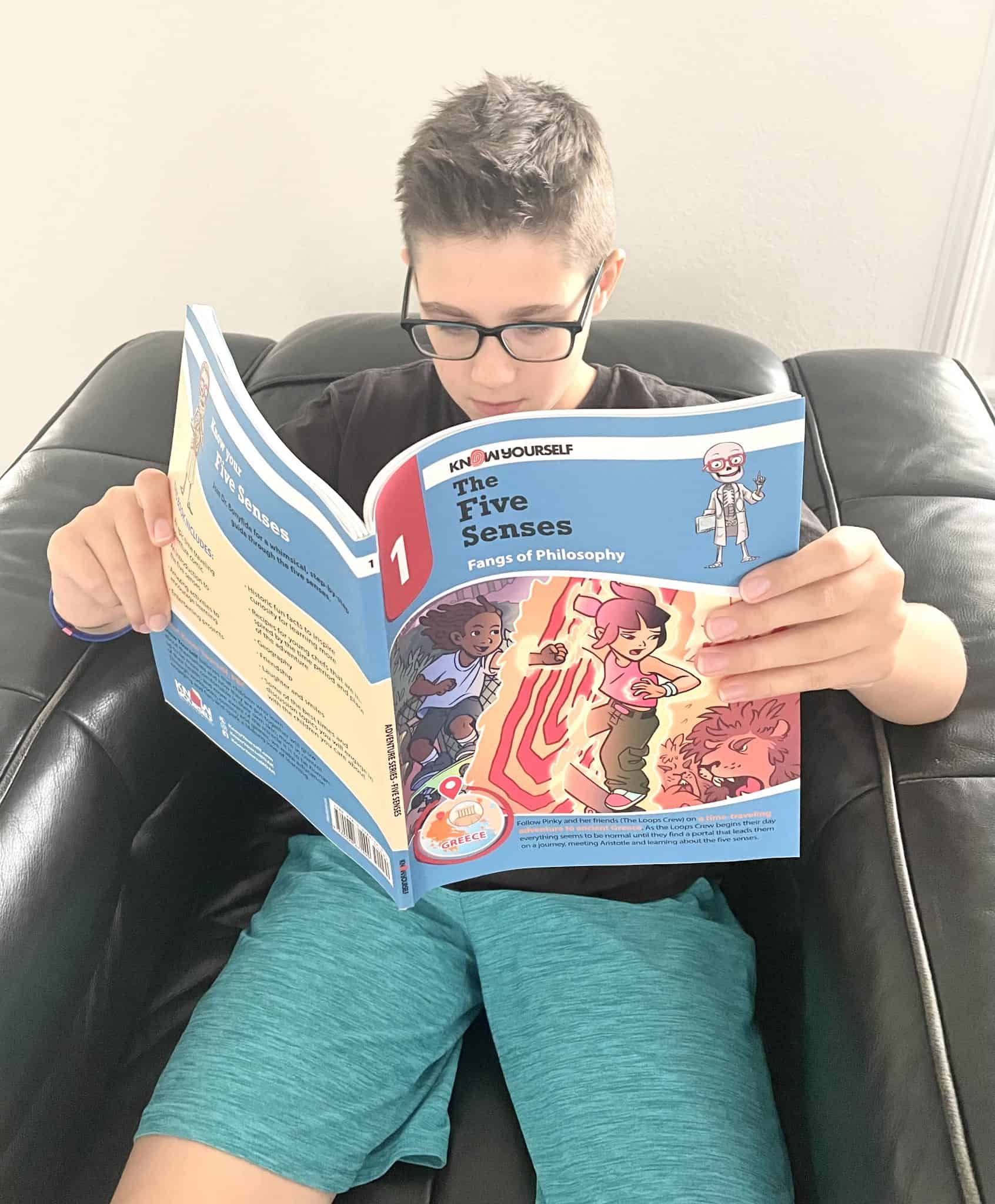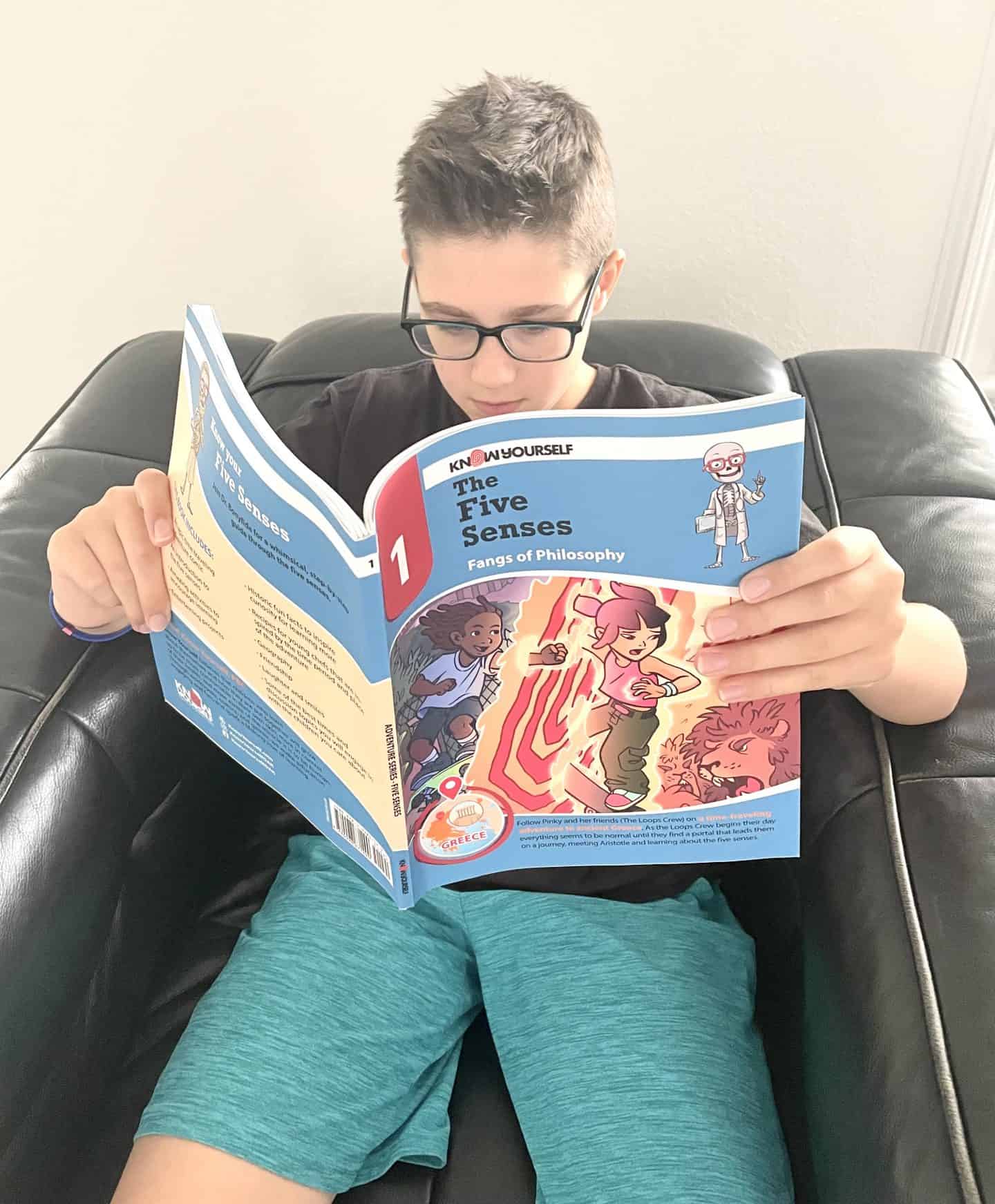 Each of the books includes (watch this Youtube video to see an example)
an adventure comic
an introduction to the area being covered
activities
projects
historical fun facts
Recipes
Geography
Discussion topics
Check out Know Yourself today with code CLARE10 for 10% off.
Know Yourself Curriculum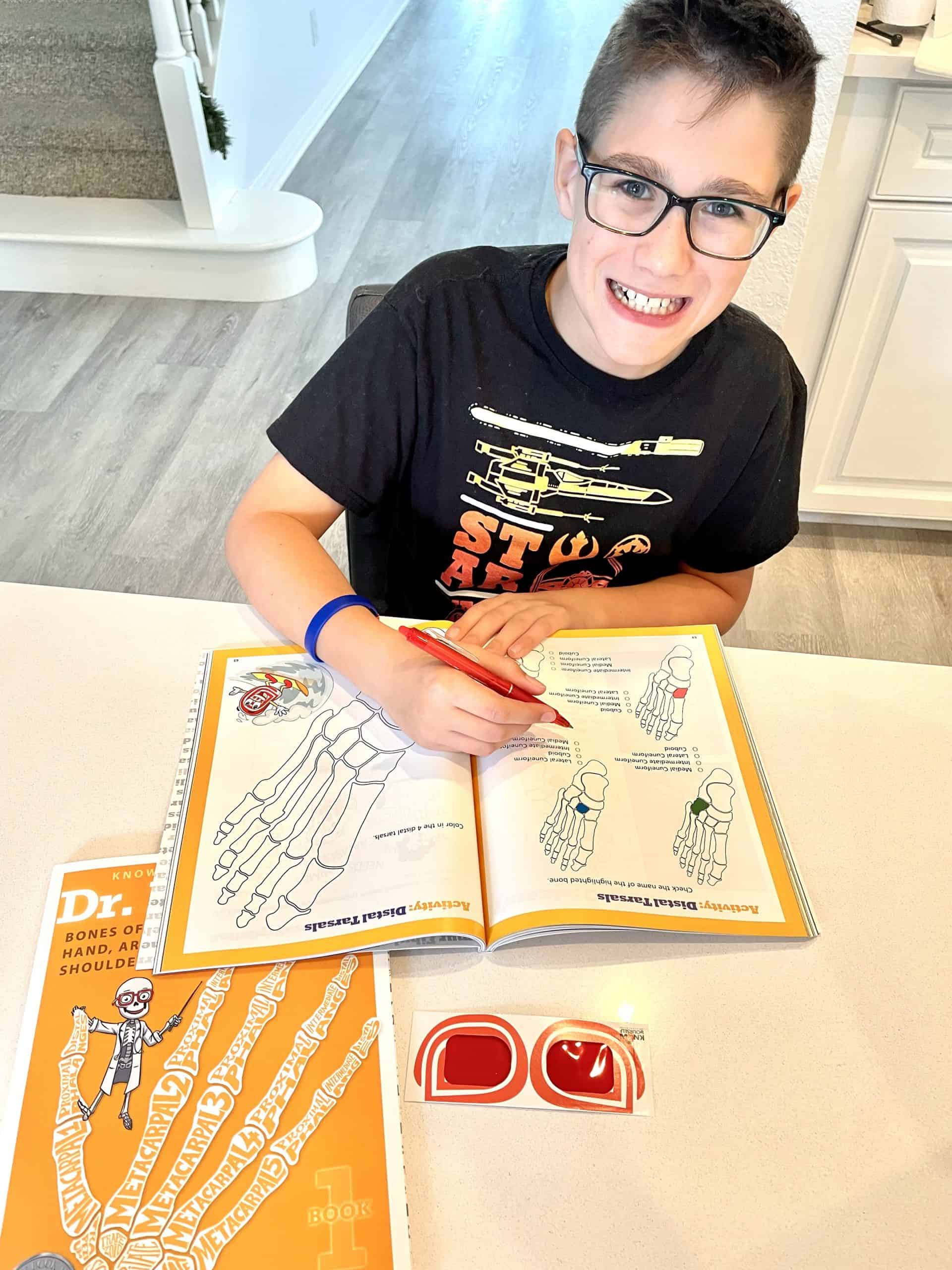 If you are looking for an anatomy homeschool curriculum look no further for your elementary and middle school-aged children.
Not only did Freddie (who is 12 years old) learn about human anatomy, but so did I. I can't believe how I have got to my age and couldn't for example name the four bones in the leg! I could have got to 3, but I had honestly not heard of the Patella! This was the case pretty much on every page, without reading the stories or using the pictures I couldn't have answered half of the questions!
Another example: what are the four proximal carpals. Not not only did I not know there were 4, but I didn't even know what a proximal carpal was!
These anatomy books are absolutely excellent for every age group (yes even me!) however, they are definitely aimed at elementary and middle school-aged children.
You can decide to buy all 16 books in a bundle which of course is the cheapest option, or you could buy the 2 smaller bundles or you can buy each book individually. Whatever option you choose we highly recommend Know Yourself (make sure you use code CLARE10 for 10% off.)
If you are looking for a complete homeschool science curriculum check out our ultimate guide.
Know Yourself Books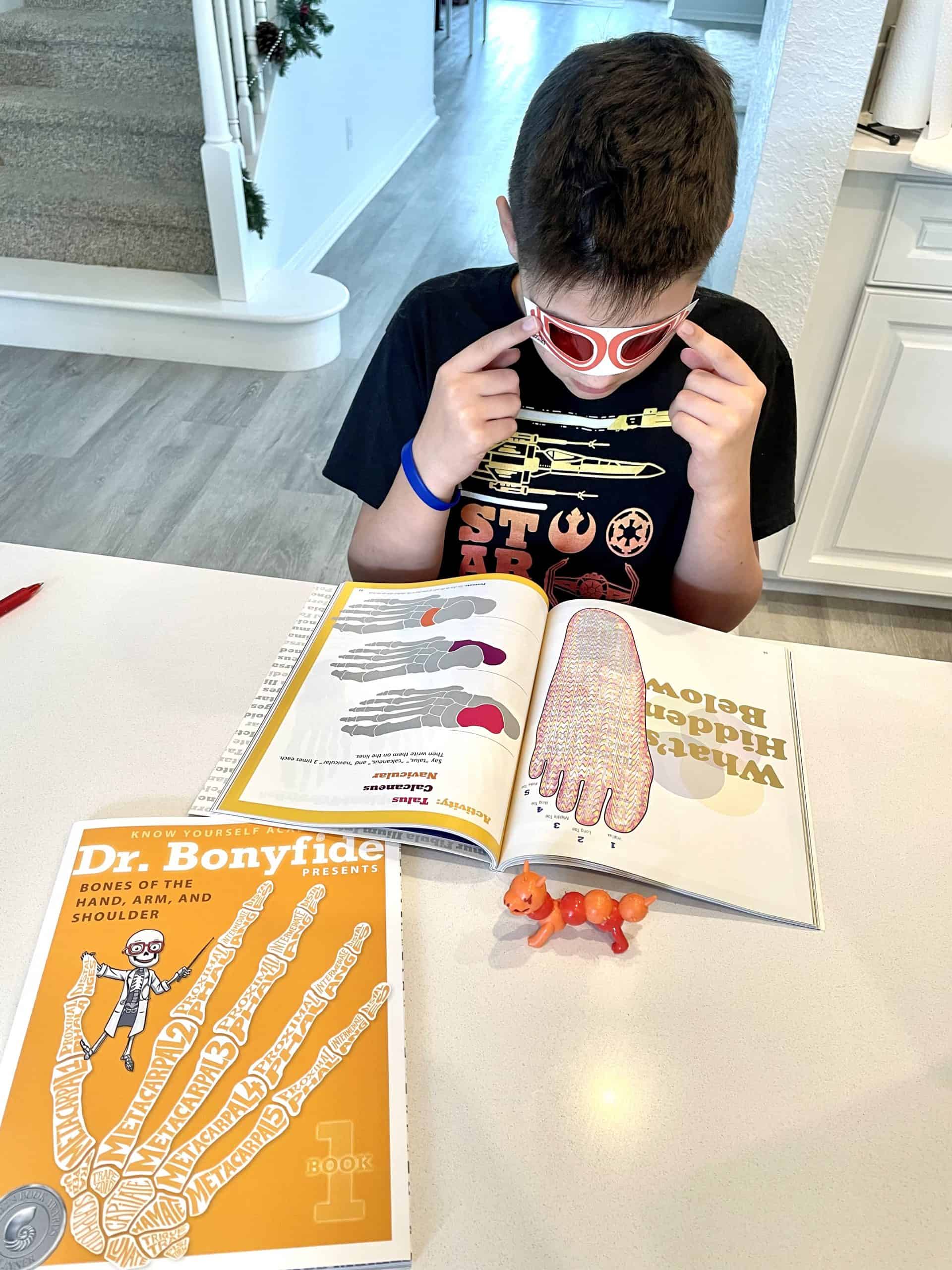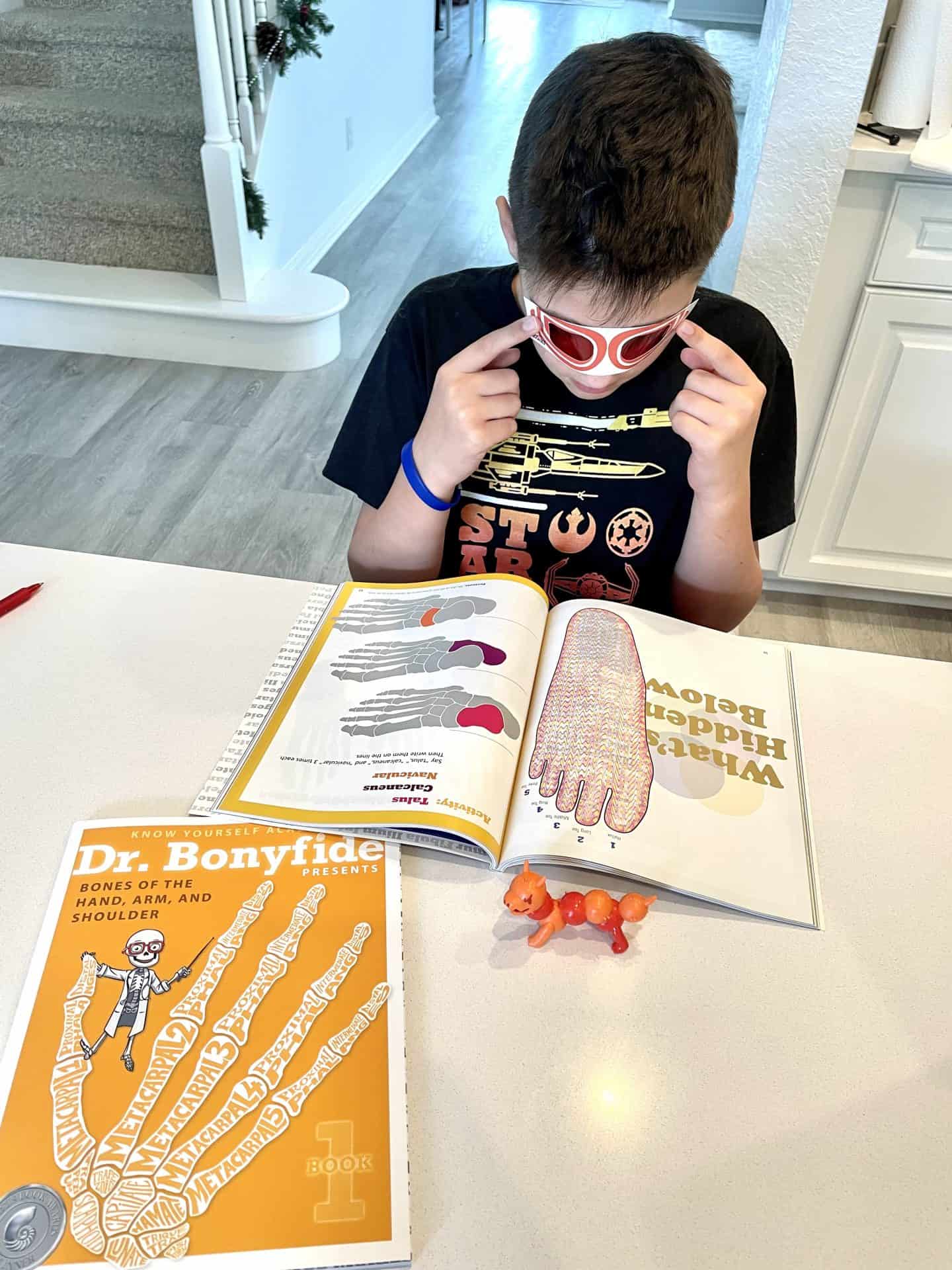 We both absolutely love these anatomy books, Freddie definitely prefers the systems of the body adventure series books. But I think that is because they have an adventure comic in, and he loves comics!
We have decided though to start with the four Dr. Bonyfide books first, and when we have done these we will move on to the adventure series.
The books are extremely well written, of excellent quality, and the kids and you will love them.
These are not just simple boring reading books, they have really fun and engaging activities on every page.
There is a certificate of completion at the end of the books that you can add to your homeschool folder too.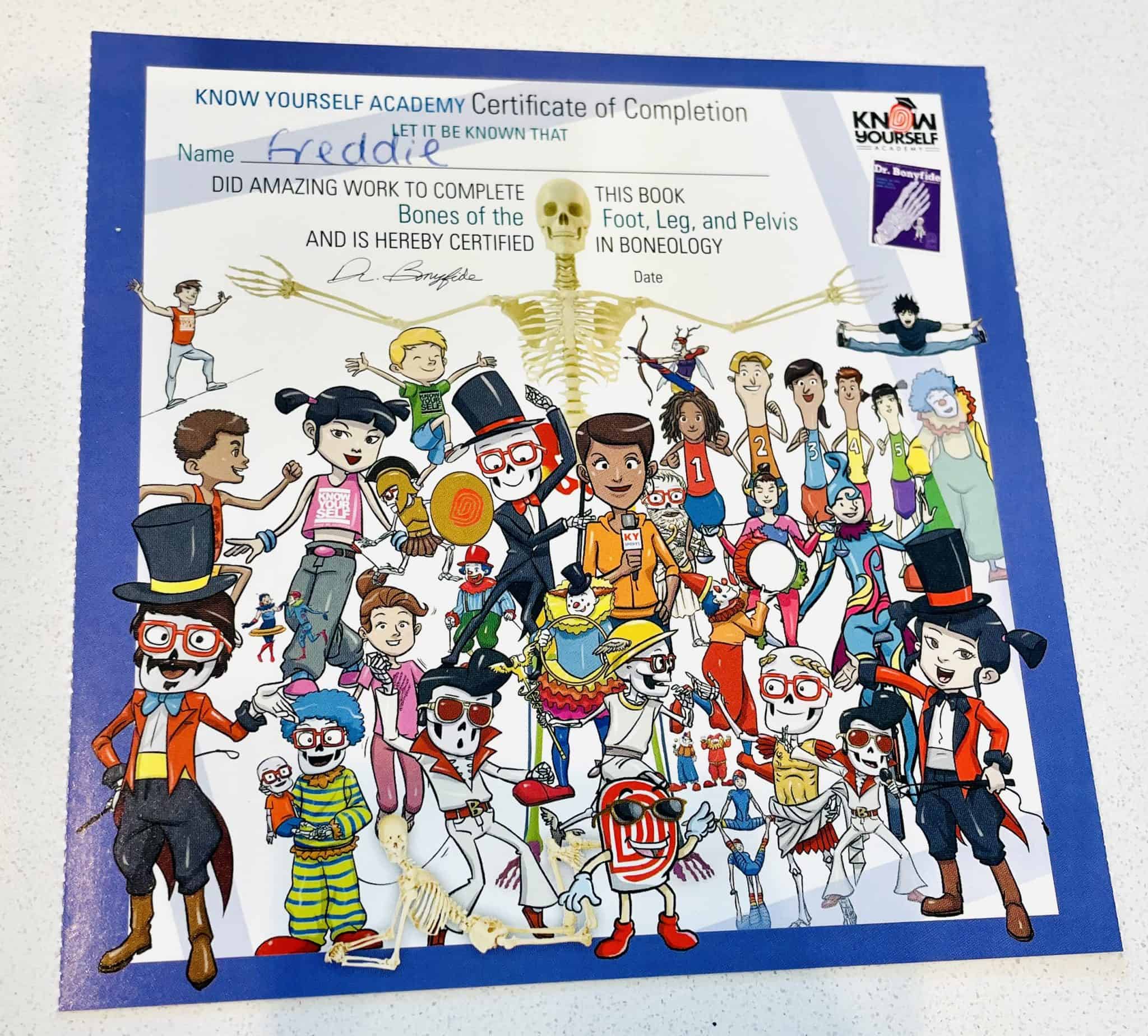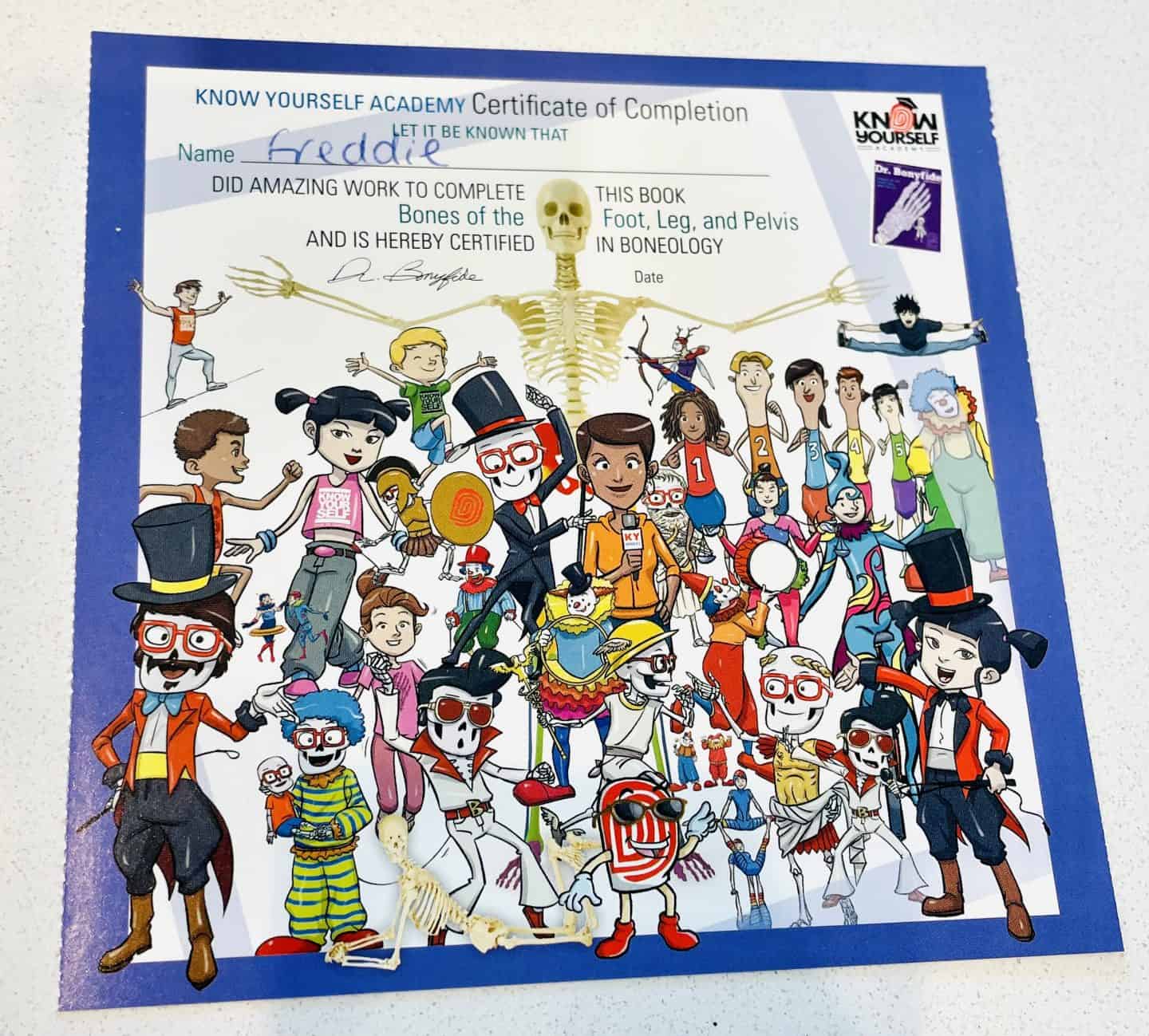 We highly recommend the Know Yourself books and if you order today make sure you use code CLARE10 for 10% off.
If you are looking for even more homeschool curriculum reviews check out all of the others we have reviewed over the years.
Organauts
Learn more about the body with these collectible toys. The one below is Streptococcus Pyogenes, or for short coco. On the back of the card, it has the following characteristics:
Strengths: often mistaken for an ordinary sore throat; sneaky.
Weaknesses: Antibiotic attacks
Likes: Tonsils, kids who lick other kids
Dislikes: Tests, hand sanitizer
Why not treat your little monster to these Organauts when you purchase the anatomy books for kids.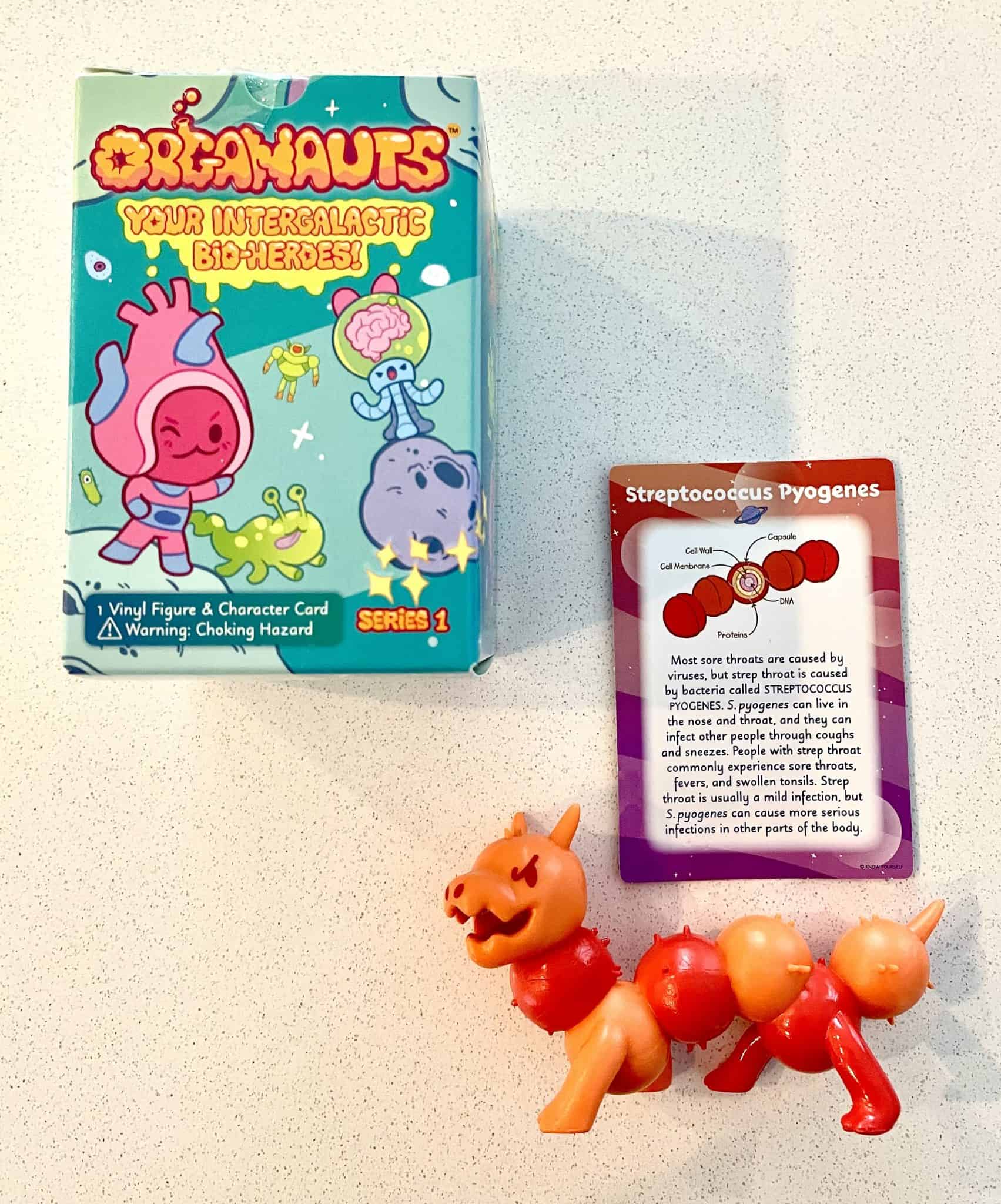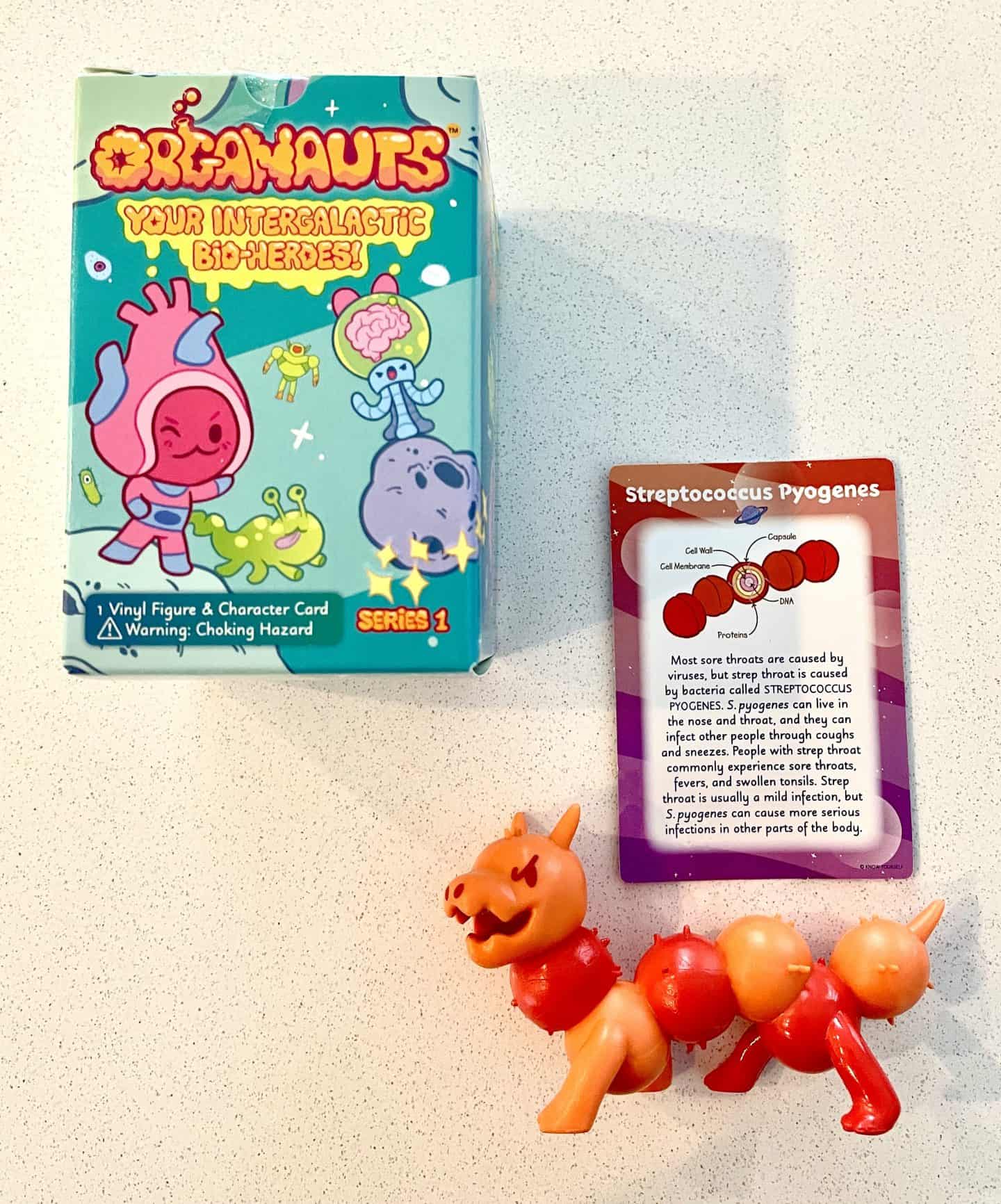 These books go really well with Doctor Robins's human biology curriculum too, check out our review.
Last Updated on 21 September 2022 by homeschoolof1