Human Body Systems Word Search For Kids
If you are learning about the human body systems at school or in your homeschool as we are, you are going to love our free body systems word search.
There are 18 important vocabulary words to find covering the major body systems.
This free printable science worksheet is perfect for kids in upper elementary and middle school.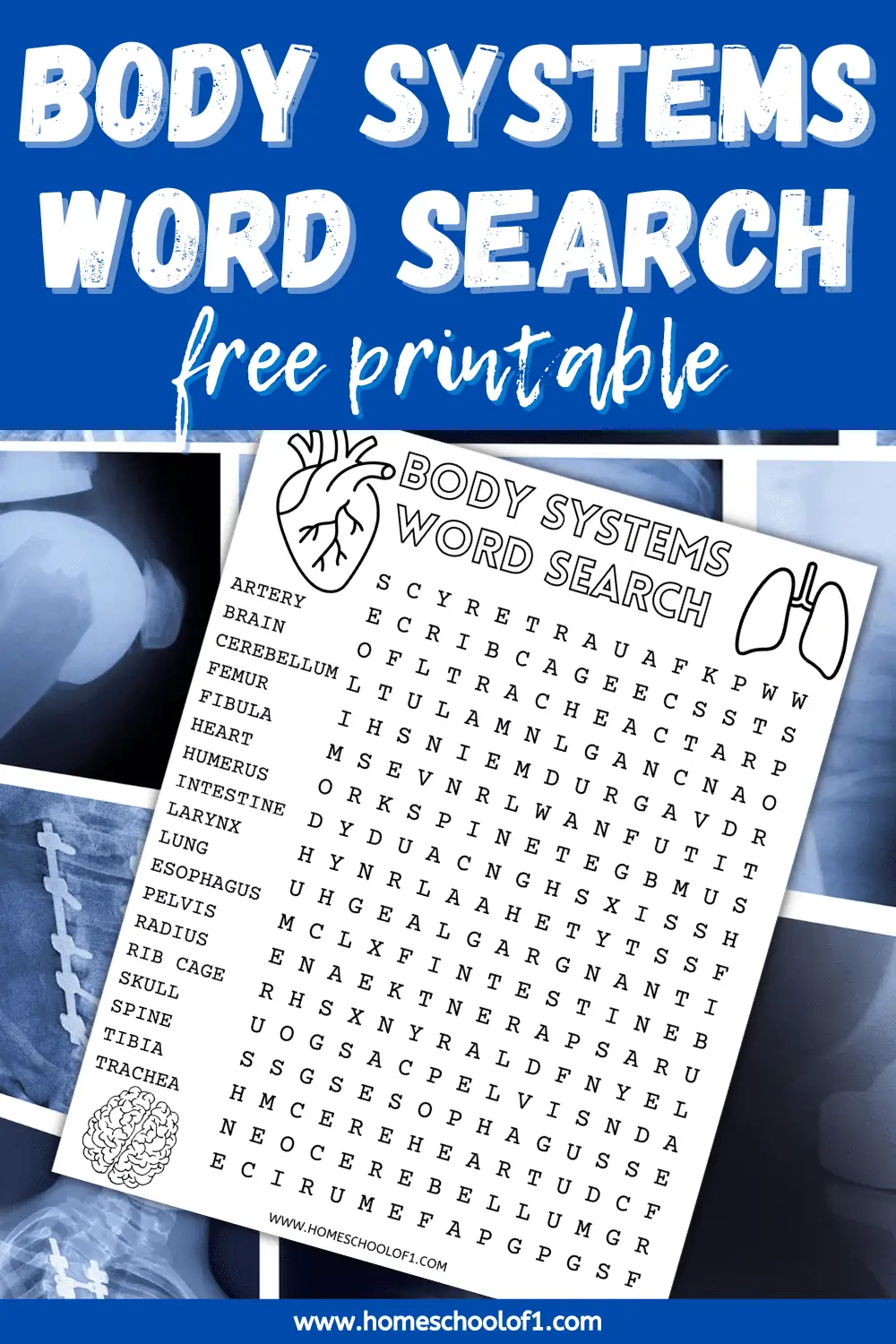 **There may be affiliate links in this post. You can read my full disclosure at the bottom of the page.**
How are word searches used in the classroom?
Word search printables are excellent for when the kids just need a break. They are seriously some of the best educational games out there!
Here's how word searches are typically used in the classroom:
Vocabulary Building: Word searches are often used to introduce and reinforce vocabulary words related to a specific topic or theme.
Spelling Practice: Word searches provide students with an opportunity to practice spelling words correctly.
Visual Perception and Attention to Detail: Completing a word search requires students to carefully scan the grid of letters to locate the hidden words.
Pattern Recognition: Word searches often contain words arranged in various directions (horizontally, vertically, diagonally, and even backward). By finding words in different orientations, students can develop pattern recognition skills and enhance their ability to identify words in different contexts.
Contextual Understanding: Students can gain a deeper understanding of words and their meanings by seeing them in context within the word search.
Engagement and Fun: Word searches are enjoyable activities that can break up routine lessons and add an element of fun to the classroom. They can be used as warm-up exercises, quiet work, or even as homework assignments.
Critical Thinking and Problem Solving: As students search for words, they need to think critically and strategize about the most efficient way to find each term. This encourages problem-solving skills and cognitive engagement.
Cross-Curricular Integration: Word searches can be used in various subjects beyond language arts, such as science, history, math, and more. They can help reinforce subject-specific terminology and concepts.
Human Body Word Search Puzzle For Kids
The body systems words can be found, horizontally, vertically, diagonally, frontwards, or backward! Just to make it that much harder!
I have also added some black and white body systems-themed images for the kids to color in too! Perfect if the kids find the words too quickly! I have also added the answer sheet, some of the words are a little tricky to find!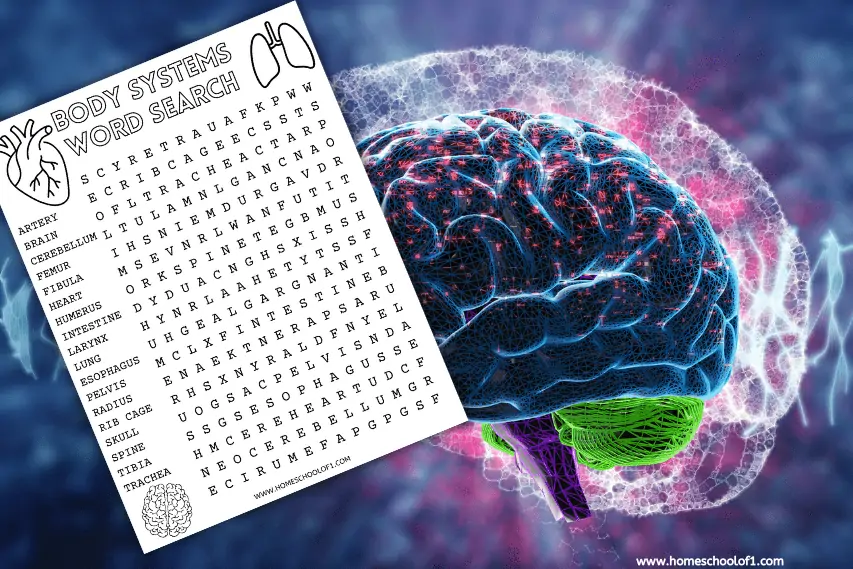 Tip: I recommend either using a highlighter pen or circling around the letters. Do not cross the letters out if you have found a word, as it may be used in another word!
There are 18 body system hidden words to find:
Artery
Brain
Cerebellum
Femur
Fibula
Heart
Humerus
Intestine
Larynx
Lung
Esophagus
Pelvis
Radius
Rib Cage
Skull
Spine
Tibia
Trachea
Use with our free printable human body systems worksheets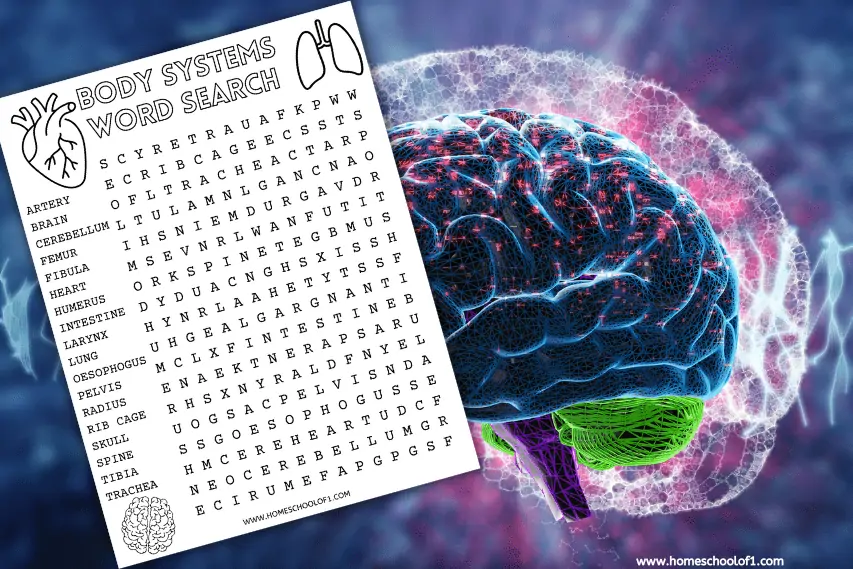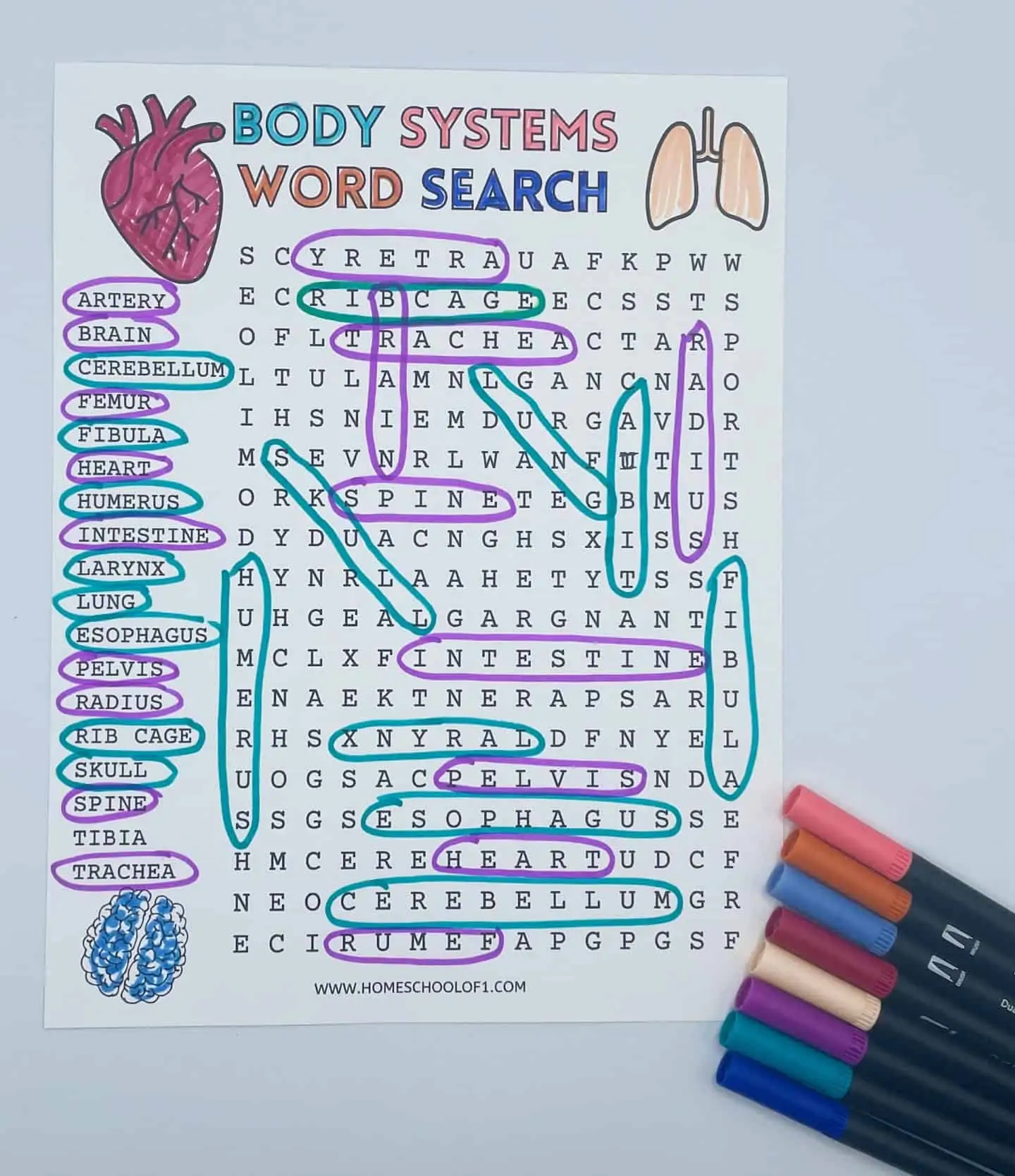 Books about human anatomy for kids
To help teach the kids about the body we have been using these amazing anatomy books for kids from Know Yourself.
These books are aimed at children aged 8+ but we actually only found them when my son was 12, and they were excellent. In fact, I learned so much! I have an exclusive coupon code for 10% off if you use code CLARE10.
Additional human body resources
Carry on learning all about the human body with these additional resources: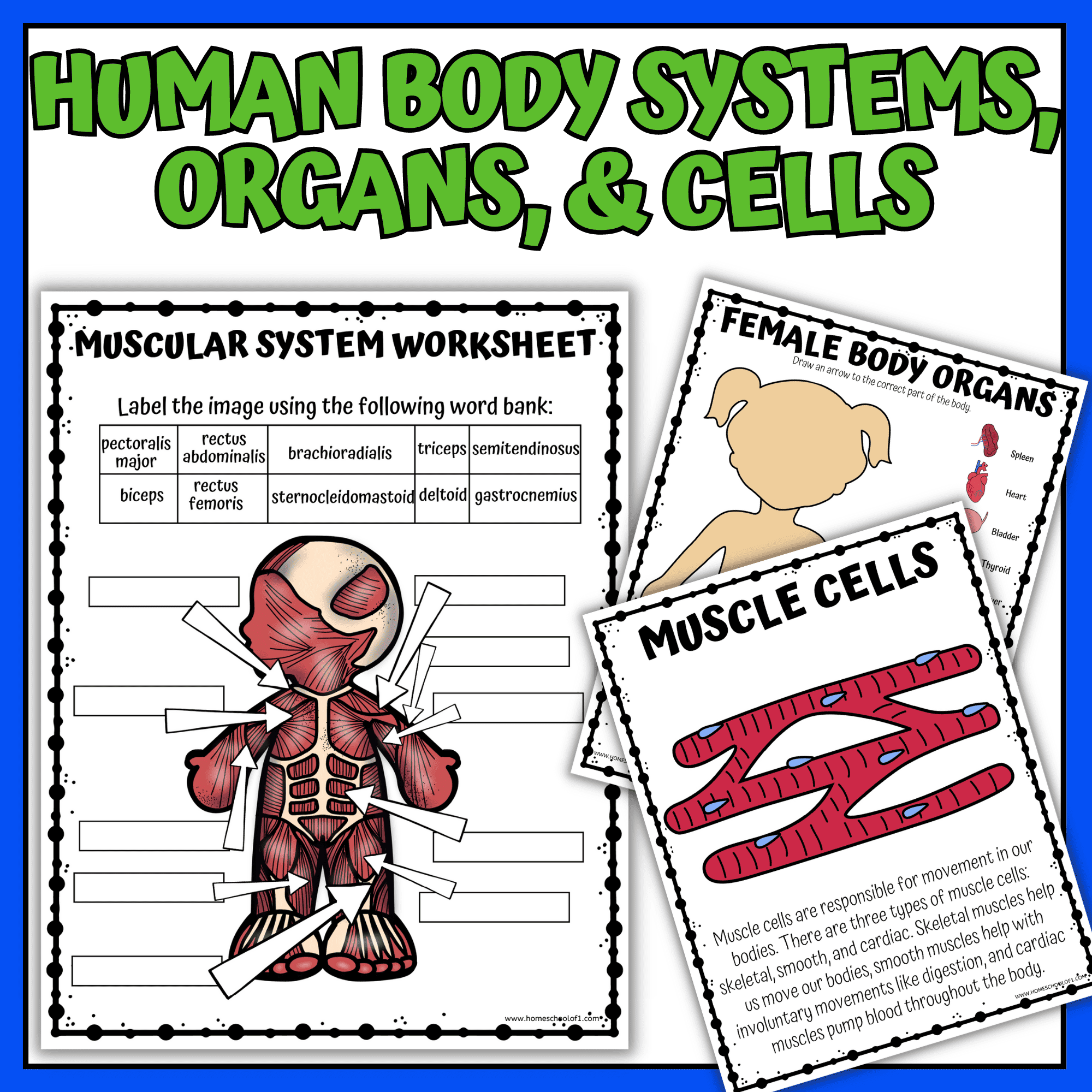 Human Body Worksheets Bundle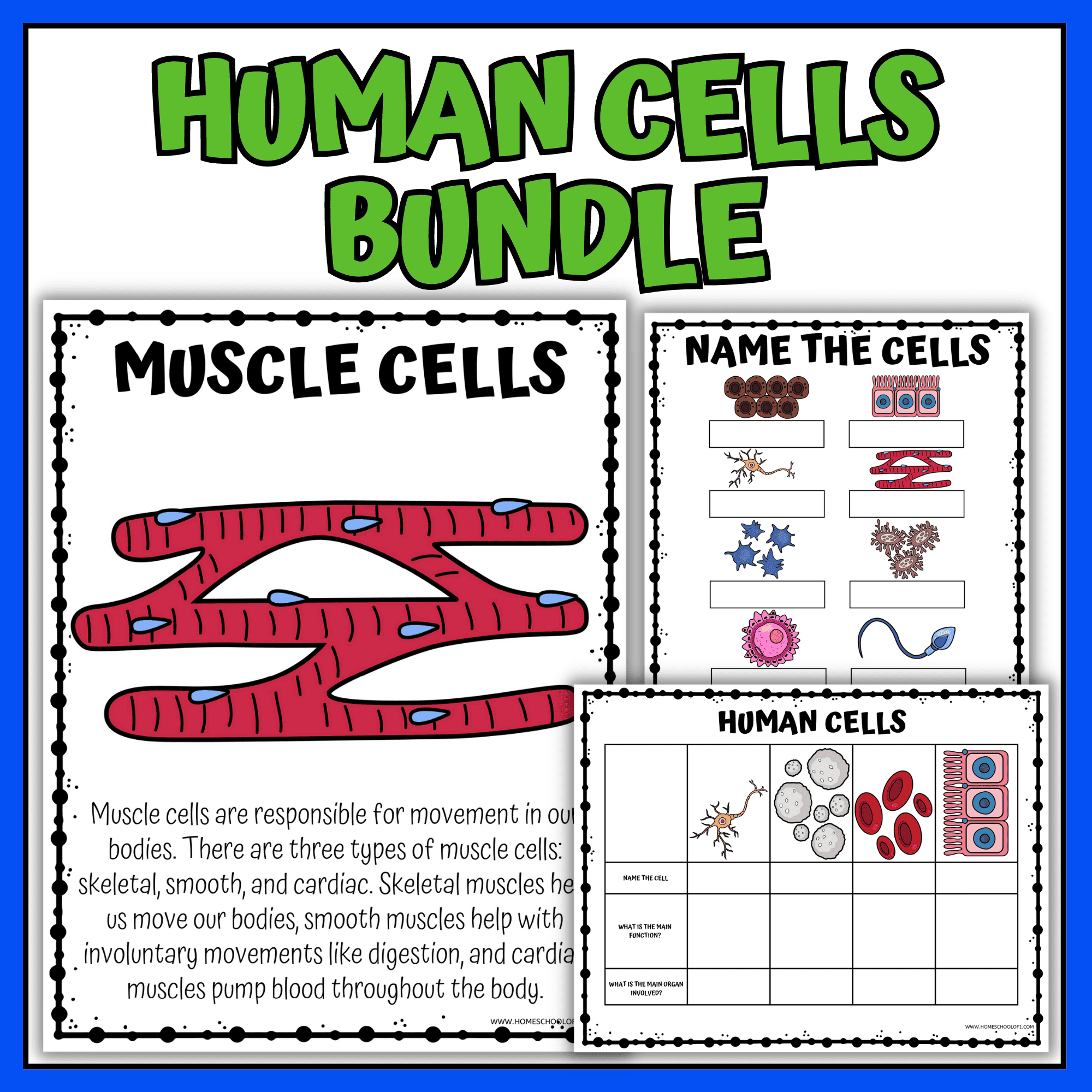 Human Cells Worksheets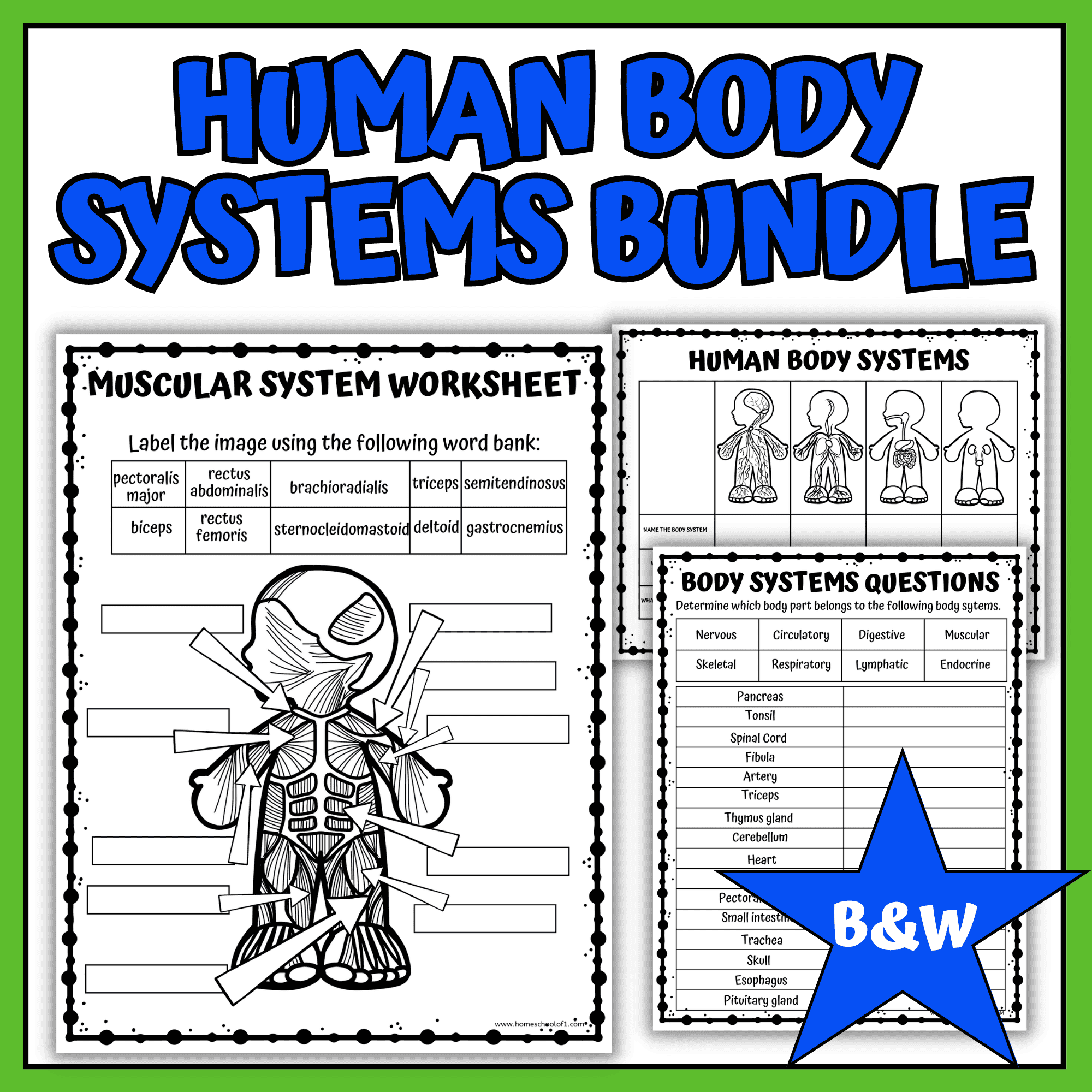 HUman Body Systems Worksheets

Tips for downloading the free files
Below you will see a large sign-up box where you need to add your name and email address, and press I NEED THIS NOW!
Within minutes you will be sent the free PDF directly to your email address, so you can print it out and start using it immediately.
Sometimes emails get a little wonky, so if you can't see it, please check your spam folder where I am sure it is hiding.
Download the free anatomy word search printable
Make sure you choose the correct paper size and click on the shrink to fit button. All of our free printables for kids work better when printed on cardstock (this is the one we use and love.)
Other free word search puzzles
Last Updated on 21 October 2023 by homeschoolof1