Lego Scavenger Hunt Clues (free printable)
Do you have a Lego fan and want to have a really fun activity? If so you are going to love our free Lego scavenger hunt clues.
This delightful adventure will have the kids searching high and low, either in pursuit of a special Lego treat or to uncover the missing Lego minifigures.
There are 16 rhyming clues with 2 blanks for you to add in your own riddles. The clues are all generic so they could be used in any home, not just mine!
You are going to love our free scavenger hunt printables, and the kids will love them too! They are such a fun way to get the kids exploring.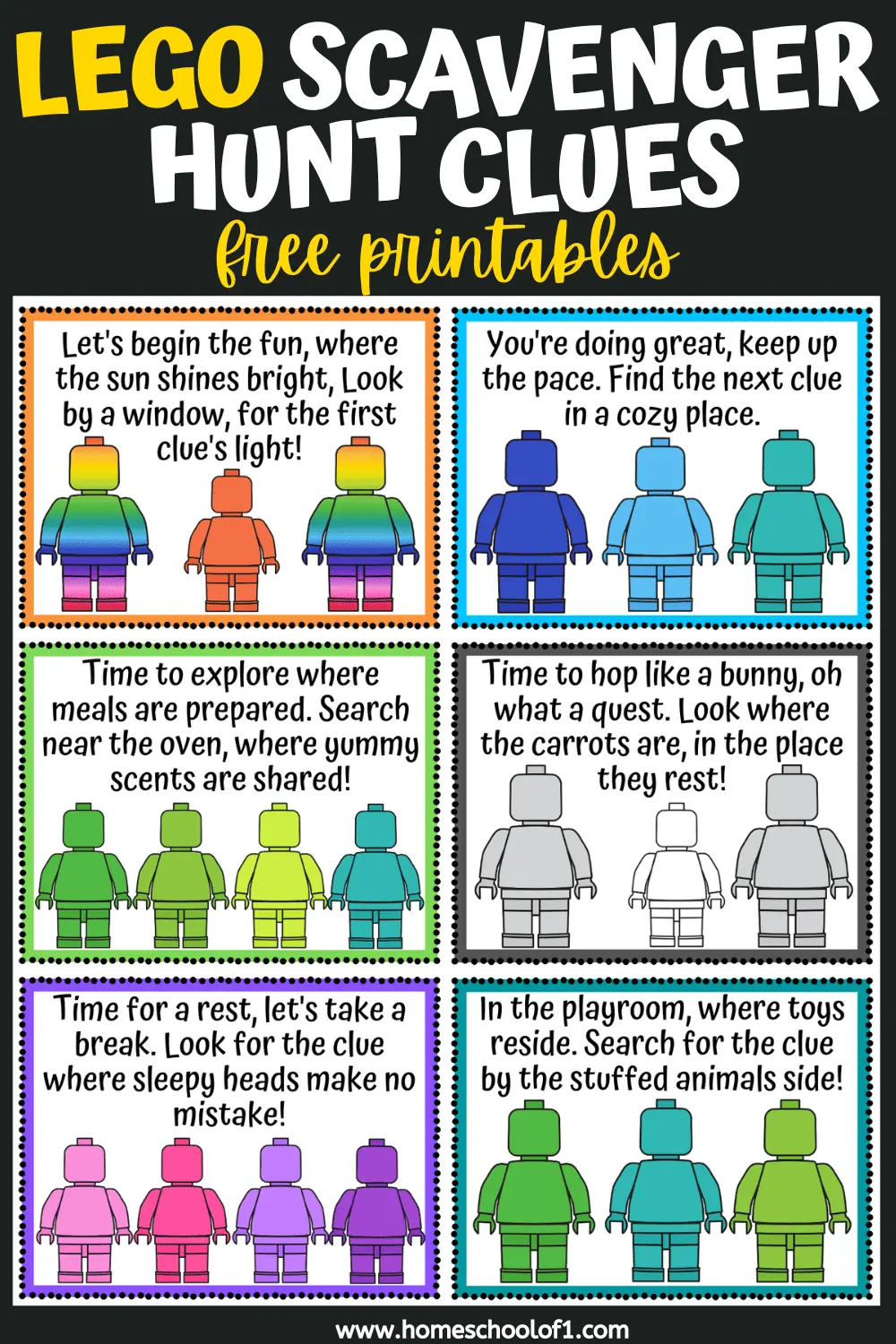 **There may be affiliate links in this post. You can read my full disclosure at the bottom of the page.**
Lego Treasure Hunt Clues
We absolutely love having treasure hunts, especially for birthdays and Christmas.
These free Lego scavenger hunt clues for kids are super easy to have fun with.
What I love about this hunt is you can either leave new Lego minifigures, or old ones with each clue. Then with the last clue, you can lead them to their birthday or Christmas gifts. It is totally up to you.
We have done it both ways and the only thing we have done the same, is all of the gifts are opened at the end of the scavenger hunt.
How to set up the Lego scavenger hunt
Download the Lego scavenger hunt clues below. There are 3 pages included with 6 clues per page.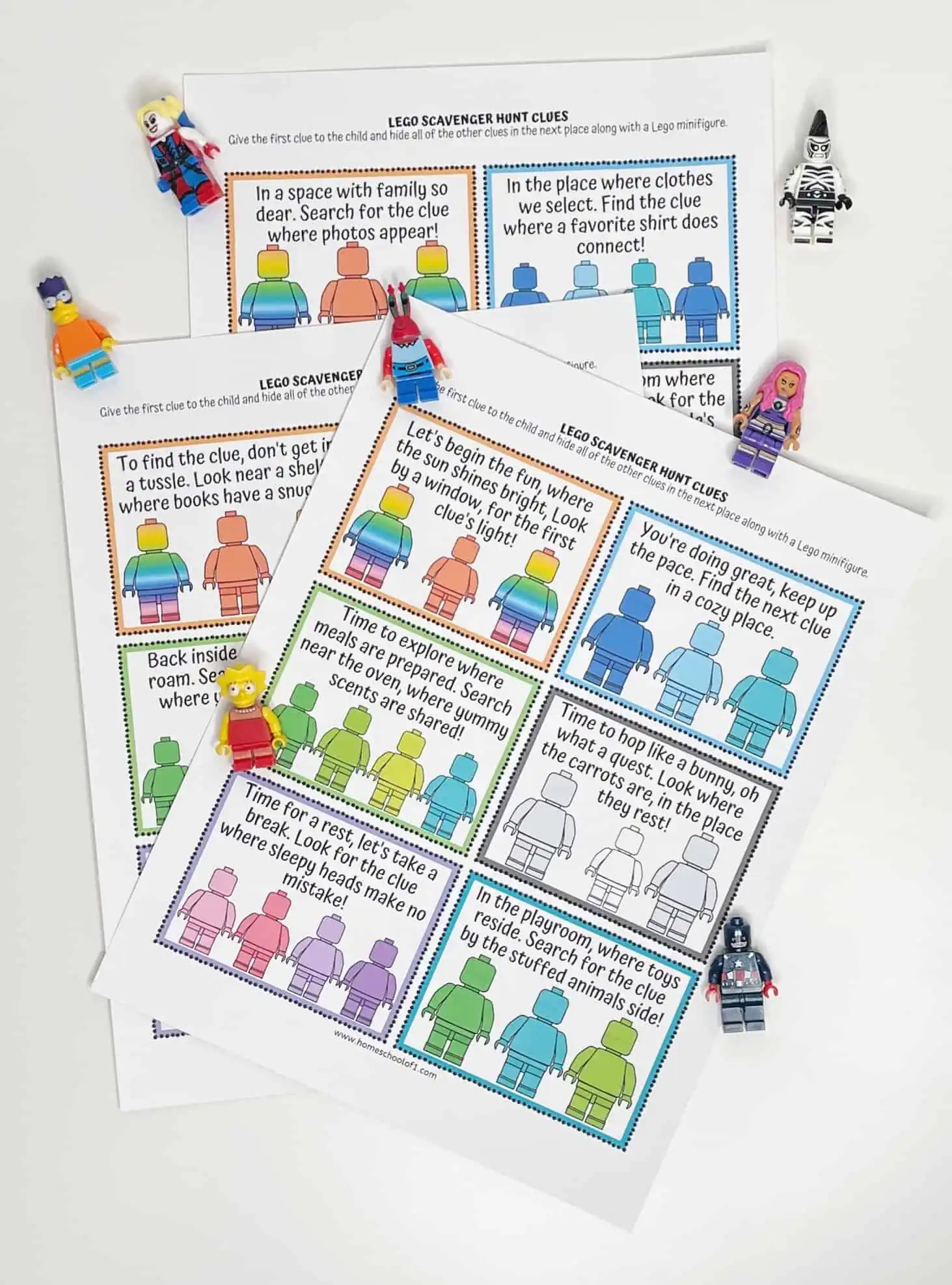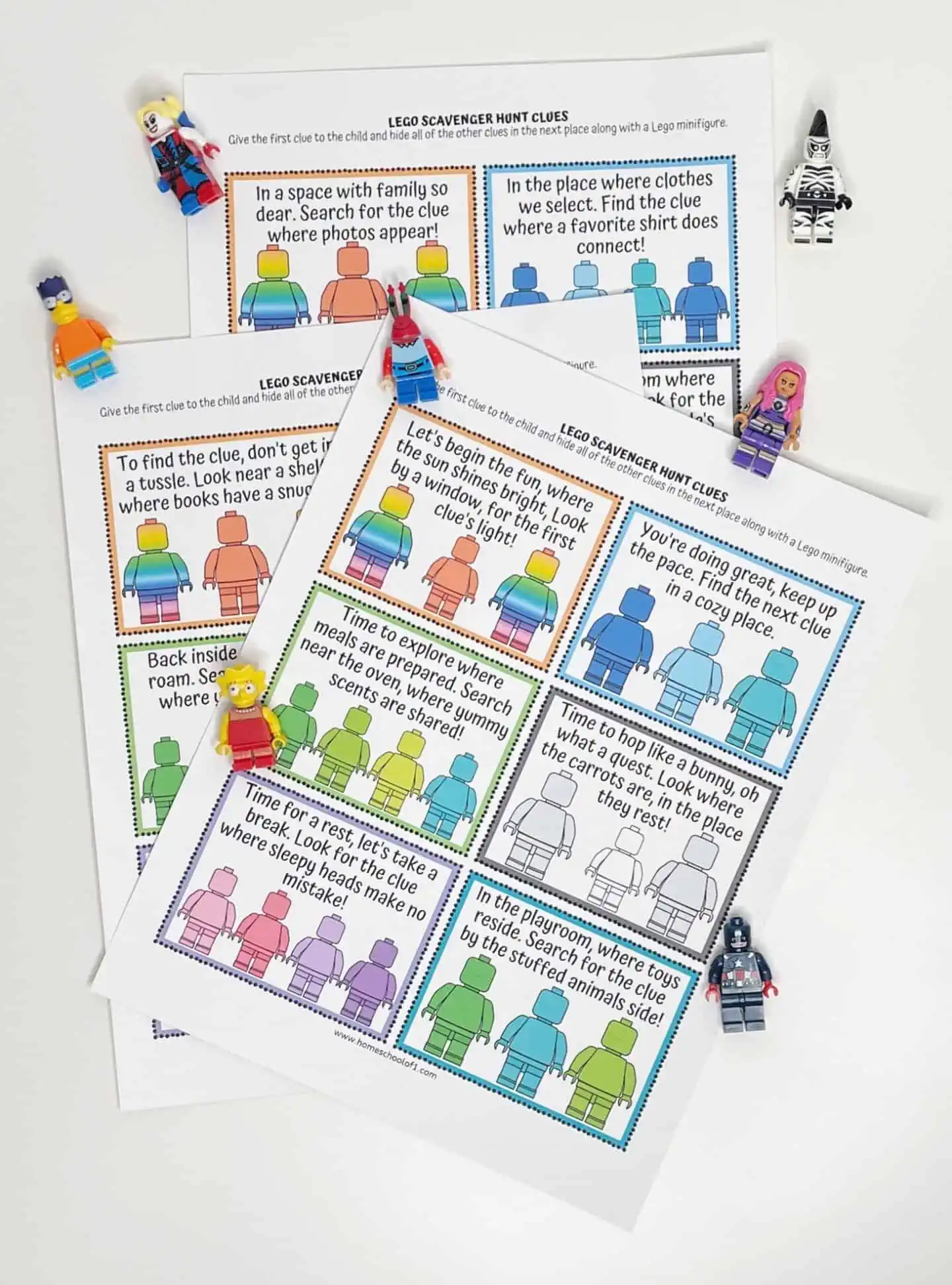 This free printable Lego scavenger hunt is free to print but is for personal only. Scroll to the bottom of the post to get the pdf file.
Print out the clues. They look better if you print in color, but black and white will still look great.
The clues will look better printed on cardstock (this is the one we use), but, normal copy paper will work perfectly.
Cut out the 18 clues.
I have purposely kept the clues big, but of course, you can fold them if they need to fit in somewhere small. (I actually prefer a paper cutter as I don't have a very steady hand.)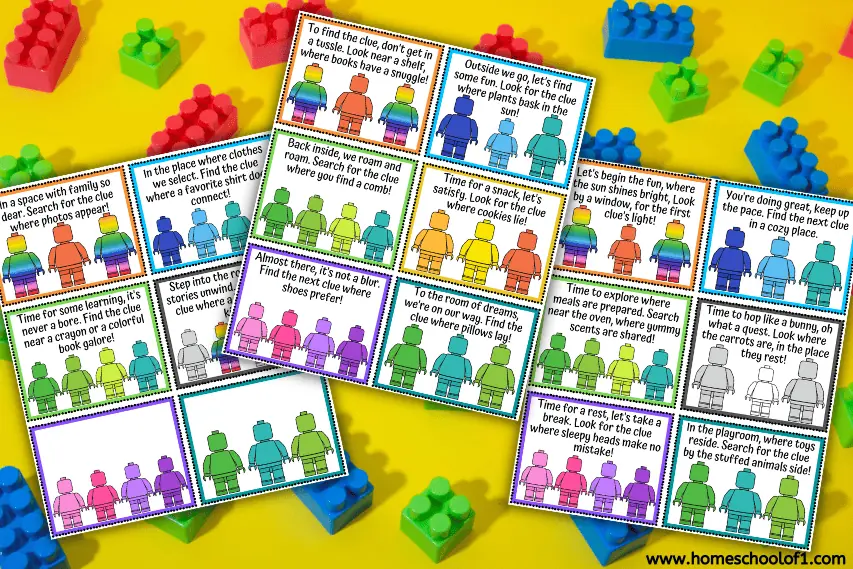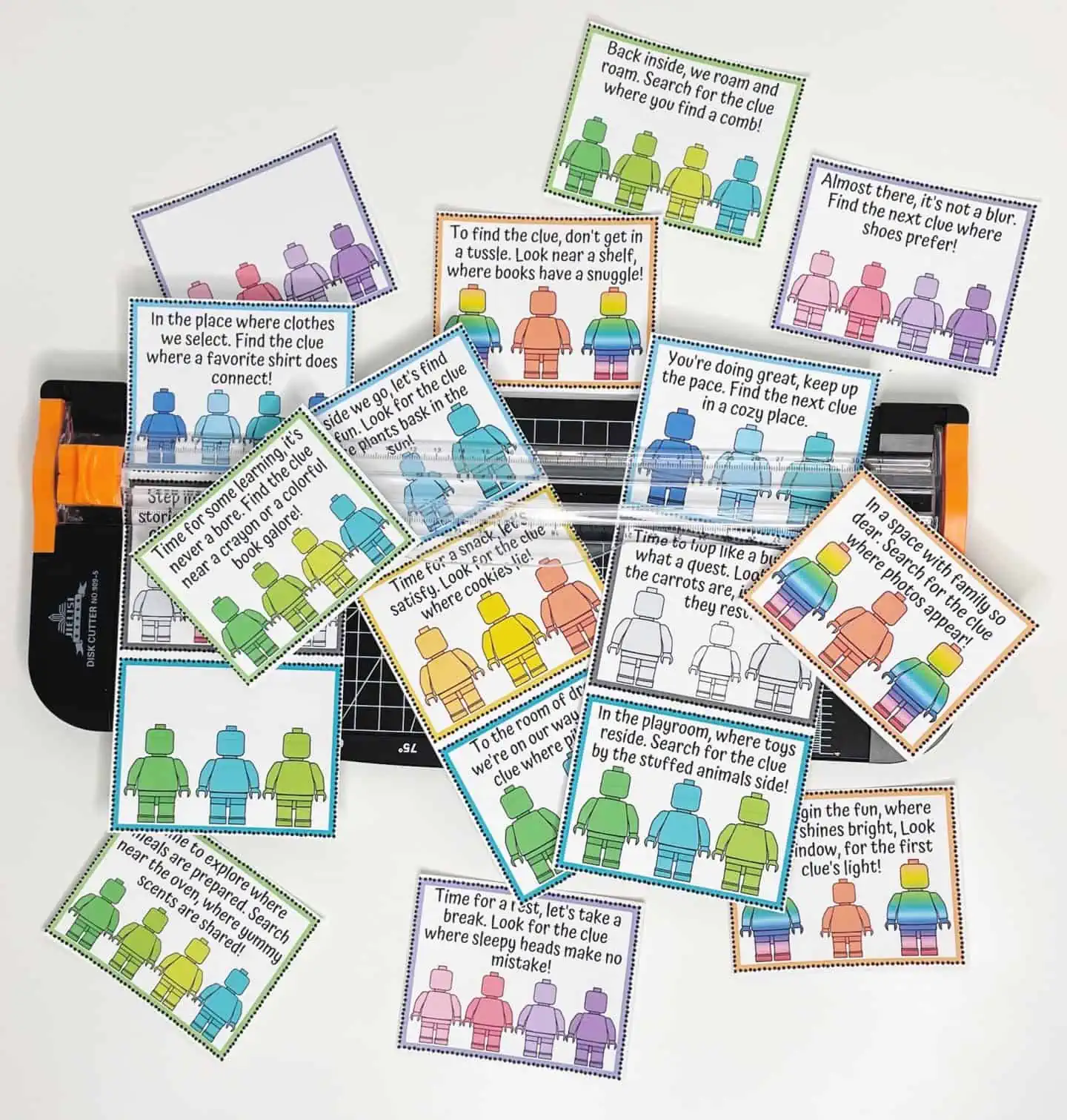 Grab a pen so you can mark off where you have left the clues and in what order! Trust me from experience, you should do this!
I have purposely not numbered these Lego minifigure themed scavenger hunt clues, as I don't know the layout of your house! But all clues can be hidden inside every home.
This scavenger hunt will be great to play at a birthday party too, just get the kids to work in teams.
Carry on reading for our favorite Lego gift ideas.
Lego Stationery Pen Pal – Lego Black Gel Pen and Classic Minifgure (52601), 1 Pen + 1 Minifigure
LEGO DOTS Pencil Holder 41936 DIY Craft Decoration Kit; Makes a Great Creative Gift for Kids; New 2021 (321 Pieces)
LEGO 41948 DOTS Cute Banana Pen Holder, Arts and Crafts Set, Toy Pencil Pot Desk Organizer, DIY Bedroom Accessories, Gifts for Kids, Girls & Boys 6 Plus Years Old
IQ LEGO Stationery Colored Gel Pens 3 Pack with Building Bricks
LEGO Minifigures Disney 100 71038, Limited Edition Collectible Figures for Disney 100 Celebration, Gift to Encourage Kids Ages 5+ to Enjoy Independent Play (1 of 18 Bags to Collect)
LEGO Gadgets (Klutz)
What are the Lego scavenger hunt clues?
These 16 rhyming clues are perfect for younger or even older children. Especially if you don't hide them in the obvious spots!
Let's begin the fun, where the sun shines bright, Look by a window, for the first clue's light!(Near a window)
You're doing great, keep up the pace, Find the next clue in a cozy place. (Near the living room couch)
Time to explore where meals are prepared, Search near the oven, where yummy scents are shared! (Near the kitchen oven)
Time to hop like a bunny, oh what a quest, Look where the carrots are, in the place they rest! (Near the vegetable drawer in the refrigerator)
Time for a rest, let's take a break, Look for the clue where sleepy heads make no mistake! (On a bed or near a pillow)
In the playroom, where toys reside, Search for the clue by the stuffed animals side! (Near a toy chest or a stuffed animal)
To find the clue, don't get in a tussle, Look near a shelf, where books have a snuggle! (near a bookshelf.) Check out the best Lego books, which will make a great gift.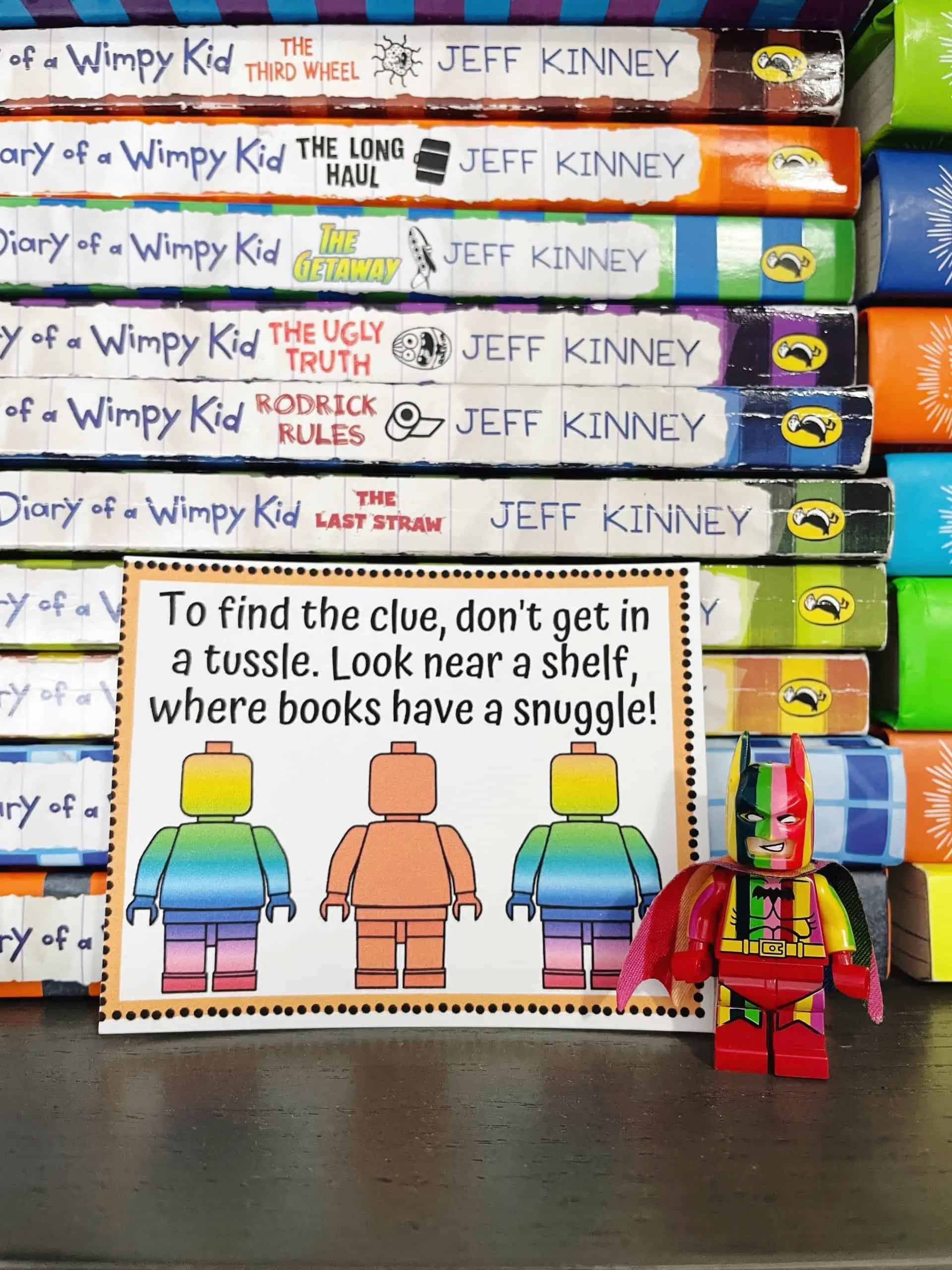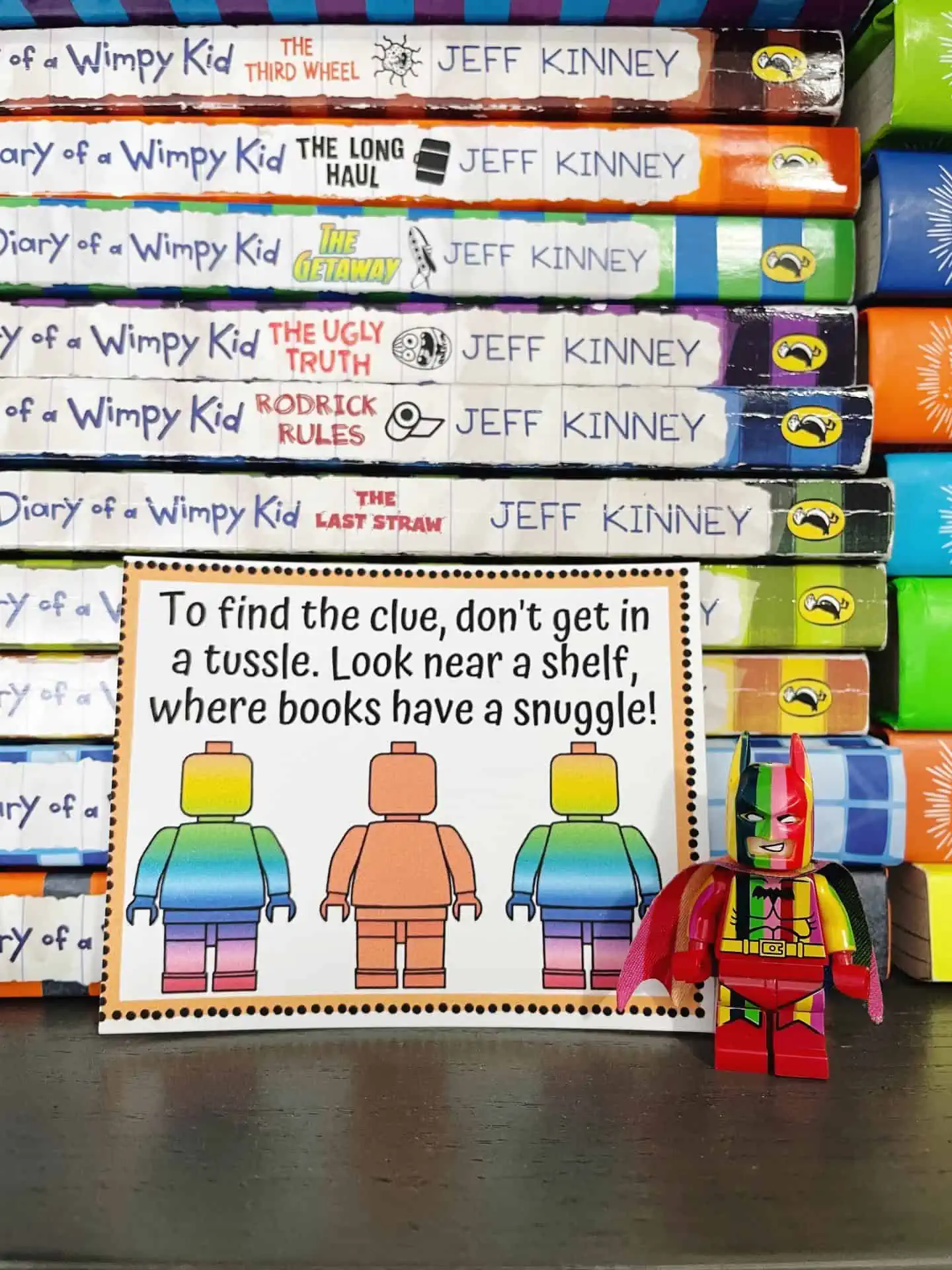 Outside we go, let's find some fun, Look for the clue where plants bask in the sun! (Near a potted plant or in the garden)
Back inside, we roam and roam. Search for the clue where you find a comb! (Near the bathroom sink or a hairbrush)
Time for a snack, let's satisfy, Look for the clue where cookies lie! (Near the cookie jar or the snack cupboard)
Almost there, it's not a blur, Find the last clue where shoes prefer! (Near the shoe rack or by a pair of shoes)
To the room of dreams, we're on our way, Find the clue where pillows lay! (Near the bedroom pillows)
In a space with family so dear, Search for the clue where photos appear! (near a family photo display)
In the place where clothes we select, Find the clue where a favorite shirt does connect! (near the closet)
Time for some learning, it's never a bore, Find the clue near a crayon or a colorful book galore! (Near the art supplies or a bookshelf)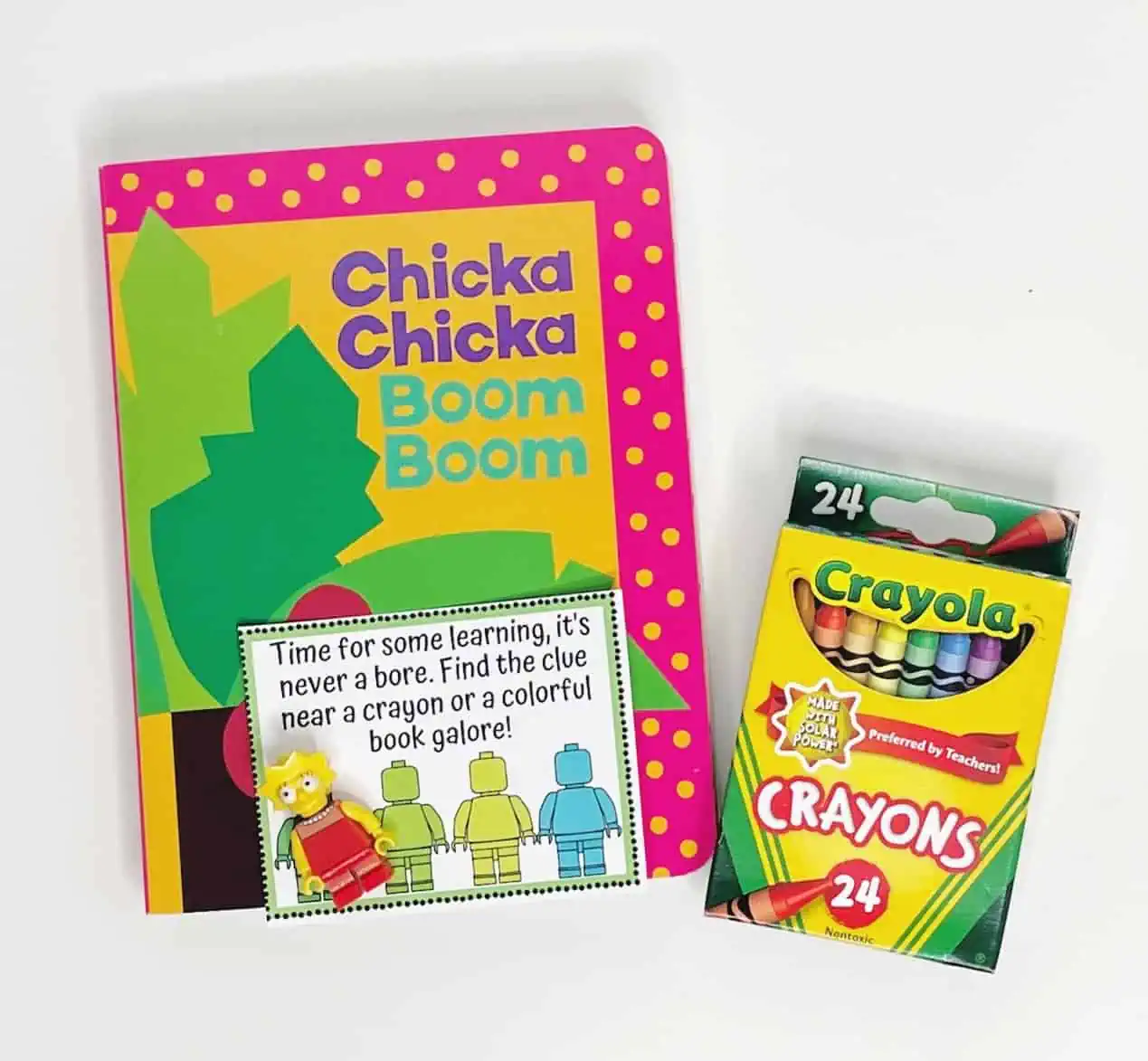 Step into the room where stories unwind, Look for the clue where a lampshade's kind! (Near a lamp or a lampshade)
Lego gift ideas for kids
If you are using this for a birthday party and want to buy some gifts for Lego lovers these are our favorites:
Tips for downloading the free files
Below is a blue cloud with an arrow pointing downward. Underneath that is a large sign-up box where you need to add your name and email address, and press I NEED THIS NOW!
Within minutes you will be sent the free PDF directly to your email address, so you can print it out and start using it immediately.
Sometimes emails get a little wonky, so if you can't see it, please check your spam folder where I am sure it is hiding.
Download the free Lego scavenger hunt printable
Make sure you choose the correct paper size and click on the shrink to fit button. All of our free printables for kids work better when printed on cardstock (this is the one we use and love.)
Other scavenger hunt ideas
If you are looking for even more scavenger hunt ideas you are going to love these free printables:
Last Updated on 2 October 2023 by homeschoolof1