Black History Word Search (free printable)
Learn more about black history month with our free black history word search printable.
There are 16 important vocabulary words to find relating to African American History.
Black History Month will be here in February and this word search is a great Black History Month activity. Perfect for kids in upper elementary and middle school. This can also be used when studying American history.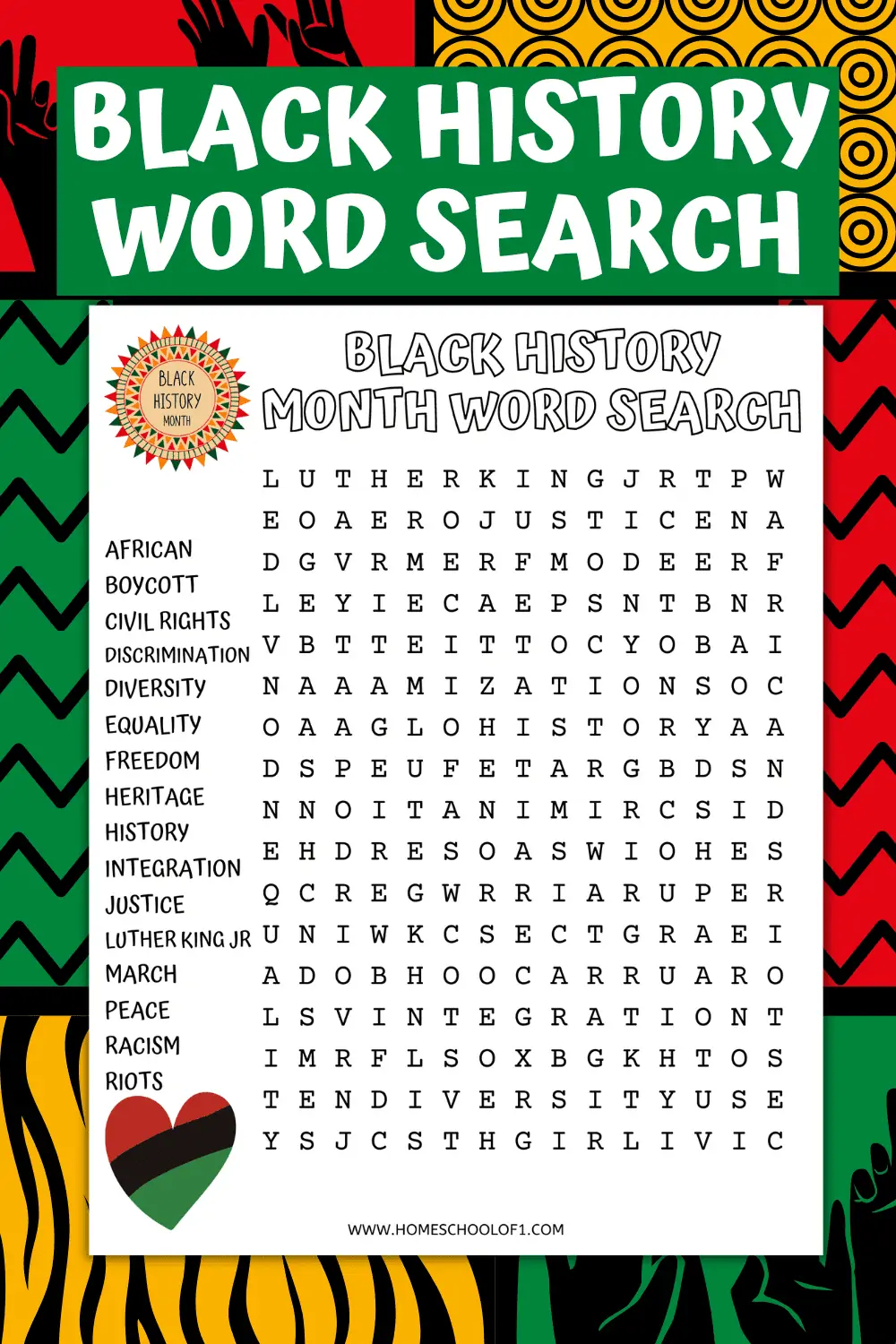 **There may be affiliate links in this post. You can read my full disclosure at the bottom of the page.**
The Importance of Teaching Black History
It's super important to teach Black history to your elementary and middle school students.
Why, you ask?
Well, learning about the contributions and struggles of African Americans throughout history helps students develop a better understanding and appreciation for diversity and social justice.
It also helps them recognize and challenge discrimination and racism in their own lives and communities.
By teaching Black history, you can empower your students to become agents of change and promote equality and justice for all.
So, let's make sure we include Black history in our lesson plans, not just during Black History Month, but year-round!
The Story of Ruby Bridges: Special Anniversary Edition
Timelines from Black History: Leaders, Legends, Legacies (DK
The Story of Black History Box Set: Biography
Mae Among the Stars
The ABCs of Black History
Black History Month Word Search Puzzle
Word search printables are an excellent homeschool activity for when the kids just need a break. They are educational, but more importantly, they are fun.
Word searches are one of the best games for kids for improving vocabulary, enhancing cognitive skills, and fostering a love for learning in individuals of all ages.
This free African American history word search is free to print but is for personal or classroom use only. Scroll to the bottom of the page to get the pdf file.
The black history words can be found, horizontally, vertically, diagonally, frontwards, or backward! Just to make it that much harder!
I have also added the answer sheet, some of the words are a little tricky to find!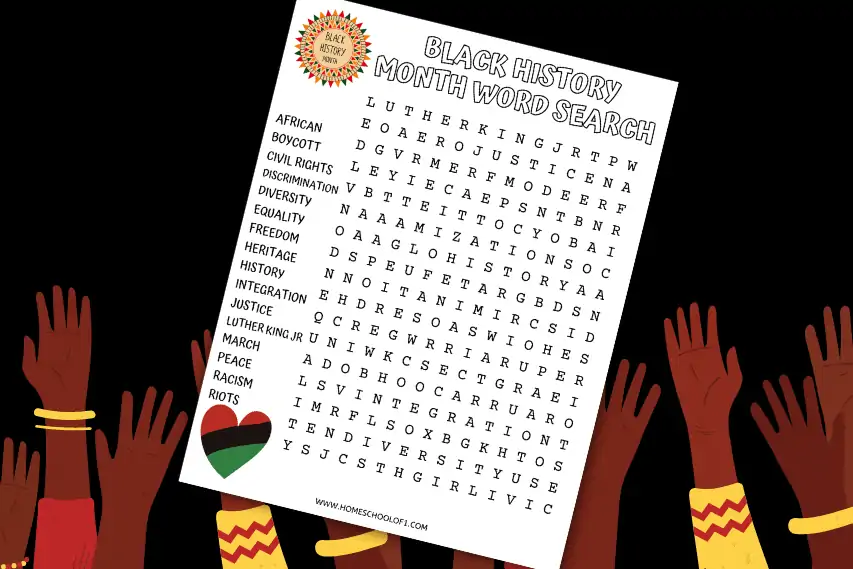 Tip: I recommend either using a highlighter pen or circling around the letters. Do not cross the letters out if you have found a word, as it may be used in another word!
There are 16 hidden black history related words to find:
African
Boycott
Civil Rights
Discrimination
Diversity
Equality
Freedom
Heritage
History
Integration
Justice
Luther King Jr (check out our Martin Luther King activities for kids too.)
March
Peace
Racism
Riots
These words should be discussed openly with your children and explain what each word means. Explain why they are particularly important for black history month.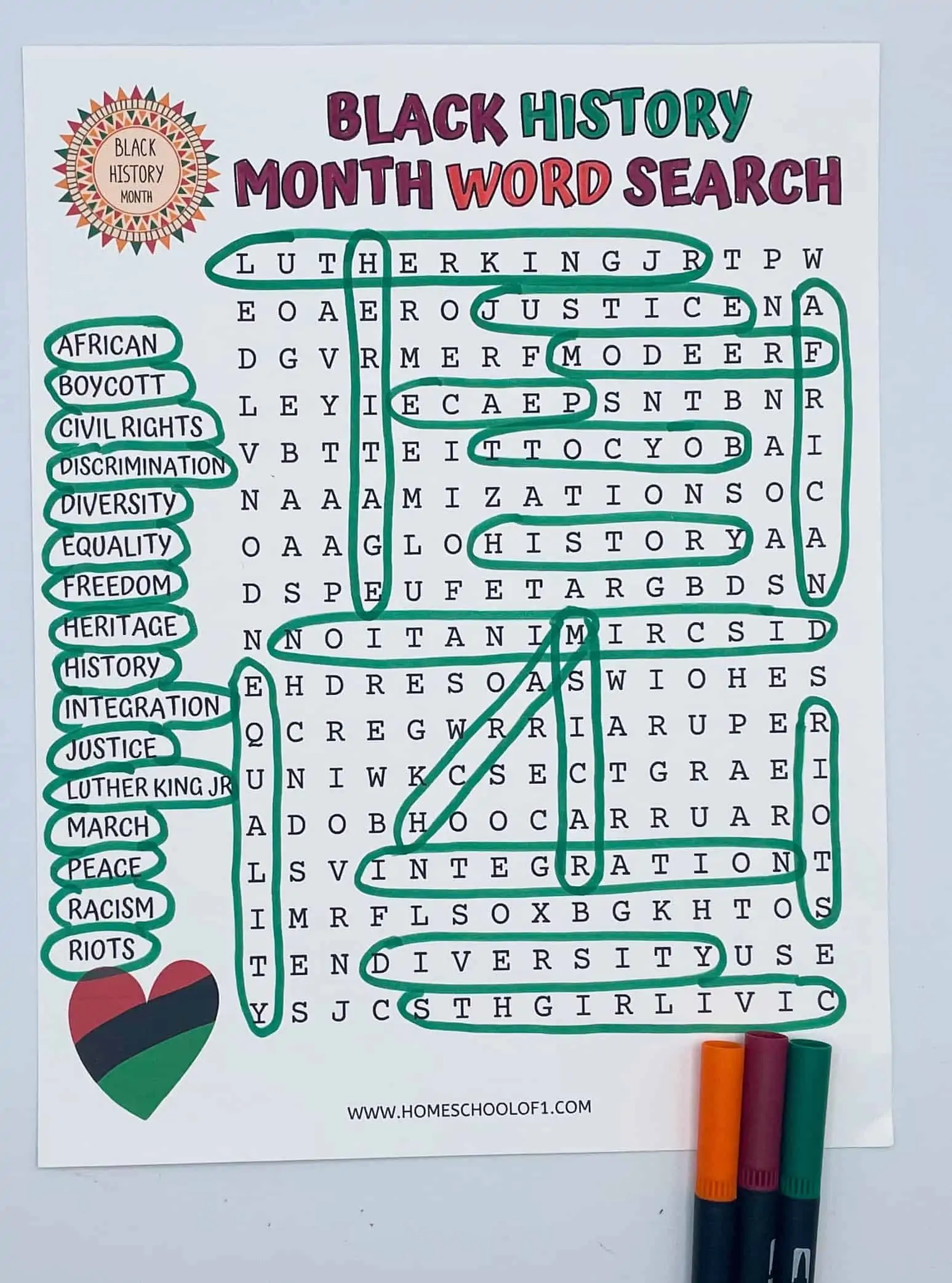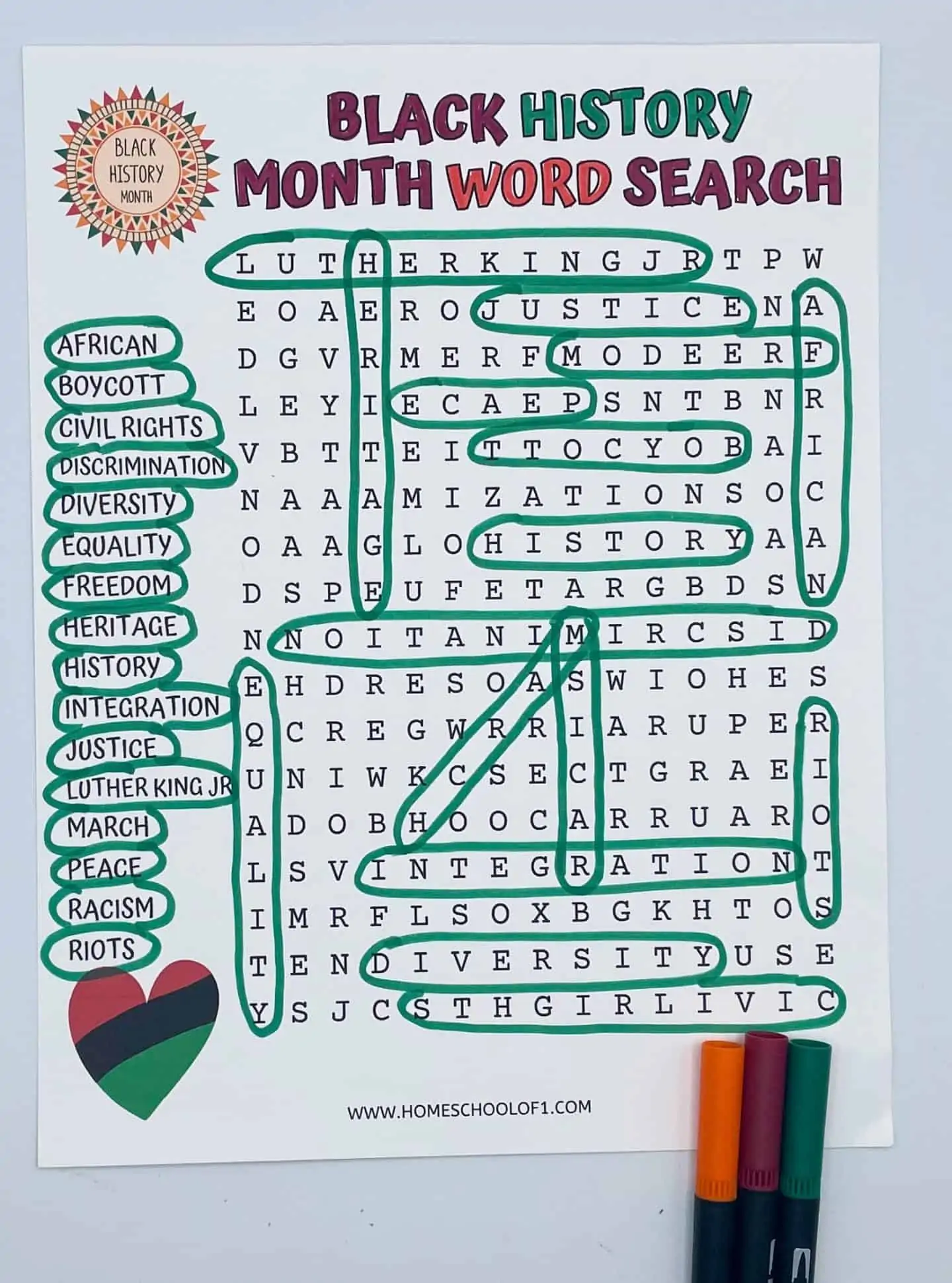 Other Black History Month Activities
Here are a few examples of other Black History Month activities that you can use to engage and educate your students:
Download the free printable black history word search
Make sure you choose the correct paper size and click on the shrink to fit button. All of our free printables for kids work better when printed on cardstock (this is the one we use and love.)
Last Updated on 1 September 2023 by homeschoolof1