10 Free Black History Inventors Coloring Sheets
Black history month is celebrated throughout the world in February, with the exception of the UK who celebrate it in October. We already have lots of black history month activities that we use. These free black history inventors' coloring sheets are a great addition to this.
There are 10 black inventors included in this free printable and will print on 10 separate pages.
Included in the printable are the black inventor's name, a picture of the inventor, and a picture of what they actually invented.
These coloring sheets can be used with any age group while studying black history. However, they are aimed at lower elementary grades.
Celebrate Juneteenth with our free Juneteenth coloring pages, there are 6 color by number pages to print out and learn about this historical day.
We absolutely love creating free kids coloring pages, and we either use them as a supplement for a lesson we are studying or just to calm the mood! Coloring is a great way for them to refocus and relax.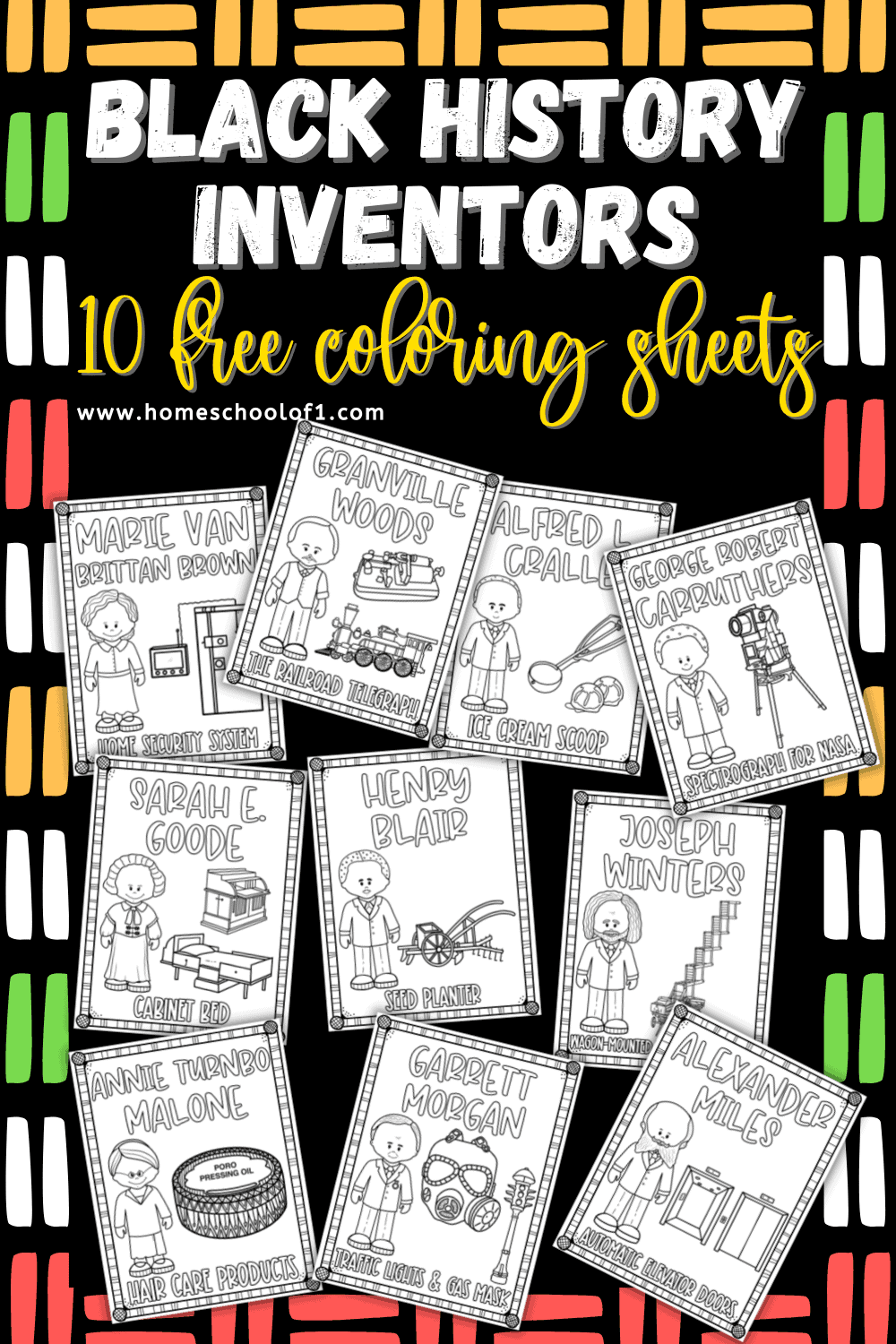 **There may be affiliate links in this post. If you make a purchase (after clicking one of my affiliate links) I'll earn some coffee money, which I promise to drink while supporting your journey. You do not pay a higher price. You can read my full disclosure at the bottom of the page.**
Black History Inventors Coloring Sheets
I highly recommend this book Black inventors – 35 inventions that changed the world. It has biographies of 35 of the most impressive black inventors including those listed here.
Download the black inventor's printables below, grab the coloring pens and get coloring.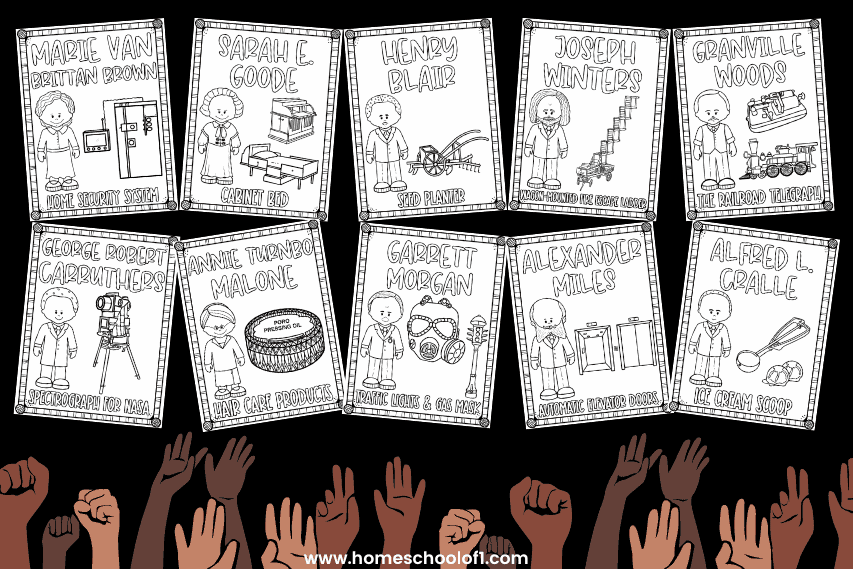 Sarah E Goode.
Sarah E Goode. was the first African American to receive a patent on July 14th, 1885. She invented the very first folding cabinet bed to fit into smaller homes.
Sweet Dreams, Sarah is a wonderful picture book of Sarah E Goode's life as a slave before turning her dreams into reality.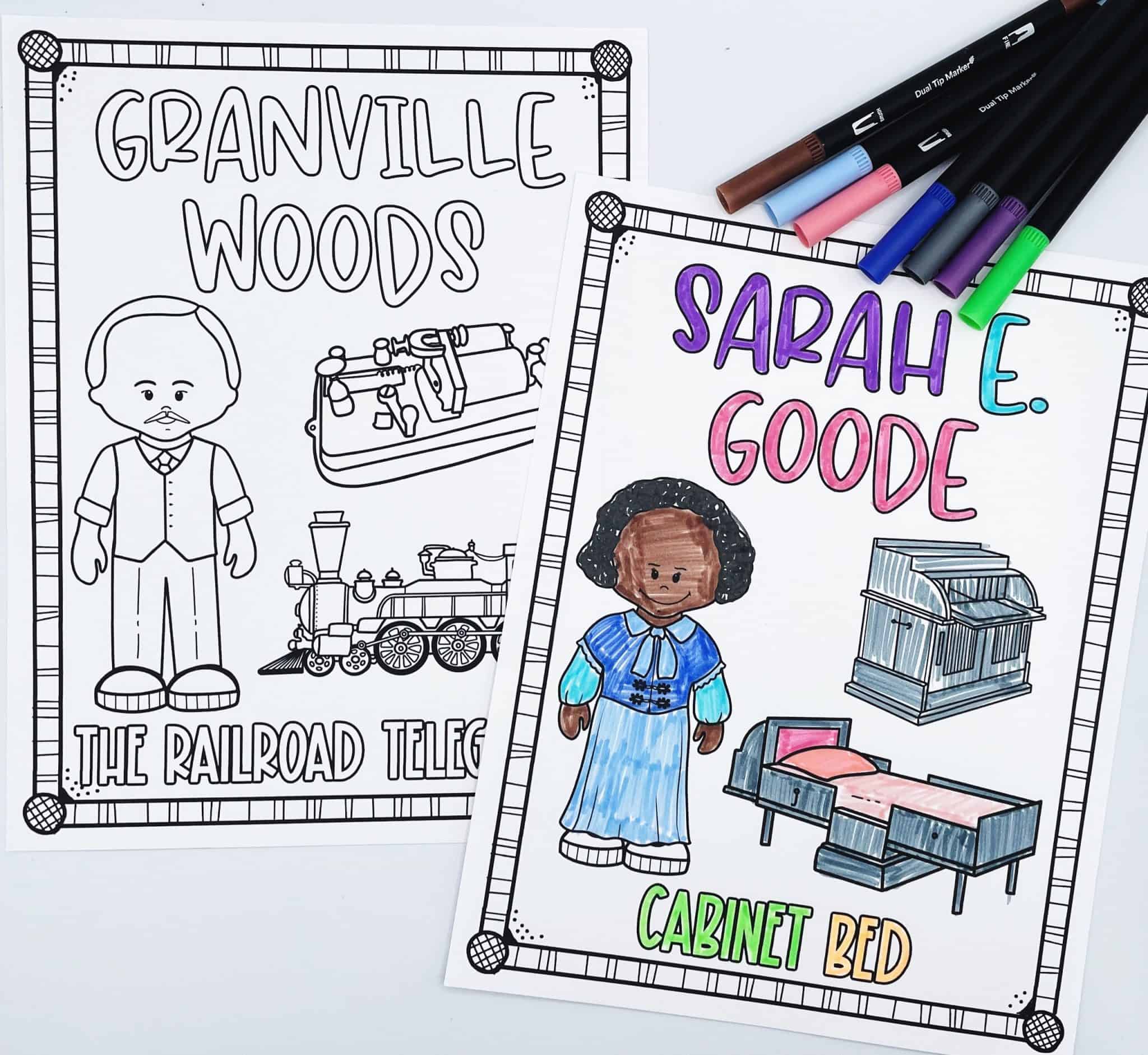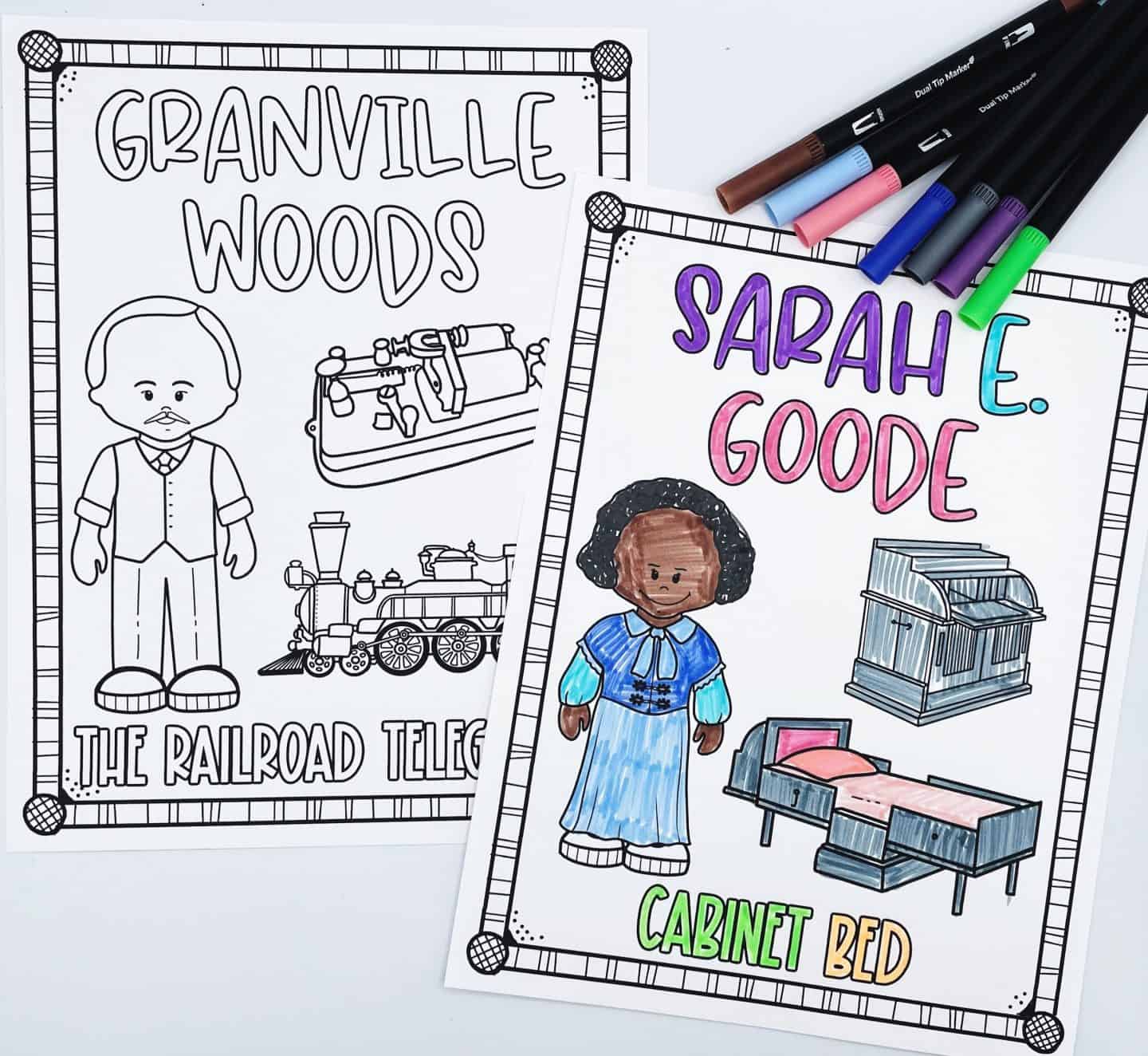 Granville Woods
Granville Woods, born in 1856 held more than 50 United States patents. The railroad telegraph was arguably his most important, and his work assured a safer and better public transportation system for the cities of the United States.
Henry Blair
Henry Blair, a farmer, was the second African American man to hold a United States patent for his seed planter.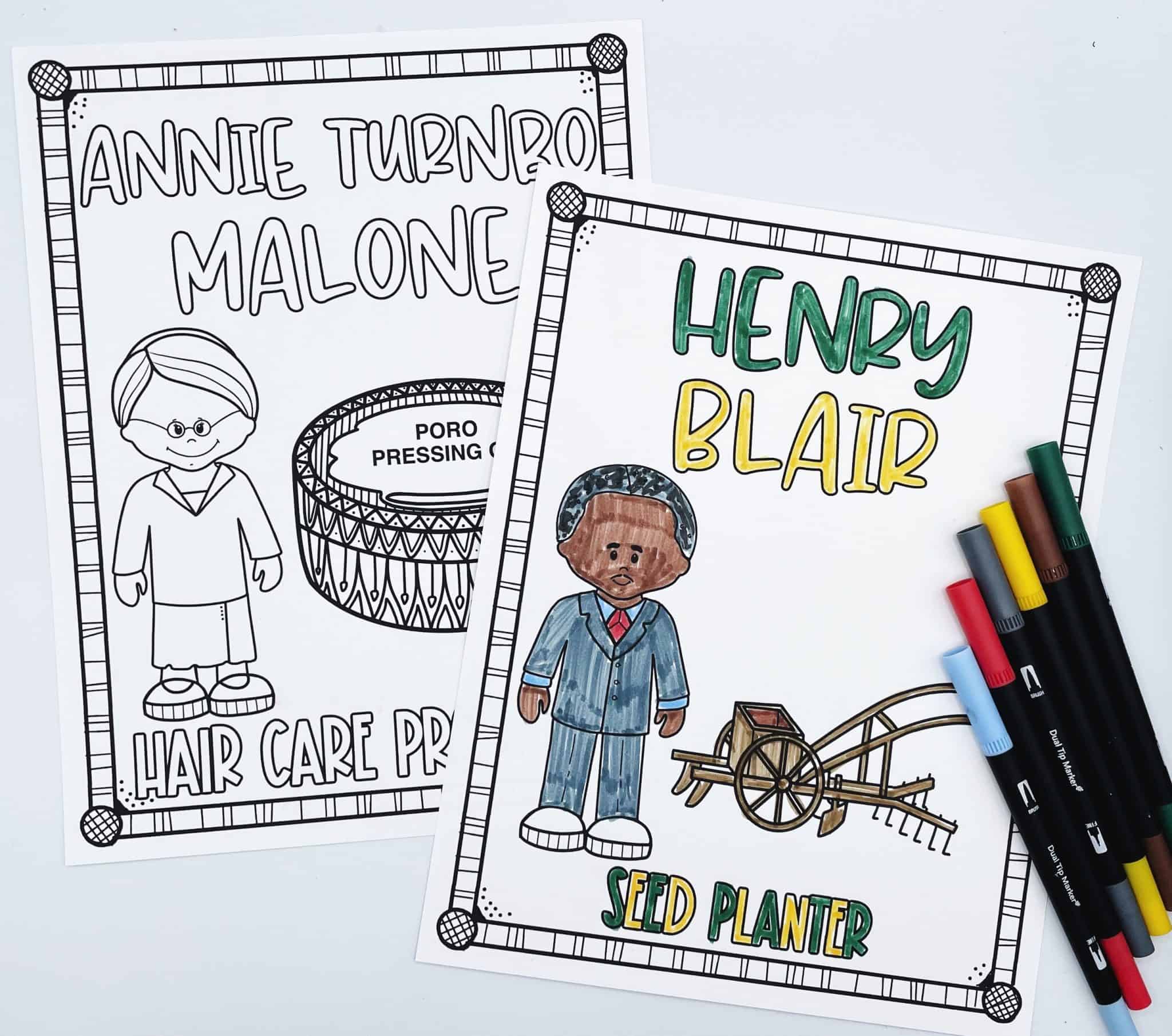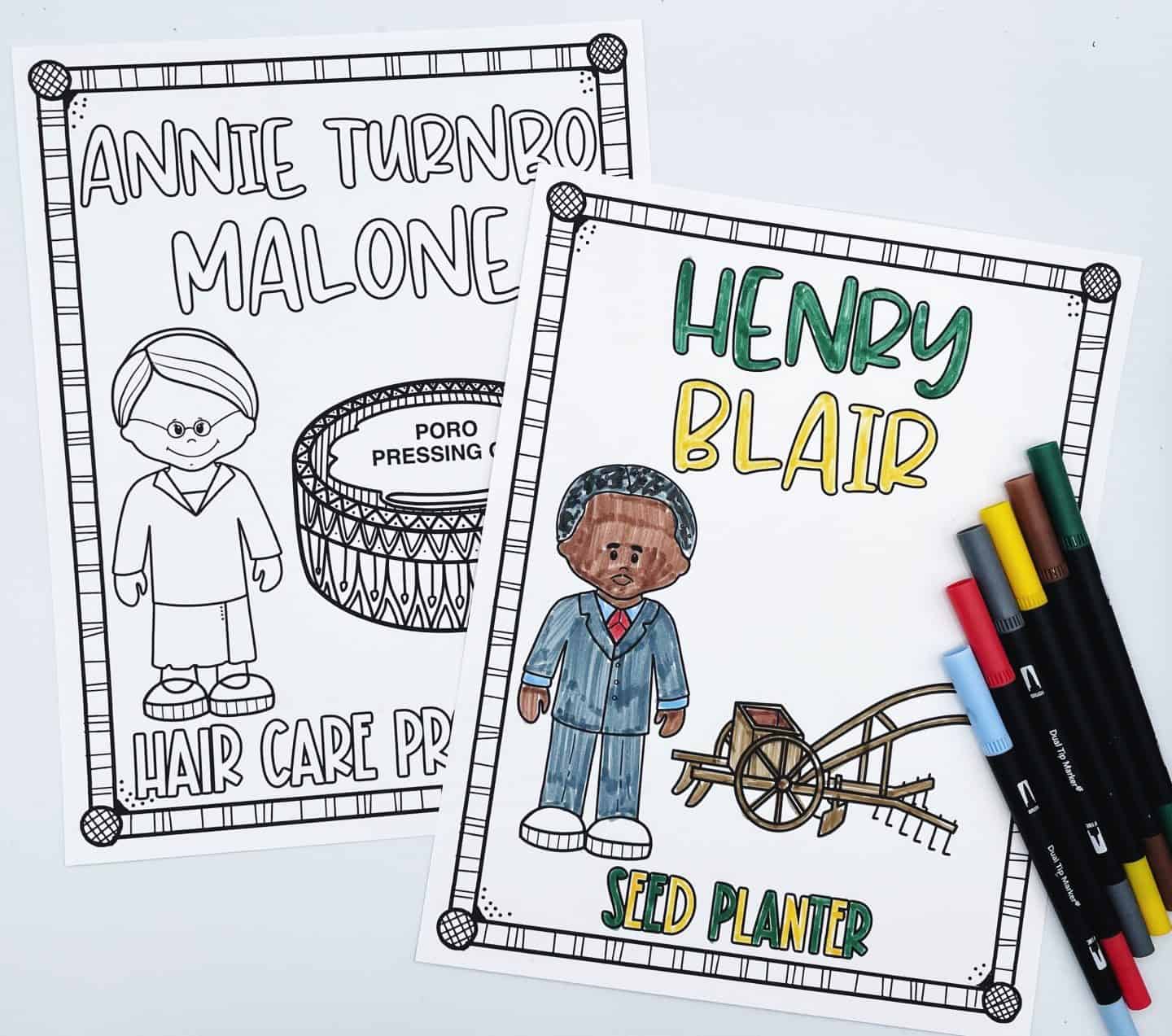 Annie Turnbo Malone
Considered to be the first millionaire African American woman in the United States, Annie Turnbo Malone was born in 1877 in Illinois. She invented hair care products for African Americans.
Garrett Morgan
Garrett Morgan was born in 1877 and invented the first automatic three-way traffic signal system, which he later sold to General Electric. He also invented a respiratory device that would later provide the blueprint for WWI gas masks.
There are a number of books based on the inventions of Garrett Morgan:
Saving the Day: Garrett Morgan's Life-Changing Invention of the Traffic Signal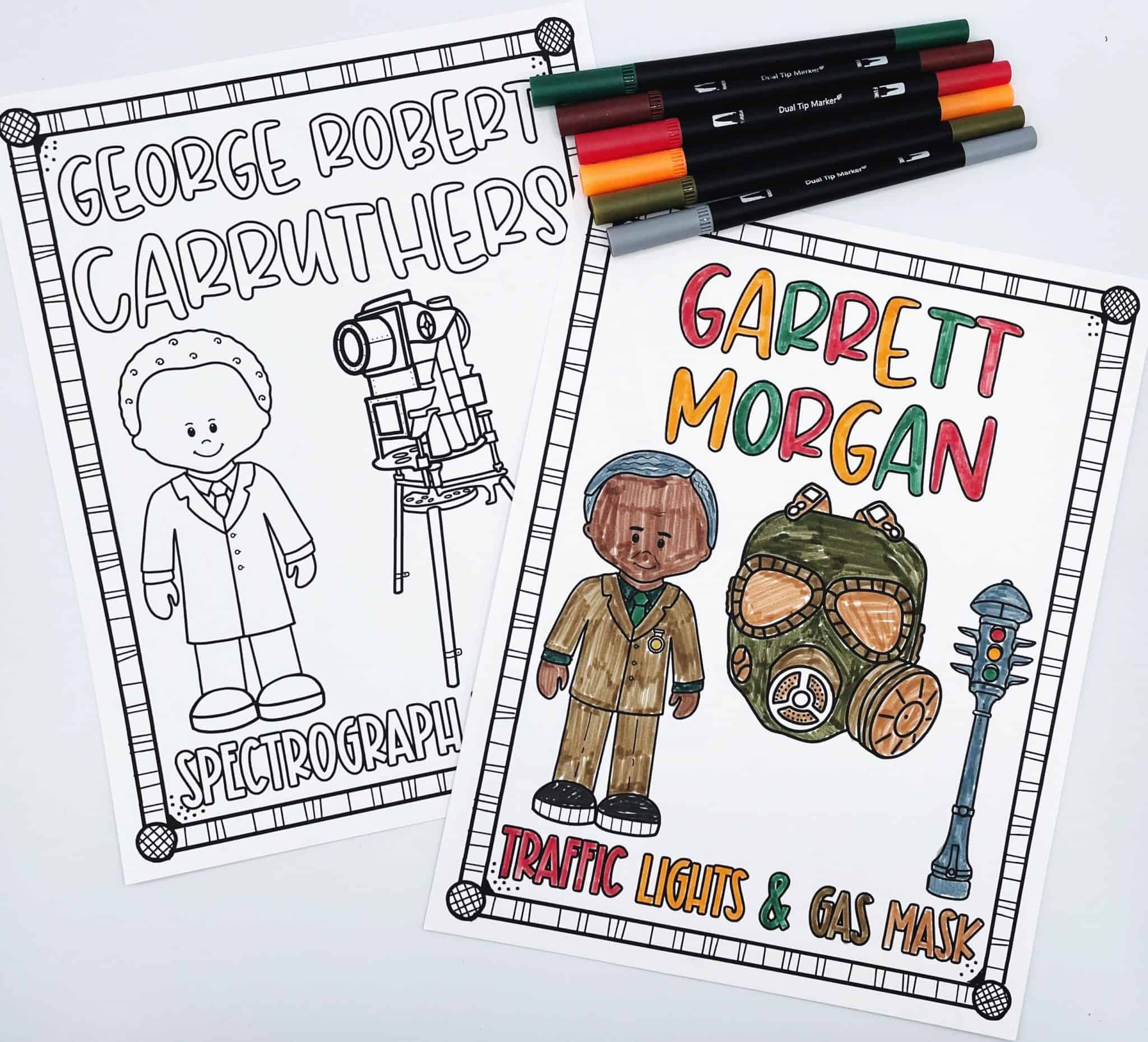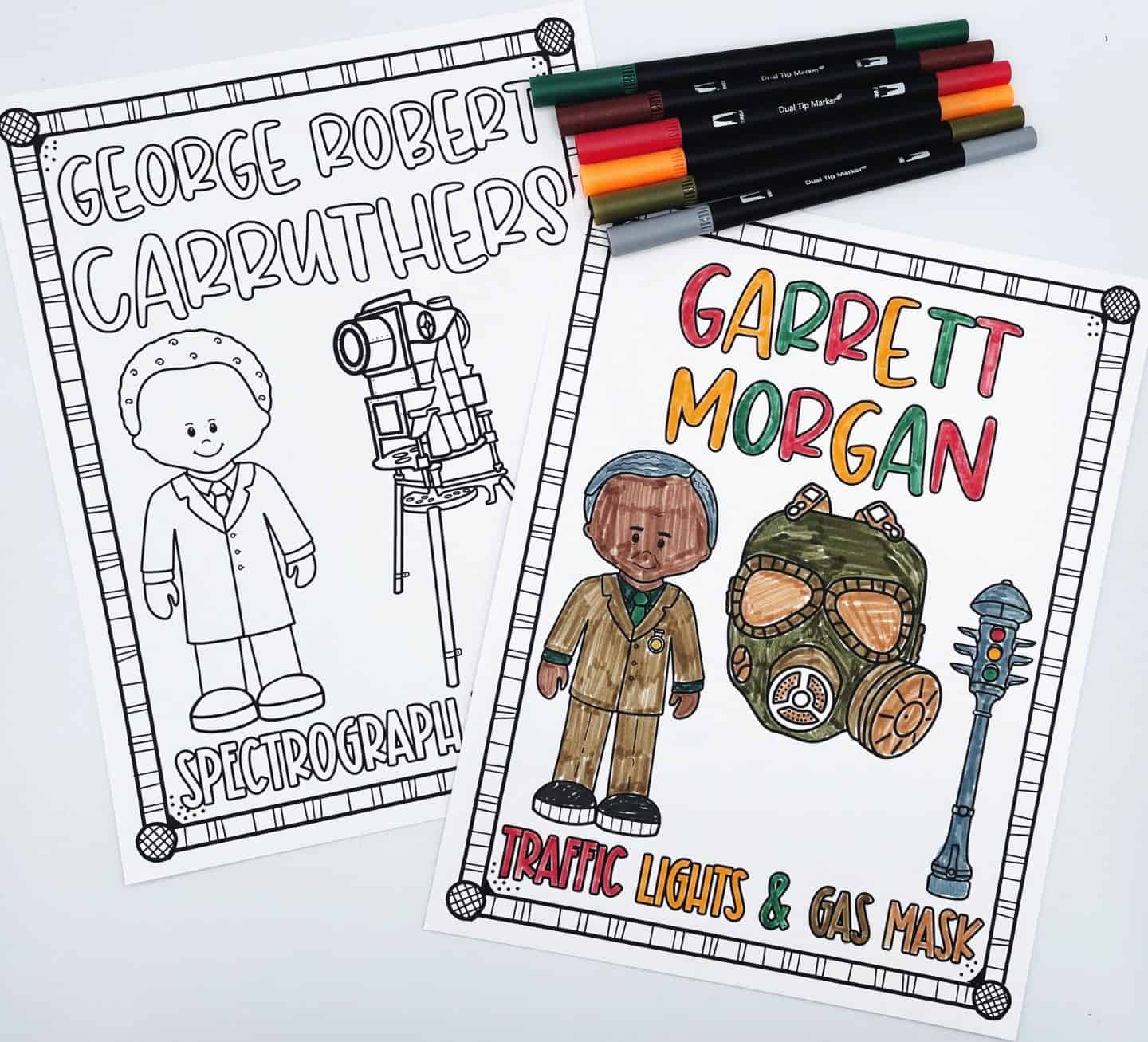 George Robert Carruthers
George Robert Carruthers born in 1939 invented the spectrograph for NASA to use when it launched Apollo 16 in 1972.
Alfred L Cralle
Born in 1866 Alfred L Cralle invented the ice cream scoop.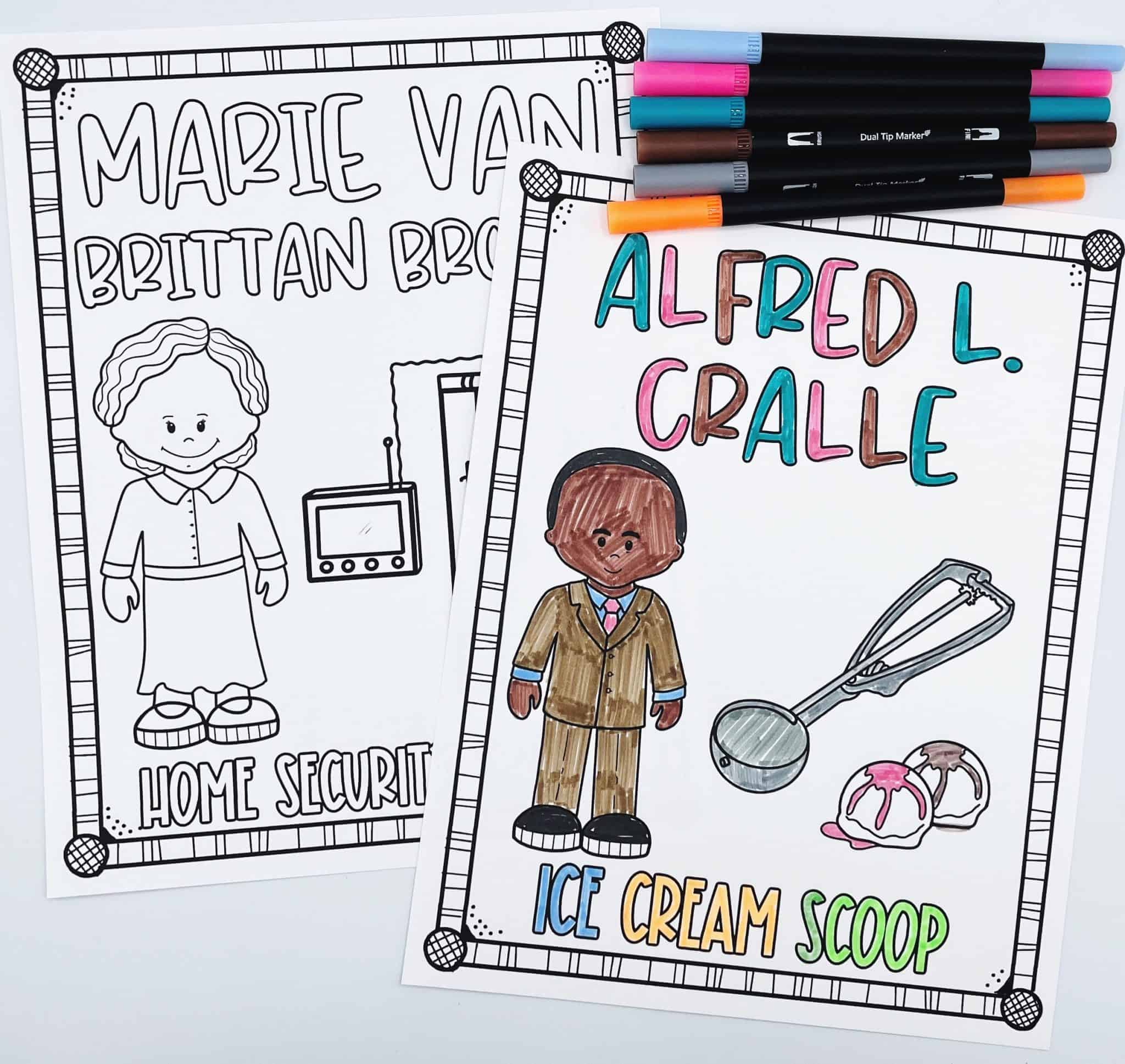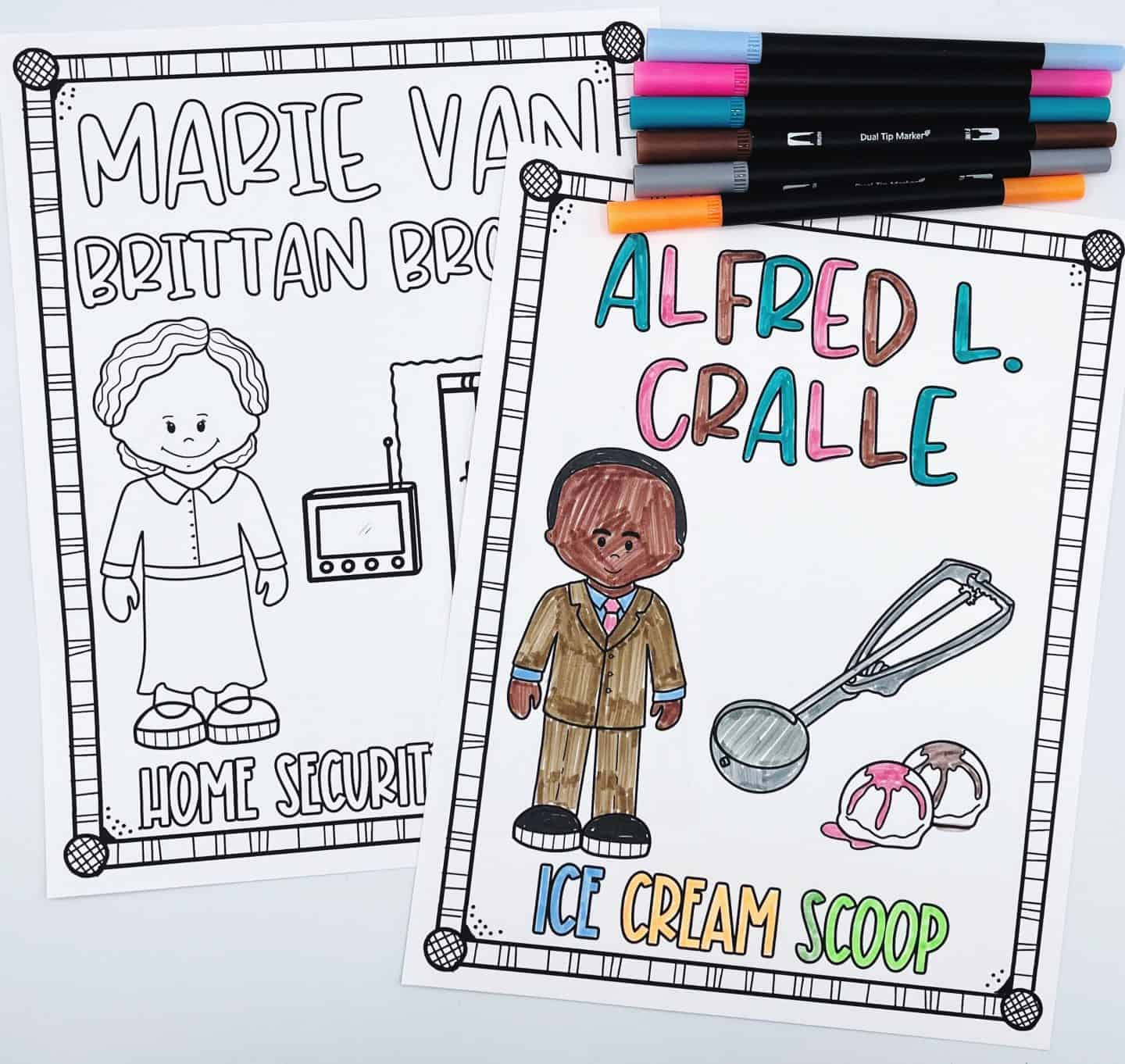 Marie Van Brittan Brown
In 1966, Brown, invented a home security system that consisted of four peepholes, a sliding camera, television monitors, and two-way microphones. These items created a closed-circuit television system for surveillance also known as CCTV.
Joseph Winters
Joseph Winters born in 1824 invented the wagon-mounted fire escape ladder used by Chambersburg, Pennsylvania fire department who mounted the ladder on a horse-drawn wagon.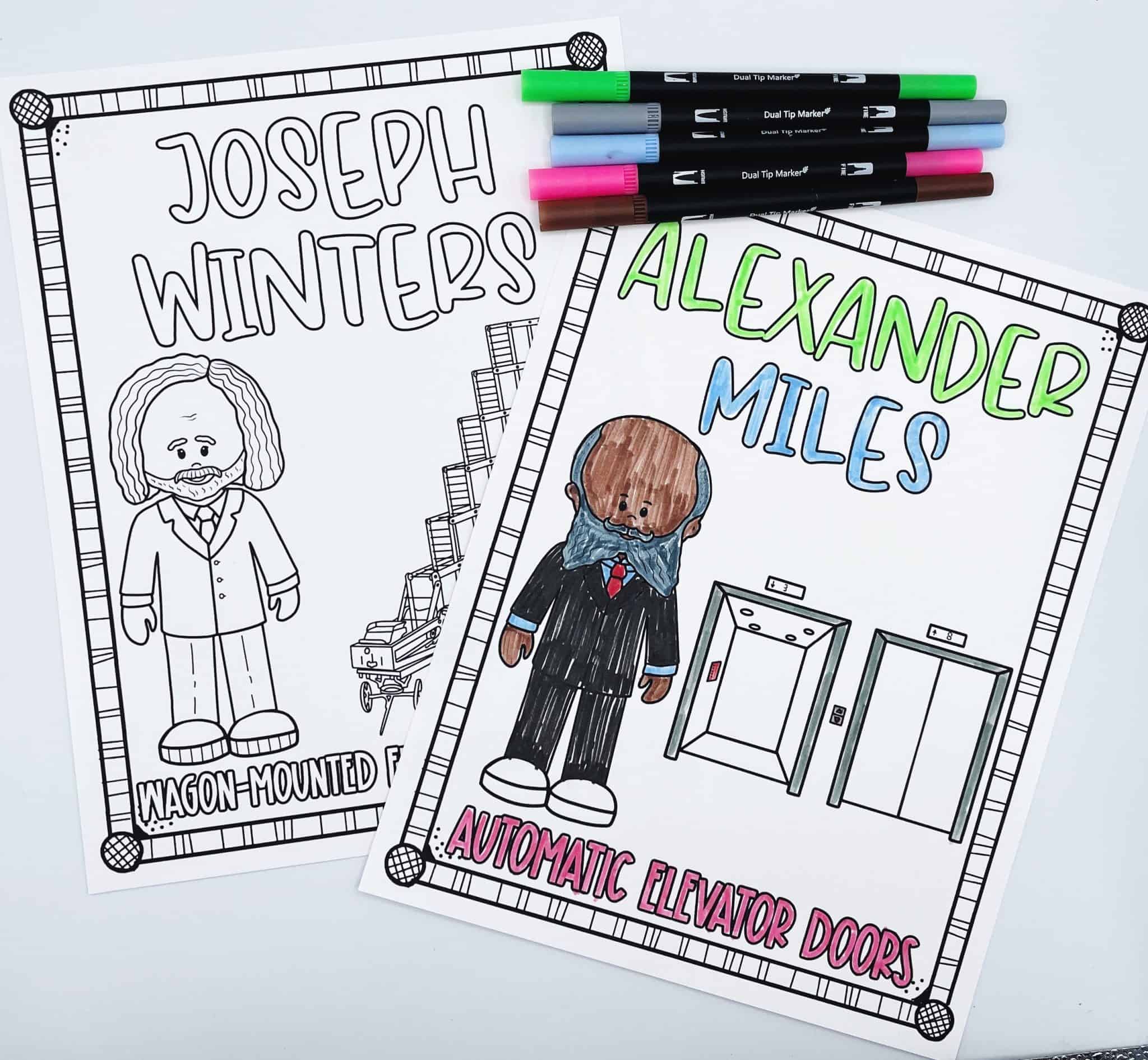 Alexander Miles
Alexander Miles, born in 1838, was best known for inventing and patenting automatic elevator doors.
Black Inventors Printables
Make sure you choose the correct paper size and click on the shrink to fit button. All of our free printables work better when printed on cardstock (this is the one we use and love.)
I think you are also going to love our Martin Luther King activities for kids.
Last Updated on 5 October 2022 by homeschoolof1