Missing Numbers 1-20 Worksheet (4 free printables)
Get ready for some math fun. Our free missing numbers 1-20 worksheet is here to make learning numbers a blast for kids.
These free printable counting worksheets will have your little ones giggling and counting in no time!
From odd and even numbers to water droplets and rain clouds, our interactive themes will make math an adventure they'll love.
These preschool through kindergarten worksheets are a really fun way to explore numbers one through twenty.
Grab some colorful crayons, and get the kids to fill in the missing numbers.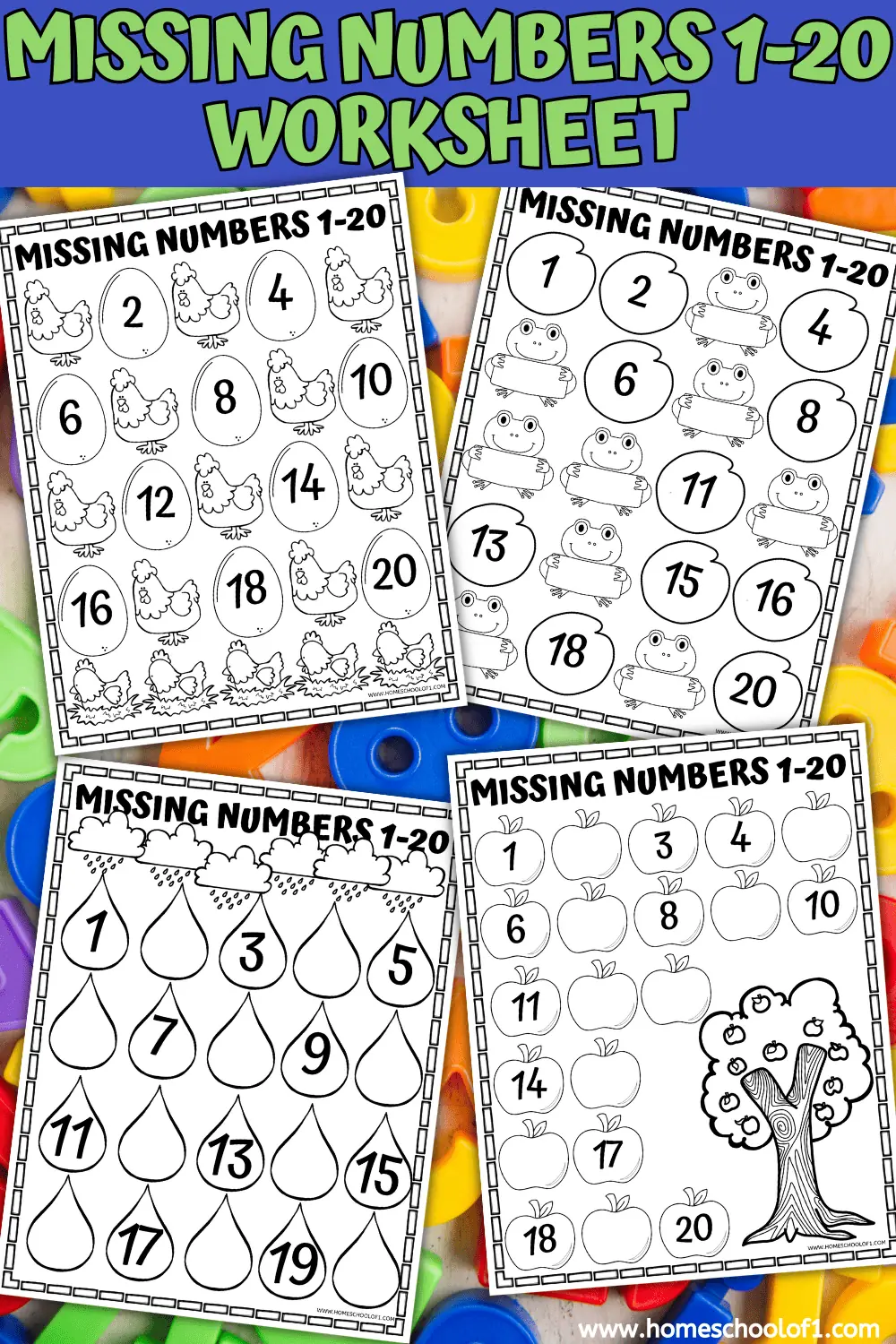 **There may be affiliate links in this post. You can read my full disclosure at the bottom of the page.**
What are the benefits of using missing number worksheets for kindergarten?
Using missing numbers 1-20 worksheets offers several benefits for young learners:
These worksheets help children recognize and identify numbers from 1 to 20. By filling in the missing numbers, kids become familiar with the entire number sequence, enhancing their number recognition skills.
Working on missing numbers worksheets helps children understand the order of numbers in a sequence. They learn to recognize the pattern and continuity of numbers, which is a crucial skill for building a strong foundation in mathematics.
These worksheets reinforce counting skills as children have to count the numbers before and after the missing number to find the correct answer. This hands-on practice enhances their ability to count and understand numerical relationships.
Filling in the missing numbers requires critical thinking and problem-solving skills. Children must analyze the given numbers and deduce the correct missing number, fostering their logical reasoning abilities.
Constant exposure to number sequences through missing numbers worksheets helps children develop numerical fluency. They become more confident in recognizing and writing numbers accurately.
Working with missing numbers is a stepping stone to understanding addition, subtraction, and even multiplication and division. As children grasp the concept of number sequencing, they are better prepared for more complex mathematical operations.
Missing numbers worksheets provide an interactive and engaging way for children to learn and practice counting. The challenges presented in the worksheets keep young learners motivated and interested in the learning process.
Teachers and parents can use these worksheets as an assessment tool to gauge a child's understanding of number sequences. Observing how children complete the missing numbers can provide insights into their progress and areas that may need further reinforcement.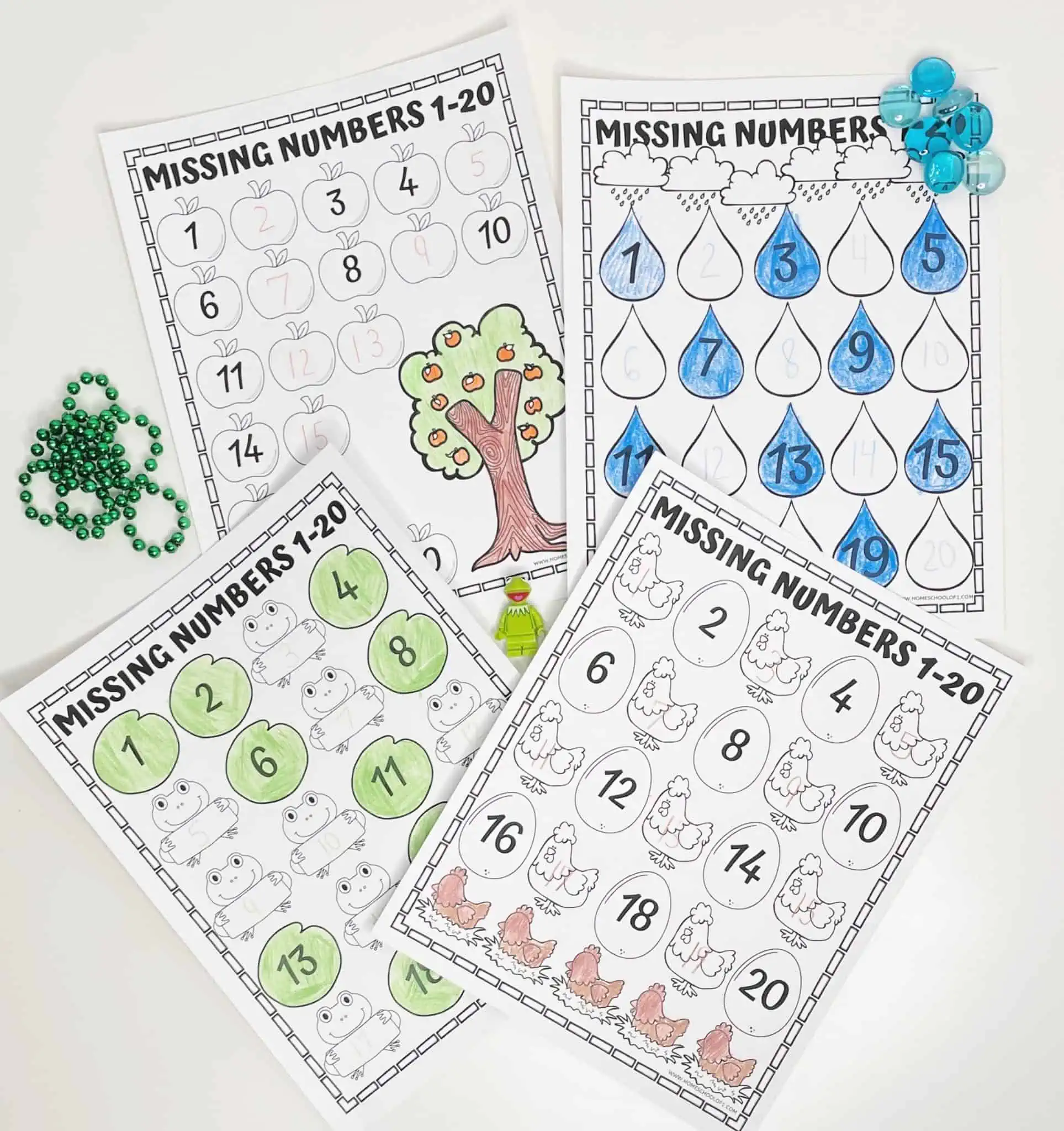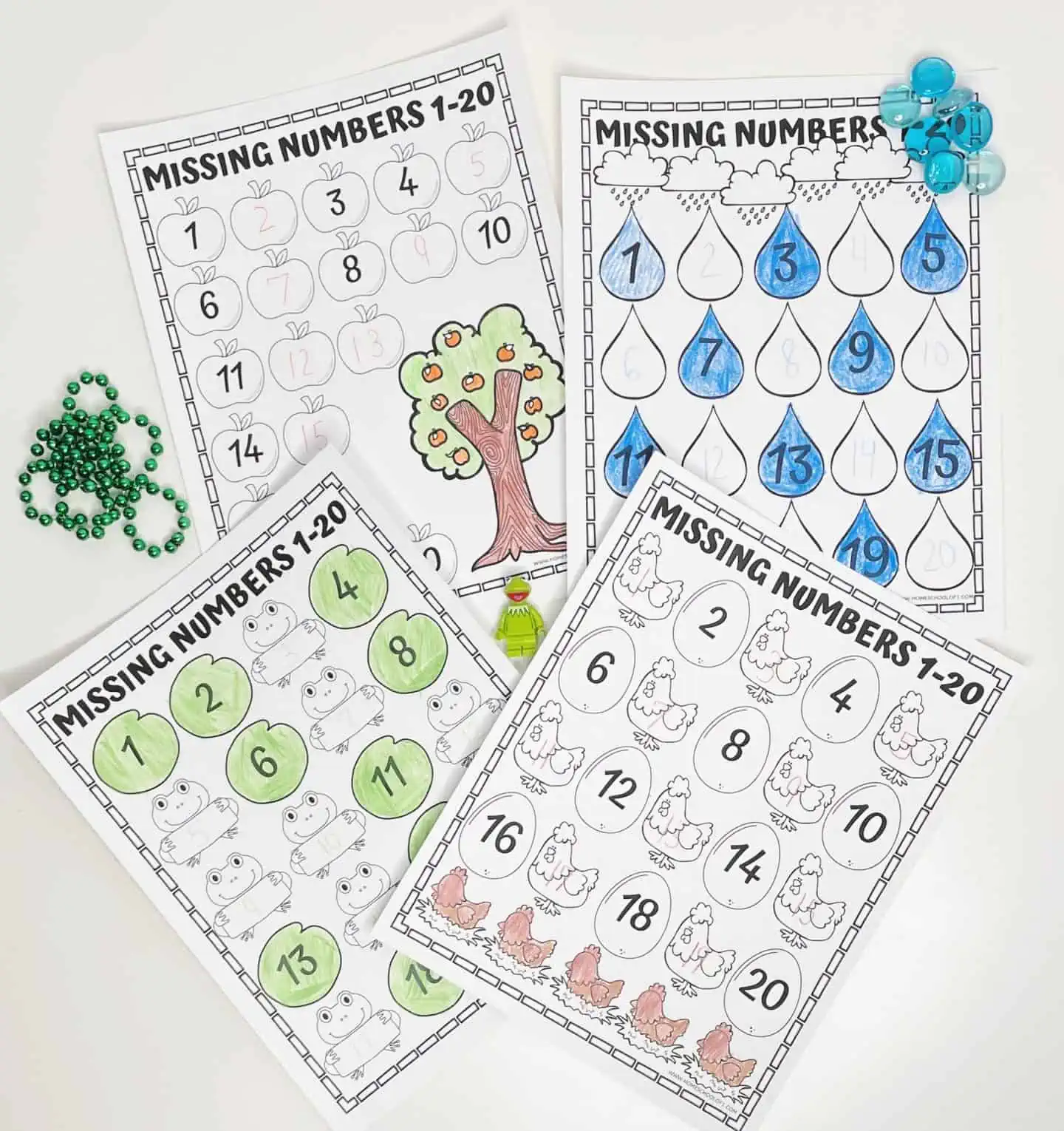 Fill in the missing numbers 1 to 20 worksheet
There are four different missing number worksheets included in this free download. Learning to count to 20 has never been so much fun.
Each of the math worksheets can be colored in when the children have completed the missing numbers.
The first one is missing odd numbers with chickens and eggs.
The second worksheet is missing even numbers with water droplets and rain clouds.
The other 2 involve random skip counting of apples and an apple tree, or frogs and their lily pads.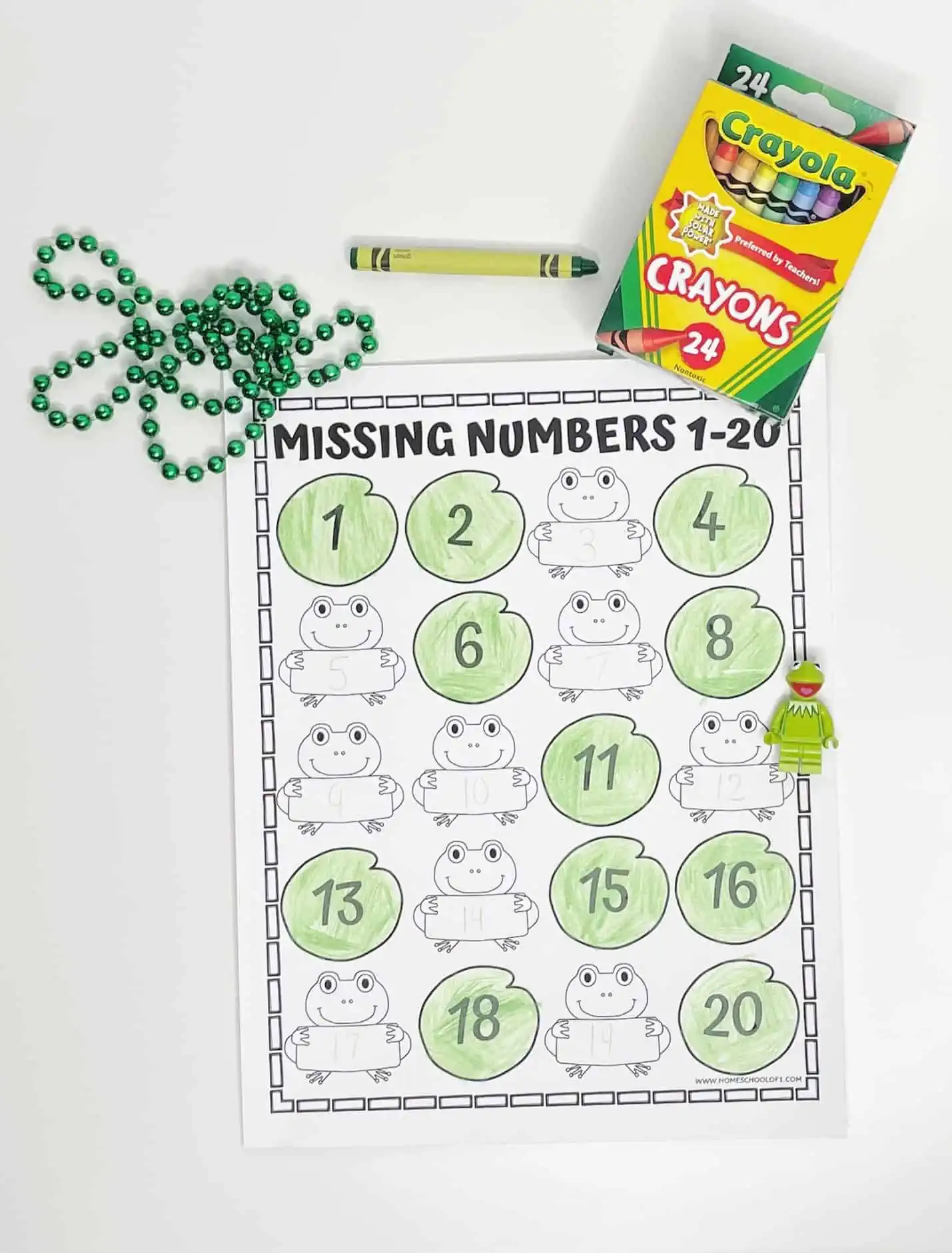 123 Count with Me (Trace-And-Flip Fun!)
123 Counting Sticker Book (My Little World)
Soft to Touch: First 100 Numbers
Chicka Chicka 1, 2, 3 (Chicka Chicka Book, A)
On the Launch Pad: A Counting Book About Rockets (Know Your Numbers)
Dr. Seuss's 1 2 3 (Beginner Books(R))
Unlock the Fun: Discover Interactive Math for Kids!
Certainly! Here are some suggestions for math games, interactive toys, and books that can make learning math fun and engaging for kids:
Math Games:
Make math enjoyable for kindergartners with our selection of interactive math board games.
These captivating kindergarten math board games are designed to reinforce essential math skills while fostering a love for numbers.
From counting to basic addition and subtraction, these number board games offer an entertaining way to enhance mathematical proficiency in young learners.
Interactive Toys:
Math Manipulatives: Use items like counting bears, linking cubes, base-ten blocks, and pattern blocks to make math concepts tangible and interactive.
Interactive toys like math tablets, counting cash registers, or math game consoles can provide a fun and educational experience.
Building toys like LEGO or magnetic tiles can be used for counting, sorting, and introducing basic geometry concepts.
Math Books:
Bedtime Math series by Laura Overdeck. Math-related bedtime stories with fun and engaging math problems to solve.
Goodnight, Numbers by Danica McKellar is a charming bedtime book that introduces young readers to the world of numbers through a sweet and soothing story.
Math Fables" by Greg Tang. A collection of math-themed fables that encourage critical thinking and problem-solving.
By incorporating math games, interactive toys, and books into the missing numbers 1-20 worksheet. Children can develop a positive attitude toward math and find joy in exploring mathematical concepts.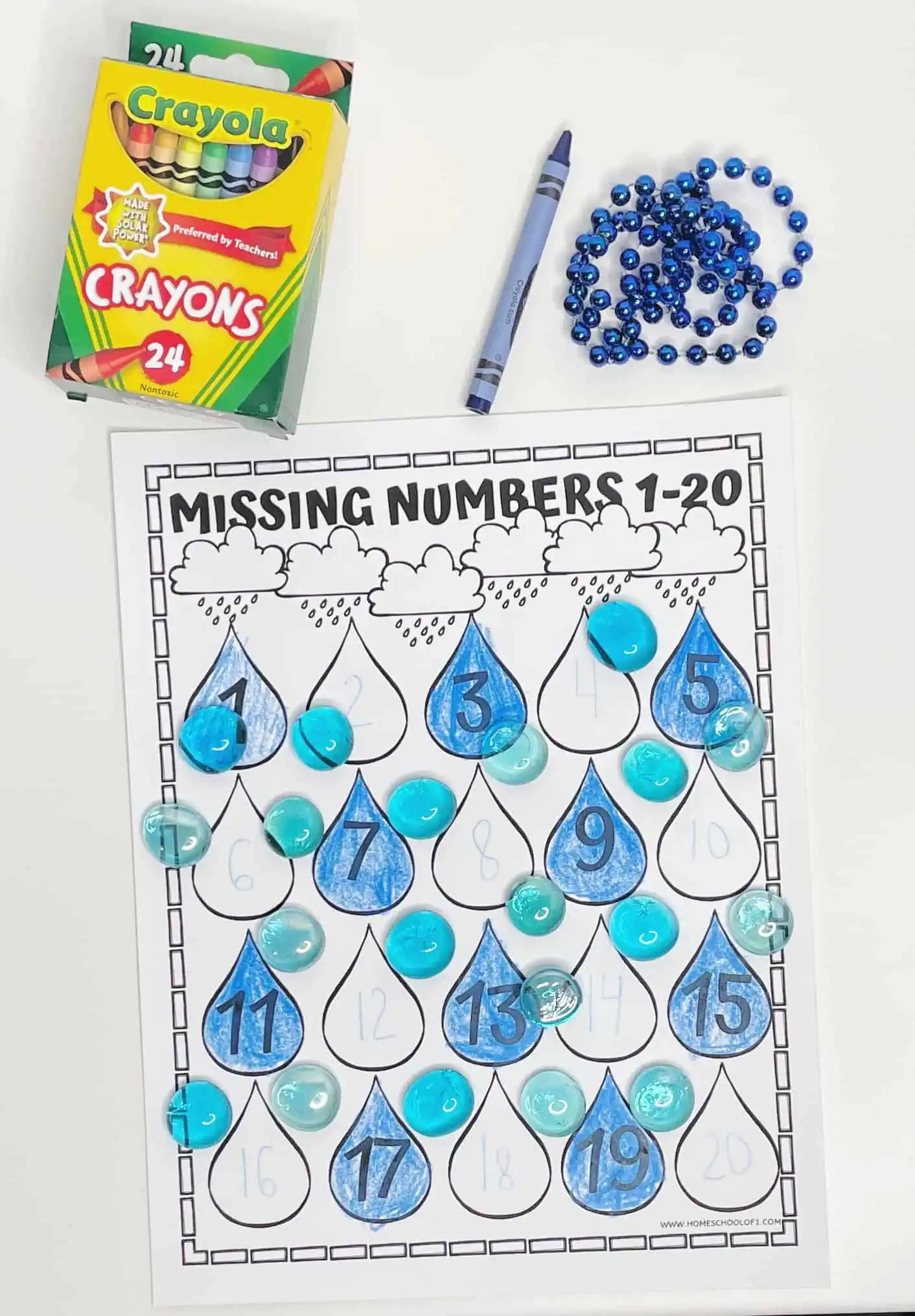 Tips for downloading the free files
Below is a blue cloud with an arrow pointing downward. Underneath that is a large sign-up box where you need to add your name and email address, and press I NEED THIS NOW!
Within minutes you will be sent the free PDF directly to your email address, so you can print it out and start using it immediately.
Sometimes emails get a little wonky, so if you can't see it, please check your spam folder where I am sure it is hiding.
Download the free missing numbers 1-20 worksheet
These worksheets are free to print but are for personal or classroom use only.
Make sure you choose the correct paper size and click on the shrink to fit button. All of our free printables for kids work better when printed on cardstock (this is the one we use and love.)
Last Updated on 2 October 2023 by homeschoolof1