Christmas Counting Worksheets (3 free printables)
Have fun with math with our free Christmas counting worksheets for preschoolers and kindergartners.
Engaging in Christmas activities for kids has never been easier with these fun Christmas counting worksheets. They help young ones develop their numerical skills while enjoying the festive spirit.
Learn to count from 1 to 10, with our fun Christmas counting worksheets. This makes counting much more fun!
These free Christmas math worksheets will not only encourage the children to count this holiday season, but they can also get creative. As they color in the six different Christmas images.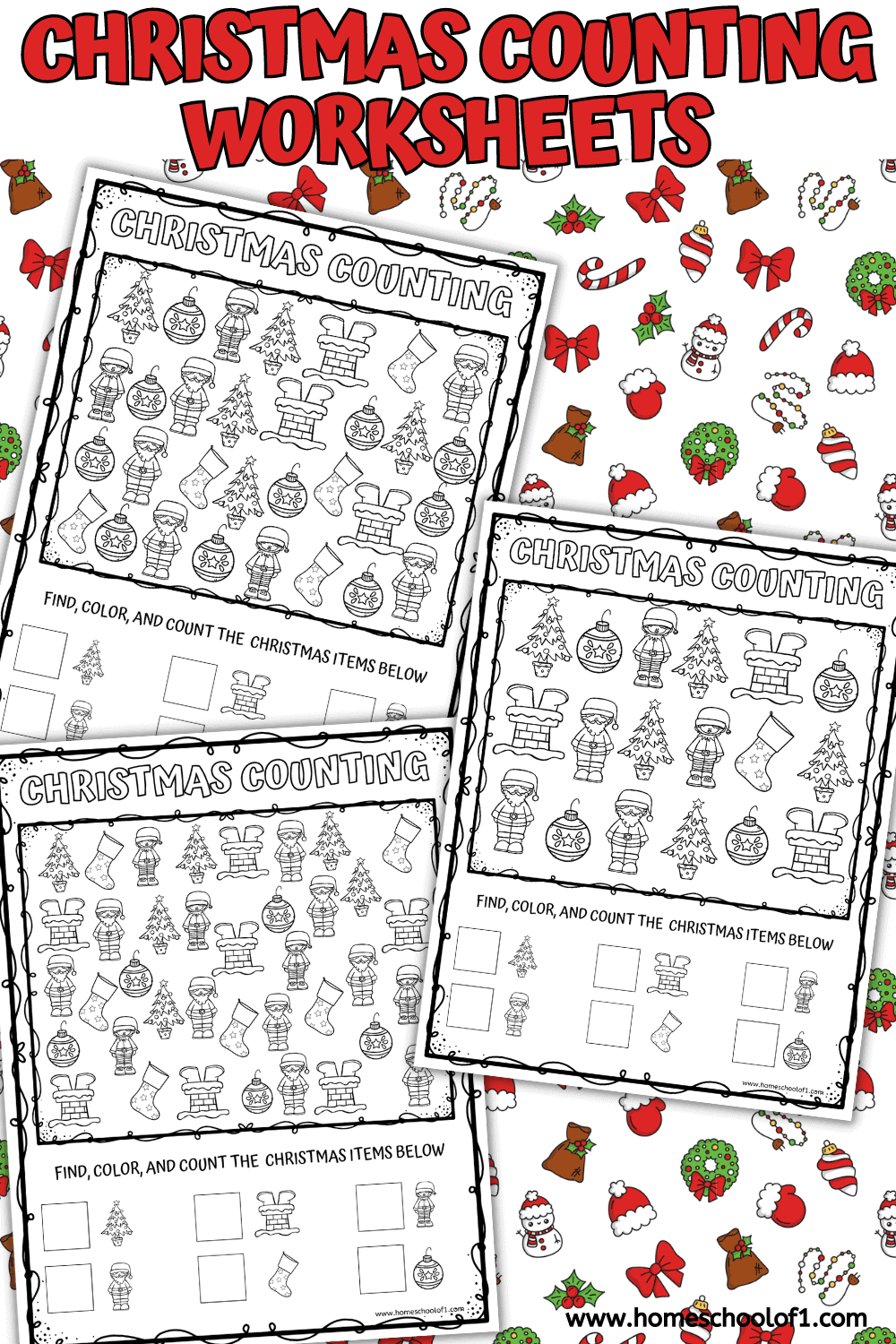 **There may be affiliate links in this post. You can read my full disclosure at the bottom of the page.**
What are the benefits of Christmas counting printables?
Using Christmas counting 1-10 worksheets for kids can offer various benefits to their learning and development. Here are some advantages:
The worksheets help children recognize and identify numbers from 1 to 10. Associating these numbers with familiar Christmas-themed objects like Santa Claus makes learning more engaging and enjoyable.
Kids can practice their counting skills by following the sequence from 1 to 10. This helps reinforce their understanding of number order and encourages them to count aloud.
The colorful and festive illustrations on the worksheets enhance visual learning. Children can connect the numbers with the corresponding pictures, making it easier for them to grasp the concept.
Filling in the numbers and coloring the pictures on the worksheets can improve a child's fine motor skills. The activities involve using pencils, crayons, or markers, which can enhance their hand-eye coordination.
Incorporating Christmas elements into the learning process can bring a sense of excitement and holiday spirit to the children. This positive association with learning can foster a love for education.
Christmas Math Worksheets For Preschoolers
There are 3 different free printable counting worksheets to download (just fill in your name and email address at the bottom of this post, and you will receive the free printable in minutes.)
These Christmas counting worksheets are a great way to encourage the kids to practice counting and writing numbers.
The free homeschool printables can be used with children as young as toddlers, but also preschoolers and kindergarteners will all love learning how to count with this winter themed math activity.
The three different worksheets all feature the same images:
a Christmas tree
Santa
Santa stuck in a chimney
a stocking
an elf
a Christmas ornament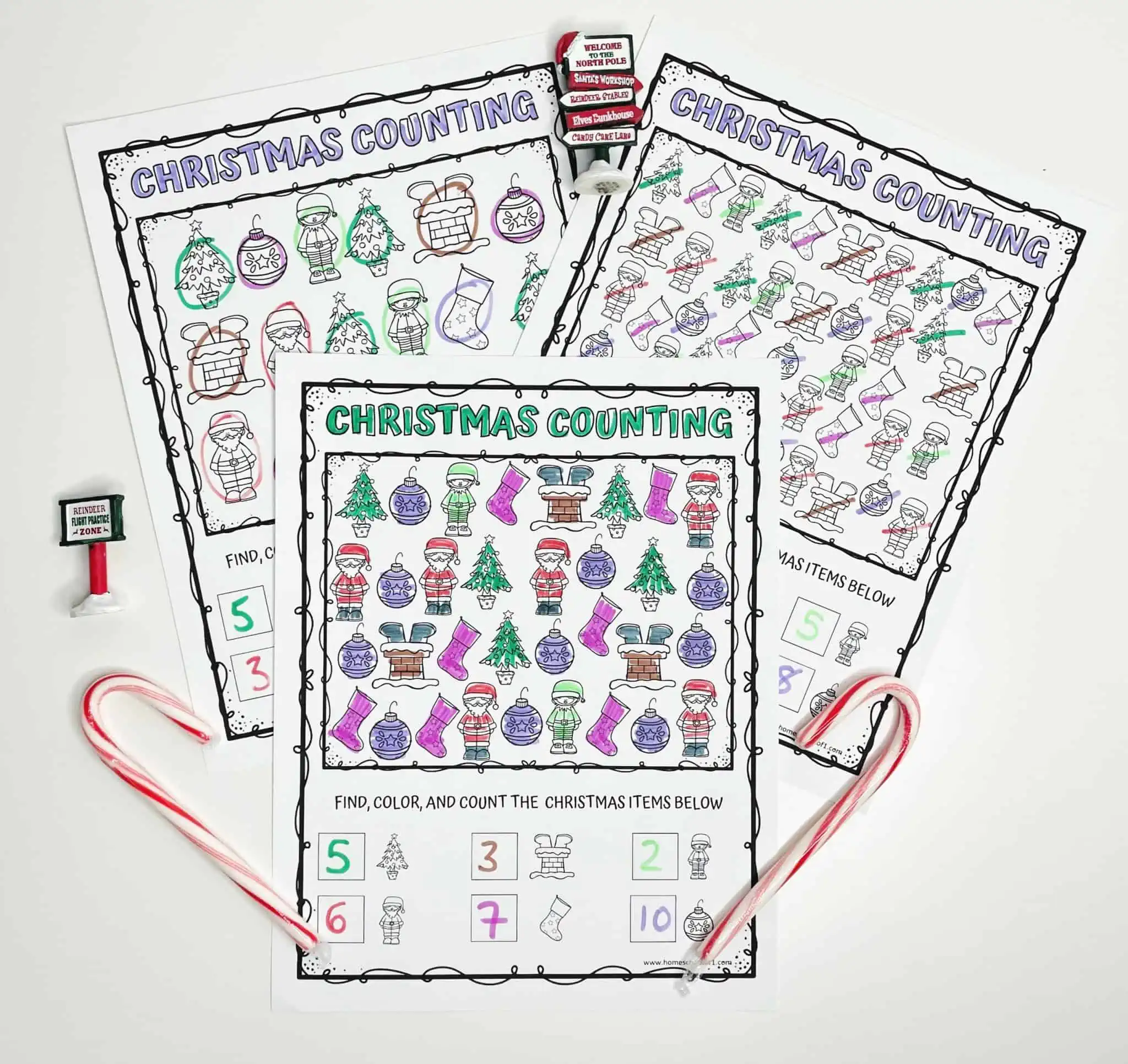 On the first math worksheet, the children need to count between one and six. The next worksheet is for numbers between six and ten, and the third worksheet is for counting from one to ten.
Elevate Prep Target Math Game | A Teacher-Recommended,
Proof! Math Game – The Fast Paced Game
Pressman SMATH – The Game That Makes Math
Prime Climb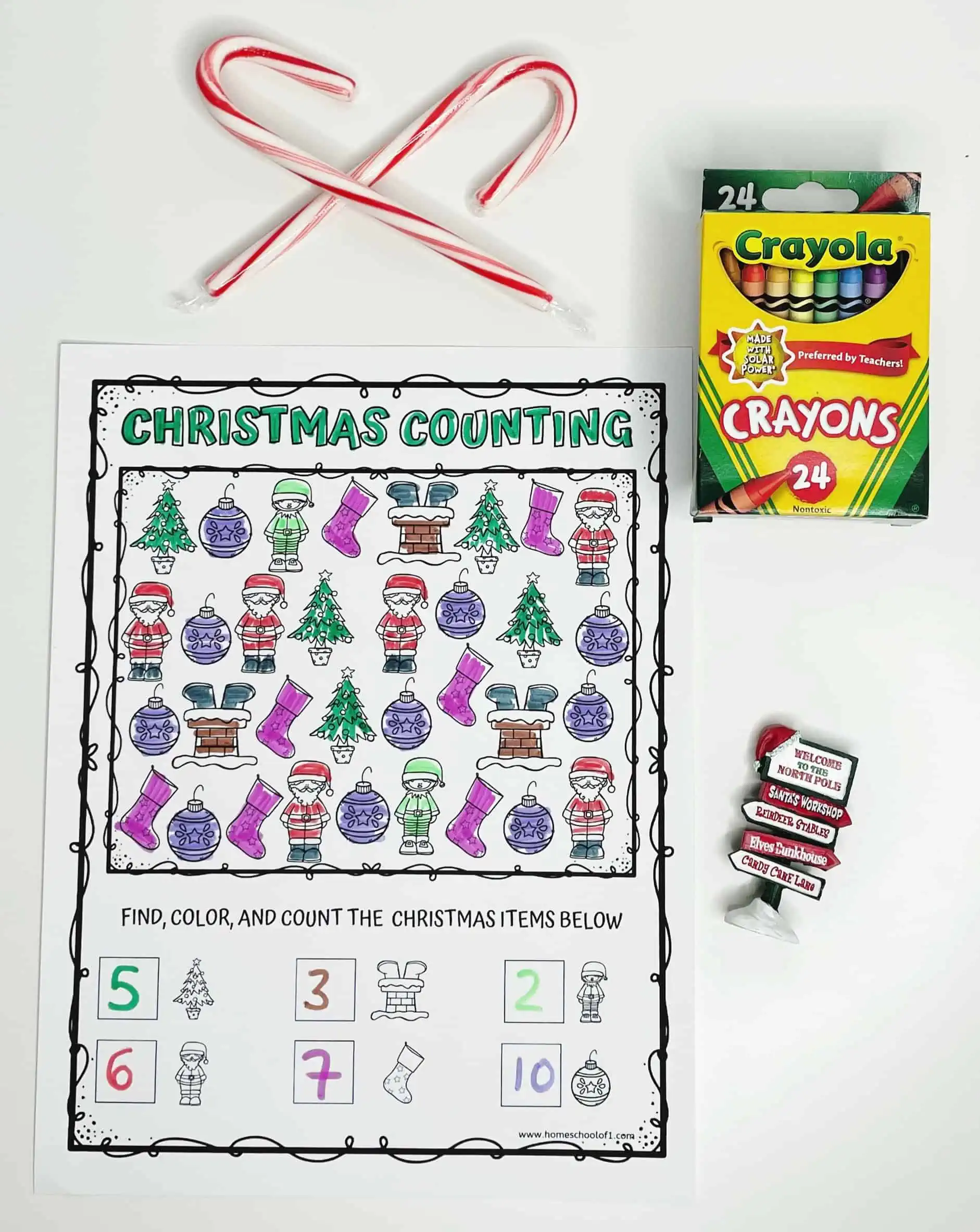 If you are wanting to have lots more fun with math, we highly recommend these kindergarten math board games.
Free Christmas worksheets
Get ready to immerse yourself in the holiday spirit with an array of engaging activities. From fun and educational graphing worksheets to interactive games, there's something for everyone.
You can also find creative craft ideas, exciting treasure hunt clues, and delightful writing exercises. Embrace the joy of the season with these fantastic Christmas printables!
Christmas math books for preschoolers
These are our favorite counting Christmas books that you can add as a read aloud after the kids have completed the math worksheets:
Ten Sparkly Snowflakes is a captivating Christmas counting book that follows the journey of ten glittering snowflakes as they twirl and whirl, celebrating the magic of the season with every turn of the page.
The Very Hungry Caterpillars Christmas 123 combines the beloved character's charm with the festive spirit. Offering a delightful counting adventure through the holiday-themed illustrations and introducing young readers to numbers in a joyful way.
A Counting Christmas Carol. Children are taken on a numerical journey inspired by the classic tale. Where they count down the days to Christmas, encounter familiar characters, and experience the wonders of the holiday season through enchanting illustrations and engaging storytelling.
Download the free printable Christmas counting worksheets
These worksheets are free to print but are for personal or classroom use only.
Make sure you choose the correct paper size and click on the shrink to fit button. All of our free printables for kids work better when printed on cardstock (this is the one we use and love.)
Last Updated on 8 August 2023 by homeschoolof1