Best Financial Literacy for Middle School in 2023
While it remains a mystery why financial literacy is overlooked in public schools, as dedicated homeschoolers, we have been prioritizing this essential subject for years. Continue reading to discover our top picks for financial literacy for middle school resources.
In this post, I'll share our top financial literacy resources specifically designed for middle school students. These engaging materials ensure that kids grasp vital financial concepts while having fun learning.
Don't wait to introduce financial literacy to your children. It's never too early to start equipping them with the knowledge and skills they need to make informed financial decisions throughout their lives.
Together, let's empower our middle schoolers to become financially responsible individuals by incorporating financial literacy into their best homeschooling resources.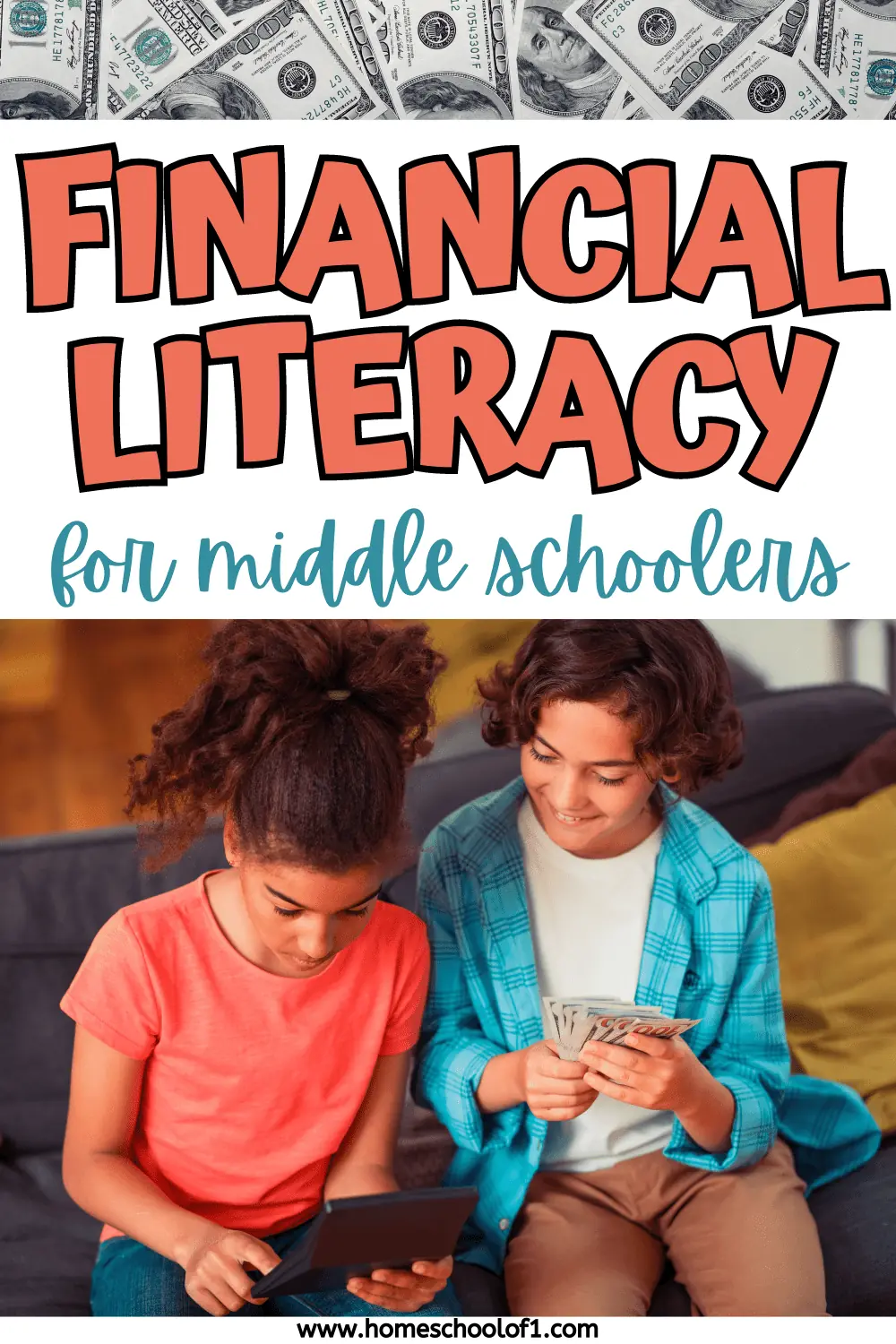 **There may be affiliate links in this post. You can read my full disclosure at the bottom of the page.**
As we are currently in middle school most of these resources are aimed at children aged between 10 and 14 years old. However, they can all be adapted for both younger and older students.
Teaching financial skills to middle school students is so important. The earlier you start to educate the kids about personal finance and financial education the better.
Elevate Prep Target Math Game | A Teacher-Recommended,
Proof! Math Game – The Fast Paced Game
Pressman SMATH – The Game That Makes Math
Prime Climb
Essential financial knowledge for middle schoolers
As middle schoolers transition into adolescence, it's crucial to equip them with essential financial knowledge that will lay the groundwork for a lifetime of financial success.
By the age of 12-14, they should possess a comprehensive understanding of the following key concepts:
Middle schoolers should know the difference between debit and credit cards. They should comprehend that a debit card is linked to their bank account and allows them to spend the money they have, while a credit card allows them to borrow money up to a certain limit and requires responsible repayment to avoid debt.
Introducing middle schoolers to budgeting is crucial in helping them manage their finances effectively. They should learn how to allocate their income into different categories, such as savings, spending, and giving, to achieve financial goals and avoid overspending.
Middle schoolers should understand the concept of savings accounts and how they differ from regular checking accounts. They should know that savings accounts earn interest, which helps their money grow over time, making it an excellent place to keep money they don't need for immediate expenses.
Teaching middle schoolers to make thoughtful spending decisions is vital. They should learn to differentiate between needs and wants, prioritize essential expenses, and avoid impulsive purchases.
Encouraging middle schoolers to explore ways of earning money is beneficial in teaching them about financial independence and responsibility. They can learn how to make money through simple household chores, running small businesses, or finding part-time jobs suitable for their age.
In today's digital age, middle schoolers must be familiar with digital payment methods. They should learn about online transactions, mobile payments, and the importance of protecting their personal information when making electronic purchases.
How to make money in middle school?
Making money in middle school can be an exciting and empowering experience. While traditional job opportunities may be limited due to age restrictions, there are several creative and responsible ways for middle schoolers to earn money. Here are some ideas to get started:
Offer to do household chores like cleaning, gardening, pet sitting, or babysitting for family members, neighbors, or friends. Use our free printable chore cards to keep track of the hours worked.
Use your creativity to make and sell handmade crafts, paintings, or other artwork at local craft fairs or online.
Offer to mow lawns, rake leaves, or do yard work for neighbors during the warmer months.
Collect recyclables like cans and bottles and redeem them for money at recycling centers.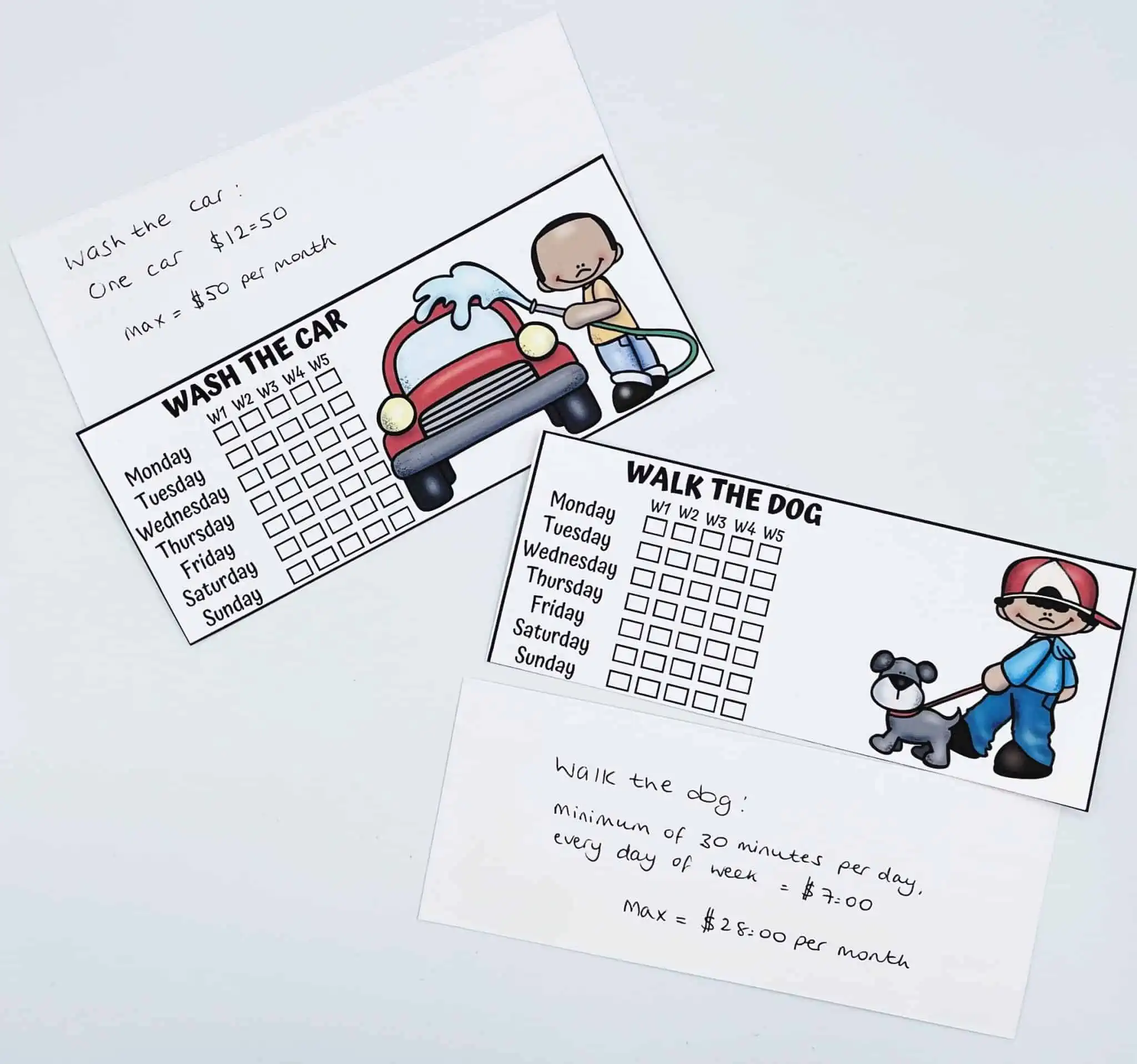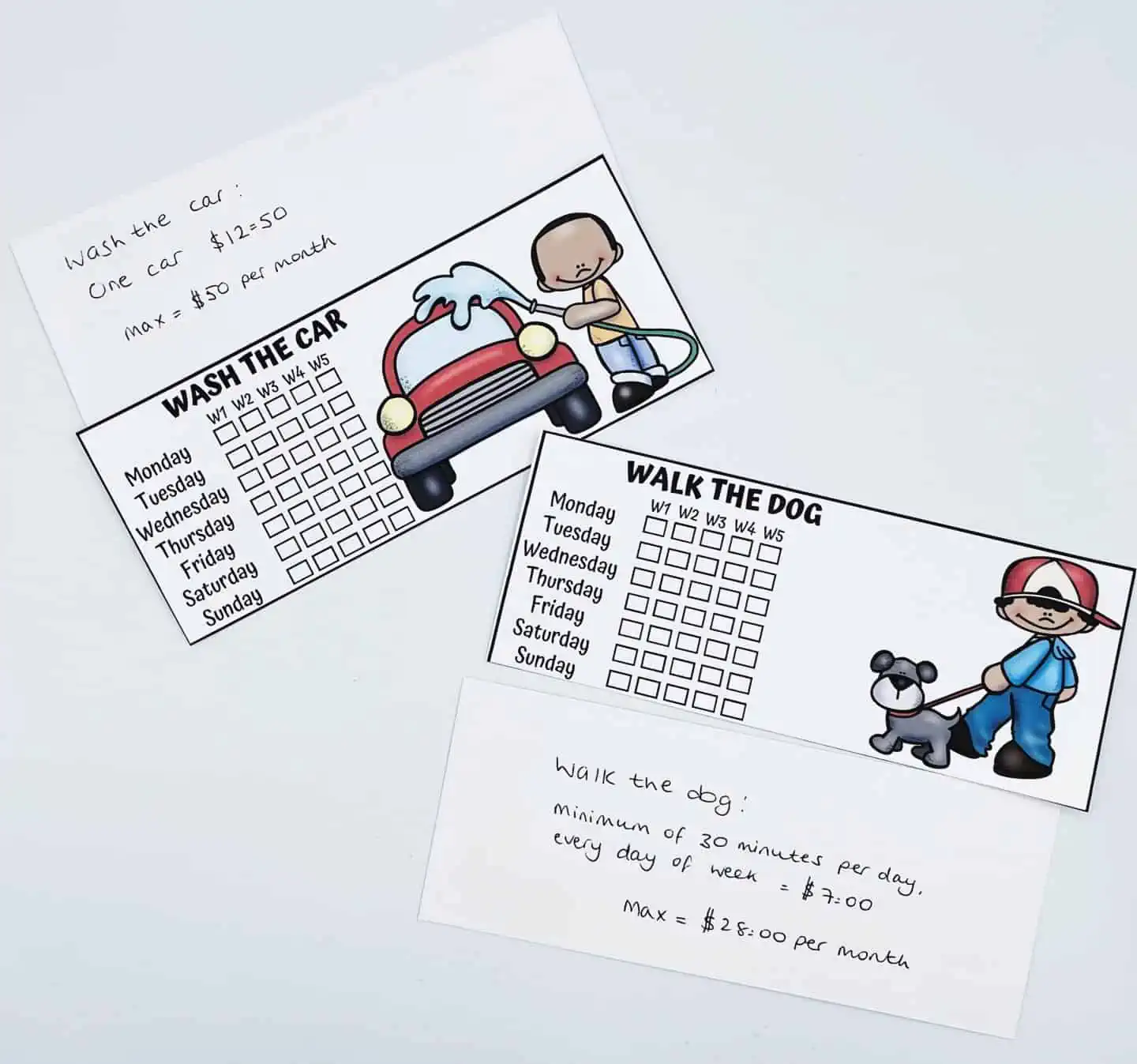 Financial literacy books for middle school students
We absolutely love books, and apart from the infographic guide, we have all of the financial literacy books for middle school students listed below.
The infographic guidebook is something that we have just come across while I write this post. It is now in my Amazon cart!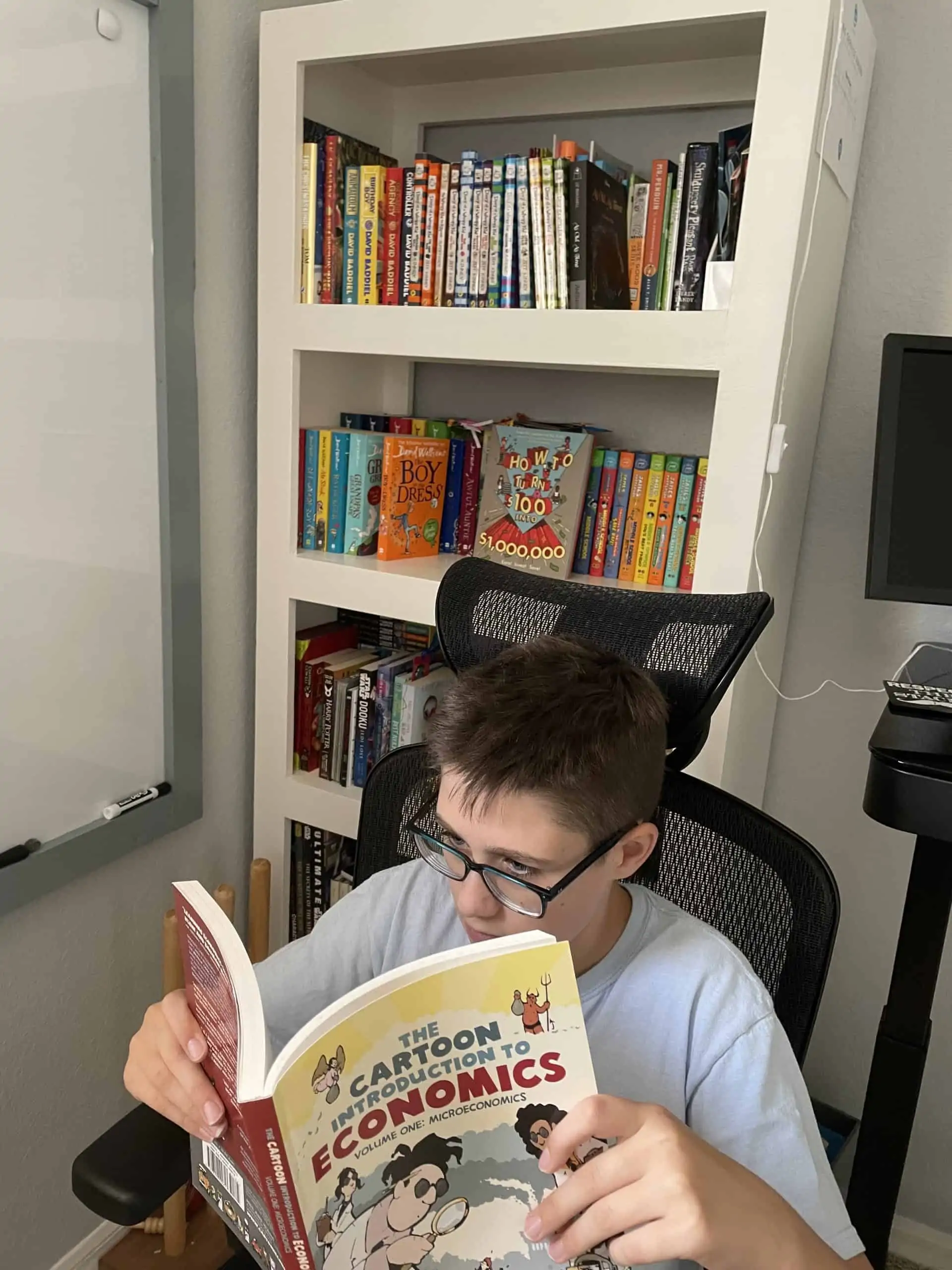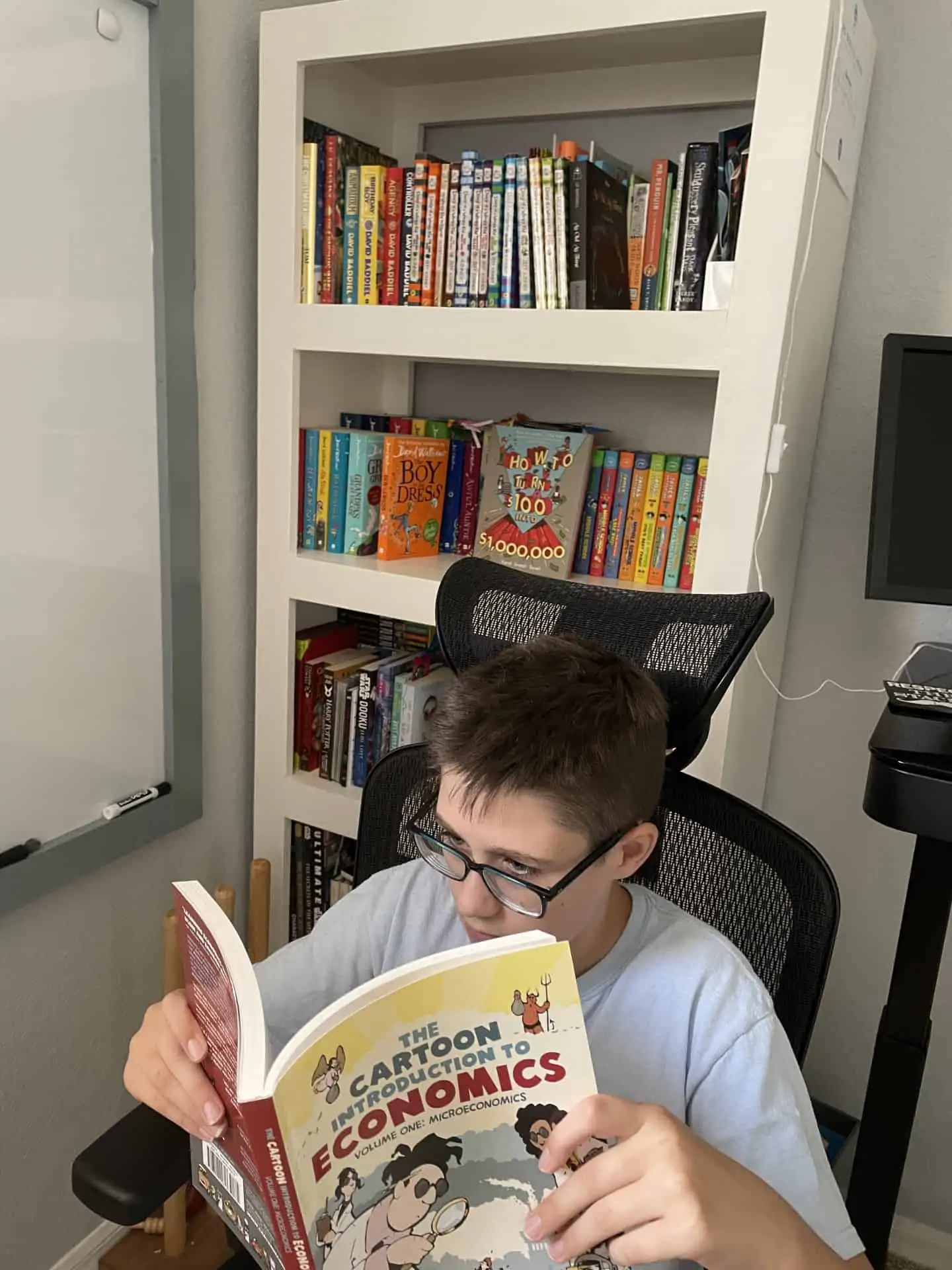 Humble Math – Money and Financial Literacy (U.S. Edition): Consumer Math (Ages 12+) Personal Finance for Kids and Young Adults – Money Skills for … Banking | Investing | Loans | Business Basics
The Infographic Guide to Personal Finance: A Visual Reference for Everything You Need to Know
The Economics Book (DK Big Ideas)
Cartoon Introduction to Macroeconomics: Collegiate Edition
Financial literacy homeschool curriculum
If you want a more formal curriculum for teaching financial literacy I highly recommend Moneytime.
This is the financial literacy curriculum we are using and absolutely love it, check out our MoneyTime review.
Moneytime is aimed at children aged 10-14. The program uses self-directed lessons to do the teaching for you. No pre-work is needed. Perfect for our homeschool! There are 30 modules, online quizzes, and awards and certificates. You will receive 25% off if you click on one of my links.
Mr. D Math offers the best homeschool economics curriculum for middle school, and a high school economics course worth 1/2 credit.
Beyond Personal Finance is another great real-world financial literacy for teens program that teaches kids real problems adults face financially after they graduate. This is less theoretical and more hands-on.
Financial literacy games for middle school
Get ready to level up your financial knowledge with these exciting and educational financial literacy board games for middle school students.
These financial literacy activities offer an interactive and fun way to learn essential money management skills, including budgeting, investing, and making wise financial decisions.
Whether played at home or in the classroom, these best money board games will empower middle schoolers to become financially savvy while having a blast!
Free financial literacy for middle school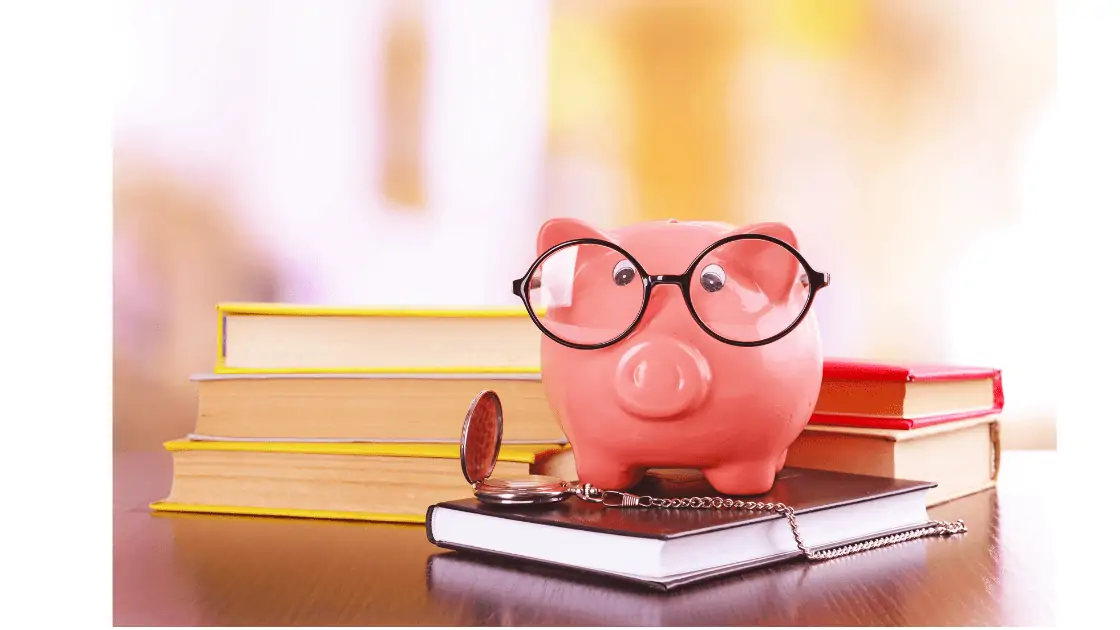 Welcome to the world of free financial literacy resources tailored specifically for middle school students!
These financial literacy worksheets are designed to equip young minds with vital money management skills, teaching them about budgeting, saving, investing, and making informed financial decisions.
With engaging activities and interactive lessons, middle schoolers can build a strong foundation of financial literacy that will serve them well into adulthood.
Choose Fi has a full curriculum for grades K-12. We have only looked at the middle school resources, and there are 50 FREE lessons!
Federal Deposit Insurance Corporation has a curriculum for grades K-12 and is available for free with immediate download.
Actuarial Foundation. This four-part financial literacy program features interactive PDFs to provide high school students with hands-on experience in all phases of money management. As my son is only 11 we haven't tried this, but it gets excellent reviews from parents of older children.
These financial literacy activities for high school students can also be adapted for middle schoolers.
Stock market games for kids
Get ready to embark on an exciting journey into the world of finance with stock market games for kids! These interactive games provide a hands-on experience of investing in the stock market, allowing young minds to learn about stocks, trading, and making investment decisions in a fun and safe environment.
Whether your child is curious about the stock market or you want to instill financial literacy from an early age, these games offer a fantastic way to introduce them to the thrilling world of finance and investment. Let the stock market adventure begin!
Free financial literacy books
It is amazing how many best free homeschool curriculum resources you can get if you know where to look.
We reached out to a number of financial institutions and got lots of kids' worksheets sent to us for FREE. These are mainly aimed at upper elementary aged students, but they are great to have.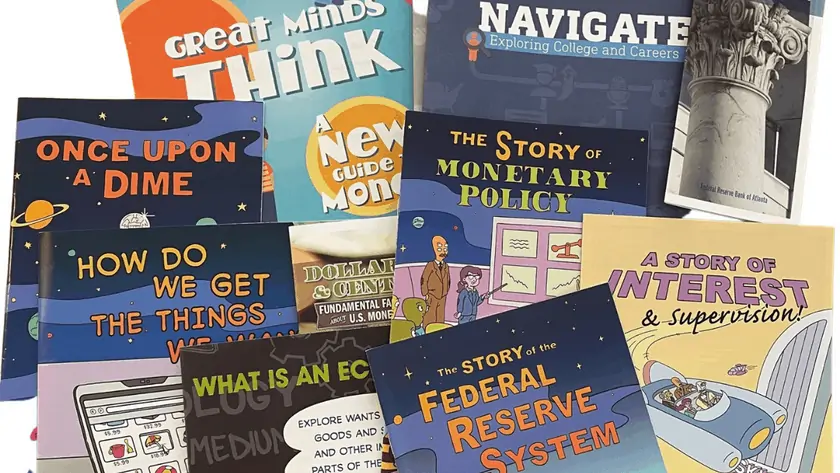 The Federal Reserve Bank of Cleveland has created a Learning Center and Money Museum. They will send you some workbooks, but they have LOTS of FREE resources on their page. Including a fun interactive financial online game.
The Federal Reserve Bank of Atlanta will send free worksheets and very large printables to hang.
The Federal Reserve Bank of New York will send up to five FREE comic-style workbooks. They also have lesson plans for all ages.
The Reserve Bank of Dallas has some excellent worksheets for high school students. The FREE resources and workbooks are also very good.
Last Updated on 3 November 2023 by homeschoolof1