Kids Financial Literacy – The Best Resources for Middle Schoolers
I have absolutely no idea why financial literacy for kids is not taught in public schools. However, as we homeschool, this is something we have been doing for a number of years.
This post is aimed at older elementary kids and middle school-aged children. But kids financial literacy is something that should be taught as soon as you think your children are ready.
For younger children playing shop, or playing board games with money will be a great starting point.
All children certainly by the age of 12-14 should have at least a basic knowledge of:
What a debit and credit card is.
Basics of budgeting.
Saving accounts
Healthy spending habits.
How to make money, even through simple household chores
An understanding of digital payments.
Within this post, I am sharing with you some of the resources we have used (or are still using) to teach financial literacy for kids.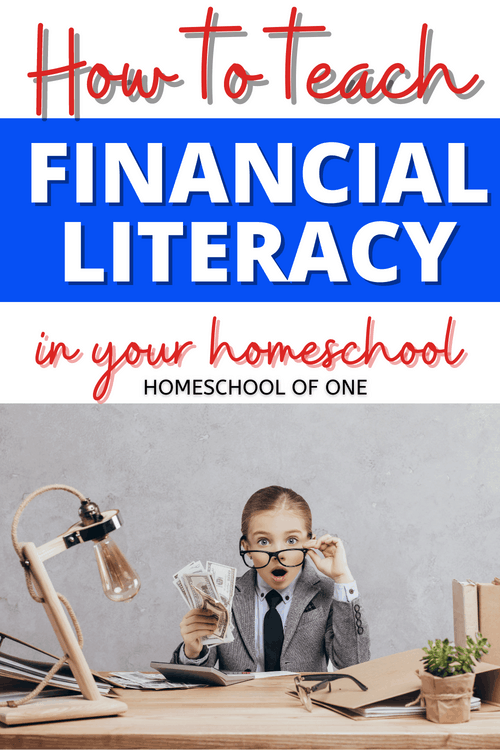 **There may be affiliate links in this post. If you make a purchase (after clicking one of my affiliate links) I'll earn some coffee money, which I promise to drink while supporting your journey. You do not pay a higher price. You can read my full disclosure at the bottom of the page.**
Financial Literacy Books
We absolutely love books, and apart from the infographic guide, we have all of the financial literacy books listed below. The infographic guidebook is something that we have just come across while I write this post. It is now in my Amazon cart!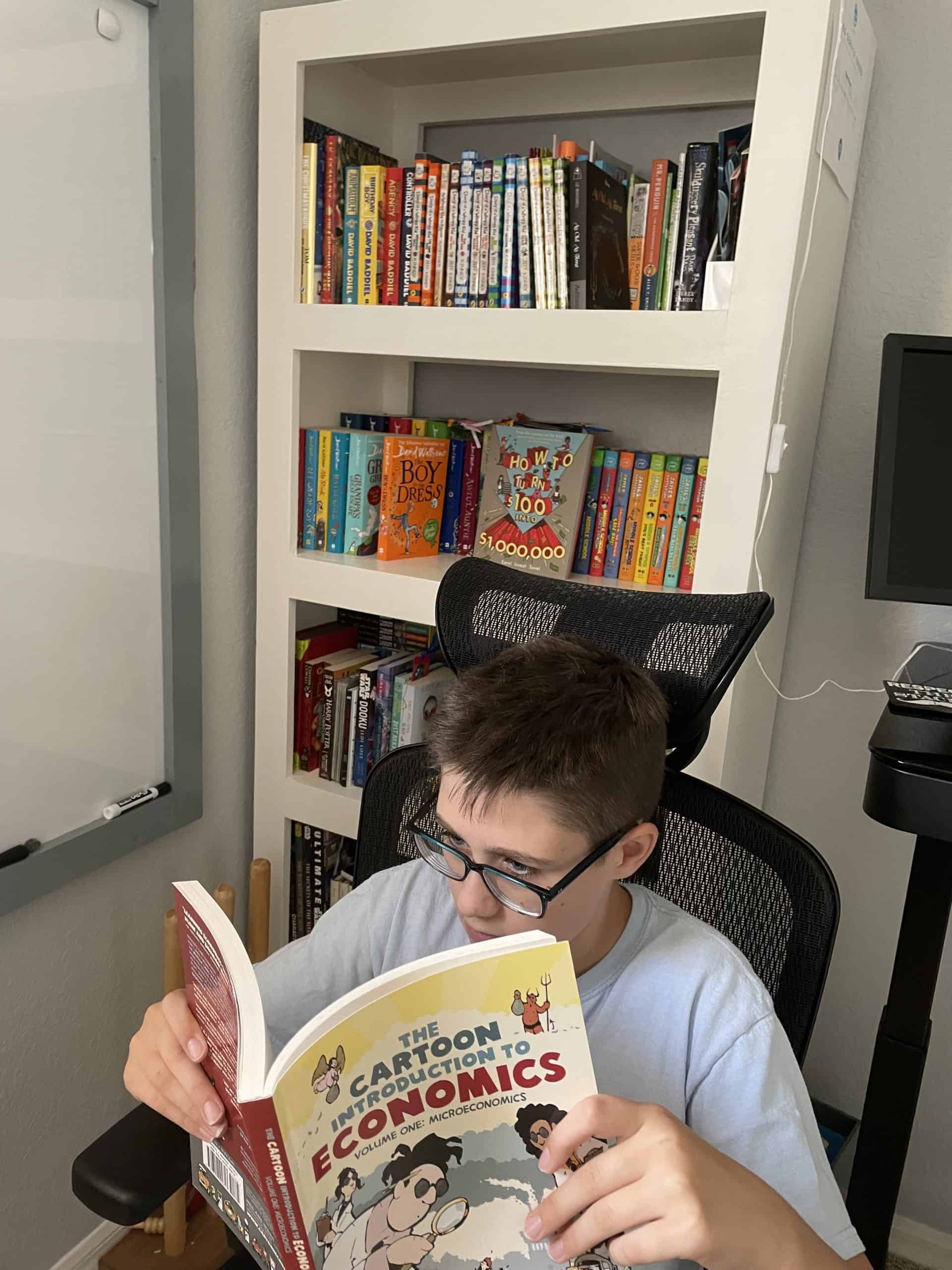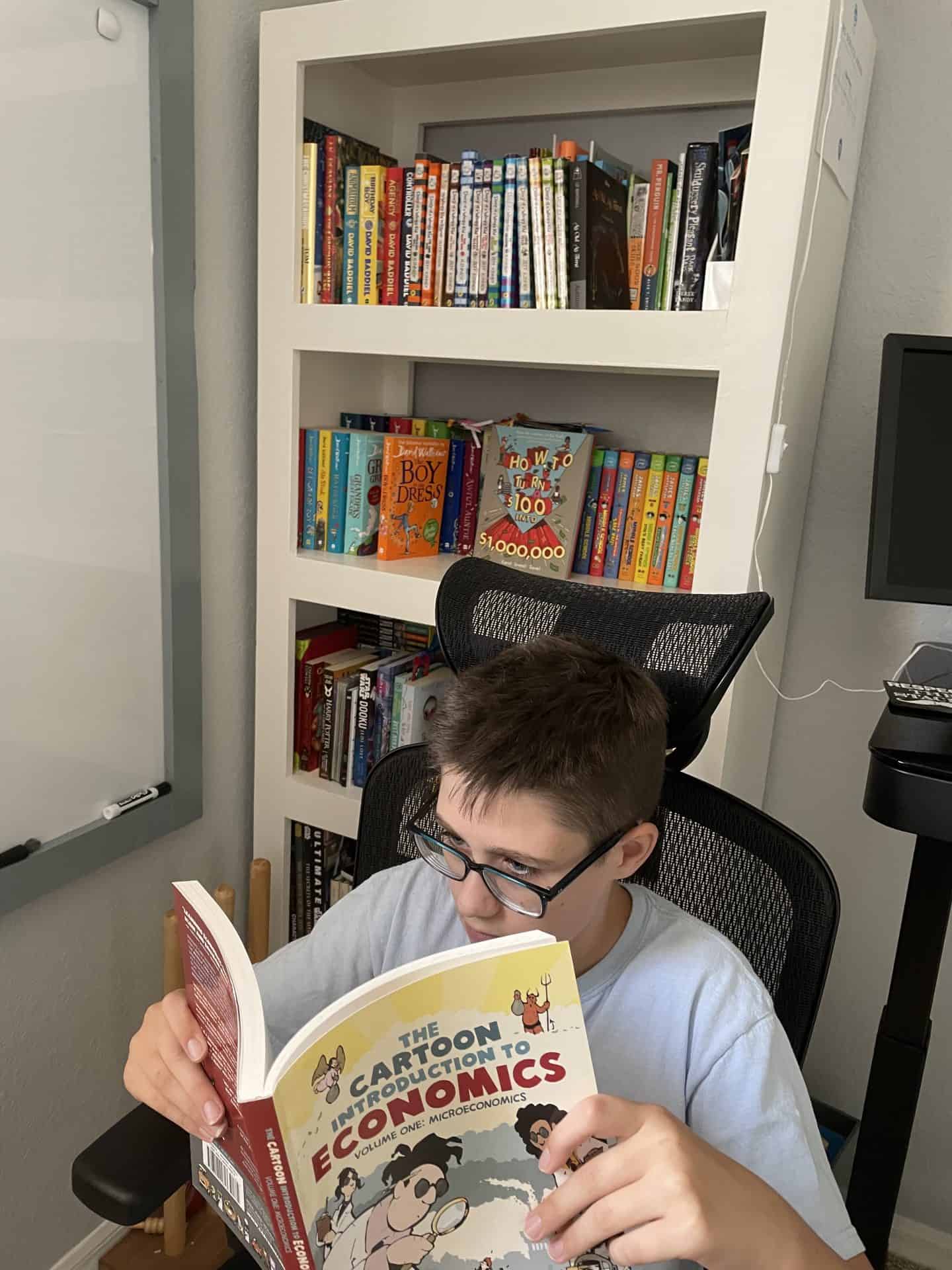 Homeschool Finance Curriculum
If you want a more formal curriculum for teaching financial literacy I highly recommend this Moneytime. This is the financial literacy curriculum we are using and absolutely love it, check out our MoneyTime review here.
Moneytime is aimed at children aged 10-14. The program uses self-directed lessons to do the teaching for you. No pre-work is needed. Perfect for our homeschool! There are 30 modules, online quizzes, and awards and certificates. You will receive 25% off if you click on one of my links.
Mr. D Math offers a 32 week homeschool economics curriculum for middle school, and a high school economics course worth 1/2 credit. Check out our review of Junior Economics we really enjoyed it.
Kids Financial Literacy
It is amazing how many FREE resources you can get if you know where to look. We reached out to a number of the Federal Banks of America and got lots of kid's worksheets sent to us for FREE.
Learning Center and Money Museum – Federal Reserve Bank of Cleveland. They will send you some workbooks, but they have LOTS of FREE resources on their page. Including a fun interactive online game.
Federal Reserve Bank of Atlanta – send free worksheets and very large printables to hang.
Federal Reserve Bank of New York – send up to five FREE comic-style workbooks and also have lesson plans for all ages. They offer this in both English and Spanish.
Reserve Bank of Dallas – aimed at high school-aged children, but the FREE resources and free workbooks are very good.
If you are looking for even more worksheets to teach financial literacy these from My Teaching Library are awesome, they are not free though, but very reasonably priced.
Financial Literacy Games for Middle School
We love gameschooling in our homeschool. So we are always on the lookout for more educational games to play. I find it so rewarding watching the kids play having no idea that they are actually learning too! These are our favorite ones that help with financial literacy.
Stock Market Kids Classes
One of our favorites go-to for live online classes is through Outschool (check out our review here), and even for financial literacy, they have an amazing class on the Stock Market Game. We have taken the course with Lisa Kornberg, and we highly recommend it. She teaches the basics of how the stock market works and they play a stock market trading game.
It is an excellent way to understand and "play" the stock market.
Free Financial Literacy Curriculum
If all of the above doesn't work for you, I highly recommend these three companies. They offer FREE financial literacy curriculums for kids of ALL ages.
Choose Fi has a full curriculum for grades K-12. We have only looked at the middle school resources, and there are 50 FREE lessons!
Federal Deposit Insurance Corporation again have curriculum for grades K-12 and are available for free with immediate download.
Actuarial Foundation – This four-part financial literacy program features interactive PDFs to provide high school students with hands-on experience in all phases of money management. As Freddie is only 11 we haven't tried this, but it gets excellent reviews with parents of older children.
Let me know in the comments below which kids financial literacy resources you found the most useful.
Last Updated on 14 January 2022 by homeschoolof1