13 Best Kindergarten Math Board Games
We absolutely love math in our home, and I wanted to share our favorite kindergarten math board games.
Although math is our favorite subject we still want to make it a fun and enjoyable experience. Playing board games for kids is the best way we have found to do this.
The kids don't know they are learning, they are just playing with their friends or family. But as they play they are picking up important math skills that will help them with their schooling.
All of these fun math board games are aimed at children aged between 5 and 7 years old.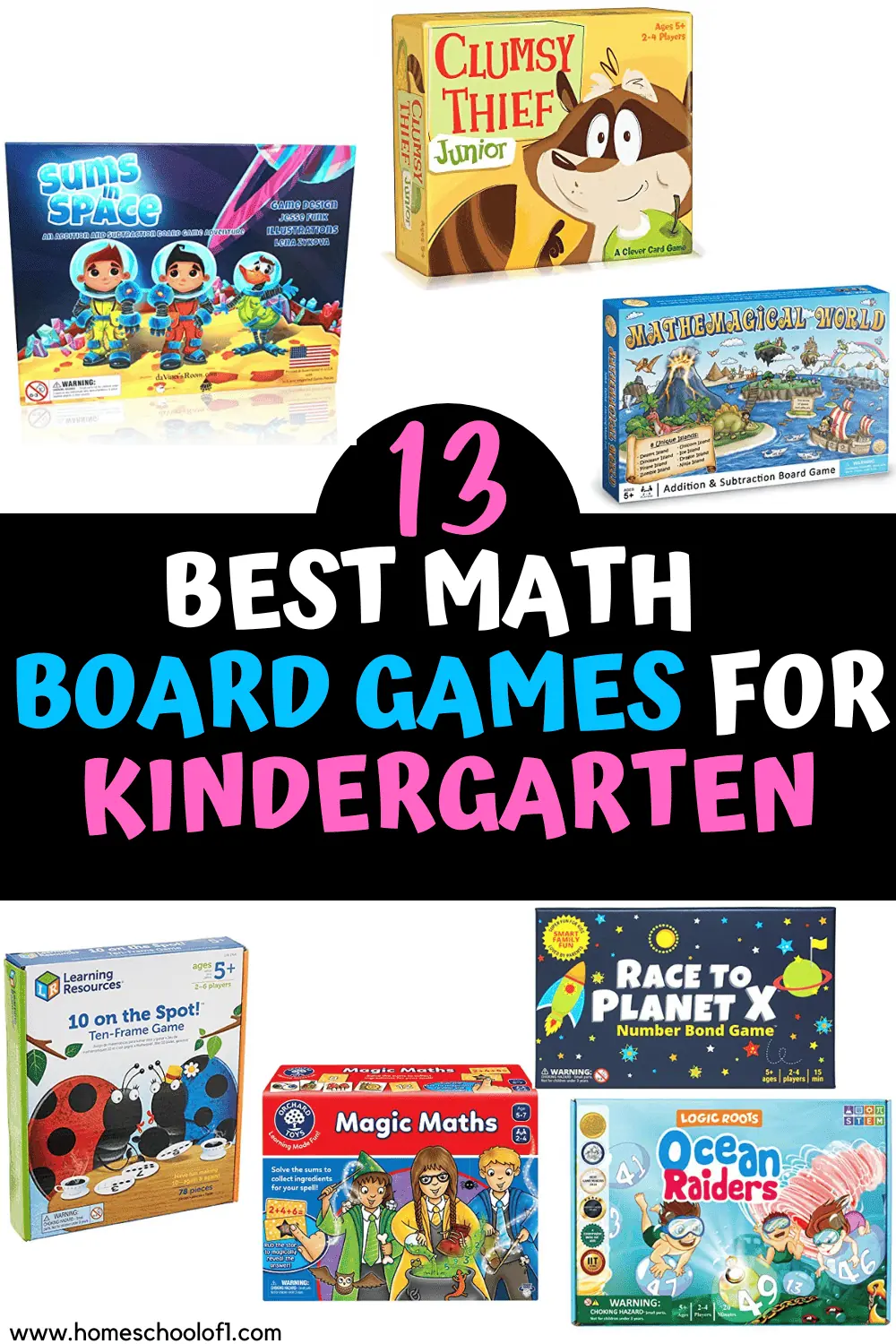 **There may be affiliate links in this post. You can read my full disclosure at the bottom of the page.**
What are the benefits of playing math board games with kindergarteners?
Wondering why math board games are a hit with kindergarteners?
Well, let me tell you, there are loads of benefits packed into these fun and interactive games!
From boosting number skills to fostering problem-solving abilities. Playing math board games with little ones not only helps them learn essential math concepts but also sparks their curiosity and builds confidence.
So, if you're looking for a playful and effective way to engage your kindergartener in math. Grab those dice and game boards, and get ready for a world of educational fun!
Math board games for kindergarten
These are the best games for kids in kindergarten, not only are they super fun they are educational too.
Kindergarteners embark on a thrilling journey through a whimsical swamp, practicing addition and subtraction skills along the way.
They learn to add and subtract numbers up to 10 while strategizing their way to the end of the game.
Kindergarteners engage in a fun guessing game where they practice number recognition and comparison skills.
By asking questions and narrowing down possibilities, children develop their ability to identify and understand numbers up to 20.
Provide young children with a hands-on experience to explore various mathematical concepts.
Through building and manipulating the colorful cubes, children enhance their counting, sorting, and patterning skills, fostering a strong foundation in early math education.
A math board game designed for kindergarteners to develop their counting and number recognition skills.
By matching numbered bears to corresponding numerals and practicing basic addition and subtraction, children strengthen their understanding of numbers and early arithmetic.
An engaging math board game that introduces kindergarteners to fundamental math concepts such as number operations, patterns, and shapes.
Through interactive gameplay and problem-solving challenges, children enhance their critical thinking and logical reasoning abilities while having fun with numbers.
An exciting math board game for kindergarteners that focuses on number sequencing and basic addition skills.
By rolling dice and moving their game pieces along a number line, children practice counting, adding by one, and understanding numerical order, fostering a solid foundation in early mathematics.
A math board game that combines strategy and arithmetic skills.
Kindergarteners engage in a thrilling space-themed race, solving math problems along the way.
They practice counting, number recognition, and basic addition and subtraction, making it an exciting and educational adventure.
A fast-paced math board game that challenges kindergarteners to quickly identify and add numbers that add up to 10.
By strategically placing number cards on a game board, children develop their number sense, addition skills, and mental math abilities in an exciting and time-pressured setting.
A dynamic math board game that helps kindergarteners develop their mental calculation and problem-solving skills.
By rolling dice and strategically selecting numbers on a game board, children practice addition, subtraction, multiplication, and division in a fun and competitive environment, enhancing their overall mathematical fluency.
This game can be played with only one player or as many as 4 players.
An enchanting math board game that takes kindergarteners on a magical adventure while practicing essential math skills.
Through engaging gameplay and interactive challenges, children explore number recognition, counting, basic operations, and problem-solving, making math an exciting and enjoyable experience.
A fun and fast-paced math board game that introduces kindergarteners to money and basic addition skills.
By collecting and exchanging coins, children practice counting, adding small amounts, and developing their understanding of currency in a playful and entertaining way.
An engaging math board game where kindergarteners embark on a thrilling underwater quest.
By solving math puzzles and strategically planning their moves, children enhance their logical reasoning, critical thinking, and basic arithmetic skills, making learning math an immersive and adventurous experience.
An exciting math board game that combines space exploration and basic arithmetic skills.
Kindergarteners solve addition and subtraction problems as they journey through the cosmos, helping them strengthen their mental calculation, number sense, and problem-solving abilities while having an intergalactic adventure.
Other fun game ideas you will love
For even more fun game ideas for kids:
Last Updated on 3 September 2023 by homeschoolof1