Cinco de Mayo Acrostic Poem Template (4 free printables)
Cinco de Mayo is a great opportunity to add a bit of fun to the classroom (or homeschool in our case!). I have put together some Cinco de Mayo acrostic poem templates for you to enjoy.
These free Cinco de Mayo printables are a great way to encourage the kids to write poetry this May. We always have so much fun playing with acrostic poems, they are perfect for kids of any age too!
These acrostic poem templates all spell out Cinco de Mayo, but you don't need to just write a Mexican poem!
Let the kids get creative and write about whatever they want. It is amazing how much they are willing to write when they can choose the subject!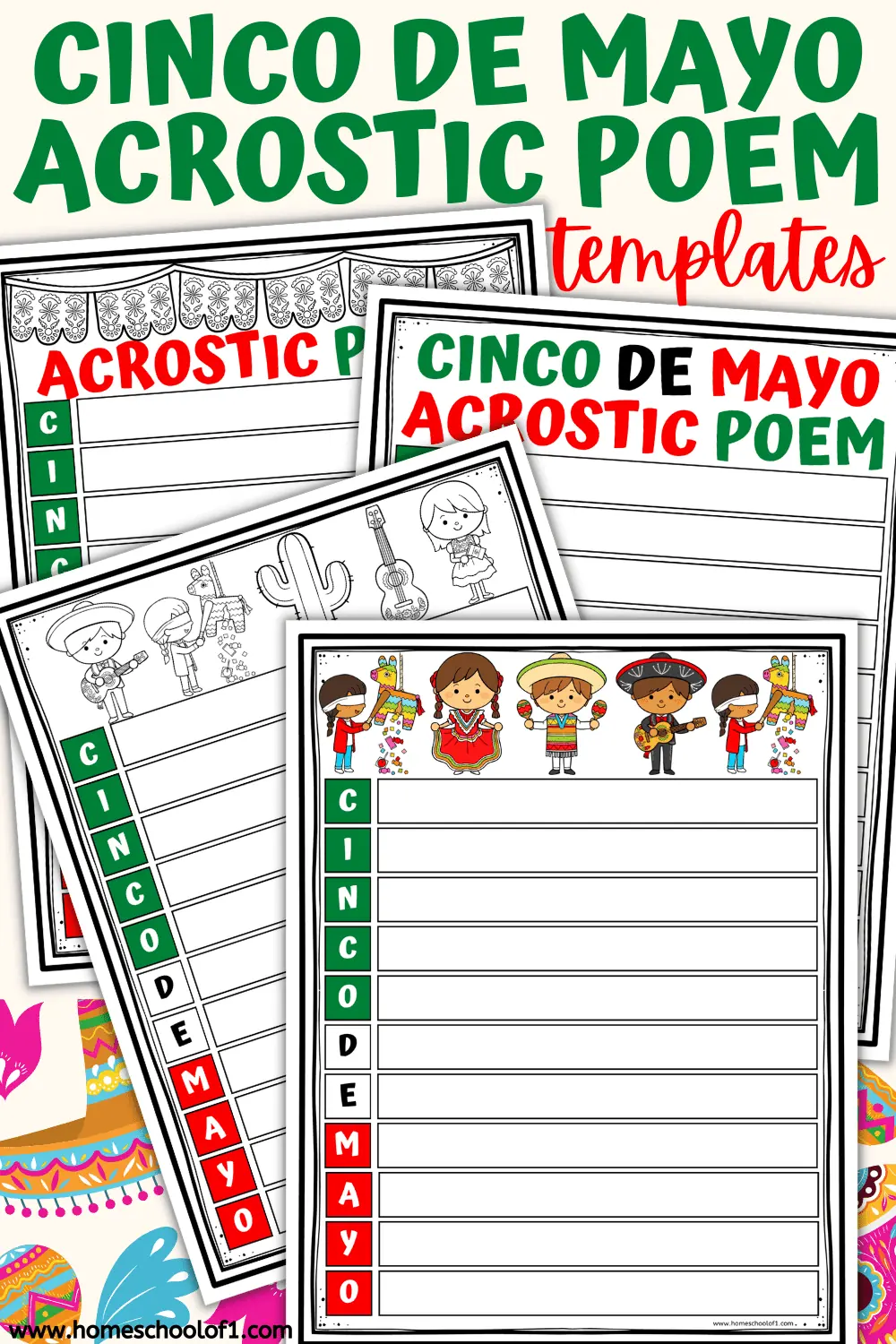 **There may be affiliate links in this post. You can read my full disclosure at the bottom of the page.**
What is an acrostic poem?
An acrostic poem is a type of poetry in which the first letter of each line spells out a word or phrase.
The word or phrase is typically related to the subject or theme of the poem.
In an acrostic poem, each line of the poem serves as a clue to the word or phrase that is being spelled out, and the overall structure of the poem helps to reinforce the message or meaning.
Acrostic poems can be written on any subject, and they are often used as a creative writing exercise or as a way to reinforce learning about a particular topic.
An example of a Cinco de Mayo acrostic poem?
Celebrating with music, dance, and delight,
Inspiring pride in Mexican culture's might,
Natural beauty and rich history unite,
Celebrated by people day and night,
On this day of May fifth, we celebrate with all our might!
Dancing to the beat of mariachi music all day,
Exploring the rich history and cultural array,
Marketplaces filled with vibrant colors and light,
And delicious food that is truly a delight,
Yet beyond all this, it's a day to unite,
On this day of May the fifth, we dance all night!
How to Use the Free Poem Templates?
This free acrostic poem template is free to print but is for personal use or classroom use only. Scroll to the end of the post to get the pdf file.
There are 4 templates to print out. As can be seen below. You can either print all of them or just the ones you want to use.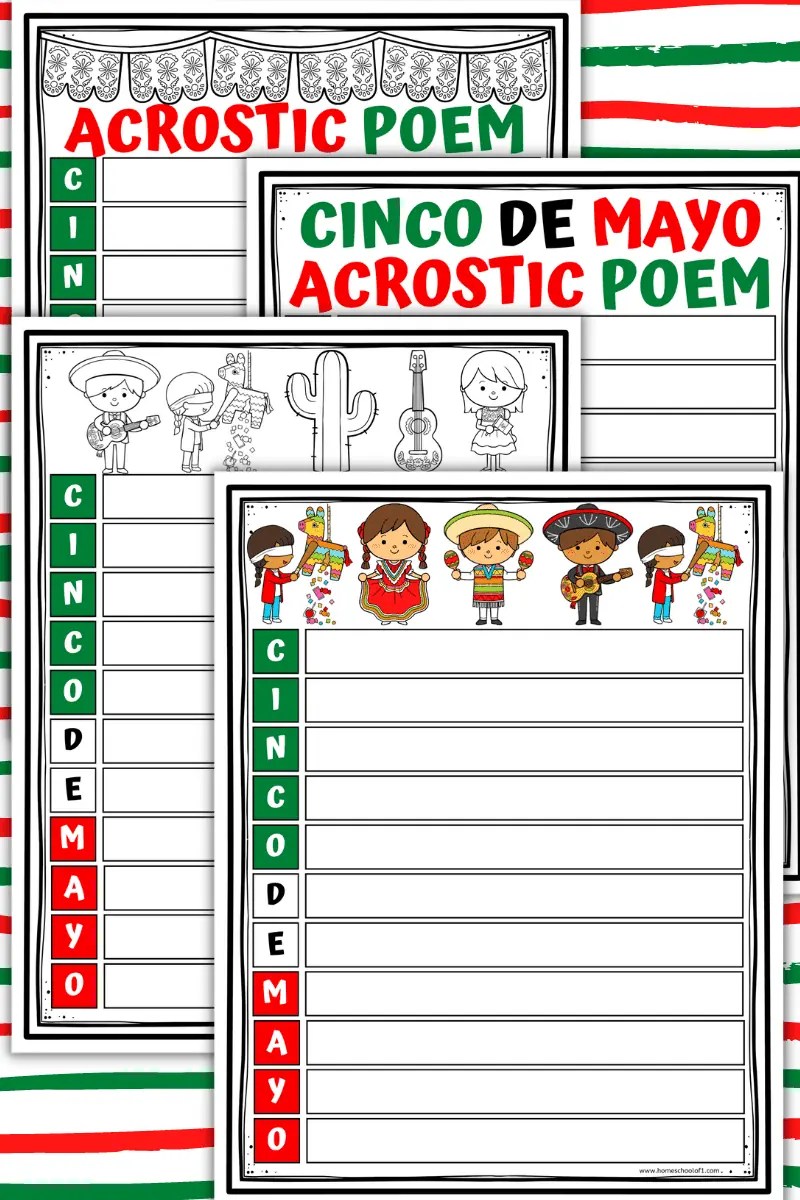 You can either get the kids to write a Mexican-themed poem.
Or let them create a poem of their choosing based on the letters CINCO DE MAYO.
Most importantly though have fun with these acrostic poems either in your classroom or homeschool.
The kids will also enjoy our free Cinco de Mayo word scramble worksheets.
Poetry Books For Kids
Encourage your kids' love of poetry with acrostic poems, a fun and interactive way to introduce them to this art form.
Keep the excitement going with these children's poetry books, which will further foster their appreciation for verse.
Revolting Rhymes by Roald Dahl, we are huge fans of all his books including this one. Check out the best ways to celebrate all things, Roald Dahl, with Roald Dahl Day activities in September.
Poetry for young people by Maya Angelou. She's a total boss, an award-winning writer, historian, and civil rights activist. And her poetry, it's just amazing. 25 of her best poems cover all kinds of feelings and experiences, from the playful "Harlem Hopscotch" to the empowering "Me and My Work" to the inspiring "Still I Rise." It's a must-read for sure.
Write Your Own Haiku for Kids: Write Poetry in the Japanese Tradition. Easy step-by-step instructions to compose simple poems.
Other acrostic poem printables you can download for free
Tips for downloading the free files
Below you will see a large sign-up box where you need to add your name and email address, and press I NEED THIS NOW!
Within minutes you will be sent the free PDF directly to your email address, so you can print it out and start using it immediately.
Sometimes emails get a little wonky, so if you can't see it, please check your spam folder where I am sure it is hiding.
Download the free Cinco de Mayo acrostic poem templates
Make sure you choose the correct paper size and click on the shrink to fit button. All of our free printables for kids work better when printed on cardstock (this is the one we use and love.)
Last Updated on 2 October 2023 by homeschoolof1