Mother's Day Acrostic Poem Templates (Free Printables)
Mother's Day is a great opportunity to add a bit of fun to the classroom (or homeschool in our case!). I have put together some Mother's Day acrostic poem templates for the kids to get creative!
We always have so much fun playing with acrostic poems, they are perfect for kids of any age too!
These 3 Mother's Day printables spell out Mother, I love Mom, and Grandma.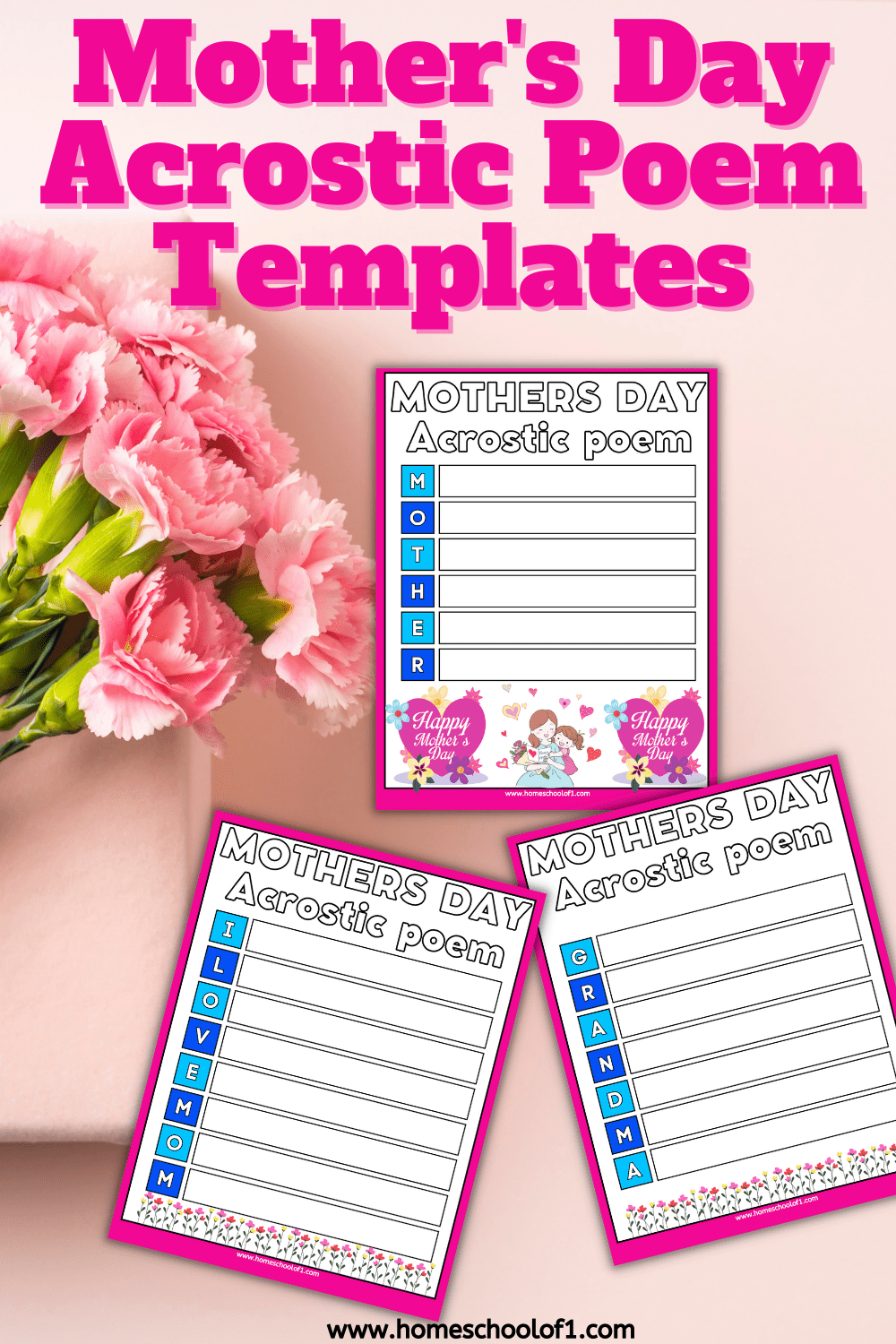 **There may be affiliate links in this post. You can read my full disclosure at the bottom of the page.**
Words to help with the Mother's Day acrostic poems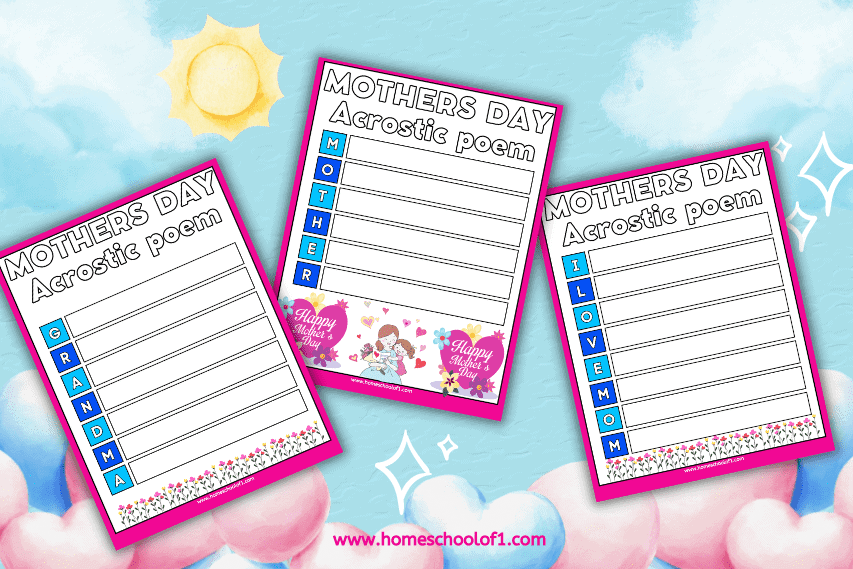 As I know sometimes finding the right words is hard here are a few examples:
The Night Before Mother's Day
Inside Out and Back Again: A Newbery Honor
I Love You, Mom (Daniel Tiger's Neighborhood)
Knock Knock What I Love about Mom Fill
MOTHER
M – Marvellous, Magnificient, Motherly, Mom, My
O – Outstanding, Our, Only
T – Thankful, Today, Taught, Treat, Trust, Teach, Talk.
H – Hug, Help, Honor, Heartfelt, Heartwarming, Honest
E – Elegant, Example, Encourage, Educate
R – Relax, Raise, Remember, Rely
I LOVE
I – I am, I love, Inspire, Indulge, Inspirational
L – Love, Loving, Life, Listener, Learn, Look Up To
O – Owe, Obey,
V – Voice, Valued, VIP
E – Entrust, Express, Especially
GRANDMA
G – Give, Grandma, Guide, Grow,
R – Respect, Resourceful, Rest
A – A Strong Woman, Amazing, Accepting
N – Nurse, Nurture, Number 1
D – Do You Know, Demonstrate, Delightful
M – Make it, Multitasker, Memory
A – Advise, Adore
Poem Books For Kids
Acrostic poems are a great way to get the kids to enjoy poetry but don't stop there. These kids' poetry books will continue their love of poetry:
Revolting Rhymes by Roald Dahl, we are huge fans of all his books including this one. Check out our favorite Roald Dahl Day activities in September.
National Geographic Book of Nature Poetry
Write Your Own Haiku for Kids: Write Poetry in the Japanese Tradition – Easy Step-by-Step Instructions to Compose Simple Poems.
Additional Mother's Day activities
Tips for downloading the free files
Below you will see a large sign-up box where you need to add your name and email address, and press I NEED THIS NOW!
Within minutes you will be sent the free PDF directly to your email address, so you can print it out and start using it immediately.
Sometimes emails get a little wonky, so if you can't see it, please check your spam folder where I am sure it is hiding.
Download the Mother's Day Acrostic Poem Templates
Make sure you choose the correct paper size and click on the shrink to fit button. All of our free printables for kids work better when printed on cardstock (this is the one we use and love.)
Other acrostic poem templates
Continue the fun with poetry with our free acrostic poem template:
Last Updated on 2 October 2023 by homeschoolof1