Easter Acrostic Poem Templates (8 Free Printables)
Easter is a great opportunity to add a bit of fun to the classroom (or homeschool in our case!). I have put together some Easter acrostic poem templates for you to enjoy.
These are great educational Easter activities for kids that the kids can enjoy in the classroom or at home.
We always have so much fun playing with acrostic poems, they are perfect for kids of any age too!
These acrostic poem templates all spell out Easter, but you don't need to just write an Easter poem!
Let the kids get creative and write about whatever they want. It is amazing how much they are willing to write when they can choose the subject!
For the Easter poem, I could barely get a sentence out of my 12-year-old. But when I said he could write about anything just using the letters EASTER he wrote a much more in-depth poem as can be seen below.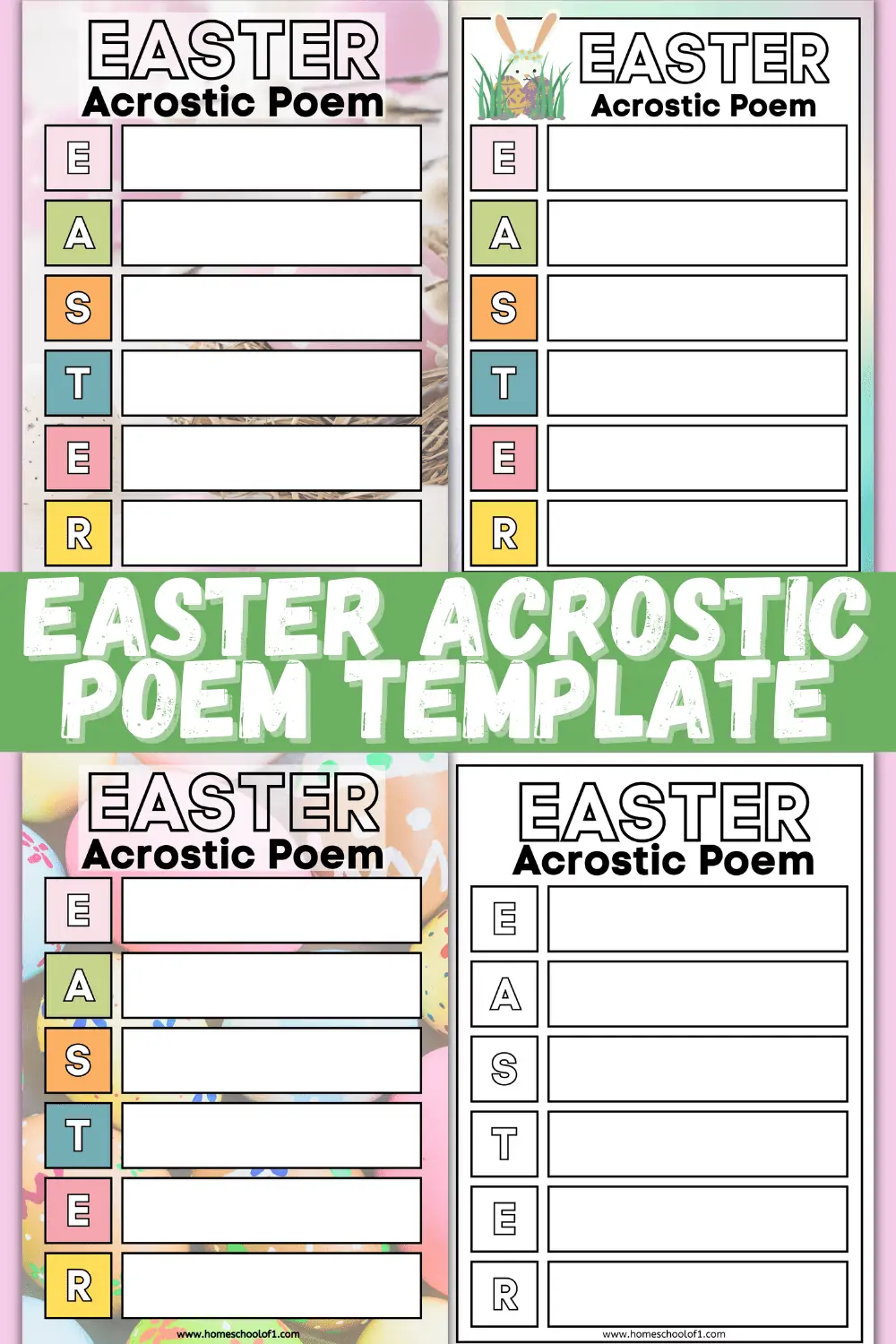 **There may be affiliate links in this post. You can read my full disclosure at the bottom of the page.**
Acrostic Poems for Easter
There are 8 templates to print out, including a simple black and white template (as we all know that ink is expensive!).
You can either get the kids to write an Easter-themed poem or let them create a poem of their choosing based on the letters EASTER.
Below I have added our favorite four Easter acrostic poems to give the kids some inspiration!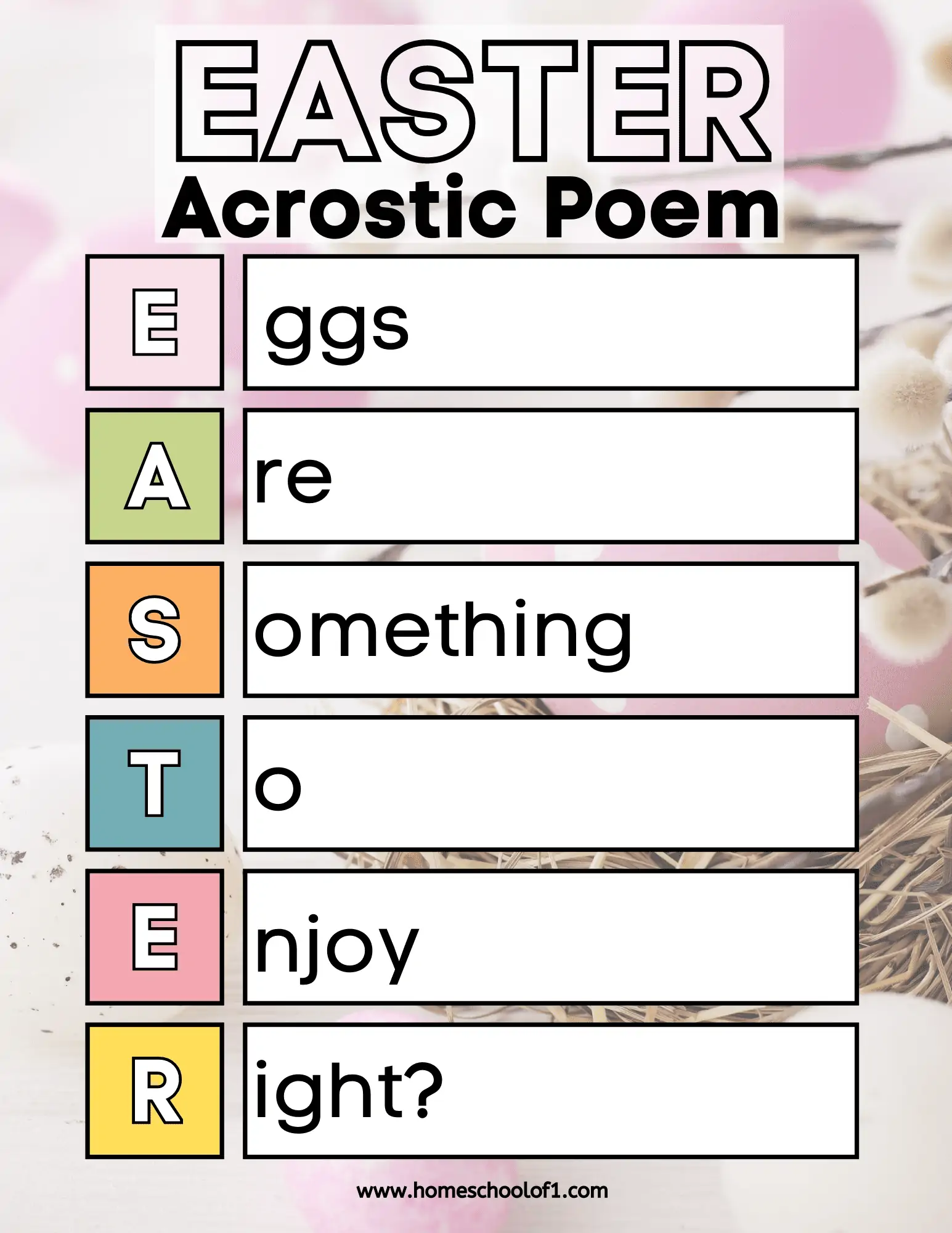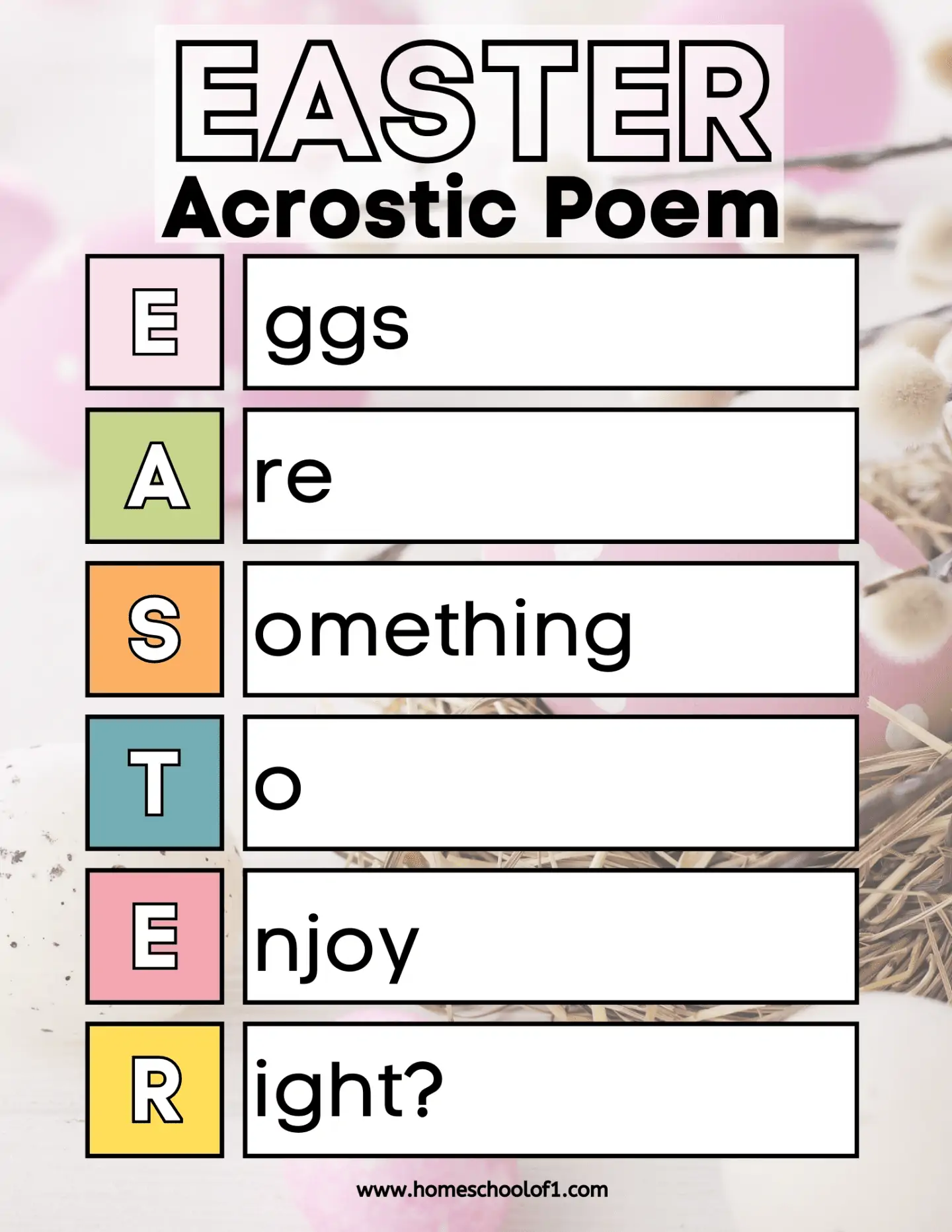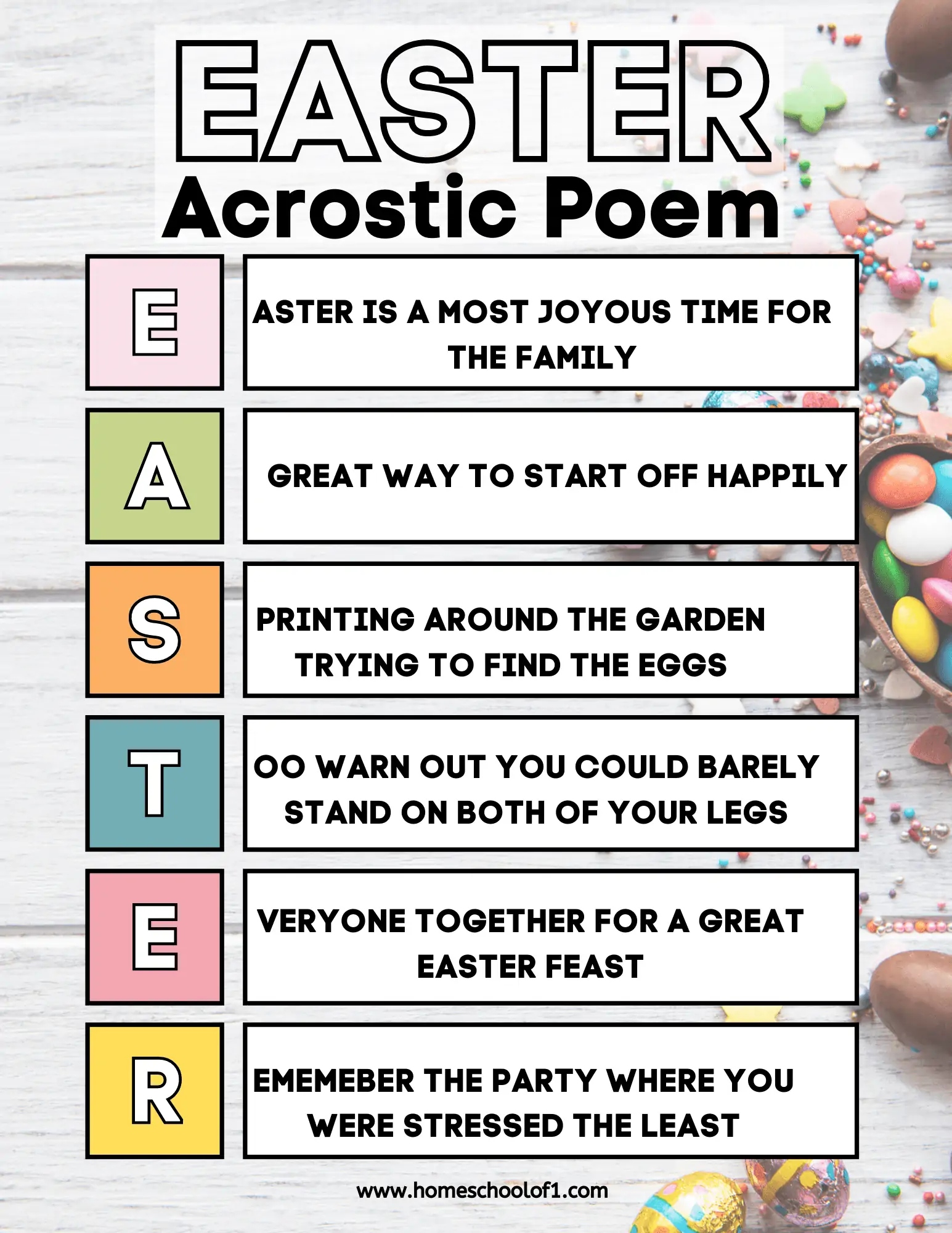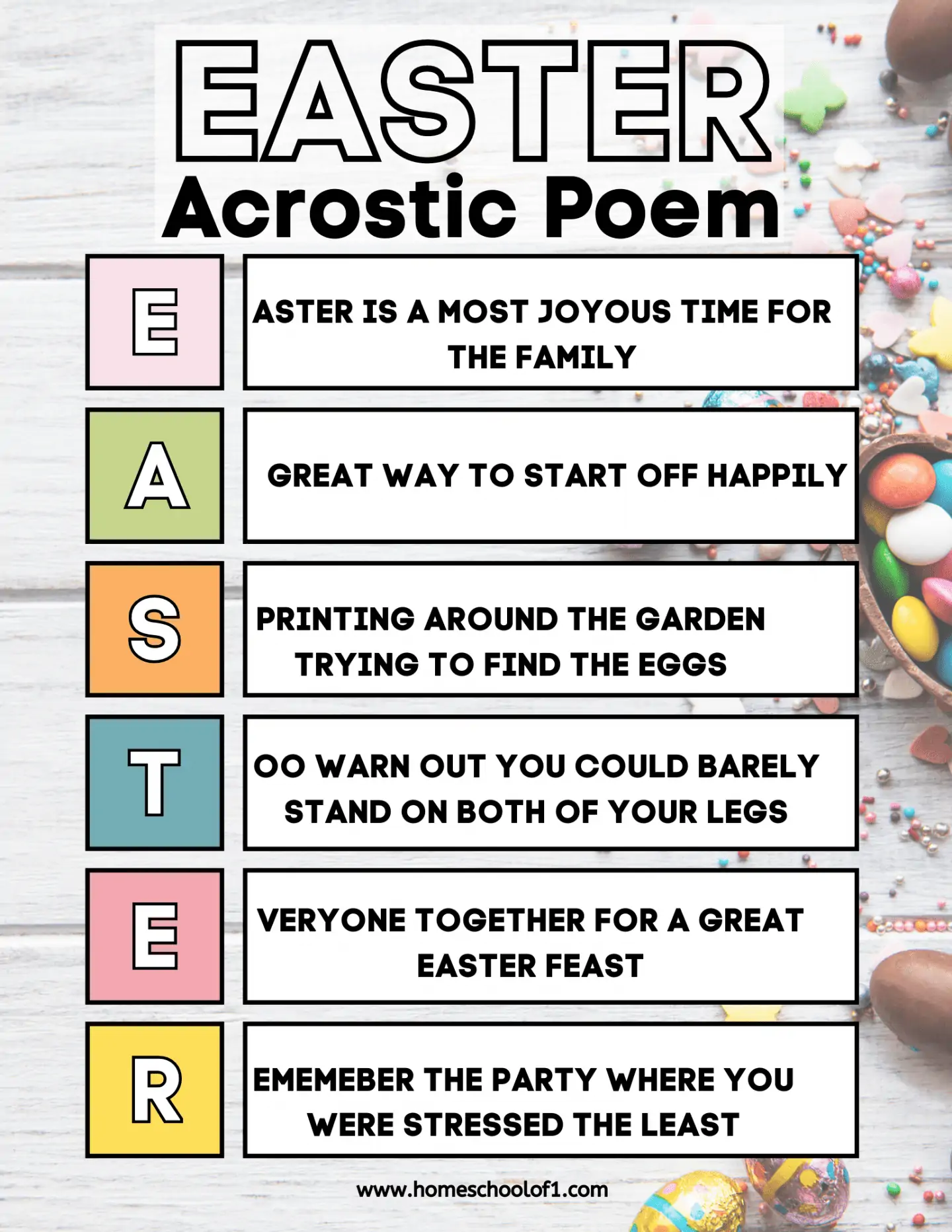 Eggs

Are

Something

To

Enjoy

Right?
Easter is a most joyous time for the family,

A great way to start off happily,

Sprinting around the garden trying to find the eggs,

Too warn out you could barely stand on both of your legs,

Everyone together for a great Easter feast,

Rememeber the party where you were stressed the least.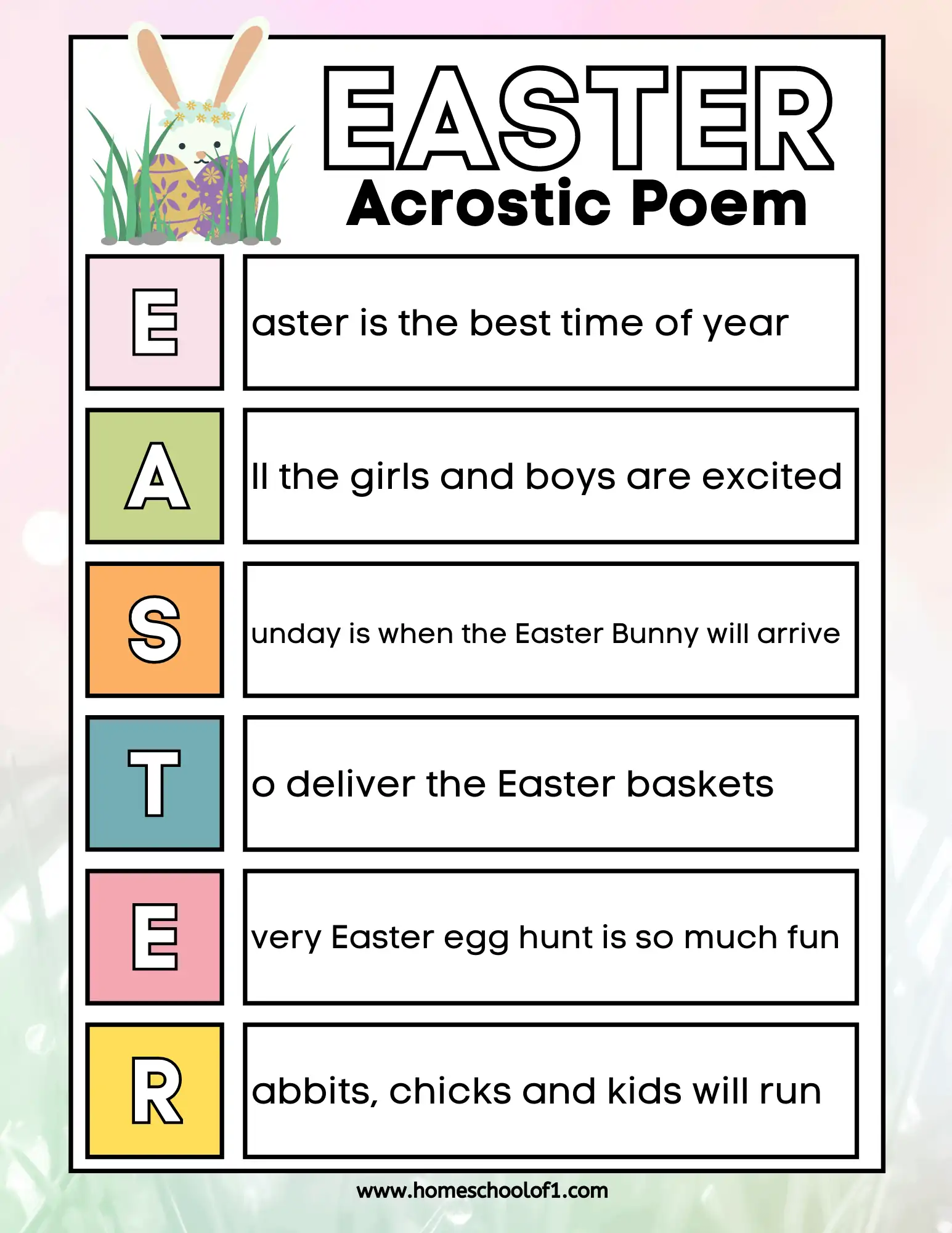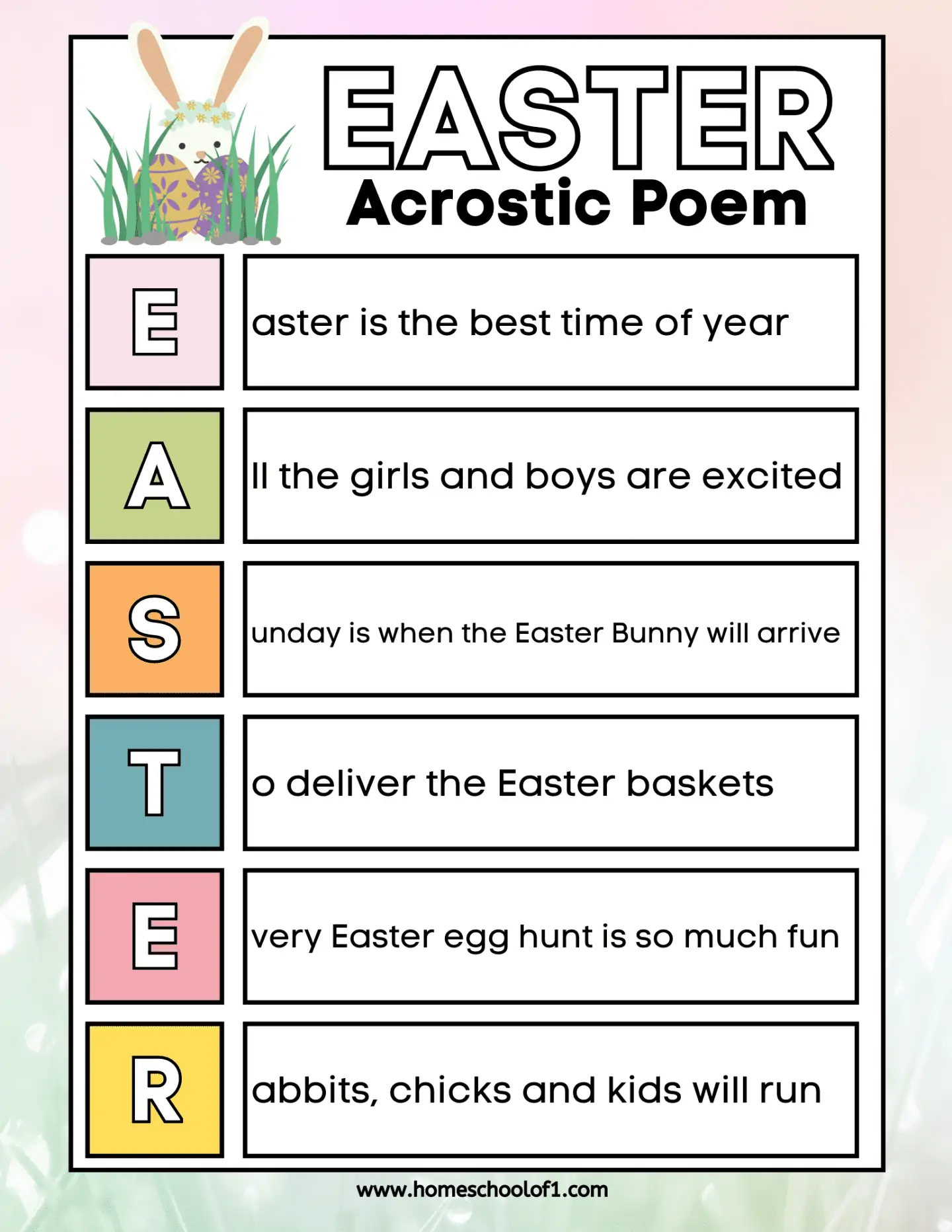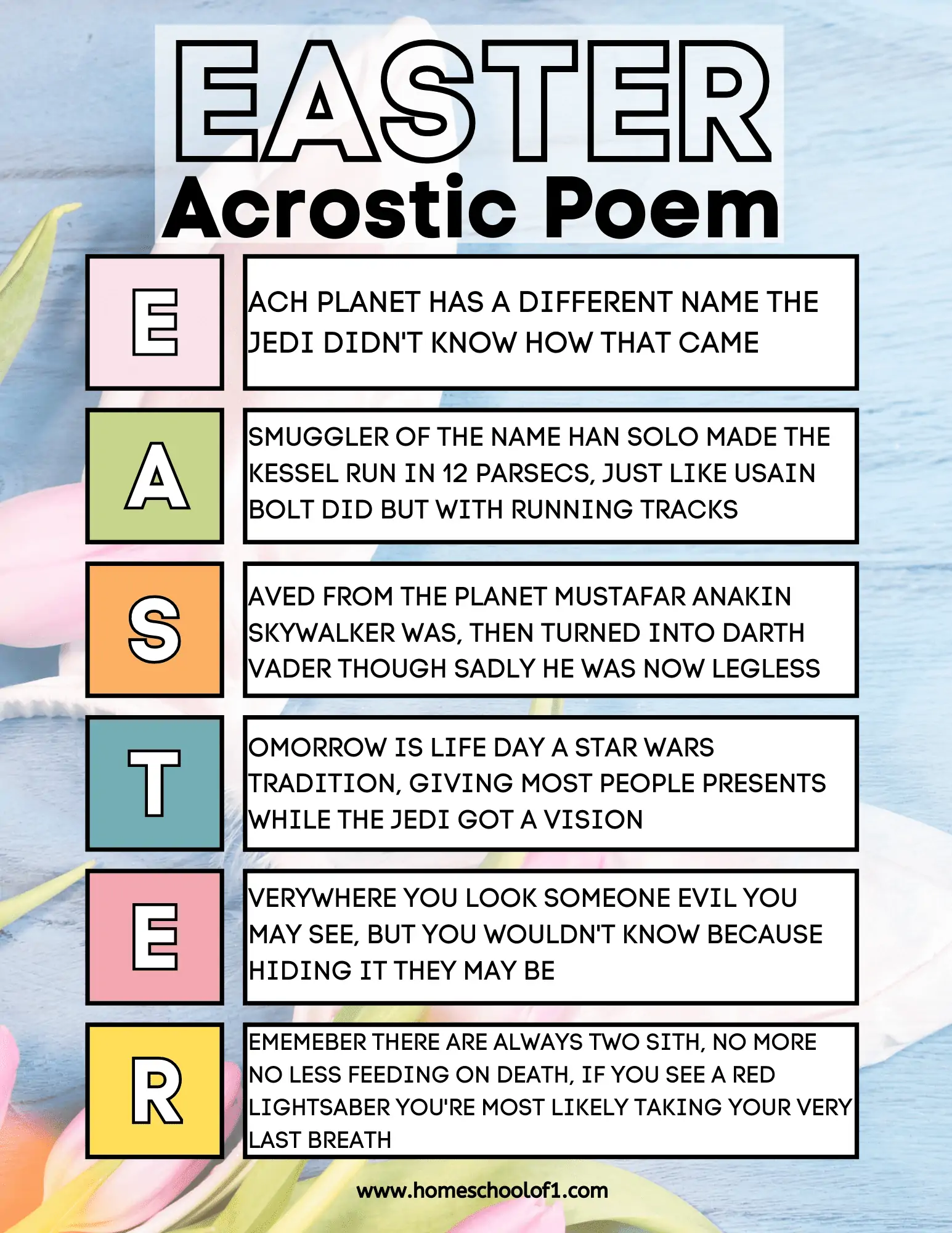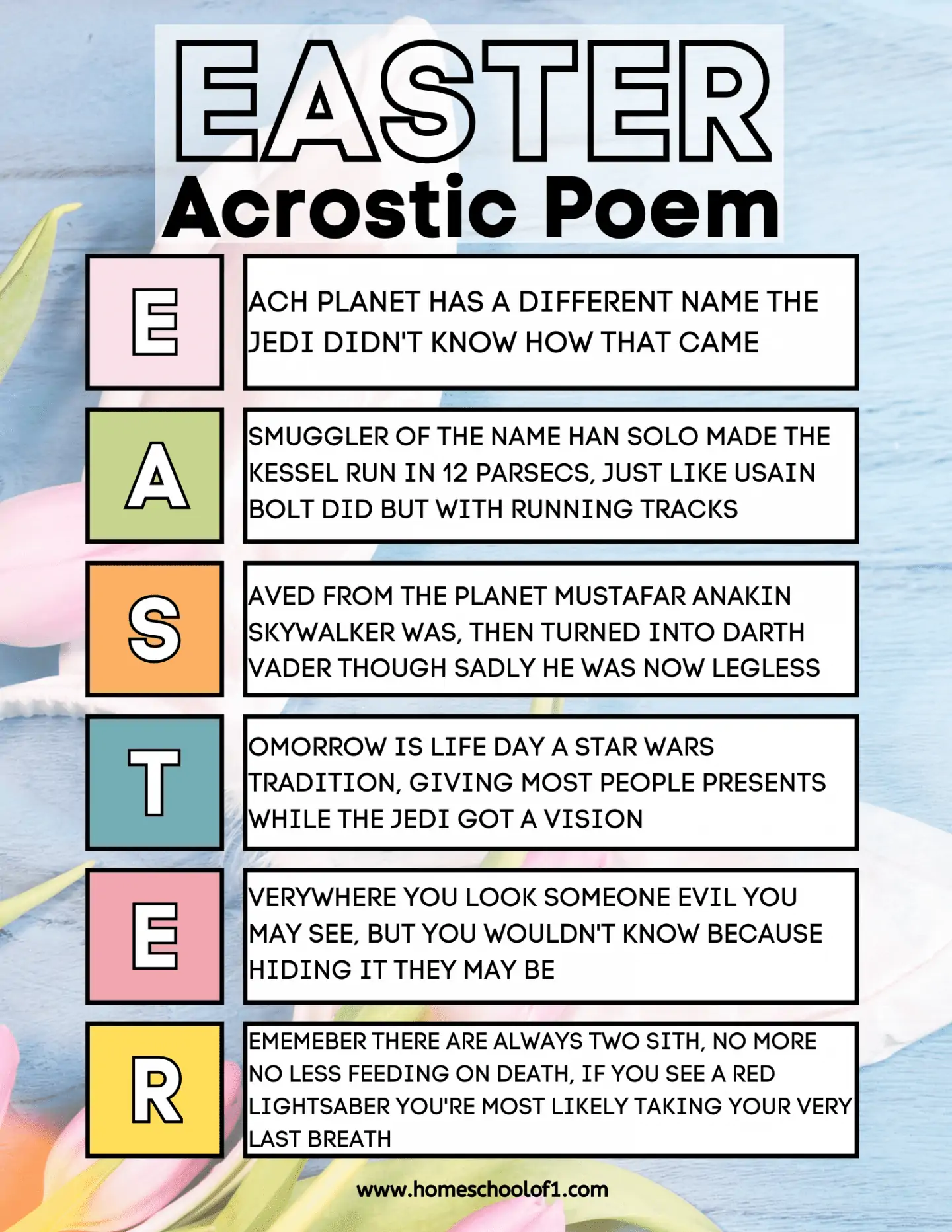 Easter is the best time of year,

All the girls and boys are excited,

Sunday is when the Easter bunny will arrive,

To deliver the Easter baskets,

Every Easter egg hunt is so much fun

Rabbits, chicks and kids will run.
Each planet has a different name the Jedi didn't know how that came,

A smuggler of the name Han Solo made the Kessel Run in 12 parsecs, just like Usain Bolt did but with running tracks,

Saved from the planet Mustafar Anakin Skywalker was, then turned into Darth Vader though sadly he was now legless, ,

Tomorrow is Life Day a Star Wars tradition, giving most people presents while the Jedi got a vision,

Everywhere you look someone evil you may see, but you wouldn't know because hiding it they may be,

Rememeber there are always two Sith, no more no less feeding on death, if you see a red lightsaber you're most likely taking your very last breath.
As you can see from above we are huge fans of Star Wars in our home! Check out our other popular Star Wars-themed posts: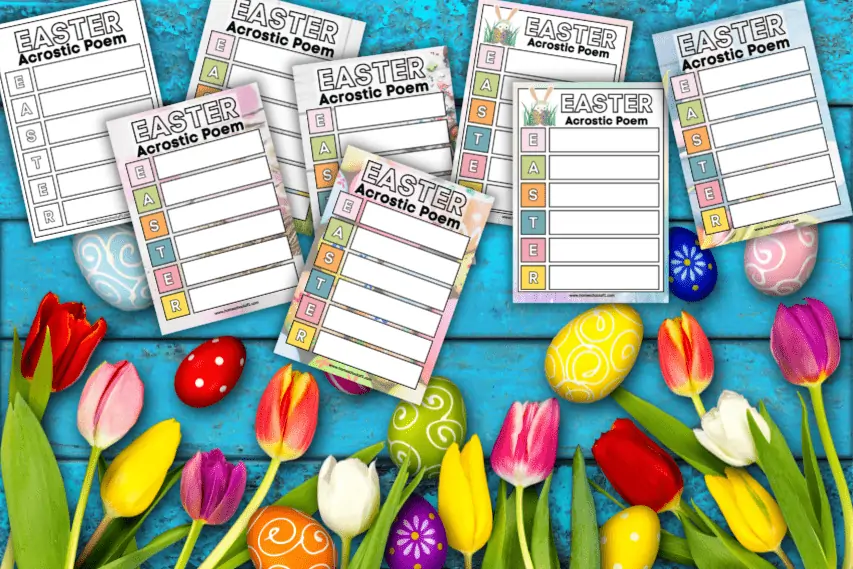 Poem Books For Kids
Acrostic poems are a great way to get the kids to enjoy poetry but don't stop there. These kids poetry books will continue their love of poetry.
Revolting Rhymes by Roald Dahl, we are huge fans of all his books including this one. Check out our favorite Roald Dahl Day activities for September.
National Geographic Book of Nature Poetry
Write Your Own Haiku for Kids: Write Poetry in the Japanese Tradition – Easy Step-by-Step Instructions to Compose Simple Poems.
Other Easter free printables
Additional acrostic poem templates
Continue the fun with poetry with these acrostic poem templates:
Tips for downloading the free files
Below you will see a large sign-up box where you need to add your name and email address, and press I NEED THIS NOW!
Within minutes you will be sent the free PDF directly to your email address, so you can print it out and start using it immediately.
Sometimes emails get a little wonky, so if you can't see it, please check your spam folder where I am sure it is hiding.
Download Easter Acrostic Poem Templates
Make sure you choose the correct paper size and click on the shrink to fit button. All of our free printables for kids work better when printed on cardstock (this is the one we use and love.)
Last Updated on 2 October 2023 by homeschoolof1