Exemplar Education Review: from a Homeschool Family
We have recently come across Exemplar Education, which is a fantastic online tutoring resource for kids.
Exemplar Education is now our go-to platform for maths and English.
If you are looking for some more of the best homeschooling programs UK has to offer, check out over 100 of our favourites.
What is Exemplar Education?
Exemplar is an online tutoring system for maths and English for all school-aged children. All work is based on the national curriculum and offers 24 hours of qualified teacher support. It is like having a personal tutor, just without the huge price!
This is not a cheap program, but, with the amount of information and 24-hour support it is worth it. The cost is roughly between £17 – £20 per week per family (not per child). Which only equates to one coffee a day from the likes of Starbucks!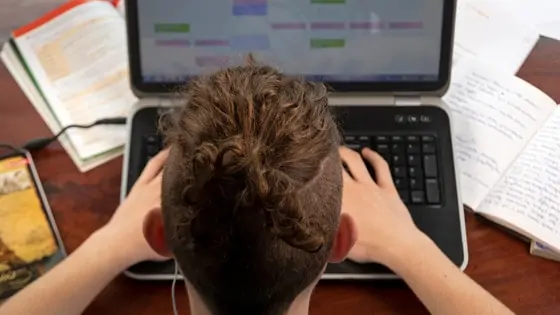 This is aimed at school children who need some extra support with their homework and is used a lot in schools. But, as a home educator, this is fantastic, as it follows the national curriculum.
**Disclosure: I was compensated for my time to write this post. As always, all thoughts and opinions are my own. I only share resources that I would use with my own family and those that I believe other homeschool families will enjoy. There may be affiliate links in this post.**
MyTutor is another UK tutor that you may enjoy when the kids are starting GCSE's and A-Levels. Check out our MyTutor review for more information.
Initial Contact with Exemplar Education
The first contact you will have is one of their trained assessors will come to your house to discuss the package. We had Matt visit us on a Sunday afternoon. Which is great as I wanted my husband to be here to understand it too.
He spent about 2 hours with us talking to us about Exemplar and assessing my son's level in maths and English.
After the assessment, which was one piece of work for both maths and English. Matt then set up the correct academic year.
We were actually quite surprised that although my son is always advanced in maths he got some simple year 3 questions wrong. This worked out well, as these were just simple building blocks that I hadn't noticed he hadn't quite grasped.
Matt set up our accounts, a parent account for me, and a child's profile.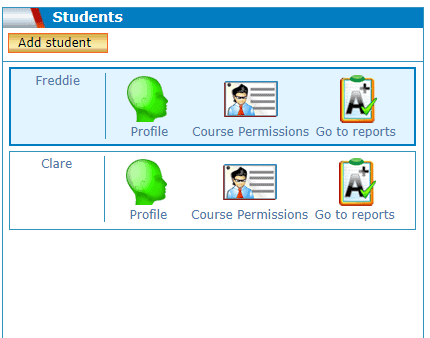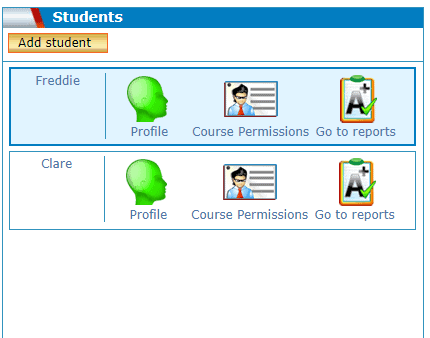 He talked in-depth about the video tutorials and showed us some examples, so we were very confident with how to use it when he left.
Exemplar Education Login For Maths
The Monday after Matt had set us up we were itching to start this programme. With maths, my son had to do an initial year 3 assessment to see which questions he struggled with.
After completing this test, the questions that he got wrong, were lessons that needed to be completed. This can be seen below. This shows that he has now passed all lessons and got a gold (100%) in his end of course assessment.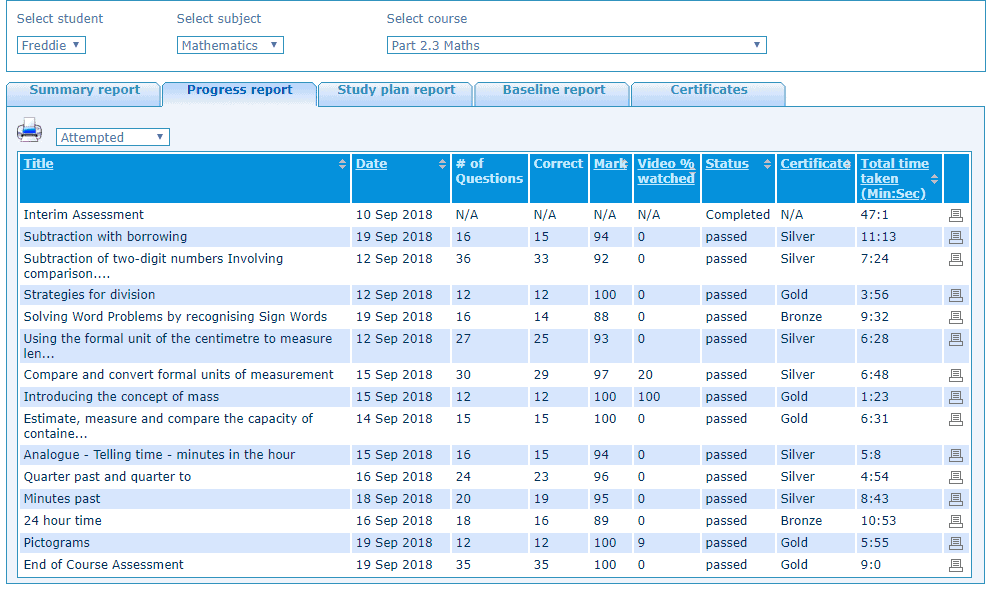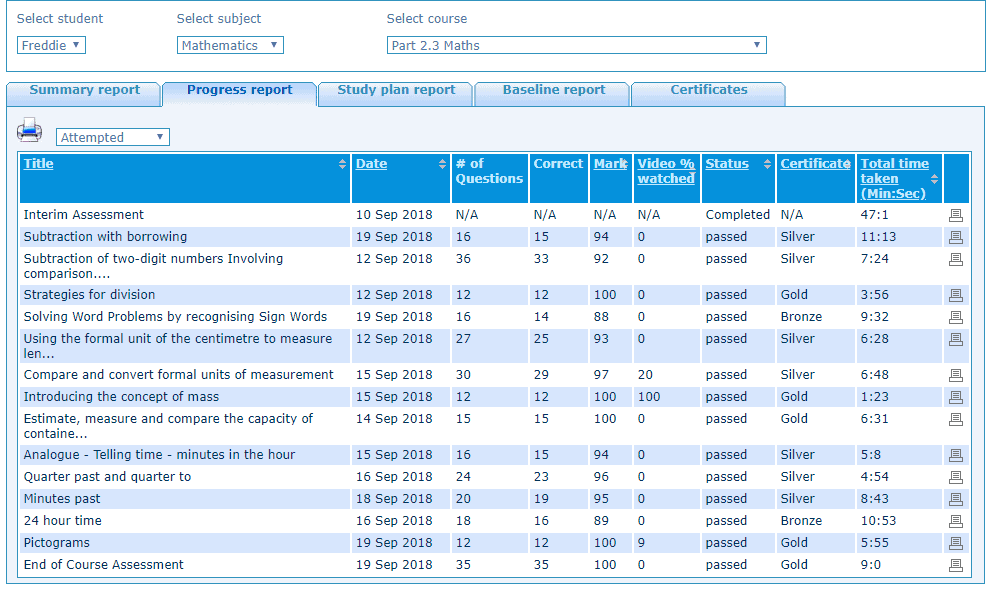 Within each lesson, there is a practice lesson, a video tutorial and an assessment.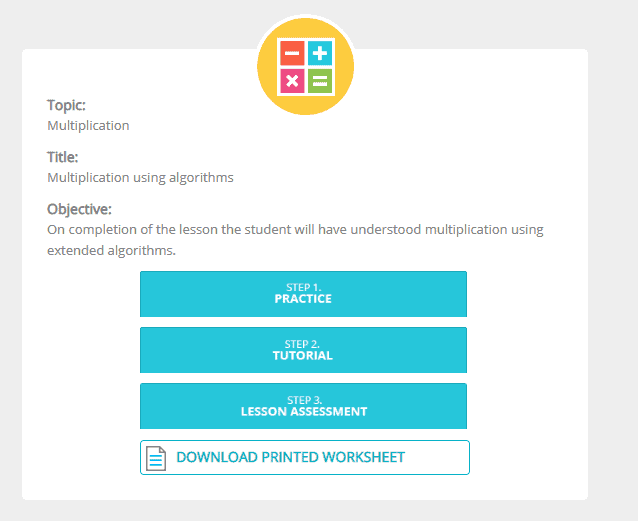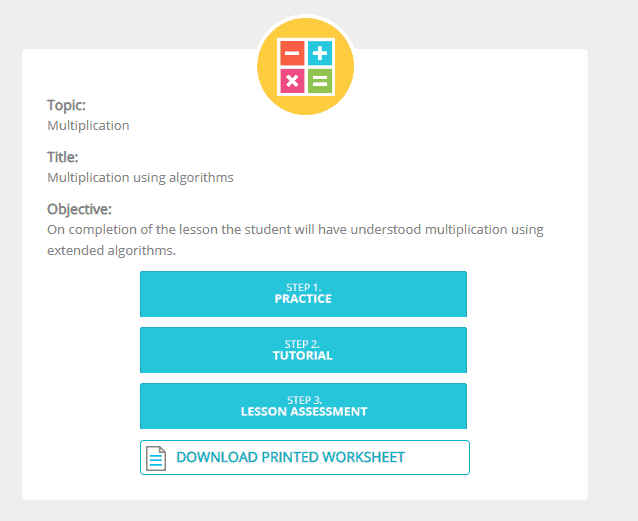 As you can see there are printed worksheets that you can download, personally, we don't use them as we use our own workbooks. But these are super helpful.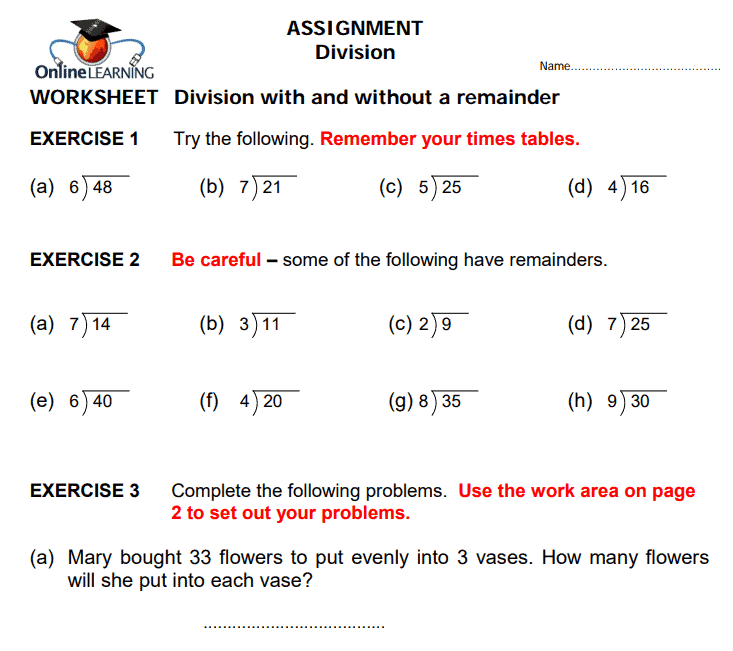 Once all the lessons have been completed. It depends on how many from the initial assessment they got wrong. The children have to complete an end of year assessment. If they get 100% they move to the next academic year.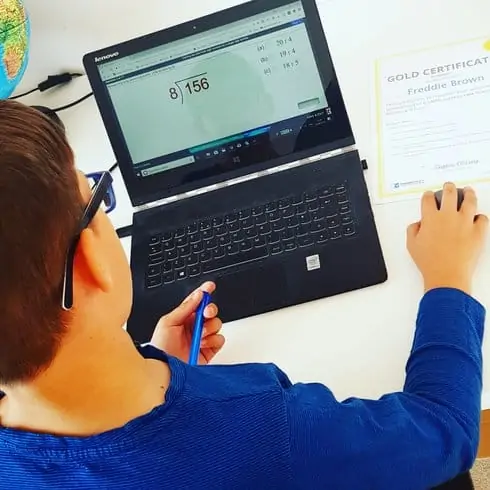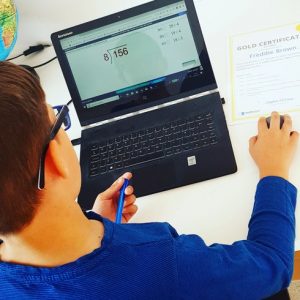 Exemplar Education Login For English
This is slightly different as there is no initial assessment. Once the trained assessor has been out to your house they will have put your child into the academic year that the test shows them.
In my son's case, this was year 4 (the year he would be going into in September if he attended school.)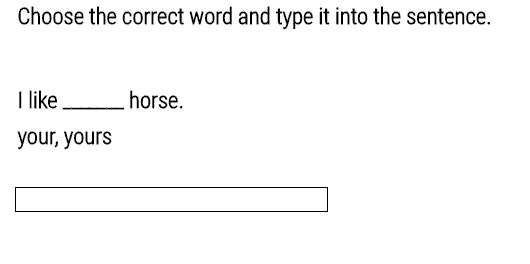 There are 43 lessons in this academic year, again with videos and they follow the English national curriculum.
Certificates and Praise with Exemplar Education
Another reason I love Exemplar Education is that after every lesson my son passes both myself and my husband get an email telling us.
It shows us what questions they got wrong if any, and what their pass mark was. The standard pass mark is 80% which we use, but this can be changed if required.
Bronze is 80-89%, Silver 90-99%, and Gold is 100%.
There are certificates too, which the parent will get notified of. As soon as the child gets 5 lessons in bronze, silver or gold they get a certificate.
These are a real boost of confidence for the child.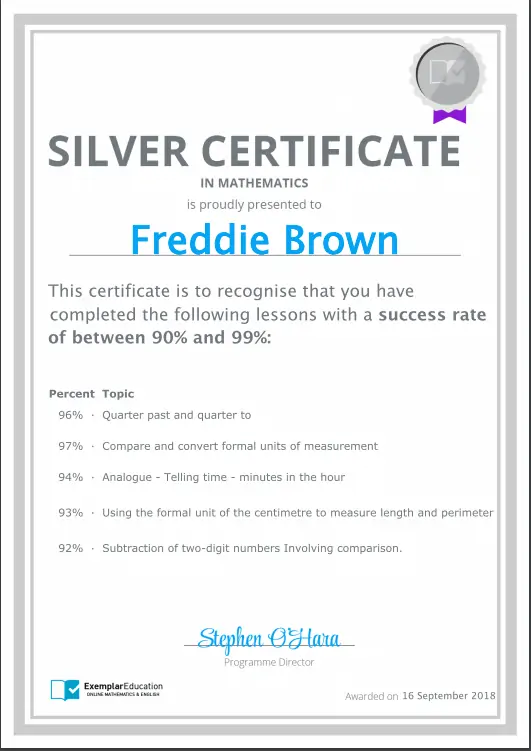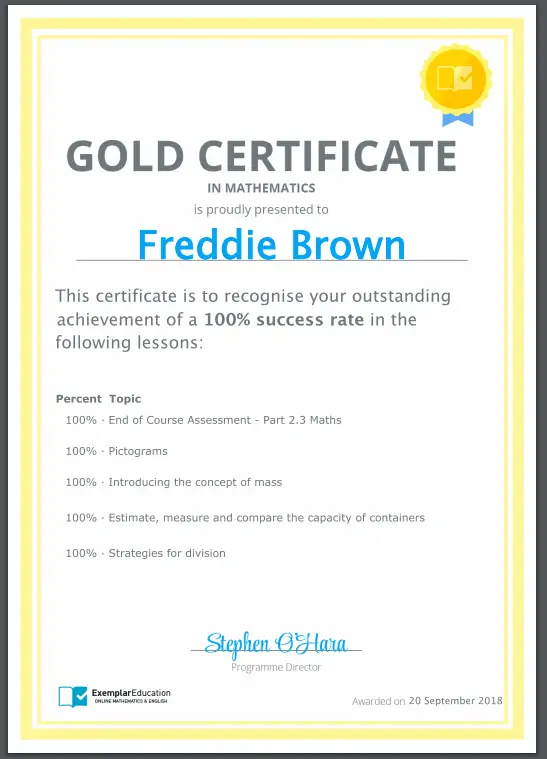 Extra Support with Exemplar Education
This is another amazing tool. If you are stuck on a question you can either call or email a trained teacher. How fantastic is this! It's like having your own personal tutor that you have full access to!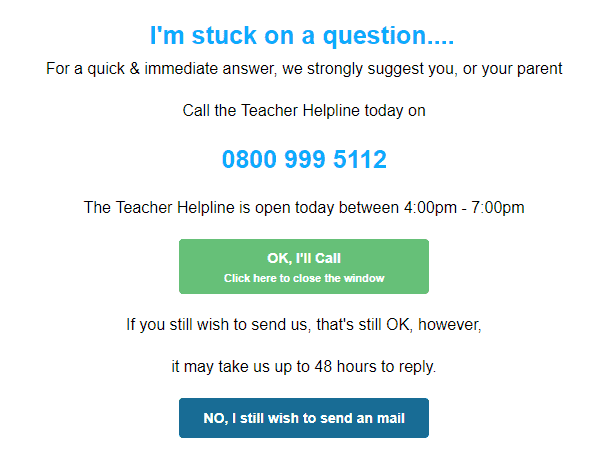 Exemplar Education Reviews
As a parent, you can see absolutely everything your child has done, which is a massive benefit to us. I can see how long he has taken and what grade he is getting at each lesson. So I can help him with the subjects he hasn't quite grasped.
When he was at school I had to wait for an end of year report to actually find out how he was getting on academically. But with Exemplar, I know straight away what his strengths and weaknesses are.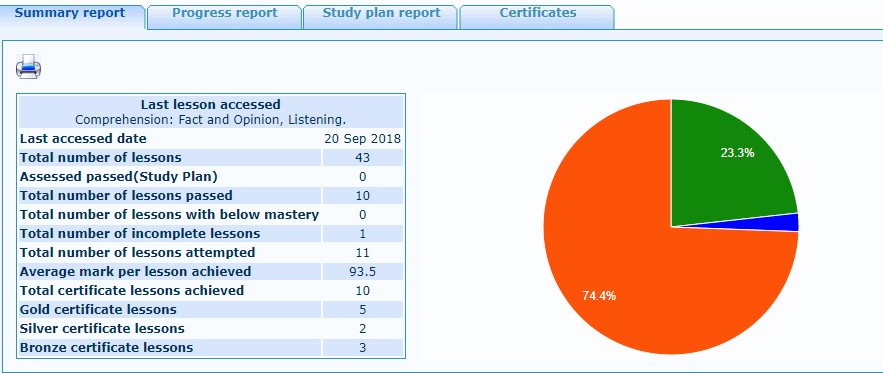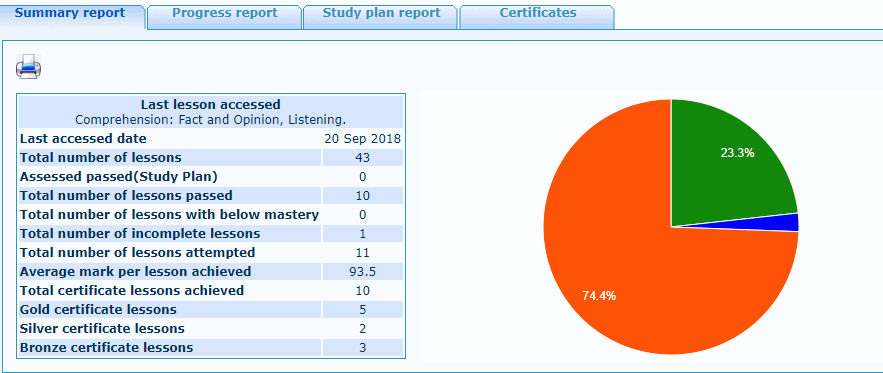 Both myself and my son love Exemplar.
I know as a home educator he is learning the national curriculum and he finds the lessons very easy to work through.
This, of course, isn't just for home educators. This is a fantastic tool for any child who is struggling at school with certain areas or is not being pushed enough.
You can take it at your own pace, and you can do it anywhere as it is a cloud-based system. So when we visited France recently he still did his lessons.
The other benefit of this system, although it doesn't apply to us, is that you can set up for as many children as you have. So if I had 4 children at different abilities this would be set up for all 4 children at the same cost.
We love Exemplar and can not recommend it enough. If you want a free initial assessment follow this link and they will get in touch.
If you are looking for even more homeschool curriculum reviews check out the others we have reviewed over the years.
Exemplar Education Cost
There are several different ways you can pay for Exemplar. One of those is through a payment agreement. It's the same as if you buy a sofa. If you choose to pay that way you are taking out credit from their credit provider. This means you have a set period to pay the credit back.
The credit is 0% so it doesn't cost anything to do it that way. It just allows you to spread the payments out over 12, 24, 36, 48 or 60 months.
Private education and tutoring are never cheap, so as with anything if there is 0% finance available, most people take it. Although you can always pay cash upfront if you prefer.
As with any financial contract, there's a 14-day cooling-off period. Once that's passed, as per the agreement the client has signed, they will be in contract.
Exemplar is monitored and guided by the FCA so everything is above board. The client receives all the paperwork and they even get the cancellation policy part in a separate document to sign again that spells it out in very simple and plain English. It's called the Customer Clarification & Satisfaction Form.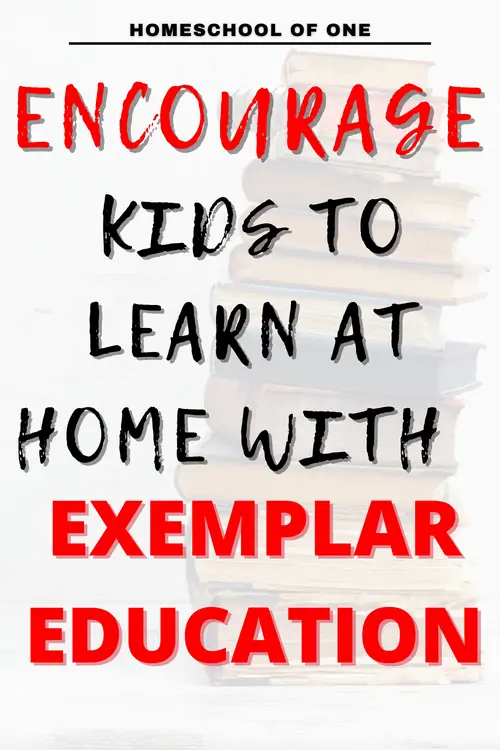 Exemplar Education Cancellation Policy
Families have the choice to purchase Exemplar Education outright. Or alternatively, may choose the monthly payments plan option. As such once you sign up for Exemplar you can not cancel. There is a finance agreement similar to a sofa (for example), so there is no cancelling.
I think you will also enjoy
Last Updated on 11 August 2023 by homeschoolof1