Free Fall Bingo Printable for Kids
If you are looking for something fun to do with the kids then look no further than our free fall bingo printable.
This is a perfect activity for the classroom, in your homeschool, or just with friends and family in September, October, or November.
These fun holiday activities for kids are a wonderful way to create lasting memories and keep the little ones entertained throughout the festive season.
**There may be affiliate links in this post. You can read my full disclosure at the bottom of the page.**
What are the benefits of playing fall bingo with preschoolers?
Playing fall bingo with preschoolers offers a range of benefits that contribute to their cognitive, social, and emotional development. Here are some of the advantages:
Fall bingo introduces preschoolers to new vocabulary related to the season. As they listen to the caller and identify images on their bingo cards, they learn to associate words with visual representations, enhancing their language skills and expanding their vocabulary.
Preschoolers develop their ability to differentiate between various images and symbols on the bingo cards. This promotes visual discrimination skills, helping them recognize subtle differences and patterns.
Engaging in a game of fall bingo requires preschoolers to pay attention to the caller's announcements and their own bingo cards. This enhances their concentration and focus, which are important skills for learning and problem-solving.
Recognizing and matching images on the bingo cards with those called out by the caller strengthens preschoolers' visual recognition skills and enhances their ability to make connections between different elements.
Using pens, markers, or manipulatives to mark off called images on their bingo cards promotes fine motor skills. This activity encourages the development of hand-eye coordination and the refinement of hand movements.
Fall bingo is played in a group setting, which provides an opportunity for preschoolers to practice important social skills such as taking turns, sharing, and interacting with peers.
Listening attentively to the caller's announcements and identifying the corresponding images on their bingo cards fosters active listening skills, a fundamental aspect of effective communication.
Celebrating wins and shouting "BINGO!" when they successfully complete a row of images offers preschoolers a sense of accomplishment and reinforces positive behavior.
Fall bingo incorporates images associated with the season, fostering preschoolers' understanding of autumnal elements like leaves, pumpkins, scarecrows, and more.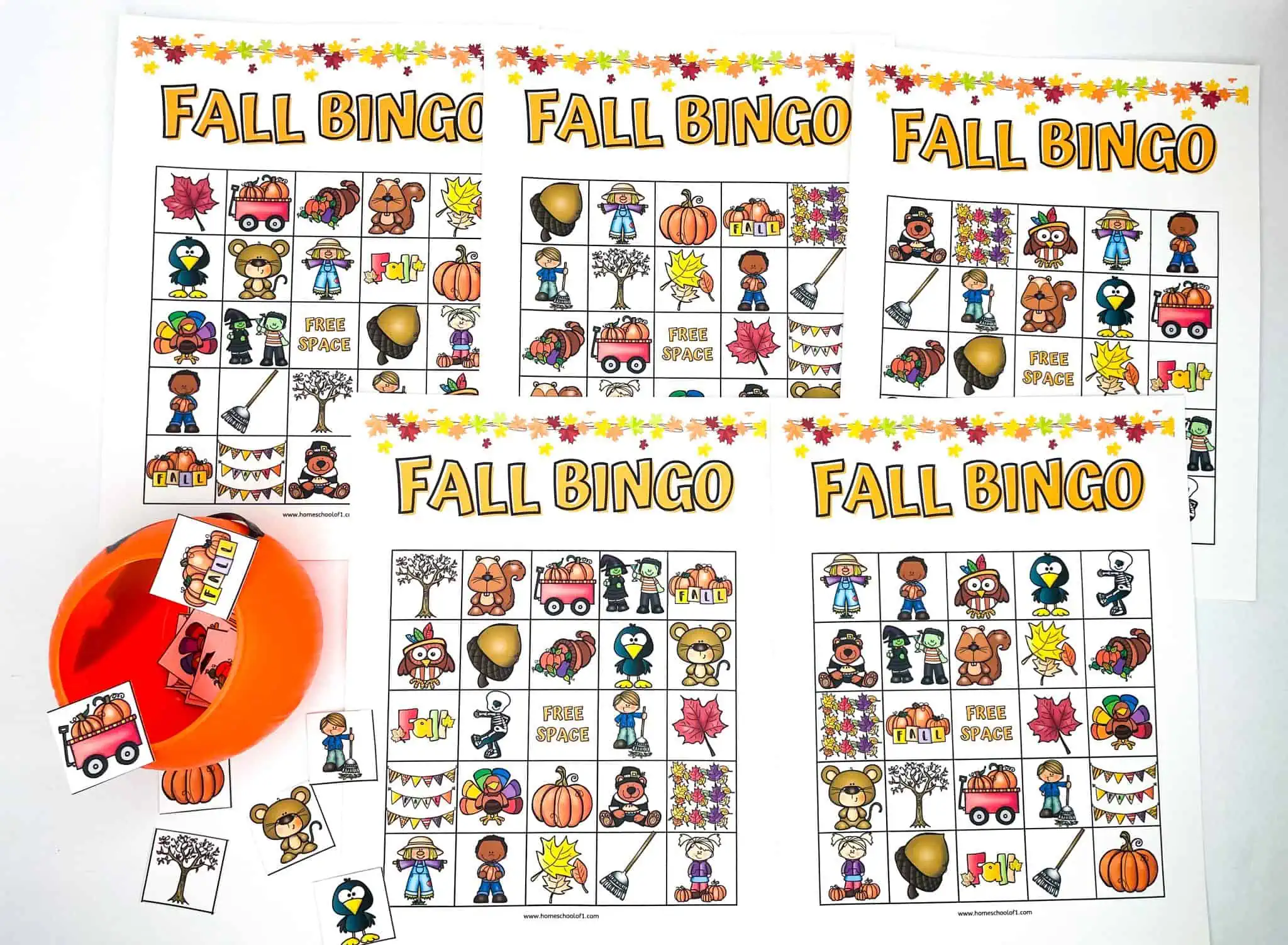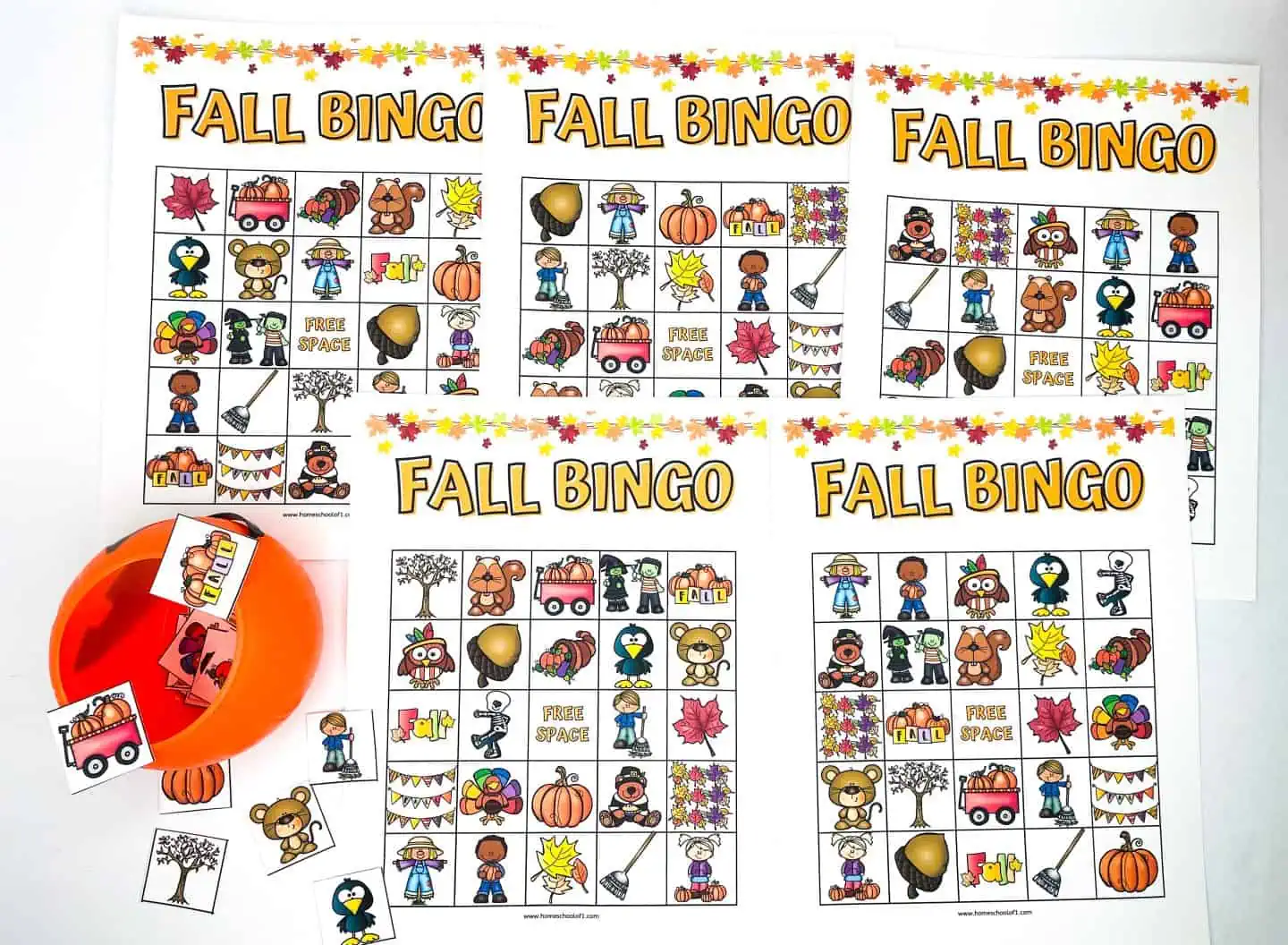 Bingo in the Fall
This is such a simple game, and yet it is so much fun to play.
Included are 5 x free printable bingo cards (5×5) and a bingo calling card.
Supplies Needed:
How to set up the fall bingo game:
Print out the game (either in color, or black and white) we like to use cardstock, but any printer paper will work. It will print on 6 pages.
The first 5 pages are the actual bingo boards.
Use a laminator on these 5 bingo cards so they can be reused (optional.)
The last page is the bingo calling card that needs to be cut up.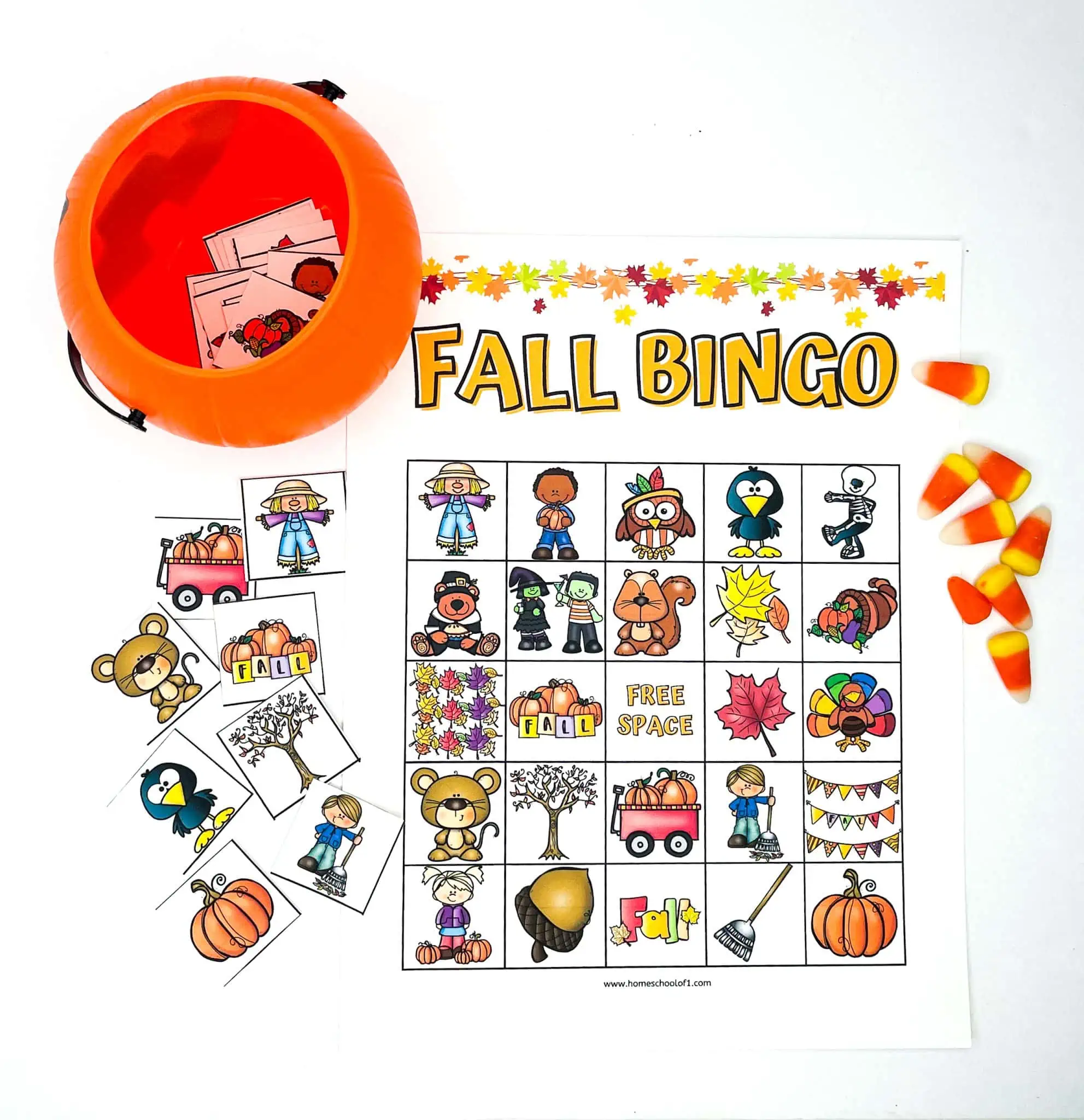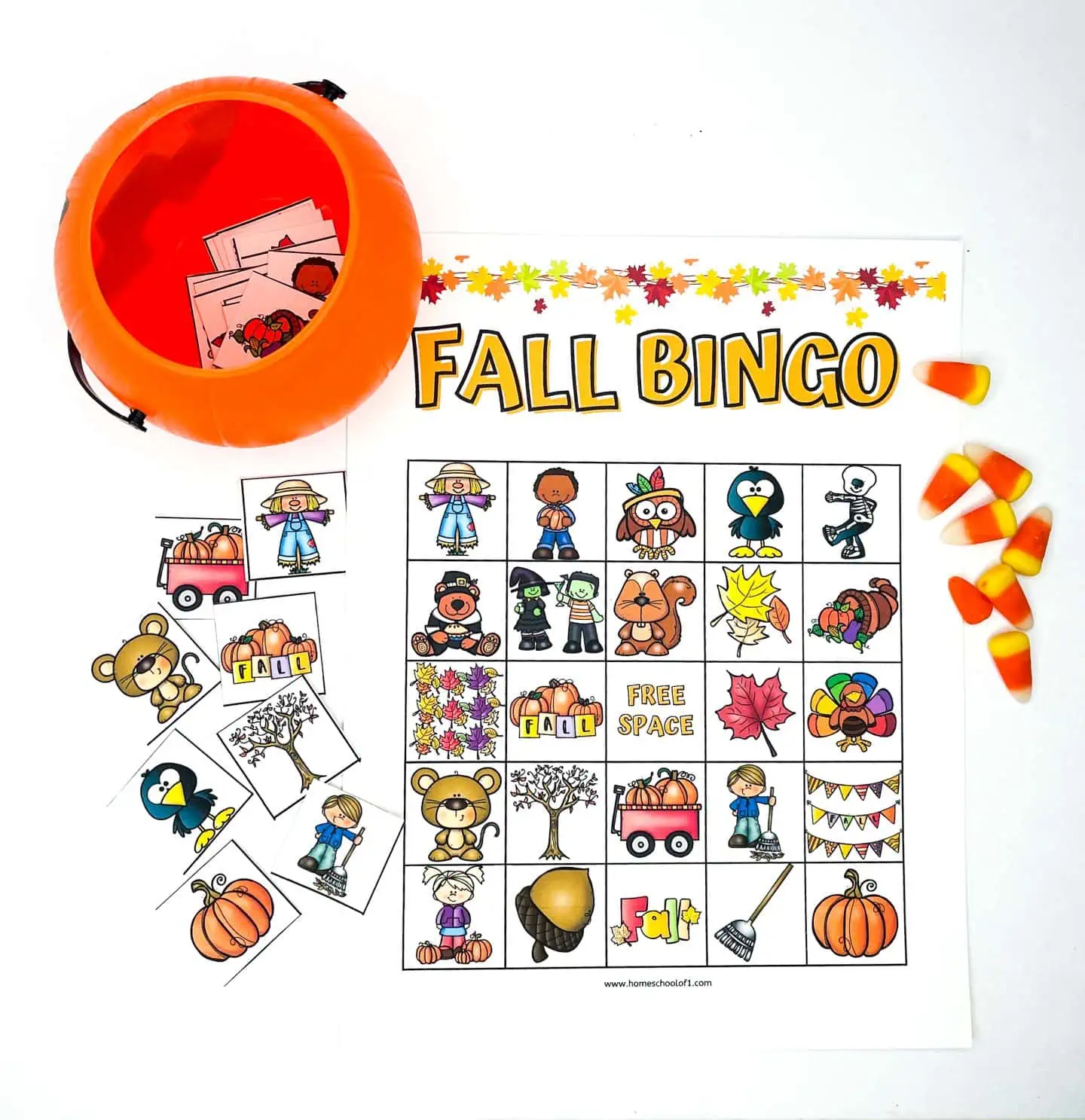 Grab your paper trimmer and cut out the images (or scissors if you have a steady hand!)
How to play the fall bingo game?
Give each player a fall bingo card. Ensure that each player has a unique card. If you're playing in a group, each player should have a different card to make the game fair and exciting.
Players should have their markers (dot markers or pens) ready to mark off the images as they are called.
The designated caller holds the stack of bingo calling cards.
The designated caller picks a bingo calling card from the stack and announces the image on the card. For example, "Pumpkin!"
Players who have the announced image on their bingo cards can mark it with their marker. This continues as the caller announces new images.
Players aim to mark off a pattern on their bingo card. The pattern can be a row (horizontally, vertically, or diagonally.)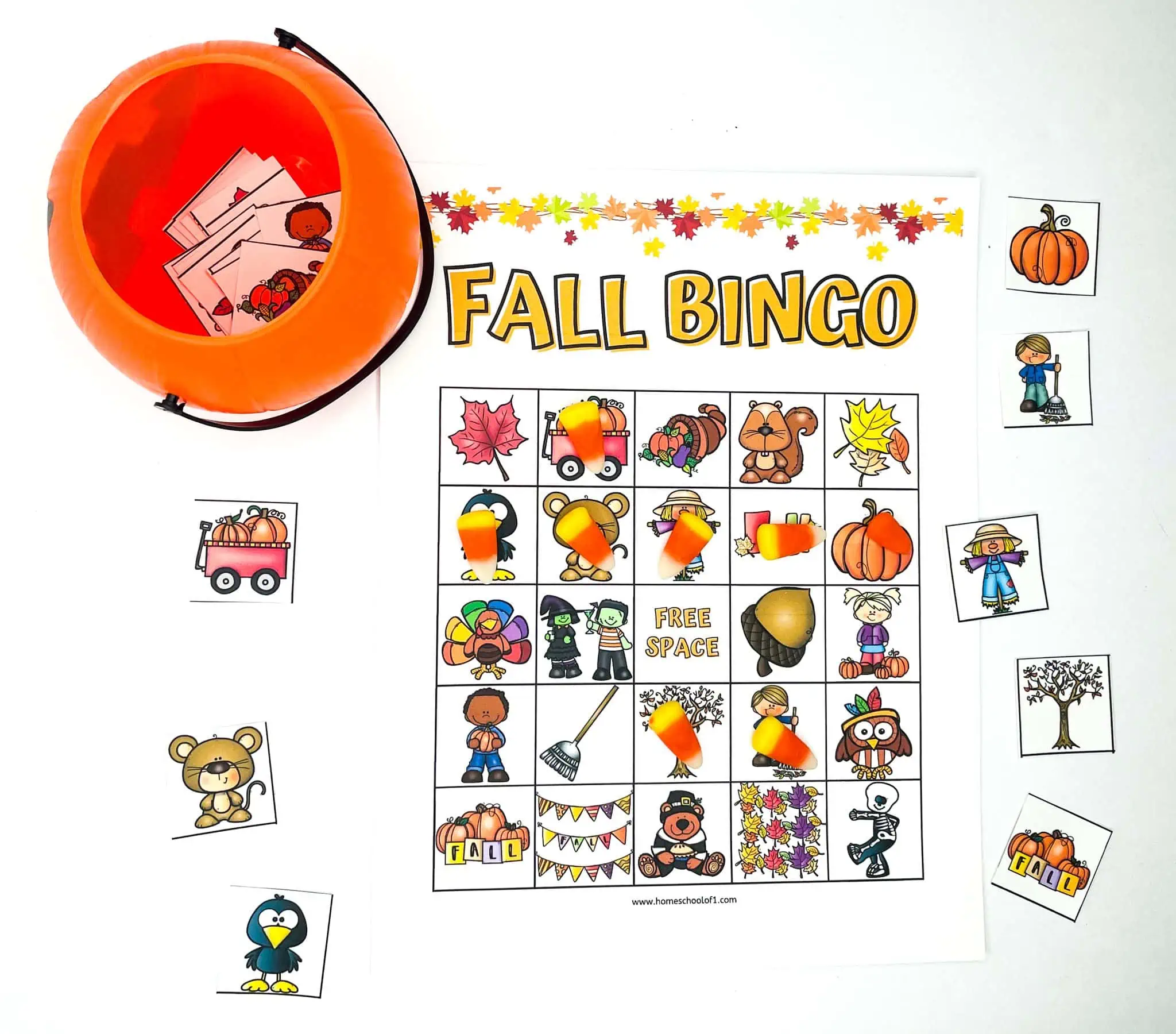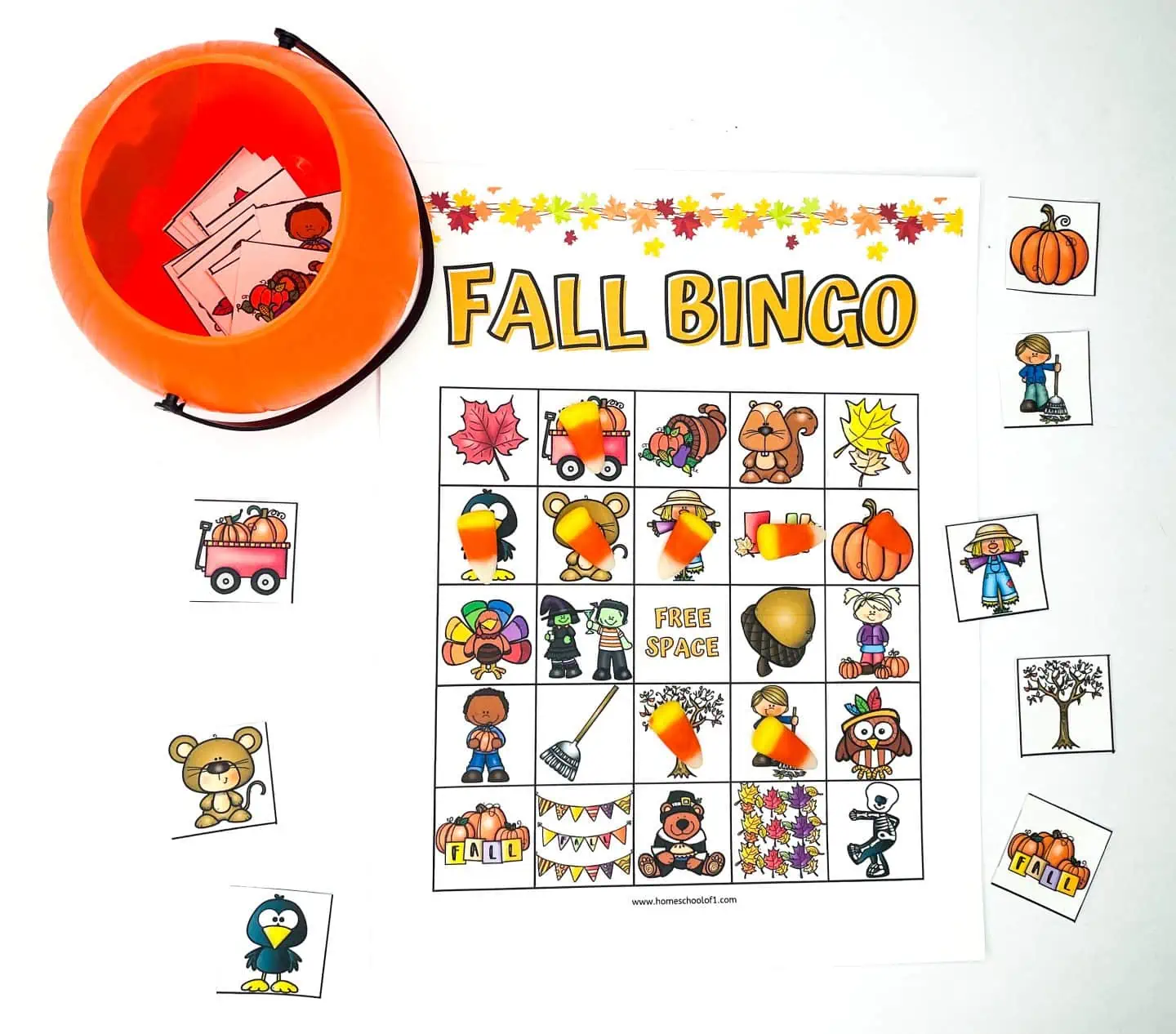 The first player to successfully mark off the required pattern on their bingo card calls out "Bingo!"
The caller verifies the pattern and the marked images to ensure that the player has a valid bingo.
If the player's bingo is valid, they are declared the winner of that round.
If you're playing multiple rounds, you can reset the cards and start a new game with a different pattern.
Remember, the rules of fall bingo can be adapted to suit the age and preferences of the players. You can make it as simple or as challenging as you'd like.
The goal is to have a wonderful time, enjoy the fall-themed images, and create joyful memories with friends and family.
Additional fall printables
Add even more free fall printable activities this autumn:
The kids will also love our free fall scavenger hunt printable, adding an exciting element to their seasonal exploration.
If you are looking for more fall activities, you will love our free fall alphabet worksheets. And our free fall printable coloring pages, which provide engaging and educational entertainment.
Don't forget to check out our fall bookmarks to color and fall scattergories for older children.
These will keep the kids entertained all autumn long. Add some fall songs for infants to listen to and you will have the best season ever.
Other free bingo games
We absolutely love playing bingo. It brings back childhood memories for me, and it is such a fun and easy game to play.
If you love bingo too, why not grab our Halloween bingo printable and our free printable Thanksgiving bingo cards too?
For more bingo excitement, we have:
With this wide array of options, you'll have endless opportunities for entertaining and engaging bingo gameplay throughout the year.
Books about fall for preschoolers
Add a new book set in the fall to your lesson plans this autumn. These are the top 5 books:
Bestseller No. 1
Sale
Bestseller No. 2
We're Going on a Leaf Hunt
Steve Metzger (Author)
English (Publication Language)
32 Pages – 08/01/2008 (Publication Date) – Cartwheel Books (Publisher)
Sale
Bestseller No. 3
Sale
Bestseller No. 4
Leaf Man
Hardcover Book
Ehlert, Lois (Author)
English (Publication Language)
40 Pages – 09/01/2005 (Publication Date) – Harcourt (Publisher)
Sale
Bestseller No. 5
Tips for downloading the free files
Below you will see a large sign-up box where you need to add your name and email address, and press I NEED THIS NOW!
Within minutes you will be sent the free PDF directly to your email address, so you can print it out and start using it immediately.
Sometimes emails get a little wonky, so if you can't see it, please check your spam folder where I am sure it is hiding.
Download the free printable autumn bingo
Make sure you choose the correct paper size and click on the shrink to fit button. All of our free printables for kids work better when printed on cardstock (this is the one we use and love.)
Last Updated on 26 November 2023 by homeschoolof1