41 Free Fall Printable Activities
Get ready to embrace the vibrant spirit of autumn with our collection of free fall printable activities.
As the leaves turn to fiery shades, these fall themed resources are the perfect way to celebrate the season's beauty.
From coloring pages to exciting holiday activities for kids, these free printables offer a delightful blend of fun and learning.
Whether you're a teacher looking to engage your students or a parent seeking creative ways to entertain the little ones, we have something for everyone.
Dive into the enchanting world of fall with our free printables, designed to add a touch of seasonal magic to your days.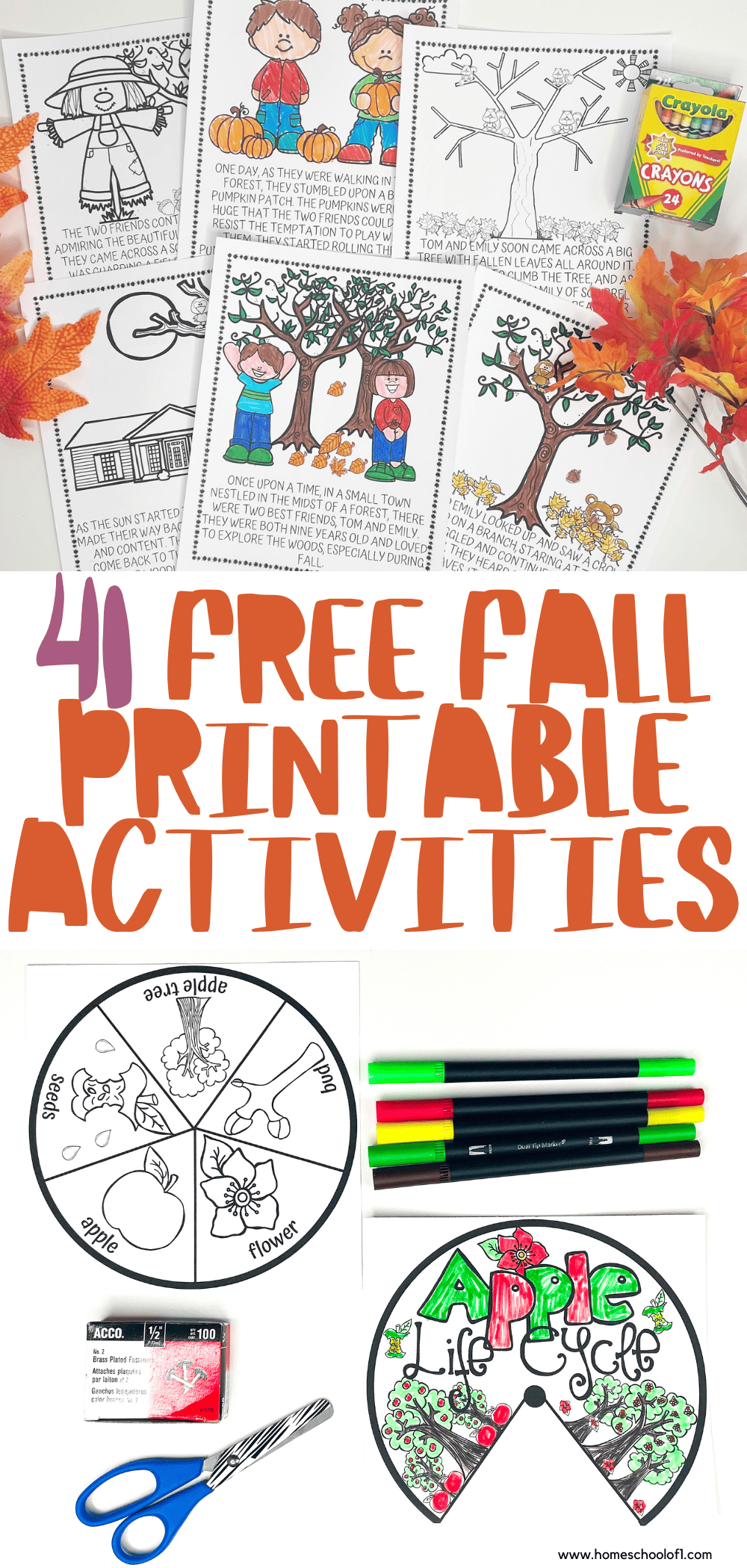 **There may be affiliate links in this post. You can read my full disclosure at the bottom of the page.**
Fall Printable Games
Prepare for a season of excitement with these entertaining printable fall games that capture the essence of autumn. These games are perfect for family gatherings, classrooms, or simply enjoying the season to the fullest.
Challenge your wits and creativity with fall scattergories, a word game where you need to think of items related to specific fall themed categories. Test your knowledge and imagination.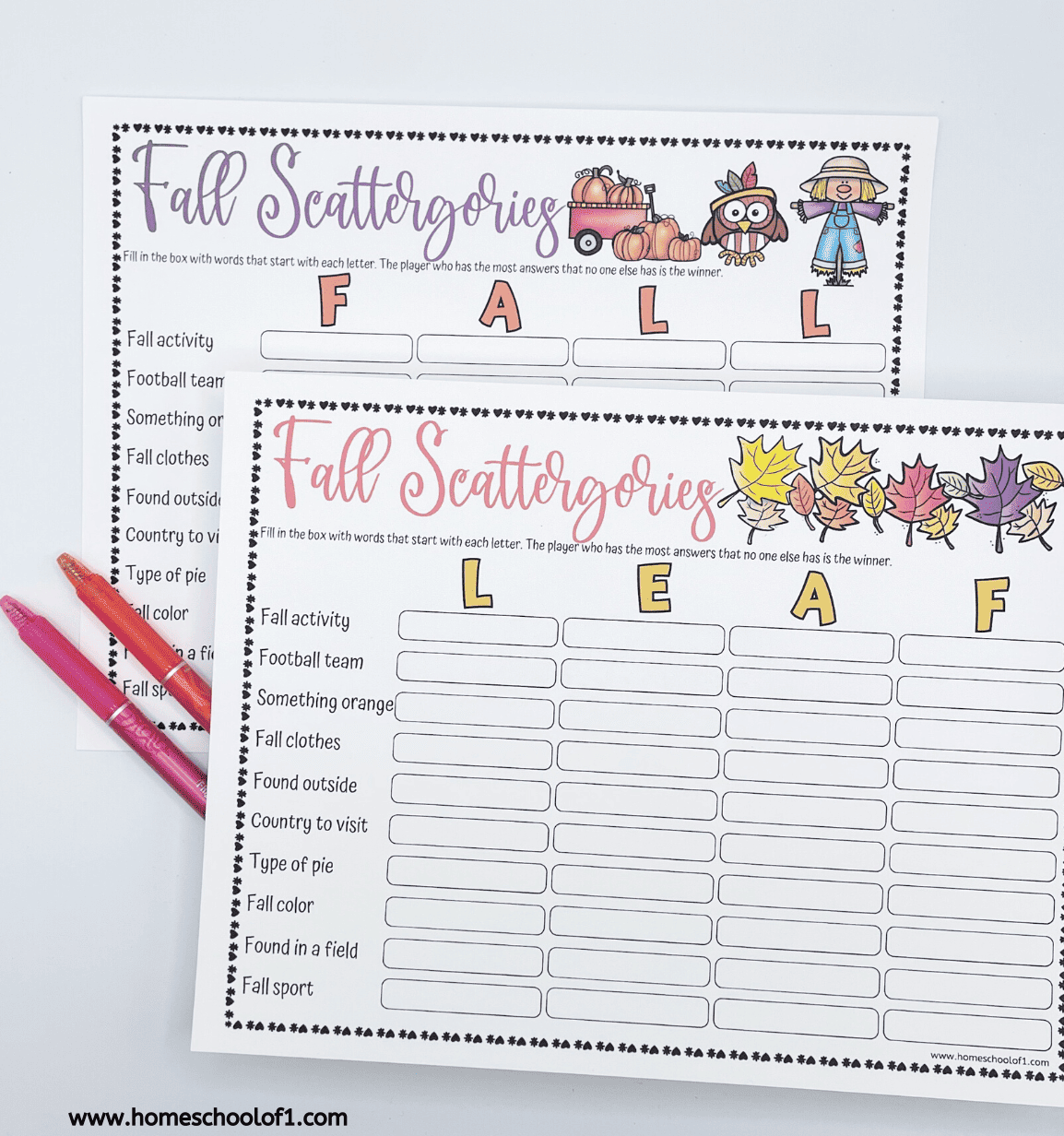 Fall bingo printables. Gather your family or friends for a round of bingo, featuring seasonal symbols like pumpkins, leaves, and scarecrows. It's a delightful game to play and celebrate the season.
Explore the great outdoors with a fall scavenger hunt. Whether it's in your backyard or a local park, this game encourages players to discover the beauty of autumn in a fun and interactive way.
Get ready for a lot of laughter with pumpkin mad libs. This hilarious word game lets you fill in the blanks with silly words, creating whimsical and sometimes absurd stories related to pumpkins.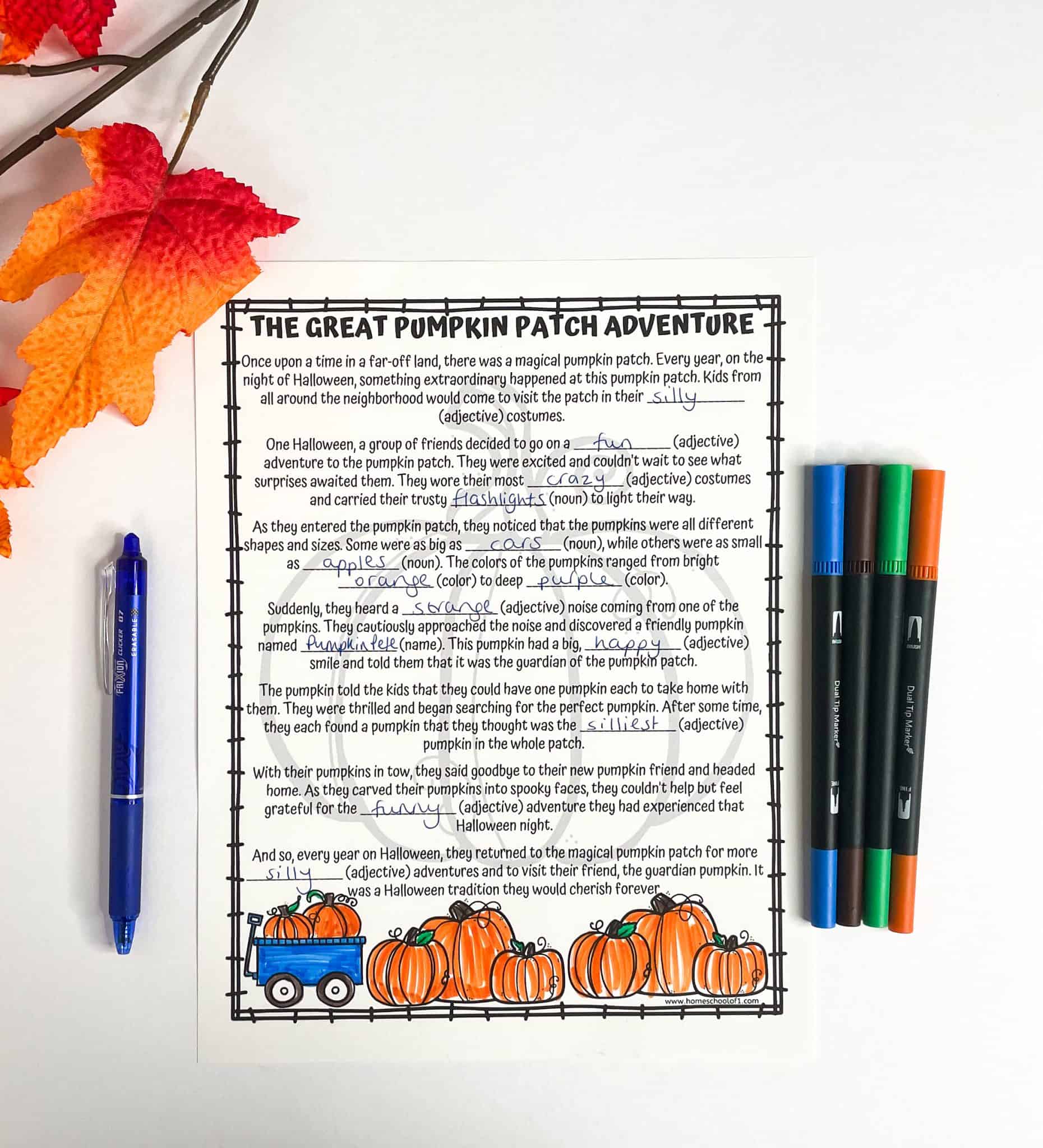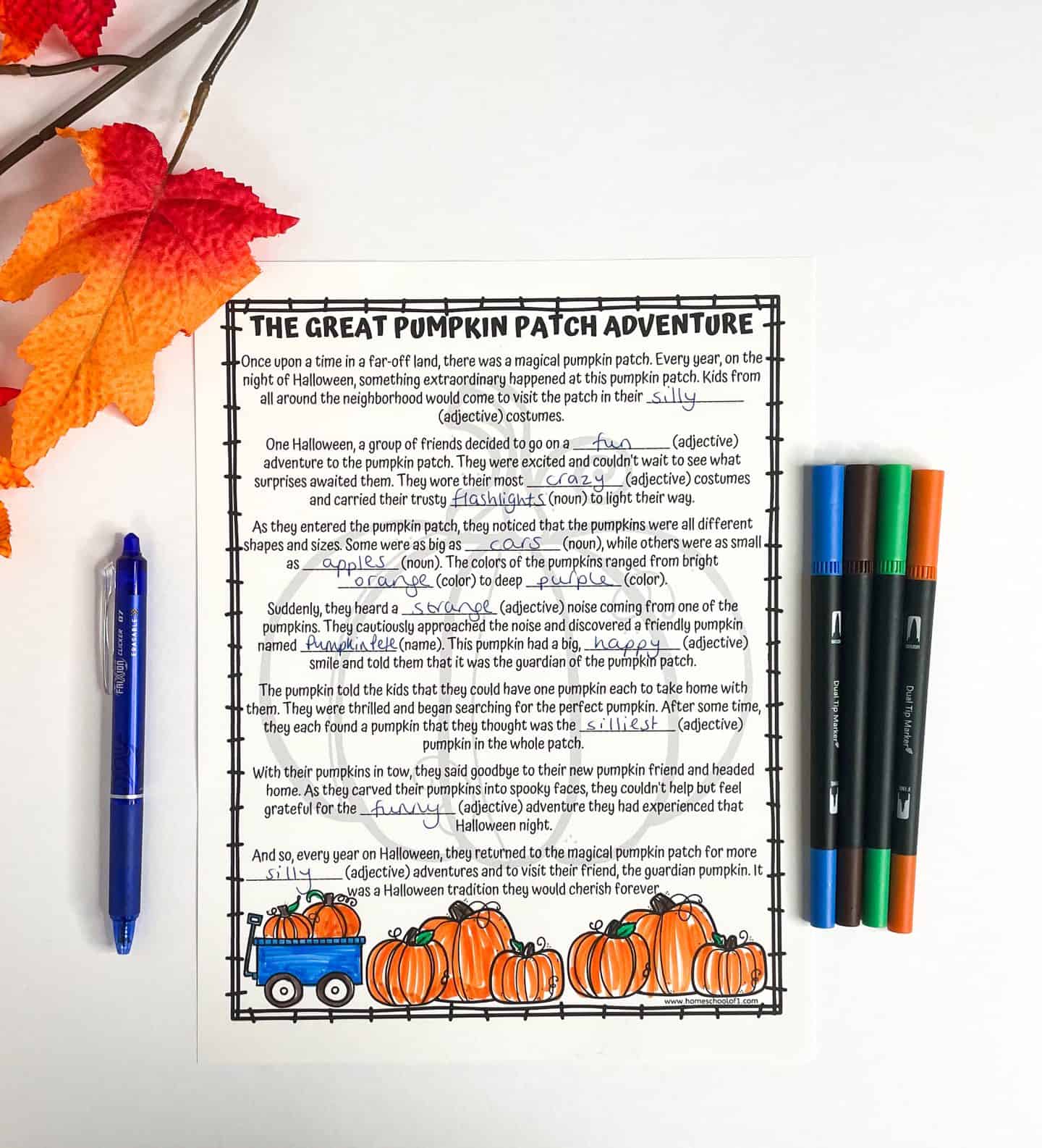 Fall photo challenge from Rock Your Homeschool. Capture the magic of fall with a photo challenge that encourages you to explore the season through your camera lens. Share your snapshots with friends and family to showcase your fall experiences.
Roll and color fall printable dice game from Darcy & Brian. Roll the dice and add a splash of color to your day with this engaging game. It's a fun and educational way to teach kids about numbers and colors while celebrating autumn.
You've been gobbled from The Art Kit Blog. Engage in a heartwarming tradition where you secretly leave treats on a neighbor's doorstep, and they do the same for someone else. Share kindness and gratitude during the fall season.
What Can You See in Fall? (Seasons)
Peter Rabbit and the Pumpkin Patch
Biscuit and the Great Fall Day (My First I Can Read)
The Scarecrow: A Fall Book for Kids
The Very Last Leaf
Pete the Cat Falling for Autumn: A Fall Book for Kids
Free fall printable coloring pages
Ready to dive into the autumn vibe? We've got these awesome free fall coloring pages for you. It's all about embracing the fall beauty and letting your inner artist shine. So, grab those coloring pens, and let's have some seasonal fun!
Free fall printable coloring pages aren't just about filling in colors. They also weave a captivating story as you color. Get ready to embark on a colorful journey that's perfect for the little ones.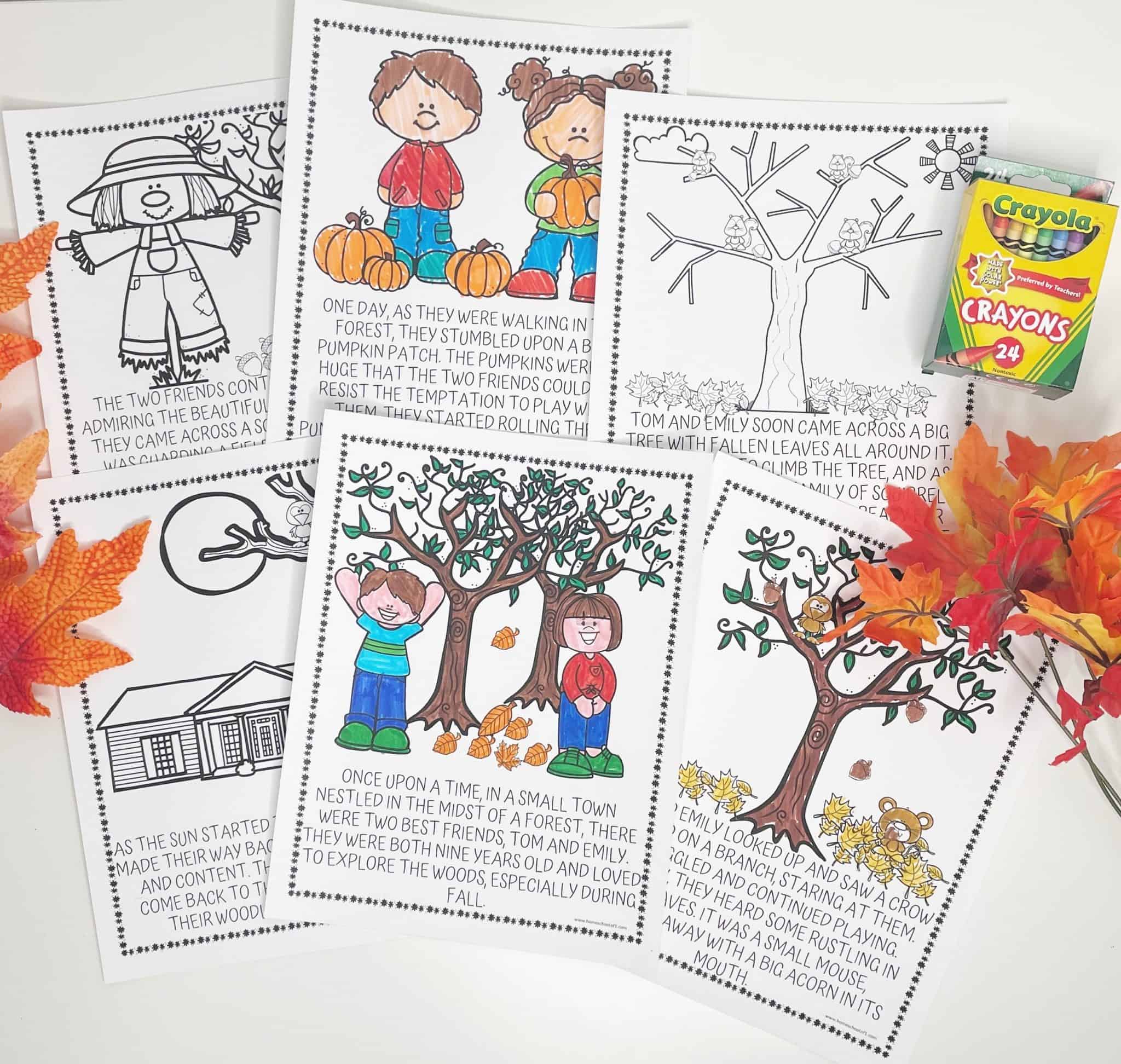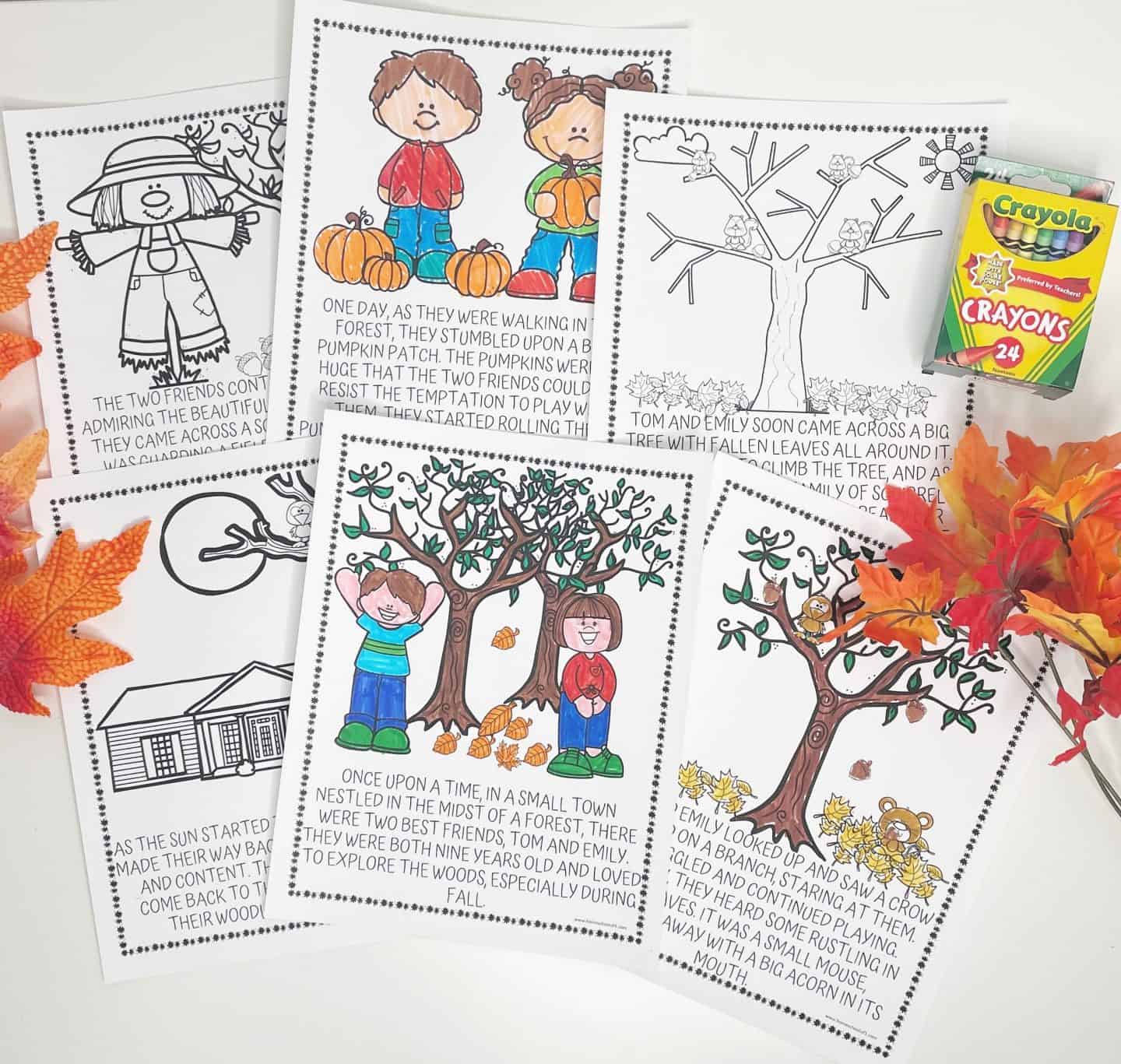 These leaves coloring pages are not just about adding colors. They're also packed with interesting leaf facts that young students can explore while they bring the pages to life.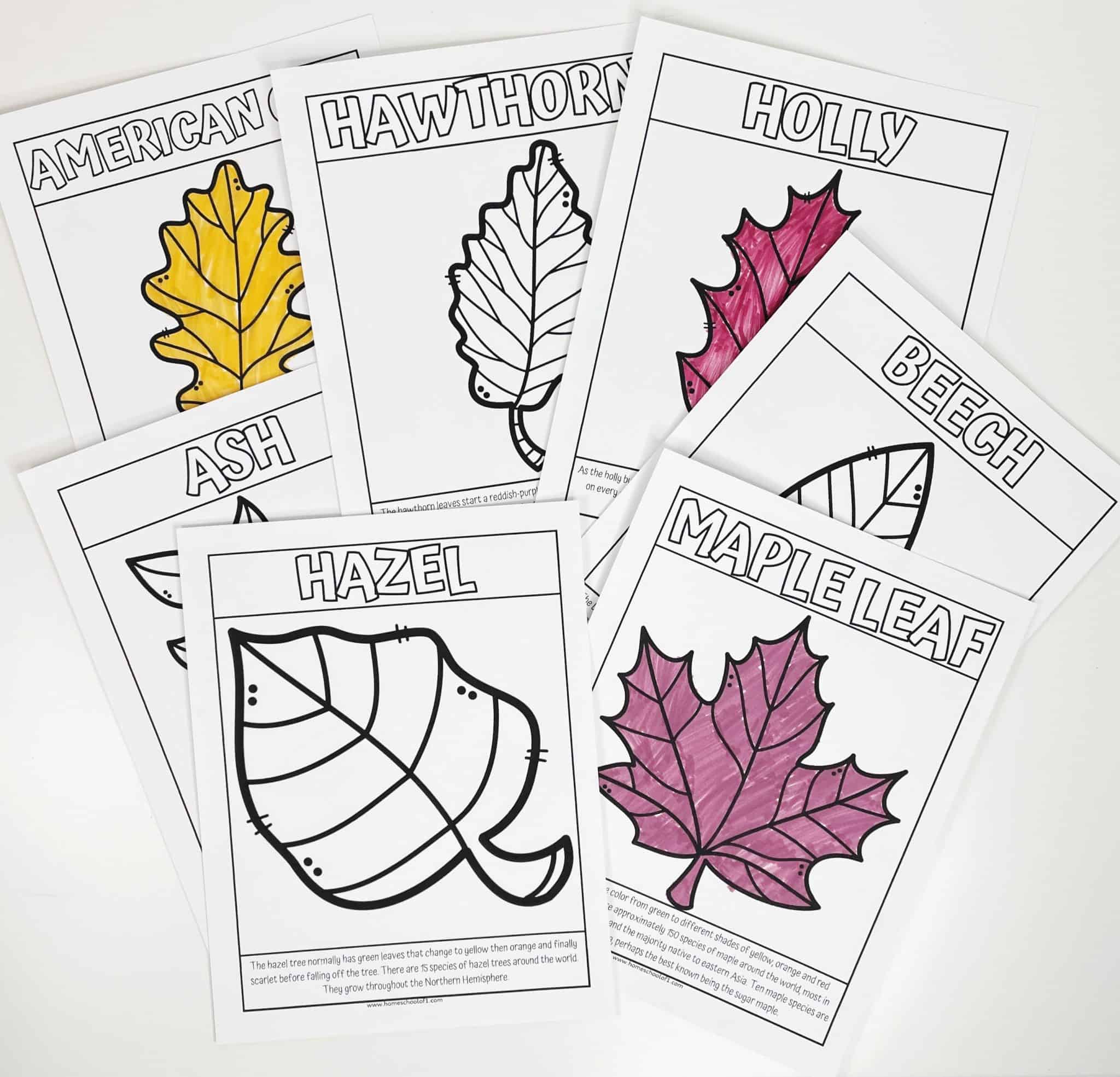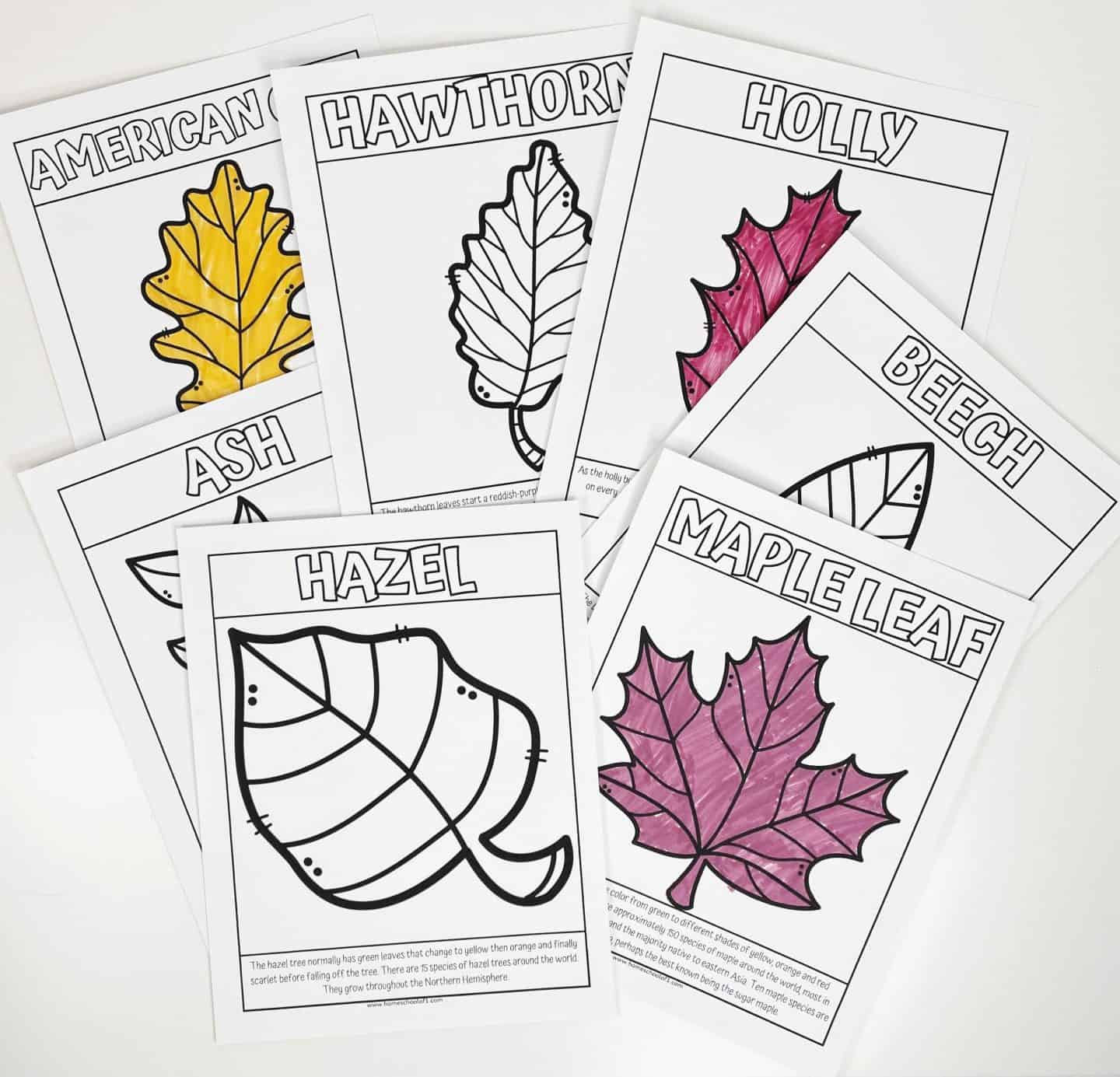 Johnny Appleseed coloring pages. Discover the legendary Johnny Appleseed through a set of coloring pages that depict his adventures and his important role in the history of apples.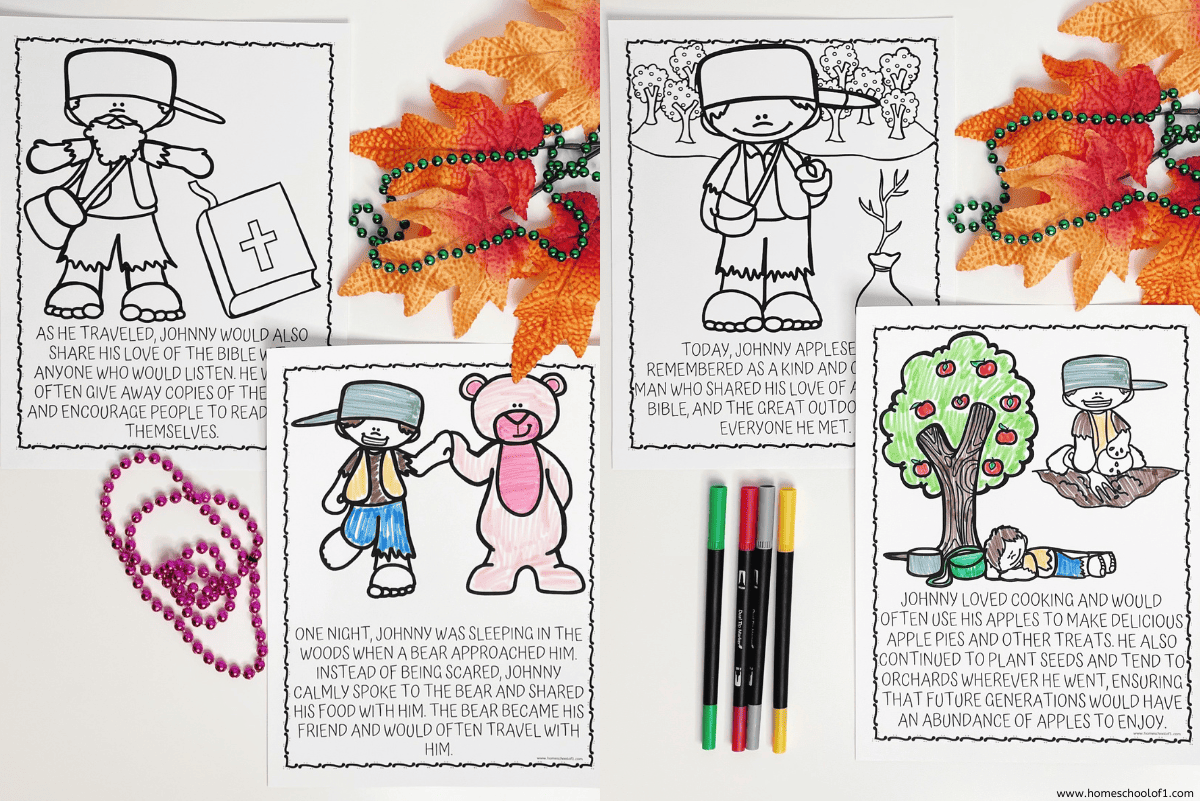 Fall bookmarks to color. Combine your love for reading with your artistic flair. Color these fall-themed bookmarks and use them to mark your favorite pages in books, celebrating both literature and the season.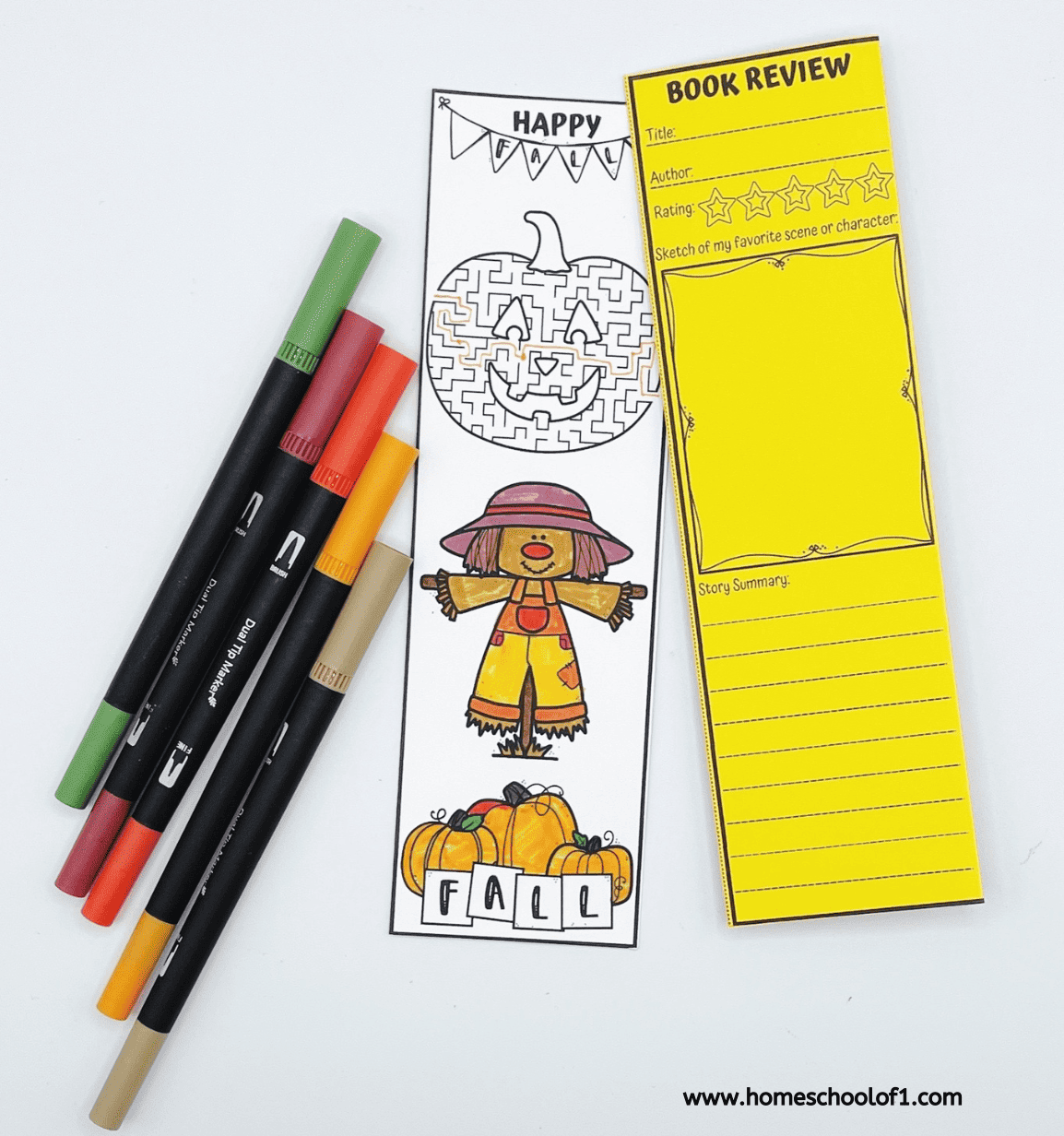 Stained glass fall coloring pages from Rock Painting Guide. Unleash your inner artist with these unique stained glass-style coloring pages. They offer a distinct and beautiful way to depict the wonders of fall through vibrant colors and intricate designs.
Fall STEM Printable Activities
Get ready to engage young minds in the world of STEM (Science, Technology, Engineering, and Math) with these exciting fall themed printable activities. These resources are designed to blend hands on learning with the beauty of autumn.
Pumpkin life cycle coloring page not only offers an artistic outlet but also educates kids about the fascinating life cycle of a pumpkin. It's a fun way to learn about plants and growth.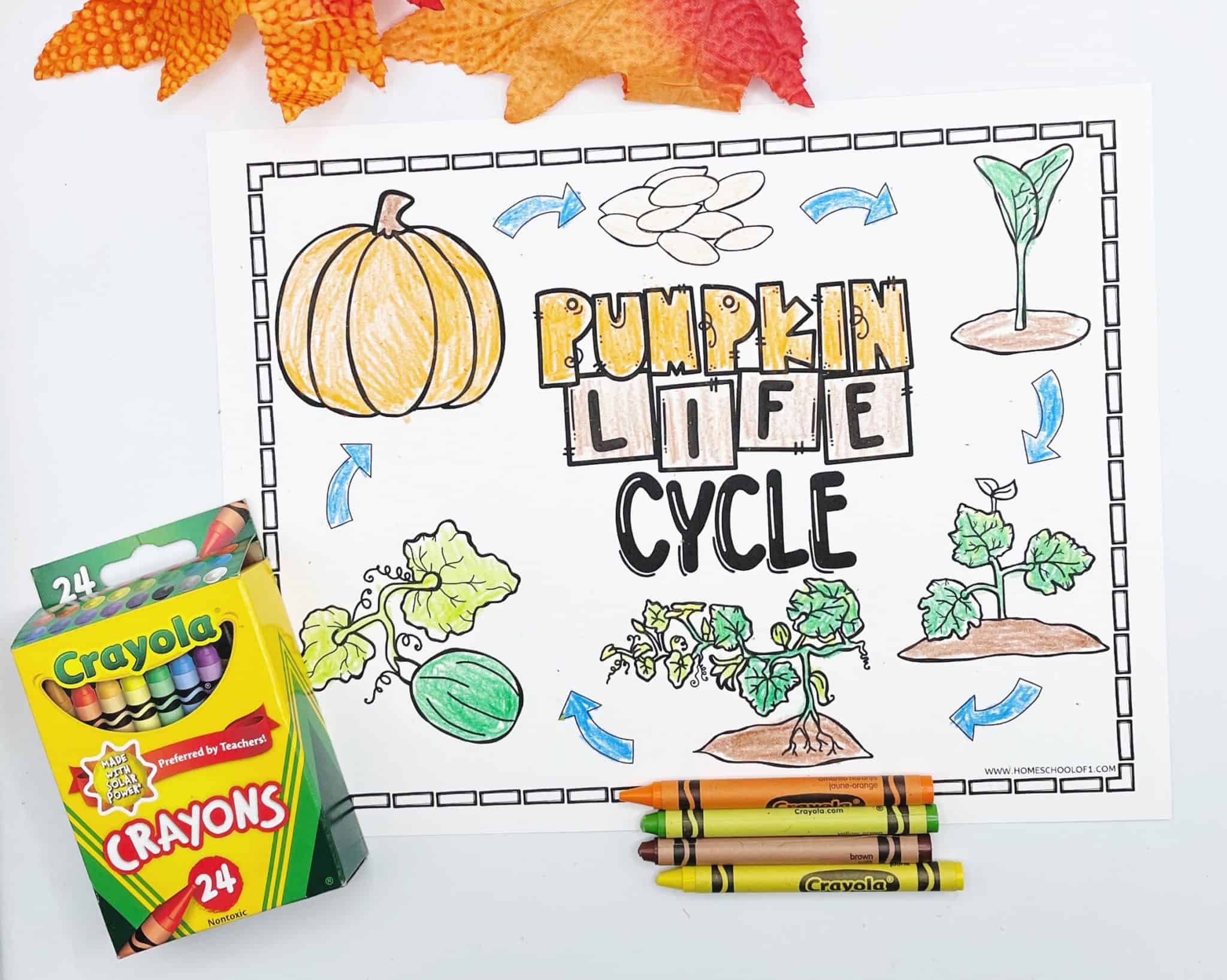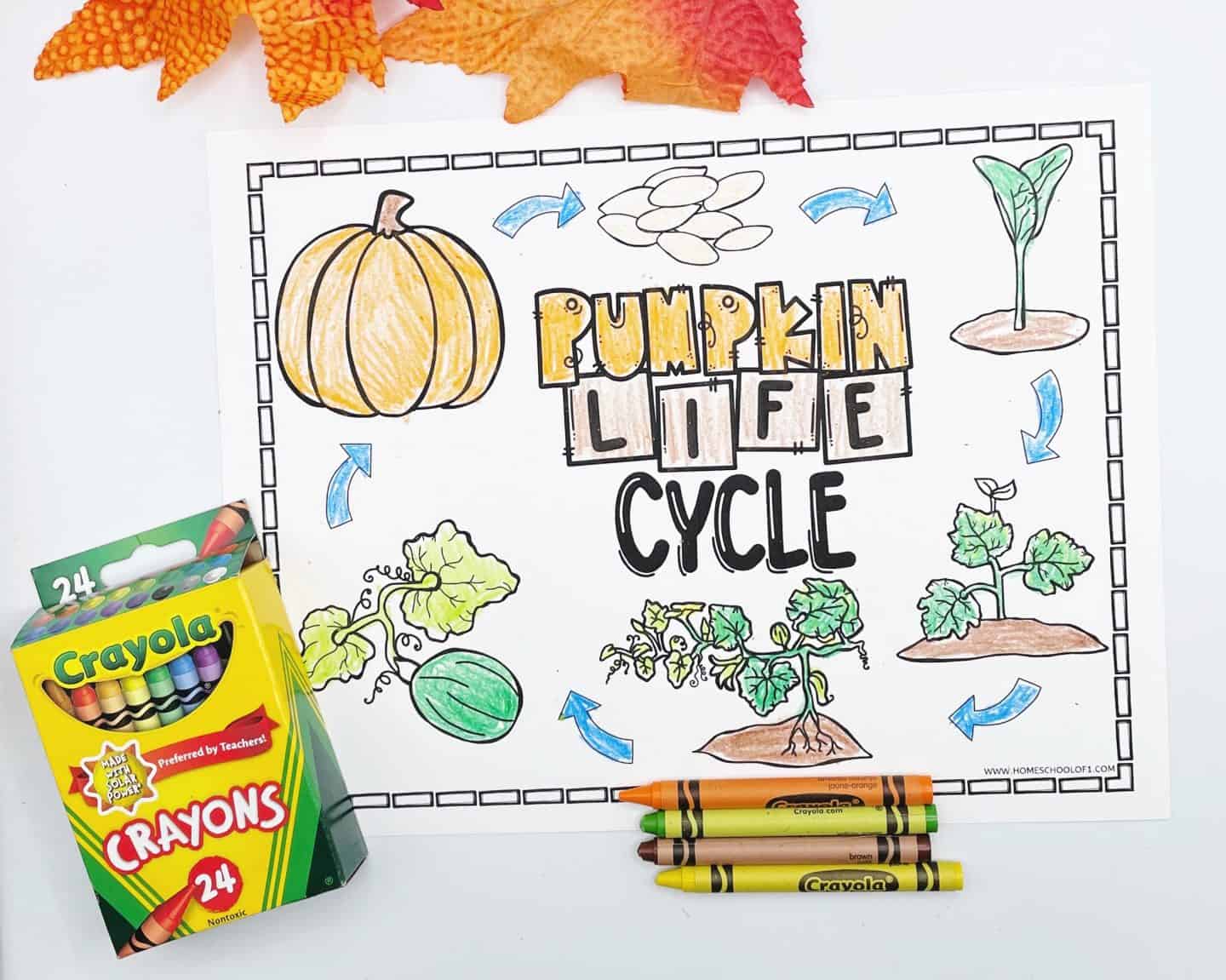 Life cycle of a pumpkin worksheet, dive deeper into the life cycle of pumpkins with this worksheet. It's a perfect tool to enhance kids' understanding of plant biology.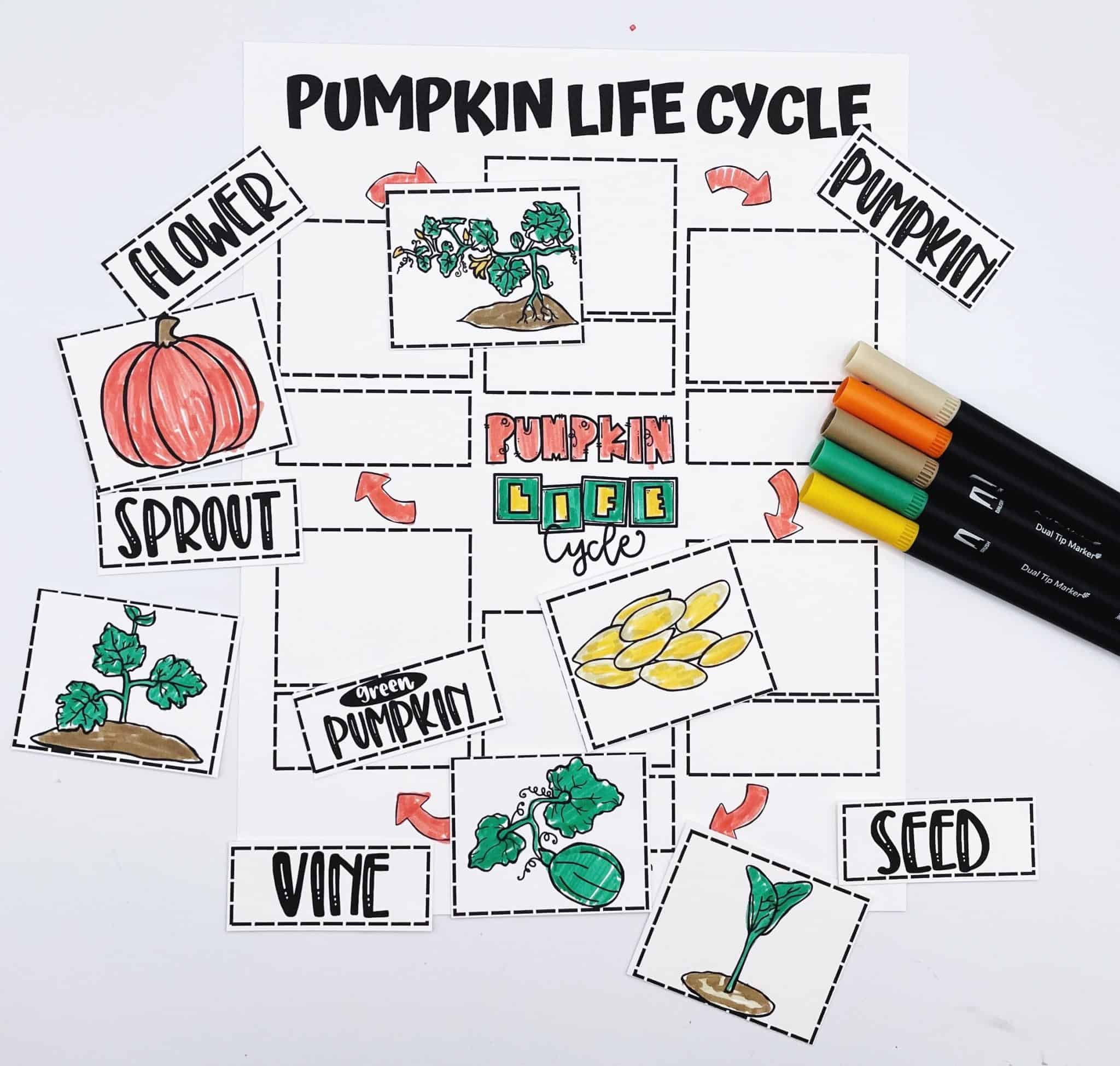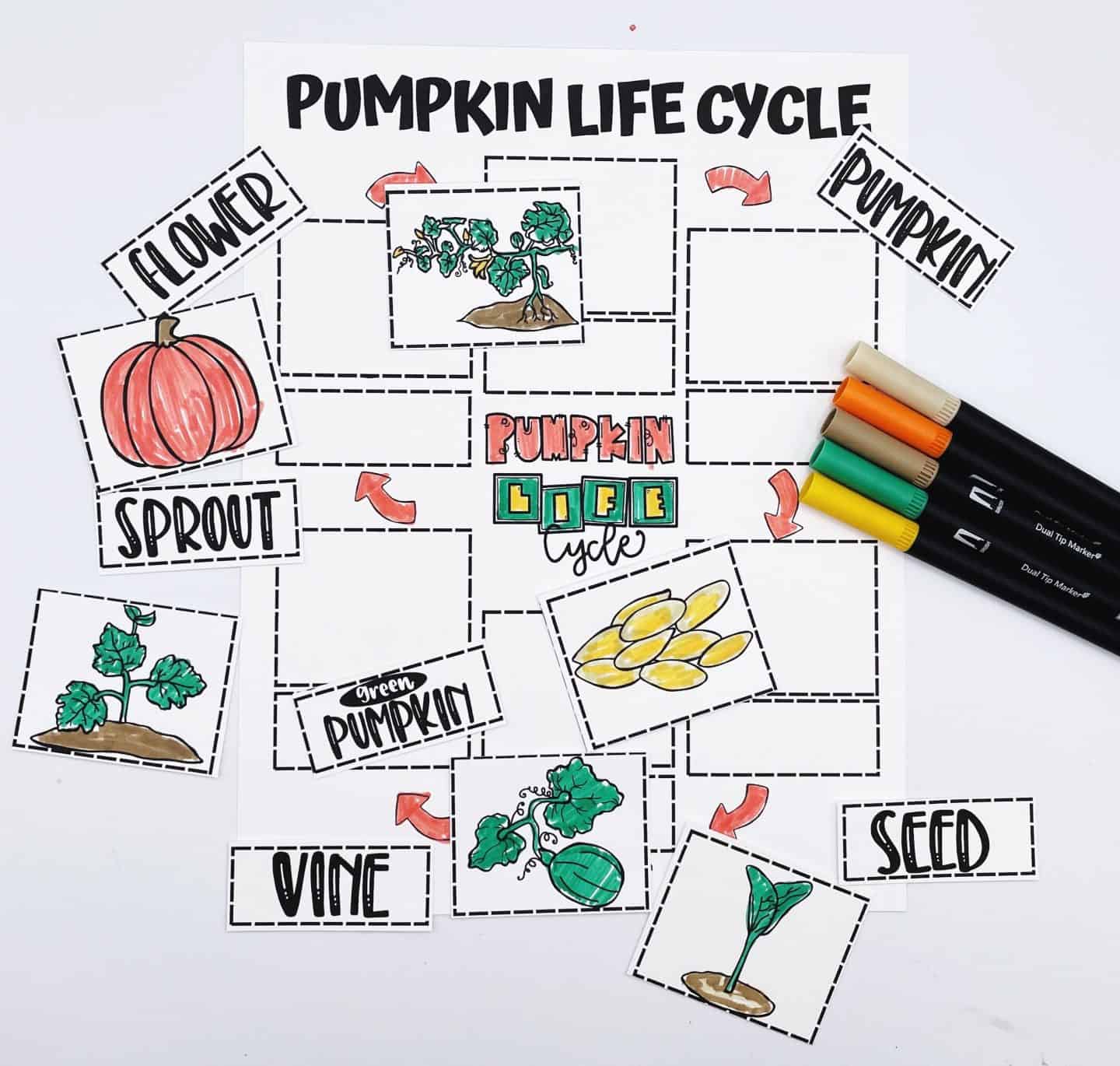 Apple life cycle worksheet, explore the life cycle of apples with this worksheet. It's a great way to teach children about how apples grow and change over time.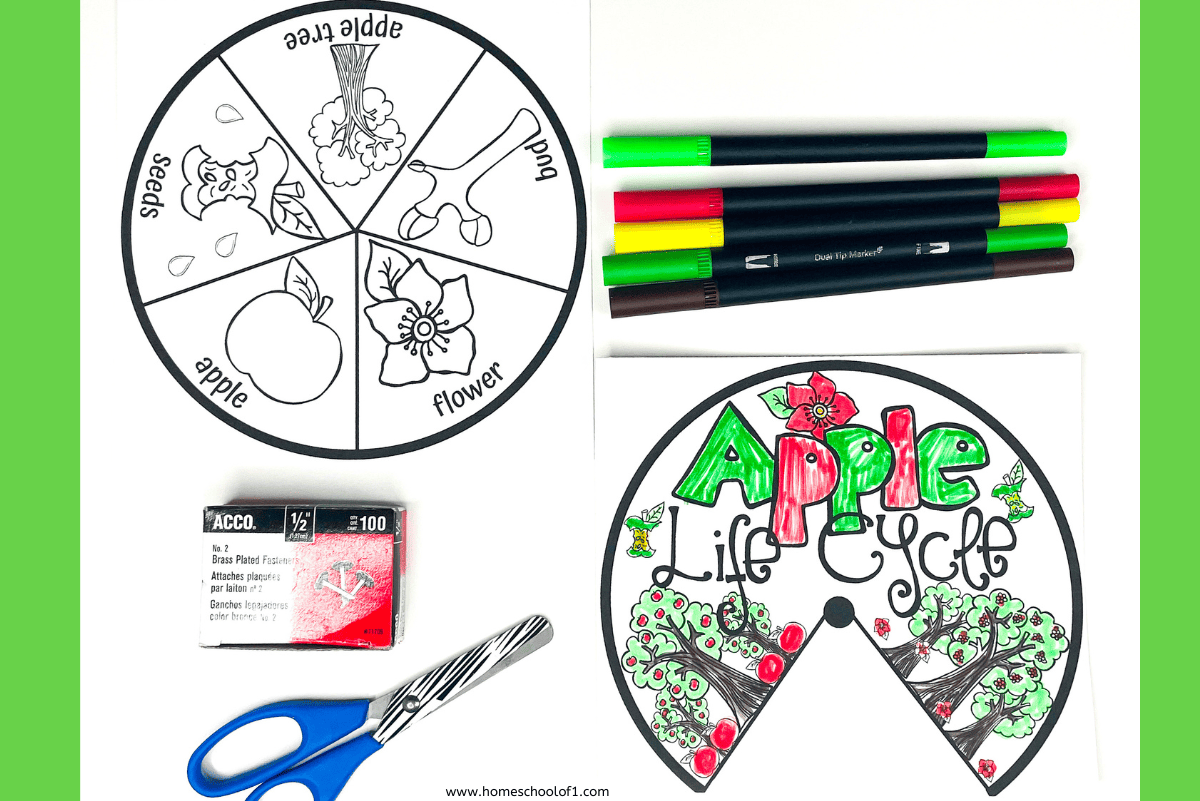 Fall Lego STEM challenge cards from Little Bins for Little Hands. These STEM challenge cards combine the excitement of LEGO with problem-solving tasks. Kids can build, experiment, and learn while exploring fall-themed challenges.
Magnetic fall watercolor leaves from Sustain My Craft Habit introduce kids to the science of magnets and the art of watercolors. They'll create beautiful fall leaves and experiment with magnetic forces.
Fall five senses activity from Little Bins for Little Hands. Explore the science behind our senses with this engaging activity. Kids can discover how their senses work and how they're connected to the autumn season.
Candy corn experiment from Homeschool Scientist unleashes the scientist in your young learners with a tasty experiment. This activity involves candy corn and teaches kids about the scientific method and observation.
There Was an Old Lady Who Swallowed Some Leaves!
Too Many Pumpkins
The Leaf Thief: (The Perfect Fall Book for Children and Toddlers) (A Squirrel & Bird Book)
Fletcher and the Falling Leaves: A Fall Book for Kids
Splat the Cat and the Pumpkin-Picking Plan: Includes More Than 30 Stickers! A Fall and Halloween Book for Kids
A Very Big Fall
Fall preschool worksheets
Prepare your preschoolers for a season of learning and fun with these fantastic fall themed worksheets and kids activities. These resources are carefully designed to help young minds develop important skills while celebrating the beauty of autumn.
Fall alphabet worksheets introduce young children to the alphabet while incorporating the charm of fall. They'll have a blast learning their letters as they connect them to the season.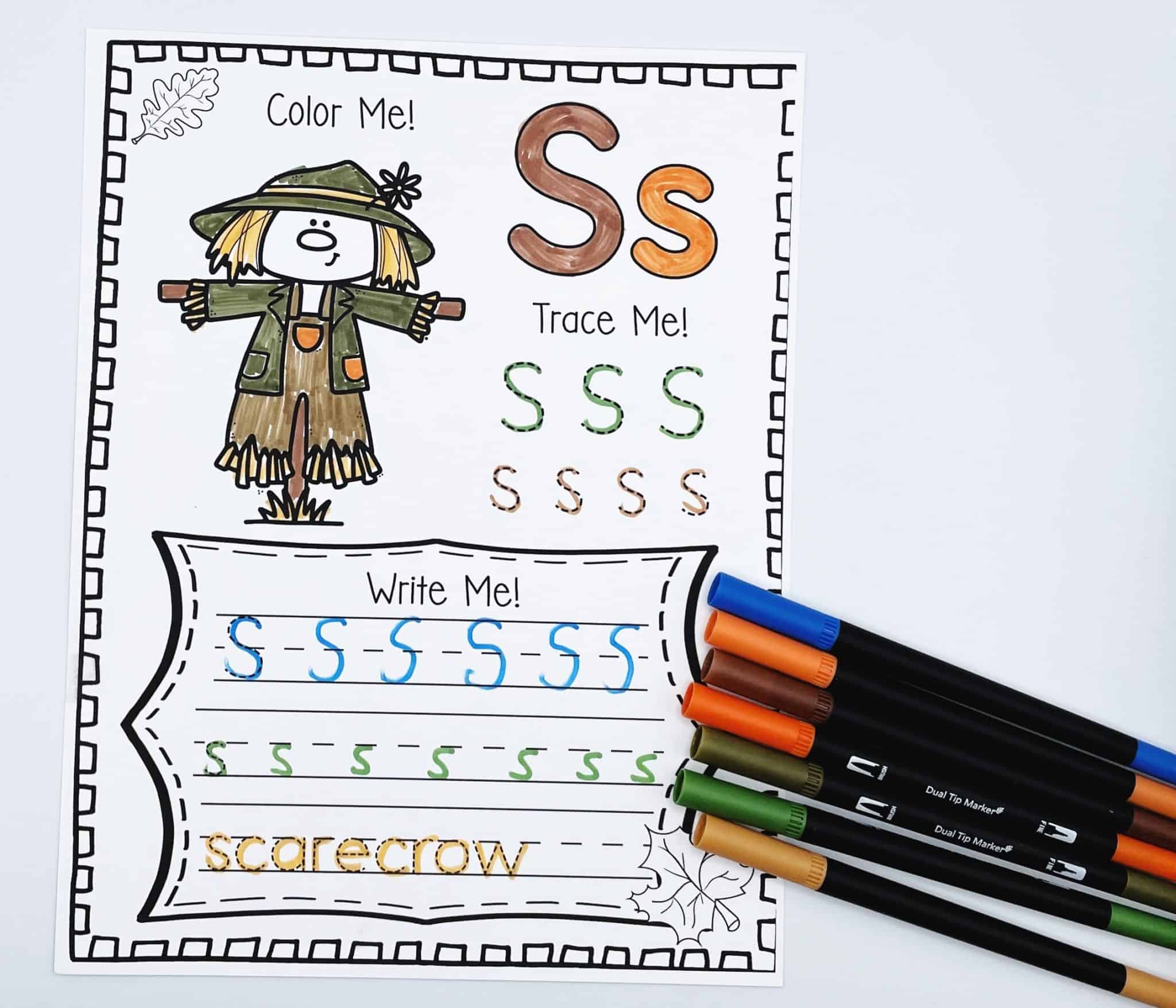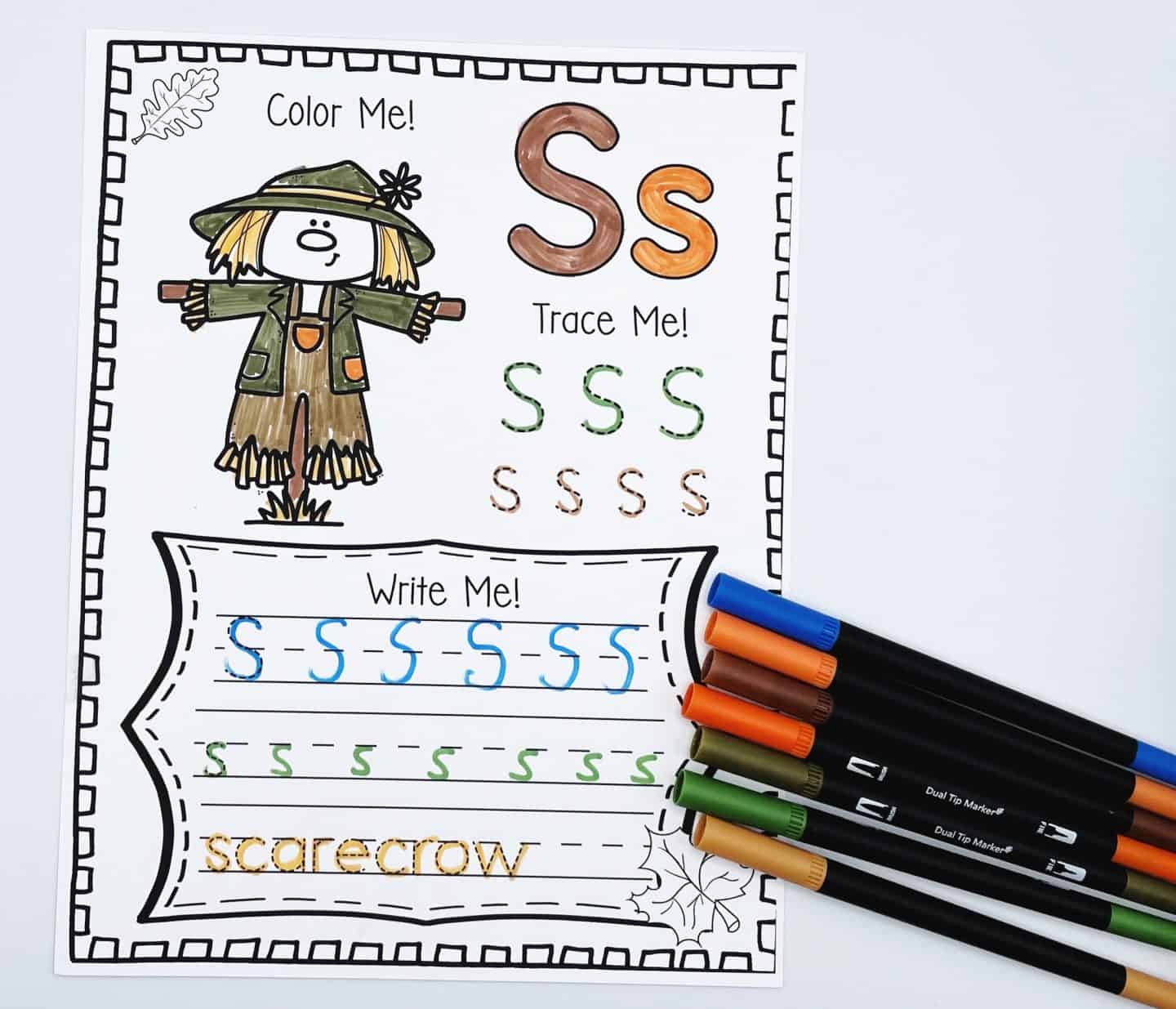 Fall connect the dots from Simple Everyday Mom is a delightful way for preschoolers to improve their counting and fine motor skills. By connecting the dots, they'll reveal fall-themed images that capture the essence of the season.
Fall counting mats from Darcy & Brian feature fall-themed objects, making learning numbers and counting an engaging experience.
Scarecrow activity sheets from Simple Everyday Mom include puzzles and coloring, providing a mix of learning and creative fun.
Fall letter find printables from Living Life & Learning help preschoolers become more familiar with letters by searching for them within fall-themed illustrations. It's a fun way to build letter recognition skills.
Fall counting worksheets from Simple Everyday Mom focuses on number recognition and counting. Fall imagery adds an element of seasonal delight to the learning process.
Free printable leaf matching game from A Country Girls Life. This matching game is perfect for enhancing memory and concentration. It features charming leaf illustrations inspired by the autumn season.
Fall color by number printables from Crystal and Comp. Kids can exercise their number and color recognition skills by completing these color-by-number printables, featuring delightful fall scenes.
Fall I Spy from The Best Ideas for Kids is a fantastic way to enhance observation and attention to detail.
Apple counting playdough mats from The Art Kit Blog. Learning to count with playdough mats is both tactile and enjoyable. These apple-themed mats bring math and creativity together.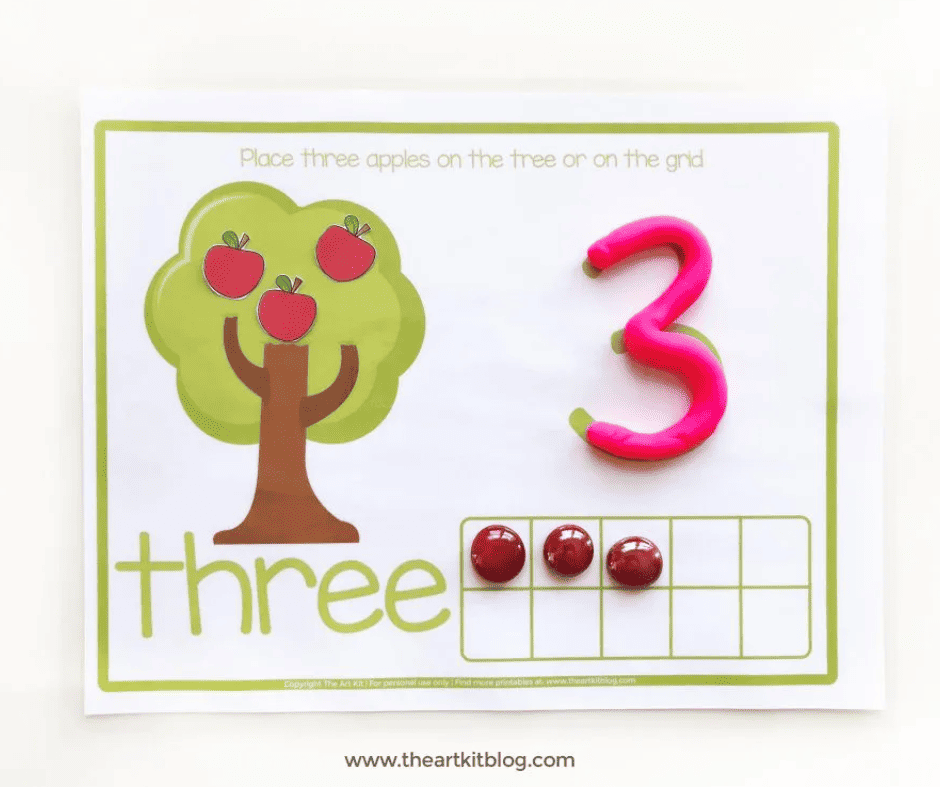 Fall leaf preschool pattern from Raise Curious Kids explores patterns with these leaf-themed worksheets. Preschoolers can practice recognizing and extending patterns, a fundamental math skill.
Fall pattern block mats from Little Ladoo. These mats introduce young learners to shapes and patterns in a visually engaging way, using fall-themed elements.
Pumpkin pie shape cards from The Art Kit Blog these shape cards are a fun way to teach preschoolers about different shapes. All while celebrating the fall season with images of pumpkin pies.
JIABNUKKN Pumpkin Decorations Halloween Crafts for Kids 10Pcs Paint Your Own Artificial Pumpkin White Plastic Pumpkin Decorating Kit Gift Toys for Kids DIY Halloween Thanksgiving Fall Pumpkin Decor
Hello Fall Jumbo Coloring Posters for Kids Adult Hello Autumn Giant Coloring Poster Fall Pumpkin Coloring Poster for Birthday Thanksgiving Party School Group Family Art Gifts Craft Activities Decor
Neliblu Halloween Scratch Art Trick or Treak Paper Crafts Kit Bulk Pack of Halloween Pumpkins with Magic Rainbow Colors – 24 Pumpkin Ornaments, 24 Scratch Sticks, 24 Ribbons
Pumpkin Decorations Halloween Crafts pumpkin 12 Halloween White Artificial Pumpkin Decorating Kit with Sticker Kids DIY Arts and Crafts for Halloween Party Thanksgiving Home Fall Decor Pumpkin Decor
Fall/Thanksgiving Rock Painting Kit – Arts and Crafts for Kids Ages 8-12 – Includes DIY Stones, Water Paint, Tattoos, Party Favors/Birthday Gifts/Toys/Creativity Classroom Activity for Girls Boys
Fun Express Scarecrow Head Magnet Craft Kit – Makes 12 – Fall Crafts for Kids
Fall printable crafts
Unleash your child's creativity with these exciting printable fall crafts. They offer a delightful blend of hands on fun and artistic expression.
Have fun this fall with Thanksgiving handprint templates. This fun and messy activity is perfect for kids to create wonderful keepsakes in November. Choose your favorite handprint template, gather your supplies, and let the colorful and memorable Thanksgiving crafting begin.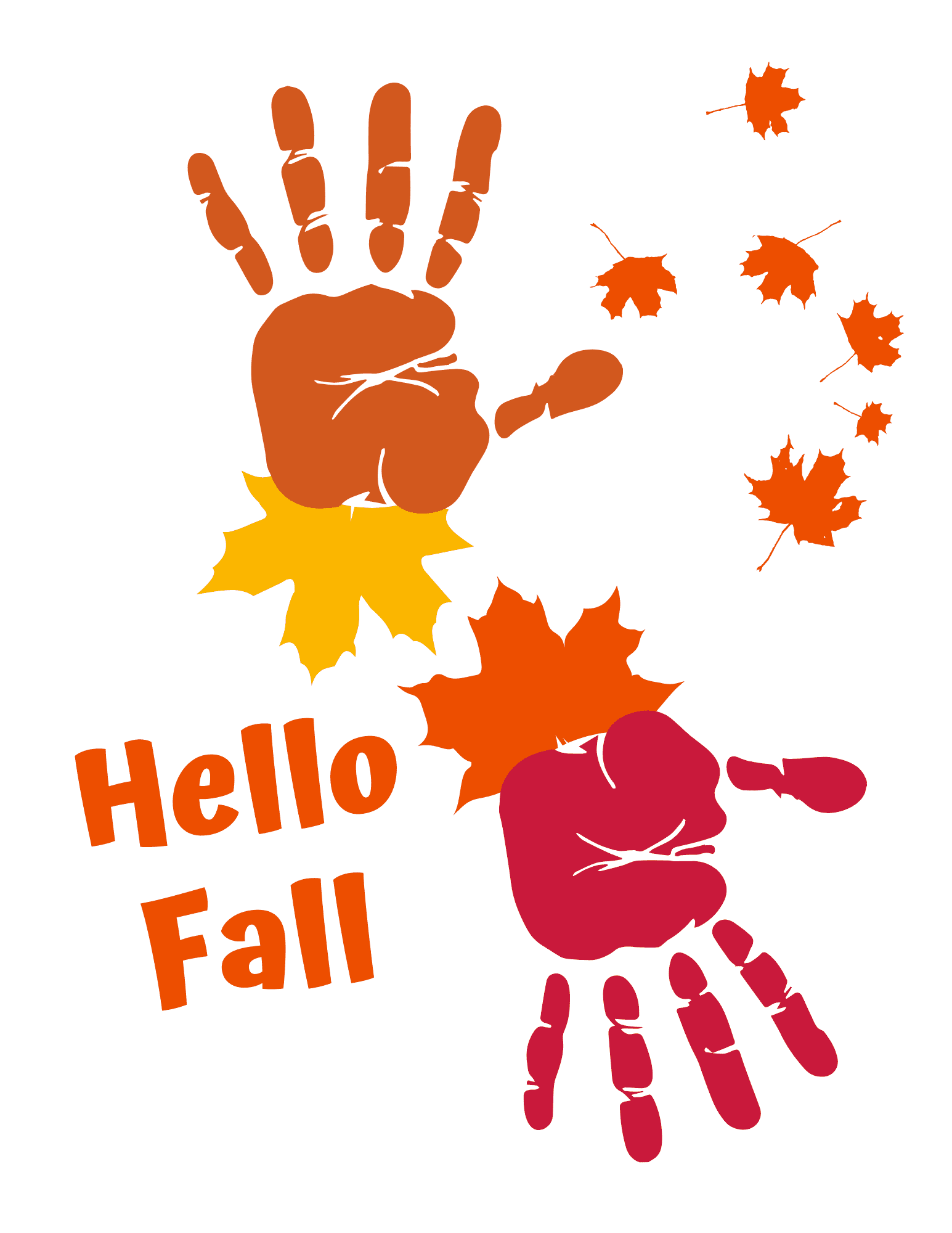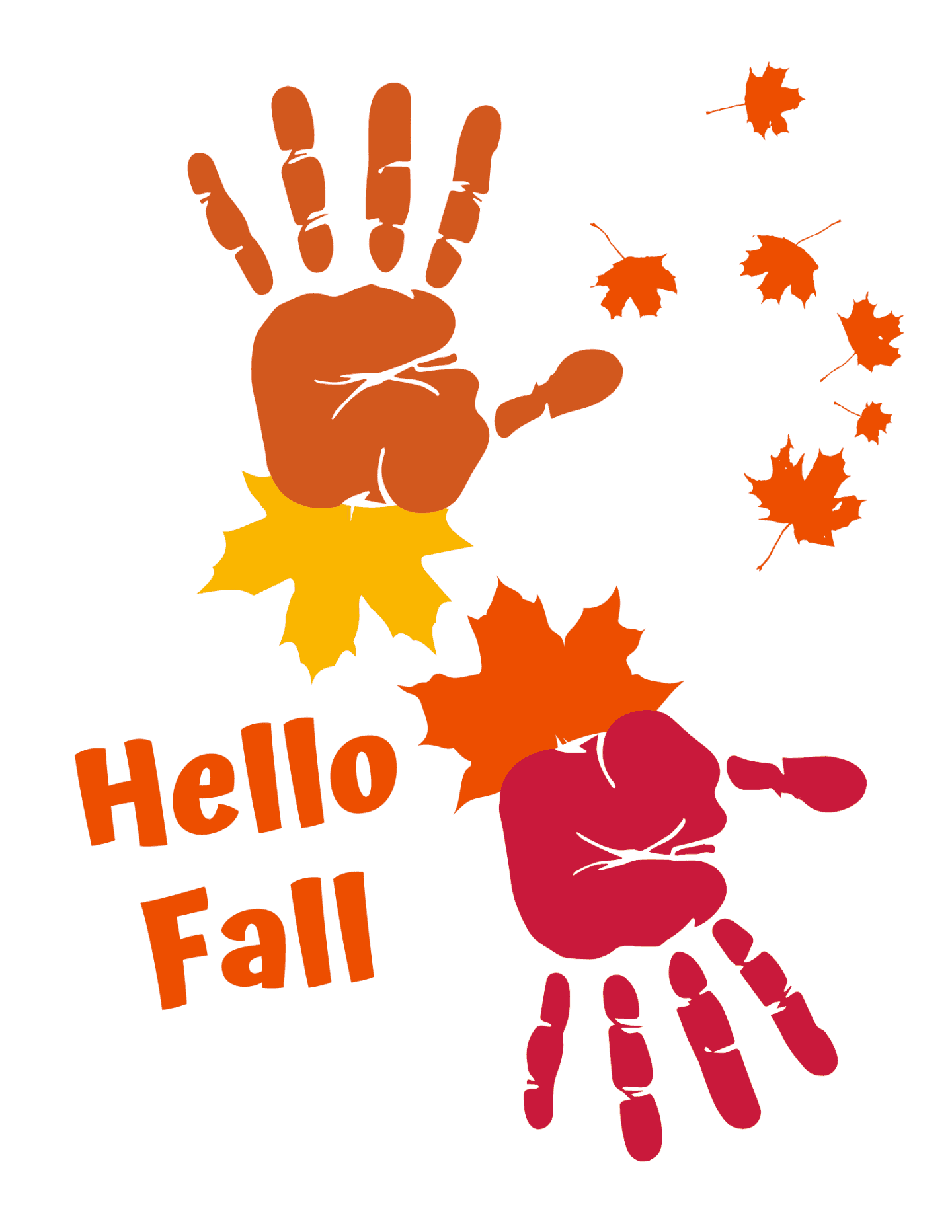 Printable scarecrow craft from Conservamom. Let your kids enjoy the charm of autumn with this printable scarecrow craft. It's a fantastic way to combine art and creativity. With this craft, children can design their very own scarecrow character, complete with vibrant clothing and unique accessories.
Popsicle stick scarecrow craft from In The Playroom. This hands-on activity allows kids to assemble their very own scarecrow using simple materials like popsicle sticks, paint, and a printable template. It's a great way for children to get crafty and embrace the fall spirit.
Fall handprint art worksheets from 3 Boys and a Dog. These worksheets provide children with the opportunity to create unique artwork by using their handprints as a canvas. It's not only fun but also an excellent way to improve fine motor skills.
Fall language arts printables
Embrace the beauty of autumn with these fantastic fall language arts printables that will inspire your students' creativity and enhance their writing skills. From gratitude writing prompts to vivid seasonal imagery, this collection offers a wide array of resources for teachers and parents to engage learners in the wonders of the fall season.
Scarecrow acrostic poem offers an engaging fall activity for kids. With three downloadable templates that allow them to create acrostic poems using the word "SCARECROW." This resource is a fantastic way to introduce poetry to young learners. Combine it with a fun fall-themed craft, making it a perfect addition to your literacy stations, classroom, or home learning activities.
Gratitude writing prompts. These thought-provoking prompts encourage students to reflect on the things they are thankful for. They provide a great opportunity to foster gratitude and improve students' writing skills.
Printable gratitude pumpkin from Coffee and Carpool. Students can decorate a pumpkin while expressing their appreciation in writing. This activity combines art and language arts, making it an excellent choice for a well-rounded classroom experience.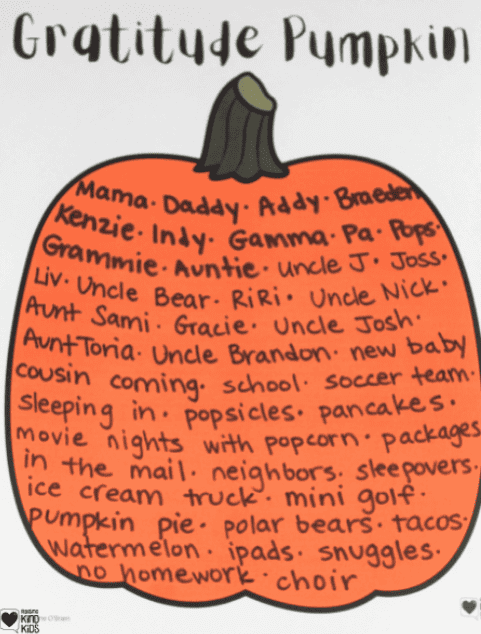 Fall past, present, and future writing pack from Only Passionate Curiosity. This comprehensive writing pack provides a structured approach to exploring the different dimensions of fall. Students can delve into historical fall events, document their current experiences, and envision their future aspirations.
Fall writing prompts from In The Playroom. These prompts can inspire students to create short stories, descriptive essays, or poetry, fostering their creativity and descriptive writing skills. They allow students to vividly depict the colors, scents, and emotions associated with the fall season.
I am thankful worksheets from Simple Homeschooler provide a valuable resource for encouraging gratitude and self-reflection in children through a series of thoughtful prompts and activities.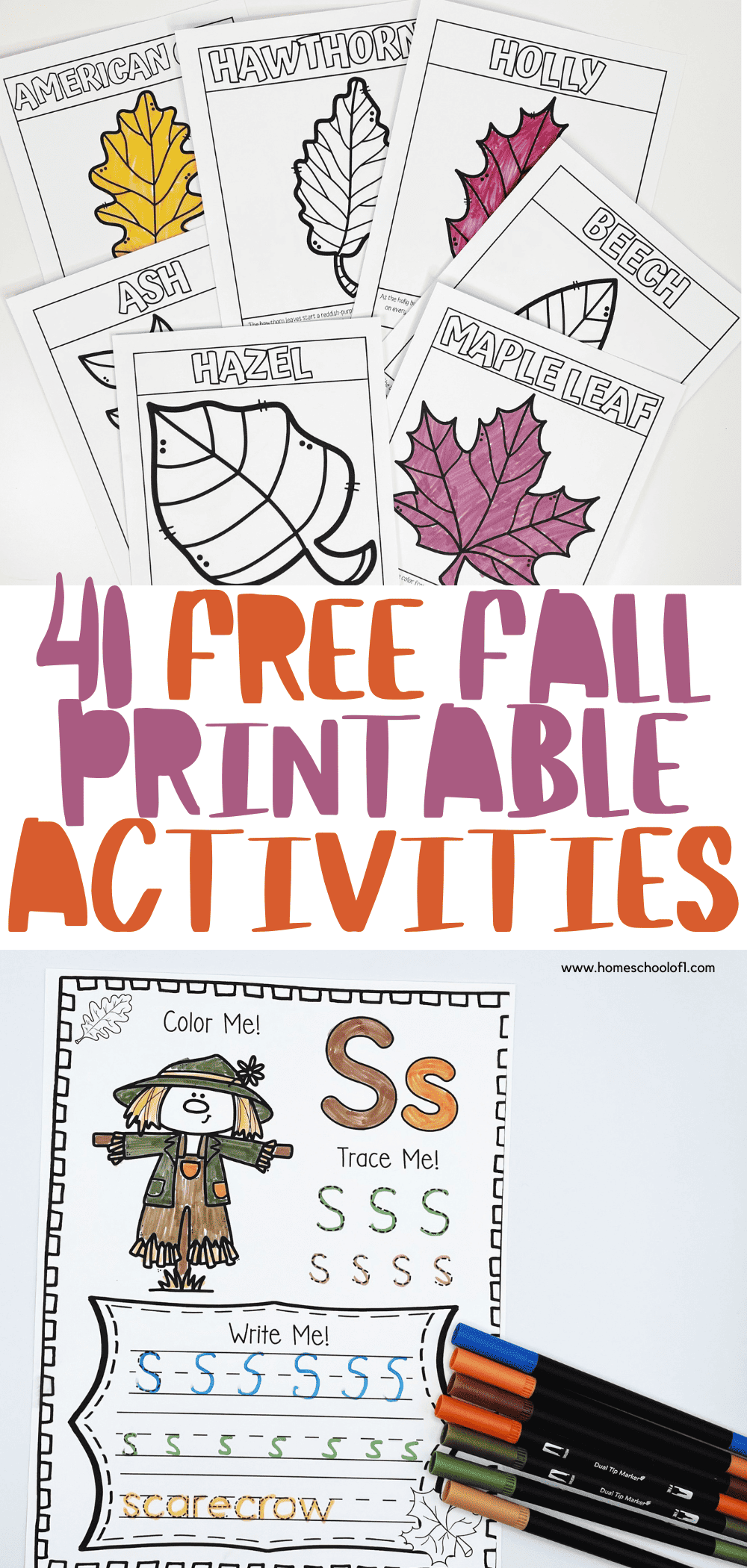 Last Updated on 7 November 2023 by homeschoolof1