Free First Day of Homeschool Sign Printable
The first day of school is fast approaching, and I don't know about you but we always make a big thing about it. This year I wanted to create a new FREE superhero-themed first day of homeschool sign for you to print out.
Your kids don't have to go to public school to celebrate the first day of school. In fact, we are pretty much year-round homeschoolers.
But when the public kids go back to school (you can't miss it as it's all over social media, and the parks and libraries are once again empty!) we always take a homeschool photo too!
We add our first day of school sign to the front of our homeschool portfolio and add the photo to our annual family photo book.
But if you don't homeschool of course just keep it in your memory box. Or drawer where you keep all of their awards, certificates, and special notes.
If you homeschool you should celebrate with these special first day of homeschool printables.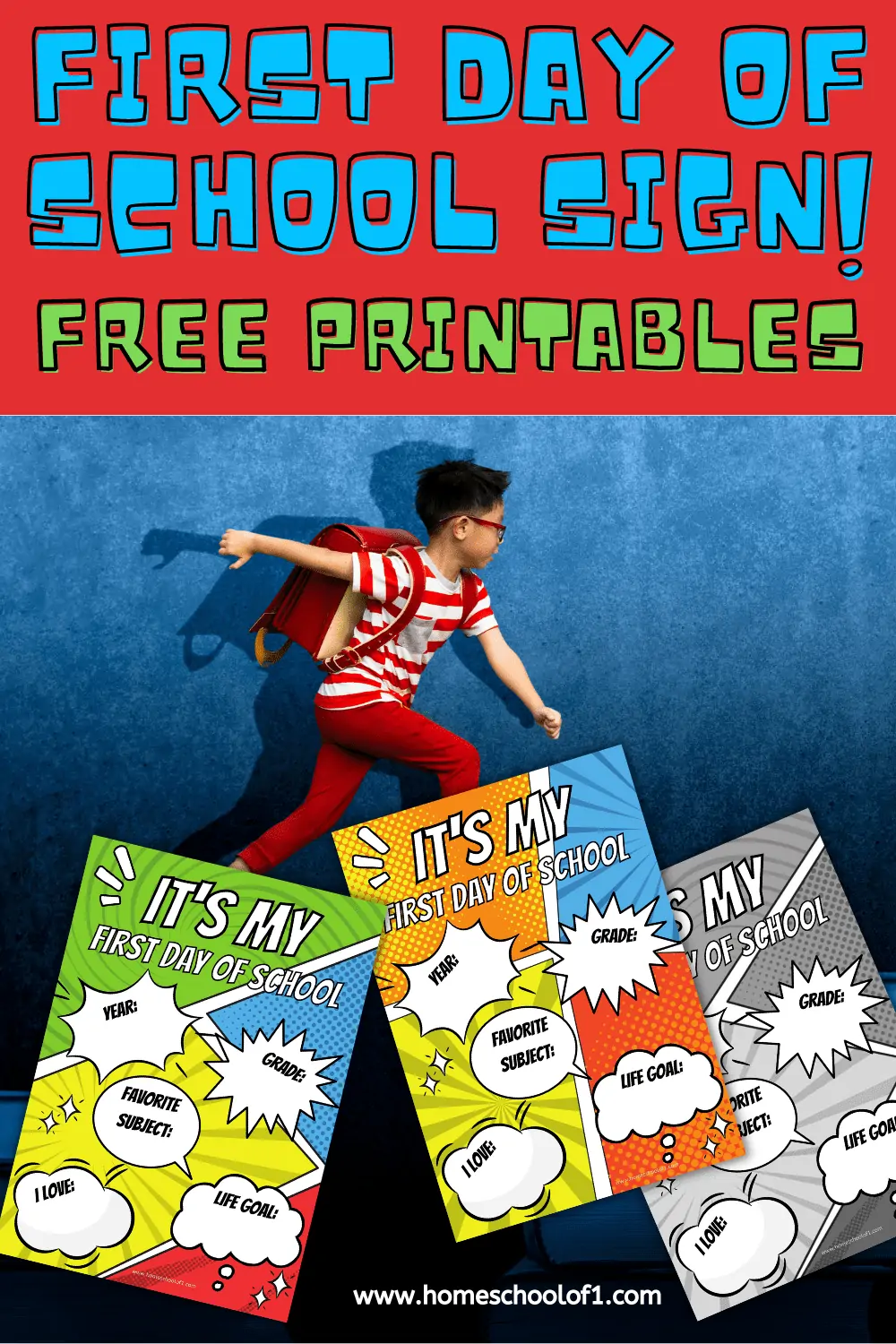 **There may be affiliate links in this post. You can read my full disclosure at the bottom of the page.**
Create a free first day of school sign for special memories
Download the first day of school worksheets below. There are 6 pages to download 3 for the first day of school and 3 for the first day of homeschool.
These are free to print but are for personal use only. Scroll to the bottom of the post and add your email address to get the pdf file.
I have included a black-and-white design to save on ink. You also have the added bonus of being able to get the kids to color it in too!
This first day of homeschool sign print better on cardstock, and that way when the kids are holding them up for the school photo the paper won't go floppy!
It's hard enough to get the kids to stand still for a second without having to retake because of the paper!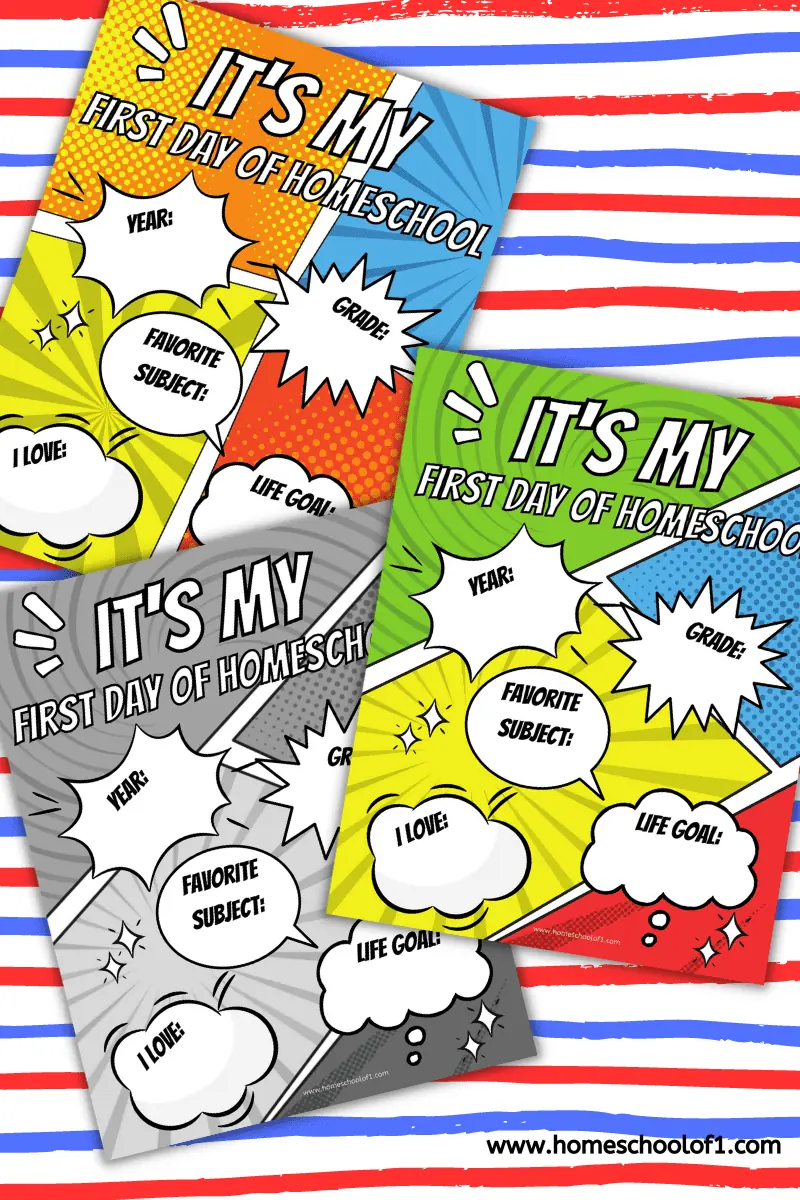 If you are looking for something you can reuse every year then I am loving this personalized chalkboard sign.
Personalized back to homeschool signs
Make the first day of homeschooling extra special with these free personalized back to school signs. Great for kids in 1st grade right through to 12th grade.
These signs allow your kids to showcase their unique personalities and interests. You can customize the signs with the following:
The school year,
Their current grade,
Their favorite subject,
I love, where they can write whatever they want
Life goal (I am not sure my son took this one too seriously. But I love the fact he has big dreams!)
It's a fun and creative way to capture the excitement of starting a new homeschool year.
These free first day of school printable signs allow the kids to write: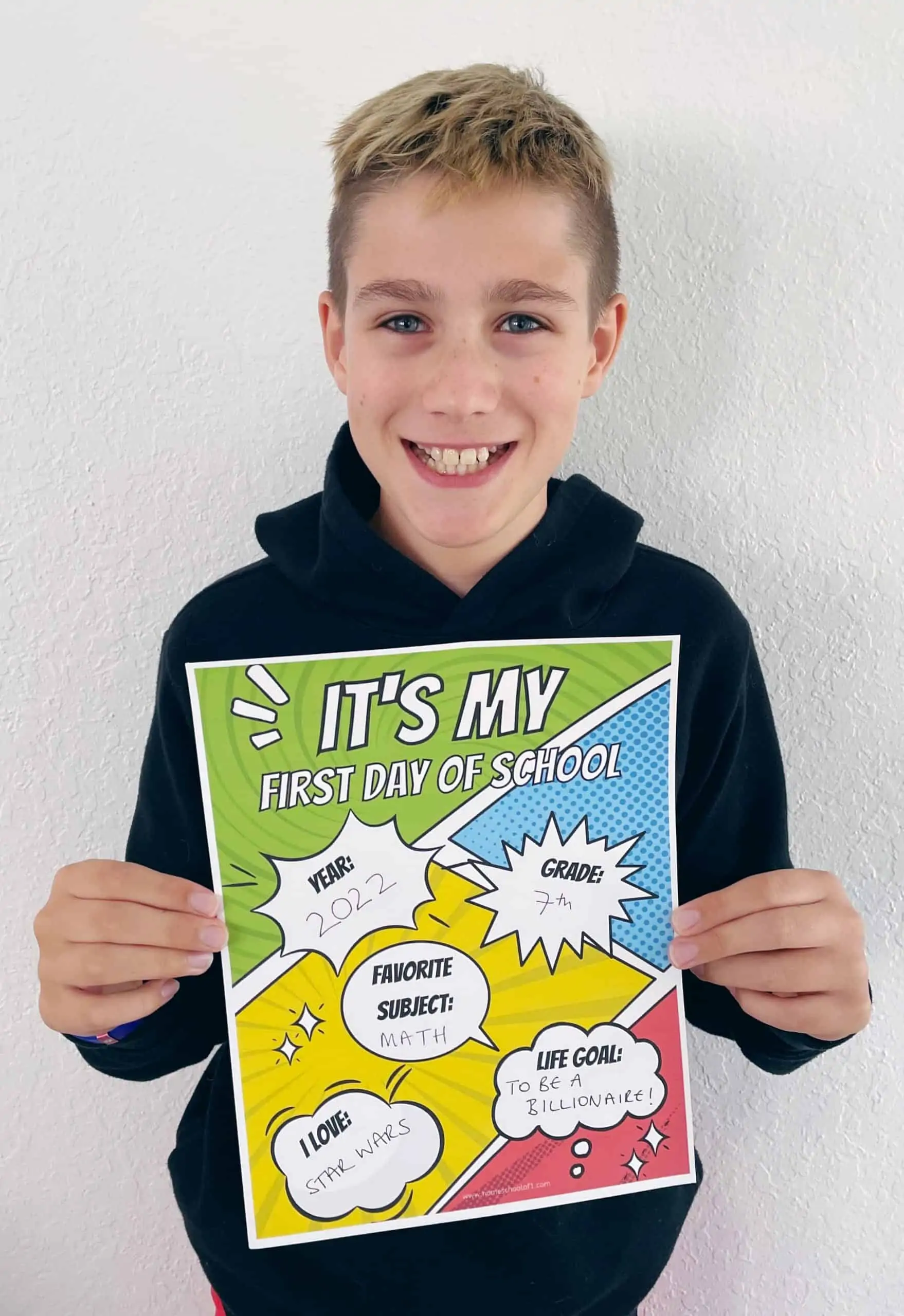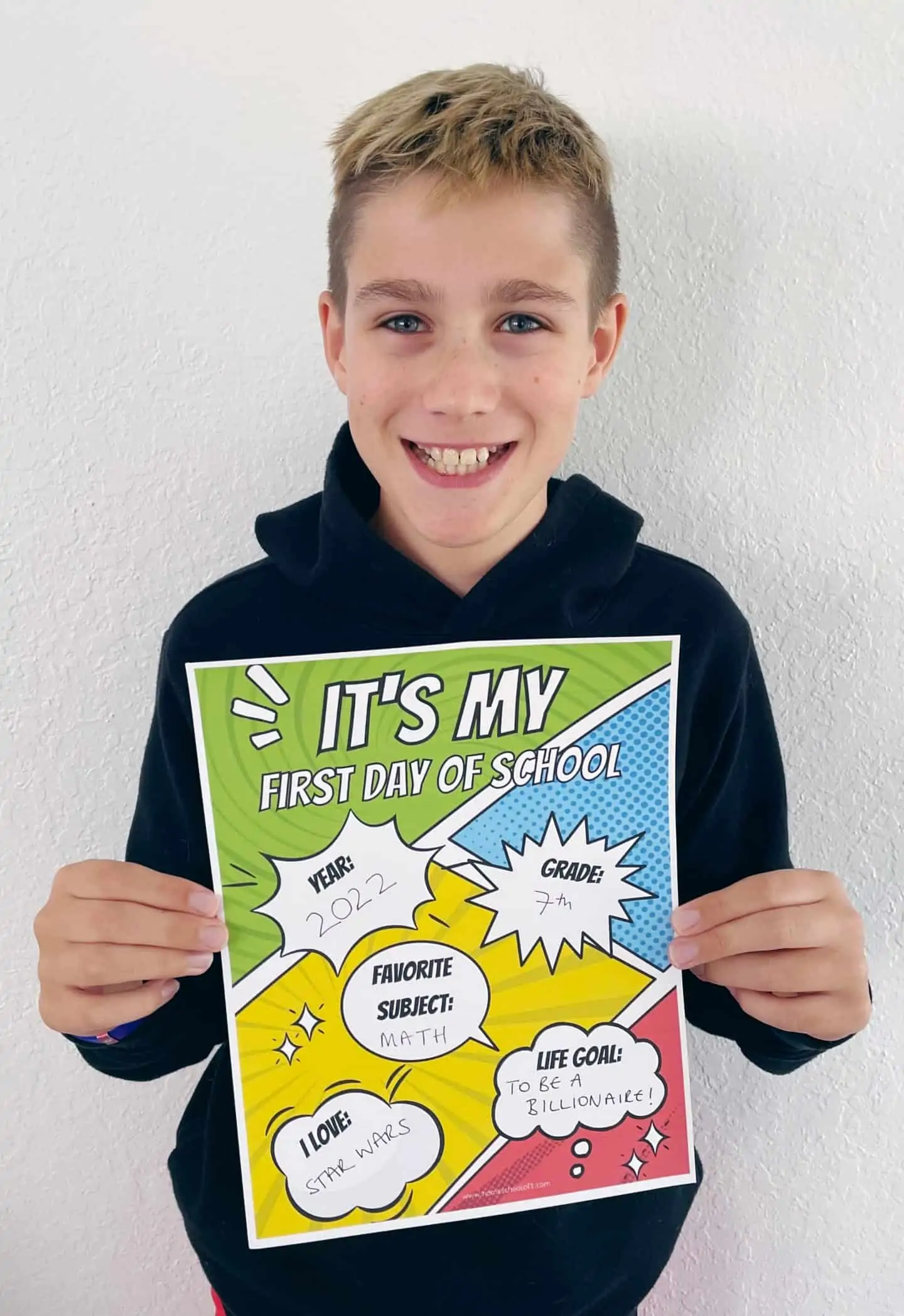 Even more first day of homeschool ideas
As a homeschool mom, I know that the first day of homeschooling can be both exciting and a little nerve-wracking.
But fear not! I've got a few awesome first day of homeschool ideas to make your first day a memorable one.
Save a huge amount of time and grab all of the back to school worksheets with our first day of school activities bundle.
Homeschool scavenger hunt
Who doesn't love a good scavenger hunt, right?
It's a fantastic way to kickstart the homeschool year with a bang.
Our free homeschool scavenger hunt printable will have the kids searching for their school supplies. It's an interactive and engaging activity that will get everyone excited and ready for the adventure of learning!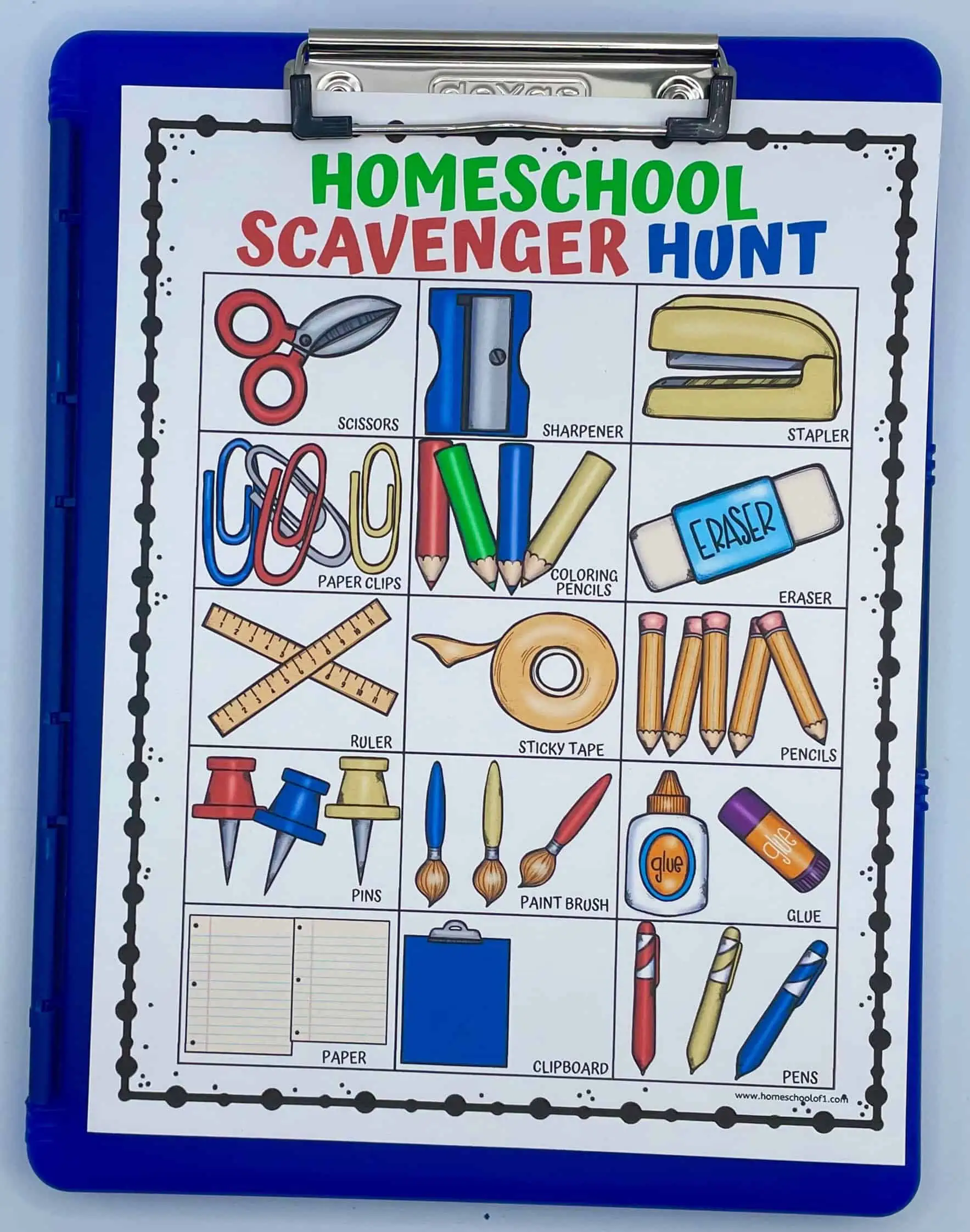 All about me worksheet
Starting off the homeschool year with an all about me worksheet is a fantastic way to encourage self-expression and get to know your kids better.
It's a simple yet effective activity that allows your children to share their interests, dreams, favorite hobbies, and even their goals for the upcoming year.
It's not only a great icebreaker but also a wonderful keepsake to look back on in the future and see how they've grown.
Back to homeschool gifts
Yes, you read that right, back to school gifts for homeschoolers!
Just because we don't have the traditional back-to-school shopping spree doesn't mean we can't have a little fun with it.
Surprise your kids with small gifts that are educational, motivating, or just plain fun. It could be new art supplies, a fascinating book, a cool science experiment kit, or even a personalized homeschool planner.
These little gestures will make your kids feel special and excited about the start of a new homeschooling adventure.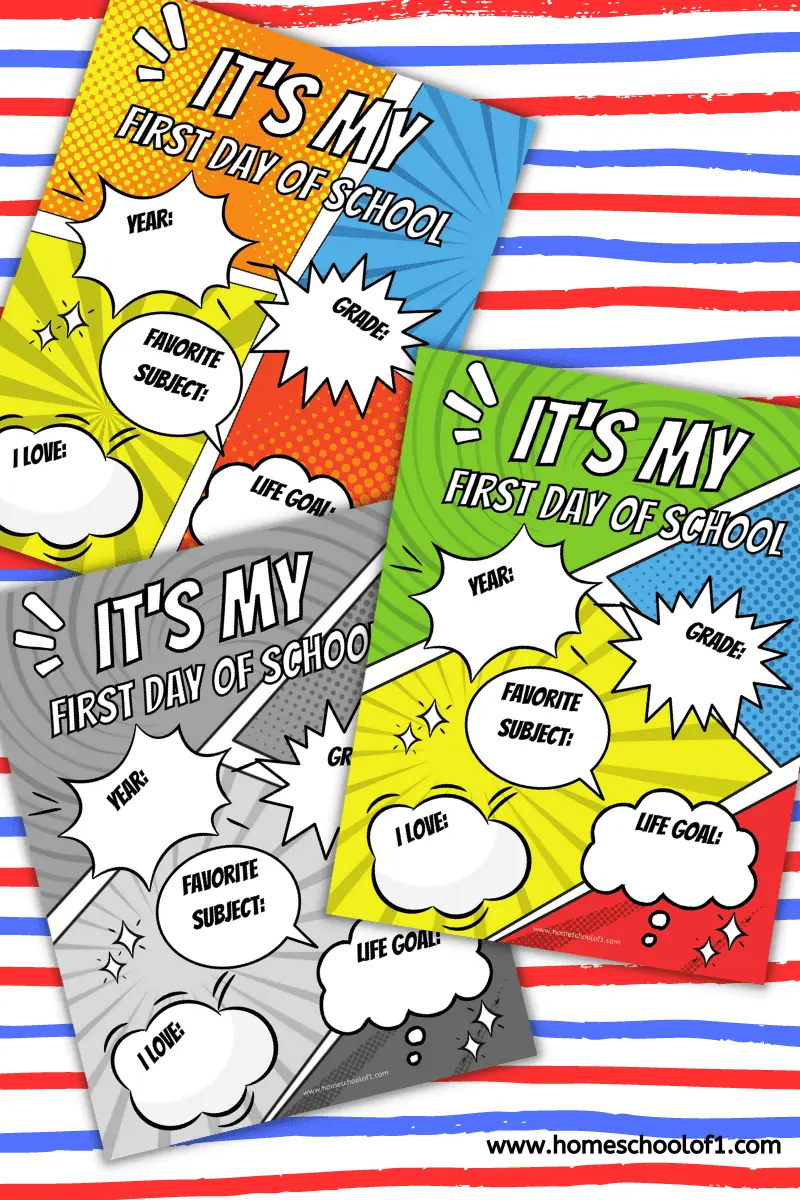 Tips for downloading the free files
Below you will see a large sign-up box where you need to add your name and email address, and press I NEED THIS NOW!
Within minutes you will be sent the free PDF directly to your email address, so you can print it out and start using it immediately.
Sometimes emails get a little wonky, so if you can't see it, please check your spam folder where I am sure it is hiding.
Download the first day of school sign free printable
Make sure you choose the correct paper size and click on the shrink to fit button. All of our free printables for kids work better when printed on cardstock (this is the one we use and love.)
Last Updated on 2 October 2023 by homeschoolof1