Free All About My Mom Printable (Perfect for Mothers Day)
With Mother's Day around the corner, I wanted to share with you our new and FREE all about my mom printable.
In these free Mother's Day printables, I have also included a grandma version. As we can't leave grandma out!
It will be so much fun seeing what the kids write to these simple questions. See how much they know about mom!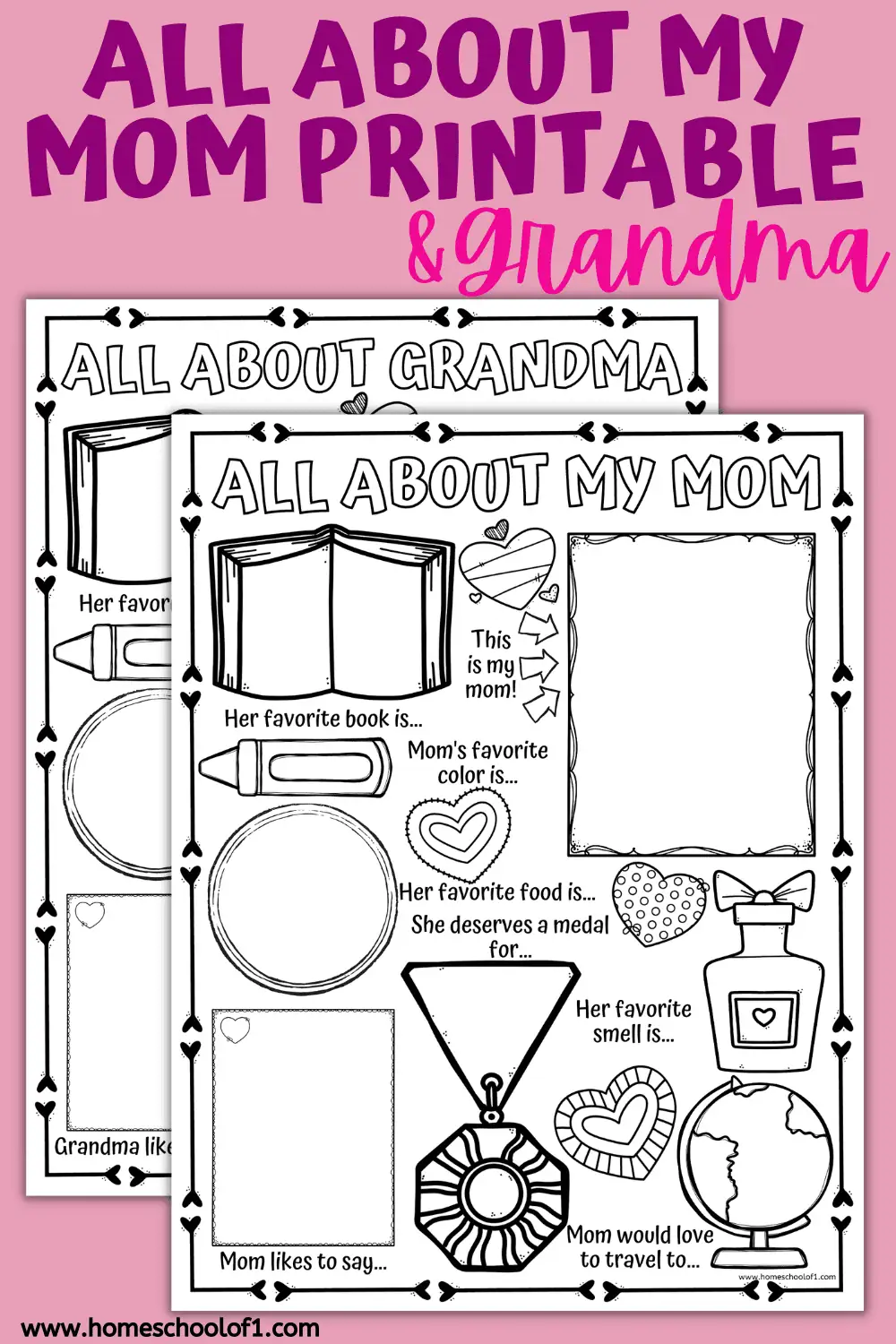 **There may be affiliate links in this post. You can read my full disclosure at the bottom of the page.**
All About My Mom Coloring Page
Download the mom printables below. There are 2 pages to download, one for mom and one for grandma. Make sure to check the printer settings.
This free Mother's Day all about my mom printable is free to print but is for personal and classroom use only. Scroll to the bottom of the page and add your email address to get the pdf file.
As with all of our printables, they print better on white card stock (this is the one we use) but they will also print out nicely on normal copy paper.
This mom worksheet is perfect for kids of all ages, in fact, my son has completed one every year for the last 8 years.
This is a great activity for the classroom or at home with dad, and this will be the best gift mom will get.
What is included in the Mother's Day questionnaire?
This Mother's Day printable is a great way to see how much the kids know their mom.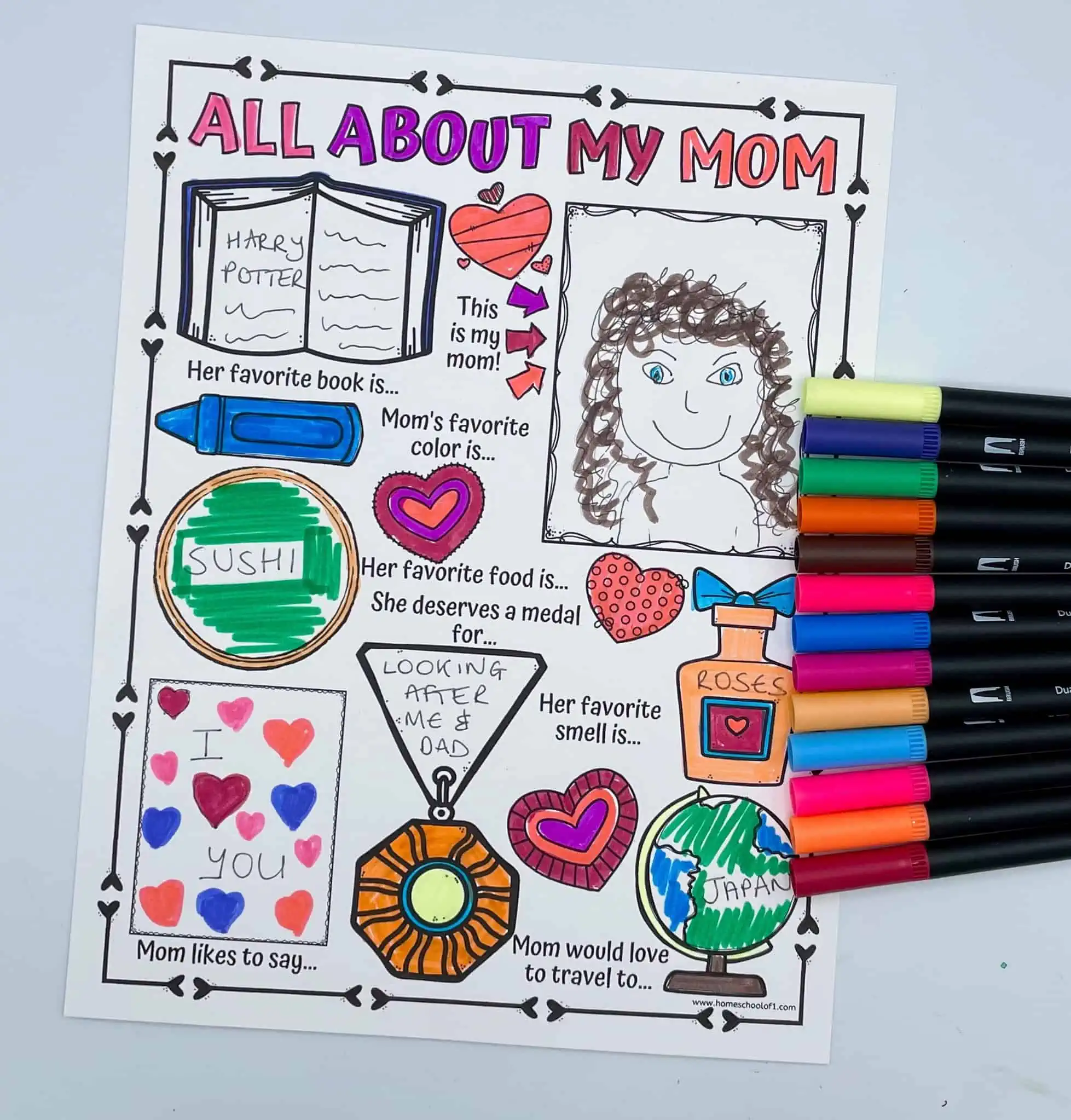 There are 8 sections to complete including:
This is my mom!
Get the kids to draw a picture of mom. Older kids who struggle to draw a picture of their mom can always add a nice photo they have taken of them together and stick it to the page.
Mom's favorite book is…
The kids who love to draw could try and draw a picture of mom's favorite book, however, just writing the title of the book will work too.
Mom's favorite color is…
If mom has a few favorite colors then the kids can color the crayon in multiple colors.
Her favorite food is…
Either draw her favorite food on the plate or just write it down.
She deserves a medal for…
The space is fairly small to write an answer, so maybe a few words like being a mom, and looking after me, will be great.
When they have thought about the many reasons mom deserves a medal they can color it in.
Mom likes to say…
Try and encourage the children to write positive things!
Her favorite smell is…
When the children color in the perfume bottle, they could write what mom's favorite smell is, is it a favorite perfume? Is it a flower?
Mom would love to travel to…
Write the answer in the globe with where you think mom would like to travel to. Then color in the globe with crayons or coloring pens.
I recommend getting the kids to answer the questions about mom before they color in the rest of the coloring page.
The grandma printable is exactly the same, but instead of mom, it says grandma.
This mom questionnaire will make a really fun keepsake that mom will treasure. It will also make a perfect addition to our free Mother's Day coloring cards for an extra special treat.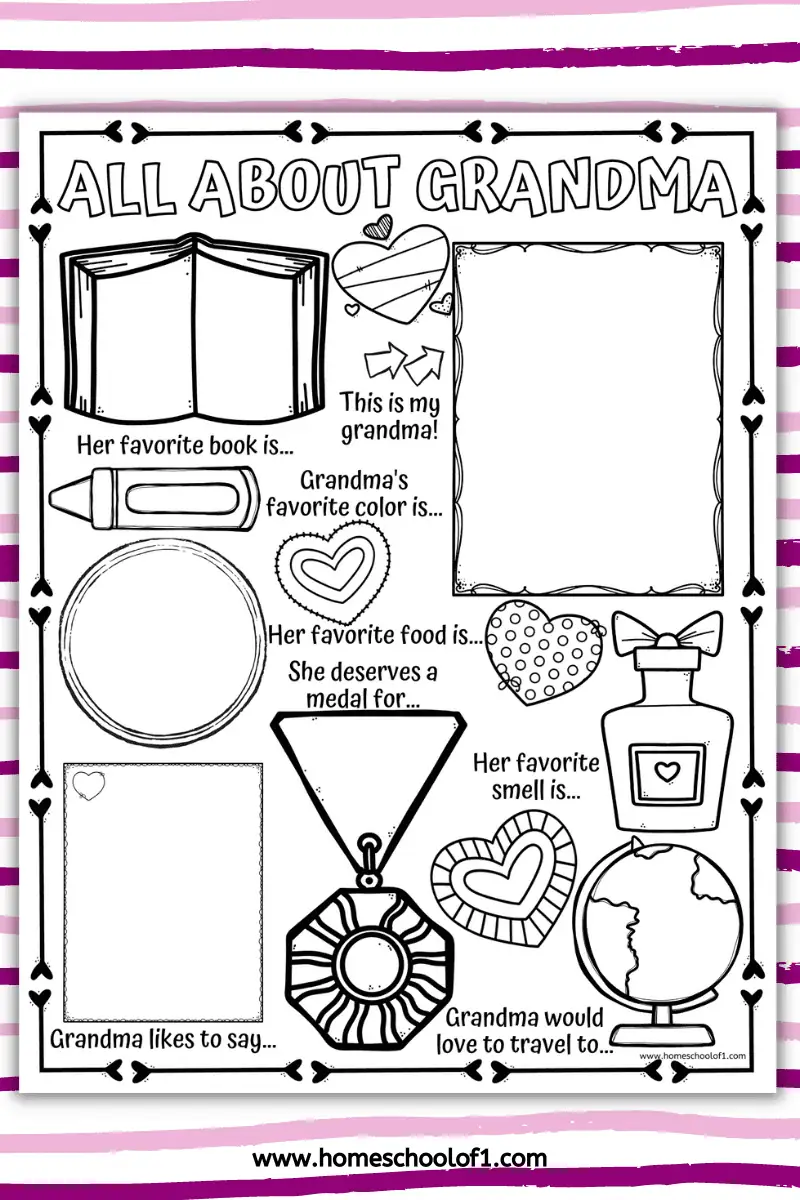 Mother's Day Gift Ideas and Free Mother's Day Printables
If you are looking for a really great gift, I am loving this personalized t-shirt for mom with all of the kids' names on it.
Tips for downloading the free files
Below you will see a large sign-up box where you need to add your name and email address, and press I NEED THIS NOW!
Within minutes you will be sent the free PDF directly to your email address, so you can print it out and start using it immediately.
Sometimes emails get a little wonky, so if you can't see it, please check your spam folder where I am sure it is hiding.
Download the All About My Mom Free Printable
Make sure you choose the correct paper size and click on the shrink to fit button. All of our free printables for kids work better when printed on cardstock (this is the one we use and love.)
You will also enjoy our Father's Day all about my dad printable
Last Updated on 2 October 2023 by homeschoolof1