Free Halloween Word Scramble Printable (with answers)
Boo! We absolutely love Halloween. This Halloween word scramble printable is an excellent addition to our collection of Halloween activities for kids.
Get your brain cells in a tangle and prepare for some wicked wordplay with these free Halloween word scramble printables for kids!
Unscramble your way through a ghoulishly good time as you unlock spooky words and unravel the secret messages hidden within.
There are 13 Halloween-themed words to unscramble and to help out I have included the answers in the download.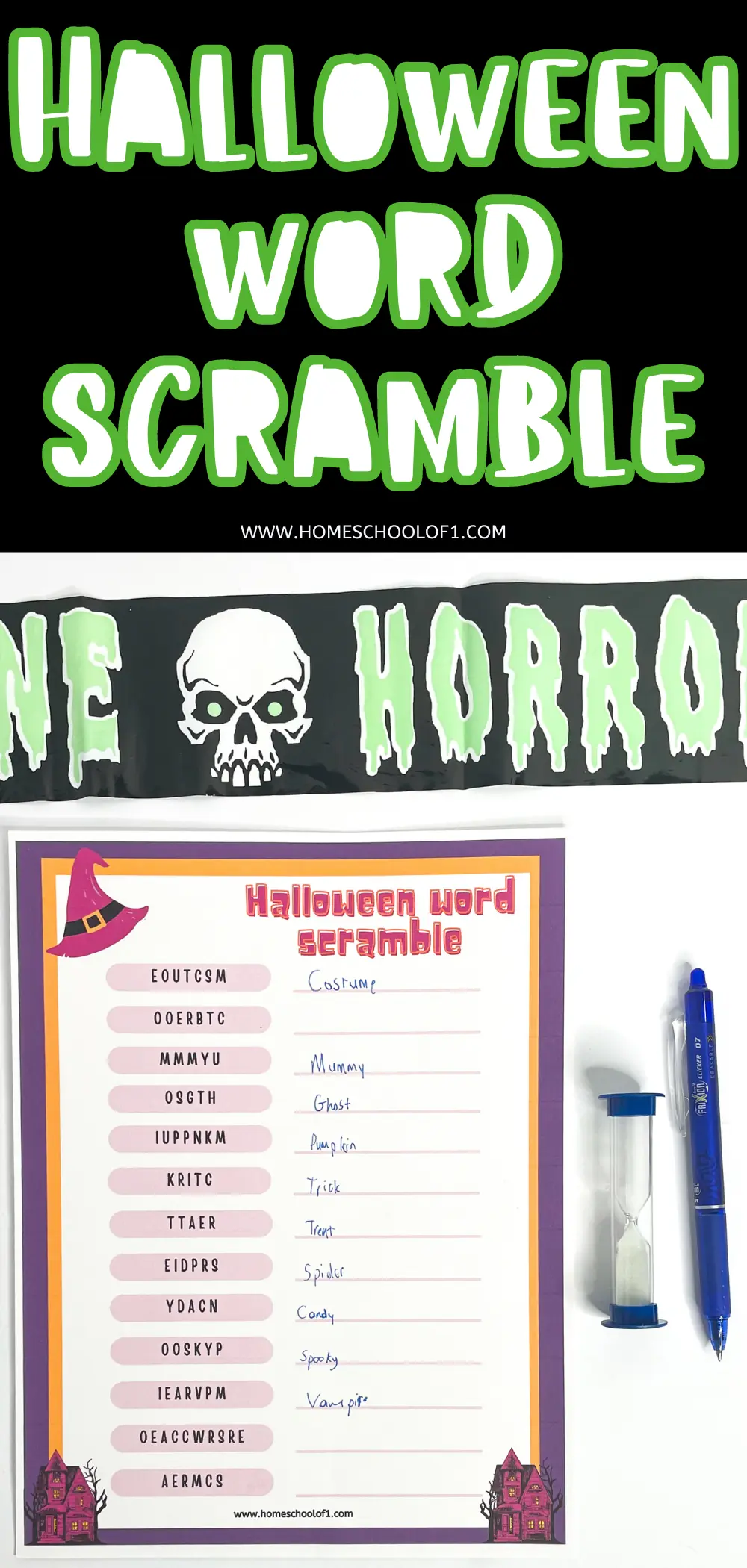 **There may be affiliate links in this post. You can read my full disclosure at the bottom of the page.**
Halloween scramble words
Halloween is a time (or certainly should be) when the kids get to have a bit more fun either at school or at home.
These free word scramble printables are perfect for Halloween either for the classroom, homeschool, or even to hand out in the trick-or-treat bags.
This Halloween word scramble is a great game for upper elementary and middle school-aged kids. I have made it slightly harder by not adding a word list at the bottom so there are no clues. Other than they are all Halloween-themed words.
Print off as many copies as you need and just have fun. Let me know in the comments what your hardest word was. This time it took my husband about 20 minutes to unscramble the word scarecrow!!
Have fun with spooky mad libs too!
Halloween Mad Libs Junior: World's Greatest Word Game
Dolphin Hat Games Taco Cat Goat Cheese Pizza
Hasbro Gaming Sorry! Board Game: Disney Villains Edition
Night of the Living Mad Libs: World's Greatest
How to play word scramble?
Playing a word scramble game is a fun and educational activity where you rearrange the letters of a word or phrase to create new words. Here's how to play:
Materials Needed:
Word scramble puzzle (download at the bottom of the page)
Pen or pencil
Steps:
Ensure everyone has a copy of the word scramble puzzle and a pen or pencil.
Decide if you want to add a time limit to the game to make it more exciting. You can use a timer or stopwatch to keep track of the time.
Players should now work individually or in teams to unscramble the word or phrase and write down their answers in the provided spaces on the worksheet.
After the time limit (if set) or when players believe they have unscrambled the word, check the answers. Compare what players have written with the correct unscrambled word or phrase.
If you're playing competitively, declare a winner based on who unscrambled the word correctly in the shortest time (if using a timer). In a cooperative setting, share the correct answer and discuss the solutions together.
You can play multiple rounds using different words or phrases, or create entirely new puzzles to keep the game engaging and challenging.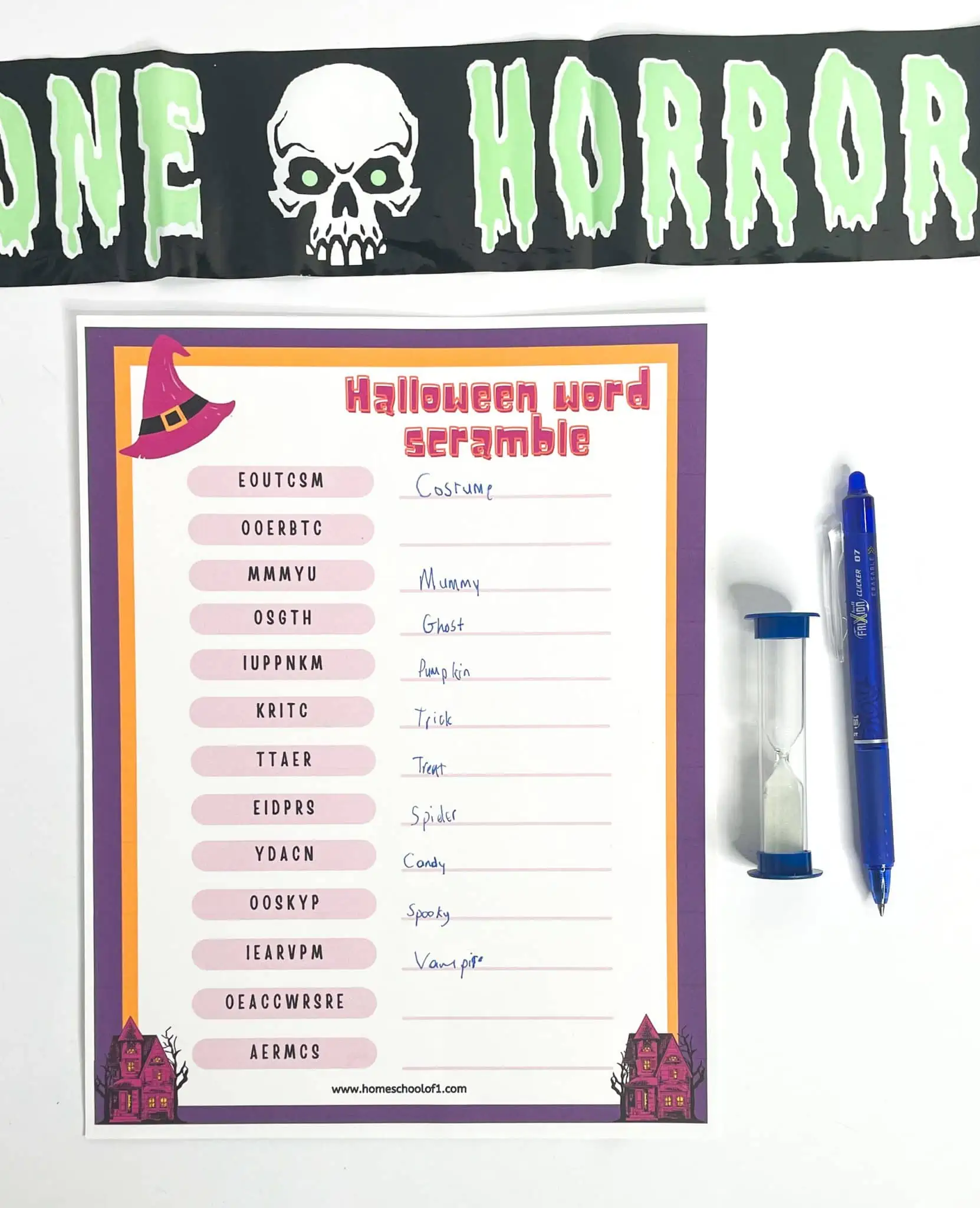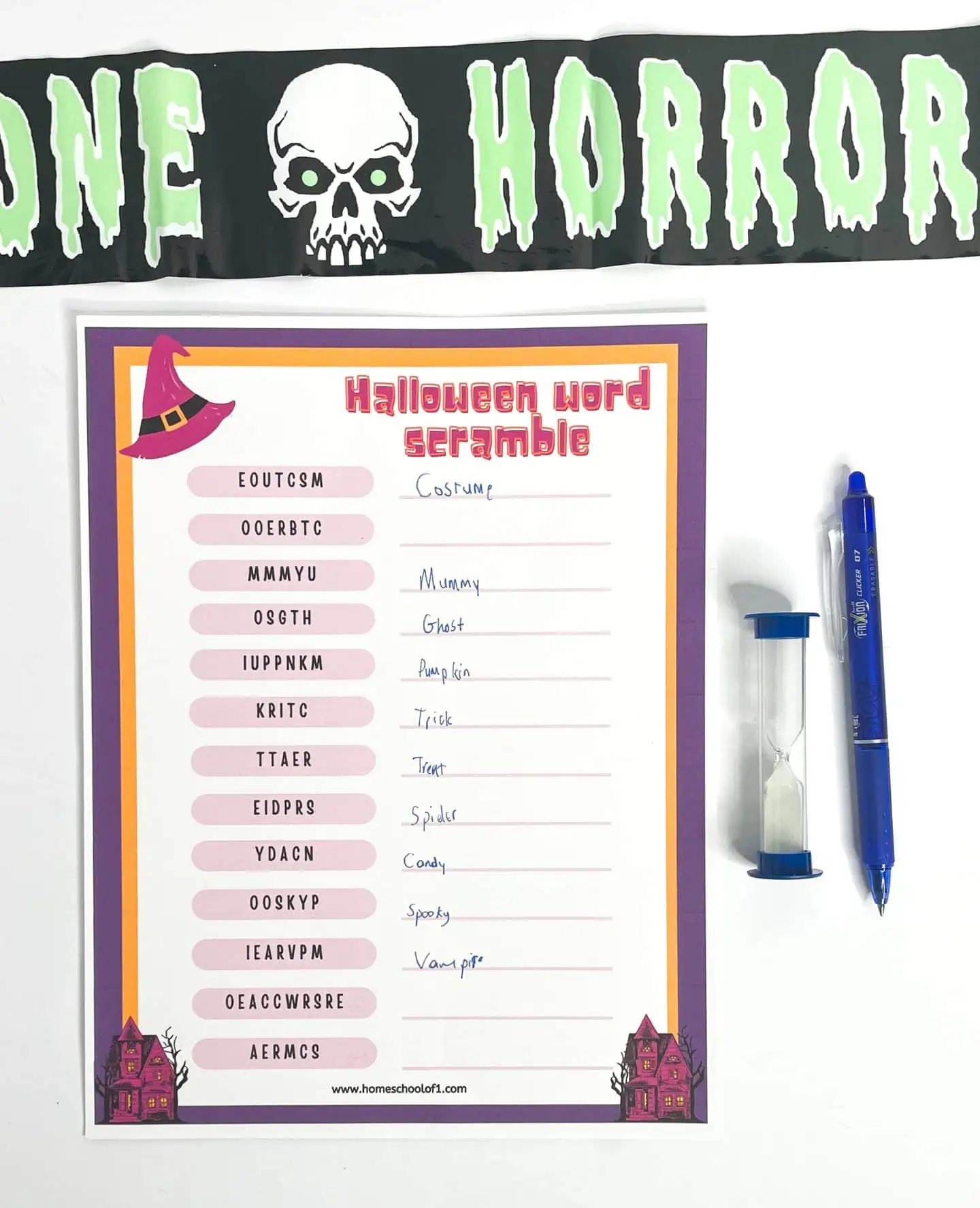 Check out all of our free printable Halloween word games!
Halloween Word Scramble Game Answers
The 13 Halloween words to find are:
Scream
Costume
Spider
Ghost
Vampire
Trick
Treat
Mummy
October
Scarecrow
Candy
Pumpkin
Spooky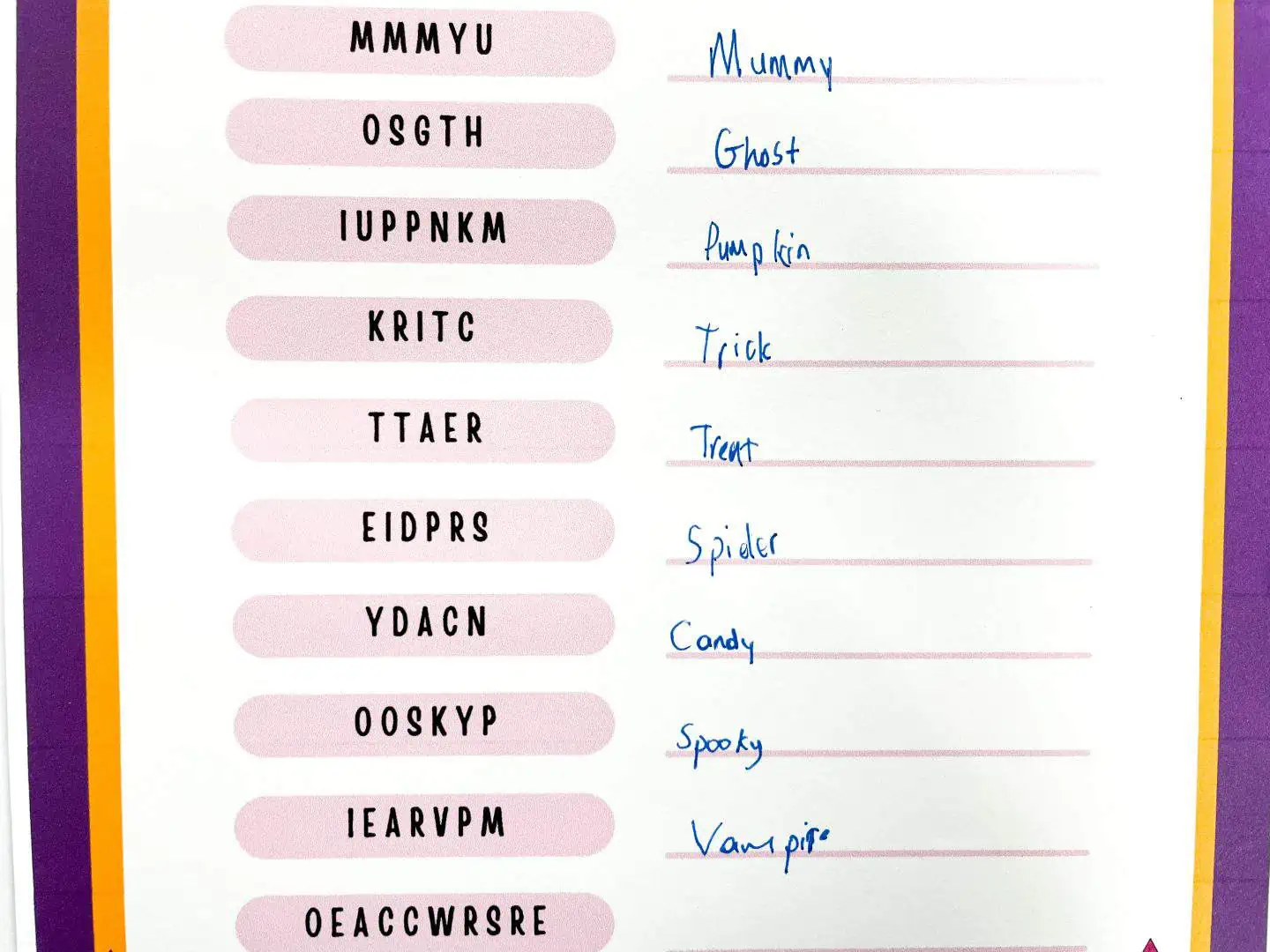 The answers will print off on the second page of the pdf when you download it so you can check everyone's answers.
Have fun with poetry with a scarecrow acrostic poem
Other free Halloween worksheets
These additional Halloween worksheets and activities offer a wide range of creative and educational experiences, making your Halloween celebrations even more enjoyable and memorable. Whether you're looking for games, crafts, or writing inspiration, we've got you covered for a spooktacular Halloween!
Tips for downloading the free files
Below you will see a large sign-up box where you need to add your name and email address, and press I NEED THIS NOW!
Within minutes you will be sent the free PDF directly to your email address, so you can print it out and start using it immediately.
Sometimes emails get a little wonky, so if you can't see it, please check your spam folder where I am sure it is hiding.
Download the free printable Halloween word scramble
Make sure you choose the correct paper size and click on the shrink to fit button. All of our free printables for kids work better when printed on cardstock (this is the one we use and love.)
Last Updated on 26 October 2023 by homeschoolof1