45+ Best Homeschool Activities You Can Do For Fun
We all get a bit lost sometimes, even us homeschool moms! So I have created a list of amazing homeschool activities you can do when you need to do something different!
You don't need to be sitting behind a desk 24-7. You should be able to have fun with homeschool too. Once we realized that (it took a while!) he was so much more productive and actually enjoyed learning.
Check out our recent post on what to do on the first day of homeschool too, there are even more tips!
If you are looking for educational holiday activities check out our ideas for every holiday throughout the year. Including:
**There may be affiliate links in this post. You can read my full disclosure at the bottom of the page.**
Fun Homeschool Activities
The best fun homeschool activities are:
Outdoor homeschool activities
Arts and crafts
Electronics
Games
Music
Cooking
Free homeschool activities
Rainy Day indoor activities
For more detailed ideas carry on reading.
Homeschool Outdoor Activities
Bounce on a trampoline. Not only is this incredibly fun, but it also helps to blow off some steam and helps to refocus! Check out 26 trampoline benefits for kids that will surprise you.
Go on a neighborhood scavenger hunt, and have fun while getting outside.
Have a picnic. If it is raining, just set up a rug on the floor in your living room and have picnic food. When my son was younger we used to set all the teddies up around the blanket too! It was a great way for us to talk about our day.
Gardening or creating a fairy garden. I do not have green fingers at all, but, getting outside and potting plants is really relaxing and great for kids to watch them grow. You will also enjoy our free garden scavenger hunt printable.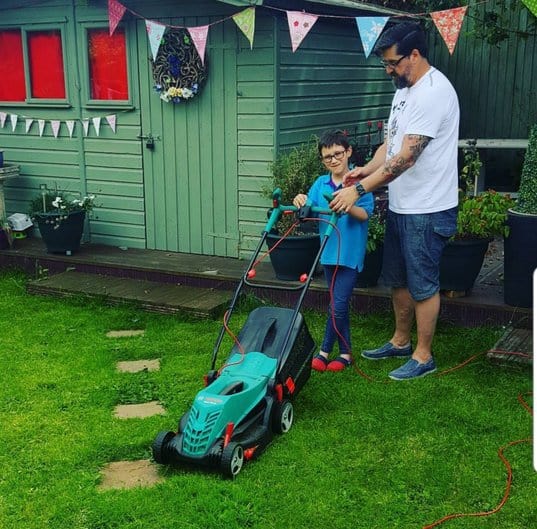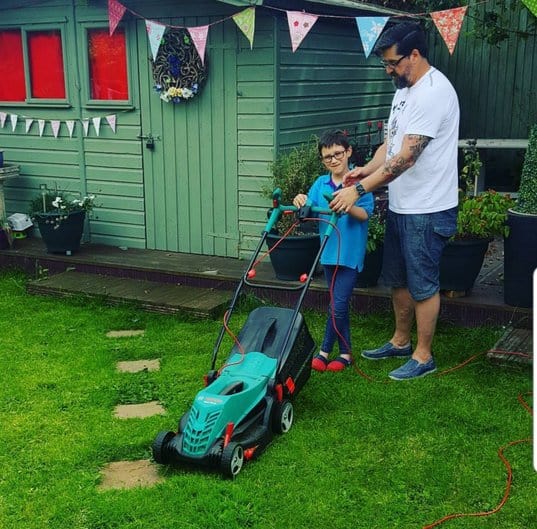 A skipping rope is really good exercise and so much fun. If you don't have one what about a hula hoop?
Basketball. Dribbling a basketball is lots of fun and gets the heart pumping.
Garden Chalk. Now we love creating pretty pictures in the garden. You can also create your own hopscotch. Check out our favorite chalk marker ideas the kids will love in the summer.
Geocaching. Join the world's largest treasure hunt. Have hours of fun outside finding objects along the way.
Go to the woods and make a den or forage for sticks etc and create some nature art.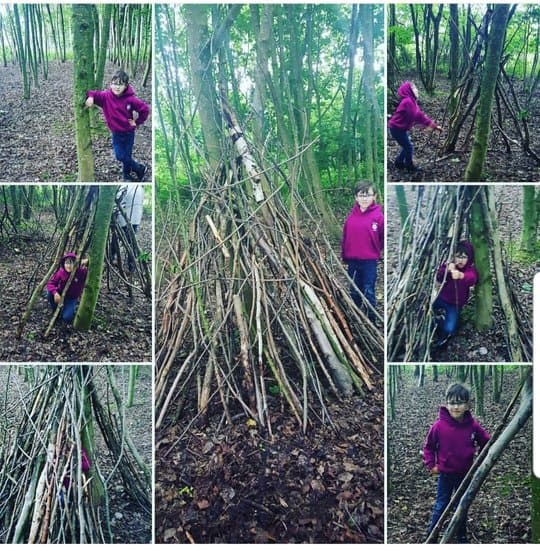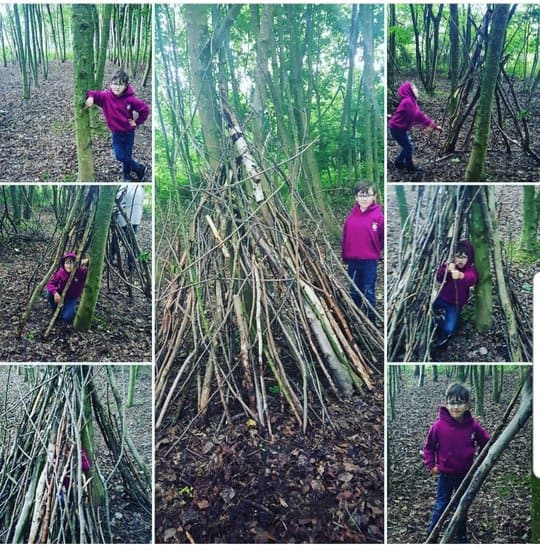 Get creative and paint a rock, and then hide it! This is really popular and there is a FB group called RCT Rocks where other people do it too! It's a great way to get outside!
Beach days. If you happen to be near a beach go for a swim, walk on the beach, or build a sandcastle. Print out our free beach scavenger hunt and have even more fun!
Fishing – Be careful where you go though, as lots of places need licenses.
Homeschool Crafts
Scrapbooking. We always create a holiday scrapbook, but this could be done after a great day out. Or even just about what they have done at home that week.
MEL Science. Order some educational subscription boxes to keep them busy. You never know you might even get a bit of work done while they are busy! If you are looking for a subscription box for tweens check out our favorites for boys! Check out our Mel Science review to see what exclusive coupon codes we have available.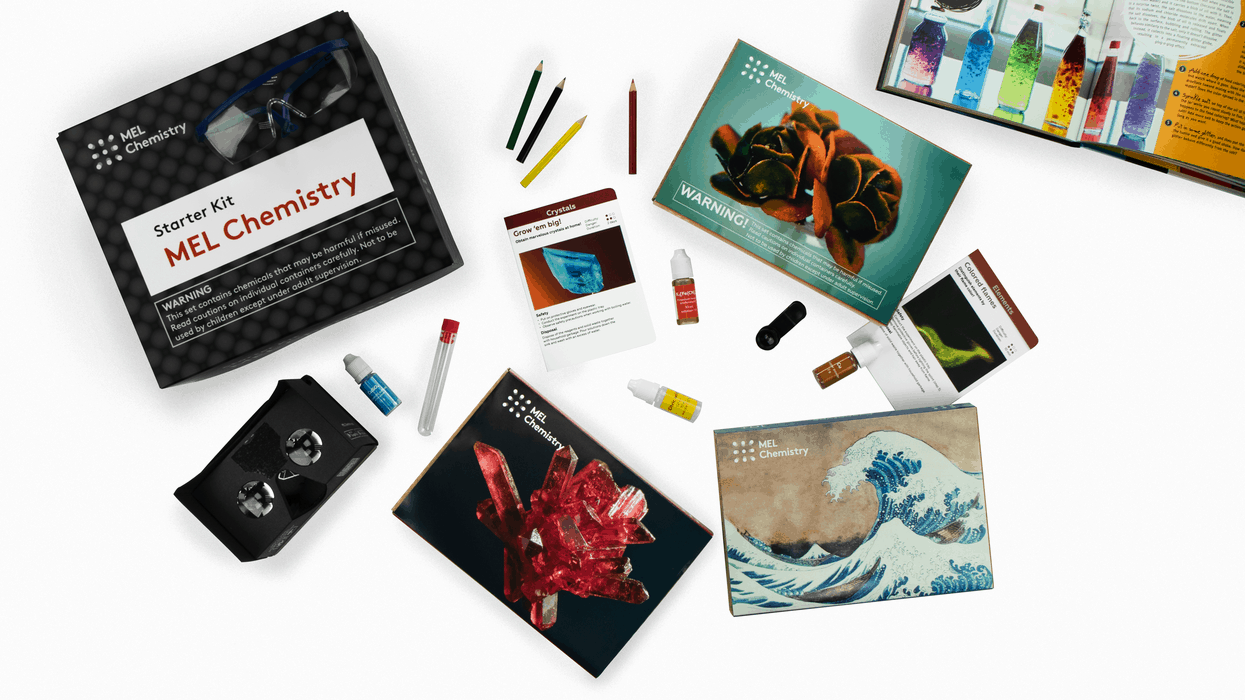 Leaf coloring page. Of course, it depends on the time of year. See what different types of leaves you can find and go home and paint with them. It can take a good couple of hours and is great fun.
Aquabeads. You probably have these lying around in the house already. Dig them out and get creative.
Drawing. My son was never interested in coloring or drawing, that was until he found great tutorials on Youtube. There are loads to find but check out our favorite art homeschool curriculum.
Junk Modelling. We have a lot of deliveries and we love creating robots with the boxes! Hours of fun!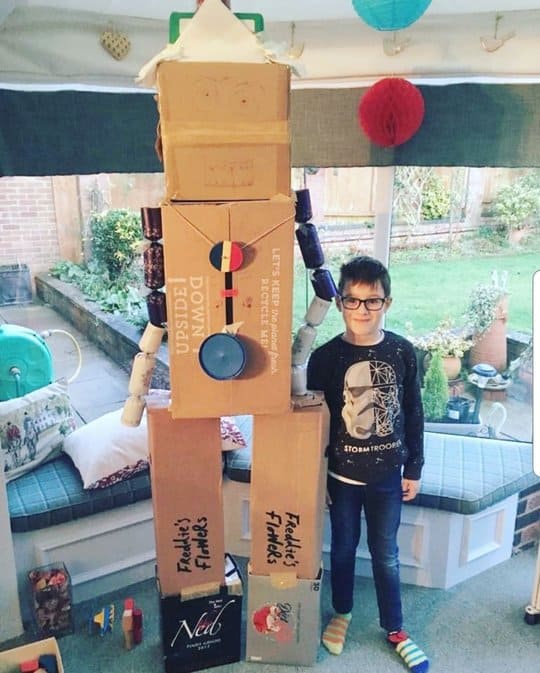 Electronics
Kids educational videos on Youtube. This one is for when you all need some quiet time! Do you need to get on with your own thing? Stick the TV on for a bit and get them learning the fun way! Trust me it is a win-win!
Educational Alexa Skills to have fun with. When we first got our Alexa I loved it for shopping lists and looking things up. I didn't realize there were so many educational skills! Get your kids to check them out, they are so much fun.
Free typing games. I absolutely love educational games, especially those on a computer! My son can spend hours playing these games, he is having fun and he is learning at the same time.
Duo Lingo – this is another one of our favorite apps. We are currently learning Spanish! It is amazing (and free!).
Get the kids to teach you how to play their favorite game on PS4, Xbox or Switch. Now, this is my least favorite activity, but, the smile on his face when I suggest it makes it all worth it. Of course, I am rubbish and he beats me every time. But it makes him happy!
Pokemon Go. This is both electronics and an outside activity that is super popular for kids and adults alike.
Homeschool Games
We just love educational board games, check out our favorite homeschool games.
Book Bingo. This is an ongoing game, that gets the kids reading for prizes! I mean the prizes are more books, it's a win-win for us! Check out over 20 of the best book lists for kids for inspiration.
Mad Libs. If you are a homeschooling family check out our homeschool mad libs here.
Lego. This can take hours and is great fun. Rather than actually build them, as in our house this is done once and then destroyed. We play with the minifigures. We've used them to play chess (good guys vs bad guys) it is a great take on the original game.
We even created our own draughts board and used them for that too! If you are interested in finding out what challenging lego sets we are currently building check out our latest post.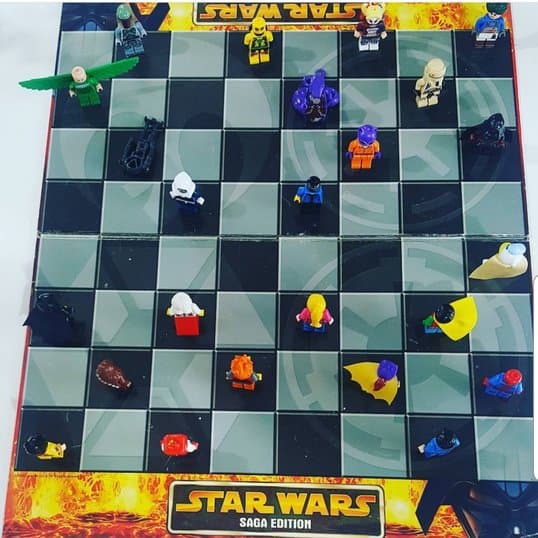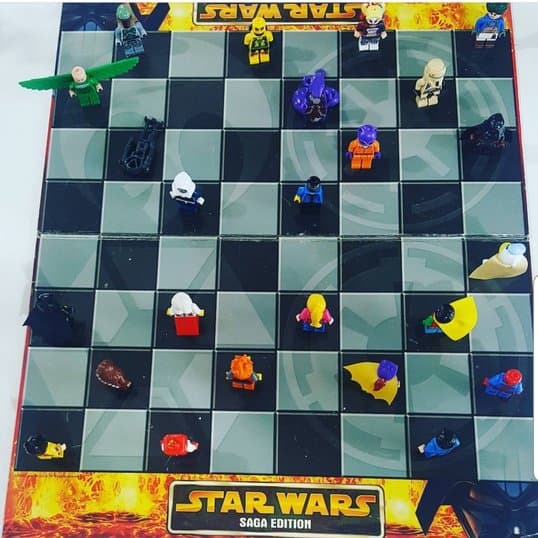 Jigsaws. We have always enjoyed playing with puzzles, and this is a great homeschool activity.
Playing Cards. we play a lot of cards, our current favorite is blackjack and gin rummy. We can play these for hours. I have also encouraged learning to play solitaire, so I can get on with dinner, check out our favorite one player card games if you need some tips!!
Music for Homeschool
Learn to play a musical instrument. We have just started using Yousician to learn the keyboard. But there are lots of others you can use, check out our top 18 online piano lessons for kids. Most of them are FREE.
Make up your own song is one of our favorites. My son's best song was about when he gave up school and how much happier he was being homeschooled. He wrote all of the lyrics and then sang it to me. Although I had to have my back to him as he got a bit shy!
Cooking / Baking
Our favorite kid's cookbook is this Complete Cookbook for Young Chefs. It is so good even when I am cooking alone I will still use this book.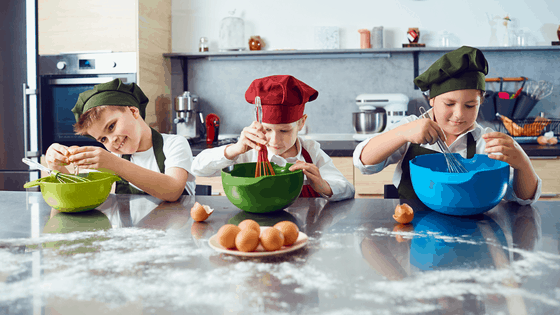 Do some baking with the kids, we have an annual tradition of making our Mary Berry Christmas cake. Or encourage them to help make the dinner! Cut the vegetables into funny shapes if it makes it easier!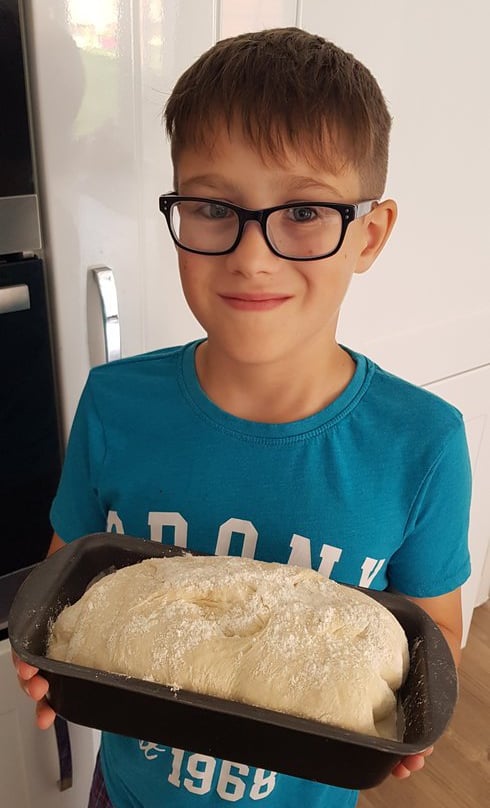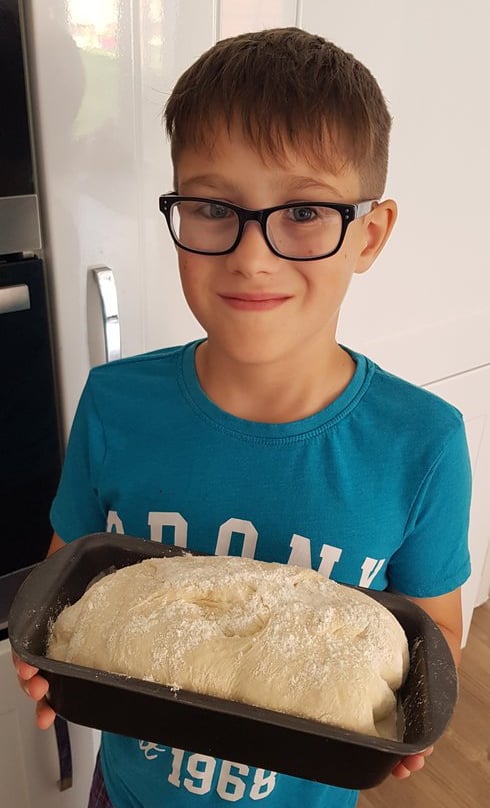 Make your own playdough / slime. There are lots of youtube videos to help you along the way or check out Pinterest if you prefer. But this is a great way to get kids involved in the kitchen!
Free Homeschool Activities
We love free! Check out over 100 of the best free homeschool curriculum resources too.
Go to the library – this was our favorite day out. We loved flicking through new books and finding new fun things to read. Often they have free activities too.
Have fun at the local park – Easy! Take a stroll to the local park, and why not do a scavenger hunt on the way.
Go to an art gallery /museum – So many of these are free. You can also do some research on the artists when you get back home too. Can they draw like Picasso?
If there are any free museums in your area have fun there. London, in particular, has a lot of free museums. But if you look I am sure you will find some great free ones in your local area too.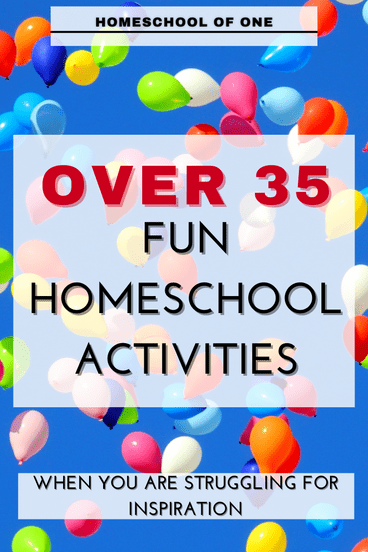 Fun Homeschool Activities
Build a den – My son is now 9 and still enjoys building a den in the house. Once he has built it he will often sit in there and read his favorite book.
Read a fun book – Favorites here are David Walliams and James Patterson at the minute. But he also enjoys reading joke books too. Check out our favorite books for 9 year old boys, and books for 13 year old boys.
Housework! Now yes I know you have to sell this as a fun activity! But it can be done.
Tie dying t-shirt – this is so much fun, and messy too. So perfect homeschool activities for kids who like to get dirty!!
Learn how to sew / crochet or knit. There are hundreds of amazing youtube tutorials for this. And what a great life skill!
Write a book / comic get creative and choose what characters you want in your book. We have never got round to writing a book yet, but comic strips are always a winner.
Photography – dig out your old camera, or even your phone, and get them to be creative with taking some amazing photos. Or just look through some old photos and remember what amazing things they have done.
Say yes to everything challenge! We tried this for a week recently, and it was the best thing we have ever done.
37 Talk Like Pirate Day activities!
For older children why not create an escape room for them!! I have put together some amazing resources you can use (for FREE) to create some really cool escape room puzzle ideas!
What are your favorite homeschool activities? Please let me know in the comments below.
Last Updated on 25 January 2023 by homeschoolof1