How to Survive Homeschool Sick Days? It's Easier Than You Think
We all know these dreaded days when mom is sick and you have to take care of the kids! It's even harder if you homeschool, you are not just a mom who can send the kids off to school. You are with them 24/7! See how we survive homeschool sick days.
But don't worry I have you covered. In fact, the last time I was ill my son had the best day ever!
Us homeschool moms give ourselves such a hard time. But you know what, you don't have to homeschool every day!
There are so many things you can do if mom is sick, and the kids will love it.
We have to put ourselves first, just sometimes!
We need to get better to be able to be a mom and teach every day! So when you are feeling sick I highly recommend you do these things.
The kids will not suffer, and it will not stop them from going to college or getting a job! Yes, we all feel like this at some point in our homeschool journey!
Of course, not all of these ideas will be useful depending on the age of your children. But I will go through all of the things we have done when I have been sick over the years.
These are ideas for every mom whether you homeschool or not, but most of these are educational, as we do homeschool!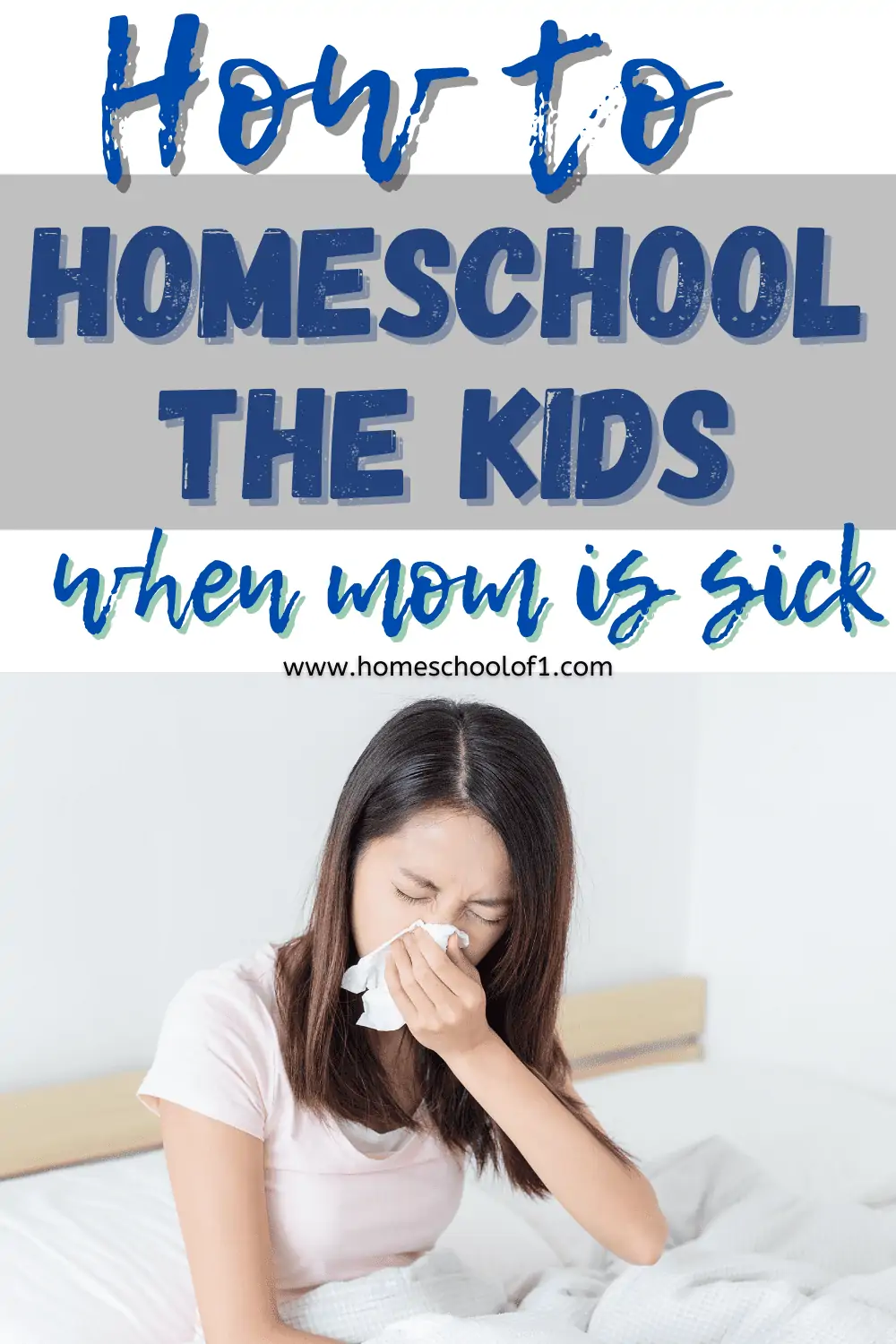 **There may be affiliate links in this post. You can read my full disclosure at the bottom of the page.**
What to do with the kids when you are sick?
When you are sick and need to homeschool your kids, it can be challenging to balance taking care of yourself and providing a quality education. Here are some homeschool sick day tips to help you manage:
Plan ahead
If you know you will be sick, try to plan ahead and prepare some lesson plans or activities that your kids can do independently.
Reach out for help
Don't be afraid to ask for help from friends, family, or neighbors.
They may be able to provide some support, such as supervising your kids or running errands for you.
Get the kids reading
No matter what age, get the kids reading, if they don't have any books, get them to listen to an audiobook.
If your child is too young to read, no problem, put them in front of as many picture books as you can find.
With older kids get them to write a middle school book report template after they have finished. It gets them to do writing too!
Watch a movie
Yes, this is ok.
I mean they even watch movies at public schools sometimes!
If they are older let them watch a film of a book they have read. Then ask them to write a COMPARE AND CONTRAST MOVIE AND BOOK TEMPLATE.
Providing comfort through plenty of snuggle time is what defines being a good mom when sick!
Get the kids coloring
No matter the age (well maybe if they are very young, this might not be a great one, as they will probably draw on your walls!) get them to draw a picture.
There are loads of free resources in this homeschool art curriculum list from my son's favorite Youtube channels.
Or if you prefer printouts, check out all of our free kid's coloring pages.
Use online resources
If they do better with a tutor why not get them set up with an Outschool class?
There are always classes available last minute, in pretty much every subject you can think of!
Educational Games
Our favorite educational apps are Night Zookeeper (Check it out for yourself here (or if you are in the UK here) where you will get a 7-day free trial plus an exclusive 50% off.), Brainika, and Prodigy math.
Let the kids learn to code
Get the kids coding.
It will feel like they are playing but learning at the same time.
Win-win, check out our favorite coding websites for kids there are free and paid for options.
Watch a documentary
Watch educational documentaries, we love Curiosity Stream. In fact, we generally watch this during our lunch break, or if we are having a slow day! It is so cheap you will wonder why you've not got it before!
Or any of these kid's educational videos that they will love, we particularly enjoy Crash Course.
Learn a new language
There are so many fun ways for the kids to learn a homeschool foreign language, check out these options that won't need you to help.
Download Duolingo for free, and let the kids choose a new language to learn.
Play games
Play games if you are up to it, these are the best educational board games that we love to play.
What about getting them to touch-type? Kidztype is completely free and they will feel like they are playing a game!
The most important thing is to focus on getting well. Make sure you get plenty of rest and take it easy. Homeschooling can wait for a couple of days.
Last Updated on 12 November 2023 by homeschoolof1