Pumpkin Bingo Free Printable Game The Kids Will Love
Get ready for some autumn themed fun with pumpkin bingo free printable!
This exciting activity includes 5 unique bingo boards and one set of calling cards featuring charming images of pumpkins, squirrels, acorns, kids holding pumpkins, and various stages of pumpkin growth.
It's an ideal way to combine entertainment and education for children.
Bingo games are known for enhancing concentration, visual recognition, and social interaction. And with this free printable, you can engage your little ones in a delightful and educational experience.
So, gather your materials and get ready to explore the world of pumpkins with these free printable bingo cards.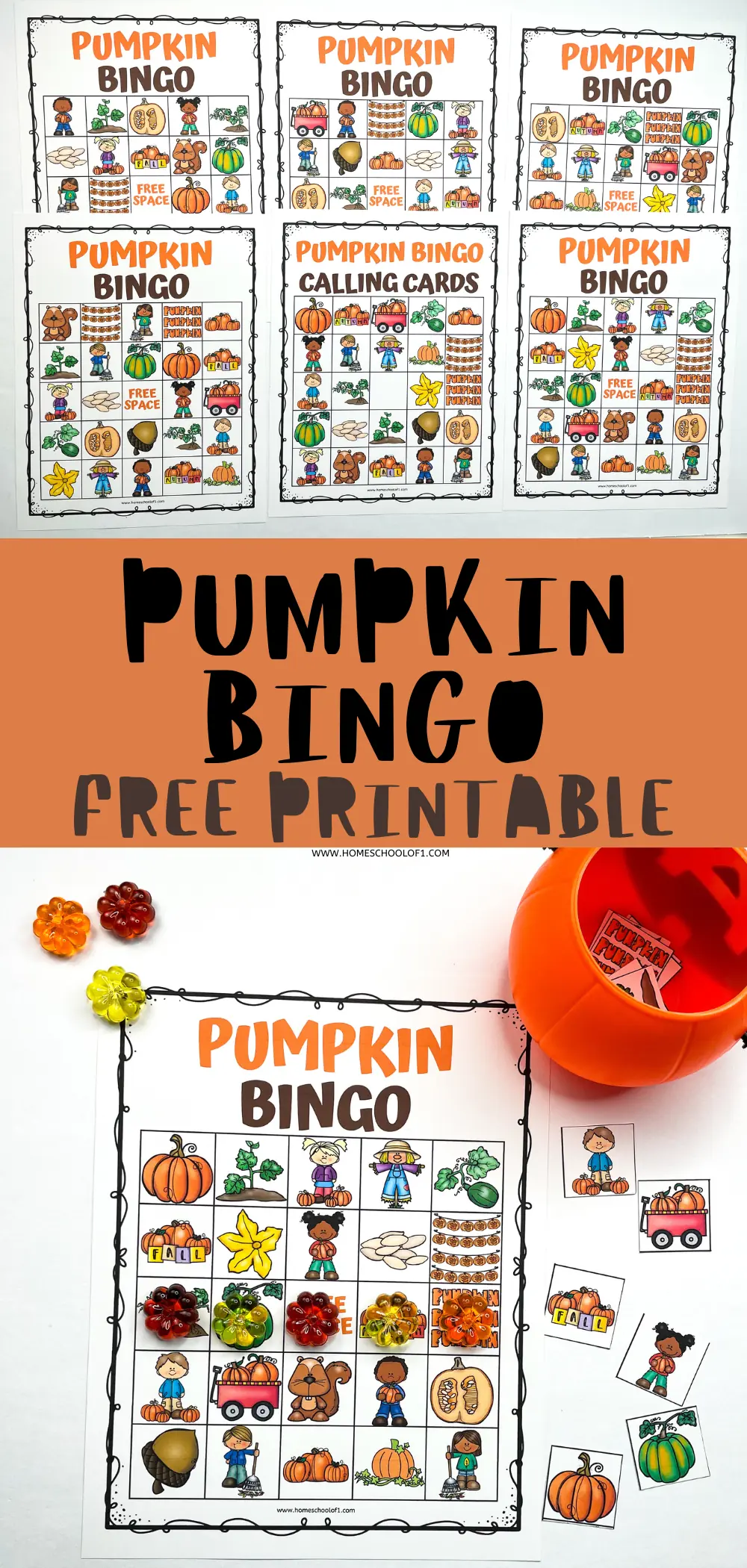 **There may be affiliate links in this post. You can read my full disclosure at the bottom of the page.**
What are the benefits of playing bingo?
Pumpkin bingo offers a wealth of educational and developmental benefits for children. These games are not just about fun; they also play a crucial role in a child's growth and learning.
One significant advantage of bingo is that it enhances concentration. As children eagerly listen for their images during the game, they develop improved focus and attention to detail. This heightened concentration can have a positive impact on various aspects of their academic and daily lives.
Bingo games also promote visual recognition. The act of scanning the bingo board and quickly identifying the images helps kids sharpen their visual discrimination skills.
Additionally, bingo encourages social interaction. Whether played with family members, friends, or in a classroom setting, children learn to communicate, take turns, and cooperate with others. These essential social skills foster teamwork and help them build positive relationships with their peers.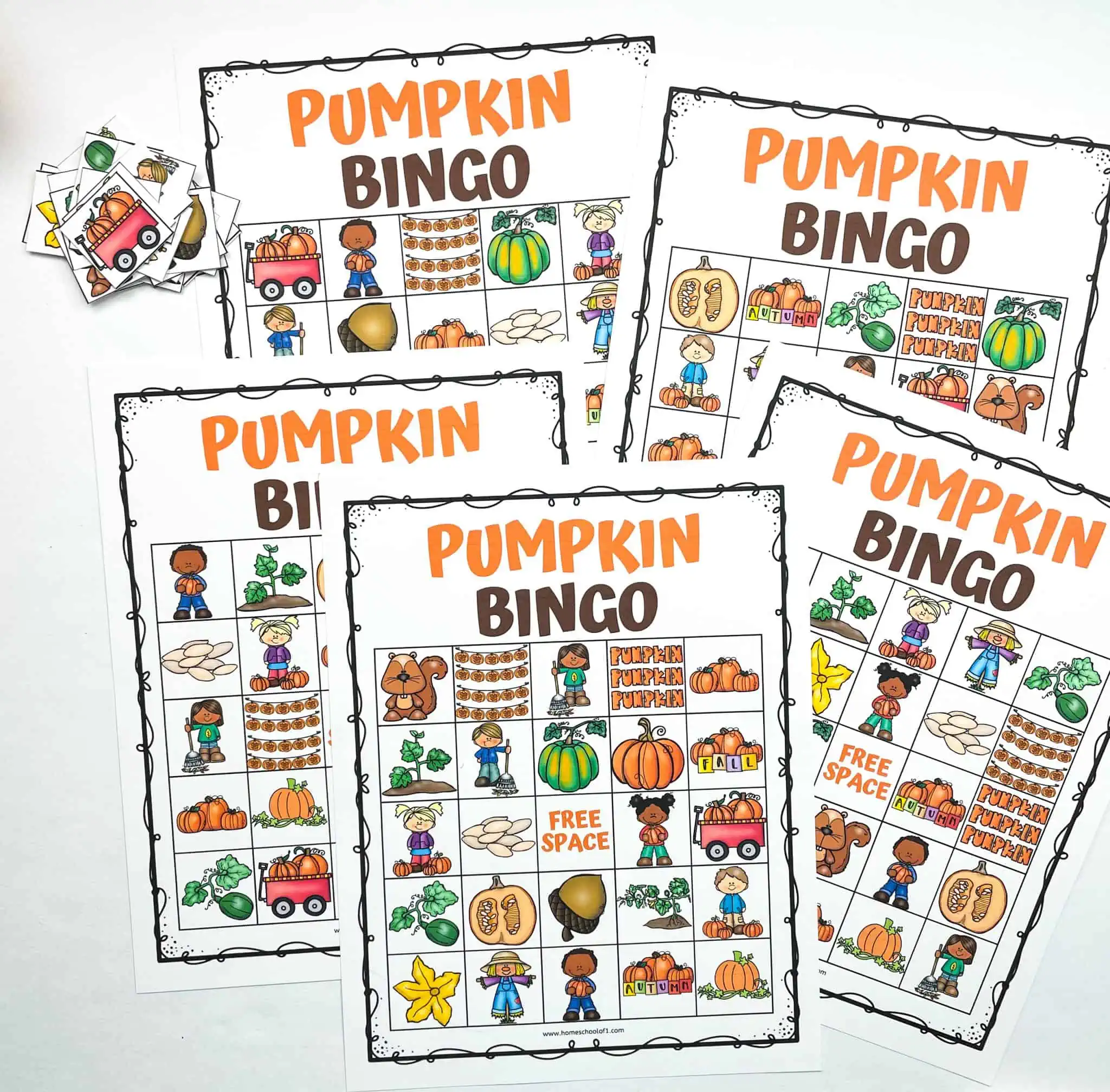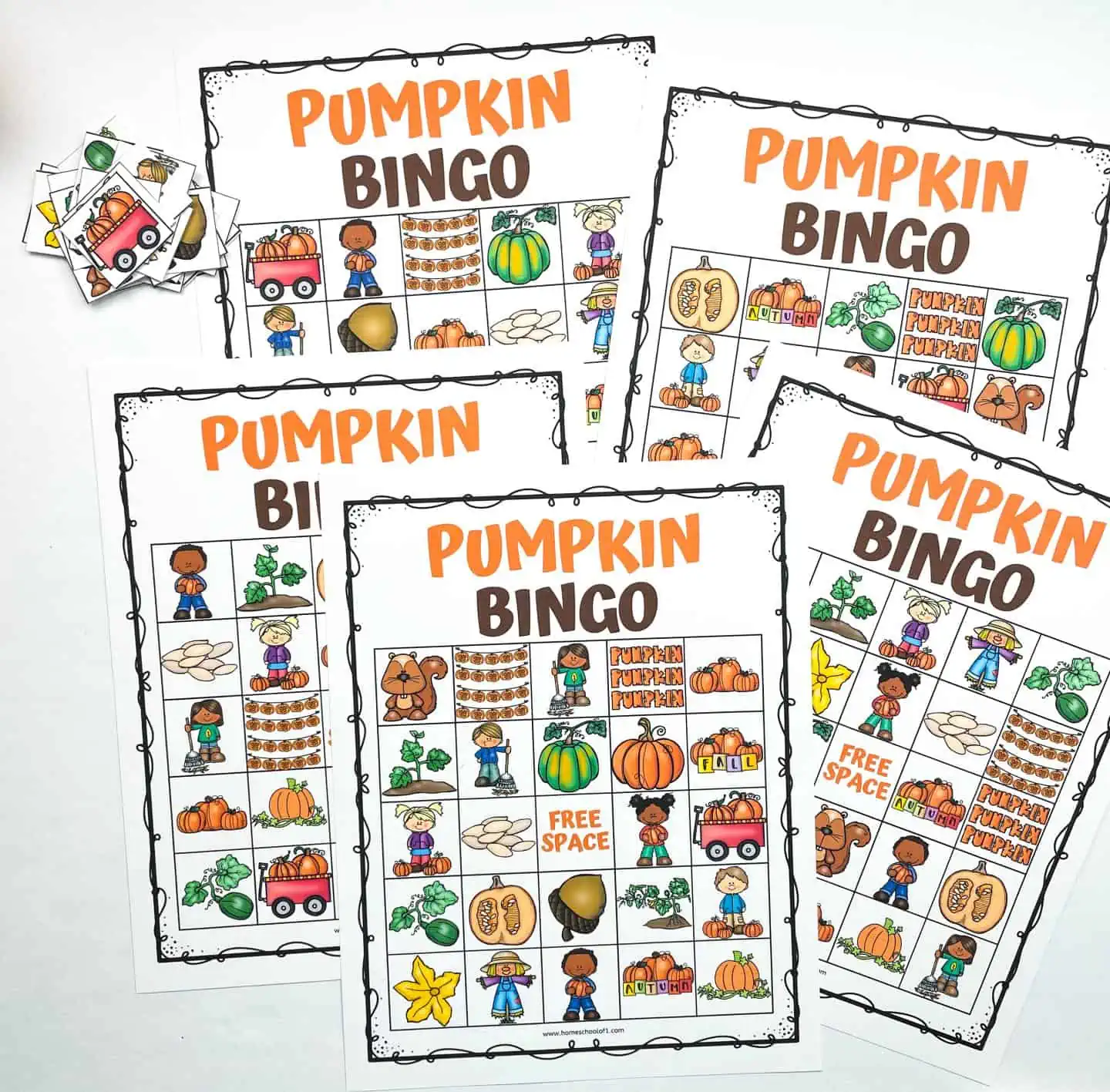 How to set up pumpkin bingo?
Preparing for an exciting round of pumpkin bingo is a breeze, and you'll need just a few simple materials to get started. Here's what you'll require:
Materials needed for pumpkin bingo:
Pumpkin bingo pdf
Printer
Letter-sized paper or cardstock
Scissors
To set the game in motion, follow these straightforward instructions:
First, download the PDF file provided at the bottom of this page. Remember, it's free for personal use only.
Open the PDF on your computer and select the number of boards you'd like to print. These boards come in handy for multiple players. Print them on letter-sized paper or cardstock for durability.
Once the boards are printed, carefully cut out the calling cards. These cards will be used for calling out the images during the game.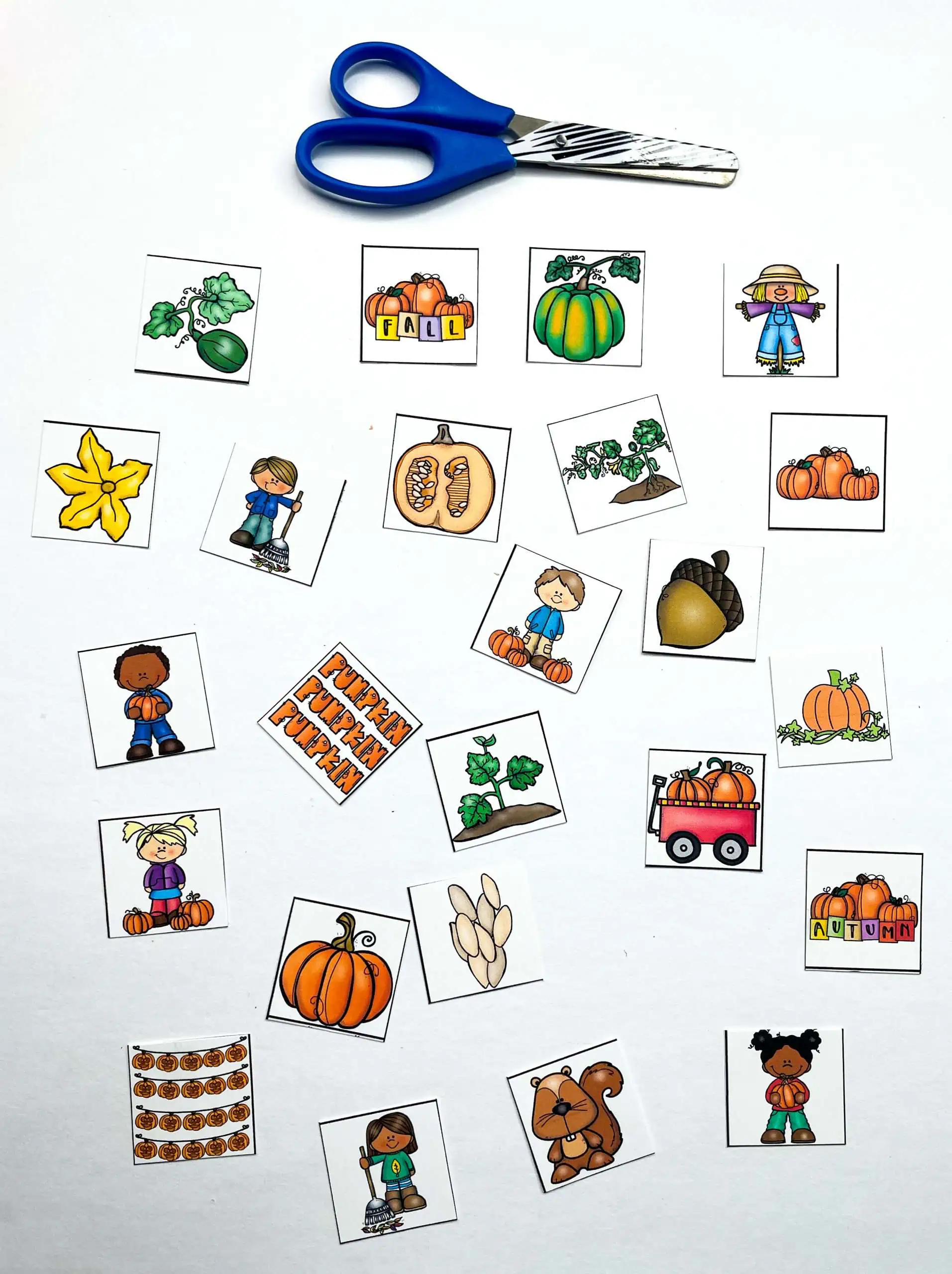 Big Pumpkin
The Pumpkin Book
The Happy Pumpkin (First Seasonal Stories)
The Biggest Pumpkin Ever
Pumpkin Day at the Zoo
Pumpkin Jack
You can also enjoy our free fall bingo printable.
How to play bingo
Playing pumpkin bingo is a delightful and educational experience that children of all ages can enjoy. Here's a step-by-step guide on how to play this engaging game:
Setting Up pumpkin bingo:
Ensure you have at least two players, but pumpkin Bingo is even more enjoyable with a group of friends or family members.
Hand out the bingo boards to each player. Each board is unique, so everyone has a different arrangement of pumpkin-themed images.
Place the set of calling cards face down in a pile or in a plastic pumpkin! Ensuring that the images are hidden from view.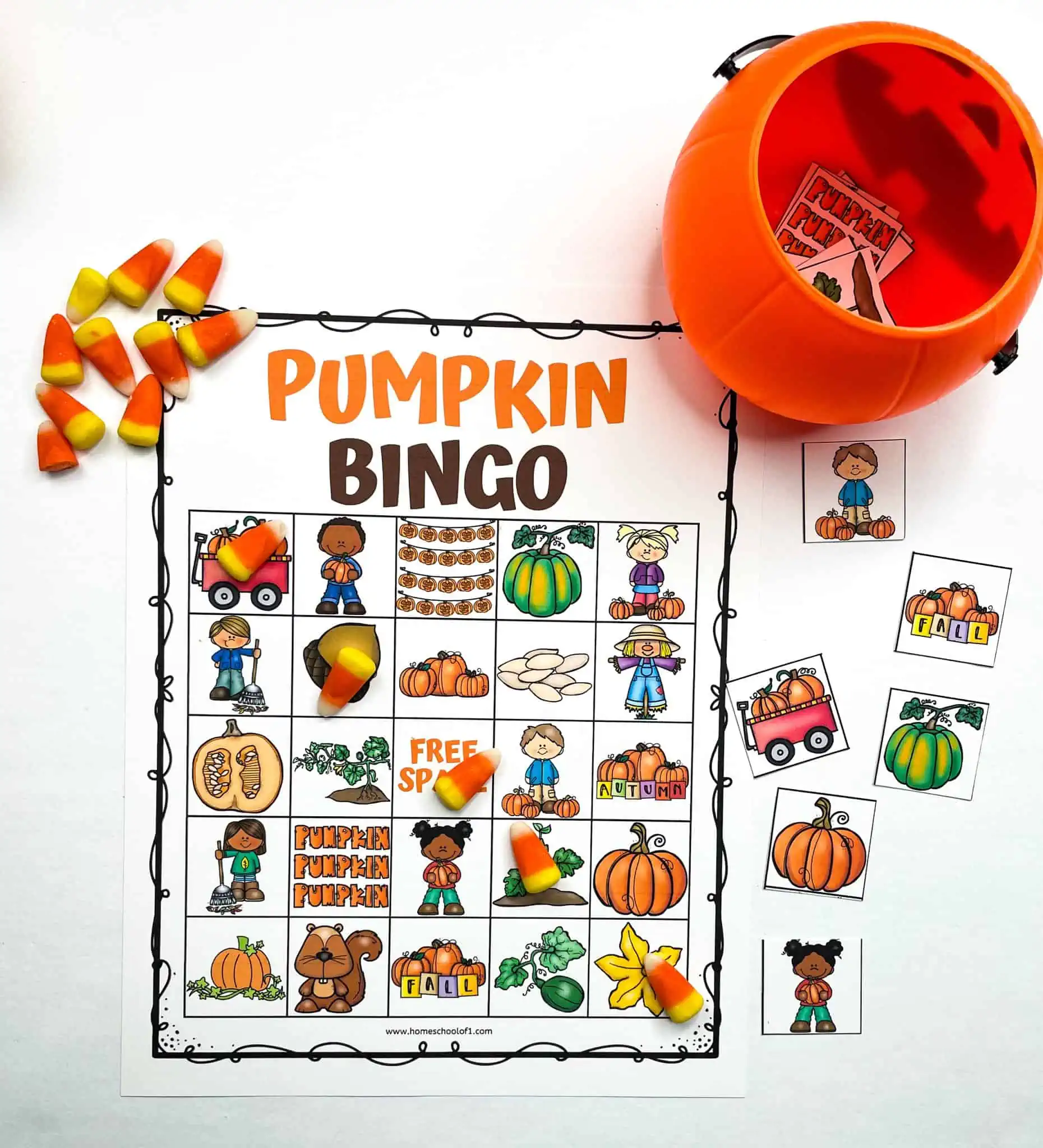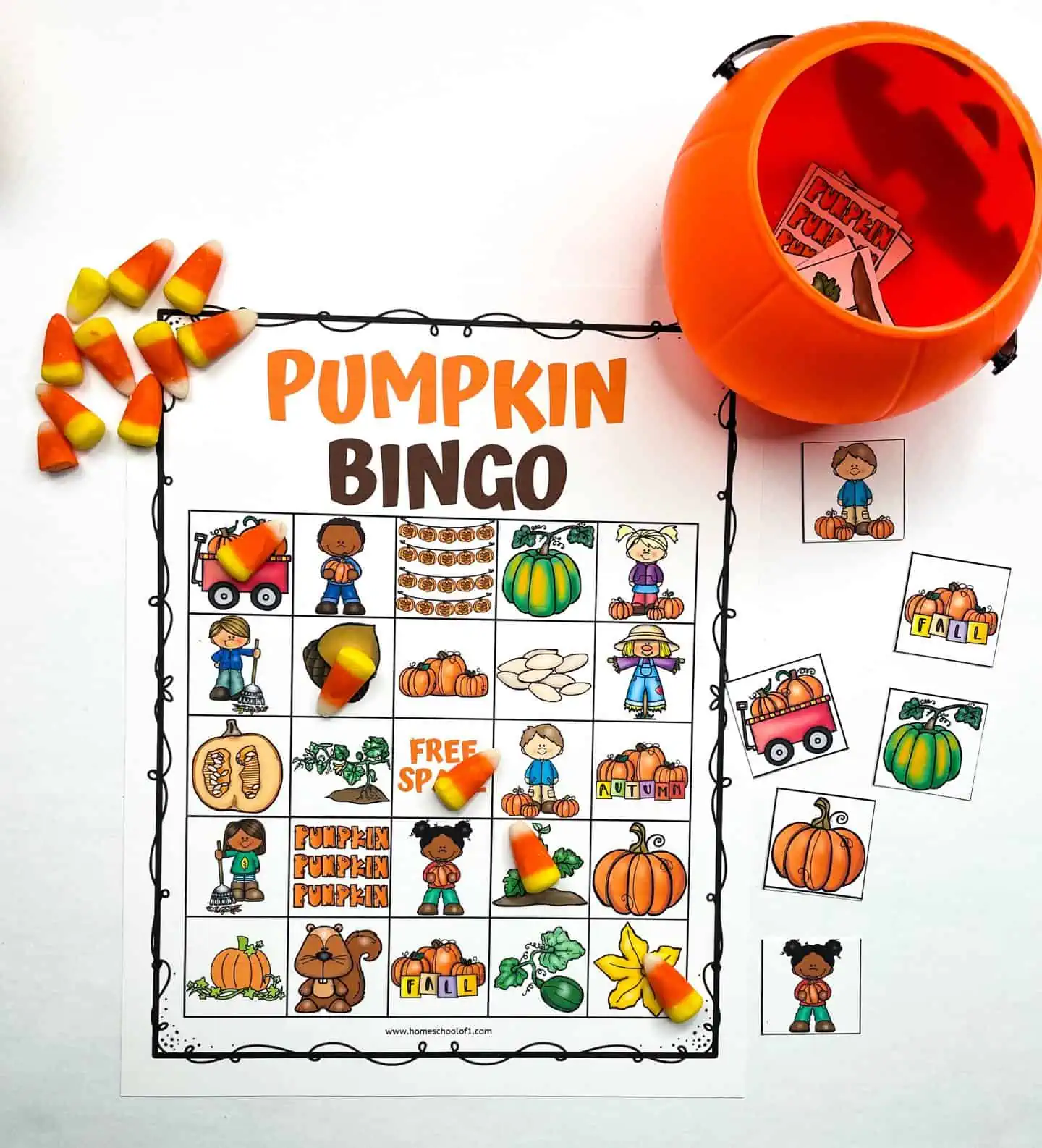 Playing the Game:
One player takes on the role of the caller. This person picks one card at a time from the pile, making sure not to reveal the image in advance.
As the caller reveals an image, players check their boards for a matching image. If they have the image on their board, they can mark it with a small object like candy corn, a coin, or a mini pumpkin.
The first player to mark all the images in a row horizontally, vertically, or diagonally shouts "Bingo!" to claim their win.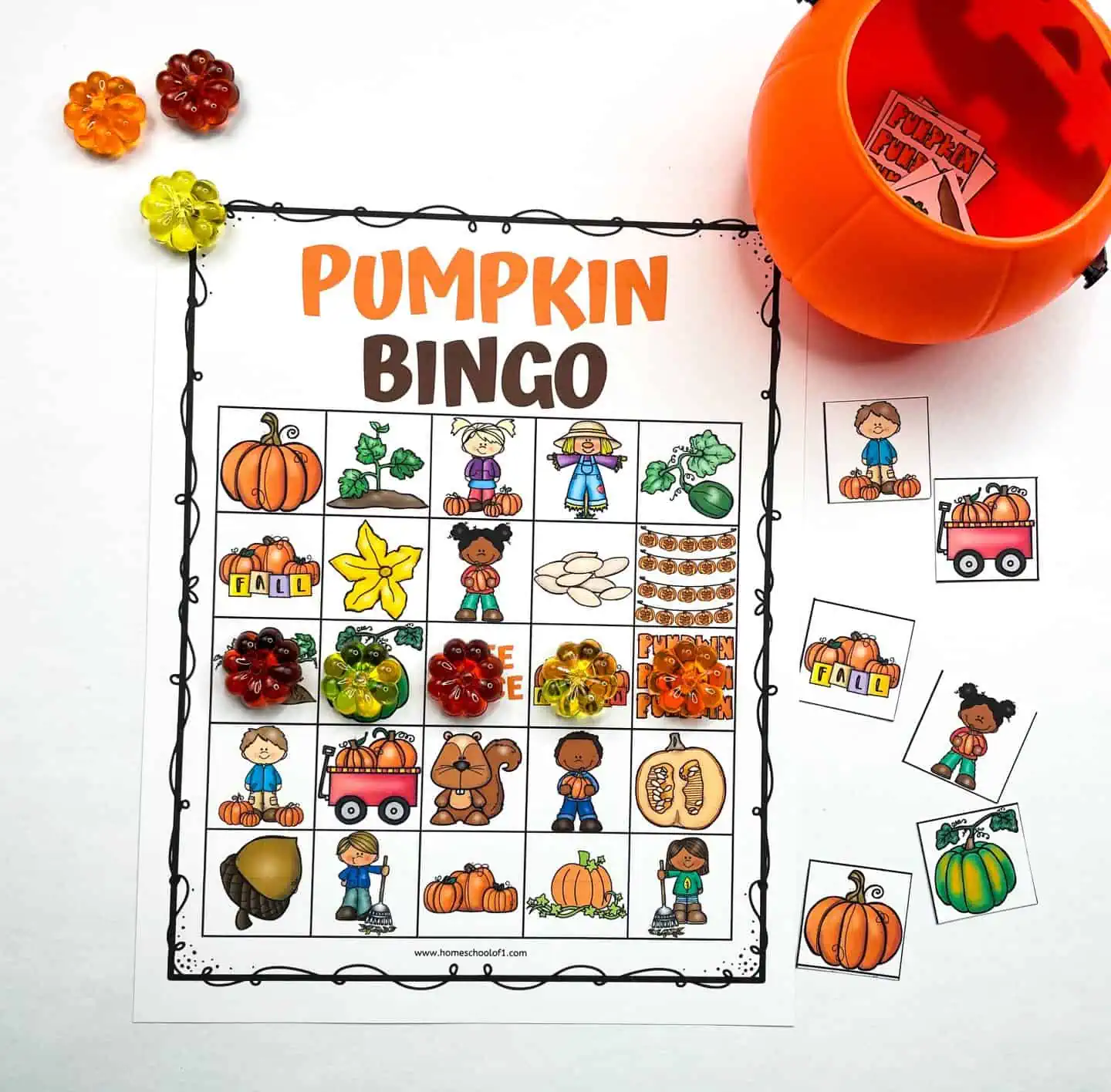 Rules and Communication:
Emphasize the importance of clear and concise communication during the game. The caller must enunciate the image clearly, and players should confirm their wins loudly.
Ensure all players play fairly, marking images only when they're called by the designated caller.
You can play multiple rounds to keep the excitement going. Just reshuffle the calling cards and start again.
Have fun with our free Halloween bingo printable!
Educational pumpkin activities
For older kids, completing pumpkin bingo can be a more engaging and educational experience when combined with the following activities:
By incorporating these activities alongside pumpkin bingo, older children can have an enriching learning experience while having fun.
You can also enjoy the free pumpkin patch scavenger hunt.
Books about pumpkins for preschoolers
Too Many Pumpkins is a charming story for preschoolers about a woman who turns a pumpkin accident into a delightful pumpkin tradition.
The Biggest pumpkin Ever! follows the adventure of two mice who unwittingly grow the largest pumpkin ever. Teaching preschoolers about teamwork and cooperation.
Pumpkin Day at the zoo takes young readers on a journey to the zoo. Where they discover the joys of autumn and pumpkins with the animals.
Splat the Cat and the Pumpkin-Picking Plan tars Splat the Cat as he embarks on a humorous pumpkin-picking mission. Perfect for preschoolers who love Halloween fun.
Tips for downloading the free files
Below you will see a large sign-up box where you need to add your name and email address, and press I NEED THIS NOW!
Within minutes you will be sent the free PDF directly to your email address, so you can print it out and start using it immediately.
Sometimes emails get a little wonky, so if you can't see it, please check your spam folder where I am sure it is hiding.
Download the free pumpkin bingo printable
Make sure you choose the correct paper size and click on the shrink to fit button. All of our free printables for kids work better when printed on cardstock (this is the one we use and love.)
Last Updated on 28 October 2023 by homeschoolof1