Free Printable Halloween Word Games For Kids
Get ready for a bewitching treat this Halloween with free printable Halloween word games.
These word games are a great way to add a little learning fun into your October.
Whether you are using them to add to your lesson plans, or for a spooky family game night. These printable word games are going to be a hit with kids of all ages.
These fun Halloween activities for kids are not only entertaining but also promote language and cognitive development.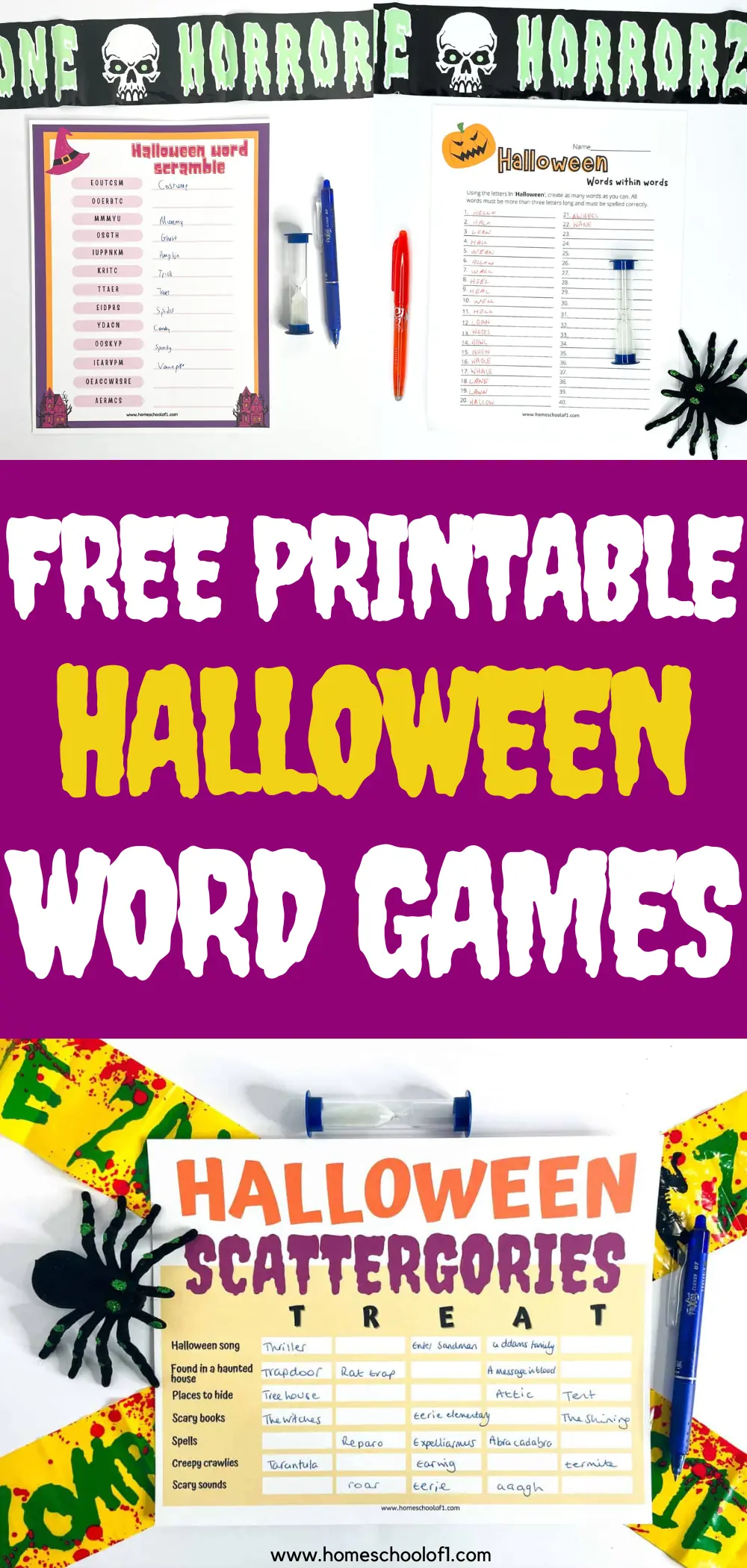 **There may be affiliate links in this post. You can read my full disclosure at the bottom of the page.**
Why word games are great at Halloween
Word games provide a perfect Halloween activity for both elementary and middle school kids, whether they're in the classroom or at home.
These games are not only fun but also offer educational benefits. Enhancing vocabulary, spelling, and critical thinking skills while keeping the Halloween spirit alive.
In the classroom, teachers can use these word games to create an engaging and interactive learning experience.
For parents, these games can be an exciting way to combine learning with the holiday spirit. Making sure that kids enjoy the festivities while continuing to expand their knowledge.
Taco Cat Goat Cheese Pizza – Halloween Edition – Halloween Party Games for Kids and Adults – Halloween Party Favors, Halloween School Party Prize, Trick or Treat Gift, Kids Ages 7+
Shenanigrams – The Mega-Mischievous Word Game! A Super Fun & Fast Family Party Game for Kids, Teens & Adults | Great for Travel, Couples & Family Board Games Nights
Day of the Dead Mad Libs: World's Greatest Word Game
Undead Mad Libs: World's Greatest Word Game
Night of the Living Mad Libs: World's Greatest Word Game
Ghost Story Mad Libs: World's Greatest Word Game
What are the benefits of playing word games with kids?
Playing word games with kids offers a ton of benefits, both educational and developmental. Here are some of the key advantages:
Word games introduce children to new words and expand their vocabulary. They learn to recognize, spell, and understand the meanings of various words.
Many word games require correct spelling, which helps children practice and improve their spelling skills.
Word games often involve reading and understanding instructions or clues, enhancing a child's reading comprehension abilities.
Word games stimulate critical thinking skills as kids work on solving puzzles, anagrams, or deciphering clues.
Games like crossword puzzles and anagrams challenge children to think critically and find solutions, which can improve their problem-solving skills.
Playing word games encourages kids to communicate effectively and express their ideas more clearly.
Some word games, such as Mad Libs, encourage creativity and storytelling, allowing kids to craft imaginative narratives.
Recalling words, spellings, and associations in word games can enhance memory and cognitive abilities.
Many word games can be played in groups, promoting social interaction, teamwork, and healthy competition.
Word games make learning enjoyable, fostering a positive attitude towards education and a love for language.
Word games can serve as a relaxing and enjoyable way to unwind. Reducing stress and anxiety.
Playing word games engages various cognitive skills. Such as memory, attention, and problem-solving, contributing to overall cognitive development.
Halloween word games printable free
These free Halloween word games are fantastic for igniting creativity, enhancing vocabulary, and sparking imagination, all while celebrating the spooktacular season.
Whether you're using them in the classroom to enrich lessons or hosting a thrilling family game night. They are a bewitching way to enjoy the festivities and promote learning.
Halloween word scramble
Enjoy Halloween with a brain-twisting challenge!
Our free Halloween word scramble printable offers spooky wordplay for kids in elementary and middle school, whether in the classroom or at home.
With 13 Halloween-themed words to decipher, this game adds educational fun to the festivities.
The answers are provided for added convenience.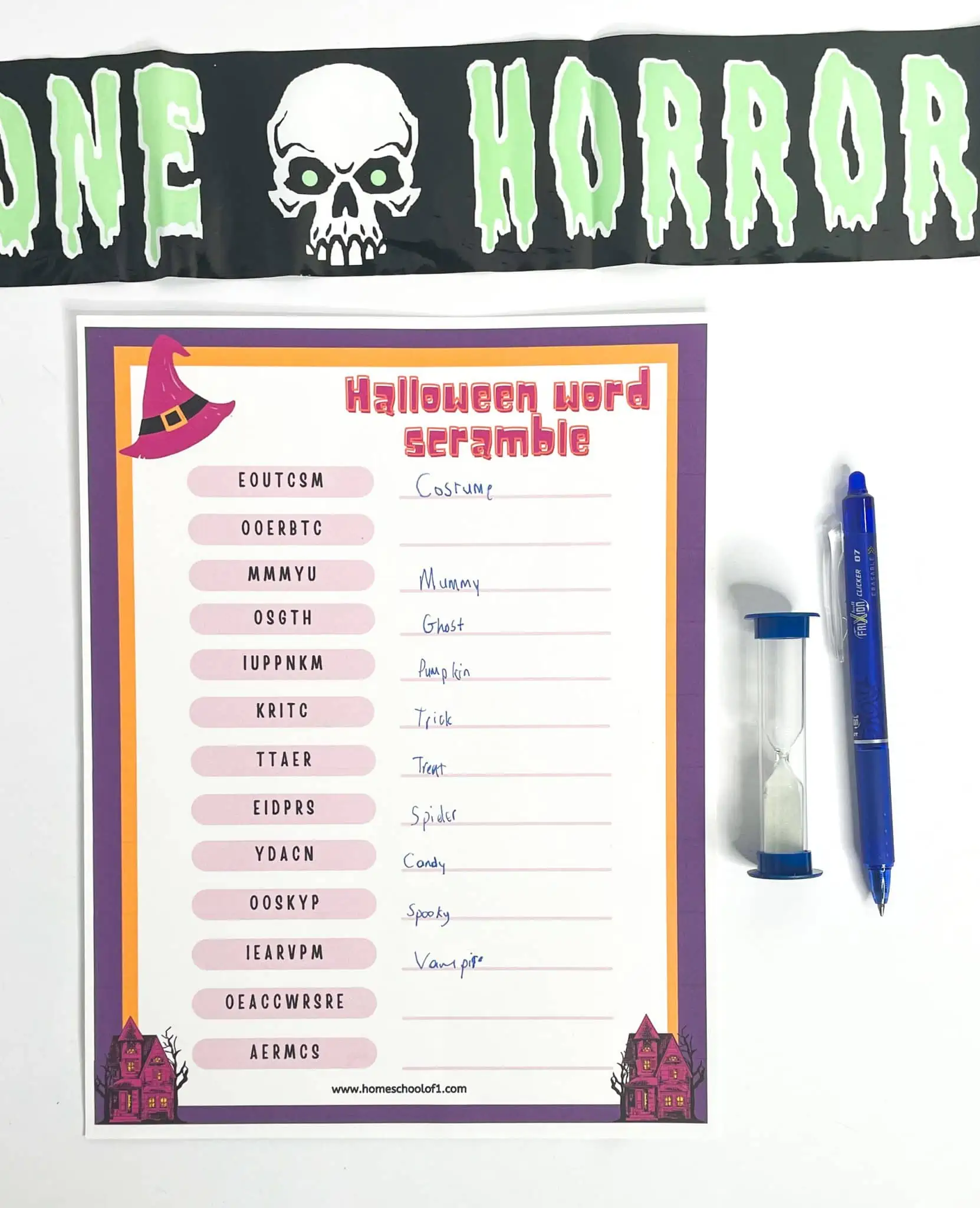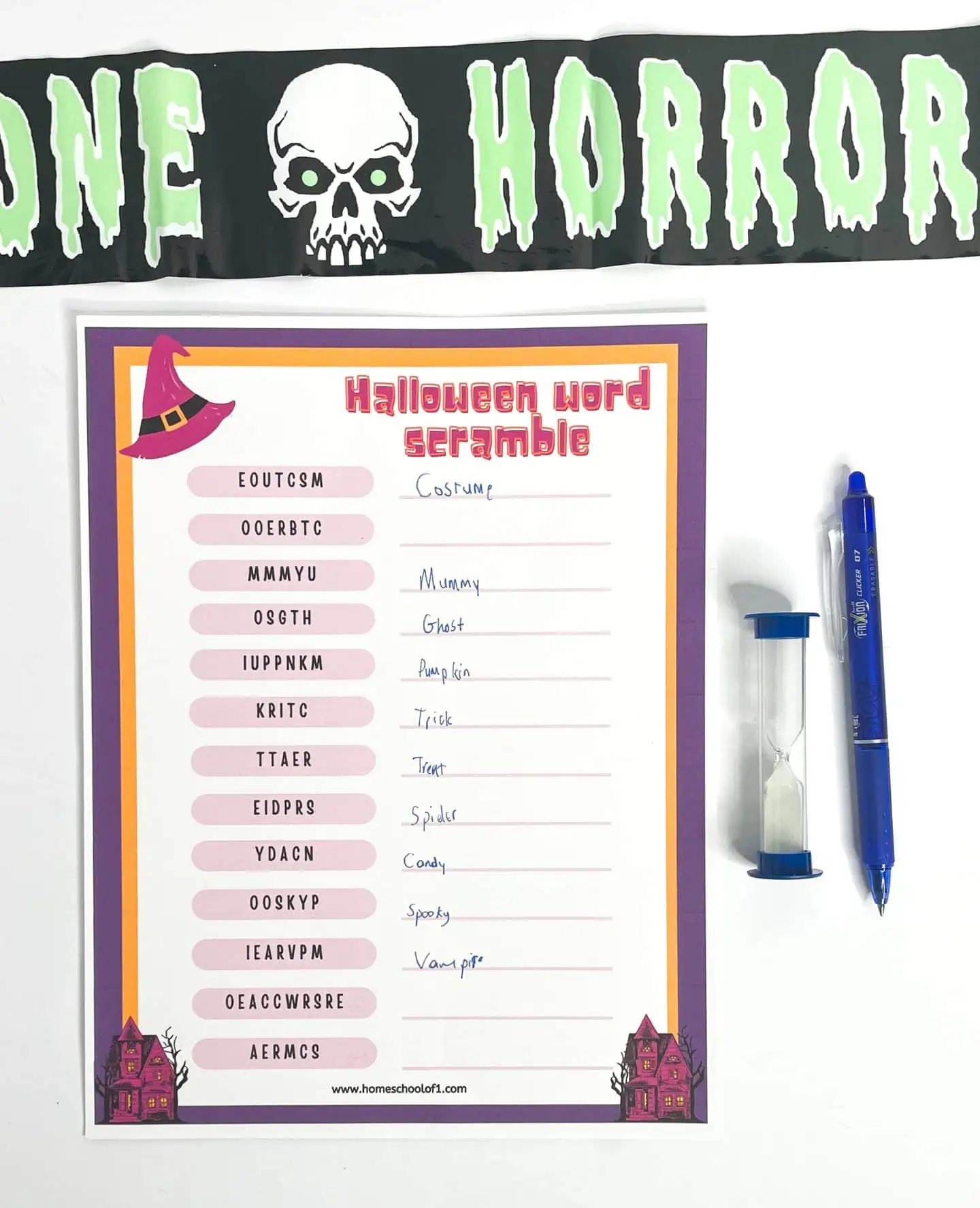 Halloween word search game
Unearth hidden Halloween knowledge with our thrilling Halloween word search printable!
Kids will have a blast searching for 13 spooky words while learning about familiars, Reformation Day, Allhallowtide, divination, druids, and Samhain.
This free printable game is more than a word search; it's an educational adventure.
Download now for hours of spooky fun and explore more Halloween activities for kids!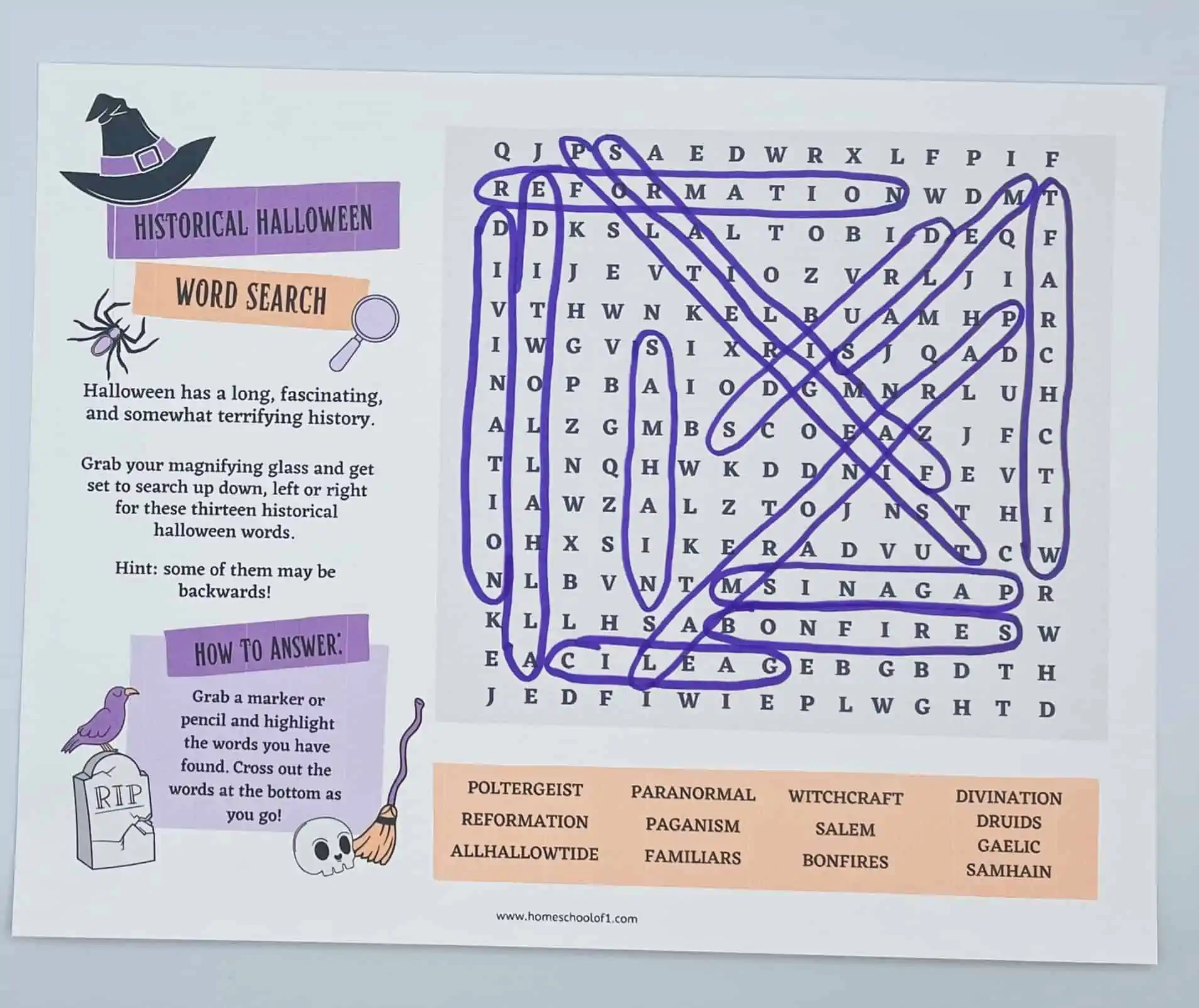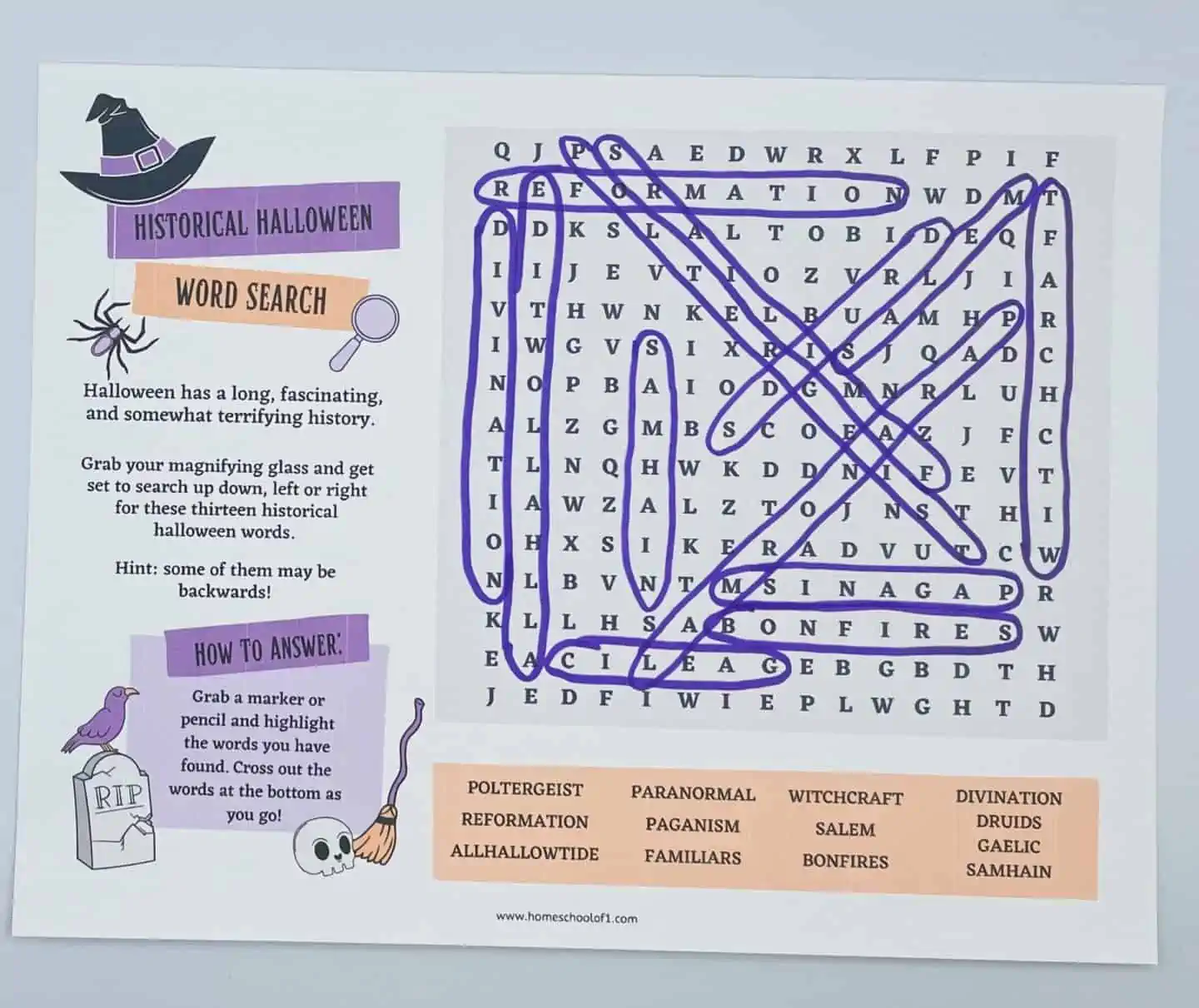 Halloween Mad Libs
Enter the eerie realm of Spooky mad libs, where Halloween and hilarity collide. Young writers craft hair-raising tales by adding adjectives, nouns, and verbs. Perfect for Halloween fun and unleashing creativity!
For entertaining and educational Halloween fun, check out our free printable Halloween mad libs. These word games are both hilarious and educational, making learning fun for kids.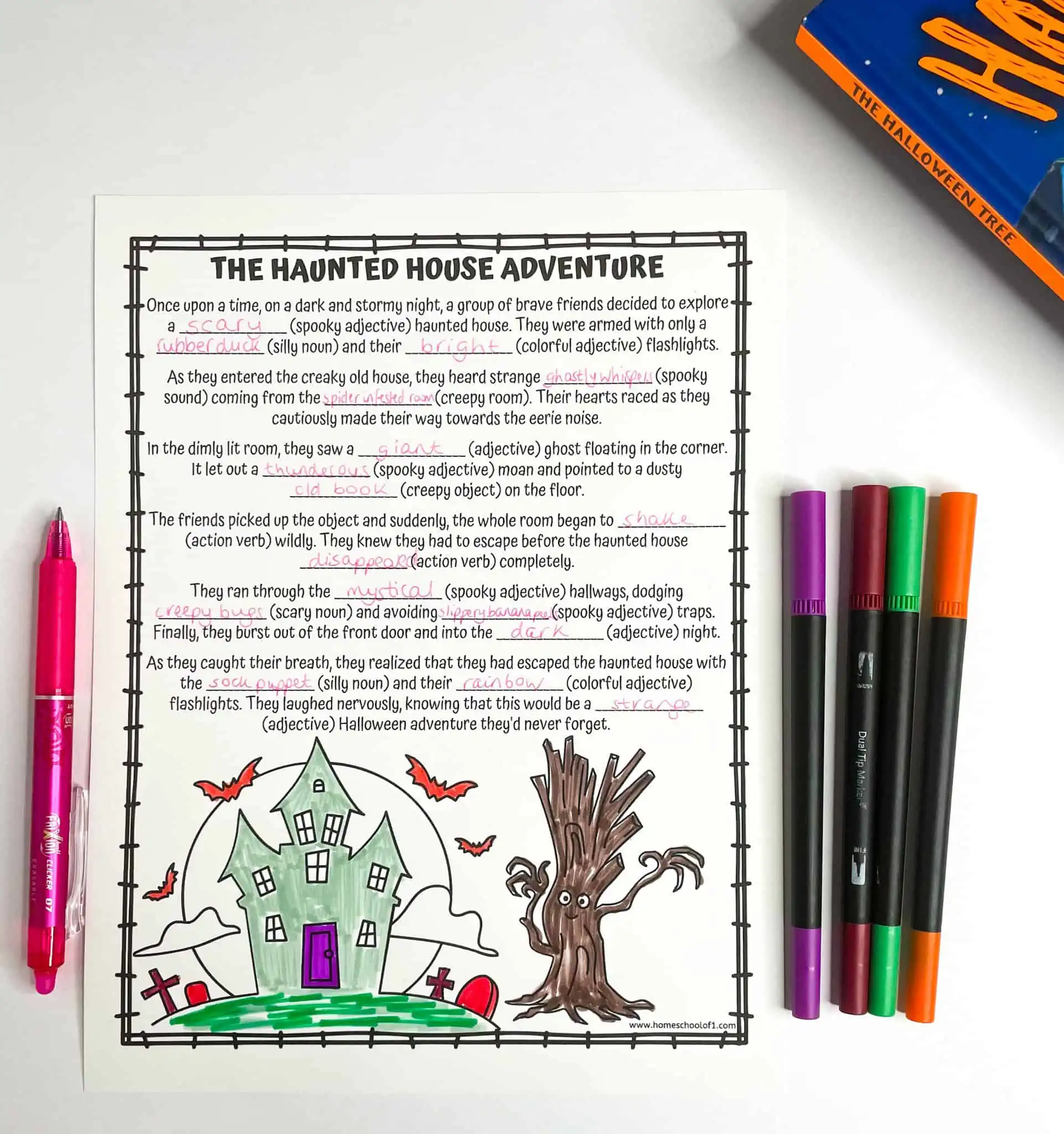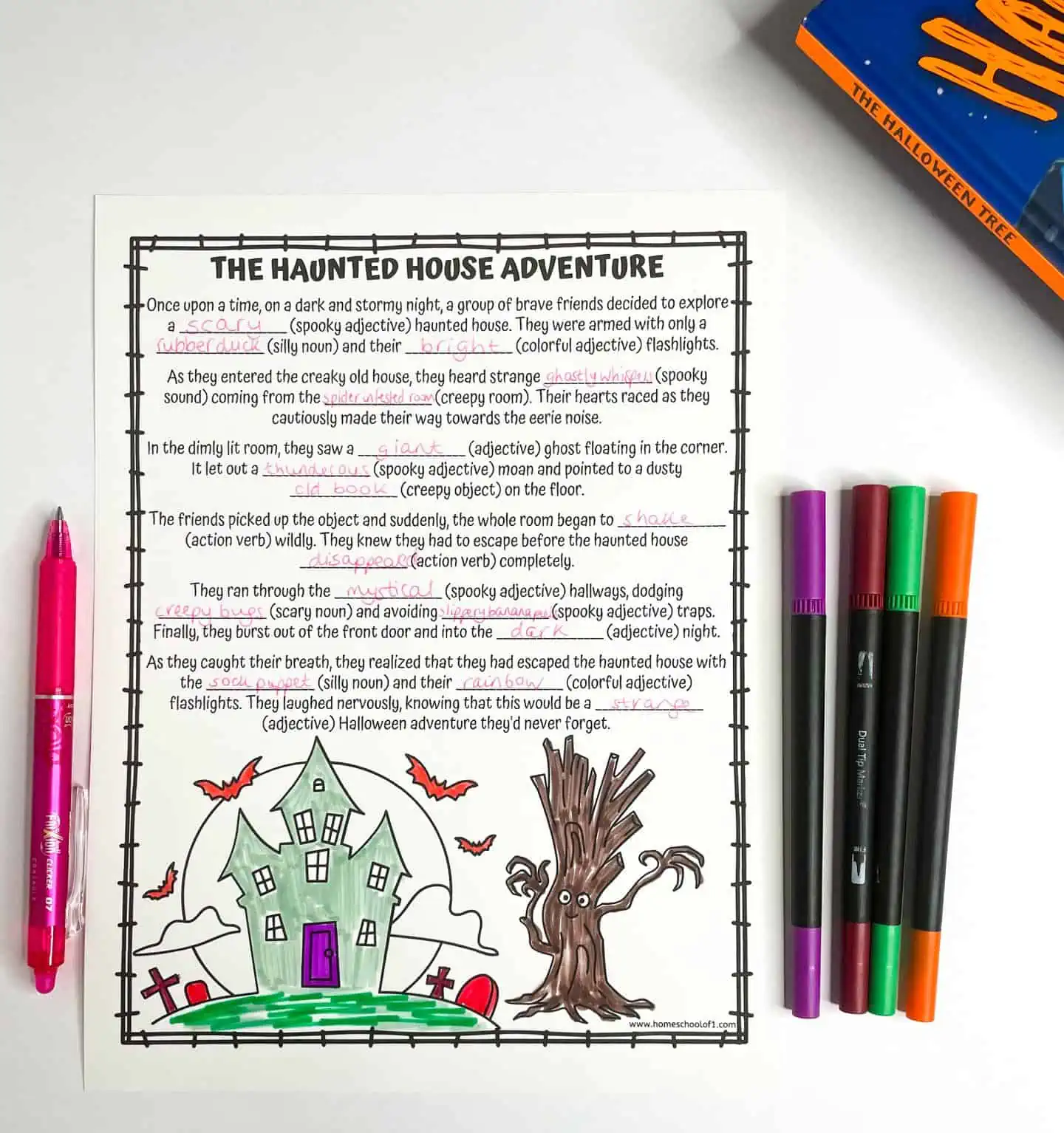 Embrace the fall spirit with our pumpkin mad libs printable. Perfect for all ages, fill in blanks with adjectives, nouns, and verbs for a creative pumpkin adventure.
Halloween word game
Enjoy 14 free finding words within words worksheets. A fantastic holiday activity for all ages. Challenge yourself to discover hidden words in the word HALLOWEEN.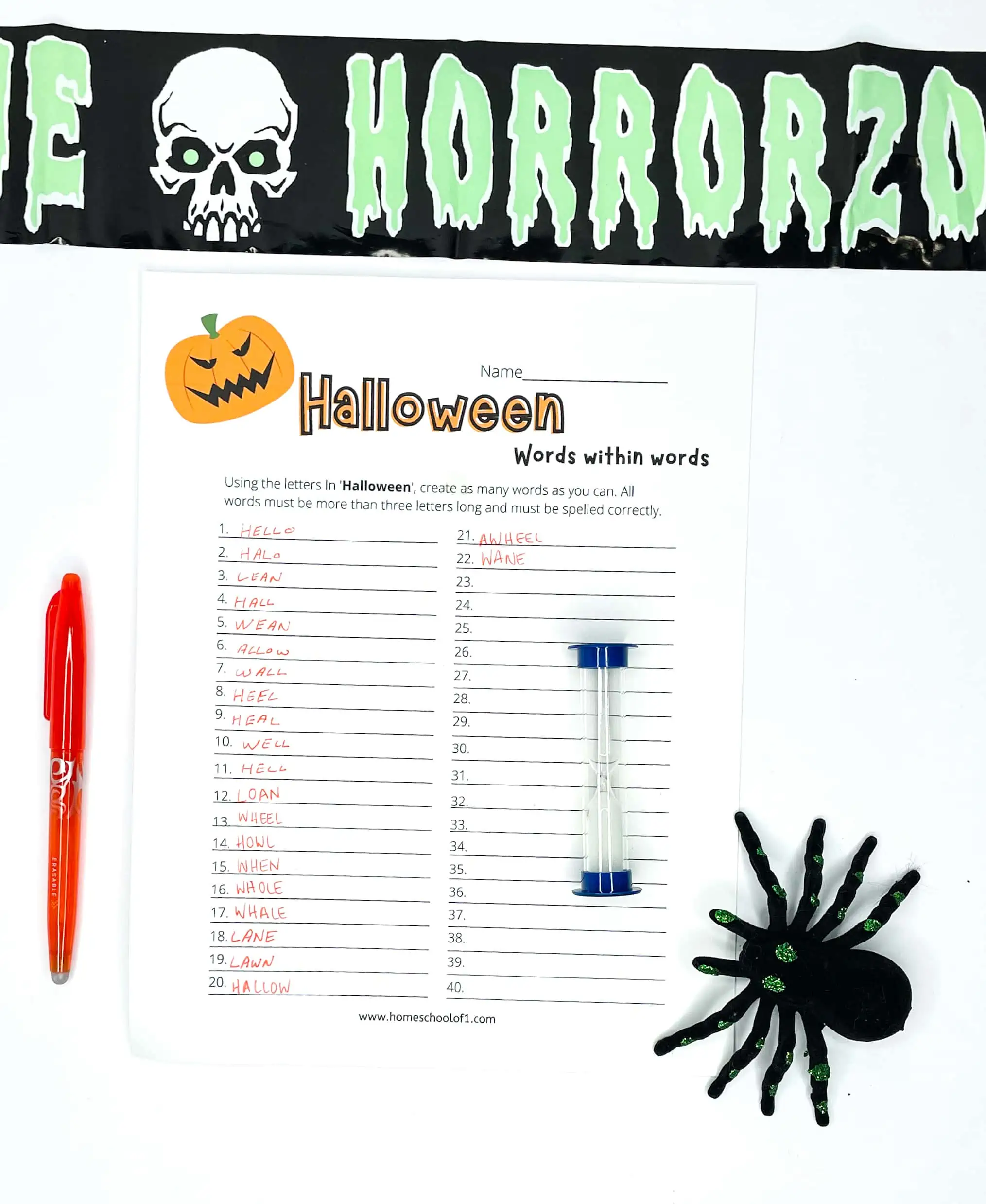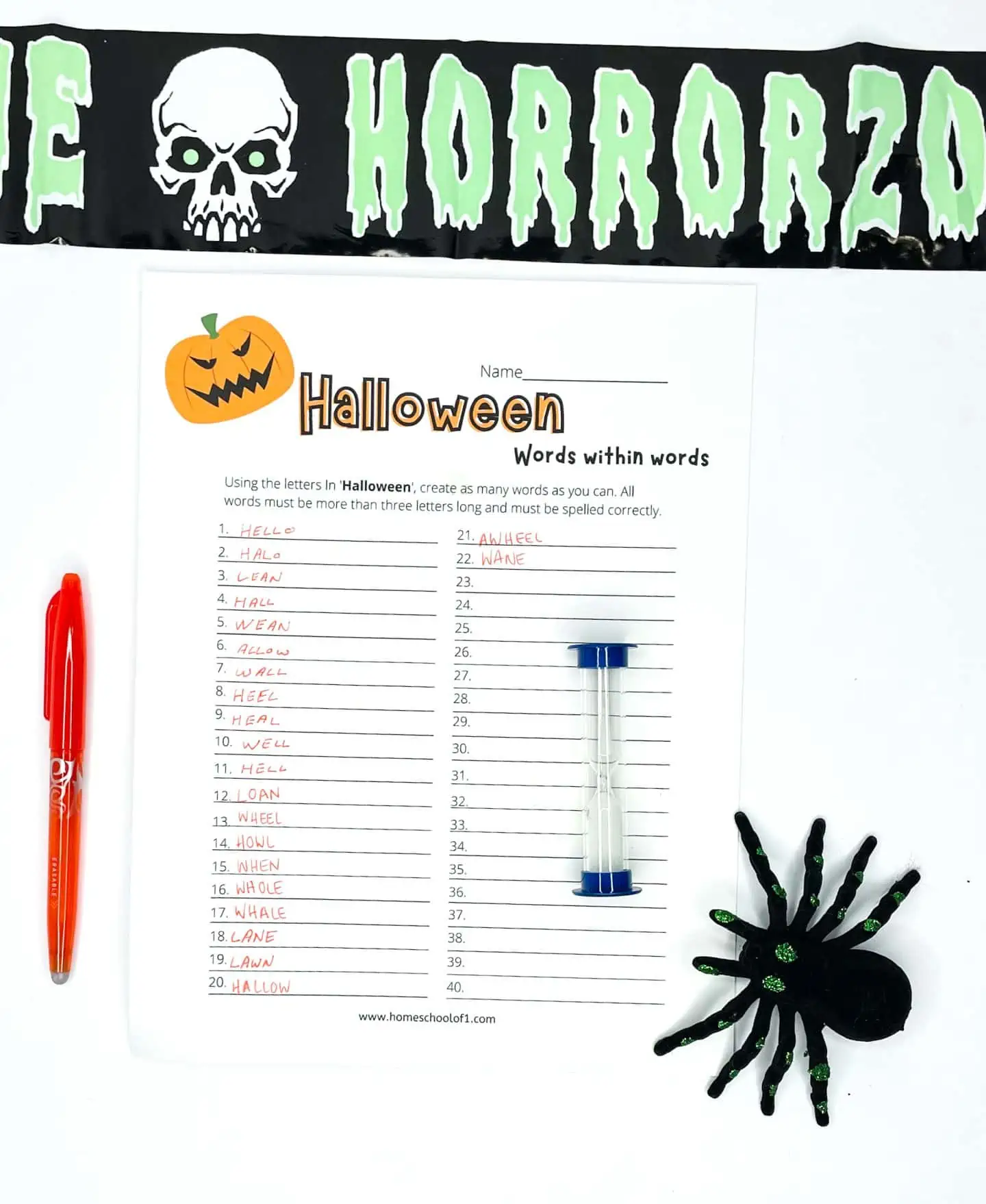 Experience Halloween like never before with our free Halloween scattergories printable game. Enjoy endless fun and friendly competition with family and friends.
Embrace the spooky season with categories like TRICK, TREAT, WITCH, and GHOST. Perfect for Halloween gatherings and game nights in October.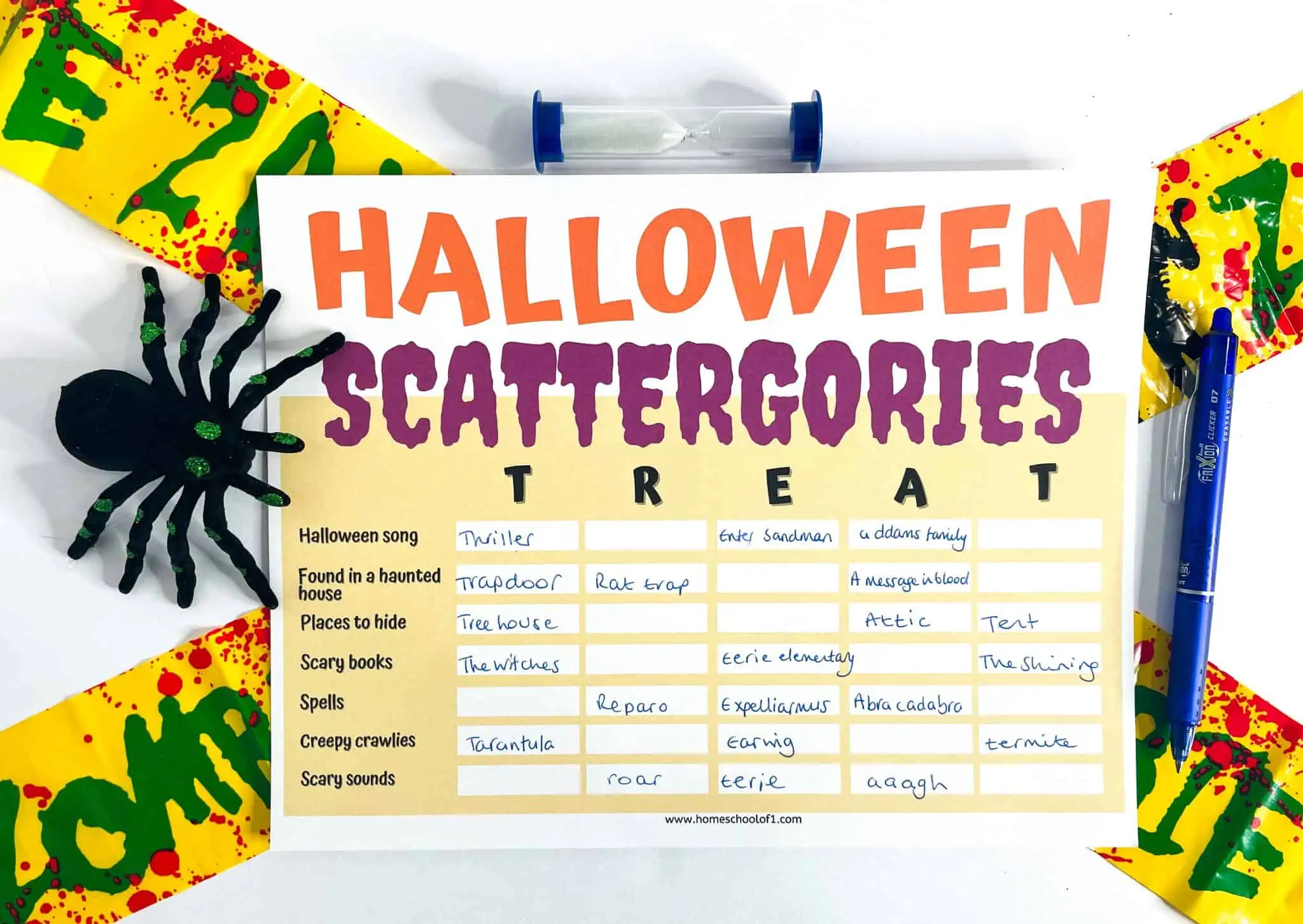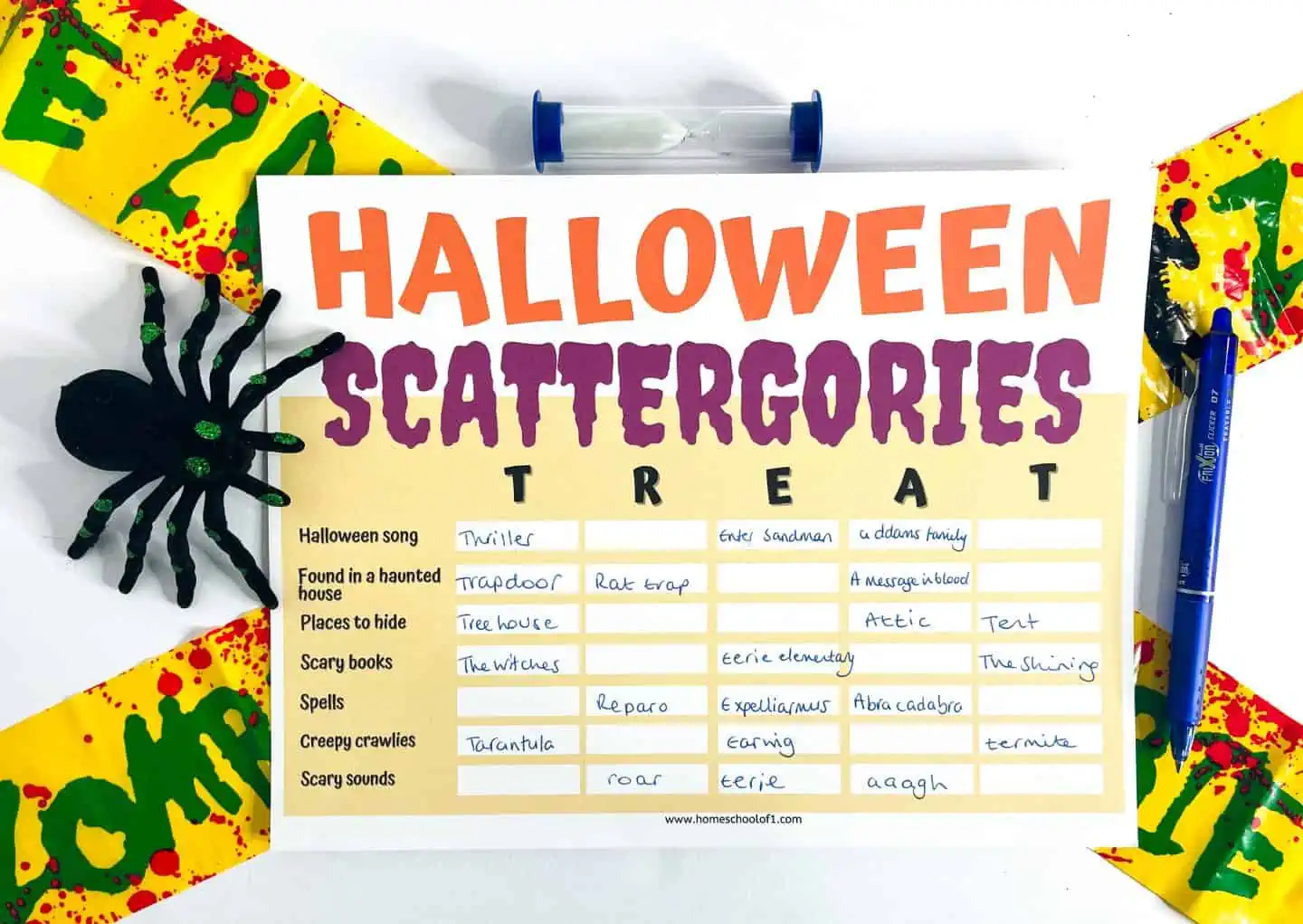 Halloween charades printable is a versatile and educational game that offers hours of fun while enhancing communication, creative thinking, and team-building skills.
Halloween word games
For even more Halloween themed word fun you are going to love these spooky games:
Taco Cat Goat Cheese Pizza – Halloween Edition adds a spooky twist to the original word game. Making it perfect for Halloween-themed fun.
Shenanigrams – The Mega-Mischievous Word Game! It is a super fun and fast word game for kids, teens, and adults, perfect for family board game nights.
Trick or Treat Mad Libs offers Halloween inspired wordplay. Creating laughter and excitement while filling in the blanks with creative words.
Additional printable Halloween games
Don't let the fun stop with just playing word games, we have even more spooky games to play this fall:
Last Updated on 8 November 2023 by homeschoolof1