St David's Day Activities (+ 10 Free Colouring Sheets)
St Davids Day for those that don't know commemorates the Patron Saint of Wales, David. It is celebrated on March 1st. Check out our favourite St Davids Day activities that we will be doing this year.
We always enjoy having holiday fun and these St David's Day activities are just that. Perfect for kids aged 3-12, have fun learning about the holiday while having fun.
I have also created 10 free St David's Day colouring sheets for you to print out and enjoy.
Colouring pages included in this free printable are:
A map of Wales for you to either colour in, or use a map and divide into the 22 counties.
2 daffodil images
1 image of a leek
6 images of Dragons
**There may be affiliate links in this post. You can read my full disclosure at the bottom of the page.**
St David's Day Worksheets
Twinkl as always has lots of free St David's Day worksheets for you to use. The ones we love are:
Other St David's Day activities we will be doing are:
St Davids Day Colouring
Print out our free St Davids Day colouring sheets at the end of this page and get creative!
The daffodil is one of the national symbols of Wales. Why not learn more about daffodils, or read this fun picture book about the daffodil who couldn't dance.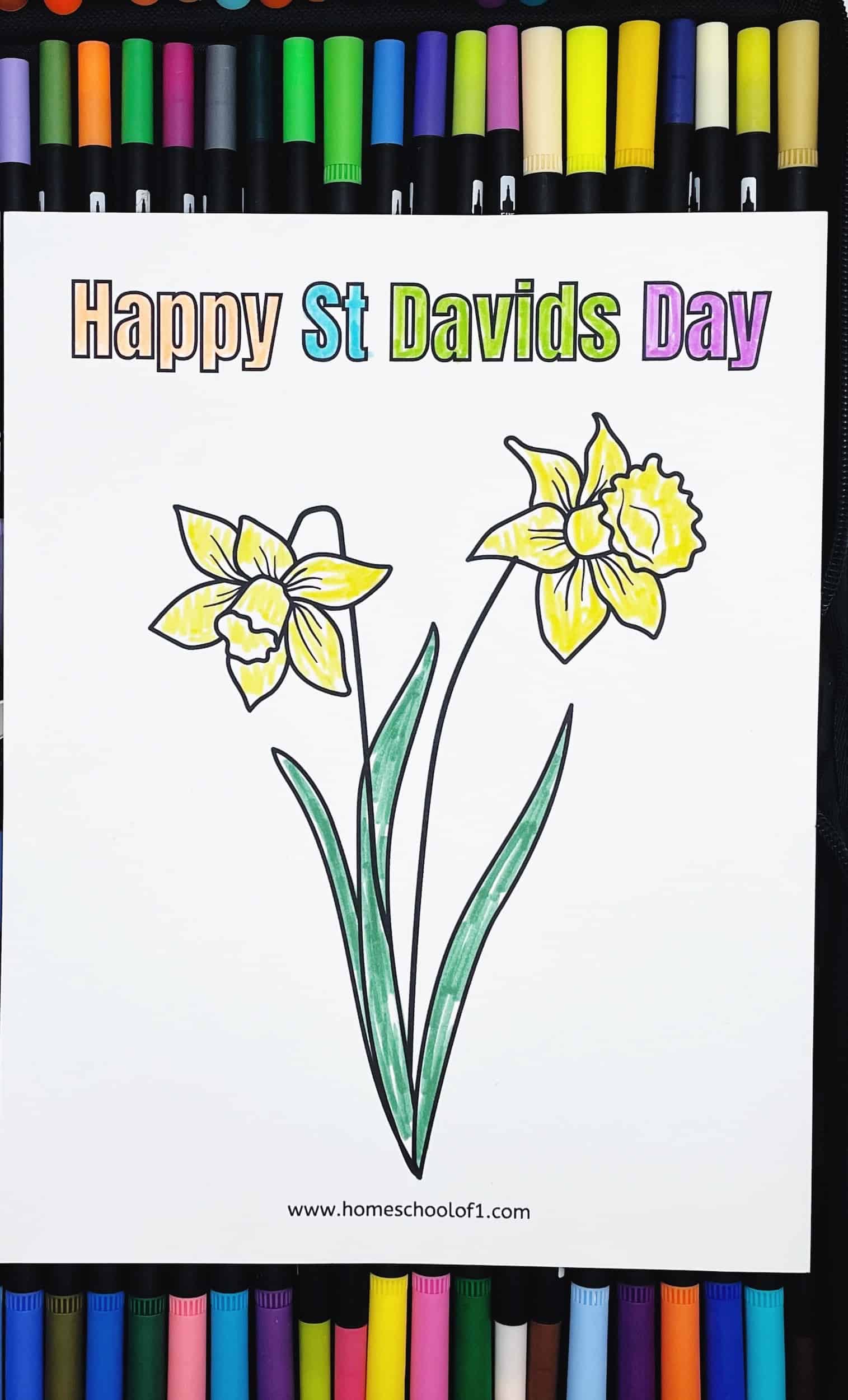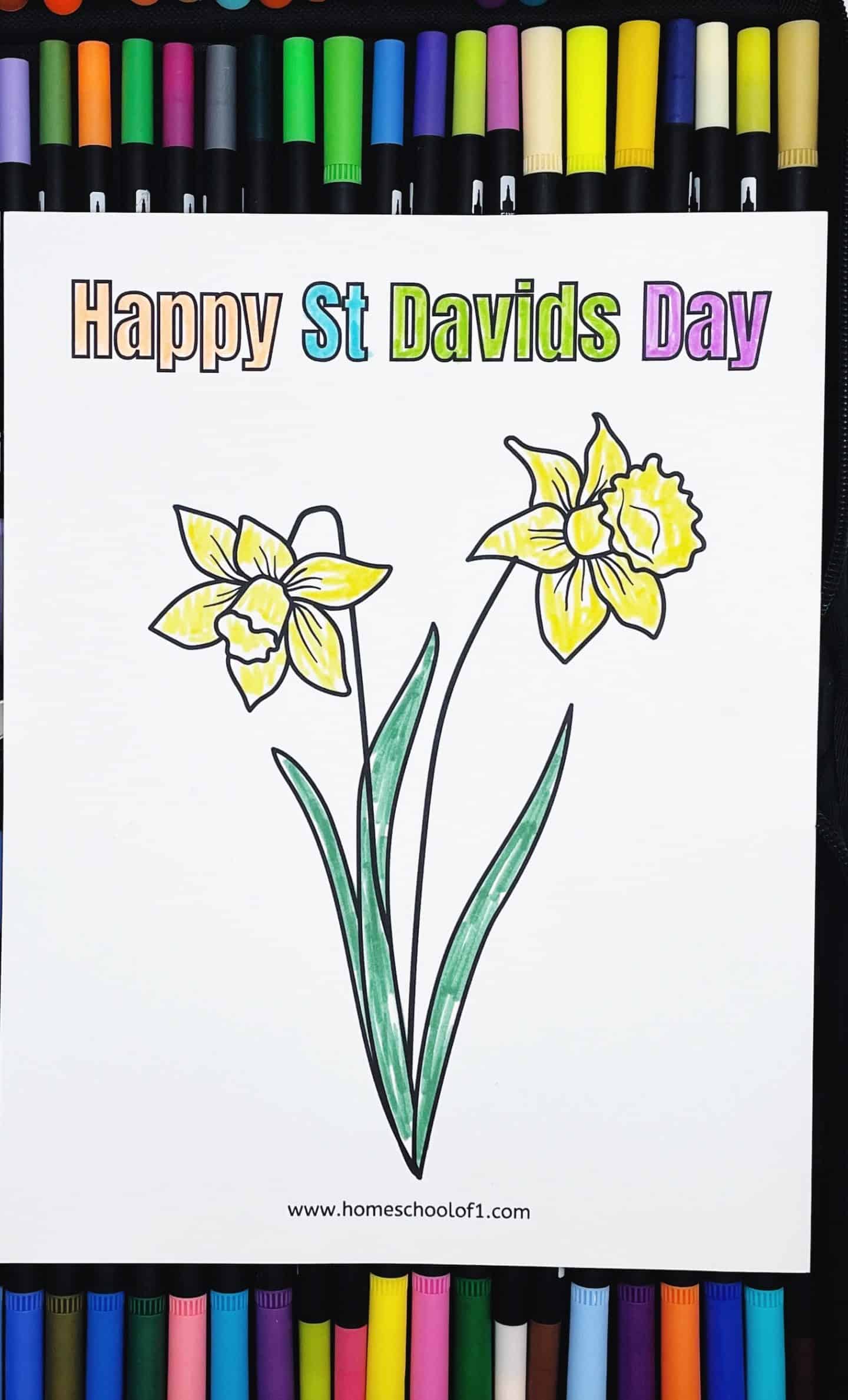 The dragon featured on the flag of Wales is another important symbol. Why not also read Me and My Dragon picture book with the kids.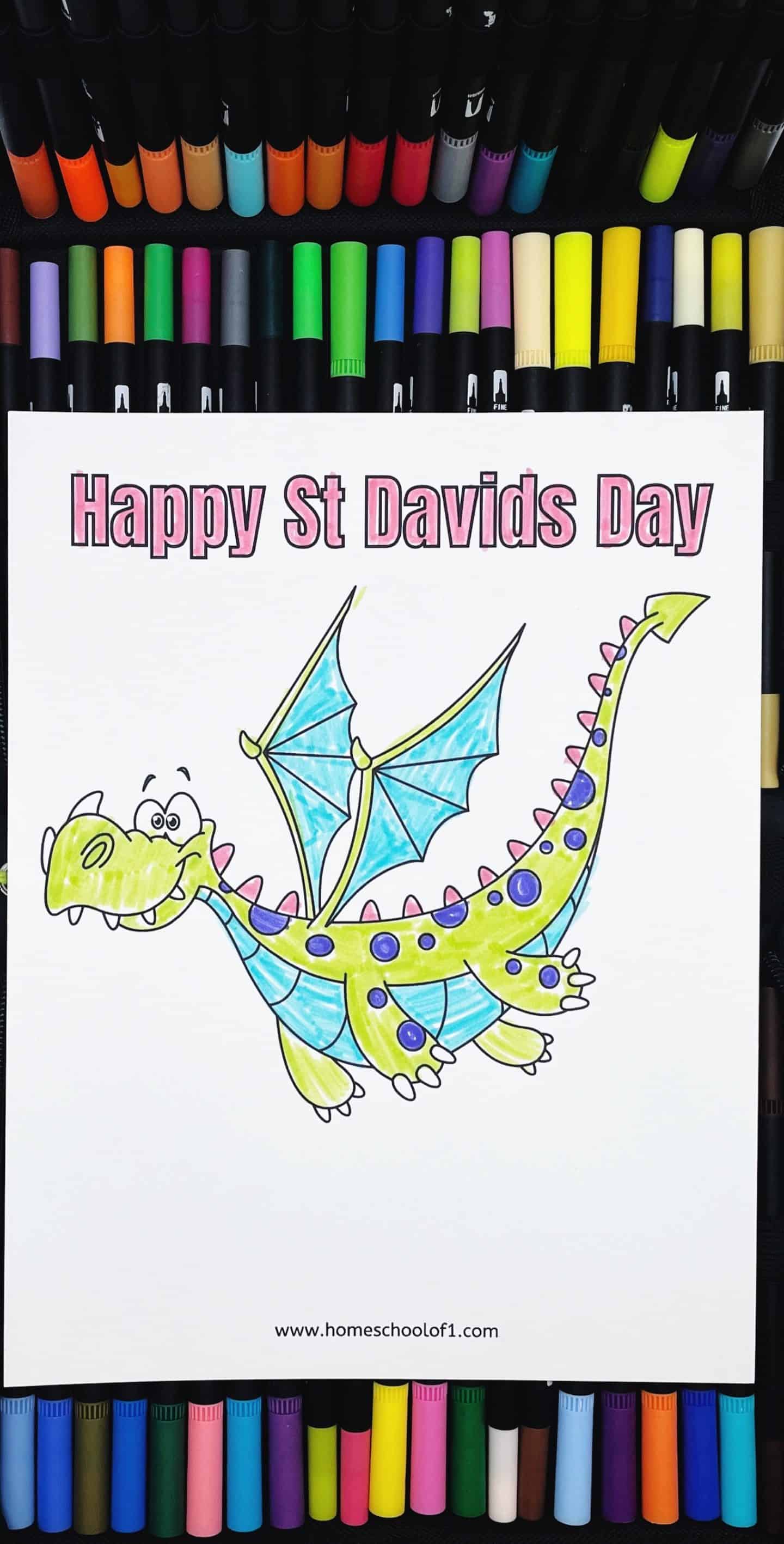 This dragon symbol is the actual dragon as featured on the Welsh flag.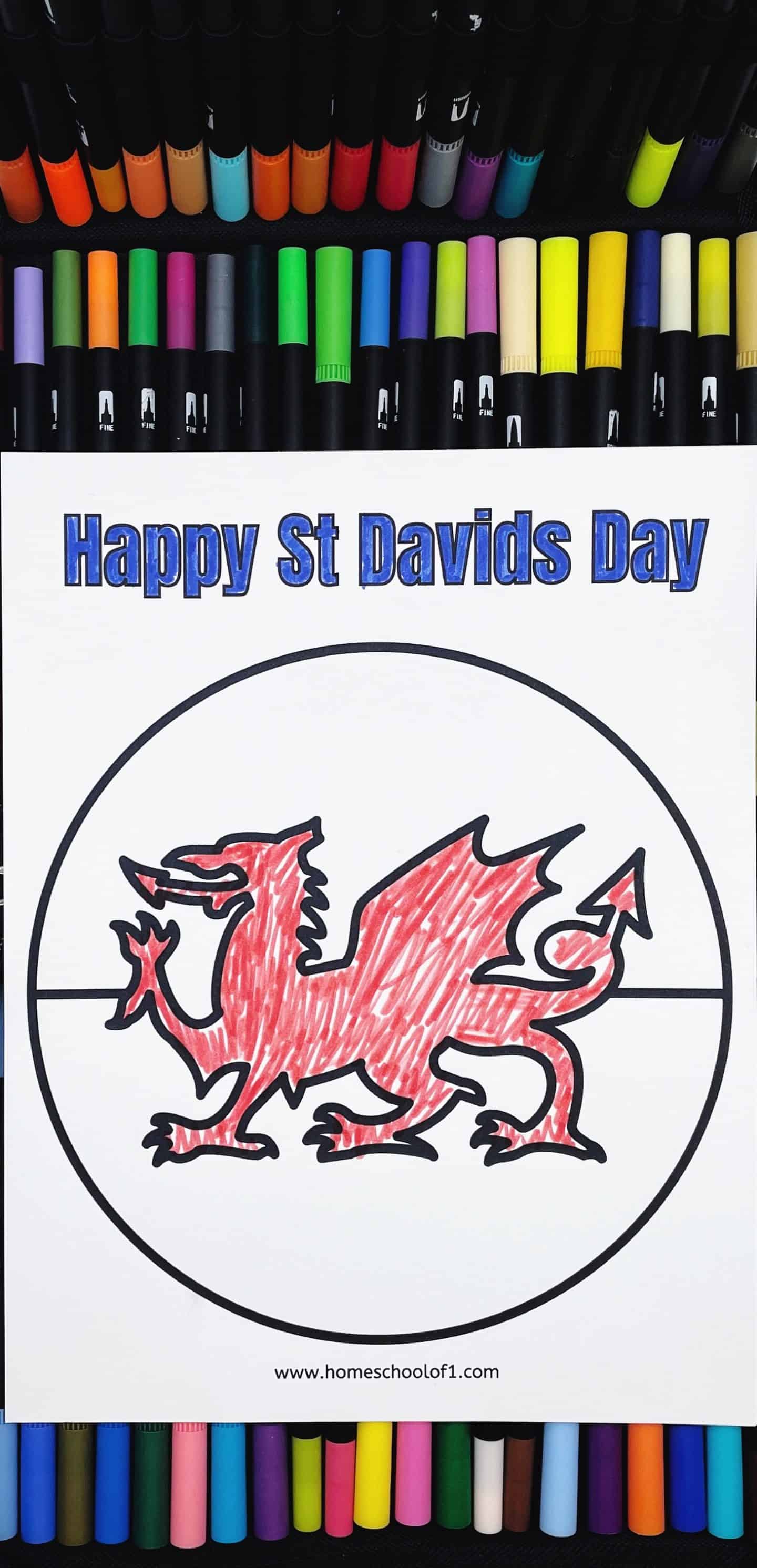 Use the printable map of Wales to label important cities and landmarks. Or divide the country into the 22 counties.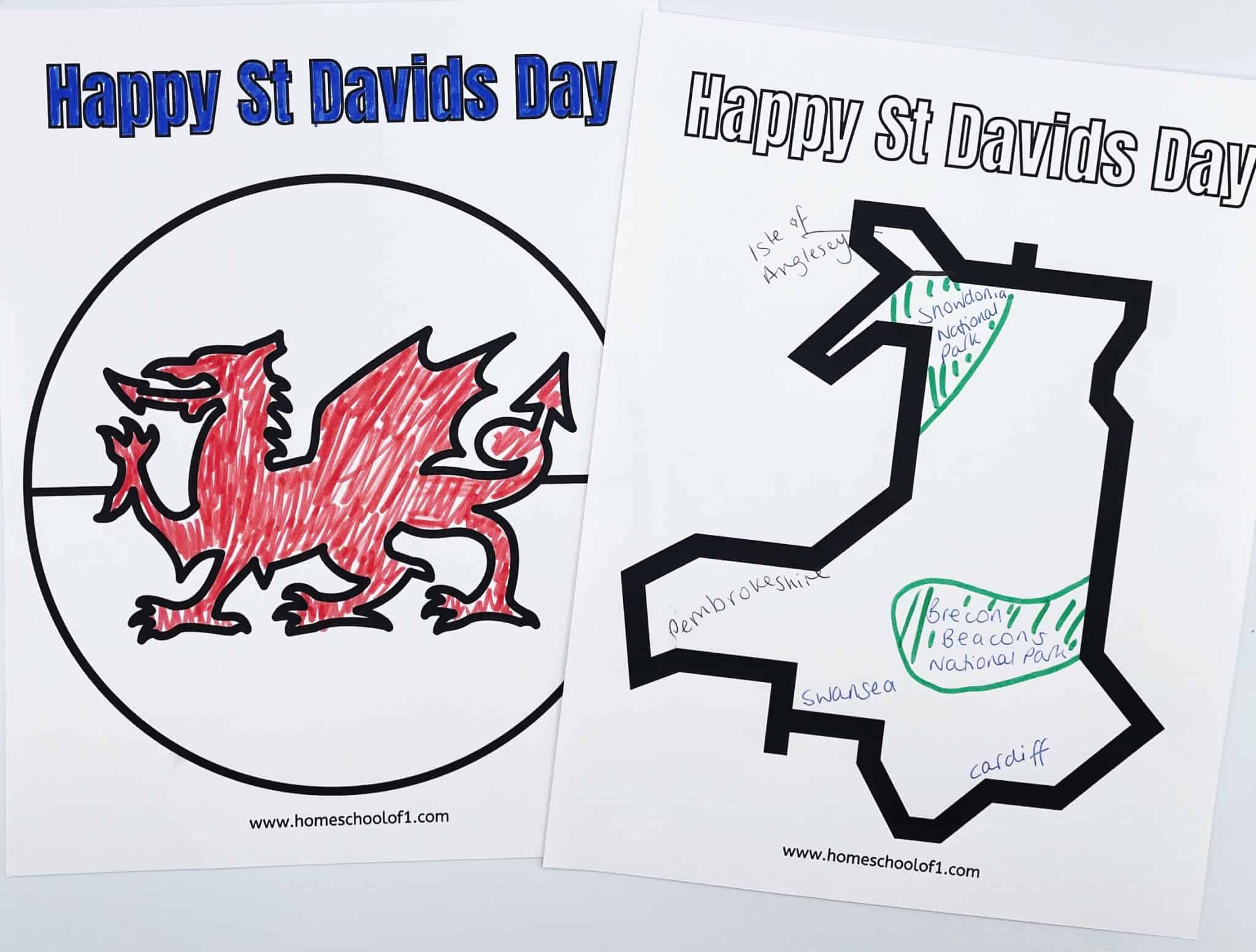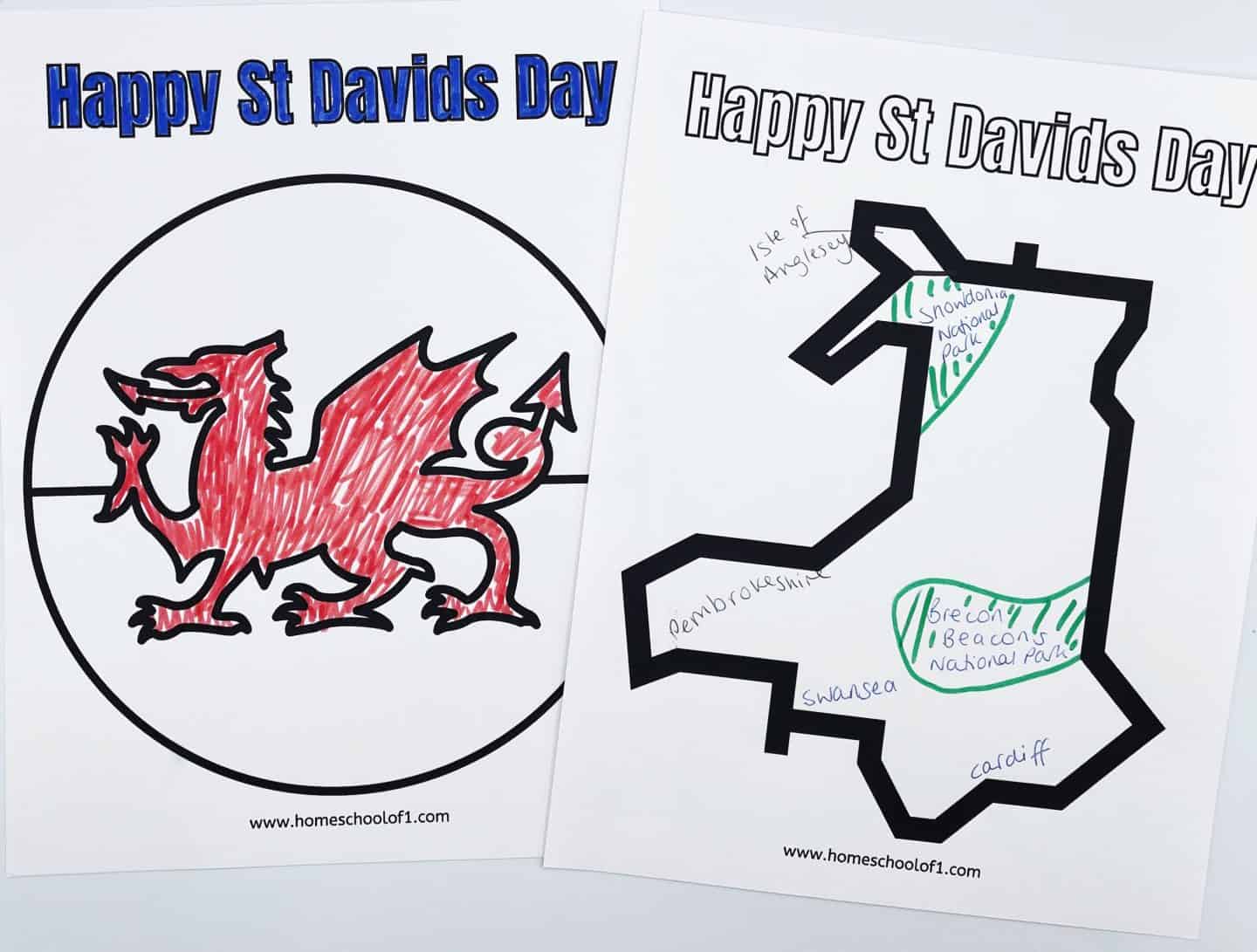 The leek is the more traditional symbol of Wales. More often than not, the daffodil has replaced it. Learn more about the National Symbols by visiting Wales.com.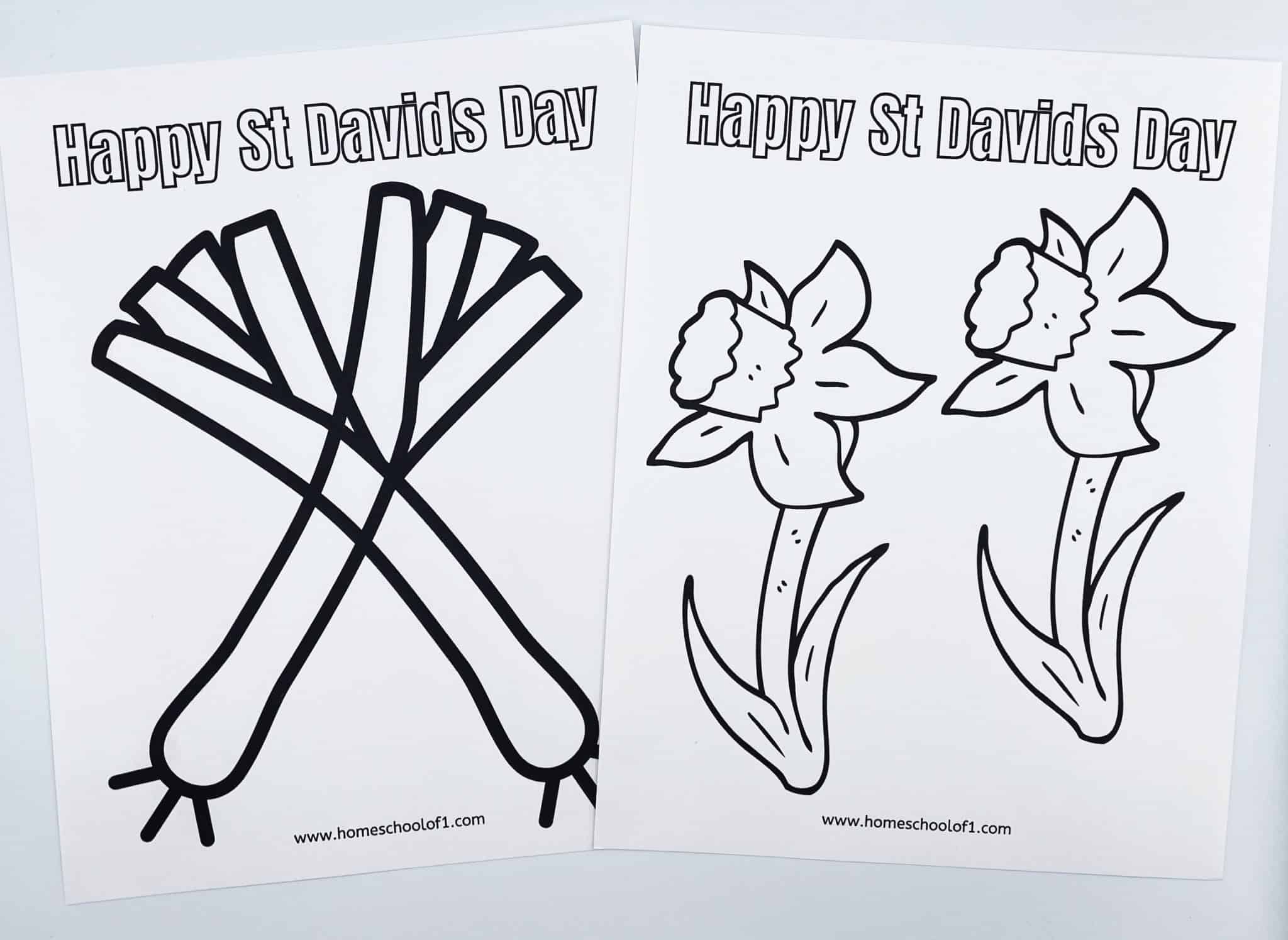 You can never have enough pictures of dragons to color!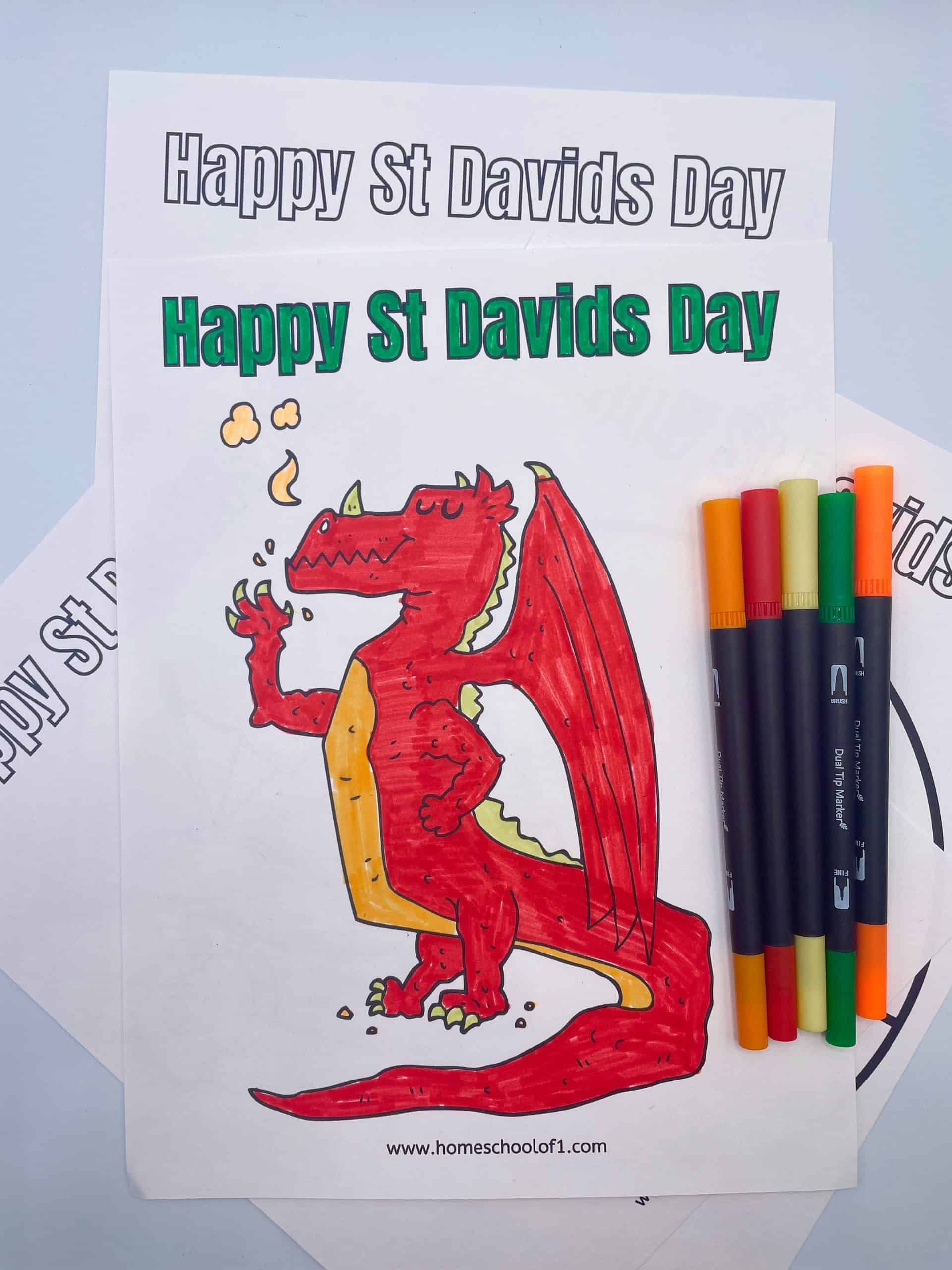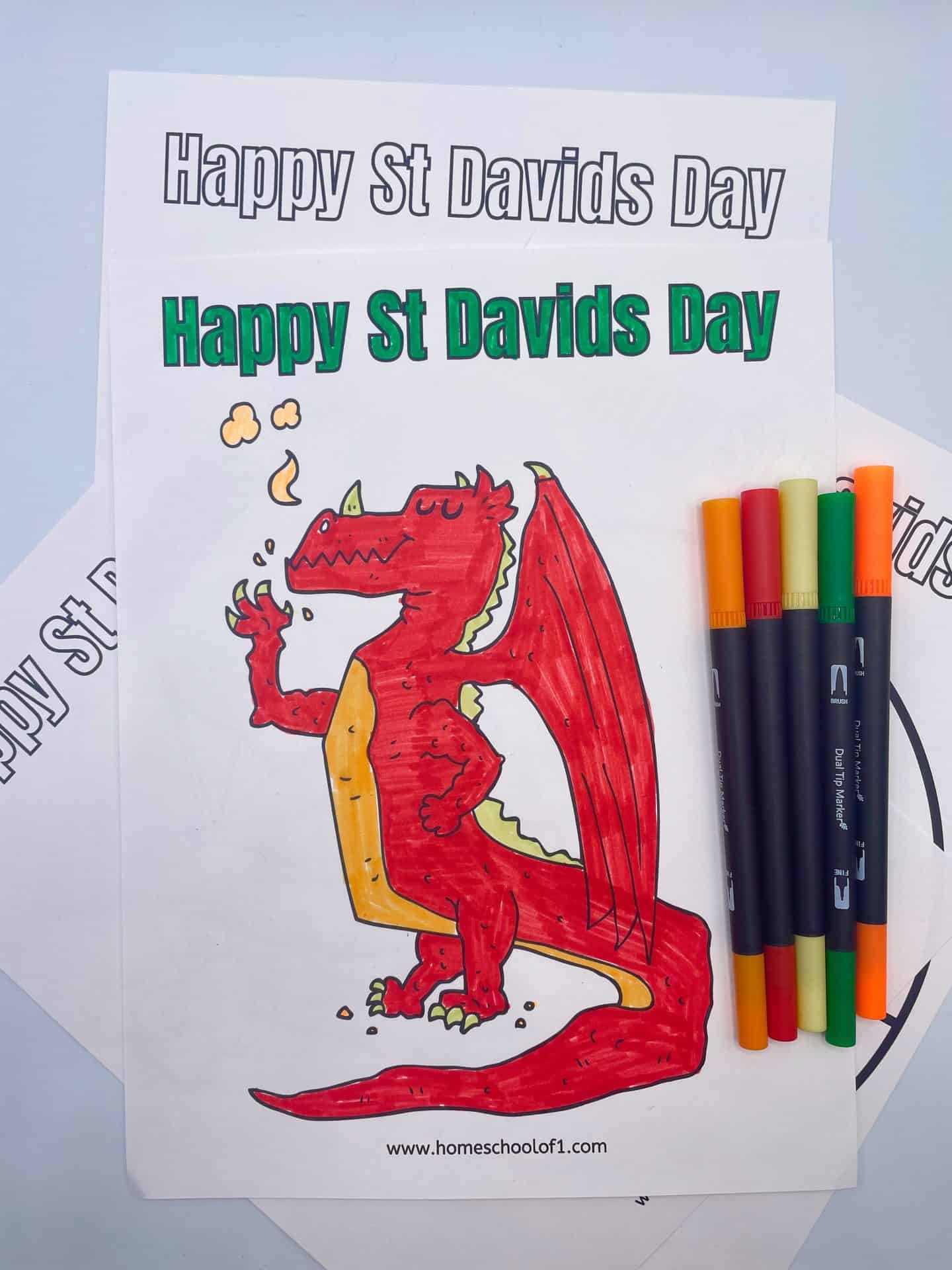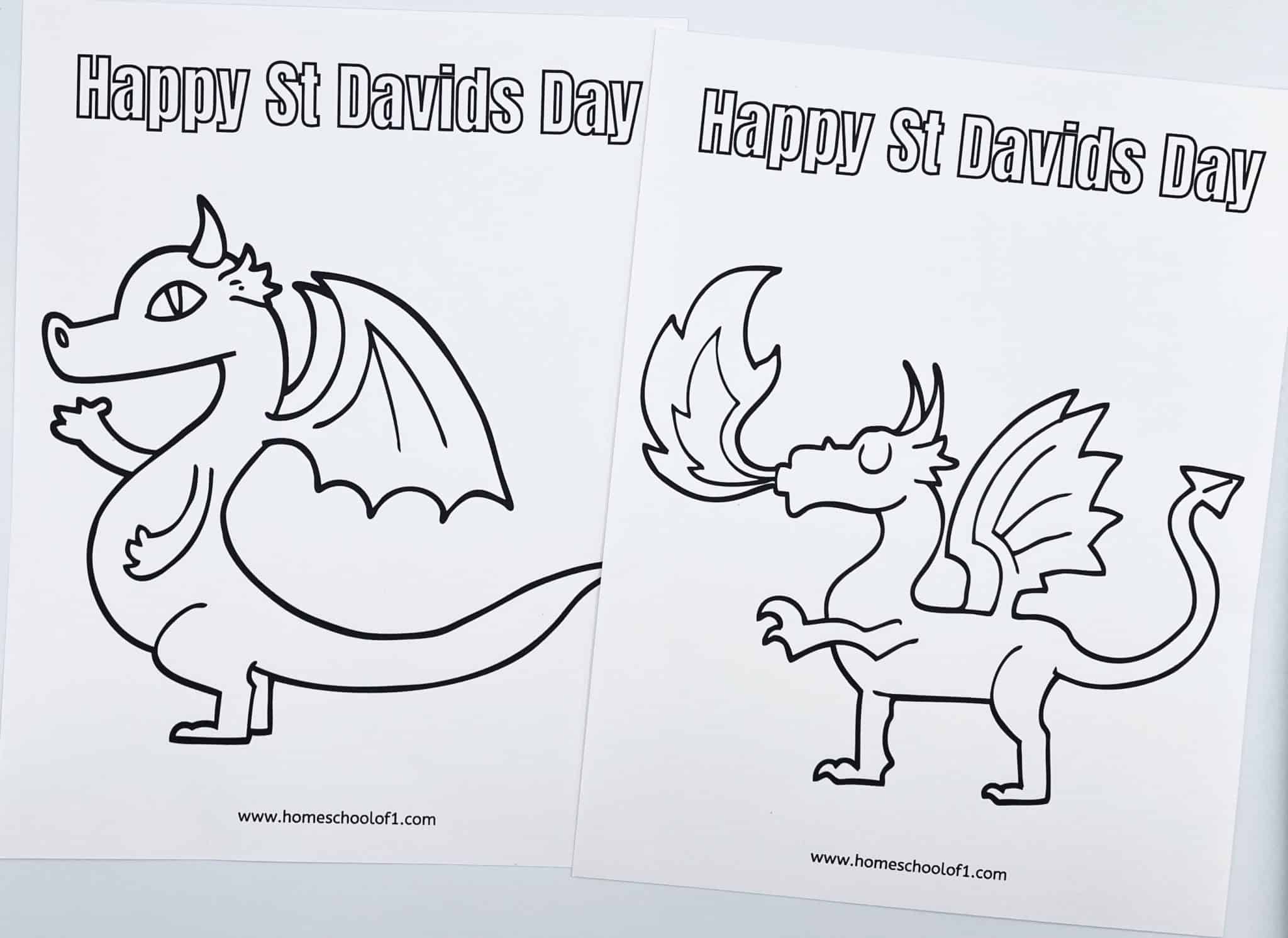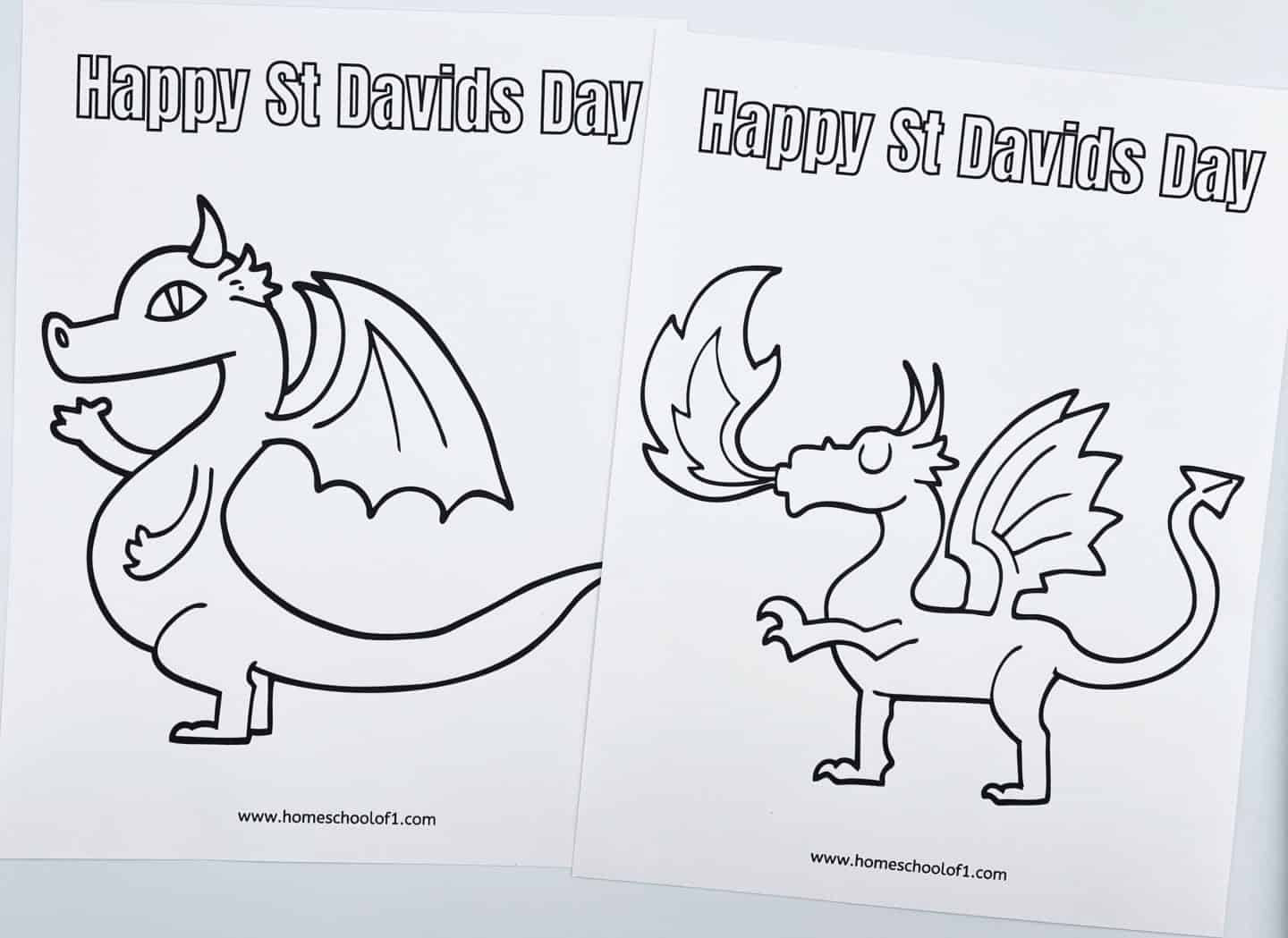 This cheeky little dragon is my favourite!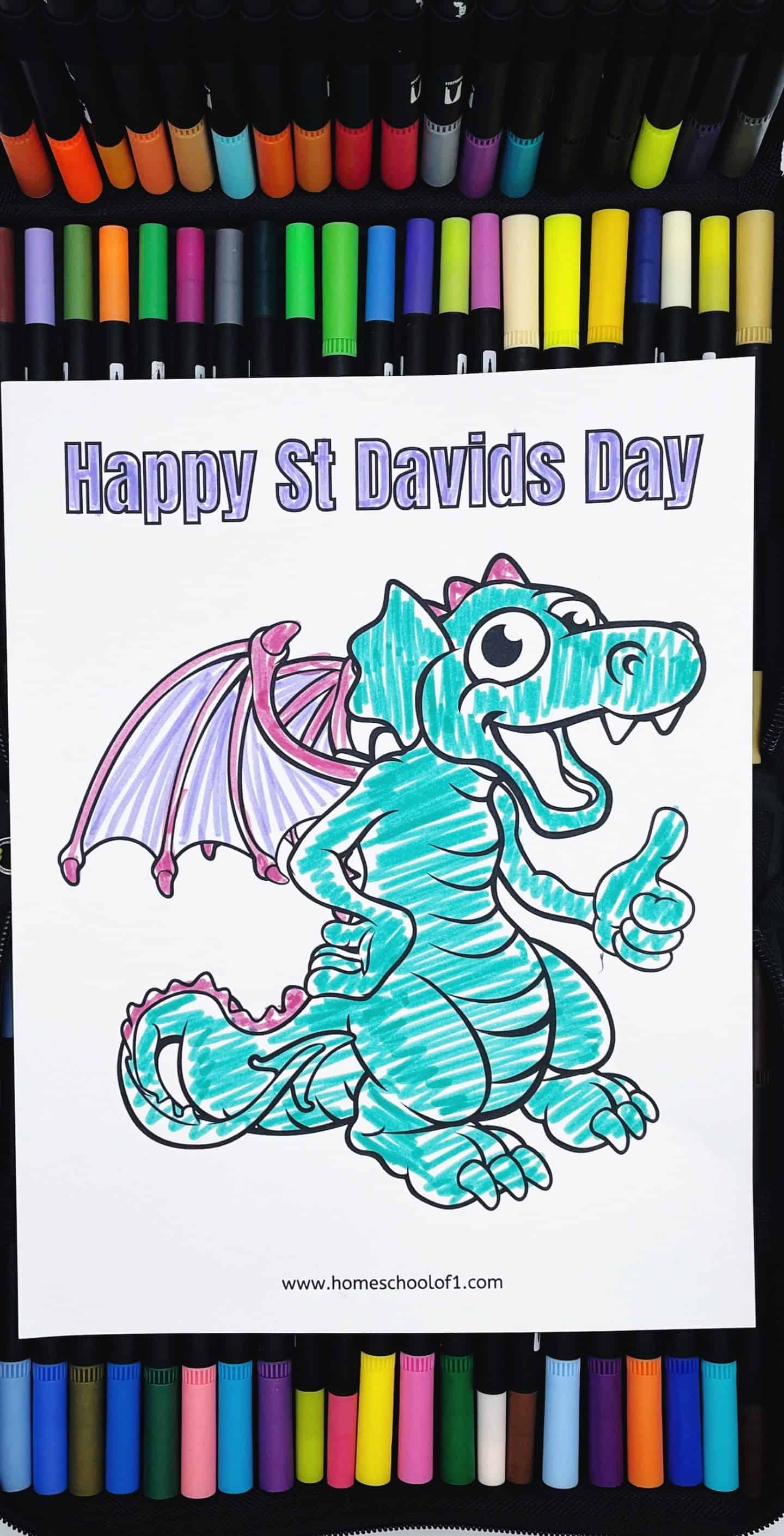 Dragon Books for Kids
I always try and add books to any subject we study, however, I couldn't find any kids books on the Patron Saint of Wales. So thinking outside of the box, I have included our 5 favorite dragon books instead!
St David's Day Facts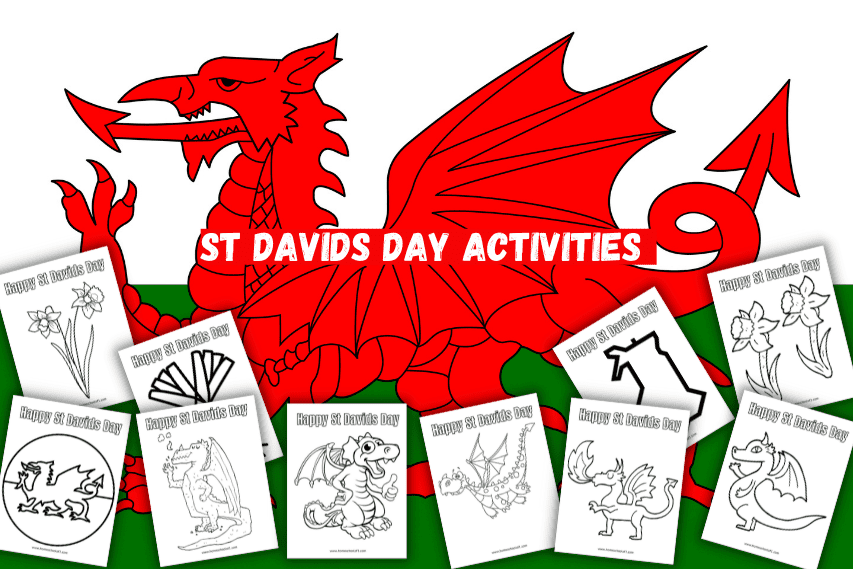 For those of you who don't know who St David is I wanted to put together a few key facts.
Legend has it that St David (or 'Dewi Sant' in Welsh) was born in Wales during a fierce storm. It is unknown when he was born but it is believed that he died on the 1st March 589 A.D. He is also the only Patron Saint of the UK who was born in the country he is patron of.
His last words "Be joyful, keep the faith, and do the little things that you have heard and seen me do." This is a famous saying now in Wales.
It is believed that David performed many miracles, including, raising a child from the dead, surviving eating poison, and more famously restoring the sight of his teacher, Paulinus.
The leek is an important national symbol of Wales, and later it became the daffodil. The leek is displayed on the Welsh regiment's uniforms to this day.
As David was a monk, he was a vegetarian and was claimed to have only drank water. He became known as "David the waterman".
If you are wanting to celebrate the other patron saints of the UK:
Free St David's Day Colouring Sheets
Make sure you choose the correct paper size and click on the shrink to fit button. All of our free printables work better when printed on cardstock (this is the one we use and love.)
Last Updated on 25 January 2023 by homeschoolof1