33 Best Star Wars Activities for Kids in Elementary
You are going to be the most popular teacher/mom with our Star Wars activities for kids.
Ok, so the last couple of weeks have been hard.
We have been homeschooling through the summer months, and wow what a challenge.
So I thought for the next couple of weeks we would try something different. Teaching with Star Wars!
I know, genius, right?
Well of course this will only work if your little Jedi is as obsessed with all things Star Wars as my son is.
These Star Wars Day activities can be used at any time of the year, but perfect for May 4th.
Keep reading for our best Star Wars activities for elementary school ages kids, either at school or in homeschool. These can of course be adapted for younger or older kids.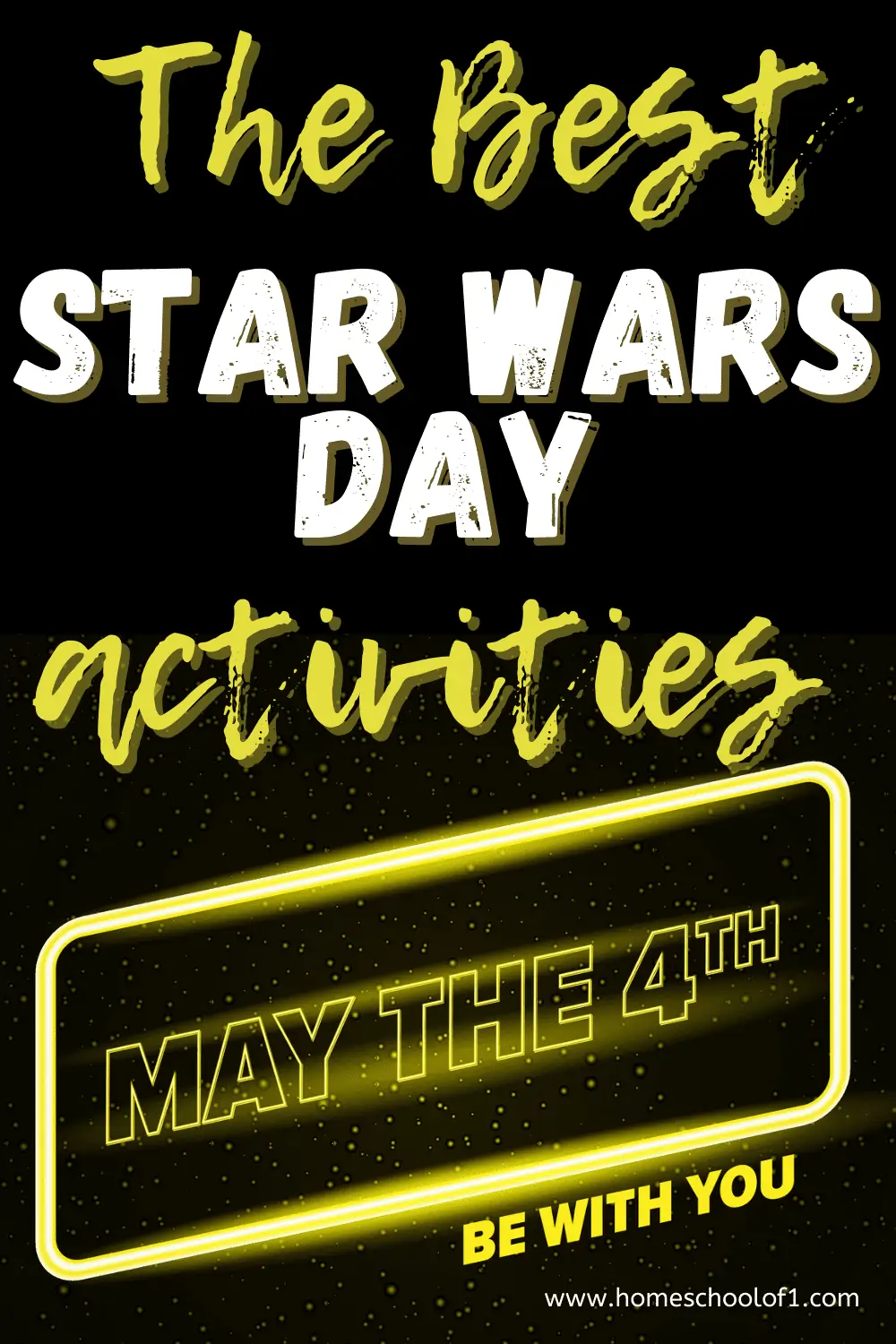 **There may be affiliate links in this post. You can read my full disclosure at the bottom of the page.**
Star Wars Printable Activities
Kids of all ages with a love of Star Wars will love our free printables:
Star Wars printable cards to color. These are perfect for birthdays, Valentine's Day, Christmas, or just to say hello.
Have fun with the kids young and old with our free Star Wars scavenger hunt clues.
Download our free Star Wars word search printable and get them searching for Star Wars themed words.
Kids young and old will love our free Star Wars word scramble.
The kids will love our free printable Star Wars memory game.
Star Wars Math Games
These Star Wars math books are absolutely fantastic for kids who don't enjoy math! They have math books for grades 1, 2nd grade, 3rd grade, and 4th grade.
The kids will help Dooku count to 120, find the shapes in Anakin's workshop, and add and subtract battle droids, lightsabers, and starfighters! How much fun is that?
Fraction War is a fantastic math game that Star Wars fans will love. Learn all about fractions, split the deck, and play war. The one with the highest fraction wins.
Star Wars monopoly is a fantastic math game that the kids will be begging to play.
Star Wars Language Arts
These Star Wars writing workbooks are fantastic for grades 1, 2nd grade, 3rd grade, and 4th grade. They look awesome and get great reviews, perfect again for school or homeschool.
Star Wars Story Starters with story cubes, ok I am doing better now. We have story cubes already, but these Star Wars themed ones are perfect for my little Star Wars geek. I will try anything to get him to write! These are great for writing prompts for kids that promote great literacy skills.
Encourage the kids to write with these fun Star Wars writing prompts.
Star Wars Shakespeare
Now, this actually is what inspired me to write this post. If you are interested in adding Shakespeare to your homeschool, check out how to teach your child Shakespeare the fun way.
The main book we use is a Star Wars Shakespeare book!! I know, win-win. His eyes lit up when he saw it, and I knew at that moment I was winning at homeschooling!!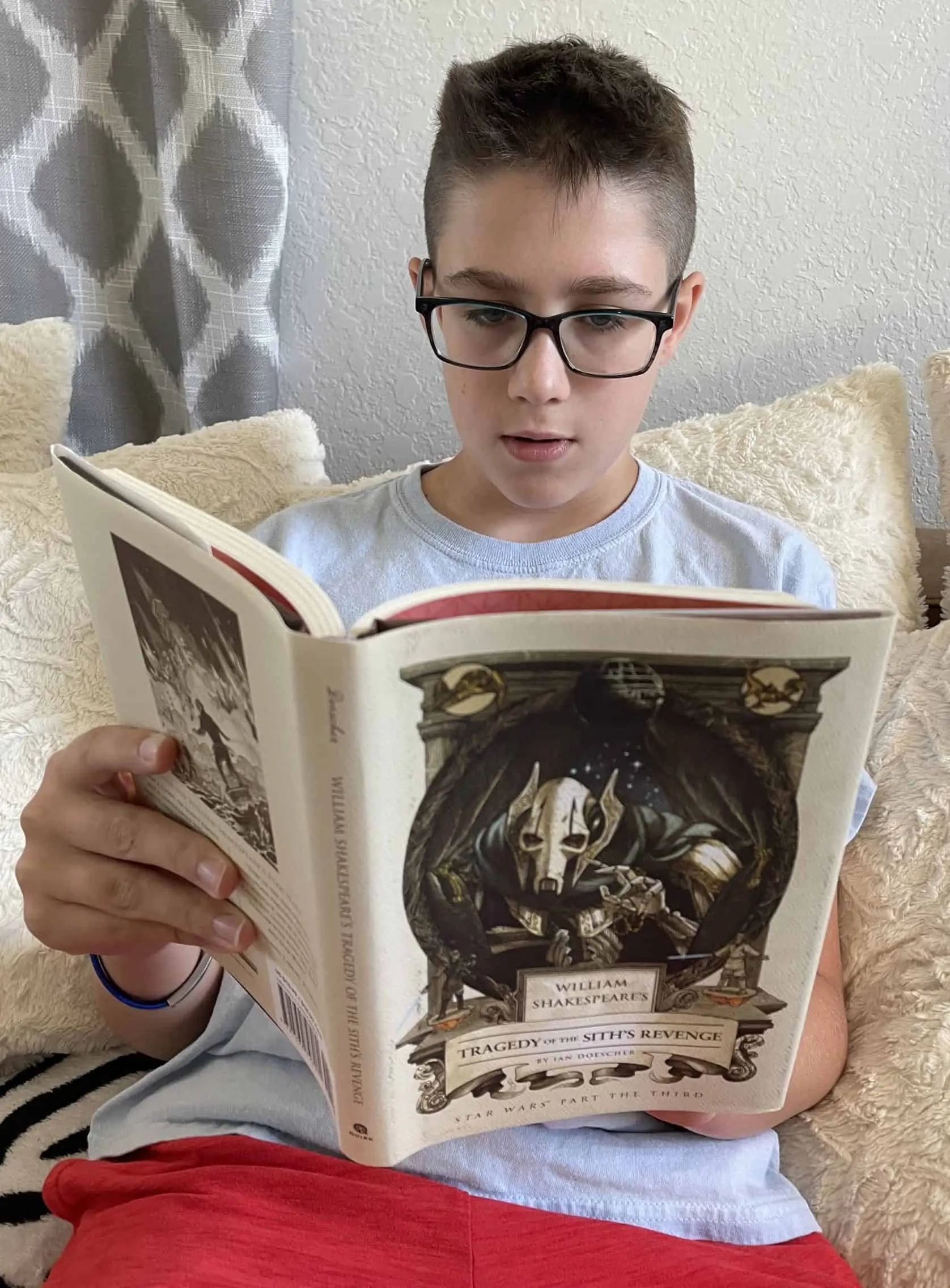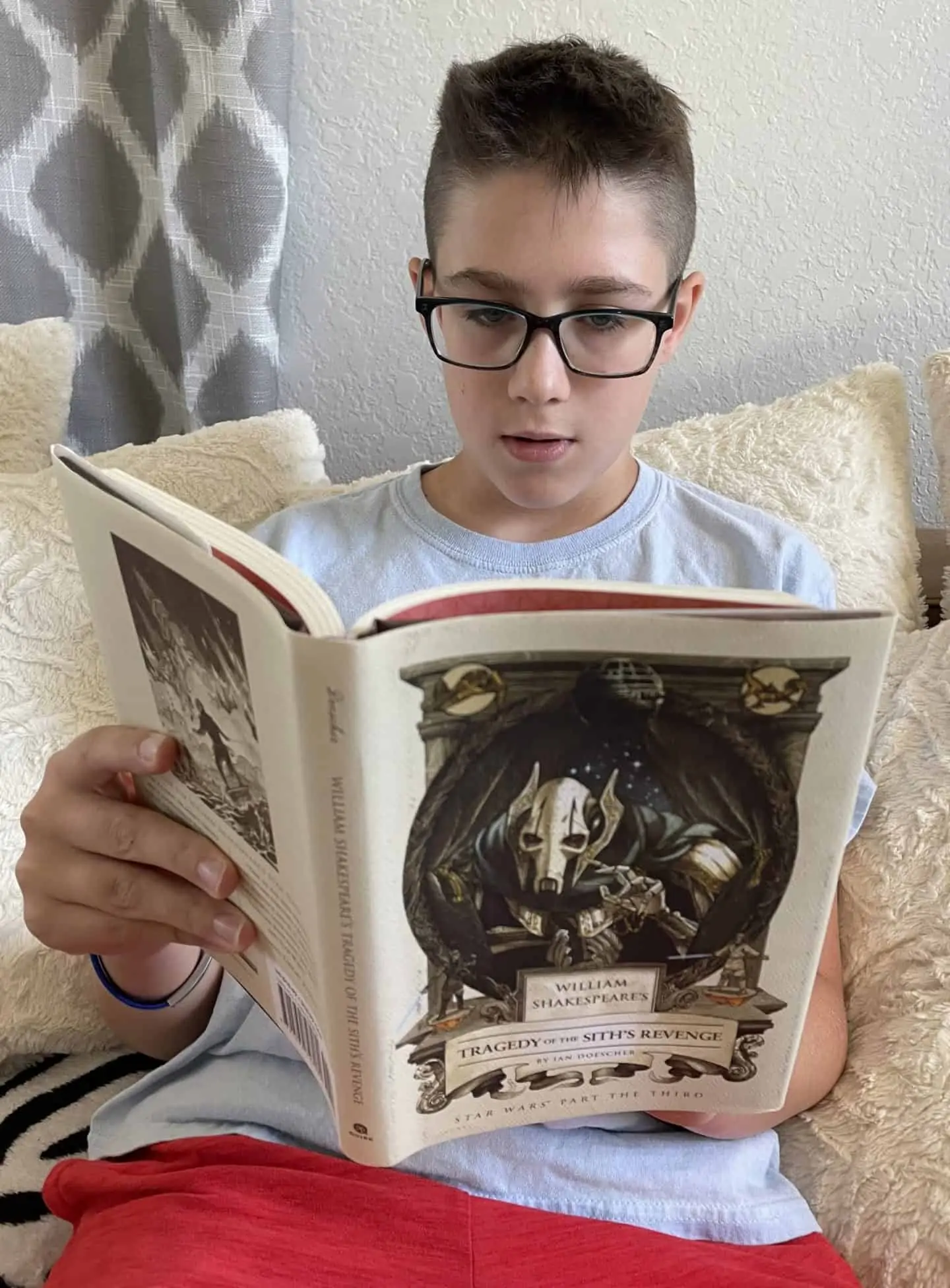 Star Wars STEM Activities
Star Wars Coding!
We have started to do homeschool programming recently and I have just come across these Star Wars Coding Projects books using Scratch.
Learning a Foreign Language with Star Wars
I am laughing while writing this, as I have just found a book How to Speak Like a Wookiee.
But this totally counts!! It possibly won't count toward your second language requirements for college, but it will be so much fun!!
Star Wars Music Activities
15-minute music lesson on Star Wars with free printable, this lesson is all about the Star Wars film composer John Williams.
Music from the Star Wars Trilogy Easy Piano. We already have this book and he has been practicing already. My son has only been playing the piano for about a year, so if you have a more advanced student this might be too easy.
Sheet Music if your child plays a musical instrument then why not download Star Wars sheet music for them to play on the piano, violin, or whatever instrument they have?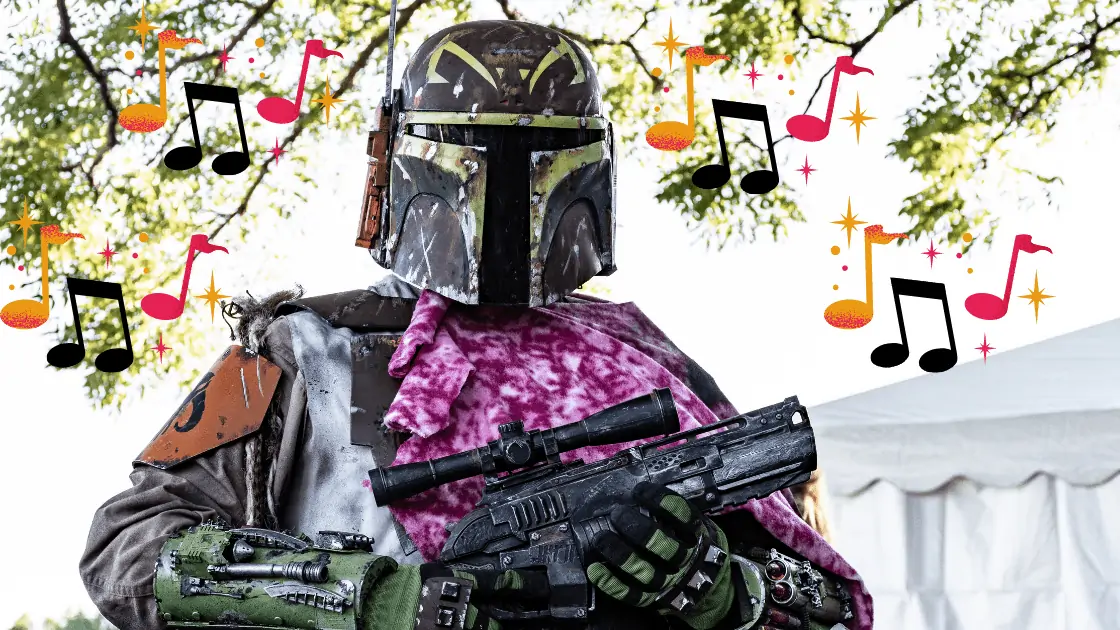 Art with Star Wars
How to Draw Star Wars draw Yoda, Darth Vader, R2-D2, and more. With this fun and easy-to-follow illustration guide! Featuring all your favorite characters in a variety of styles and poses, these step-by-step instructions will have you drawing like a pro in no time!
Outschool has a number of Star Wars drawing live online lessons too. I mean why wouldn't they, they have live classes in every subject imaginable!!
Star Wars Crafts
These crafts are great for any little Star Wars fan. You will all have a great time creating these brilliant crafts.
Star Wars Lego
Now of course I can't write this post without talking about Star Wars Lego. I think this is probably why my son loves it so much.
It doesn't have to be expensive though (although trust me from experience I know how expensive it can be!) I will include his 3 favorite Lego sets varying in price.
If you have a child who loves challenging Lego sets check out our favorites. For even more Lego ideas, check out over 115 gifts for Lego lovers!
Watch a Star Wars Movie
The Star Wars films in chronological order are:
The Phantom Menace
Attack of the Clones
Revenge of the Syth
A New Hope
Empire Strikes Back
Return of the Jedi
The Force Awakens
The Last Jedi
The Rise of Skywalker
Outschool also has a number of Star Wars social clubs where your kids can geek out. We have taken a few and loved them.
So that's it, how we can create a full lesson plan (well not really, but as a fun couple of weeks) with the help of Star Wars.
Please please let me know in the comments what other Star Wars fun activities you have come across. I would love to check them out.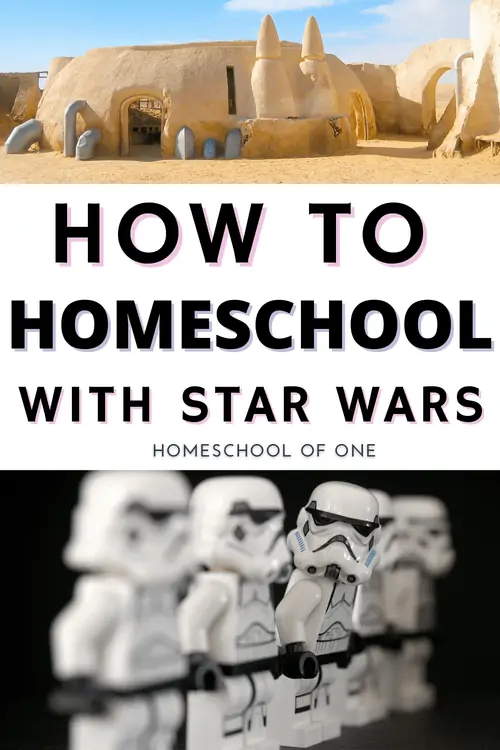 Last Updated on 14 March 2023 by homeschoolof1