33 Best Star Wars Activities for Elementary School
You are going to be the most popular teacher with our favorite Star Wars activities for kids in elementary grades.
If you have a little Jedi who is obsessed with all things Star Wars as my son is, you need this list of educational Star Wars activities.
These Star Wars Day activities can be used at any time of the year, but perfect for May 4th.
Keep reading for our best Star Wars activities for elementary school ages kids. These can of course be adapted for younger or older kids.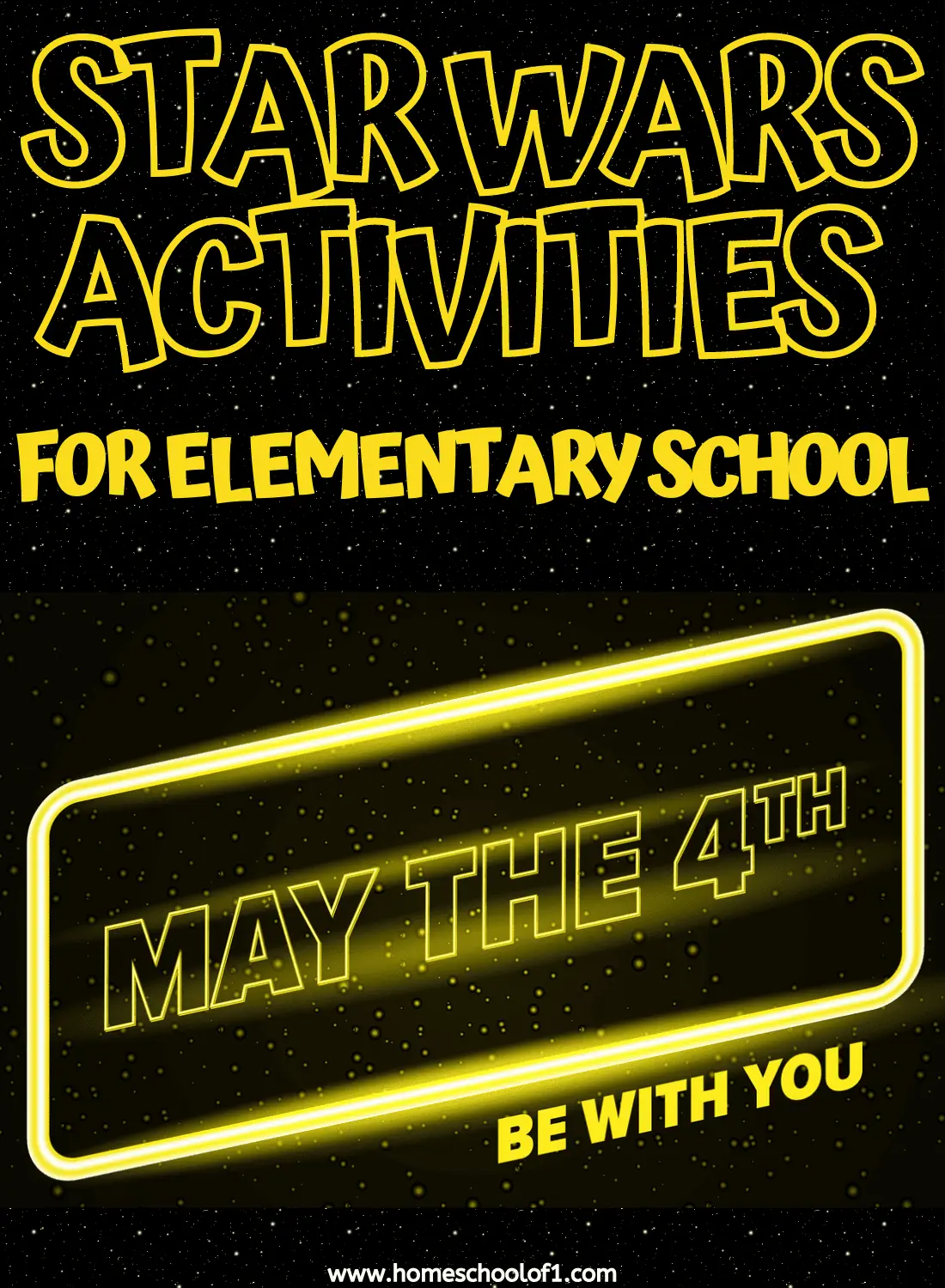 **There may be affiliate links in this post. You can read my full disclosure at the bottom of the page.**
Star Wars activities for elementary school
Step into a world of imagination and learning with these captivating Star Wars activities designed for elementary school students.
From exploring science and coding to language arts and music, this collection offers a galaxy of educational opportunities intertwined with the beloved Star Wars universe.
Whether your young learners are discovering fractions with a Star Wars twist or creating their own masterpieces inspired by the iconic characters, these activities combine the magic of the Star Wars saga with valuable lessons and engaging experiences.
Star Wars Workbook: 2nd Grade Math (Star Wars
Star Wars Workbook: 1st Grade Writing Skills (Star
Star Wars Workbook: 1st Grade Reading (Star Wars
Star Wars Droids Mad Libs: World's Greatest Word
Star Wars Math Games
Engage your young Jedi in exciting math adventures with Star Wars themed games and books. Star Wars Monopoly adds a fun twist to learning math.
These Star Wars math books are absolutely fantastic for kids who don't enjoy math! They have math books for grades 1, 2nd grade, 3rd grade, and 4th grade. The kids will help Dooku count to 120, find the shapes in Anakin's workshop, and add and subtract battle droids, lightsabers, and starfighters! How much fun is that?
Fraction War, a thrilling math game with a Star Wars twist, immerses fans in fractions. Explore this galaxy themed game by splitting the deck and engaging in battles where the highest fraction conquers. It's an engaging way to master fractions while enjoying the excitement of a friendly competition set in the Star Wars universe.
Integrate the excitement of Star Wars into your math lessons by using Star Wars math problems and activities to engage and inspire young learners.
Star Wars Language Arts
Boost language arts skills with our Star Wars activities:
Engage with our free Star Wars word search igniting the thrill of discovering themed words.
Encourage budding writers to explore their creativity using our engaging Star Wars writing prompts. These prompts are designed to ignite imaginative storytelling and make the writing process enjoyable.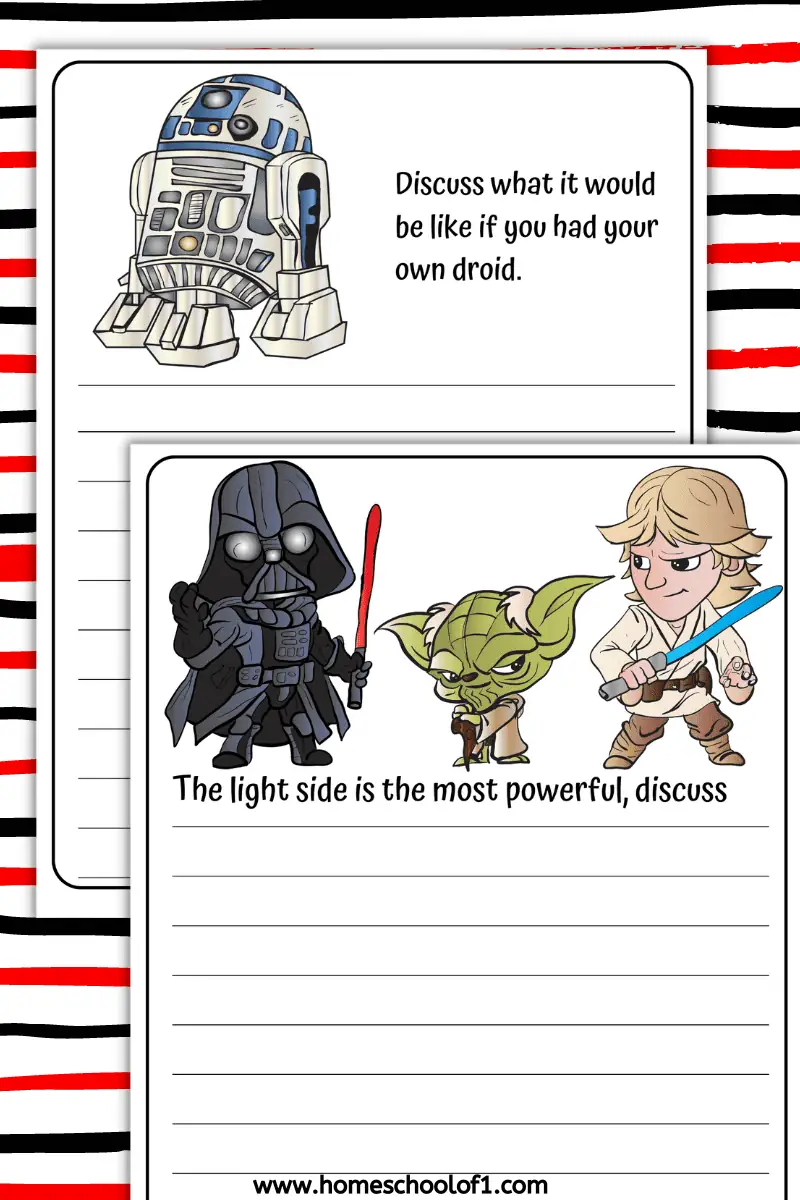 Kids young and old, from Star Wars enthusiasts to those new to the saga. Will delight in the challenge and entertainment provided by our free Star Wars word scramble.
Star Wars writing workbooks, tailored for grades 1, 2nd grade, 3rd grade, and 4th grade, combine education with excitement. These well-designed resources offer an immersive experience and receive rave reviews, making them an ideal addition to both traditional and homeschool environments.
Unleash the power of storytelling with Star Wars Story Starters, coupled with story cubes. Perfect for inspiring reluctant writers, these prompts provide a fun and structured way to craft unique narratives.
Let creativity flourish with our Star Wars printable cards. Ideal for various occasions, these cards provide a platform for personalization, coloring, and heartfelt messages, making them a fantastic way to engage and connect.
Star Wars Shakespeare
Star Wars offers a unique and engaging way to introducing Shakespeare to your child while embracing their love for the Star Wars universe.
This ingenious approach combines classic literature with Star Wars characters, igniting a newfound interest in Shakespearean language and storytelling.
The Star Wars Shakespeare book captures your child's imagination, making the intricate world of Shakespeare accessible and enjoyable for young learners, creating a remarkable blend of education and entertainment in your homeschooling journey.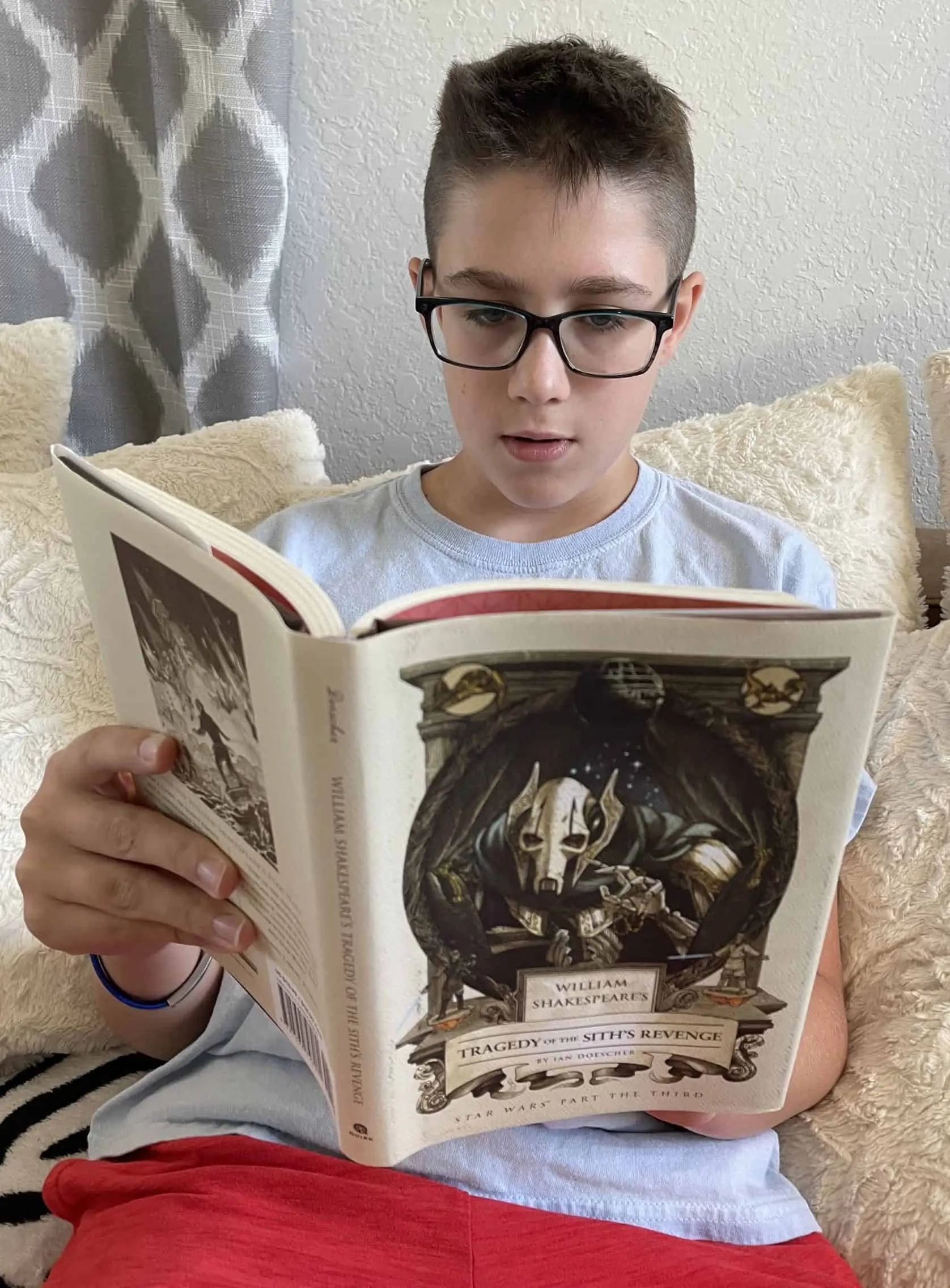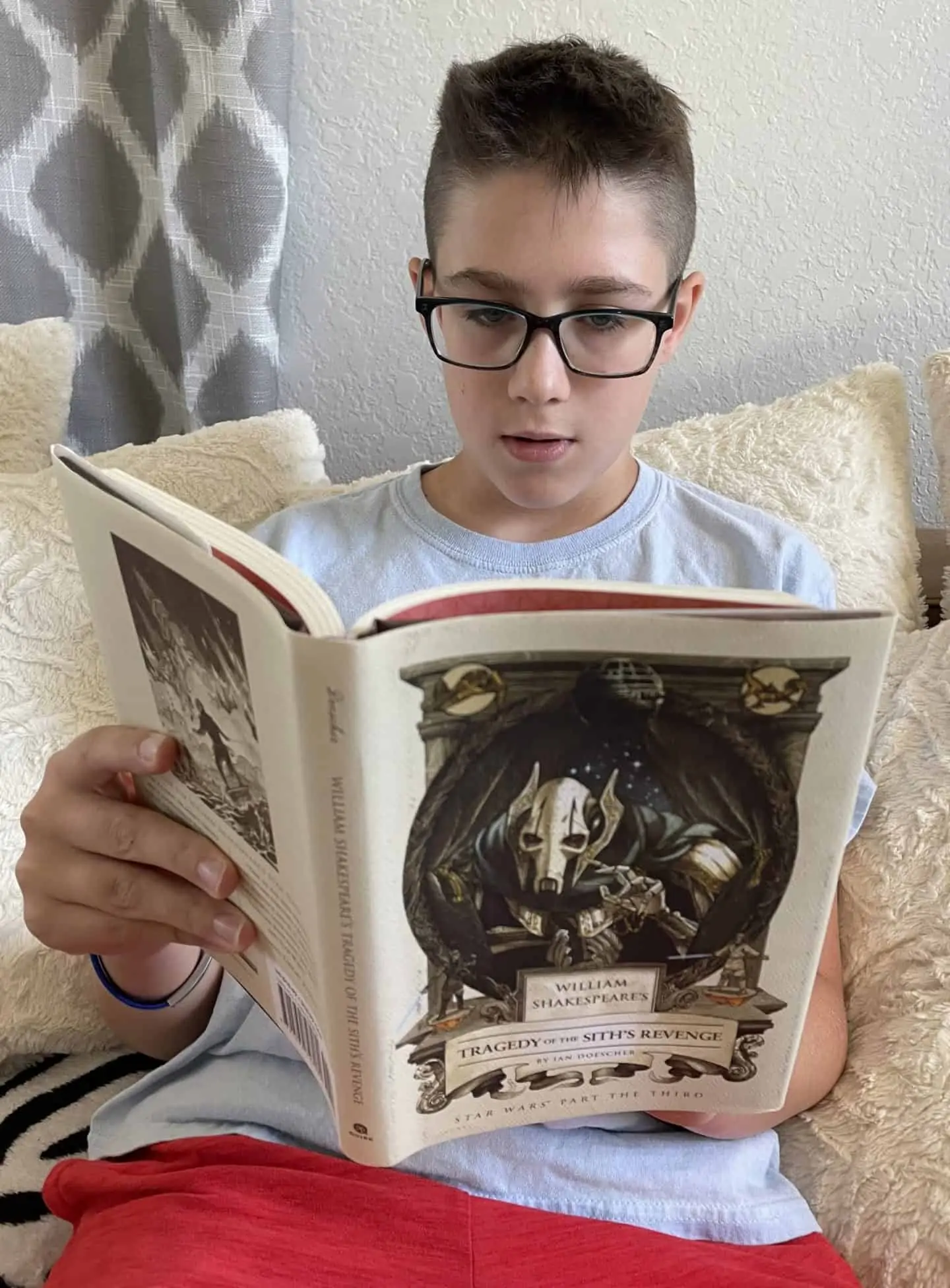 Star Wars STEM Activities
Embark on an educational journey that merges the magic of Star Wars with the wonders of STEM (Science, Technology, Engineering, and Mathematics).
From hands-on experiments and captivating books to innovative projects, these Star Wars science activities offer a galaxy of opportunities for young learners to explore, create, and discover the captivating world of science and learning.
Dive into a galaxy of hands-on learning with the Star Wars Maker Lab book, offering an array of 20 captivating craft and science projects that bridge the gap between education and play.+
Explore the fascinating realm of physics with the Star Wars Science Jedi Force Levitator, an innovative experiment that lets young scientists harness the power of electrostatic force to suspend and move objects in mid-air through real electrical charges.
For older and more independent readers, the Science of Star Wars book delves deep into the scientific principles behind the beloved franchise, from lightsabers to hyperspace travel, blending entertainment with knowledge in a captivating way.
Unleash creativity with over 15 exciting Star Wars-themed science experiments from Little Bins for Little Hands, providing a treasure trove of engaging activities that spark curiosity and inspire a love for scientific exploration.
Star Wars Coding Projects
Engage your young learners in the exciting world of coding with the captivating Star Wars Coding Projects books.
Utilizing the user-friendly Scratch programming language, these books introduce kids to the fundamentals of coding while immersing them in the Star Wars universe.
From creating animations to building games inspired by iconic characters and scenes, these coding projects provide an interactive and imaginative approach to learning valuable programming skills.
Learning a Foreign Language with Star Wars
Explore the galaxy of languages with a touch of humor through the book How to Speak Like a Wookiee.
While it might not fulfill formal language requirements, it offers a lighthearted and enjoyable way to delve into linguistic exploration.
Whether you're aiming for language proficiency or just looking to add some Wookiee phrases to your repertoire, this quirky approach can make learning a foreign language entertaining and memorable.
Star Wars Music Activities
Engage in musical exploration with Star Wars-themed activities!
Delve into the musical world of Star Wars with a concise 15-minute music lesson on Star Wars focused on the renowned composer John Williams.
Explore the rich legacy of his compositions that have brought the Star Wars saga to life, and enhance your understanding of cinematic music.
For budding pianists, the Music from the Star Wars Trilogy Easy Piano book offers an opportunity to master beloved Star Wars themes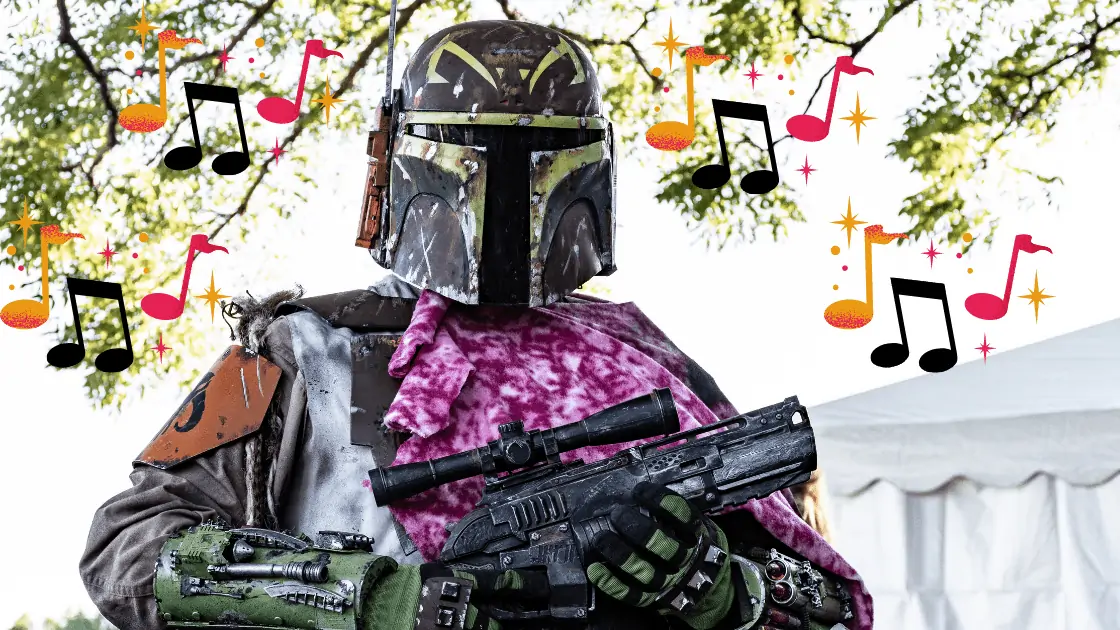 Star Wars Art Projects
Unleash your artistic side through the captivating realm of art with Star Wars. Embark on a creative journey as you learn to draw iconic characters like Yoda, Darth Vader, and R2-D2 with the guidance of an engaging illustration guide.
How to Draw Star Wars. Draw Yoda, Darth Vader, R2-D2, and more. With this fun and easy-to-follow illustration guide! Featuring all your favorite characters in a variety of styles and poses, these step-by-step instructions will have you drawing like a pro in no time!
Outschool has a number of Star Wars drawing live online lessons too. I mean why wouldn't they, they have live classes in every subject imaginable!!
Star Wars Craft Projects for Kids
These crafts are great for any little Star Wars fan. You will all have a great time creating these brilliant crafts.
Star Wars Lego
Now of course I can't write this post without talking about Star Wars Lego. I think this is probably why my son loves it so much.
It doesn't have to be expensive though (although trust me from experience I know how expensive it can be!) I will include his 3 favorite Lego sets varying in price.
If you have a child who loves challenging Lego sets check out our favorites. For even more Lego ideas, check out the best gifts for Lego lovers!
Watch a Star Wars Movie
The Star Wars films in chronological order are:
The Phantom Menace
Attack of the Clones
Revenge of the Syth
A New Hope
Empire Strikes Back
Return of the Jedi
The Force Awakens
The Last Jedi
The Rise of Skywalker
Outschool also has a number of Star Wars social clubs where your kids can geek out. We have taken a few and loved them.
So that's it, how we can create a full lesson plan (well not really, but as a fun couple of weeks) with the help of Star Wars.
Please please let me know in the comments what other Star Wars fun activities you have come across. I would love to check them out.
Last Updated on 15 October 2023 by homeschoolof1