Star Wars Writing Prompts (10 free worksheets)
Gear up for an exciting day at school on May 4th with our fantastic Star Wars writing prompts!
This free download features 10 engaging prompts that are sure to inspire creativity and get those pens flowing. Watch as the kids dive into their own Star Wars adventures and unleash their imaginations!
You'll be amazed at how much they can write when they're fully immersed in the thrilling Star Wars theme.
Once they've completed this enjoyable writing activity, make sure to explore our wide range of Star Wars Day activities. From coloring pages to games and more, we have plenty of fun-filled options to keep the Star Wars spirit alive throughout the day.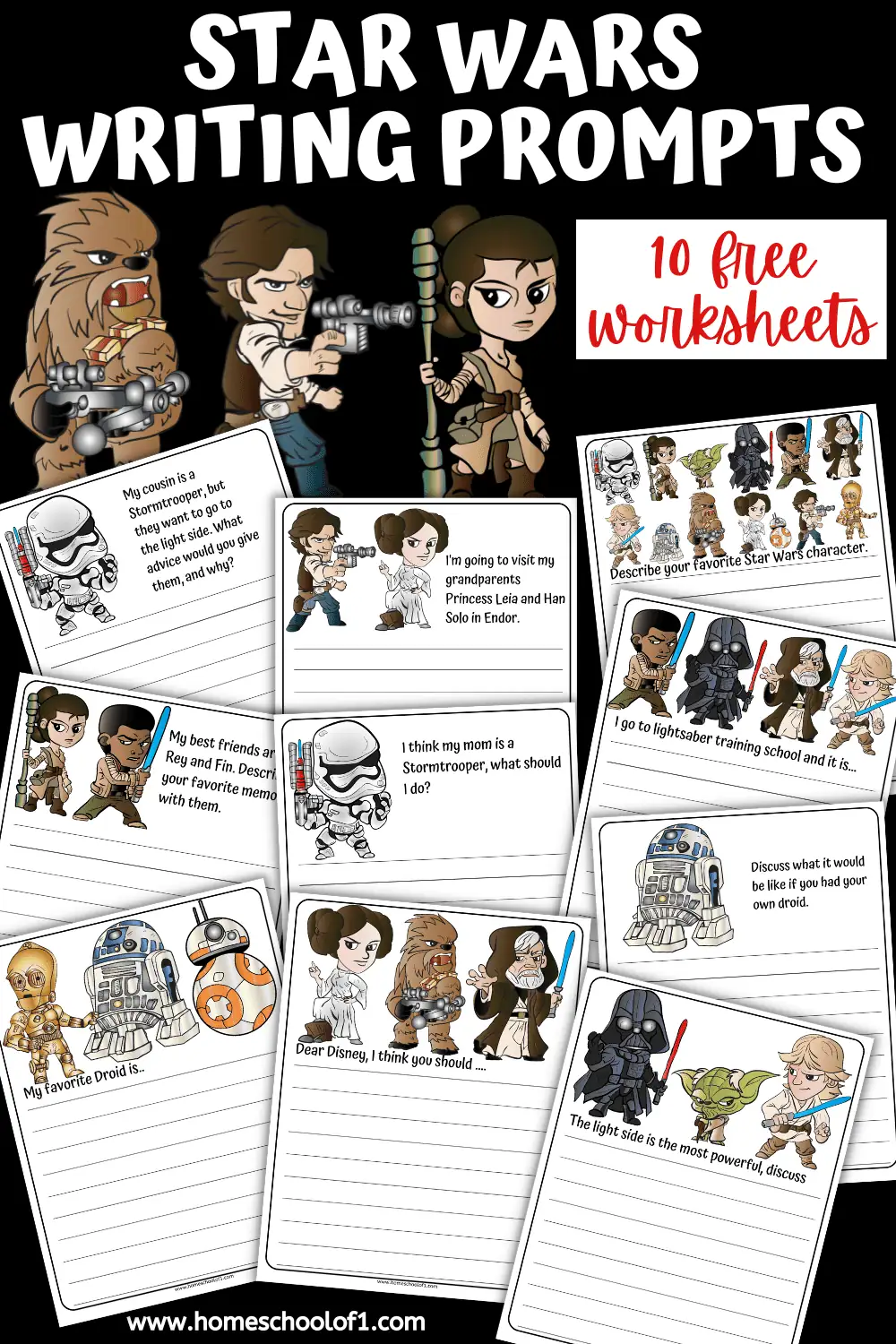 **There may be affiliate links in this post. You can read my full disclosure at the bottom of the page.**
These writing prompts for kids can be used with all age groups, but are aimed at elementary grades.
Why use Writing Prompts?
If you have a reluctant writer or just want to add a little fun to your classroom, I highly recommend using writing prompts.
Take advantage of the epic Star Wars brand to get the kids engaged and interested in writing.
These fun topics to write about will certainly encourage the children to write more than normal. You could have a child who normally only writes a sentence or two, hand in an essay.
Even if the children are not science fiction fans they will prefer these fun writing activities to their normal school work.
These are aimed at students in grade 2 – 5th grade, but of course, can be used for middle school students too.
Star Wars Workbook: Preschool Number Fun (Star Wars Workbooks)
Star Wars Workbook: 3rd Grade Math (Star Wars Workbooks)
Star Wars Workbook: 1st Grade Math (Star Wars Workbooks)
Star Wars Workbook: 4th Grade Reading and Writing (Star Wars Workbooks)
Star Wars Workbook: Preschool Shapes, Colors, and Patterns (Star Wars Workbooks)
Star Wars Mad Libs: The Deluxe Edition
These printable writing prompts are free to print, but they are for personal or classroom use only. Scroll to the bottom of the page to get the pdf file.
Writing Prompts for Star Wars Day
There are 10 fun Star Wars Day writing prompts that are perfect for May fourth, or any time you are feeling the force.
There are 10 writing prompts to be printed out, you can either print them all, or just the ones that you think the kids will enjoy the most.
My cousin is a Stormtrooper, but they want to go to the light side. What advice would you give them, and why?
I'm going to visit my grandparents Princess Leia and Han Solo in Endor.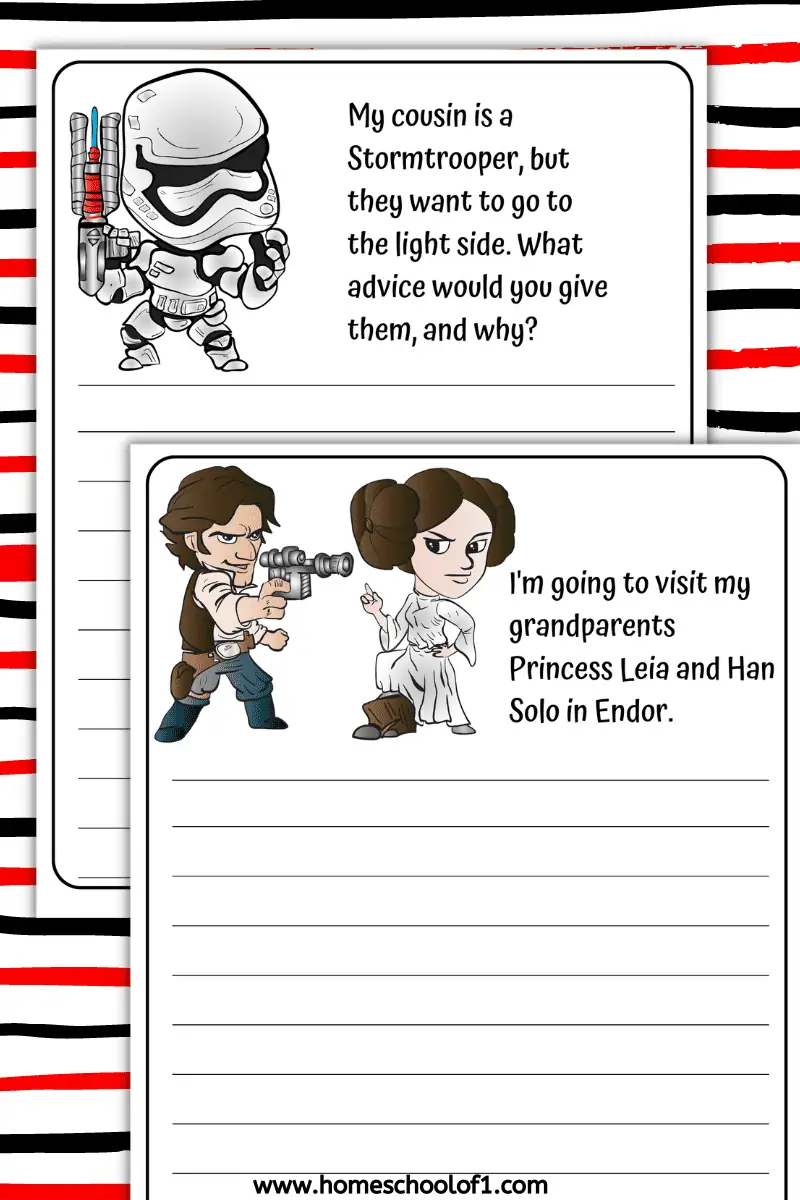 Describe your favorite Star Wars character.
I think my mom is a Stormtrooper, what should I do?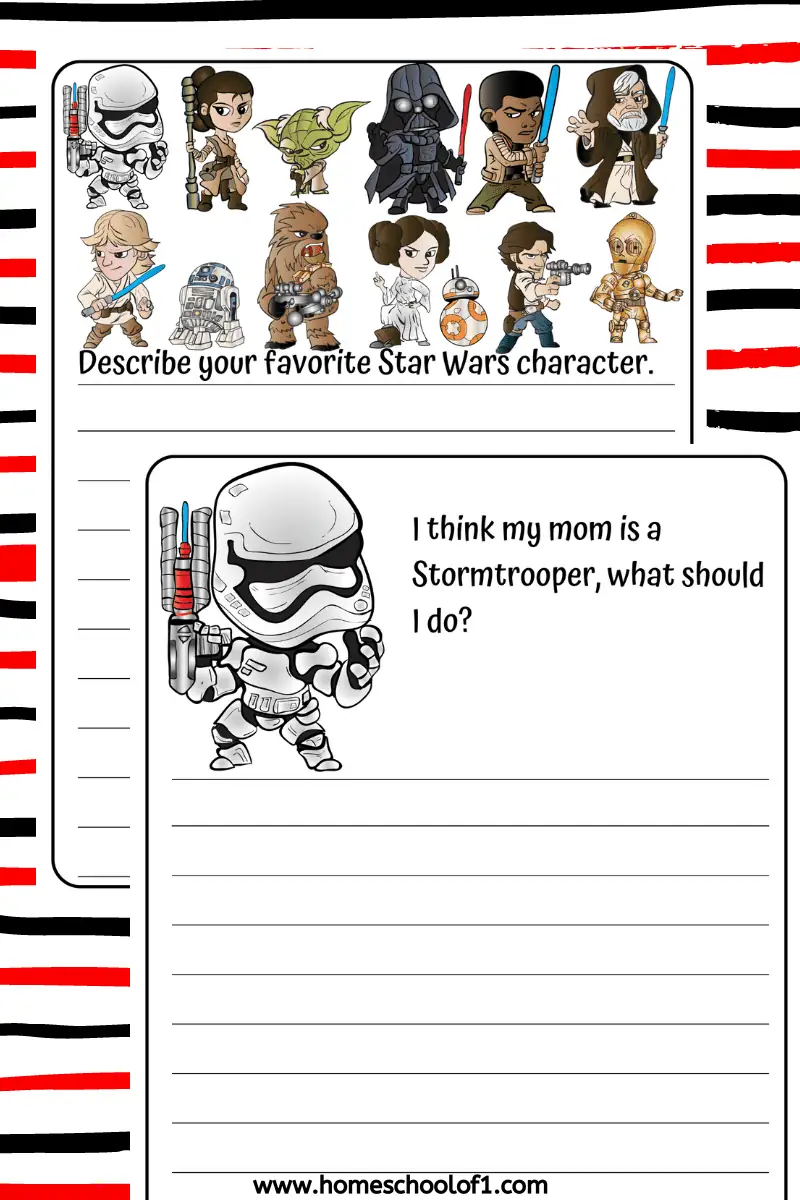 My best friends are Rey and Fin. Describe your favorite memory with them.
I go to lightsaber training school and it is…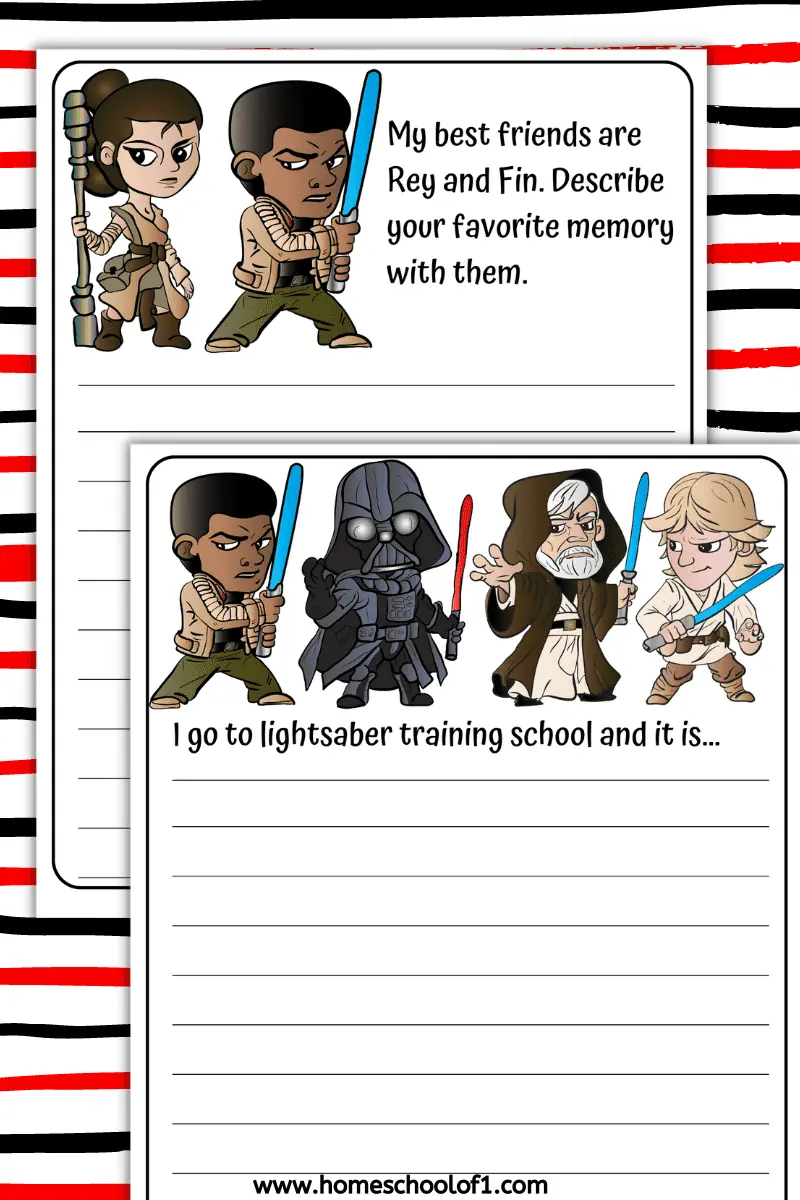 Discuss what it would be like if you had your own droid.
The light side is the most powerful, discuss…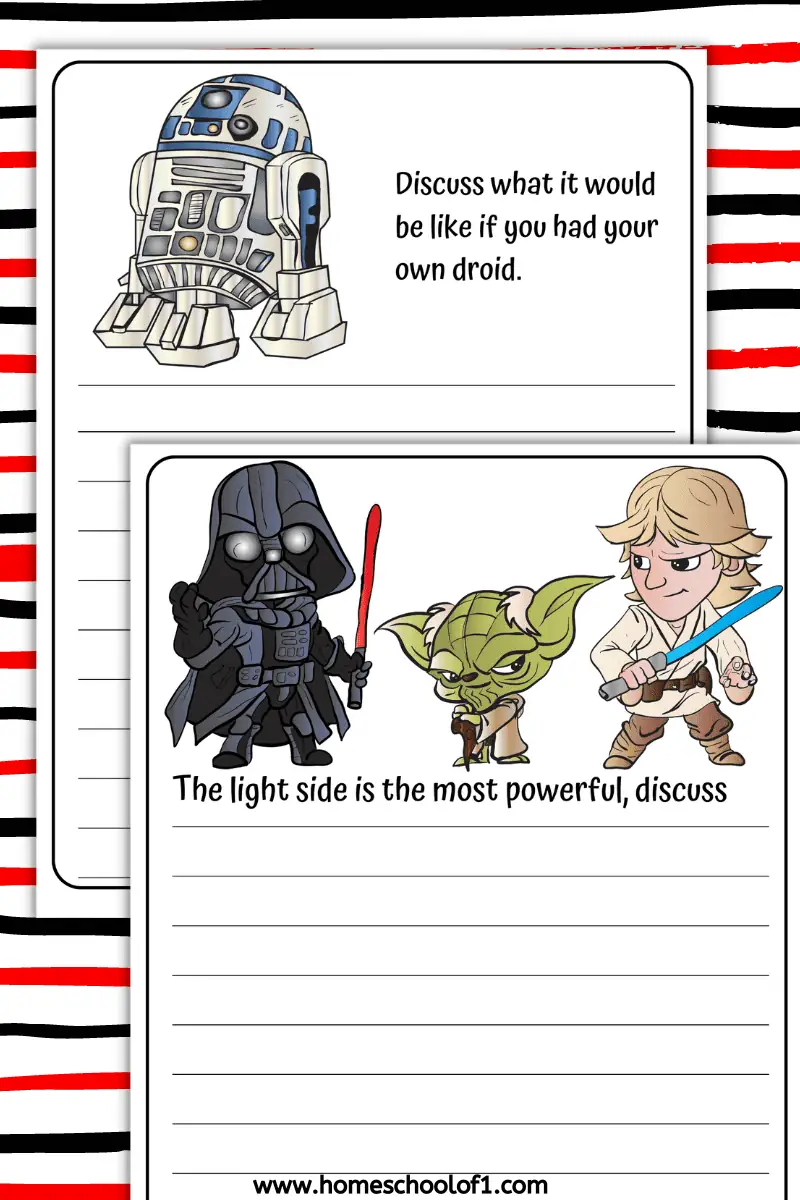 Dear Disney, I think you should…
My favorite Droid is…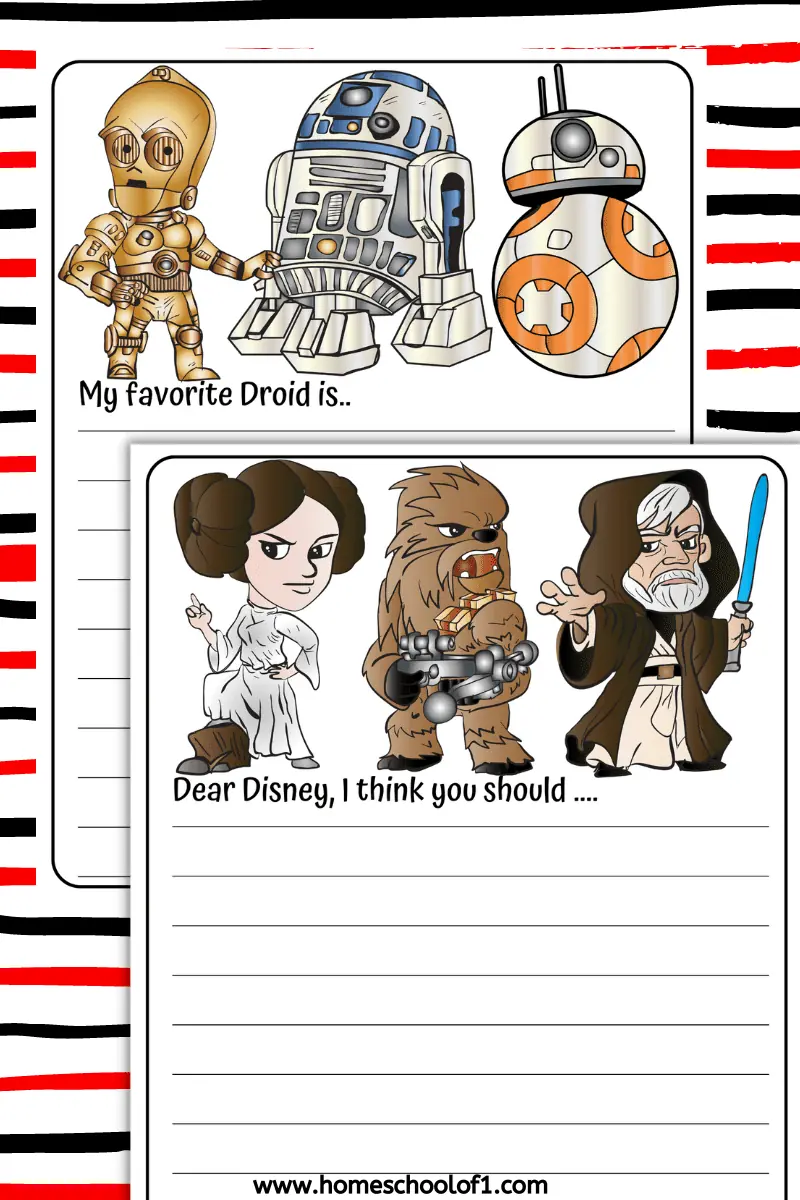 I also highly recommend this Star Wars mad libs book for even more fun on Star Wars Day.
Other writing prompts you will enjoy
Download free Star Wars Day Writing Printables
Make sure you choose the correct paper size and click on the shrink to fit button. All of our free printables for kids work better when printed on cardstock (this is the one we use and love.)
Last Updated on 13 July 2023 by homeschoolof1